A road trip down the Mother Road has everything you could wish for: national parks, big cities and even ghost towns.  But in amongst the wide open spaces on the road is what I love most about it: the quirky towns on Route 66! Yes, some might only have one motel and diner but have they also have so much charm!  
Whether you love neon, small museums to learn about the history of the area, giant quirky statues or something different, there'll be somewhere on this list that you'll adore!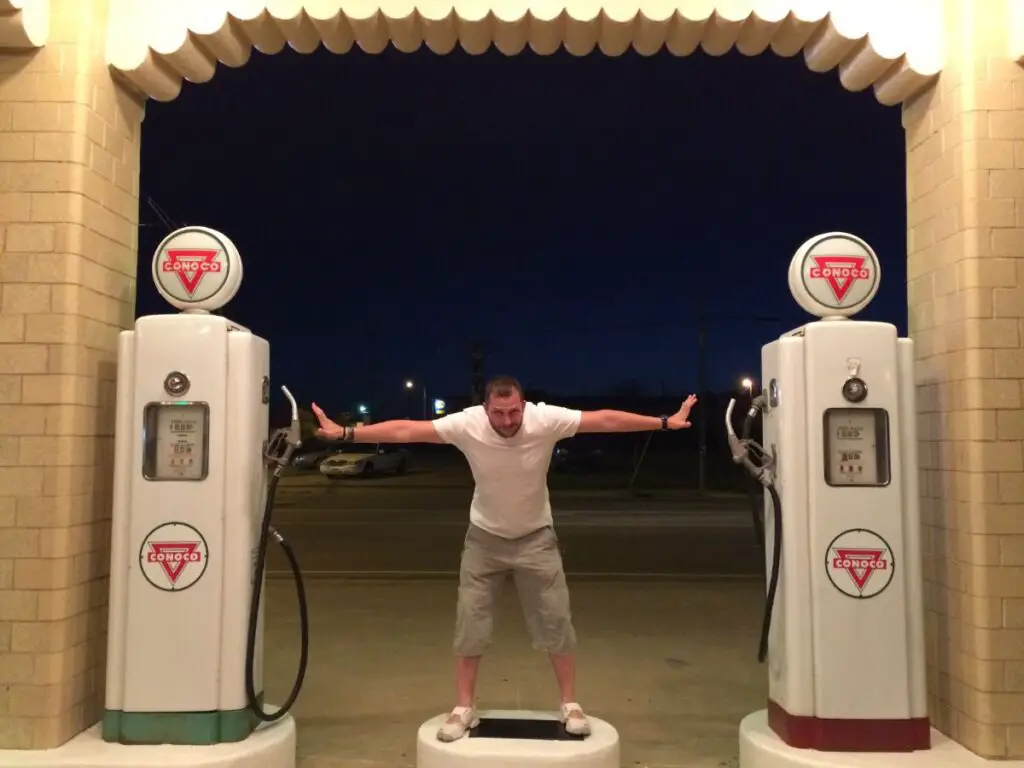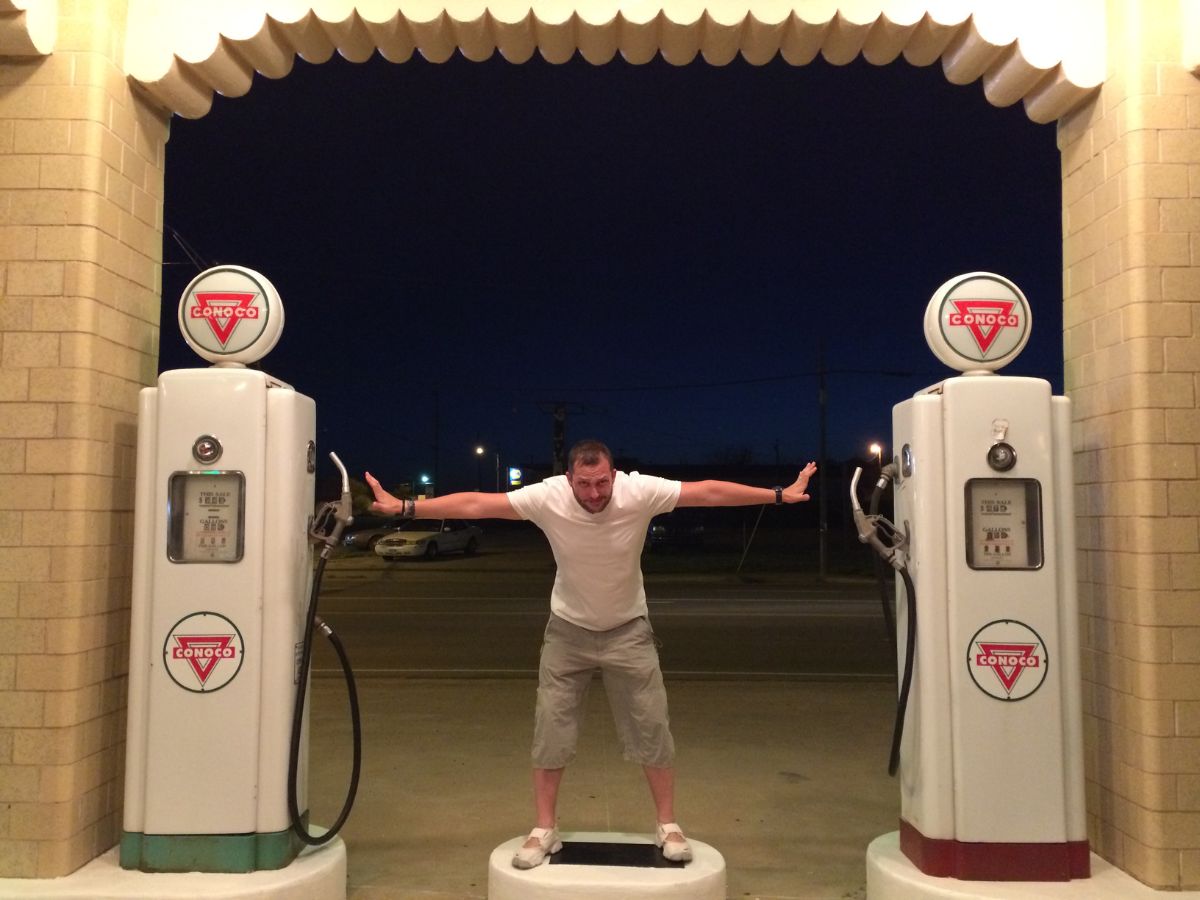 This post was originally published on my travel blog, Lost in Landmarks in 2019 and has been updated in 2022 for this Route 66 specific site.
It was hard for me to narrow it down to just 10 (so I sneaked in an extra one!) and if you've read any of my State Guides to the attractions on Route 66 you'll know there's so much more to the road than just this little section, however sometimes these lists can help people who are new to the road. I've got you!
So, I've gathered up 11 towns that you definitely shouldn't miss when driving Route 66, you there are so many more I could have added but have a browse round the site if this list whets your appetite for vintage, quirky Americana!
Atlanta, IL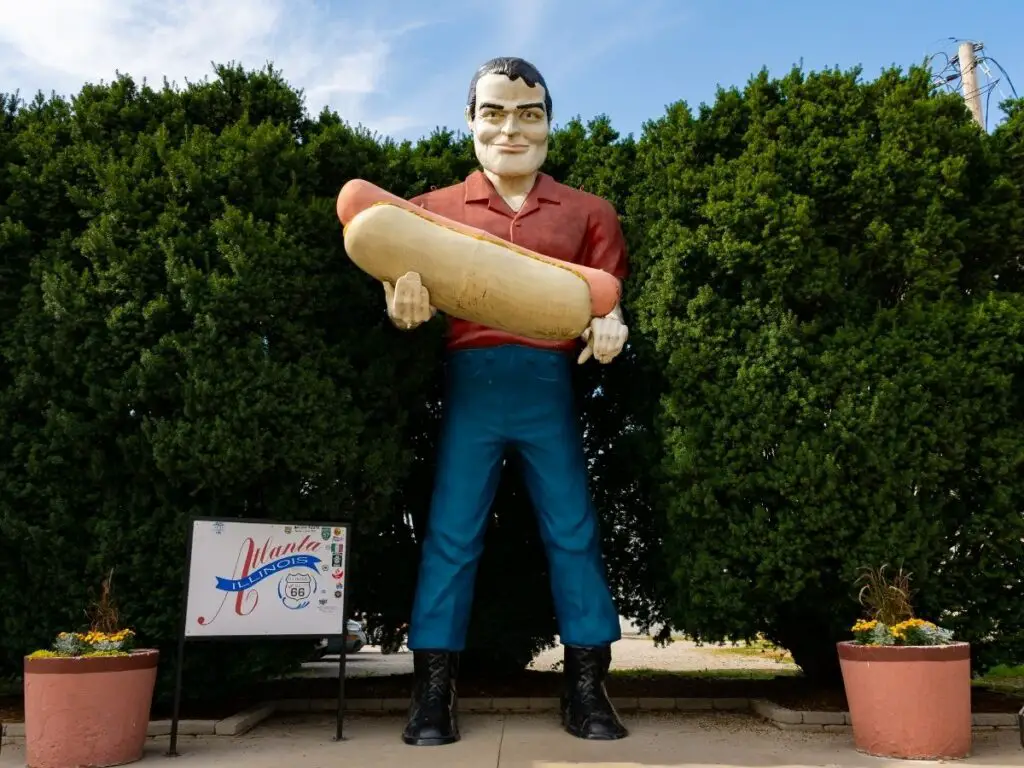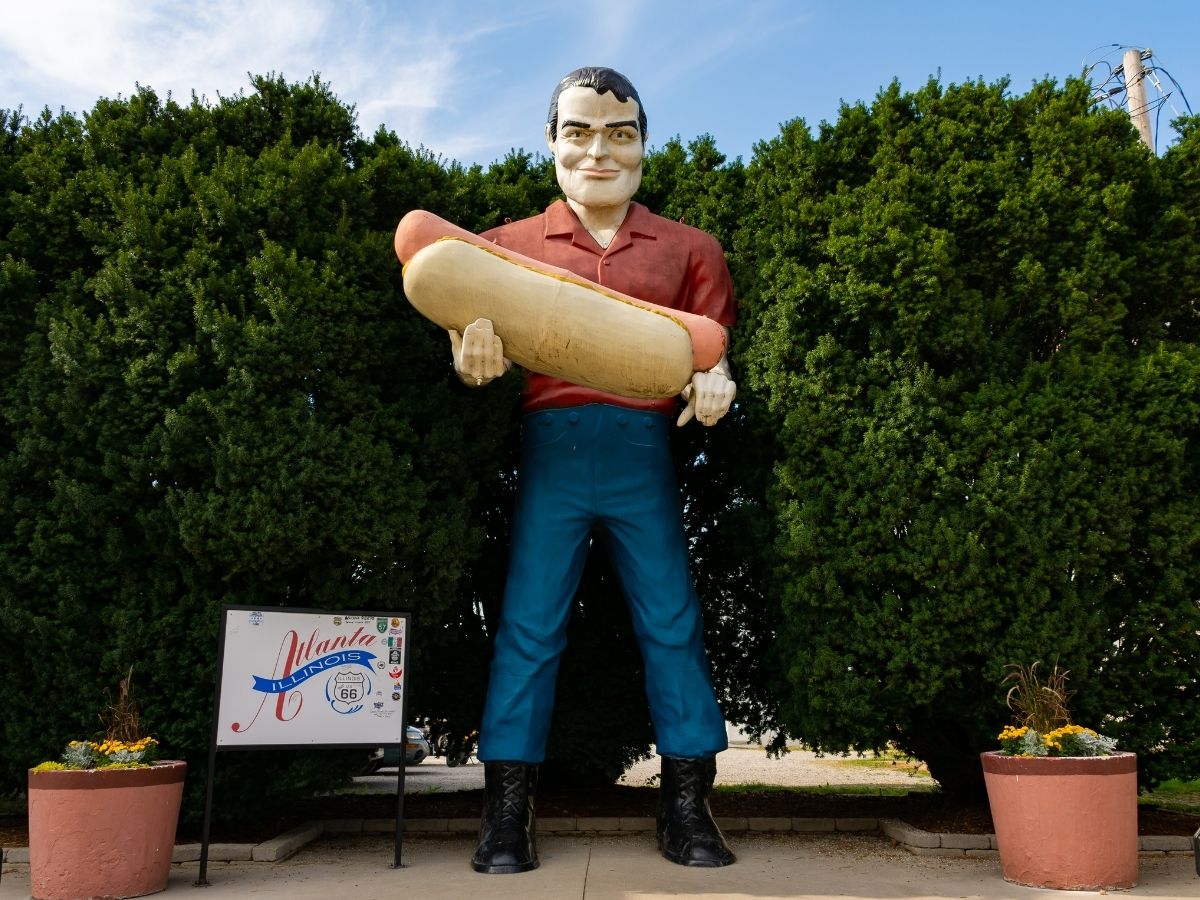 Atlanta, is a gorgeous small town on Route 66 in Illinois that should definitely be visited. Not only is the town full of wonderful murals, quirky shops and places to eat, but it's also home to the Paul Bunyan Muffler Man statue! The town is a wonderful and perfect photo opportunity and a classic quirky place on the road.
Cuba, MO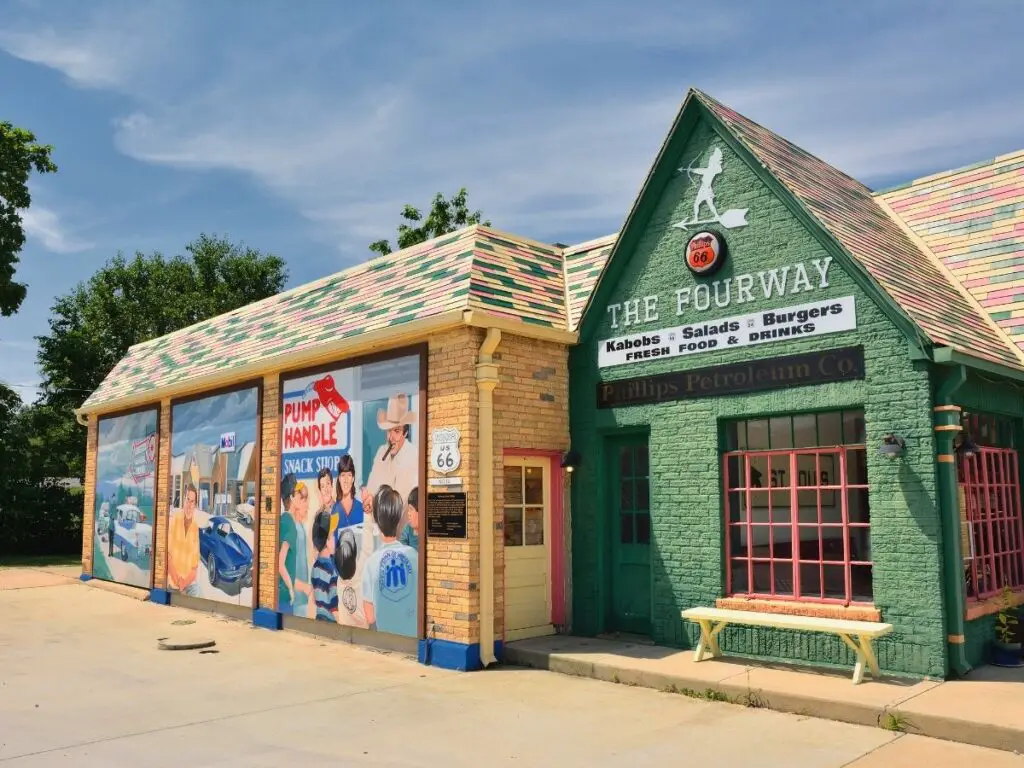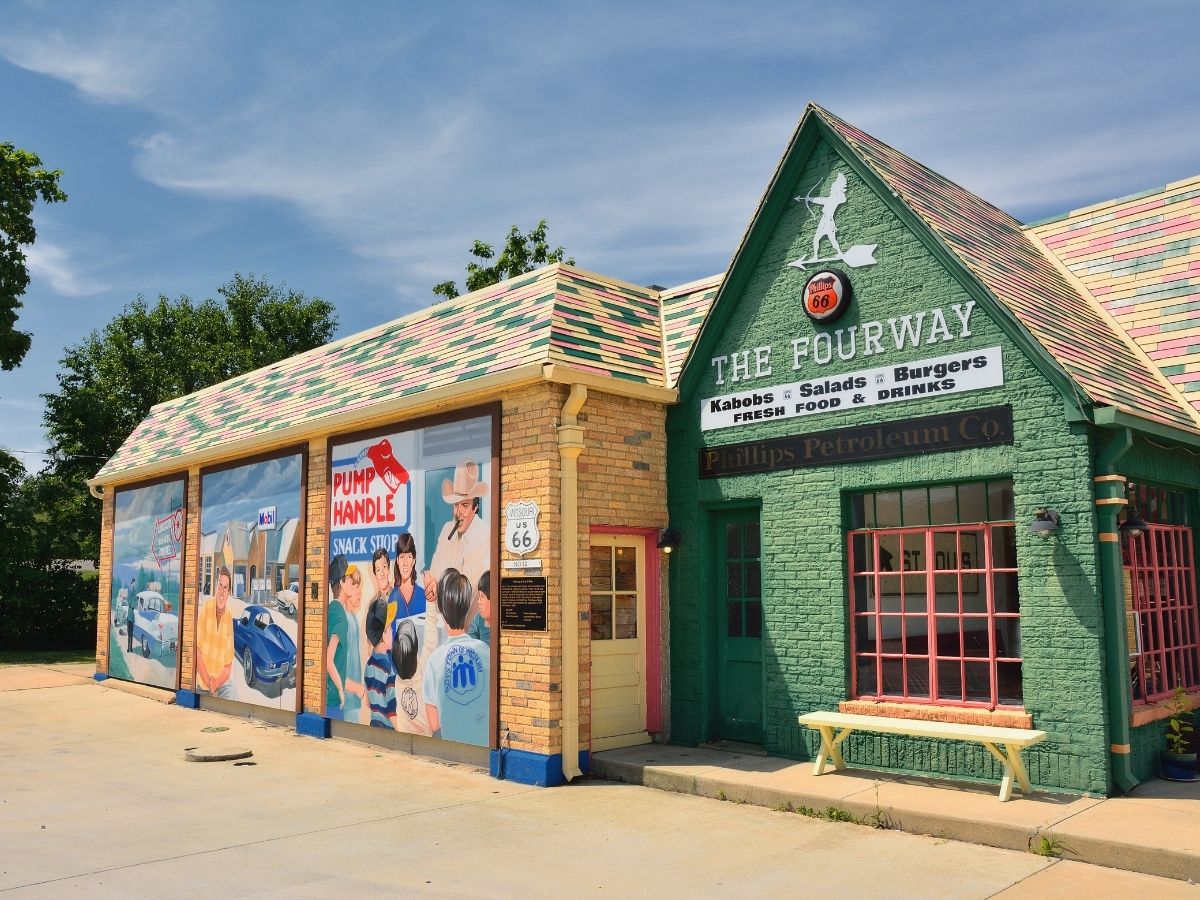 We saw so many murals along Route 66 but Cuba, Missouri has so many of them about town like this one at The Fourway Diner (now called Weir on 66), so if you're a fan of street art you'll want to check it out and do a tour of them.
If you're looking for a cute place to stay then Cuba also has your back with the Wagon Wheel Motel in the town and an absolute classic historic motel.  
Not far from the town is some of those giant quirky roadside Route 66 attractions including a very large rocking chair, in Fanning, which is definitely not to be missed!
Lebanon, MO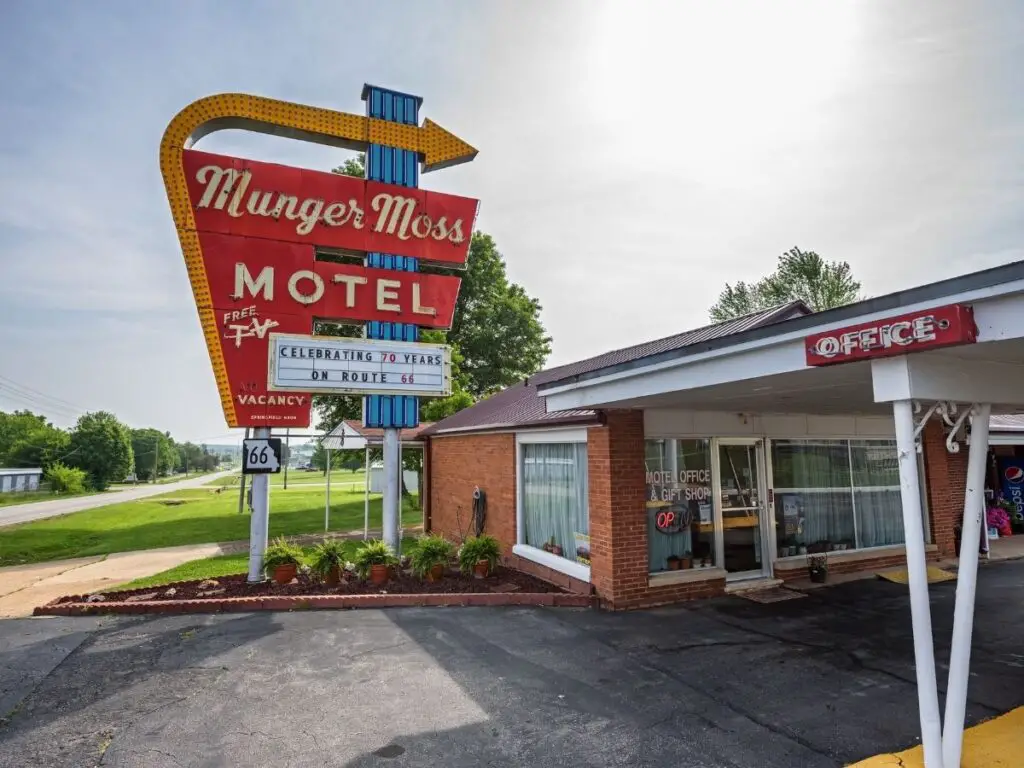 While still in the Show Me State of Missouri, Lebanon is a popular stopover point with the famous Munger Moss hotel here that has been around since the 40s. It has a huge neon sign that lights up at night and welcomes road trippers.
While you're in town there's also a really good Route 66 museum you can check out which has recreations of a gas station from the 30s, a motel from the 40s and a diner from the 50s.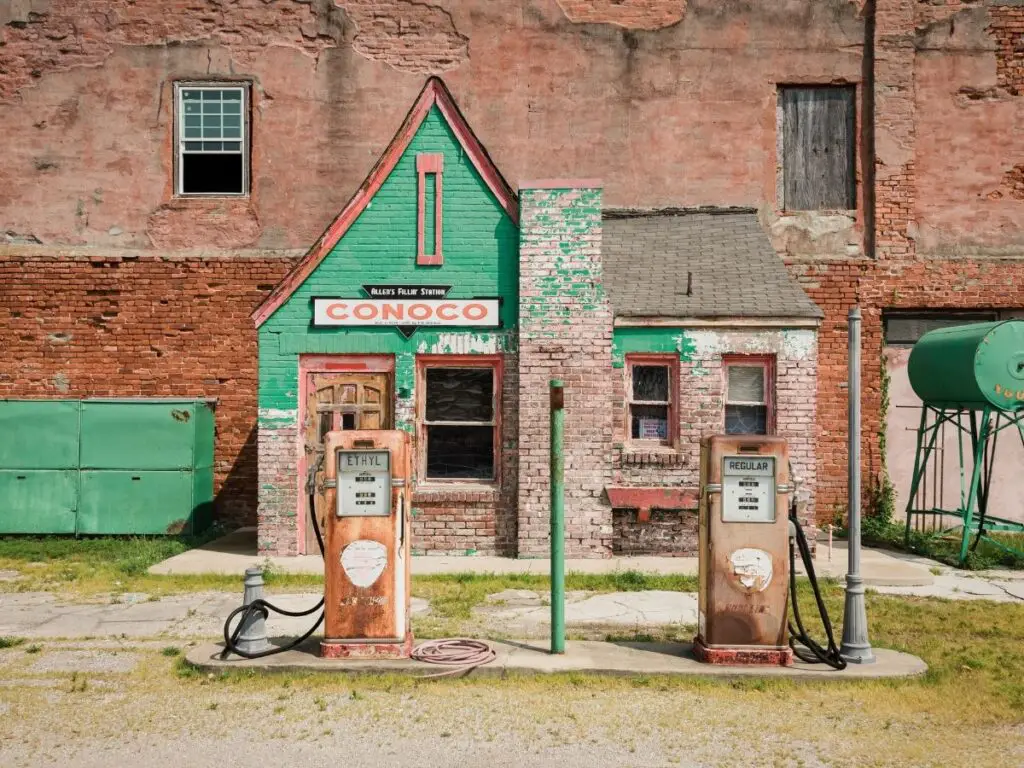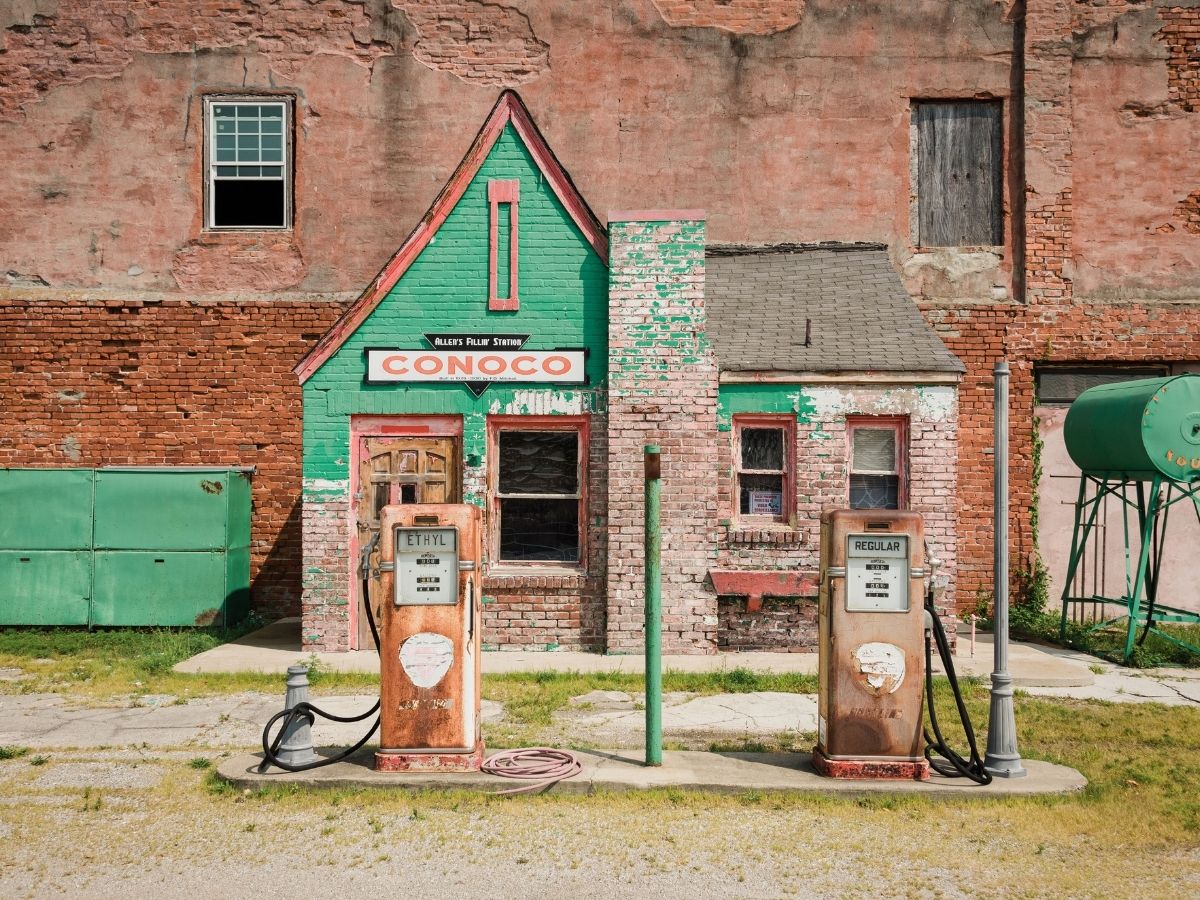 Commerce, OK
One of the first towns you come to in Oklahoma after your brief encounter with Kansas is a place called Commerce. With a cute and vintage filling station to explore and some classic Route 66 food to enjoy too it's well worth a stop.
Nearby Miami is also a good town to explore with some museums about the local area.
Shamrock, TX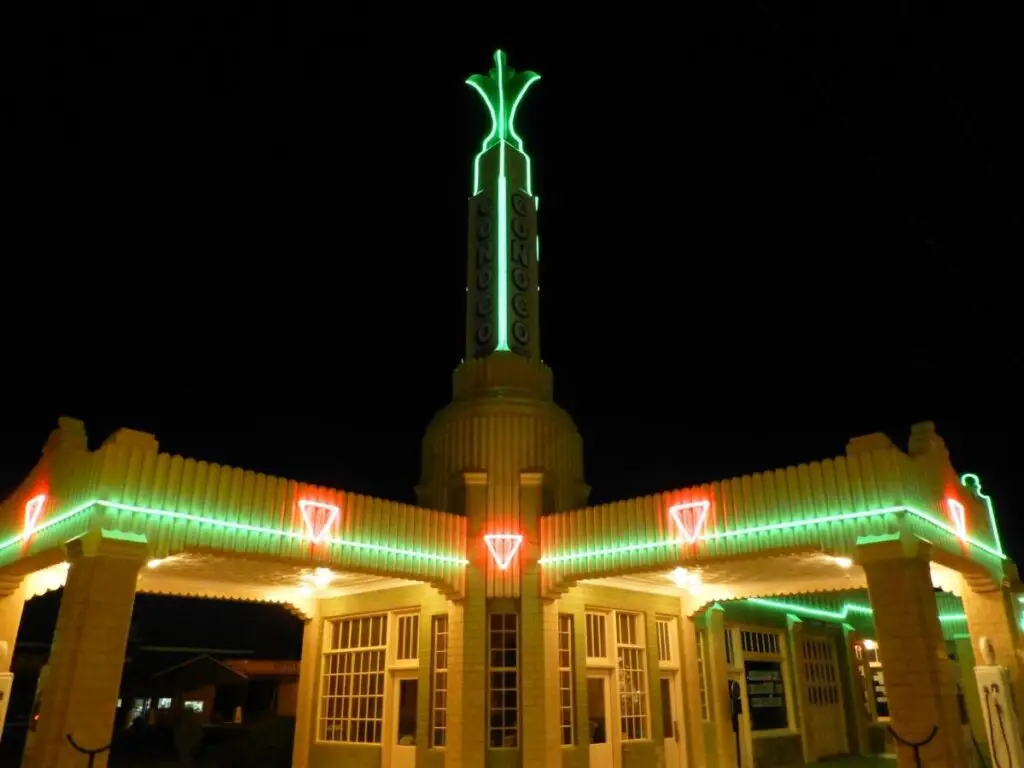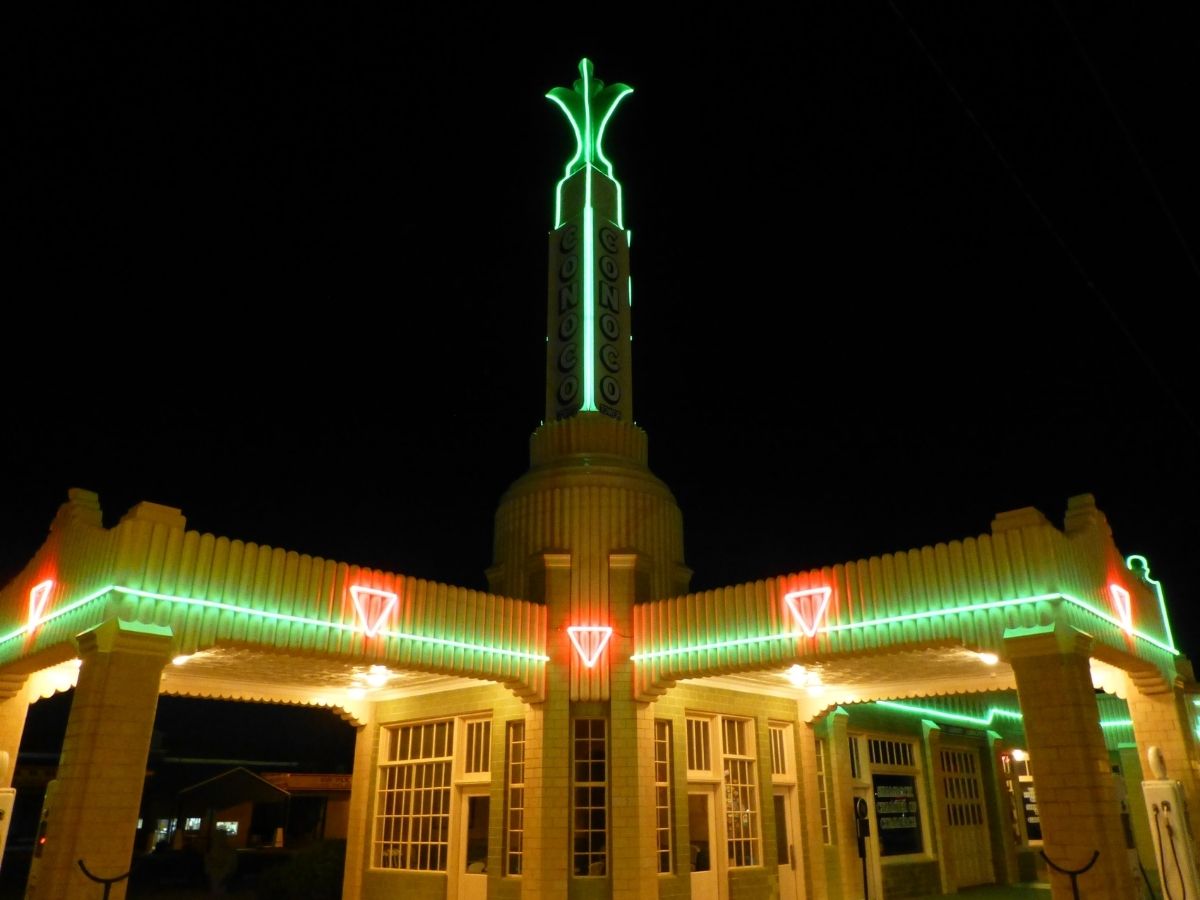 Shamrock in Texas was our first stop when we first travelled the road all those years ago and I still rave about it!  
The main attraction is the U-Drop Inn which is an Art Deco garage and cafe. It's stunning in the day time and in the evening when it lights up with some spectacular neon. Highly recommended and if you're a Disney Cars fan you won't fail to see it's also Ramone's Garage from Radiator Springs!
Tucumcari, NM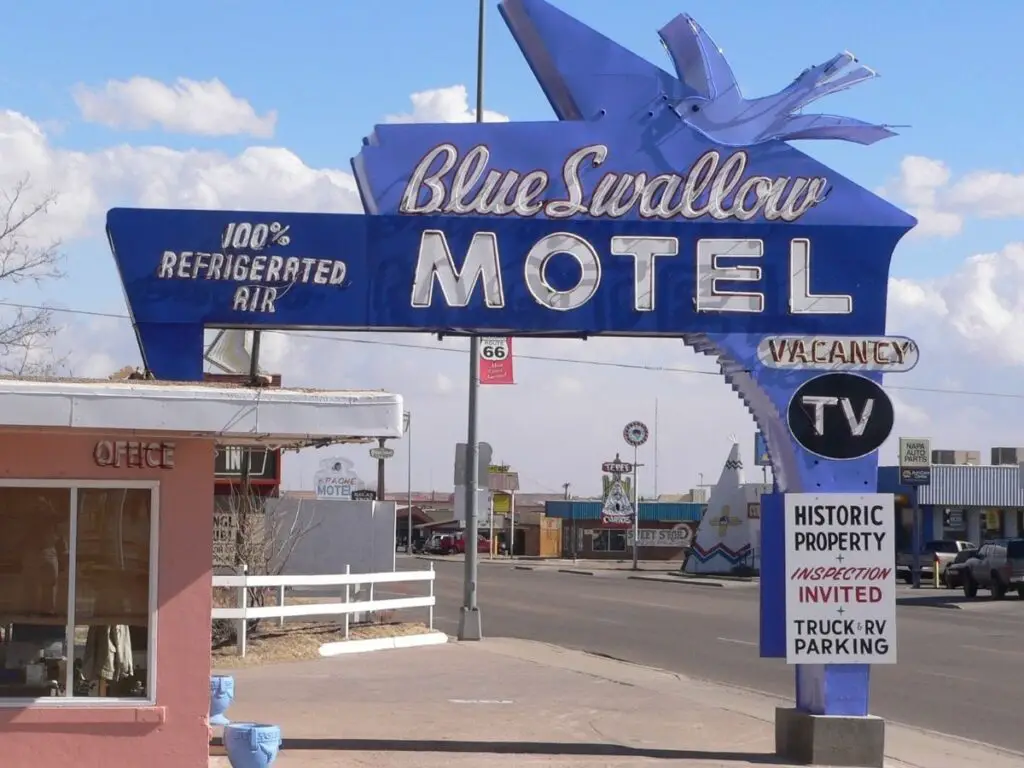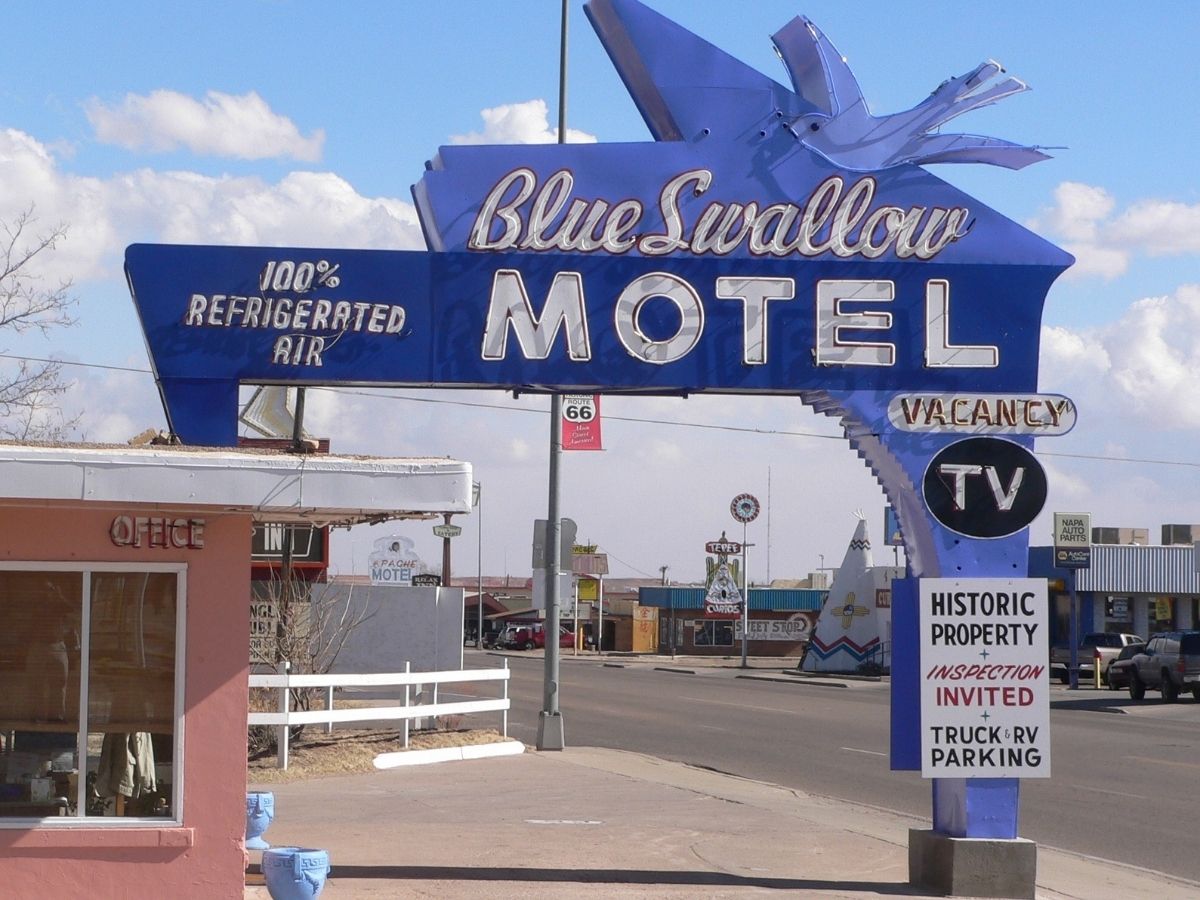 Tucumcari in New Mexico houses so many retro motels and neon that it's really a treat for the eyes.  We loved just wandering around at dusk and seeing all the murals around, enjoying everything lit up and listening to the crickets chirping away.  You'll find the iconic Blue Swallow motel here, one of the most popular on the whole of the road.
There's also plenty of old cars dotted around too.  If you're a photographer and you have to choose just one town on Route 66 you should definitely head here!
Gallup, NM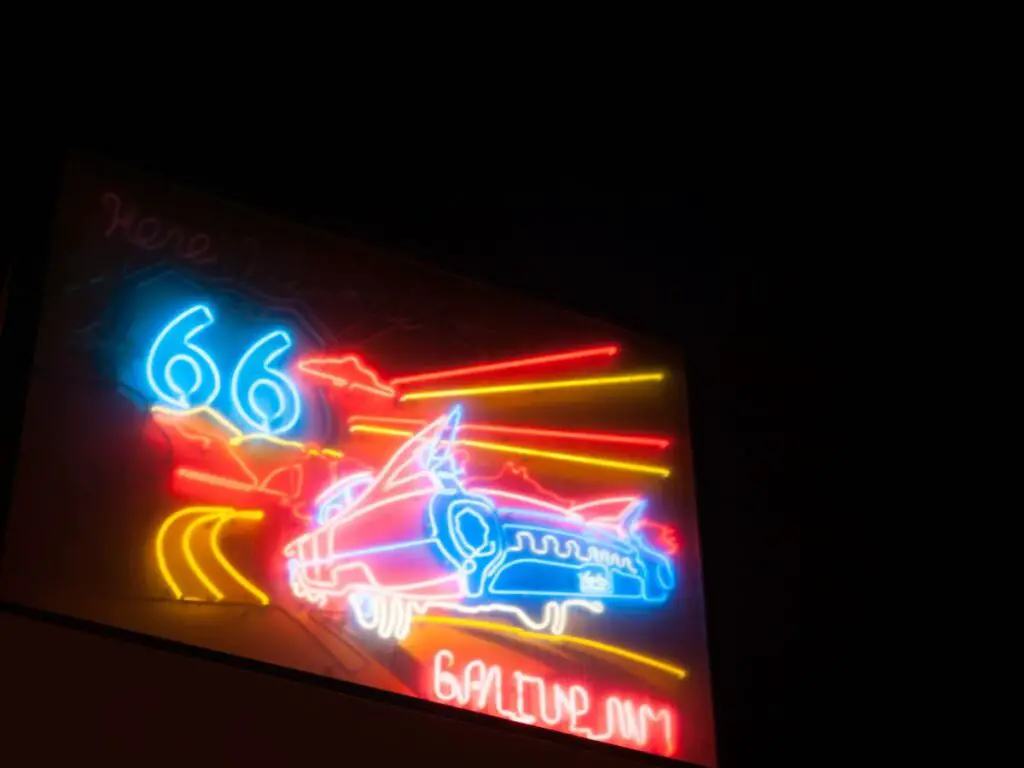 Gallup, New Mexico, is home to El Rancho hotel and as such some amazing history with the people who used to come through and stay here.  The stars of the silver screen were frequent visitors as the area was often used in filming wild west movies.  
Gallup is also proud of its Native American history and tribes in the area – one area that I was really interested in learning more about is their role in WW2. There's a museum here that tells the whole story!
Winslow, AZ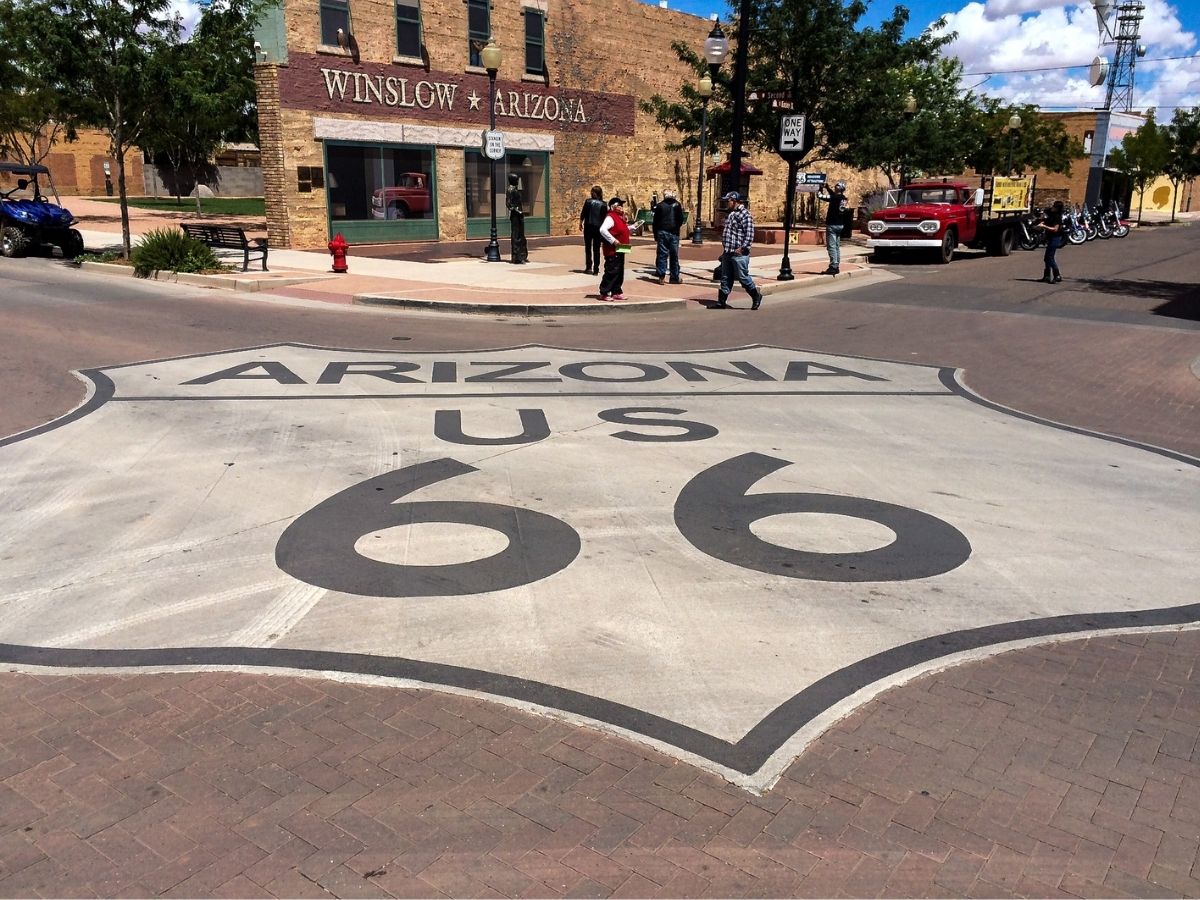 Winslow, Arizona was obviously around before being made more famous by the Eagles song 'Takin It Easy' and it was a thriving Route 66 stop. Nowadays they really capitalize on the song connection by having a statue on the corner of one of the roads and a mural of a flat bed Ford.  You can totally stand on a corner here!
Seligman, AZ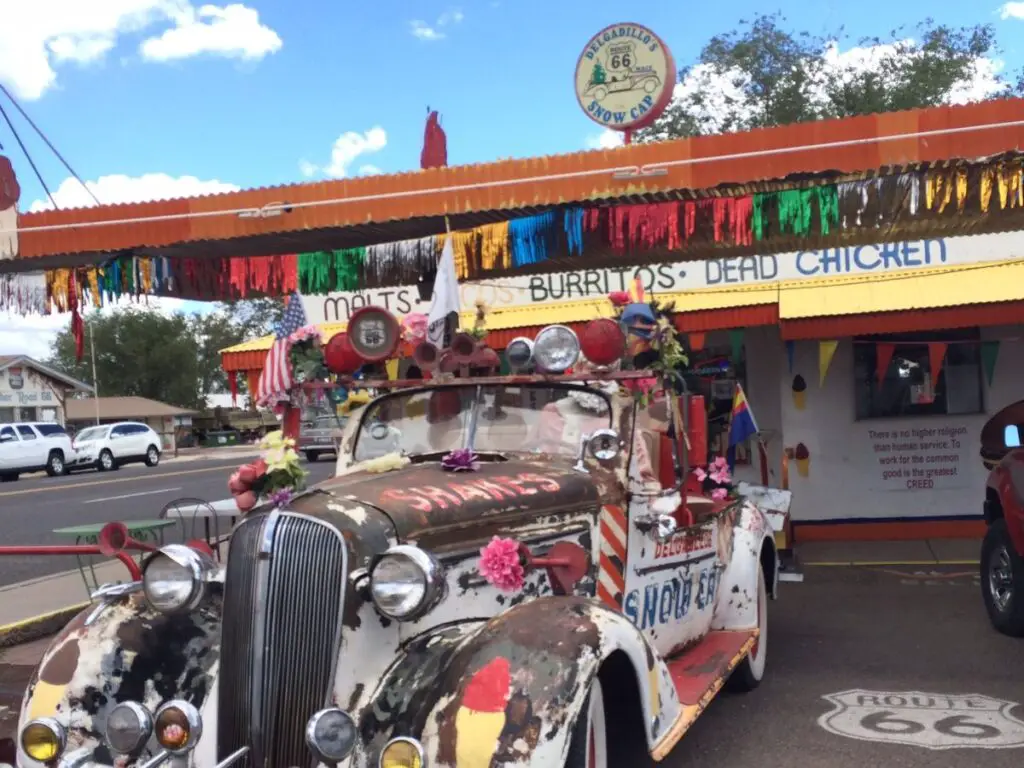 Seligman is a tiny place but it's where a lot of the Route 66 revival came from.  One big character is Angel Delgadillo who runs the gift shop and barber shop and we loved chatting with him there on our visit. Do pop in and see him if he's around.  
There is so much quirkiness in this town from the stores and diner to the cars that are parked up around. If you want to stay they night in a retro motel they have plenty to choose from too.
Oatman, AZ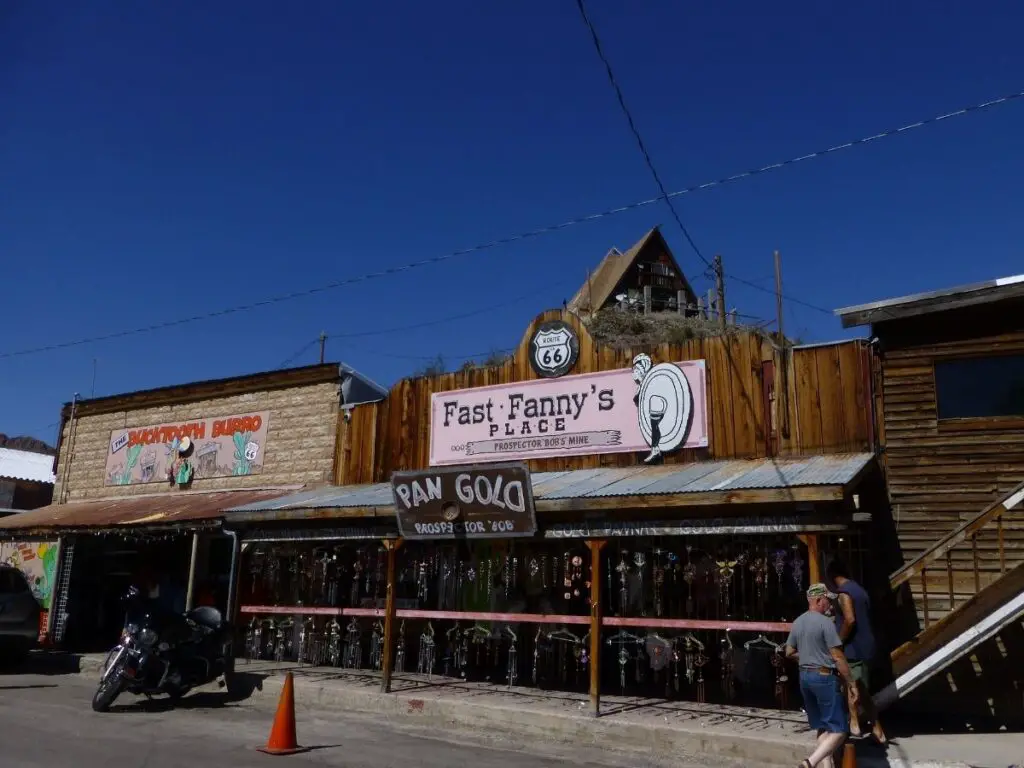 Once a ghost town with a history of gold mining, Oatman has reinvented itself and now has tourists as it's primary source of income.  While it can seem like a man made attraction, it does have some interesting history and it's a really curious place to visit.
We enjoyed the wild west feel of the place, having never been anywhere like it, and they even do shows in the town too that are free to watch as well.
Barstow, CA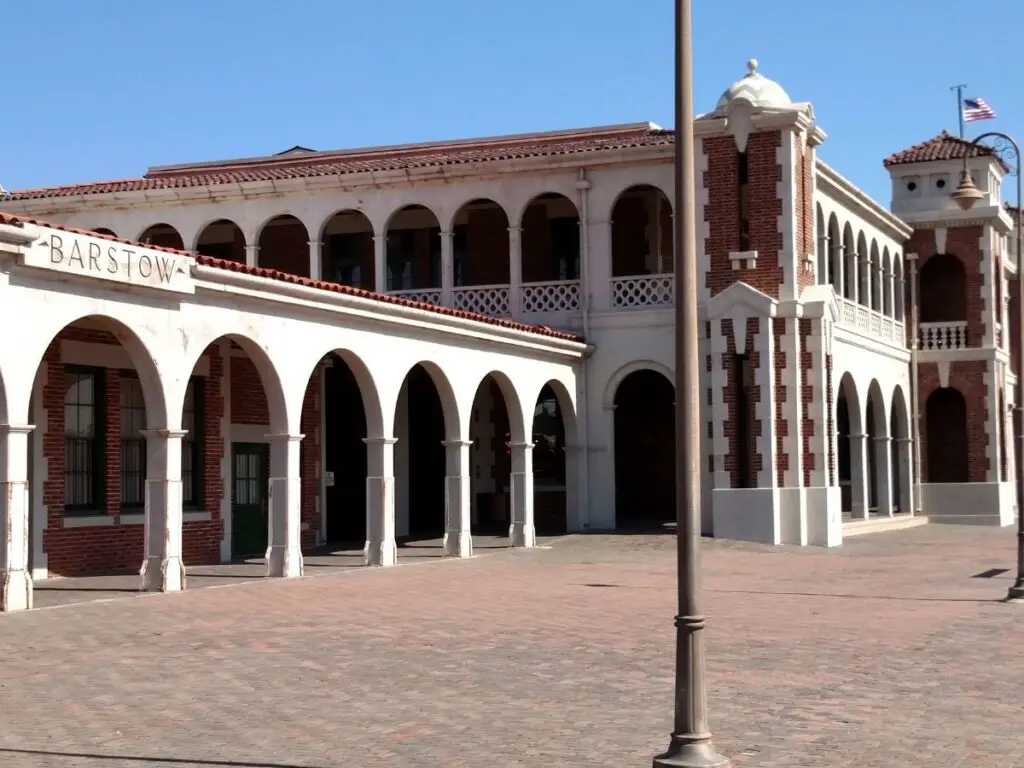 Barstow, California is famous as a gold and silver-rush town.  The town grew up when silver was found here in the late 1800s and a railway was made to connect the desert town with other places.  
When cars came into fashion it was a popular stop on Route 66 too.  You can still visit the ghost town of Calico which is nearby where some of the silver was found.