For many people this is the final state of the trip, assuming you're driving the whole road, which brings us to Route 66 in California!
Driving the mother road in California gives you a taste of extremes. You have the vast desert with not much around and all of a sudden the metropolis of greater Los Angeles where you are bombarded with people, buildings and cars.
If you're looking to drive historic Route 66 through California then this page is for you. It'll answer your state specific questions about the mother road as it drives across the state of California to the end point and link to any further posts I have about this state.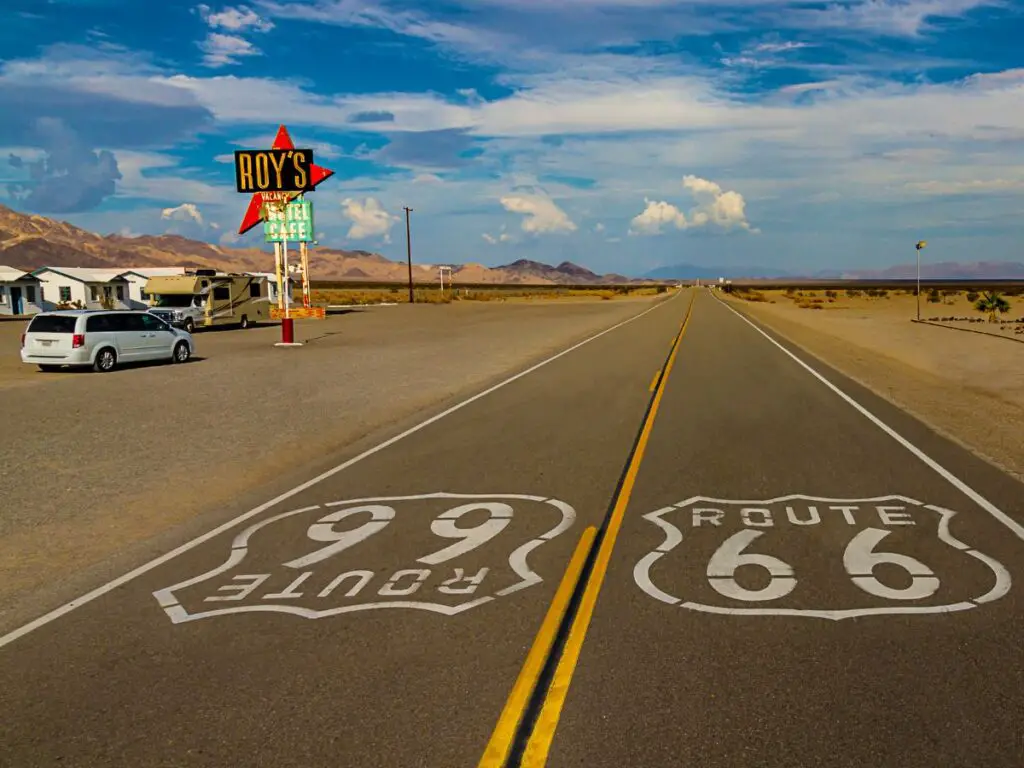 If you're just looking for specifics on what to see and where to stay along Rt 66 in California then you should check out these posts which focus just on those topics:
If you're looking for more State wide guides to learn more about Historic Route 66 all the way from the beginning to the end there's lots of posts on this site about roadside attractions to see, how to drive the road and where to stay. Alternatively you might like to check out our Start Here page.
California Facts
State Name: California
Nickname: The Golden State
Population: 39.35 million

Route 66 mileage: 315 miles (506 km)
Major cities: Los Angeles, Santa Monica, San Bernadino
Top Attractions: End of the Trail Sign
Does Route 66 still exist in California?
Yes Route 66 still exists in California but it's not always easy to find the original alignments and especially so once you're in the more built up areas.
Old 66 is easier to find and drive in the desert where it goes through some small towns that are suffering from lack of traffic since the interstate passed them by.
It's always easy to go off course so if you're wanting to be faithful to the old road, or just want a helping hand with directions I encourage you to get a guide book which will help.
Where does route 66 start and end in California?
Where does Route 66 begin in California?
Needles is a small city that is located just over the Colorado River and is where California's Route 66 portion begins after traveling through Arizona.
Where does Route 66 End in California?
The last part of Route 66 in California, and indeed the entire road if you're driving East to West, is Santa Monica. The official end point of Route 66 is actually at the corner of Olympic Boulevard and Lincoln Boulevard, where you'll see a sign similar to the one in Chicago. Most people just head straight to Santa Monica Pier where there's a more ceremonial end, complete with sign for your photo opp.
What towns does Route 66 go through in California?
Route 66 goes through a number of towns on its way through California, many of them extensions of Los Angeles:
Needles
Barstow
Victorville
San Bernardino
Pasedena
Los Angeles
Santa Monica
What is there to do on in California on Route 66?
As I mentioned before, you'll find a lot of extremes in California from the wide expanses of the desert to the busyness of the city. If you love solitude, enjoying natural areas and ghost towns then you'll do well to not rush through the desert area and take time to explore.
There's plenty of quirk and history to explore all along the way with some retro motels, interesting museums and railroad history to discover. You're also not far from the ghost town of Calico which is a must see for anyone interested in the Wild West.
As you get into Los Angeles you'll have all the benefits of a city and things to do there. You'll still see some original diners, or some that have at least been catering to travelers for quite a while and the wigwam motel in Rialto is a great place to stop for a while and get some photos
Of course the end point beckons alongside the Pacific Ocean and Santa Monica has a lot to do and enjoy once there.
Route 66 in California – Maps
Here are some maps I've made of Route 66 through California. More coming soon!
More posts about Route 66 in California