If you are researching Route 66 attractions in Illinois then you'll be pleased to know that there are a lot of things to do, stops and photo spots to slow you down and encourage you explore.
Illinois might be the start or the end of your Route 66 trip and either way it has a lot to offer the traveler and photo opportunist.
We begin in Chicago and wind our way to the Mississippi River taking in small town America, Illinois style. We'll see restored gas stations from the 20s and 30s, Muffler Men, faded neon signs and old roads made into walking trails.
Some take just a minute to see, some invite you to wander around and some, helpfully, have diners and eateries nearby to fill your boots and recharge you for the next stop on Route 66 in Illinois.
This article probably contains affiliate links.  
This means that if you buy or book after clicking, I may get a commission at no extra cost to you. Thanks!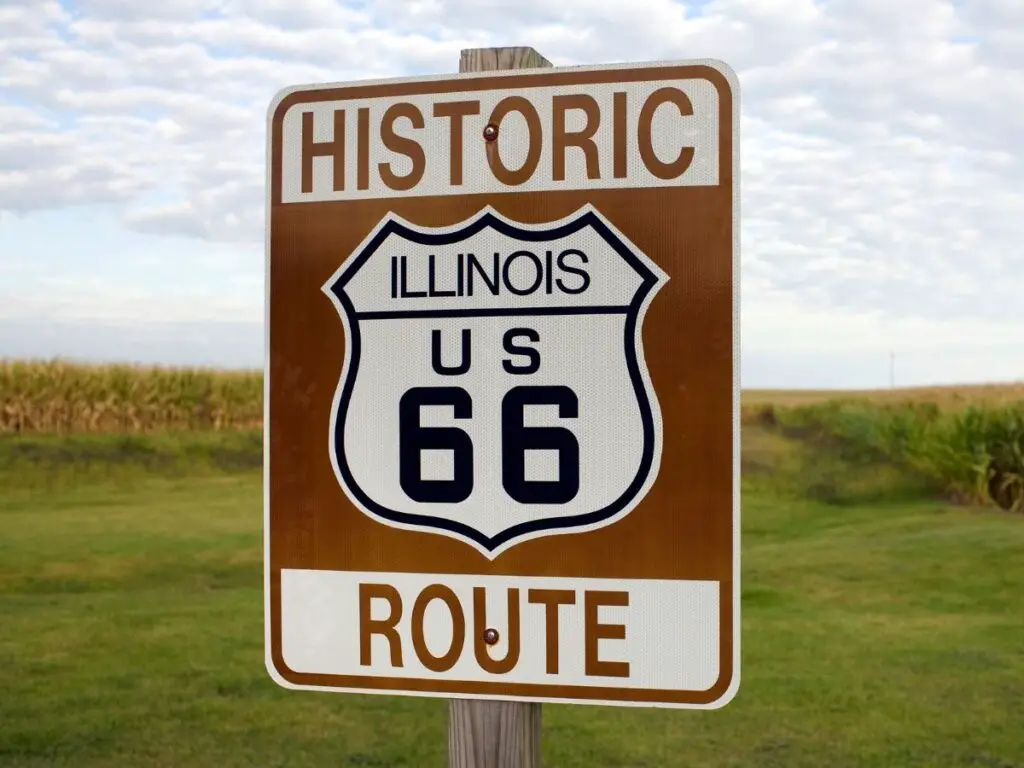 A note from the writer: Hey! I'm Kirsty and I'm a Route 66 enthusiast – I first became obsessed almost 20 years ago and then first visited in 2014. I've recently just come back from my last trip too! Comment below if you have any questions about your road trip and I'll get back to you ASAP – or join me in my free FB group here.
Roadside attractions on Route 66 come in all shapes and sizes – sometimes the best ones aren't the iconic stops in all the books, sometimes you just stumble upon something special.
What will you find in Illinois?
Route 66 attractions in Illinois
If you're not sure about where something is in Illinois on Route 66 I've created this map which details all of the attractions listed on this page.
And if you need to book some accommodation along the road you can check out our Route 66 hotel and motels in Illinois guide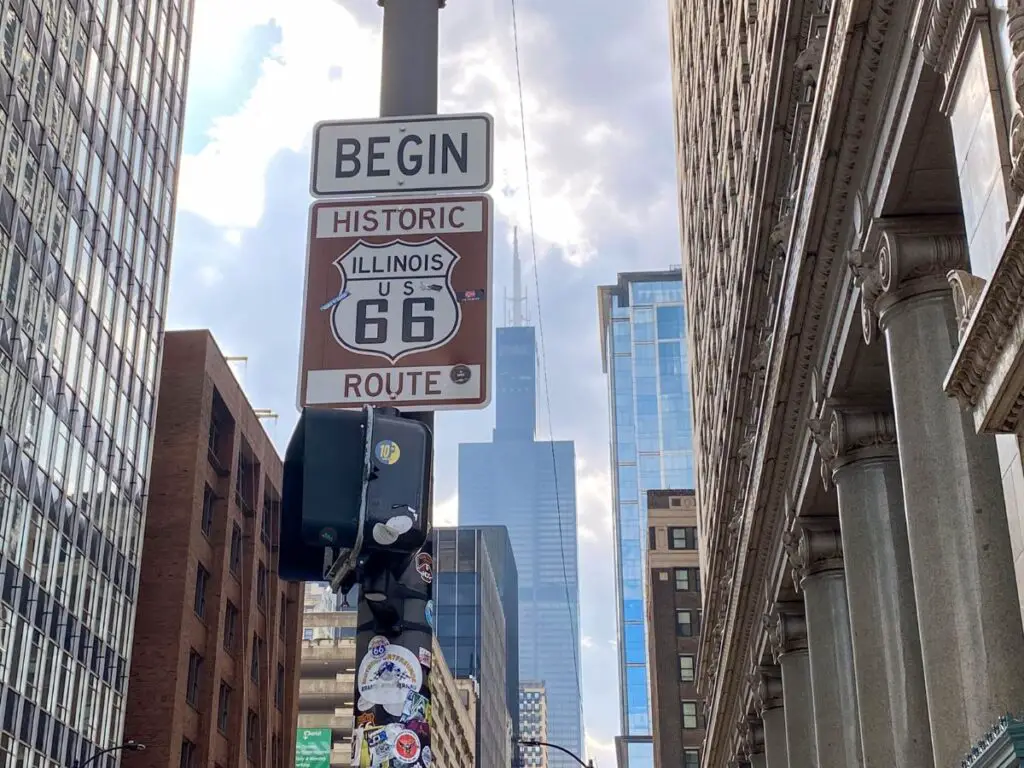 Route 66 begin sign
Location: Chicago, IL
Of course our first Illinois Route 66 attraction has to be the Route 66 sign at the beginning of the route. Many people struggle to find it, perhaps because they are expecting something a little bigger?
You can find it on East Adams Street by the junction with Michigan Avenue. If you're driving to get to it be aware that the roads are one way so plan your route before you set off!
Art Institute of Chicago
Location: Chicago, IL
While you're in the South Loop area, and especially if you're spending a night or two in Chicago, a visit to the Art Institute is worthwhile – it's right next to the Route 66 Begin sign and has been there since before the road began.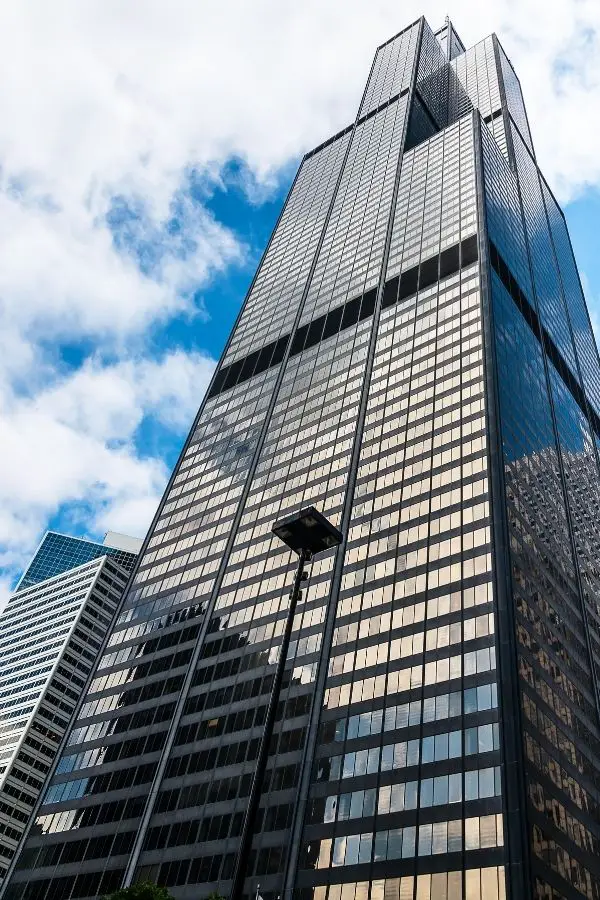 Willis Tower
Location: Chicago, IL
Along Route 66 and only a few blocks from the begin sign is also another popular Chicago attraction. Climb the Willis Tower (used to be called the Sears Tower) to get to the observation deck and see Chicago, Lake Michigan and Route 66 from above.
Lou Mitchell's Restaurant
Location: Chicago, IL
Finally, before you leave Chicago a must see diner is Lou Mitchell's. It is as old as the road itself, been serving travelers all these years and a great place to get a good breakfast before you hit the road. It's located on W. Jackson Boulevard which is the original road before it changed to one way streets.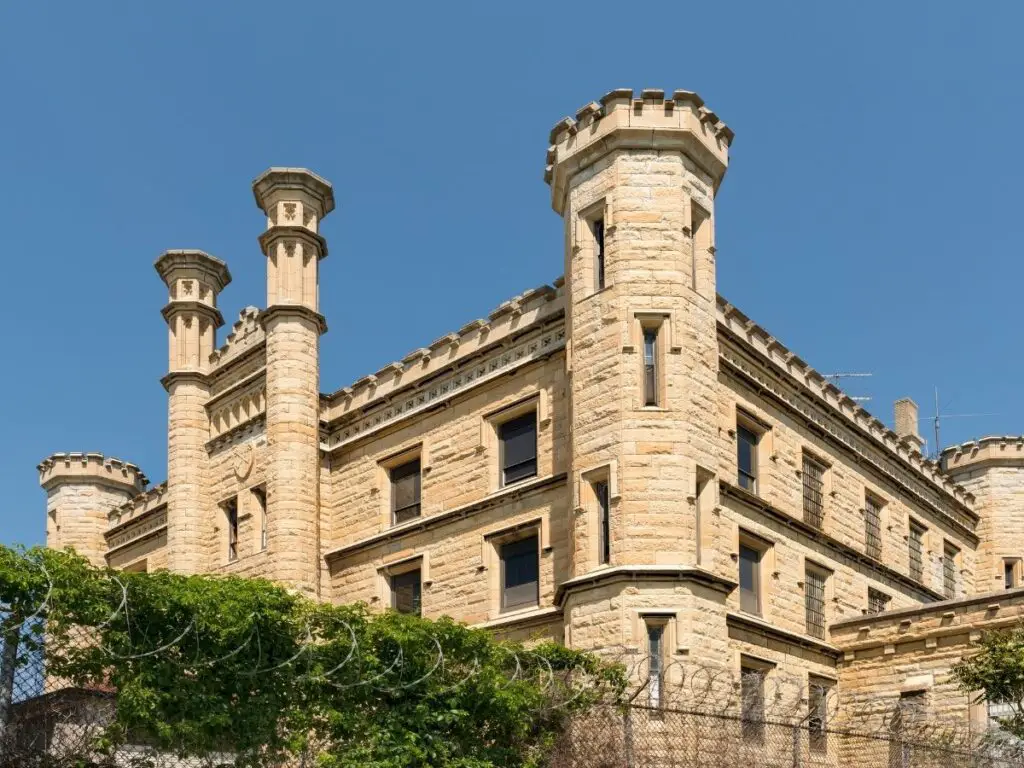 Old Joliet Prison
Location: Joliet, IL
Now we're out of Chicago and in the next city of Joliet you might want to explore the Old Joliet Prison. You might also recognise it from the Blue Brother's Film. It's a bit of a creepy attraction but one that will make a great story. You can get tickets and arrange a tour at the Joliet museum.
Joliet museum
Location: Joliet, IL
Covering the history of the area and not just Route 66. It's got a lot to offer and keep you occupied. Run by locals who are very knowledgeable.
Rt 66 Raceway
Location: Elwood, IL
For fans of motor racing the Route 66 Raceway does drag racing and right next door there's Nascar racing at the Chicago Speedway. Might not fit in with everyone's plans, but might be worth checking events if this is an interest of yours.
Midewin National Tallgrass Prairie
Location: Elwood, IL
Elwood was an area used in WW2 for making weapons but the factories are long gone now. Except there are still some relics you can see on the Midewin National Tallgrass Prairie parkland. There's a trail you can do that will walk you round the old arsenal site and you can see some of the bunkers they used for storage.
Gemini Giant & Launching Pad, Wilmington
Location: Wilmington, IL
One of the iconic roadside attractions along Route 66 in Illinois is the Gemini Giant. He's one of a few muffler men on the route and it's a great place to stop and get a photo.
Next door is an old fashioned diner called the Launching Pad for a quick bite to eat to keep you going.
Illinois Mining Museum
Location: Godley, IL
The small town of Godley used to be a booming centre for commercial industry thanks to mining in the area. It's just a small place now, but the the history of the area is told in the small Illinois Mining Museum. Worth a stop if you can catch it open but there are some information boards outside if you can't.
Riviera Roadhouse memorial
Location: between Braceville, IL and Gardner, IL
The Riviera Roadhouse was once a historic diner said to have been a haunt of Al Capone and Gene Kelly to name just a few.
Unfortunately the diner burned down just over 10 years ago now so all that remains now is a memorial sign highlighting that the diner was there with some information on the history.
The Shop on Route 66
Location: Gardner, IL
As you'll see there are a few different, small sights to see in Gardner so it's worth stopping off there. The Shop on Route 66 is one of those places that you could spend ages just looking at all the signs and knick knacks around.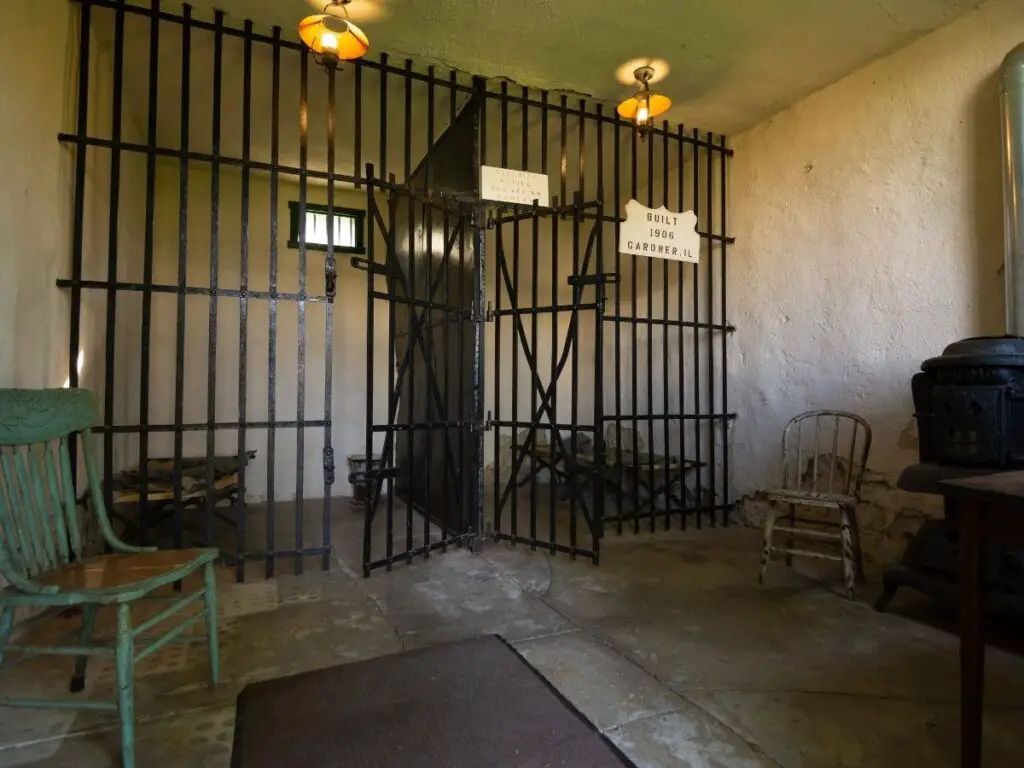 Two cell Jail
Location: Gardner, IL
The two cell jail is a historic reminder of how law enforcement was over 100 years ago. It was built in 1906 and, as the name suggests, had two cells inside for prisoners. You can go inside and take photos and even pretend to be a prisoner!
Riviera Restaurant
Location: Gardner, IL
Remember the Riviera Roadhouse that burned down? Well there used to be an old streetcar behind the restaurant and that has since been moved to the small town of Gardner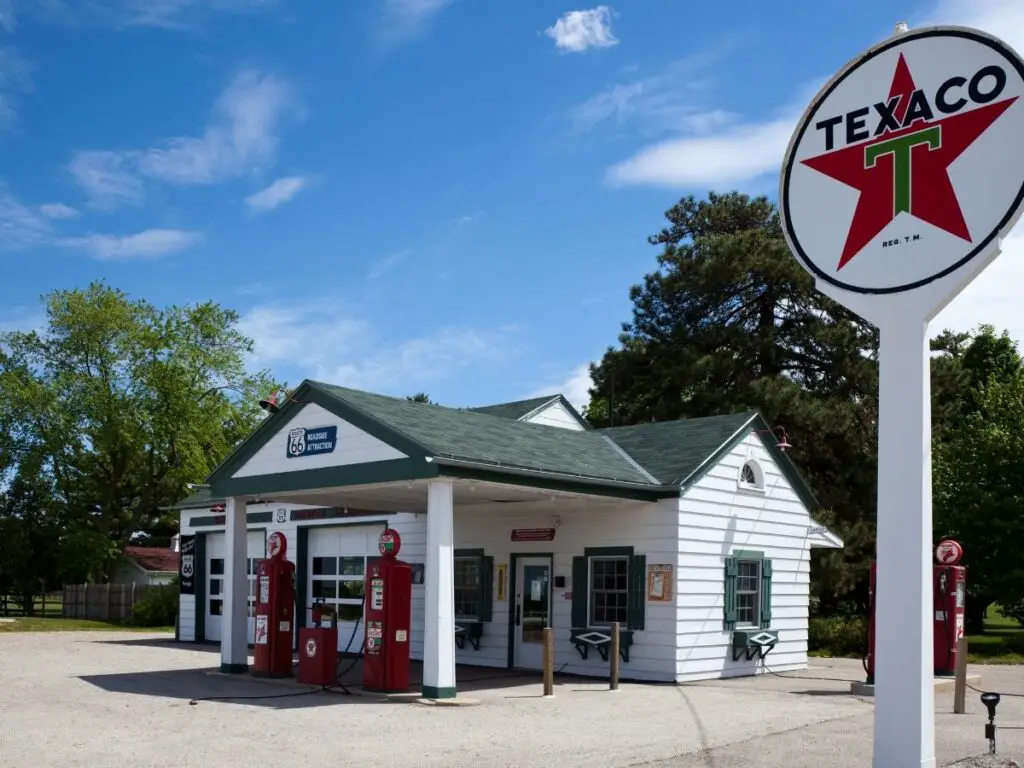 Ambler's Texaco Gas Station
Location: Dwight, IL
This restored 1930s gas station is definitely worth a stop off at in Dwight. It's a really good example of an early gas station that was styled to look as unintrusive as possible. You'll see that it looks similar to some houses in the area. It's not currently a gas station, it now houses a visitor center for Route 66 travelers.
Old 66 Family Restaurant
Location: Dwight, IL
If looking at original Route 66 icons gets you hungry then you'll be pleased to know that right across the road from the restored Gas Station in Dwight is a good old fashioned Route 66 diner for you to take a break in.
Odell Pedestrian Tunnel
Location: Odell, IL
The next small town on Route 66 brings quite an oddity. In the past the road through Odell was so busy that it was considered to be a danger to the pedestrians. As such a tunnel was built to allow people to cross the road safely.
Of course, with the town being bypassed later on it's hard to imagine such an amount of traffic. The tunnel was eventually buried but with the Route 66 interest being restored the tunnel was too. Well, a little. You can see the top steps of the tunnel and a sign to commemorate this bit of quirky history.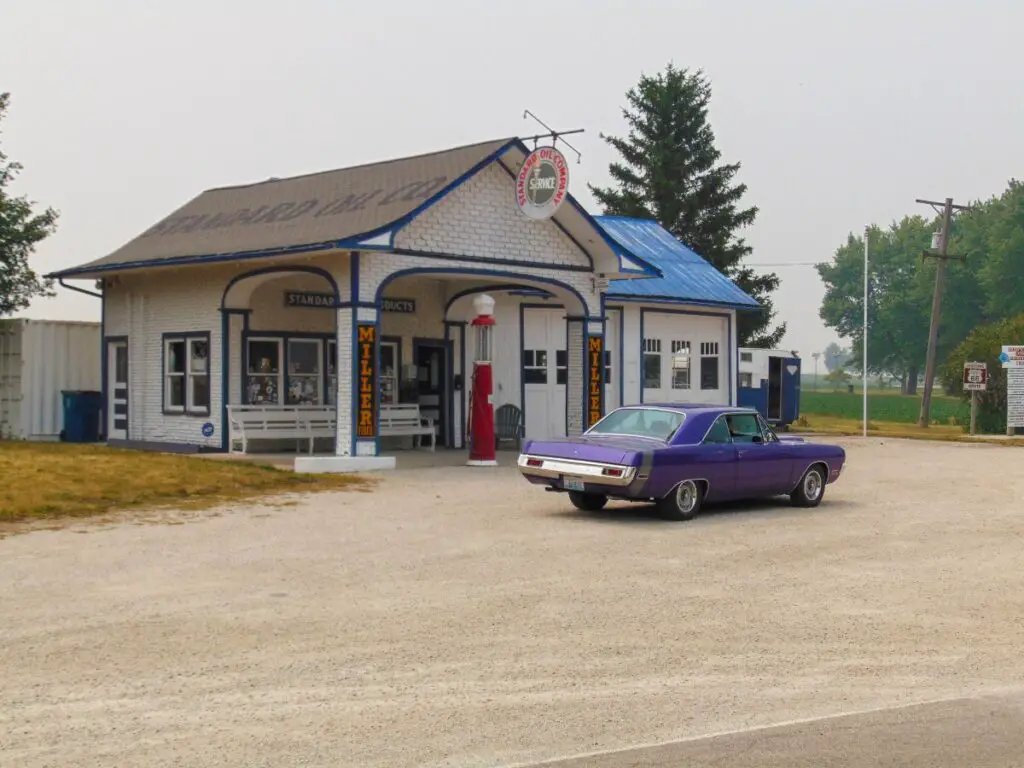 Standard Oil of Illinois Gas Station
Location: Odell, IL
While you're in Odell you might also like to take a look at another restored gas station in town. This is a beautiful example of what the gas stations looked like in the 30s and 40s. You can see where they added a garage on the side to accommodate the extra traffic that started to come through.
Meramec Caverns Barn
Location: Cayooga, IL
Just before you get in to Cayooga you'll see some early Route 66 advertising for one of the attractions in Missouri – the Meramec Caverns.
There was a lot of advertising for this place and this was a good example where it was painted on the side of a barn that happened to be on Route 66.
Old Log Cabin
Location: Pontiac, IL
A traditional eating establishment just before you head into Pontiac. This has been on Route 66 for many years and has lots of stories to tell and they do so gladly if asked!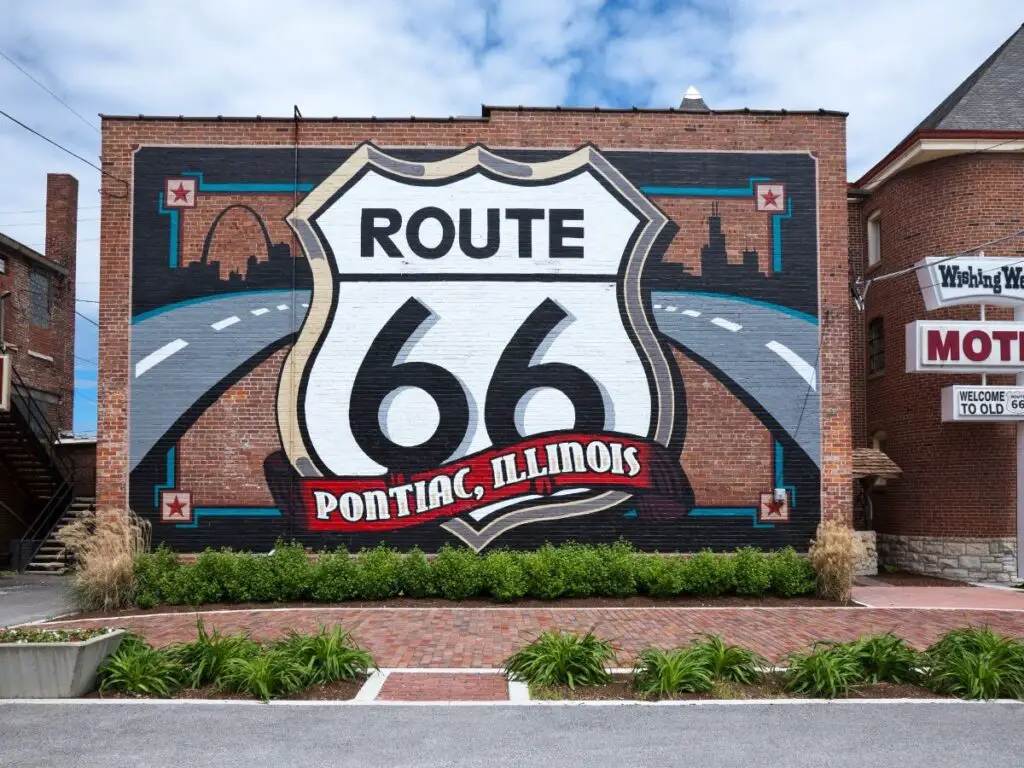 Pontiac, Illinois – Oakland Auto museum
Location: Pontiac, IL
For fans of cars, head to the Oakland Auto museum in the centre of Pontiac. You'll find a lot of restored cars, memorabilia and displays. They tell the history of the Oakland and Pontiac cars and have people that will chat all day about them.
Pontiac Rt 66 Hall of Fame
Location: Pontiac, IL
Just around the corner from the Auto museum are more museums in Pontiac – it's a good place to stop and explore! The Route 66 Association of Illinois have a museum with a tonne of relics, signs and stories about the road in Illinois and its history. Don't forget to get a photo with the large sign (above) as well!
Decommissioned Illinois State Police HQ
Location: Pontiac, IL
As roads began to be used more then the rise of state police to look after the stretches of road began, especially on busy Route 66. This is an example of an old building, dating from 1941, that was built for the Illinois State Police. The building was in use up until 2003 but now is decommissioned and empty.
Unfortunately you can't look around as it's not open to the public but it's a nice example of architecture from the time and a little bit of history.
Chenoa picnic stop
Location: Chenoa, IL
This is the first in 3 towns that you'll go through where there are some walking trails that have been made from the original Route 66 road. You can't drive on them but they are a nice place to take a break from the road and stretch your legs.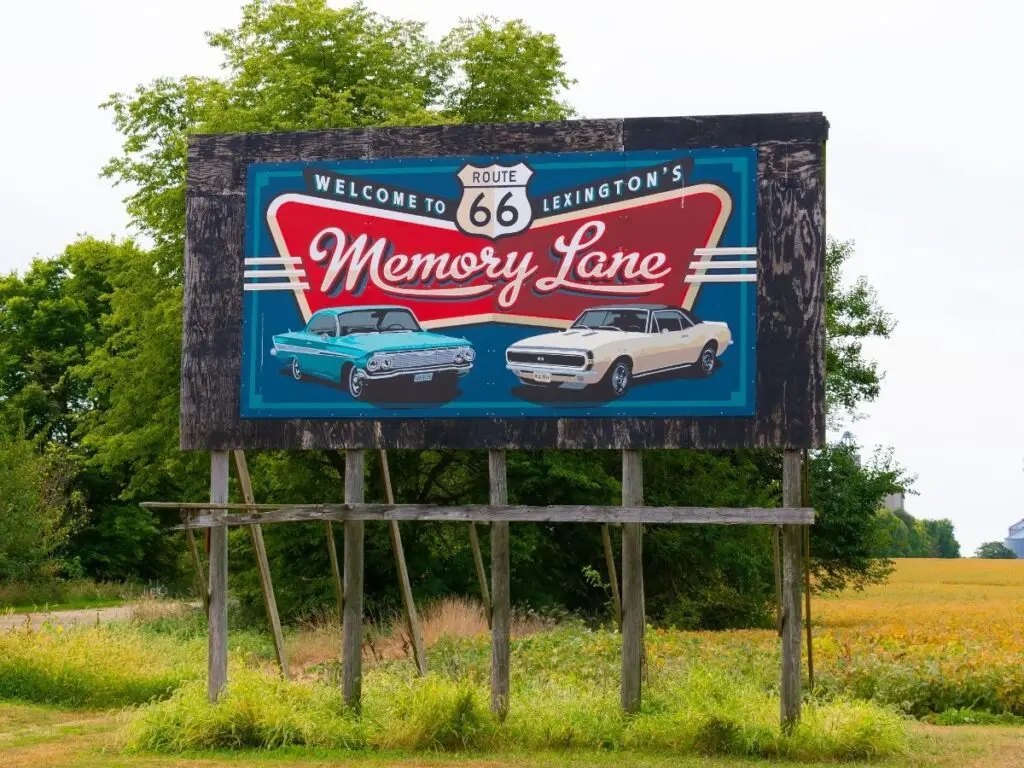 Lexington Memory Lane
Location: Lexington, IL
In Lexington they have also preserved part of the road as a walking trail now and lined it with vintage signs which is a fun way to get that old time nostalgia as you're walking along.
In Lexington there's also a small neon sign guiding you into the city which is also over 70 years old now!
Towanda Rt 66 Exhibit
Location: Towanda, IL
Another example of a town keeping one of the older stretches of the road alive. It's a trail for walking on and they have signs guiding you along route 66 all the way to California.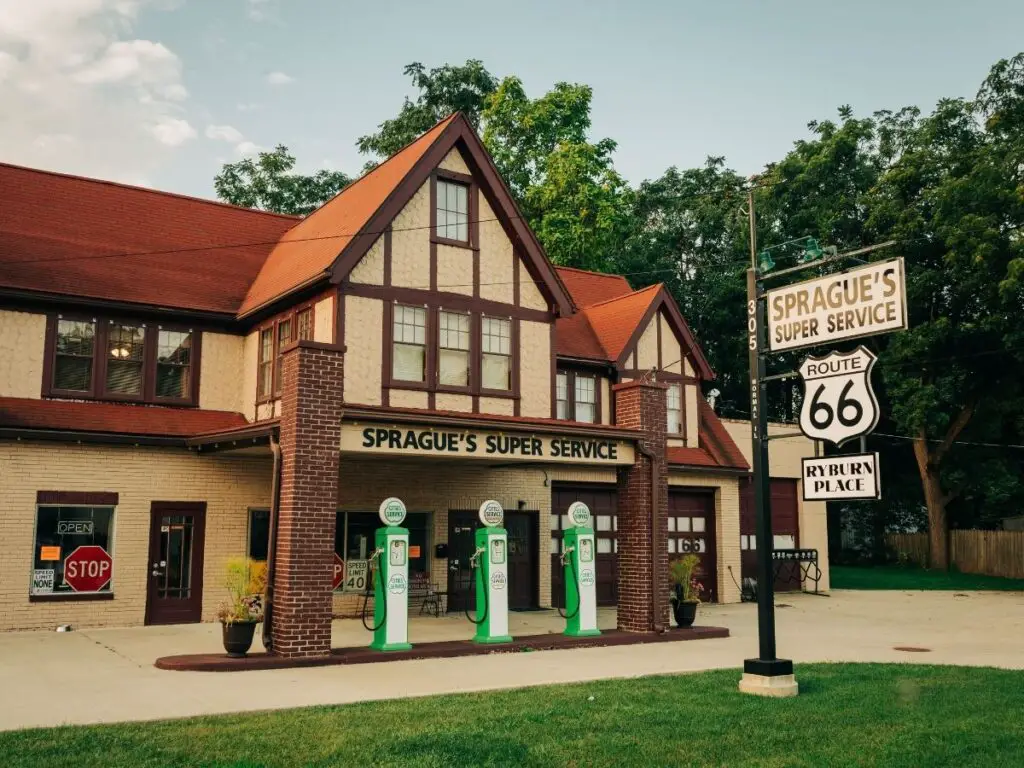 Sprague's Gas Station
Location: Normal, IL
This is a stunning example of a gas station that was built in a distinctive style, almost like a Tudor building. A two storey building like this was quite rare for a gas station as well – it dates to the 30s and I can imagine it being a talking point with its unique look. It's been restored now and there's a small shop too for some unique souvenirs.
Funk's Grove Maple Sirup Farm
Location: Funk's Grove, IL
Stop and explore the maple trees with their taps ready to be farmed for some tasty syrup! The farm has a long history in the area and there's a shop here also selling sweet goods and souvenirs.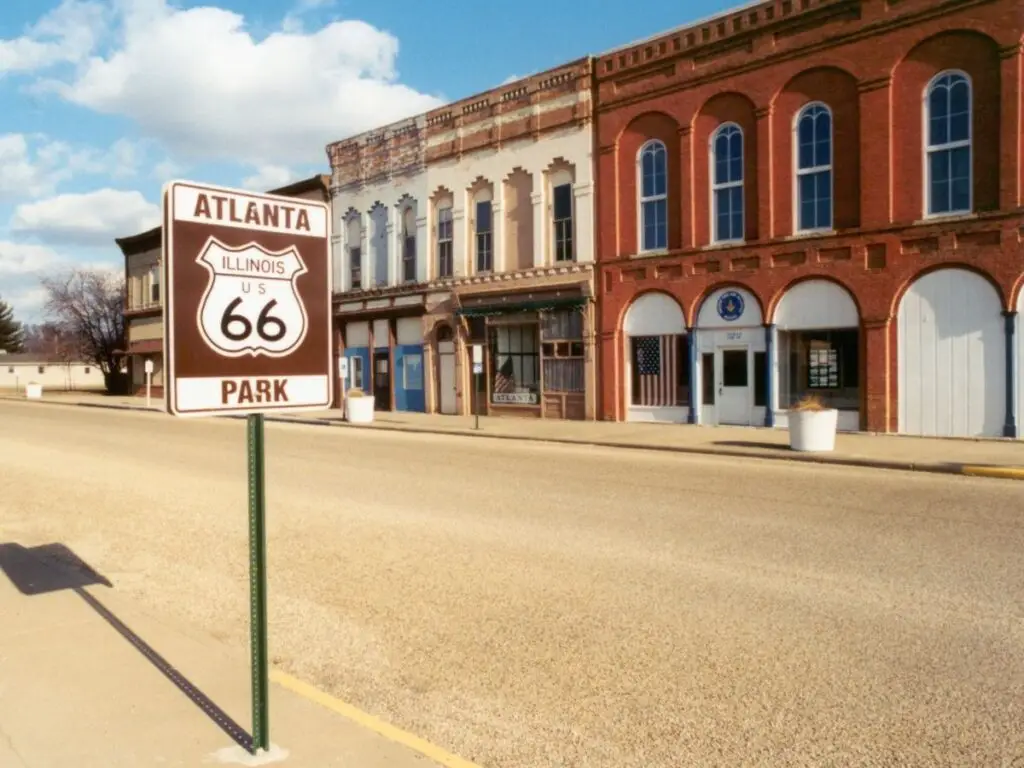 Paul Bunyon Statue
Location: Atlanta, IL
Just like the Gemini Giant in Wilmington, here's another muffler man – Paul Bunyon with his hot dog. It's in the centre of the town of Atlanta where you'll find plenty of murals, some great food options and some museums…
Atlanta Rt 66 Museums
Location: Atlanta, IL
In Atlanta you also have a couple of museums to wander around too so if you can it's a good place to arrange a stop. They have 66 Memories with antiques and exhibitions about the road. Just a few doors down is the Arcade museum with vintage pinball and arcade machines. It's a great stop for kids on Route 66 too!
Smiley Water Tower
Location: Atlanta, IL
Also in Atlanta is a fun water tower that looks just like a smiley emoji! Don't forget to pull over for a photo!
Tropics Neon Sign
Location: Lincoln, IL
In the town of Lincoln be sure to look out for the Tropics Neon sign – a blast from the past, it was part of an old restaurant that's no longer open. It looks a little rough around the edges but if you like your retro signs a bit aged this is a good one! It's near the McDonalds just off 66.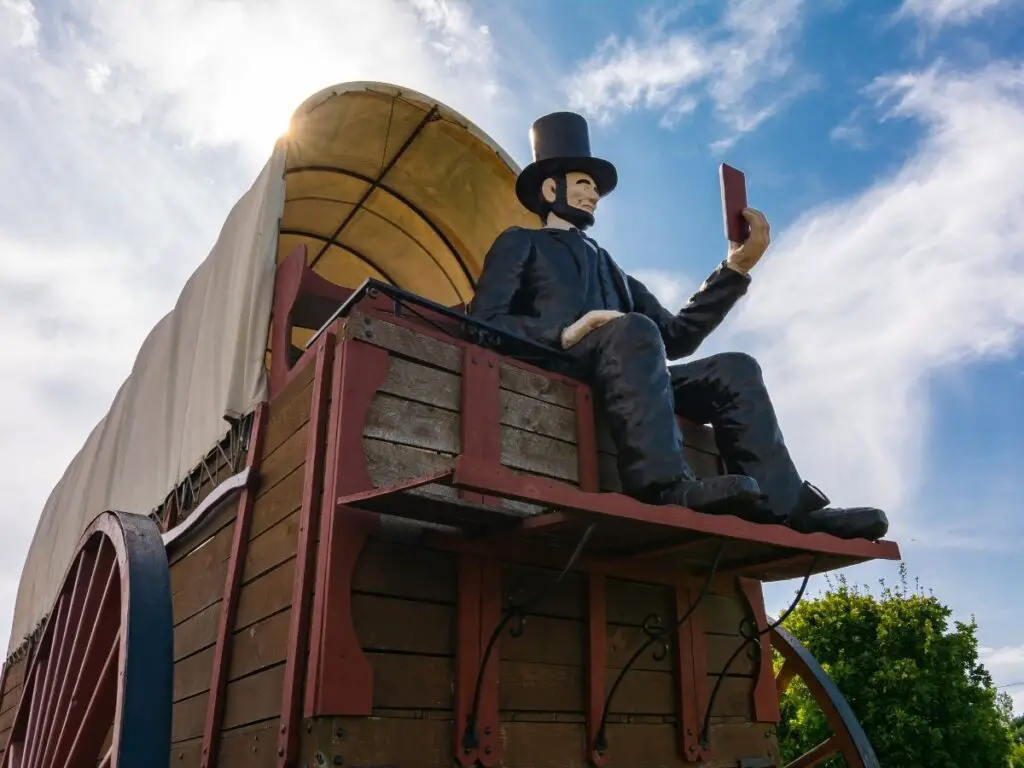 Largest covered wagon
Location: Lincoln, IL
Also in Lincoln is the largest covered wagon in the world and sat astride is a model of President Lincoln. It was inducted into the Guinness book of records and was apparently one of the top roadside attractions in the USA.
Mill museum
Location: Lincoln, IL
This is an original building from the beginning of Route 66 and well worth a stop. Originally a restaurant that was known for schnitzel this has recently been restored and now houses memorabilia from Route 66 in the area.
Pig Hip Memorial & Motel sign
Location: Broadwell, IL
Once a Route 66 favorite, run by an enthusiastic local and advocate of the road, the Pig Hip restaurant had an interesting history. It was known for it's pork sandwiches with the Pig Hip Dip sauce and people would come from miles around to try them.
After the restaurant closed it turned into a museum but unfortunately in 2007 it suffered from a fire and was burned down. You can still see a memorial sign if you stop and an old motel sign too.
Historic Gas Station
Location: Williamsville, IL
If you decide to go through Williamsville be sure to check out an old gas station in town with old cars outside and retro signs.
Boxcar Museum
Location: Williamsville, IL
And while you're in Williamsville there's a quirky little museum to check out too which is set up in two old Boxcars and tells the history of the town.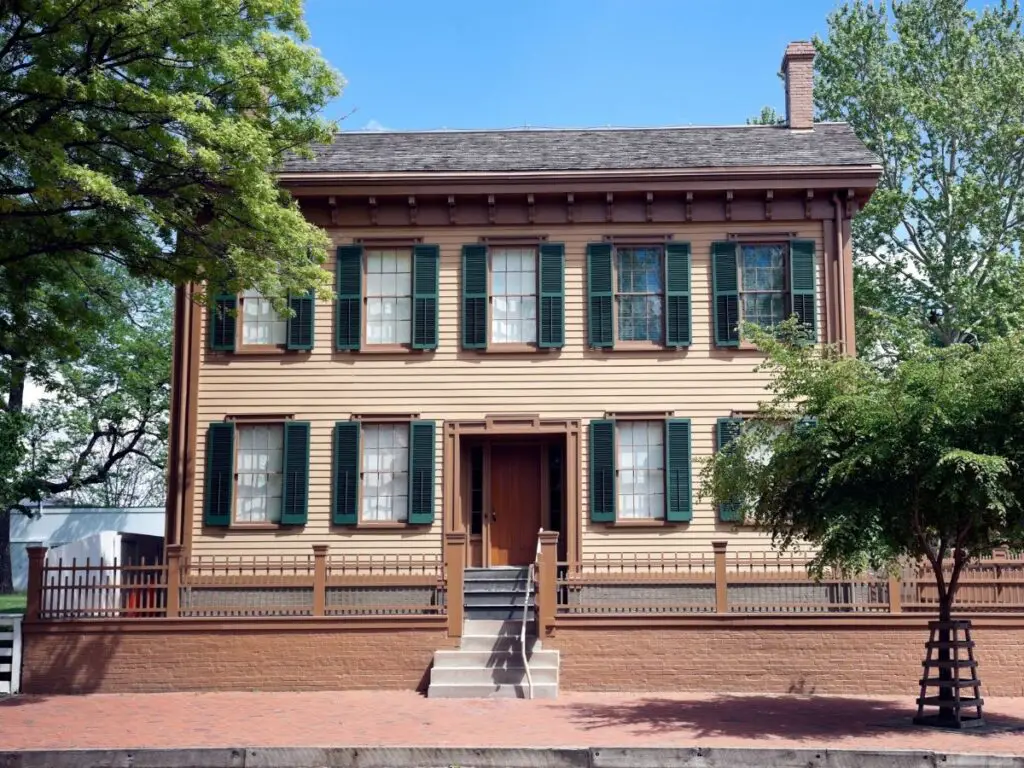 Lincoln Home
Location: Springfield, IL
This historic home has been kept in the original state to when it was lived in by President Abraham Lincoln and you can do tours as well to learn about his life before he became president.
Cozy Dog Drive In
Location: Springfield, IL
This is a classic diner on route 66 and it was owned by the Waldmire family (Bob Waldmire, the son was a famous Route 66 name and he created a lot of postcards and art for the road) and they have been selling hot dogs on a stick since 1949.
Motorheads Bar, Grill and Museum
Location: Springfield, IL
Stop for some food or just check out the museum at this fantastic example of Route 66 history on the road. Housed in a 70s roadside stop this is a relatively new addition to Illinois Route 66 attractions having opened in 2018.
Illinois Brick Road
Location: Auburn, IL
This is an original part of the road that was laid using bricks back in the 30s.
Skyview Drive In
Location: Litchfield, IL
An old, retro drive in for that classic evening entertainment. For many this is quintessential Route 66 history and if you can you should definitely partake! There aren't too many drive in theatres on Route 66 and this is the only one in Illinois.
Soulsby Service Station
Location: Mount Olive, IL
A restored gas station that dates to the beginning of the road in 1926. Like many of the others on this page it's a style that's reminiscent of homes of the time with a covered area for the car and the gas pumps. You can take a picnic and eat there in the shade of the trees if you're looking to have a change from diners!
Henry's Rabbit Ranch
Location: Staunton, IL
A quirky stop which has echoes of the Cadillac ranch in Texas but at this place you'll find Volkswagen Rabbits. There are also some real life rabbits to see and lots of interesting old and vintage items that make great photo opps.
Pink Elephant Antique Mall
Location: Livingston, IL
A great place to pick up something truly different to the mass manufactured stuff in shops. The Pink Elephant Antique Mall also has a 50s style diner attached if you're looking for some refreshments after a long drive.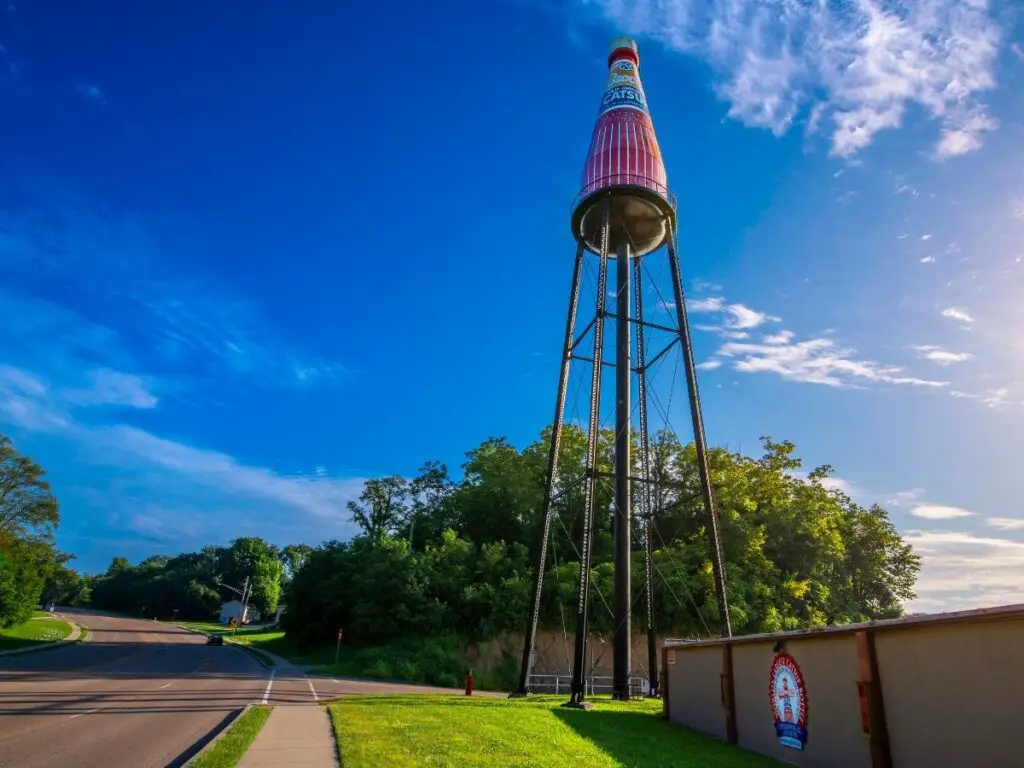 World's largest catsup bottle
Location: Collinsville, Illinois
Another attraction that is one of the world's largest – this time it's a catsup, or ketchup, bottle. It's actually a water tower that has been designed to look like a catsup bottle that was made by a local company. It's 170ft tall!
Rt 66 Flea Market & Teri's Diner
Location: Granite City, IL
Just before you cross into St Louis and into Missouri there's another flea market that's worth checking out. Lots of antique and vintage items are on sale here and there's a 50s diner just next door too.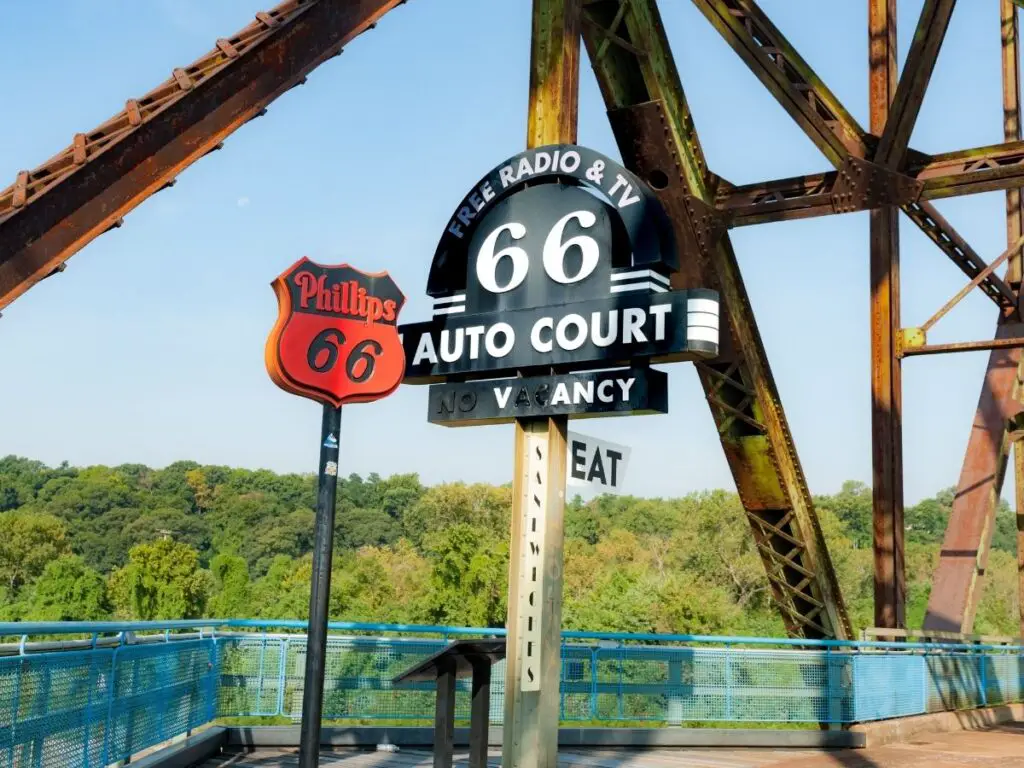 Chain of Rocks Bridge
Location: between Granite City, IL and St Louis, MO
Finally we end our Route 66 trip through Illinois with a stop at the Chain of Rocks bridge. It's not able to be driven over with cars any more but you can park up and go for a walk over the Mississippi. They have erected some old signs for photo opps but the bridge is the main attraction!
Have I missed your favourite things to do in Illinois on Route 66? Do let me know if there are any new attractions and things to see and I'll add it to my list for next time I'm passing through!
Still got questions? Join our FREE Route 66 community!
Come and join our FREE Facebook group where you can get help with planning your Route 66 road trip of a lifetime!