Route 66 in Missouri, is the second state you'll drive through if you're driving from the very beginning. It's where the states started to open up, where westward expansion really began from and where stories of pioneers and explorers begun to be told. Route 66 played a part in this in the later years of course but the trails it followed begun much earlier.
Route 66 trails almost directly half way down across the state in a diagonal fashion from St Louis to Joplin and passing through a lot of interesting towns and areas in between.
If you're looking to drive the mother road in Missouri then this page is for you. It'll answer your state specific questions about Route 66 as it winds through this forest filled state and I'll link to specific posts you might find useful.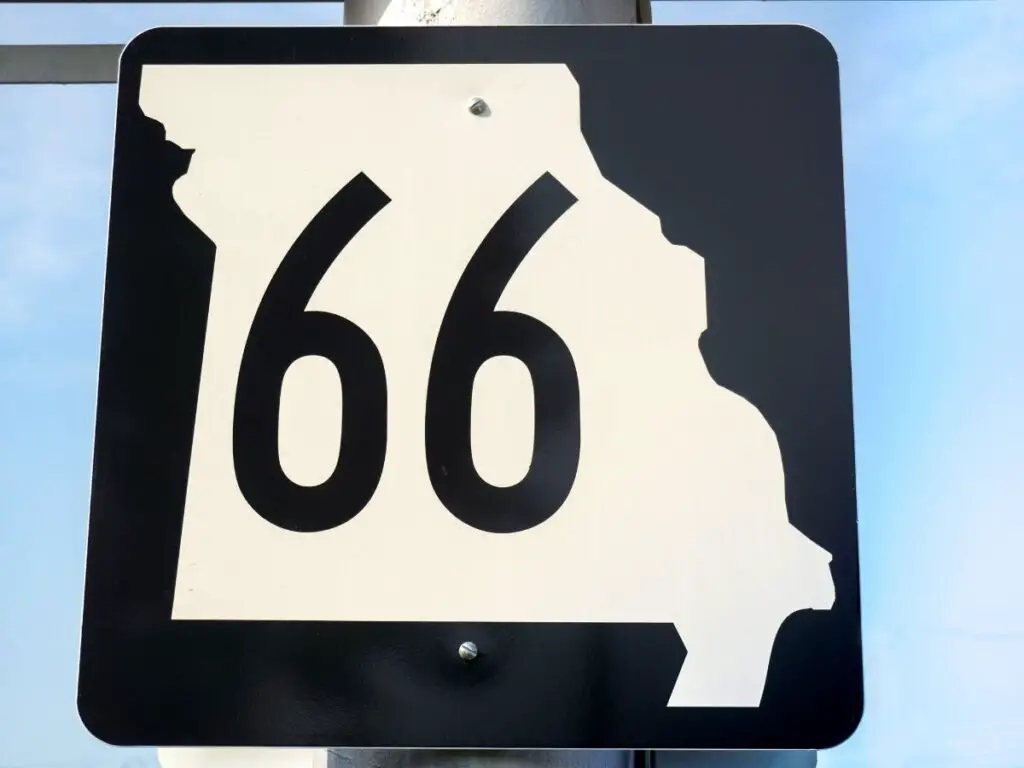 If you're specifically looking for information on what to do and where to stay along Rt 66 in Missouri then please check out these two posts that focus just on those topics:
And if you're looking to learn more about the whole of the Historic Route 66 all the way from the beginning to the end there's lots of posts on this site about roadside attractions to see, how to drive the road and where to stay. Alternatively you can check out our Start Here page.
Missouri Facts
State Name: Missouri
Nickname: The Show Me State
Population: 6.137 million

Route 66 mileage: 292 miles (470 km)
Major cities: St Louis, Springfield
Top Attractions: Meramec Caves, Cuba Murals, Gateway Arch
Does Route 66 still exist in Missouri?
Yes parts of Route 66 still exists in Missouri although like much of the road it has been changed along the way and it's not easy to drive it directly from point A – B. Some parts of the road turned into I-40 and some got bypassed and were either lost or significantly forgotten about. While the road exists in a sense, it was decommissioned as an official route in the 80s.
In order to learn about the different alignments and be able to get directions to drive the road comfortably I recommend getting a guide book. You can see my recommendations here – Route 66 guide books.
Where does route 66 start and end in Missouri?
Where does Route 66 begin in Missouri?
Route 66 begins in Missouri in the city of St Louis, just after you cross the Mississippi River. From 1936 to 196 you'd have entered Missouri on the Chain of Rocks bridge but that is no longer used by motor vehicles. The actual road alignment changed a lot over the years.
Where does Route 66 End in Missouri?
The end point, assuming you're driving East to West is just west of Joplin, MO.
Does Route 66 run through St Louis?
Yes, Route 66 has gone through the city of St Louis although the road changed a lot throughout the years.
It's hard to find every alignment that went through the city and there were so many, so many people choose to just enjoy the city attractions rather than slavishly follow the exact roads.
What cities and towns does Route 66 go through in Missouri?
Route 66 goes through a number of cities and towns through Missouri:
St Louis
Eureka
Pacific
St Clair
Stanton
Sullivan
St Cloud
Bourbon
Cuba
Fanning
St James
Rolla
Doolittle
Jerome
Devil's Elbow
Uranus
St Robert
Lebanon
Phillipsburg
Conway
Marshfield
Strafford
Springfield
Carthage
Joplin
What is there to do on in Missouri on Route 66?
There are so many roadside attractions in Missouri along Route 66 from giant rocking chairs to the famous Meramec Caverns that are advertised all along the route. Small mom and pop motels and diners are found along the road with their own unique style, historic decor and neon and a commitment to the history of the road.
You have a couple of cities on the mother road in Missouri as well. St Louis is the big one and a great starting point if you're not looking to drive the whole way. You'll also find (another) Springfield which is a jumping off point to many outdoor activities in the region.
Route 66 in Missouri – Maps
Here are some maps I've made of Route 66 along Missouri. I'm working on a turn by turn version and will add here when it's available!