You might not think that there are many Route 66 attractions in Kansas to see, and in comparison to the other states on the Mother Road, you might be right. Kansas only has 13 miles of road to their name on Route 66 but they do still manage to pack in some fantastic sites to see.
The corner of Kansas that Route 66 cuts across is the south east of the state. This area is mining country and a lot of the history is based on that. There's also a lot of civil war history in the area too if that's something that interests you.
As far as Route 66 attractions go, you'll find lots of old fashioned places in this spot on the historic route. You'll find where some inspiration for the Disney Cars movie came from. Most of all, Kansas offers an invitation to slow down and explore all there is to offer in the state. After all, with just 13 miles to explore, there's definitely no overwhelm here and choices to make about what to see and what to miss!
Let's see it all and discover what Route 66 in Kansas has to offer!
This article probably contains affiliate links.  
This means that if you buy or book after clicking, I may get a commission at no extra cost to you. Thanks!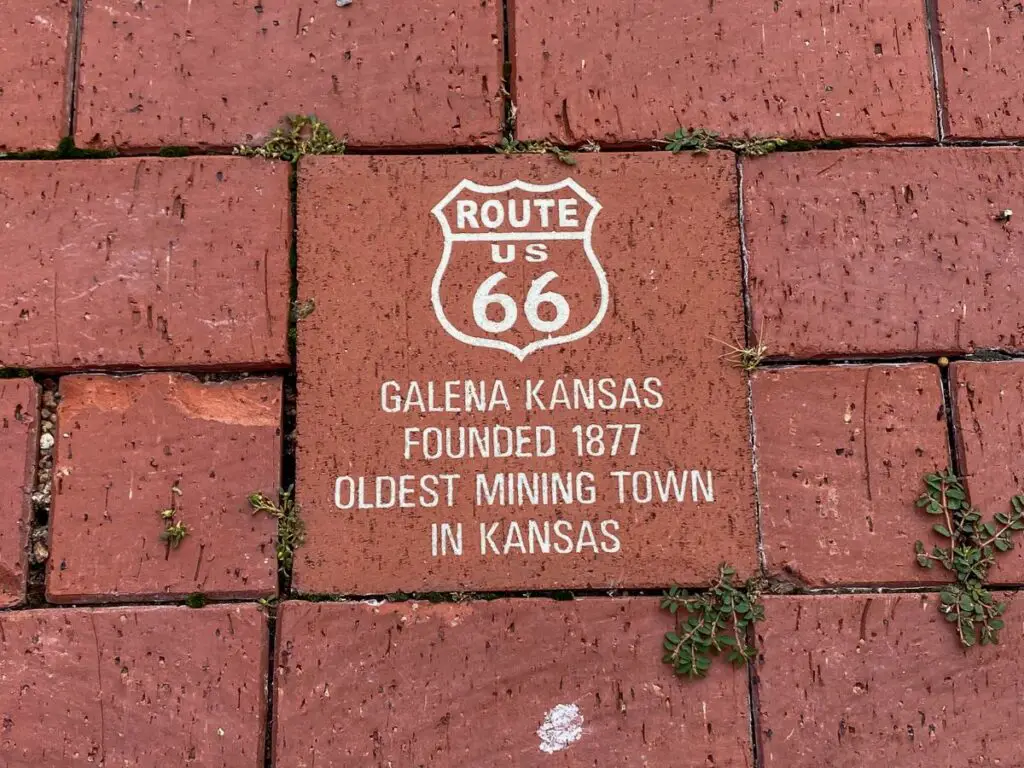 A note from the writer: Hey! I'm Kirsty and I'm a Route 66 enthusiast – I first became obsessed almost 20 years ago and then first visited in 2014. I've recently just come back from my last trip too! Comment below if you have any questions about your road trip and I'll get back to you ASAP – or join me in my free FB group here.
Route 66 attractions in Kansas
If you're not sure where any of these attractions on Route 66 in Kansas are then this map will hopefully help you get your bearings. We're looking at the south eastern corner of the state.
And if you're looking to stay overnight in Kansas there are just a couple of options for you. Check out where to stay in Kansas on Route 66 here.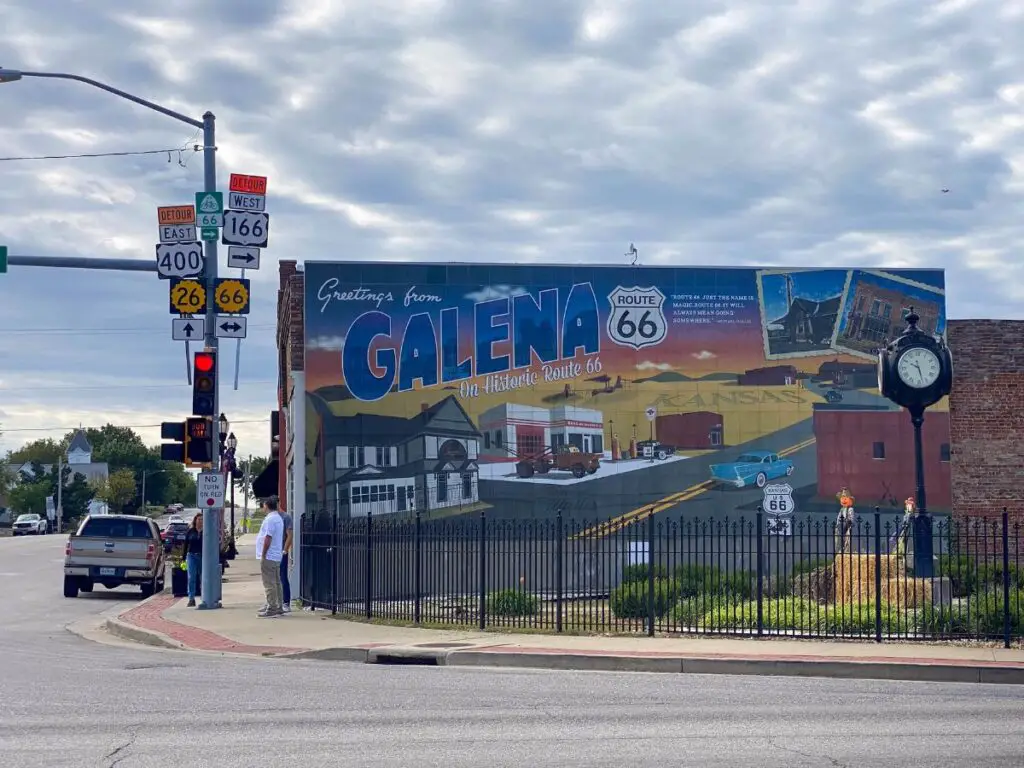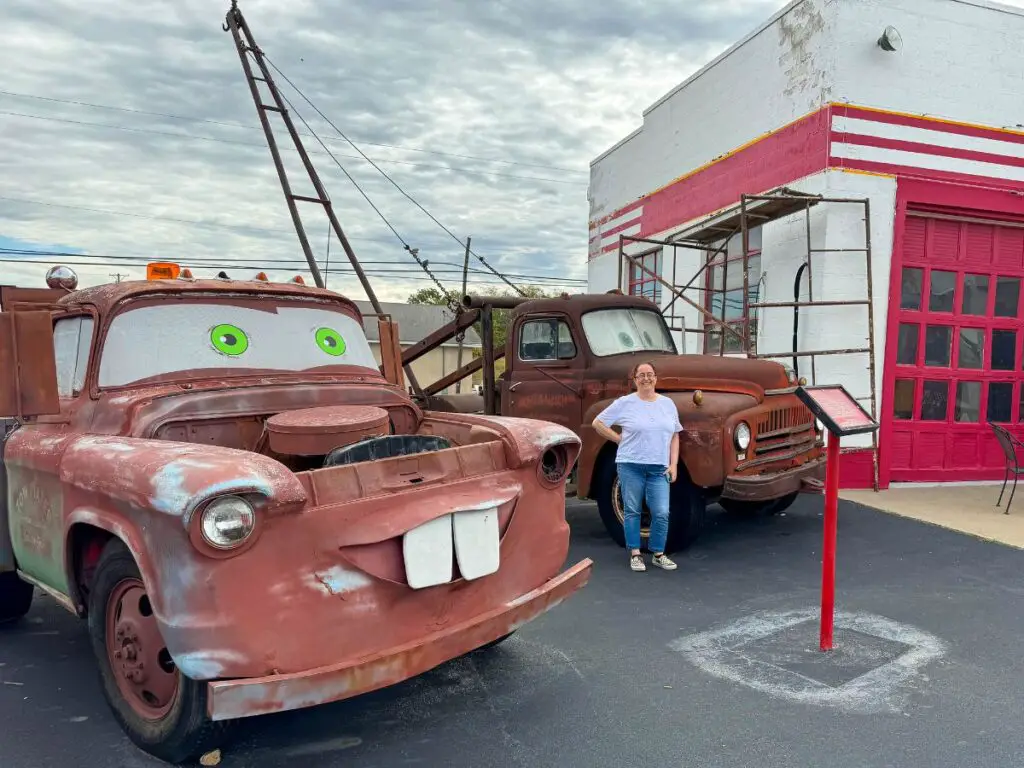 Cars on the Route
Location: Galena, Kansas
If you're a fan of Disney Pixar's Cars movie then a stop off in the town of Galena, just after you arrive over the state border from Missouri, is a must. The actual old tow truck that you see in the picture above was the inspiration for one of the best loved characters of the movie – Mater. When the makers of the film were doing research they actually traveled the road, talking to people and exploring the rusty old cars along the way!
Nowadays it encourages people to visit with some other cars from the film on show and a small cafe and gift shop to get your souvenirs from too (Note – this was closed when we visited in October 2023 but you could still look round outside – hopefully back open for the 2024 season)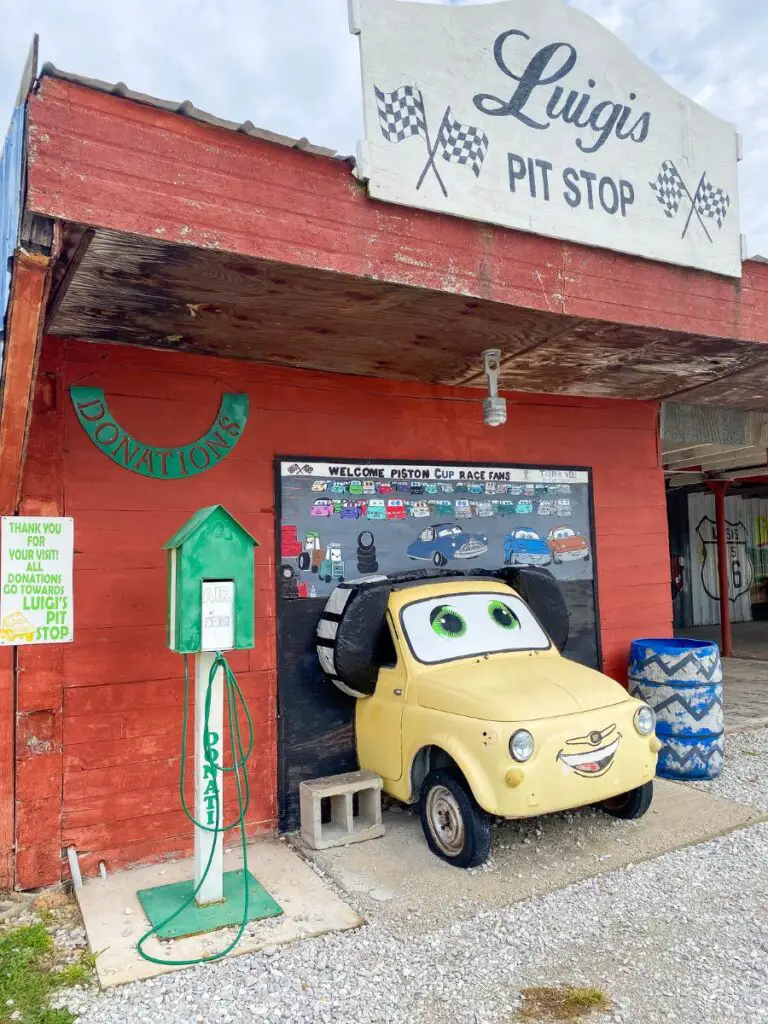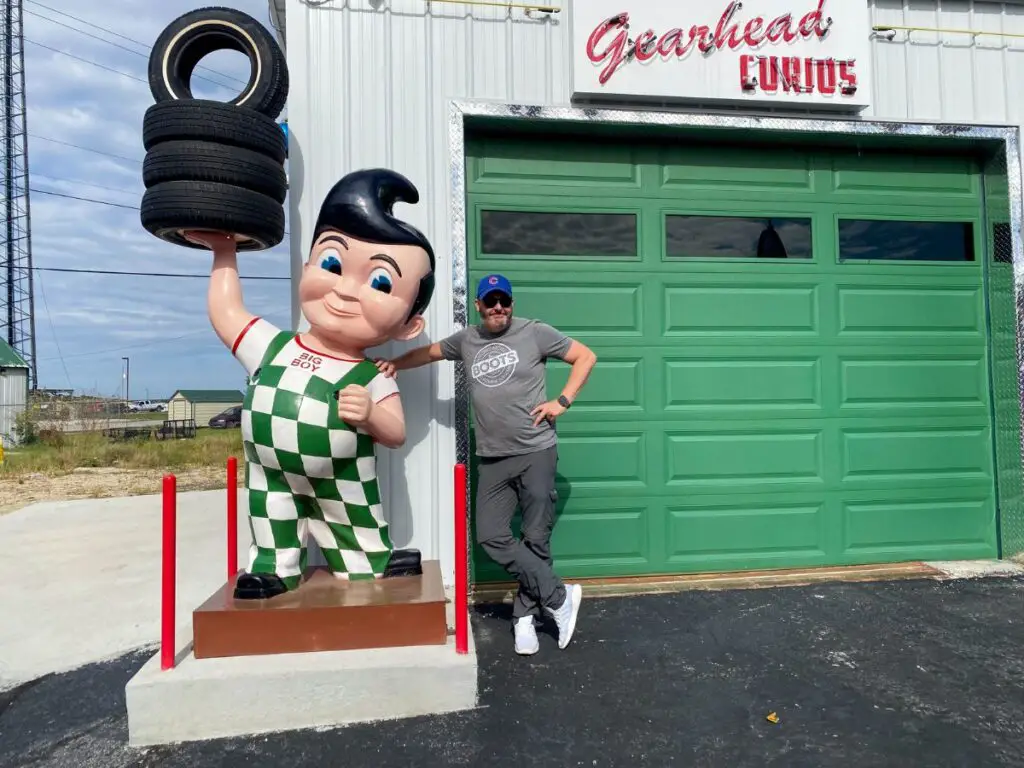 Gearhead Curios
Location: Galena, Kansas
A new stop on Route 66 in Galena is Geared Curios.
The shop is adorned with weathered signs and classic license plates and there's even a dollar wall where visitors can add their dollar with a note on it to say they've been.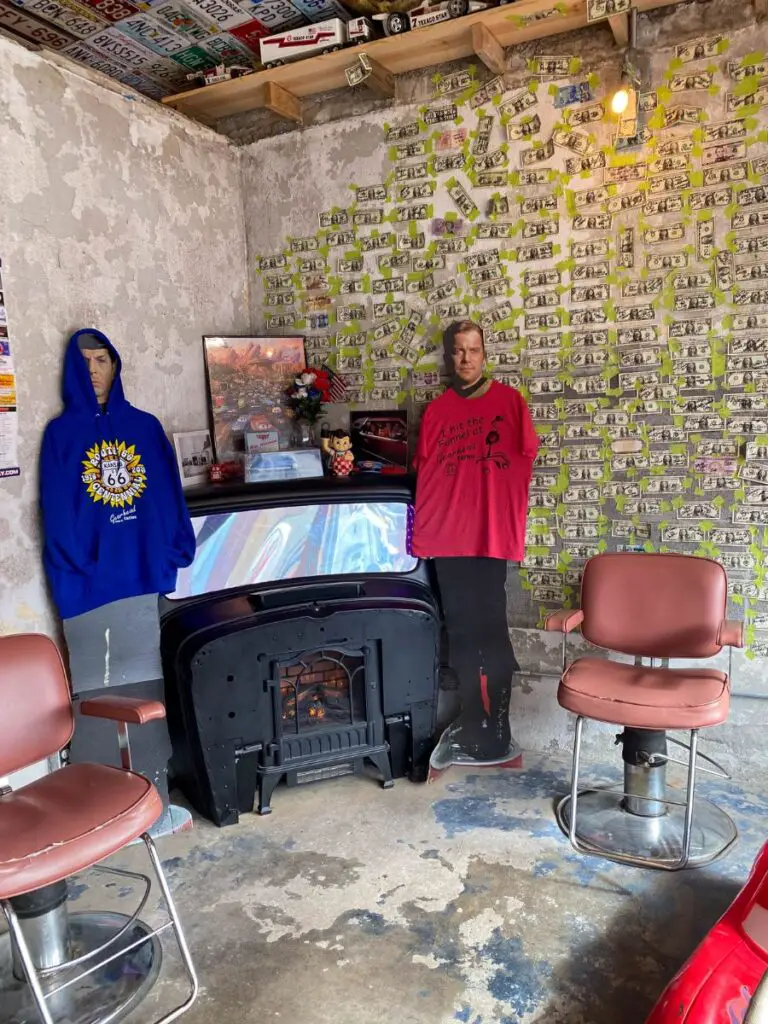 Don't miss the very weird and wonderful restroom where there's an 'interesting' way to use the facilities!
Outside you'll find Doc Hudson from the Cars movie as well as a Big Boy statue as well. It was a fun stop that we really enjoyed with some interesting souvenirs to buy and plenty of stories about how the site has been built.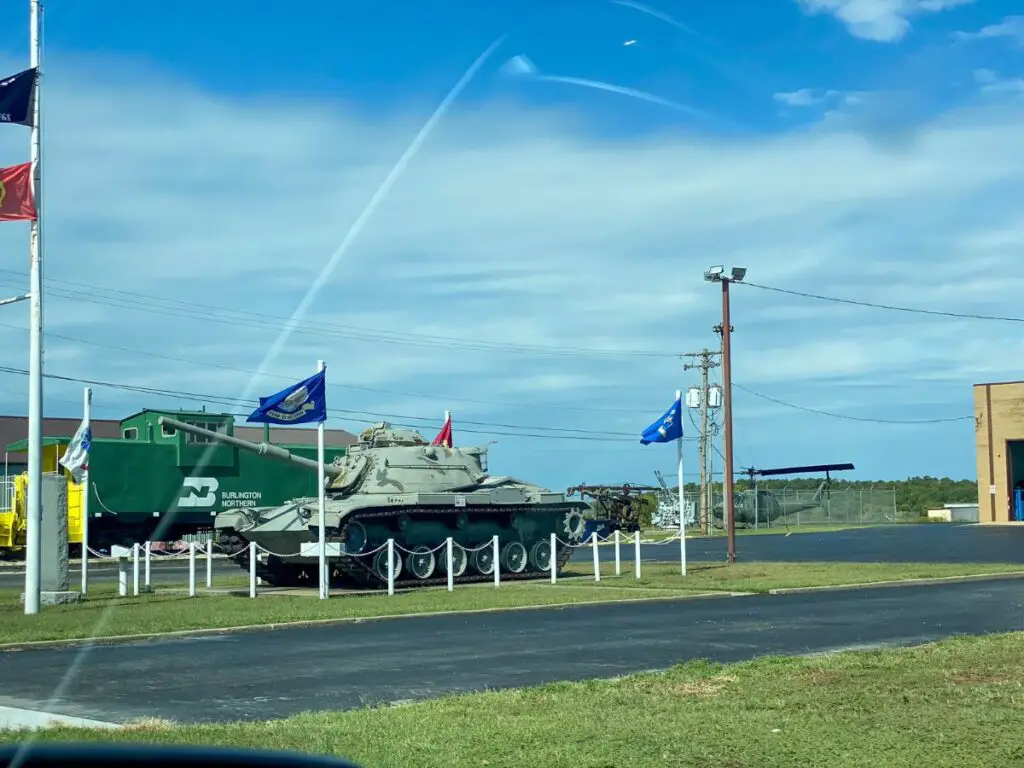 Galena Mining and Historical Museum
Location: Galena, Kansas
While in the town of Galena you should also venture to see the mining museum. Galena is the oldest mining town in Kansas and used to be much busier in boom times.
There's old tanks, cars and mining equipment on show here and lots of history to be learned about this place.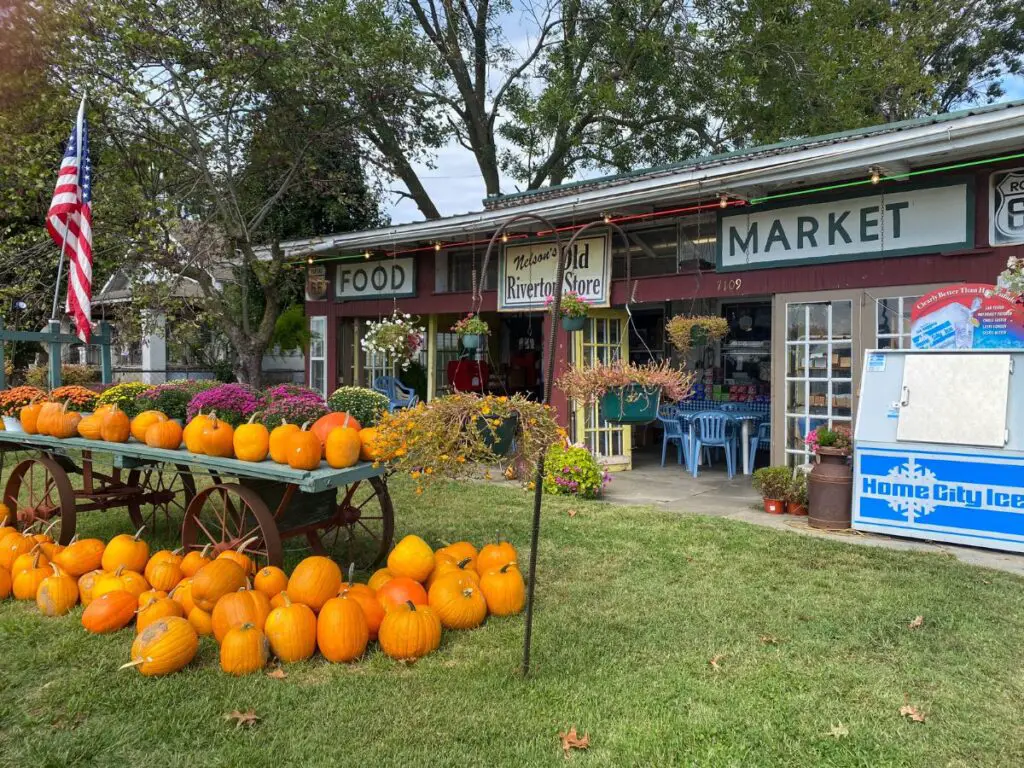 Nelson's Old Riverton Store
Location: Riverton, Kansas
If your Route 66 journey is a quest for times gone by then you have to stop at this old general store in Riverton. It's been on the road since the very beginning and so is coming up to almost being 100 years old. Quite the feat for this part of the world!
It's still open and sells all sorts of things you never knew you needed as well as doing a fine trade in simple sandwiches to eat outside or on the road.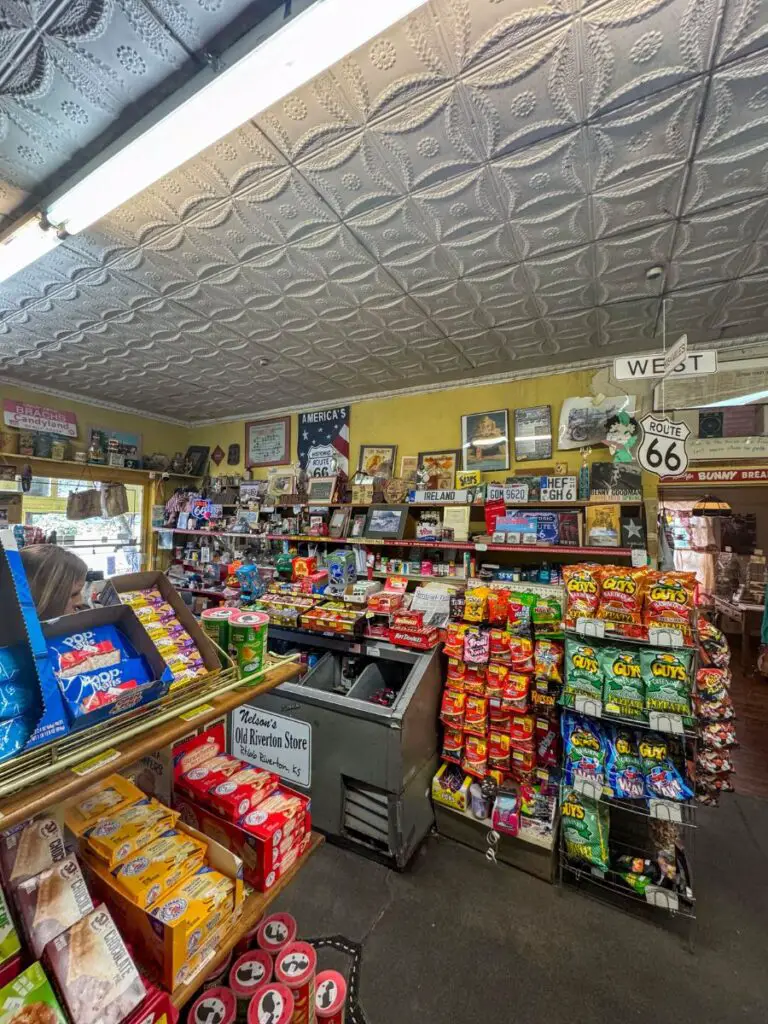 Route 66 sculpture
Location: Riverton, Kansas
Just as you're leaving Riverton there's a new Route 66 sculpture that was made by local high school students and is worth the time to pull over and take photos.
There's also a number of information boards too with information about this part of Kansas and the history. It would make a nice picnic spot if you decided to get some sandwiches from the Riverton store!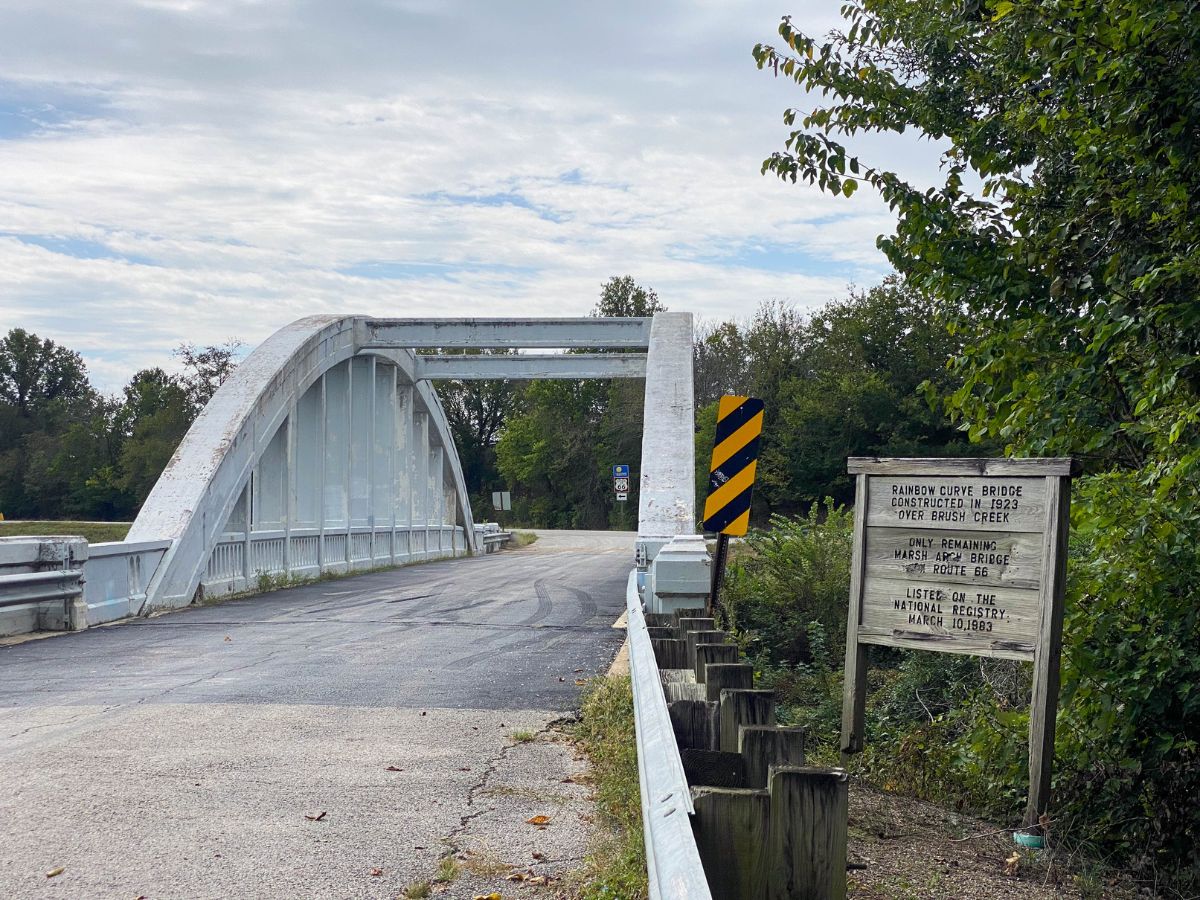 Rainbow Bridge
Location: SE Beasley Rd, between Riverton and Baxter Springs
This stunning little bridge is a design called the Marsh Arch and it's one of only a few left and the only one on Route 66. It was built in 1926 and so is as old as the road itself.
It's a nice place to stretch your legs, take in the view and take some pics with the architecture of the past. There are road stamps on the ground reminding you that this is an original Route 66 road, although they were a little faded when we visited!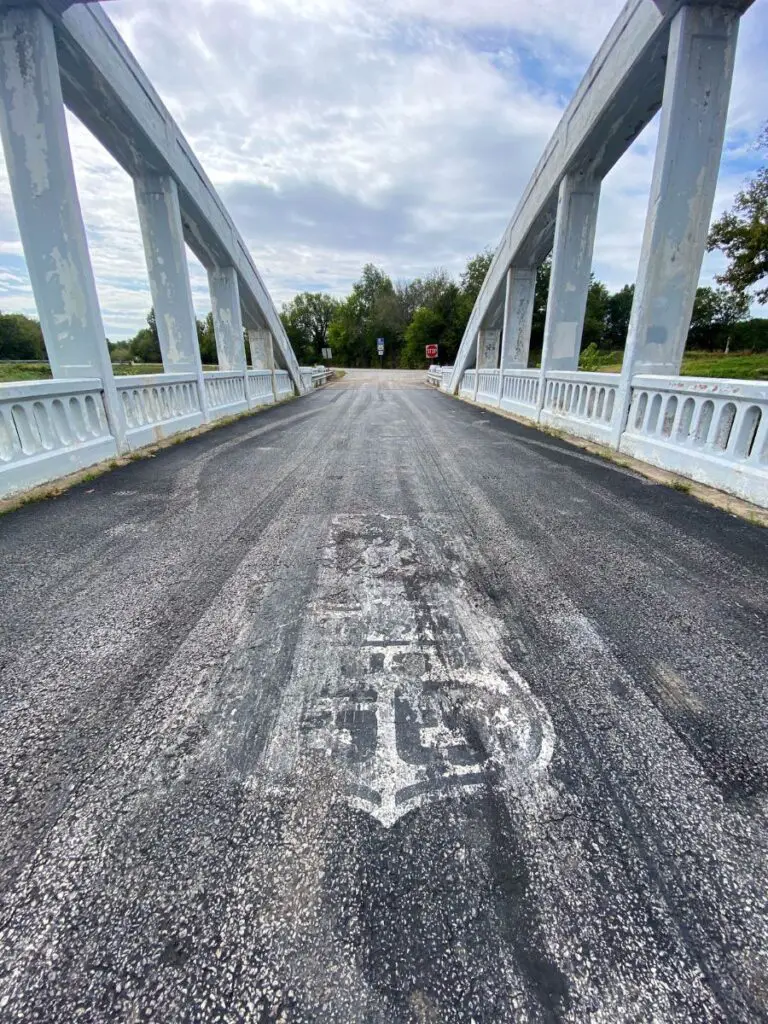 Field of Dreams
Location: Just outside Baxter Springs, Kansas
While not from the film itself, the fact that this baseball field on the outskirts of town and in a peaceful place shares the name of the movie, makes it an intriguing place to stop.
If you're lucky you might happen upon a game being played!
Fort Blair site
Location: Baxter Springs, Kansas
This is a replica of a wooden fort that was used in the civil war.
While there's not too much to see on it's own, it's worth looking at combined with a visit to the museum which is just a block away (below) or getting the Civil War Self drive tour (from the museum) to learn more.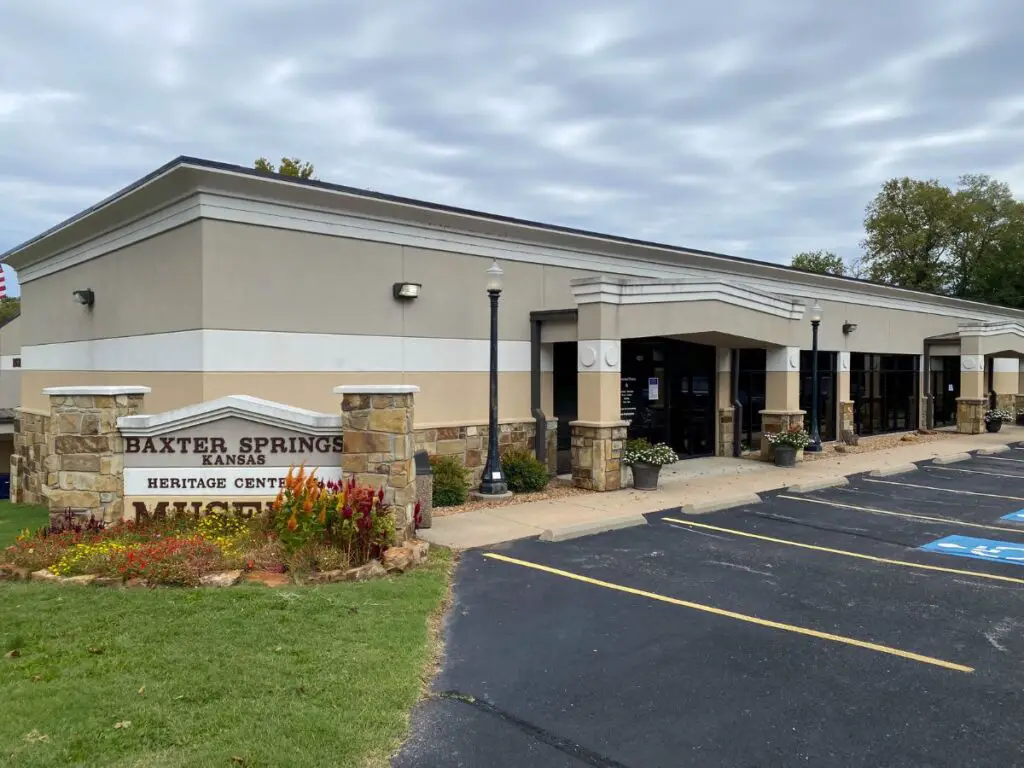 Baxter Springs Heritage Center museum
Location: Baxter Spring, Kansas
A nice local museum that's perfect if you're a Civil War buff or interested in mining heritage. They have lots of exhibitions covering lots of time periods and topics.
There's a lot that happened in the Civil War in this area and if you want to learn more you could pick up a map of the sites and do a self drive tour.
We spent a wonderful hour or two exploring the sites here and the people who run the centre were incredibly helpful and knowledgable.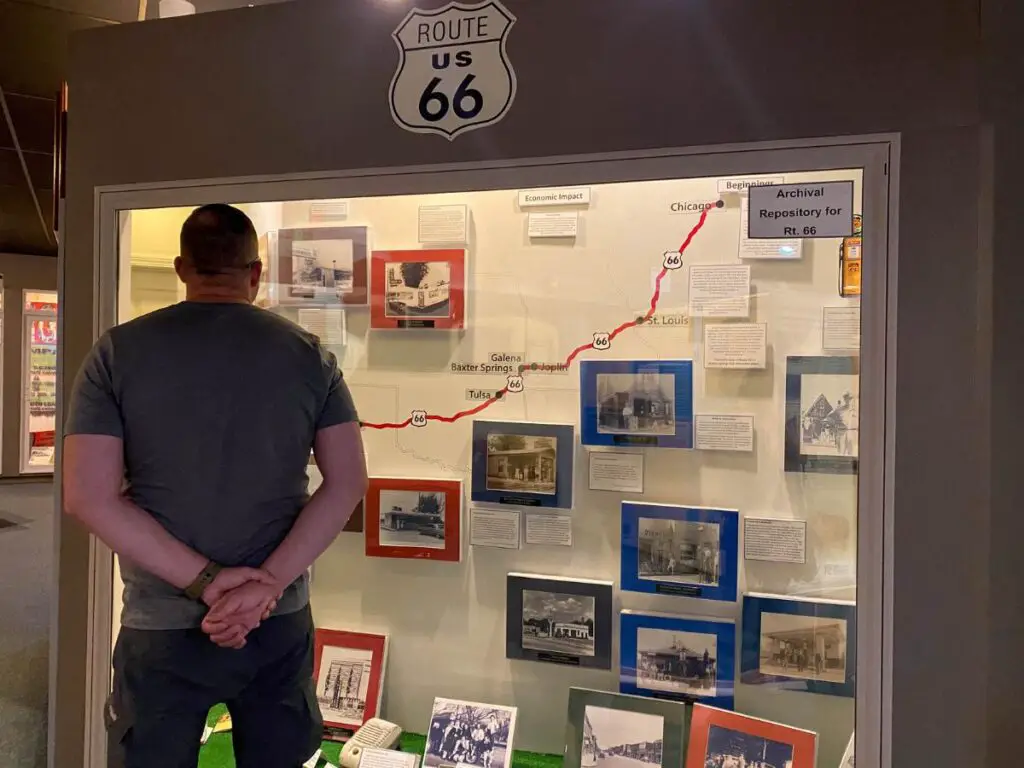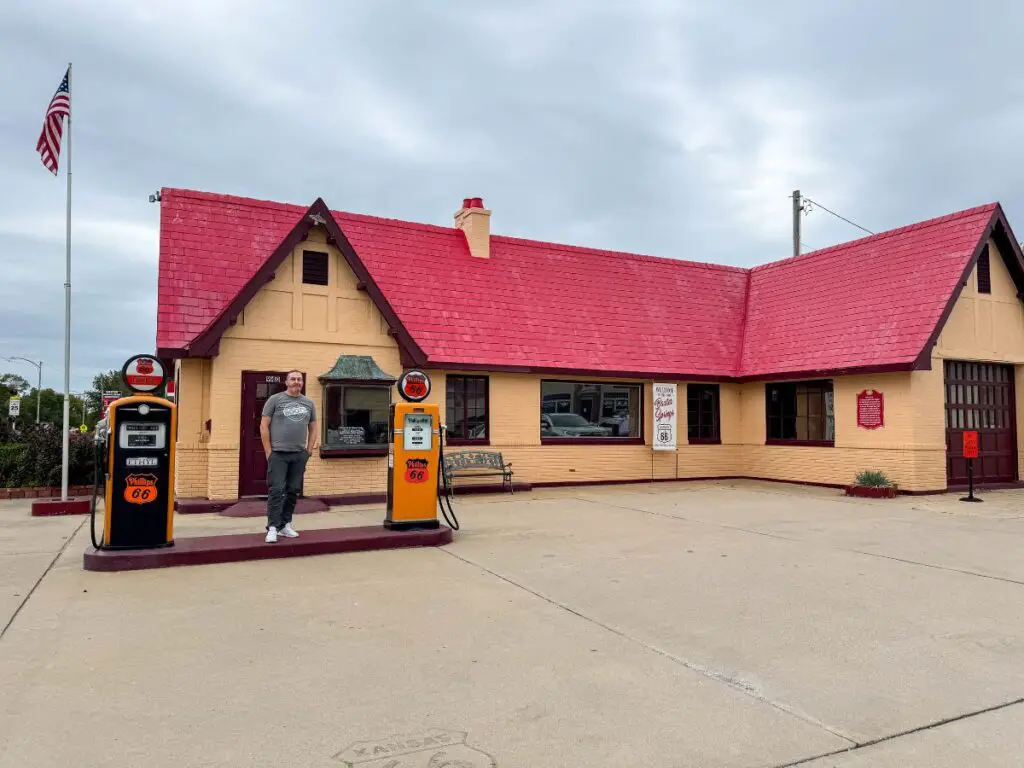 Baxter Springs Gas station and Visitor Centre
Location: Baxter Springs, Kansas
Finally, our last Kansas attraction on Route 66, before heading into Oklahoma, is the Baxter Springs Gas station that's been restored and turned into a visitors centre for road trippers on the road.
The style of this station is like many others of the period, designed to be just like a home which wasn't intimidating to customers. It still has some vintage pumps outside for a photo op and lots of information inside on the road.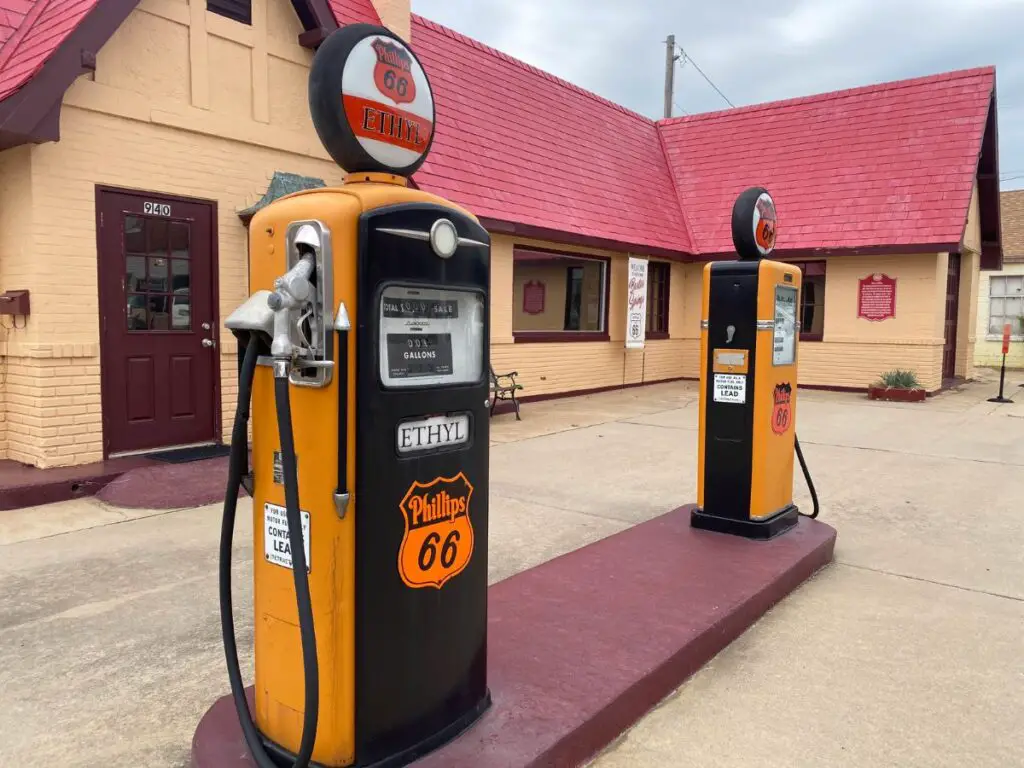 Still got questions? Join our FREE Route 66 community!
Come and join our FREE Facebook group where you can get help with planning your Route 66 road trip of a lifetime!