When the makers of Pixar's Cars decided they were going to make the film they headed straight to Route 66 to get inspiration, learn from the residents and enjoy the stories.
There's not one single location that is Radiator Springs, you'll see so many towns that remind you of the make believe film location all along Route 66.
If you're looking for Radiator Springs in real life on a Route 66 trip with kids or just want to soak up the Cars film locations I hope you'll find this post helpful in your Route 66 planning.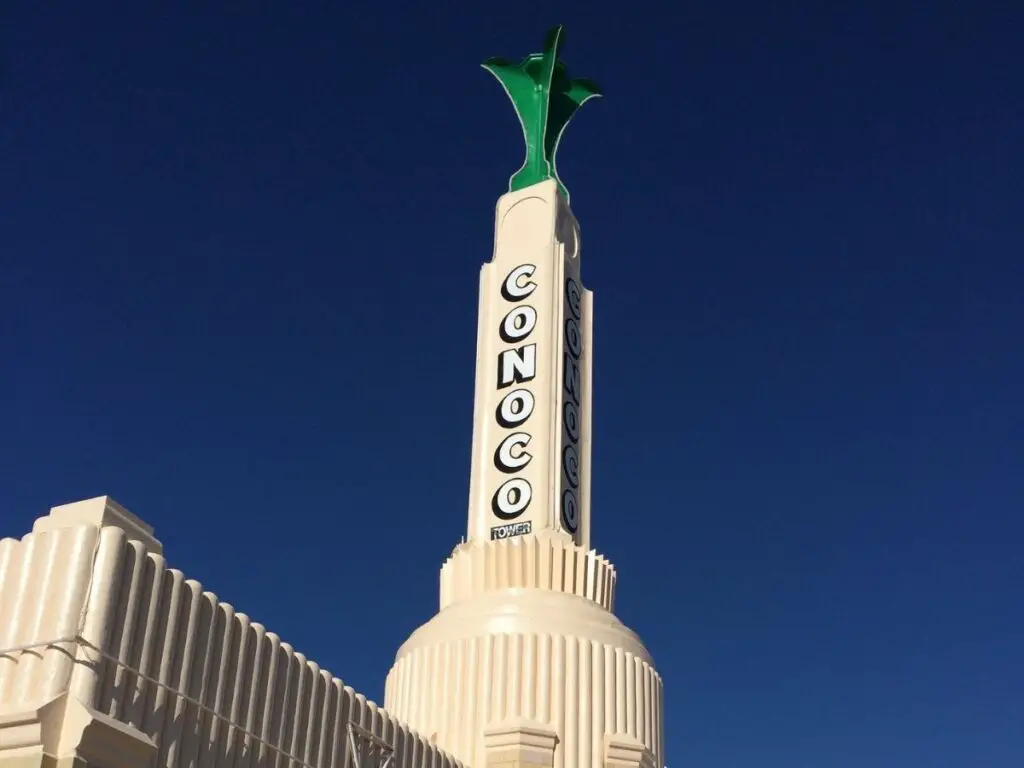 Which US Town is Radiator Springs like?
As I mentioned, there's no one single town along Route 66 that is exactly like Radiator Springs. However there's a couple that I would say would get you pretty close to finding the town as it is in the film.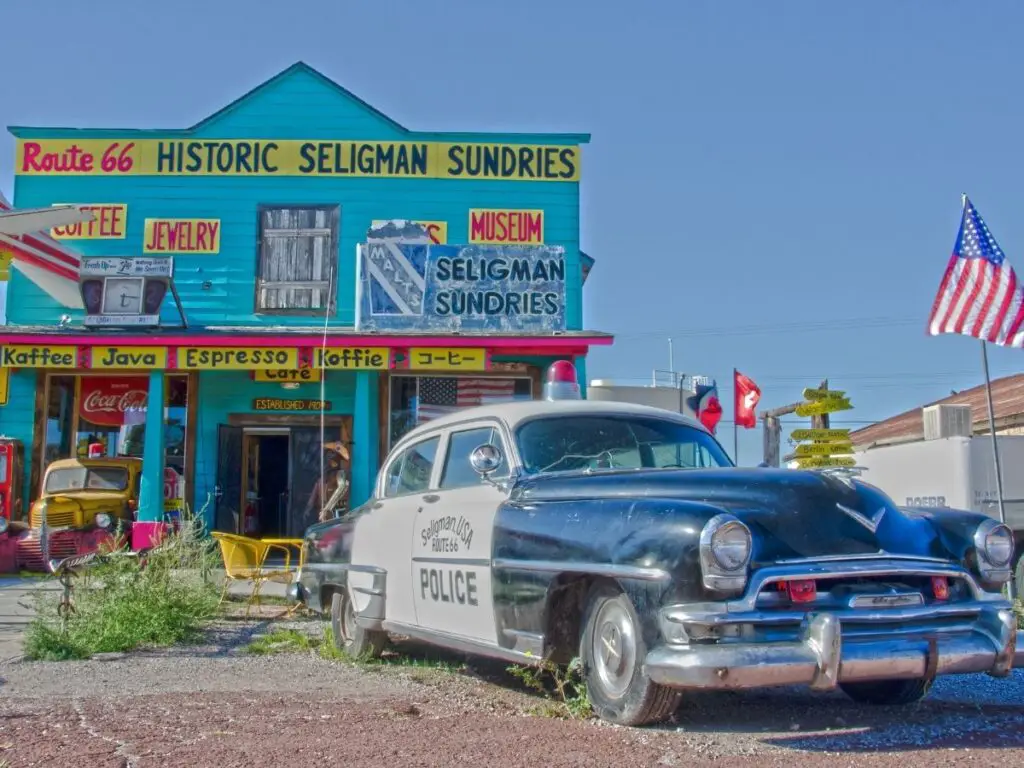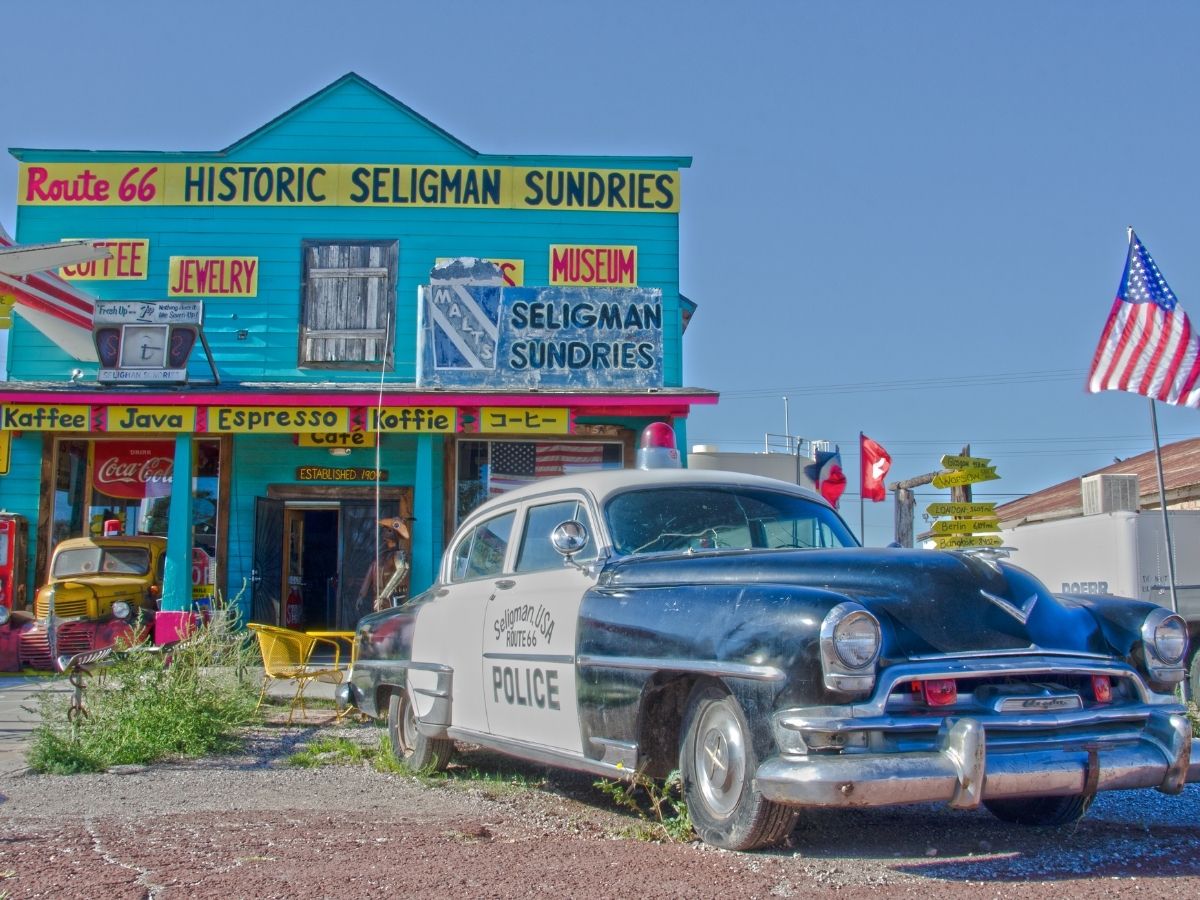 The first is Seligman, AZ. This is home to the amazing Angel Delgadillo who is a barber that fought to keep the town alive as the interstates bypassed the road, decimating the hopes and dreams of its residents.
Nowadays the town is full of tourists who flock to see the colorful shops and buildings and of course all the retro cars around too.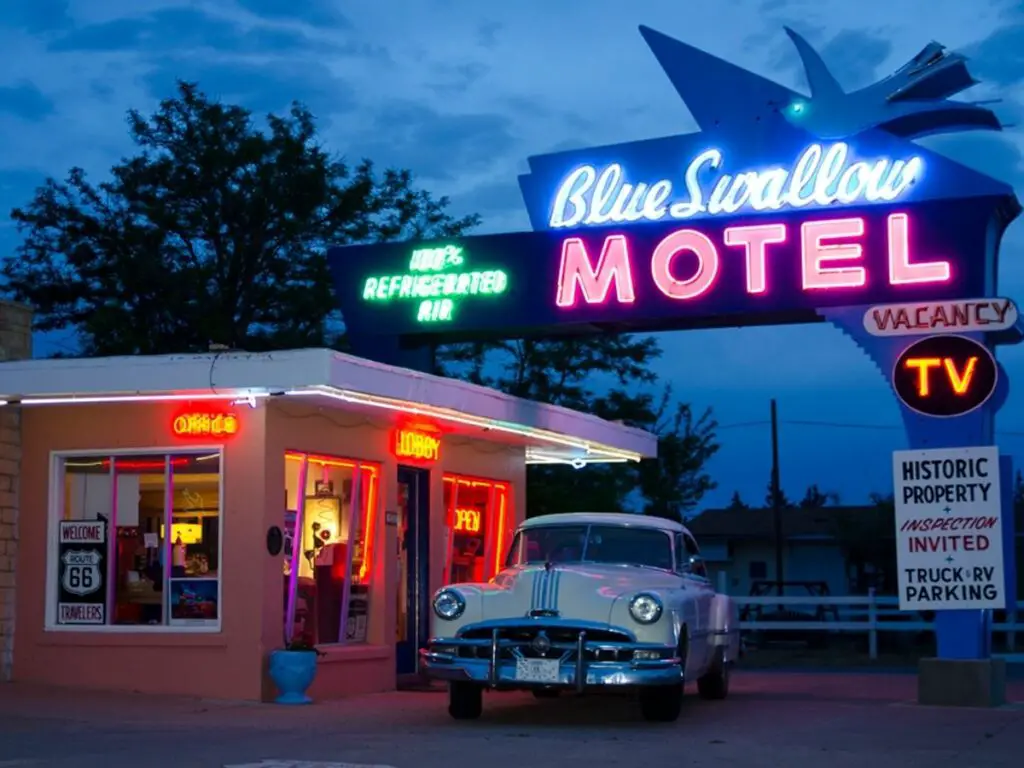 Tucumcari, NM, is another town that really gave me Radiator Springs vibes, especially in the evening when the neon sign all lit up. It was just like that scene when Sally is surprised by Lightning McQueen when he got all the neon switched on.
Disney Cars movie locations on Route 66
If you're looking for places that inspired the Disney Pixar Cars film you'll find so many along the road. Here are the top spots for people who love their film locations.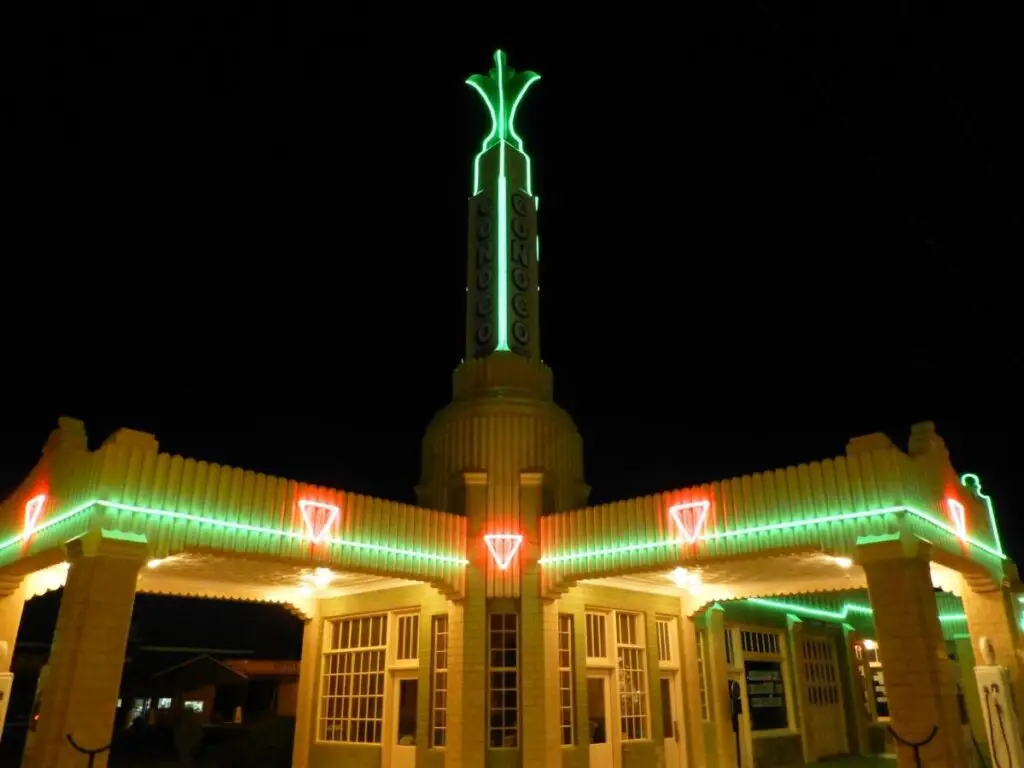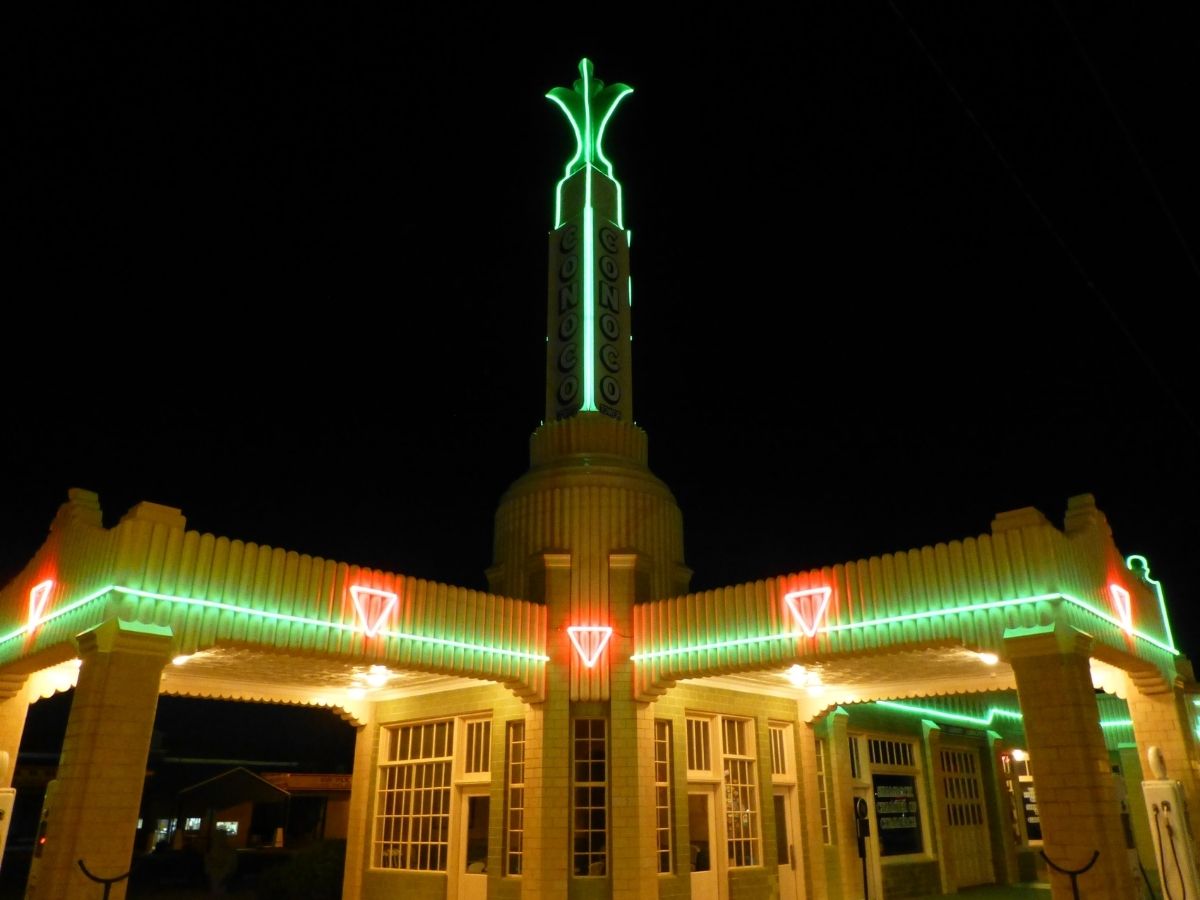 Ramone's House of Body Art
Real life location: Shamrock, TX
The garage and paint shop owned by Ramone in the film is one of my favourite buildings so you can imagine how happy I was to find the real life version of this one.
In real life it's the U-Drop Inn in Shamrock, Texas, and was an old cafe and gas station. The building looks almost exactly like the one in Cars too – no imagination required!
Shamrock is a cute little town to visit with a small museum and plenty of retro cars and buildings around. Highly recommended for kids and adults!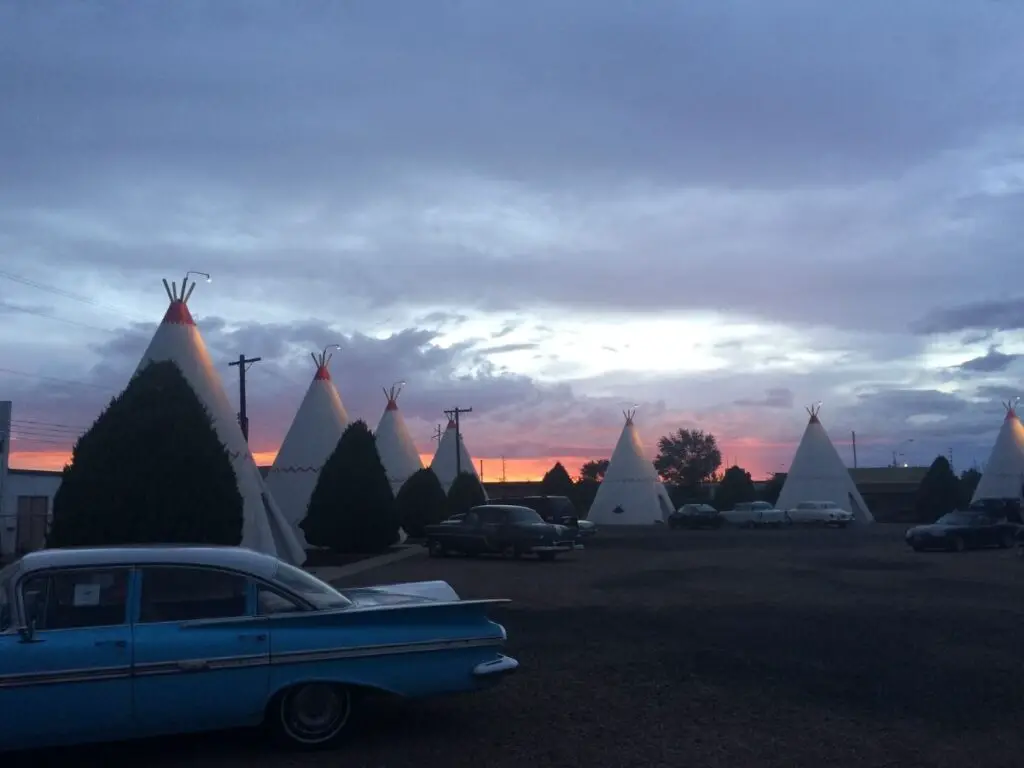 Cozy Cone Motel
Real life location: Holbrook, AZ and San Bernadino, CA
The Cozy Cone was based on the Wigwam motels in Holbrook, AZ and San Bernadino, CA. They both have a similar design but instead of cones set around the forecourt we have teepees or wigwams.
It's easy to see where the idea for Sally's Cozy Cone motel came from!
We stayed in the Holbrook motel and it was one of the cheapest nights we had on Route 66 so not an expensive experience at all. There was plenty of old cars to check out around the wigwams too, perfect for photo opportunities.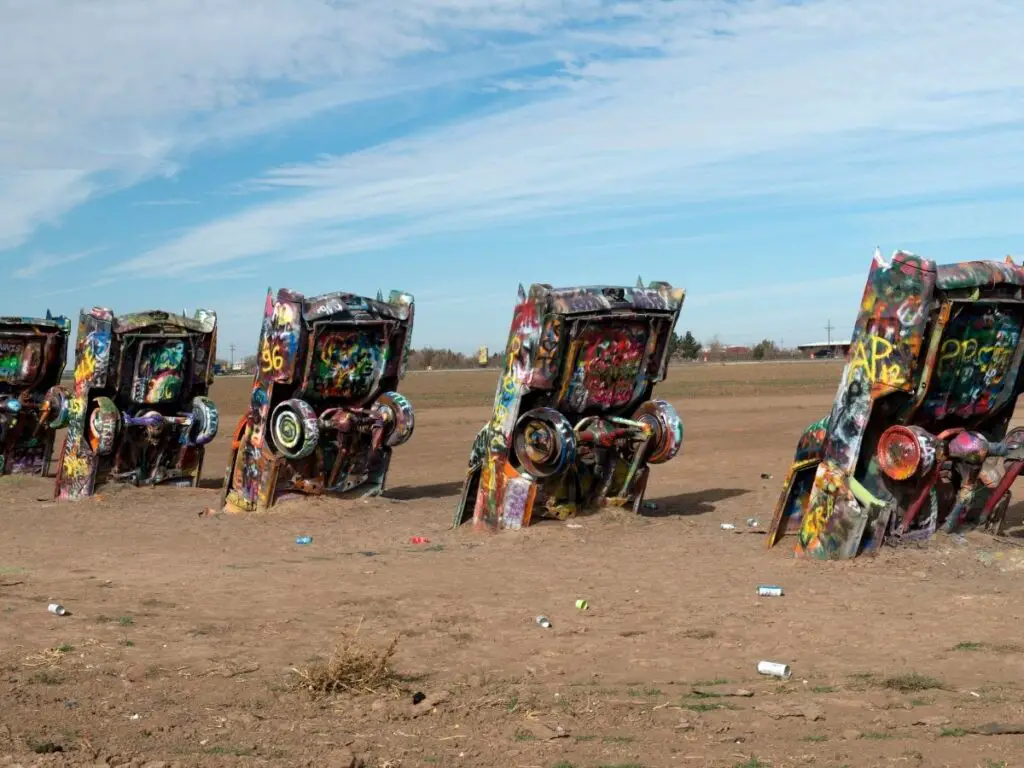 Cadillac Range
Real life location: Amarillo, TX
In the background of the Disney Cars movie you'll also see a range of rocks that look the the rear end of a car. This is named Cadillac Range in the movie and on the maps that it shows. It bears a lot of similarity to the desert landscapes on Route 66 but the shape came from an attraction in Texas.
On the outskirts of Amarillo there is an art installation which is actually a lot of sunken old Cadillac cars. Over the years they have all been spray painted over by road trippers eager to leave their mark on Route 66.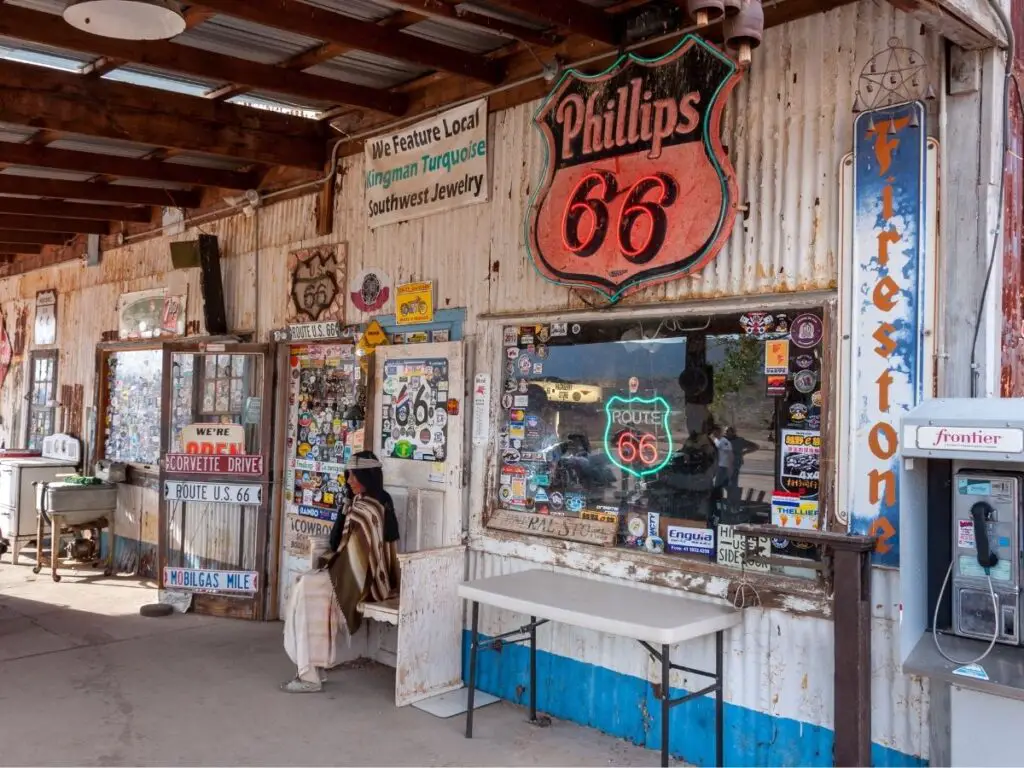 Lizzie's Curio Shop
Real life location: Hackberry, AZ
All along the road you'll find Curio shops filled with knick-knacks, trinkets and souvenirs. There is one that is in Hackberry that feels like it could be exactly Lizzie's shop.
It's a wonderful stop off point with classic cars around and oh so much to look at!
If you like your Route 66 trivia, here's a Disney Cars fact for you – The Hackberry General Store was run by an artist called Bob Wildfire who was actually the inspiration for Fillmore in the film. Apparently they wanted to call him Waldmire but Bob, who was a vegetarian, didn't want to be associated with inevitable McDonald's toys!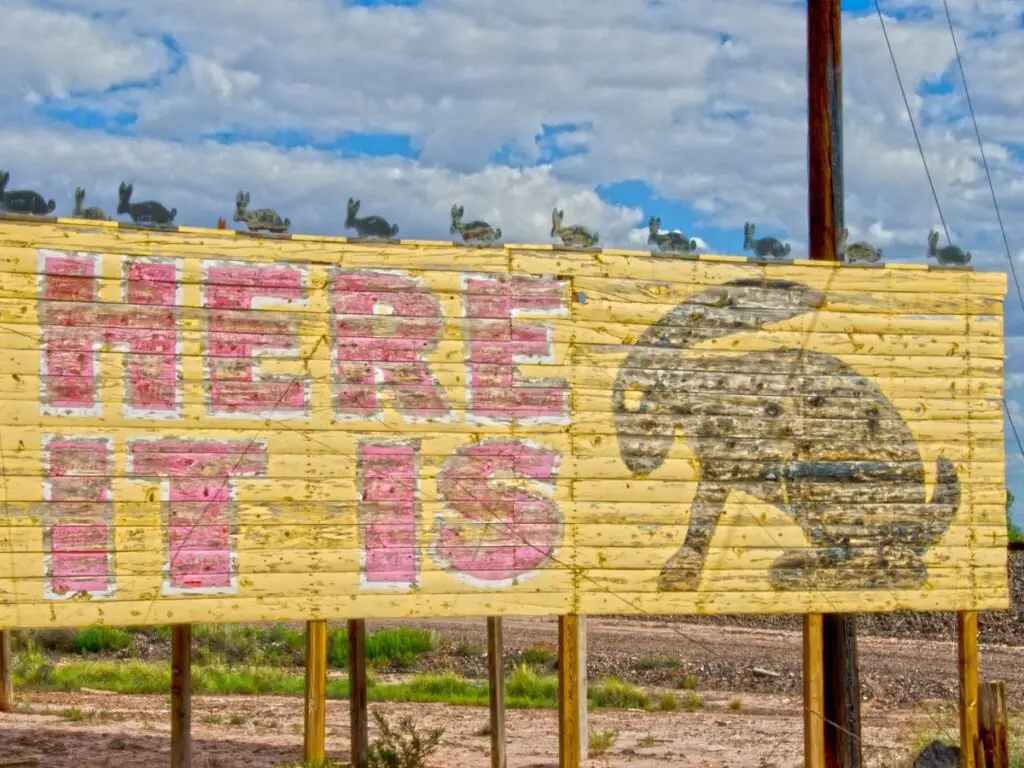 Here It Is sign
Real life location: Near Joseph City, AZ
In the film you'll see a faded yellow sign with a black car (just like Lizzie and Stanley) saying 'Here It Is'. It's based on a real sign that's in Arizona and advertises the Jack Rabbit Trading Post near Joseph City in Arizona.
You'll have to keep your eyes peeled to see it but if you do come off the road for a stop you'll find a shop and giant Jack Rabbit for a photo opportunity!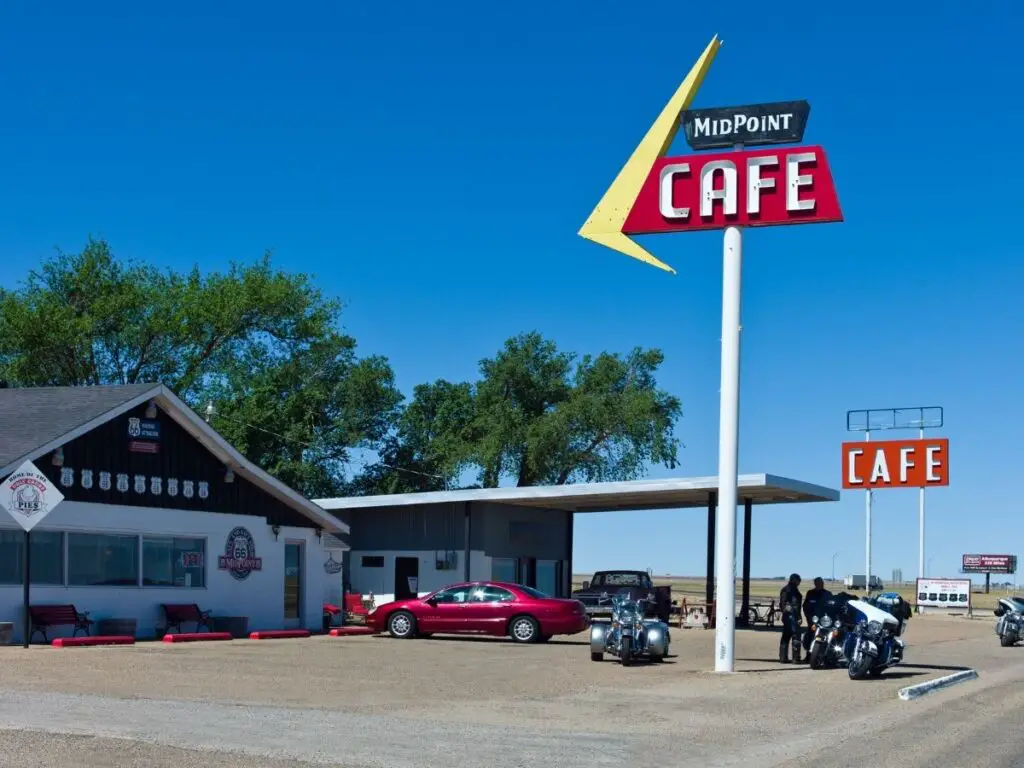 Flo's V8 Cafe Diner
Real life location: Adrian, TX
While it doesn't look like Flo's in the film, the inspiration for the diner came from the cafe and its proprietor, Fran Houser, at the Mid Point of Route 66 in Adrian, TX.
While it's probably one that many kids will turn their noses up at, adults fans of the movie and people who geek out on the details will likely love it!
Mater
Real life location: Galena, KS
When John Lasseter and Joe Ranft were exploring route 66 for inspiration for the film they came across a truck in Galena, Kansas. The tow truck is rusty in all the ways that Tow-Mater was in the film and you can see straight away that it is him! This is the exact one that was the inspiration for Mater.
The folks in Galena have set up 'Cars on the Route' which is a photo opportunity and stop off point for fans of the film and they have expanded to have all sorts of cars there to mimic the characters. It's run by volunteers and it's definitely worth a stop if you have any interest in the film at all, kid or not!
Where should you take kids if wanting to visit real life Radiator Springs?
I think this is an important question for anyone who wants to take their kids on a road trip but perhaps aren't keen on doing the full trip or aren't sure if it will suit them as a family. I totally get that, Route 66 has lots of fun stops, but the whole route isn't for everyone.
If you want to take your kids to the real life Radiator Springs without doing the whole route I suggest the following two options:
The first option is concentrating on the state of Arizona. You'll get the 'cozy cone' motel in Holbrook, Seligman which has a tonne of old cars around (many with eyes like in Cars), the 'Here It Is' sign and the Hackberry store. Arizona also has lots of kid friendly attractions too so it's a winner for me!
Secondly would be to explore Route 66 in Texas where you'll find the Cadillac ranch and the U Drop Inn which is almost exactly like Ramone's garage and looks amazing in neon at night.
Of course, you could also take a trip to Cars Land at Disneyland in California where there is a life-size replica of Radiator Springs – exactly like the movie! Not quite the same, but perhaps an option for some.