The town of Oatman, Arizona on Route 66 is one unique place to visit! Amazing views on the way, history and tales, wild donkeys (burros) and gun fights await you in this town and if that hasn't piqued your interest then I'm not sure what will!
Perched high in the hills, Oatman is a really fun place to stop whether you're driving Route 66 from east to west or if you're just on a short trip from LA or Las Vegas. It's in easy reach and ticks loads of boxes for anyone looking for quirkiness in their towns!
Let's head deep into the town of Oatman, Arizona – Route 66's ghost town that came back to life!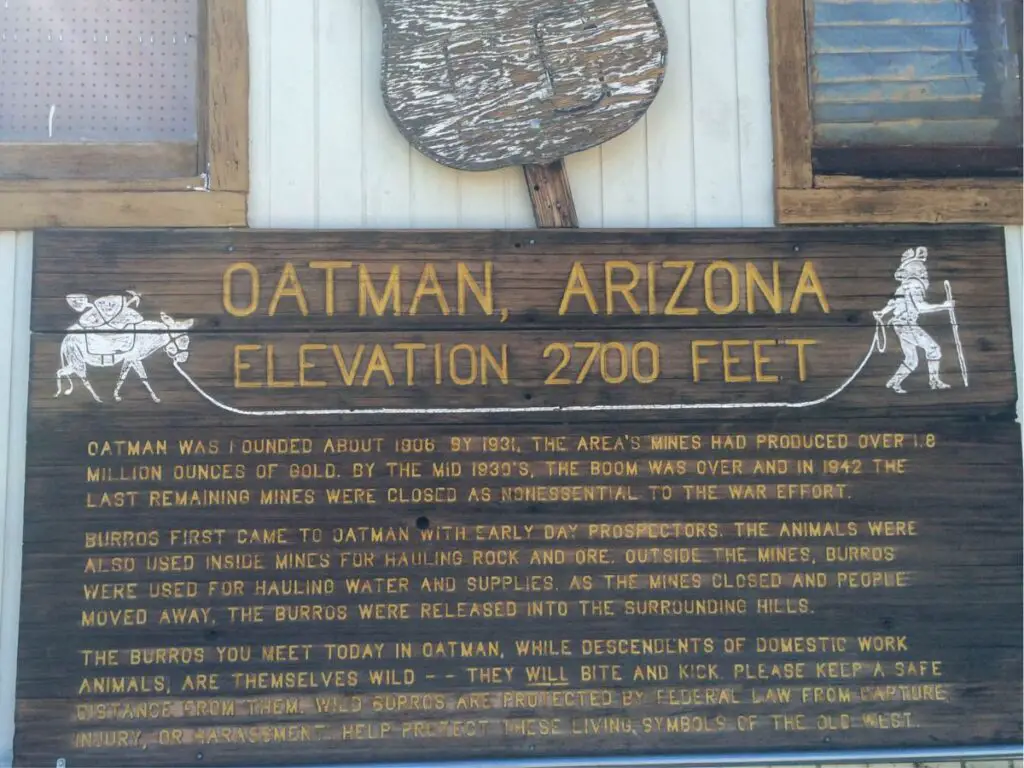 Oatman History
So, I kinda touched a little bit there on Oatman's fate – it was a ghost town. But what happened to it?
Gold was discovered in the hills where Oatman was later founded in 1863 but it took a little while for technology to catch up and make it easier to transport out of the area. 1915 was the year when the stars seemed to align for the miners in Oatman and it began to be a town – a gold rush town!
The name of the town came from a girl who had been kidnapped by a Native American tribe after they killed her family while they journeyed Westward for a new life. I'll expand a bit more on her story below as it's quite interesting.
Oatman thrived as a Wild West town for almost a decade and would produce huge amounts of gold but in 1924 the main mine would be shut down which would be the start of the town's demise.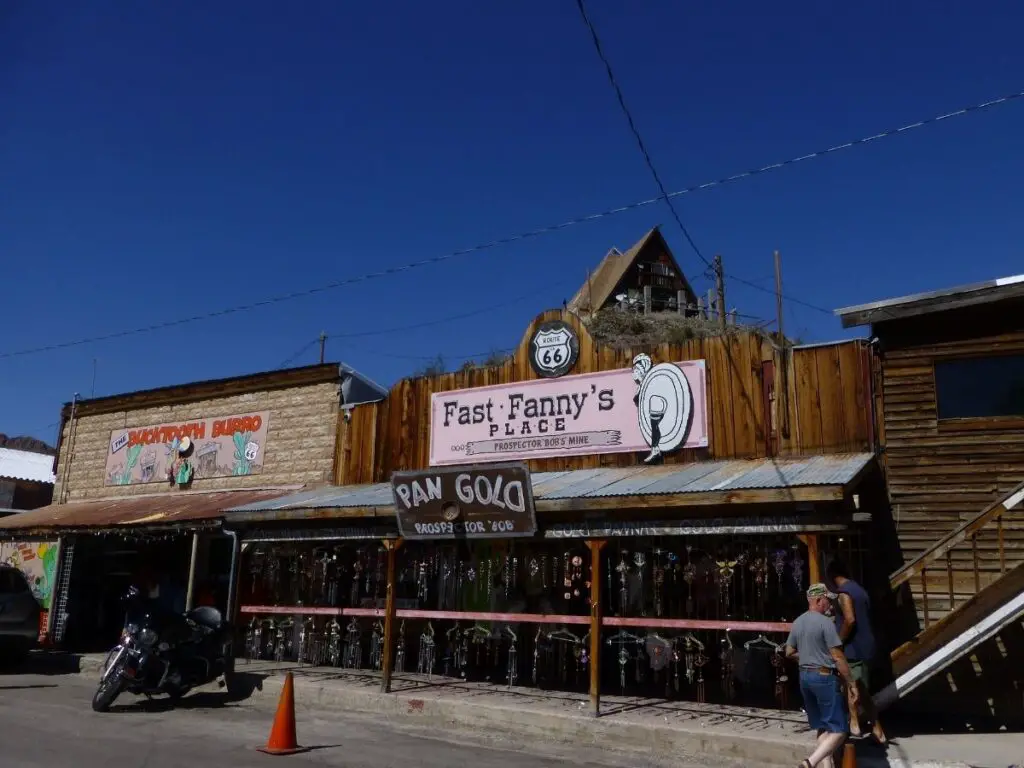 Just two years later Route 66 would be started so Oatman was still very much on the radar of people and they could cater to the motorists who would stop by on their journey to California from other parts of Arizona.
In 1953 Oatman received another blow, this time fatal. The town would be bypassed by the new road which would cut out the winding route through the mountains. It didn't take long after that for it to be abandoned – a ghost town and a real classic story of the gold boom and bust era.
So how did it come back to life? Well, with the revival of Route 66 in recent years it's welcomed back business owners and actors who love to stage Wild West fights in the Main Street! And that's where we are now. Oatman isn't somewhere to stop overnight but it's a great place to visit in the day and learn a bit about the history of the area.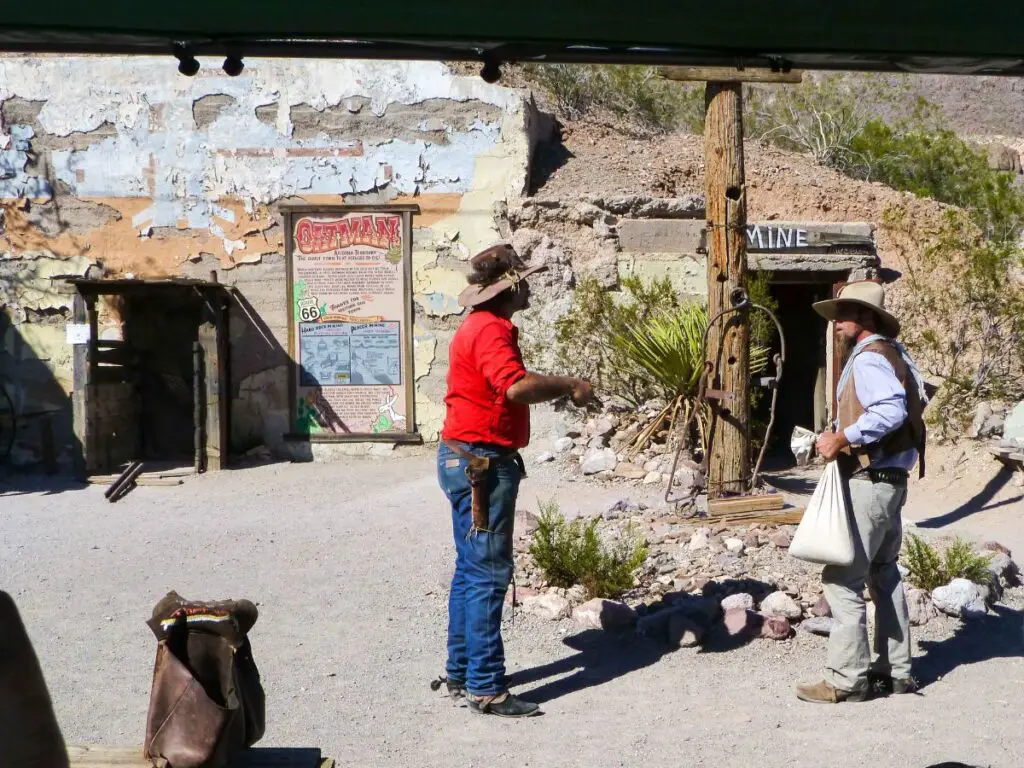 Is Oatman on Route 66?
Oatman is on an old alignment of Route 66 and one of the original ways where people would drive the road.
It's a long and winding road through the hills as you can see on the Google Maps above which is great if you're all about enjoying the drive but if you have things to do and places to go then it's a long and precarious route.
Route 66 and the traveler's who would frequent it would keep the town of Oatman alive for a couple more decades until it was eventually completely bypassed in 1953 by the I-40 which runs to the south of the town.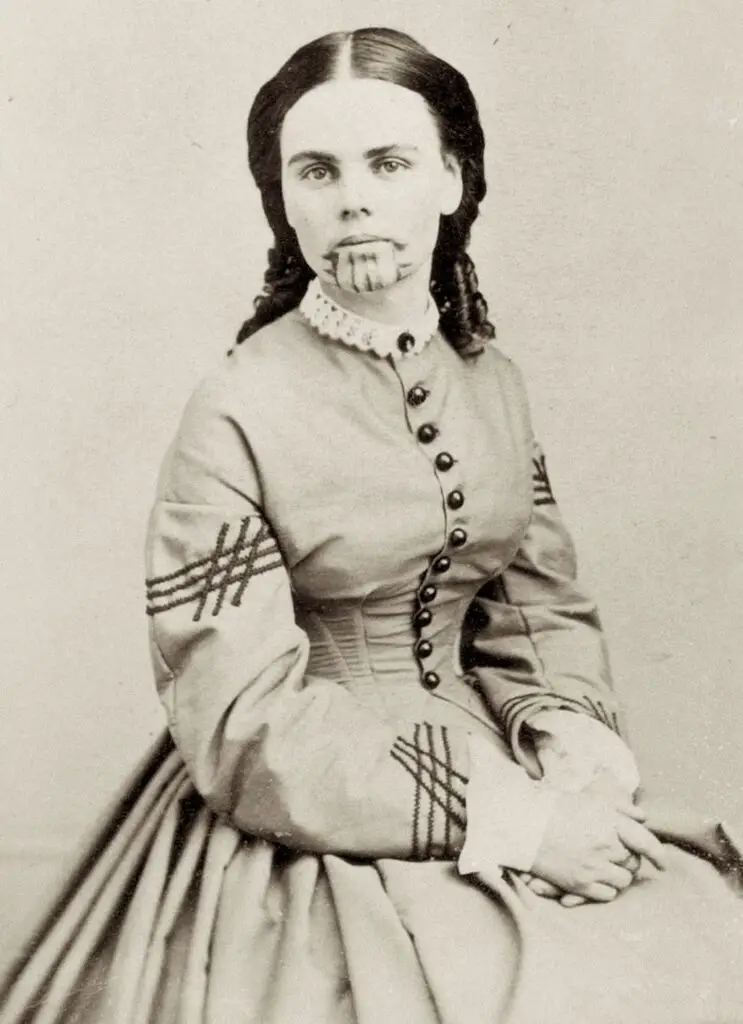 About Olive Oatman
Olive Oatman was a young 14 year old whose white pioneer family was slaughtered as they were traveling westward by a local tribe of Native Americans (it's thought to have been the Tolkepayas tribe). Olive was spared alongside one of her sisters and was enslaved by the tribe.
After some time where it's thought she was treated fairly harshly she and her sister were eventually traded into the Mojave tribe where she had a better life and seemed to have been assimilated into their ways. She even had her face tattooed which was typical of the Mojave people. Unfortunately her sister died at this time, possibly due to starvation from drought that was affecting available food for the tribe.
After 5 years she was eventually returned to the White people and she would tell her story to the world. With her tattoos she was quite the oddity and it was quite the experience as well.
The story of Olive Oatman was very well known when the town was founded which is why it was named for her.
If you're interested in this story then the Wikipedia page is a great place to start with it!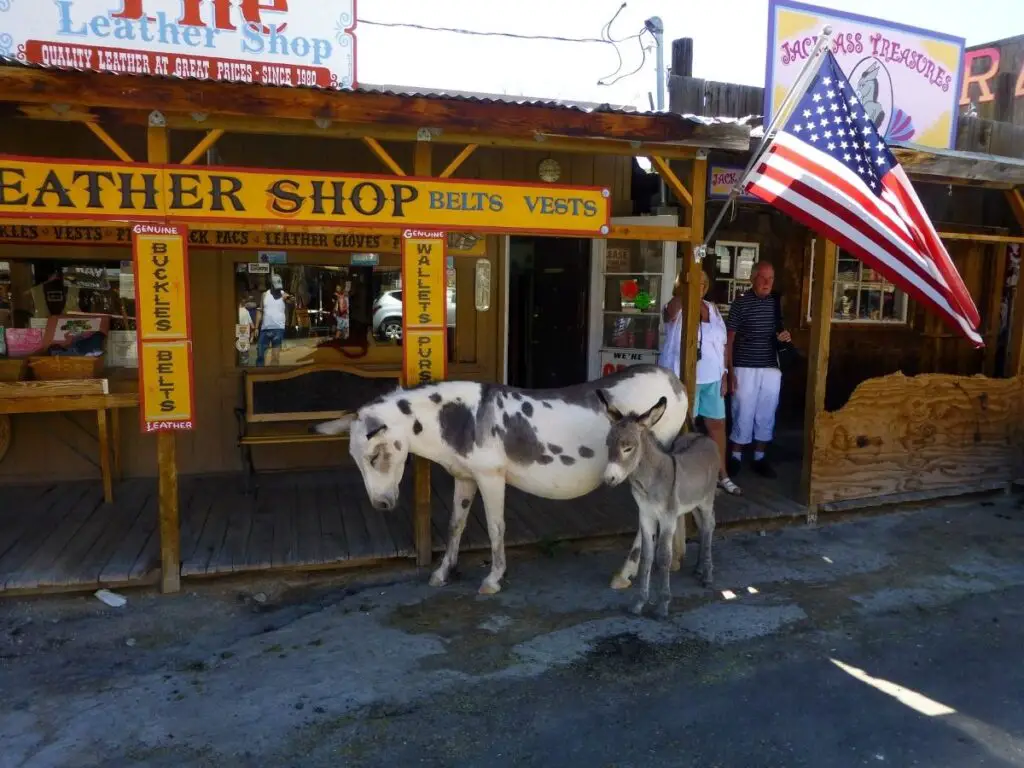 Oatman Burros
One of the funnest things to see in Oatman is the wild burros that come down from the mountains into the town. If, like me, you don't know what a burro is – it's a donkey!
When the area around Oatman was in the throws of its mining era the donkeys would be used as pack animals for many jobs including hauling and carrying. It's thought that the animals that roam the streets now are descendants from these original burros that would have been set free when the mines were shut during WW2.
They are mostly friendly and like to be petted although like all wild animals do take care!
Things to do in Oatman
So, if you're planning to stop off in Oatman on your Route 66 journey what should you do there?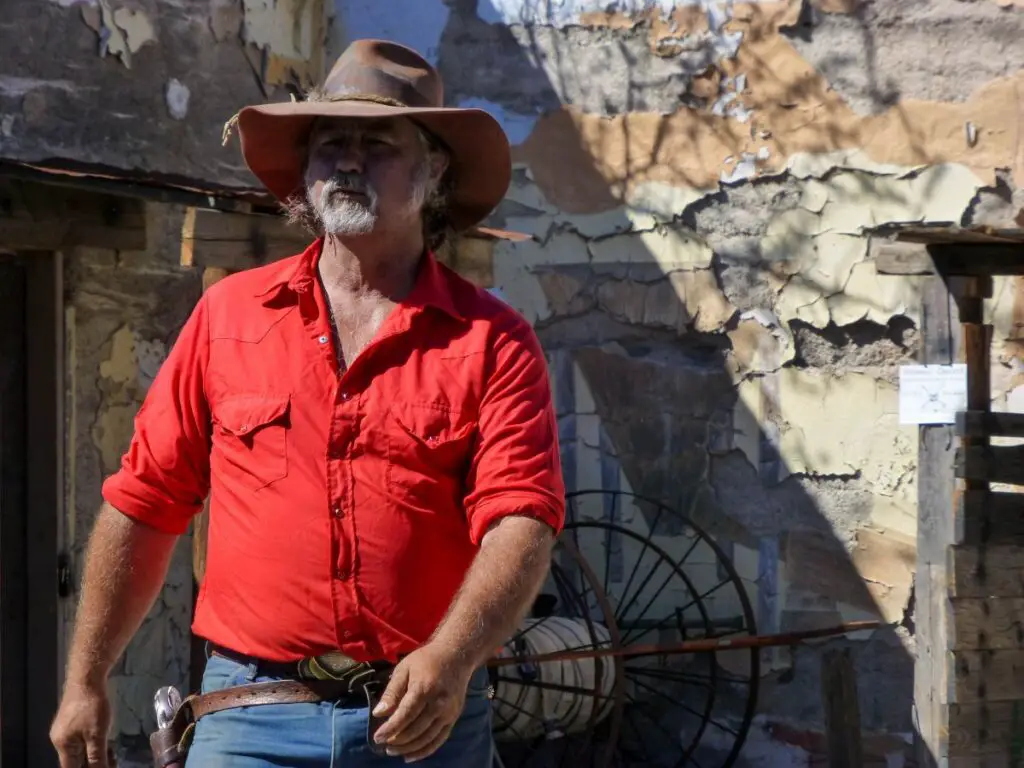 Watch a gun fight
We were lucky enough to catch one of the daily gun fights that are put on in the town. They happen twice a day at 1.30 and 3.30pm but that might depend on the weather or other events.
With the backdrop of the old style buildings you really feel like you're in the Wild West, or at least Back to the Future 3!
The events are free and for all ages – we loved watching it. I will say though that make sure you have a hat and some water as although they had shelter it was very hot standing around outside while it went on (although we did visit in summer!)
See the burros
The burros tend to come down daily into the town. They are wild animals and there are rules about them being fed – you can be fined if you do so.
They are a fun addition to the town though and they definitely welcome pets, attention and the occasional selfie!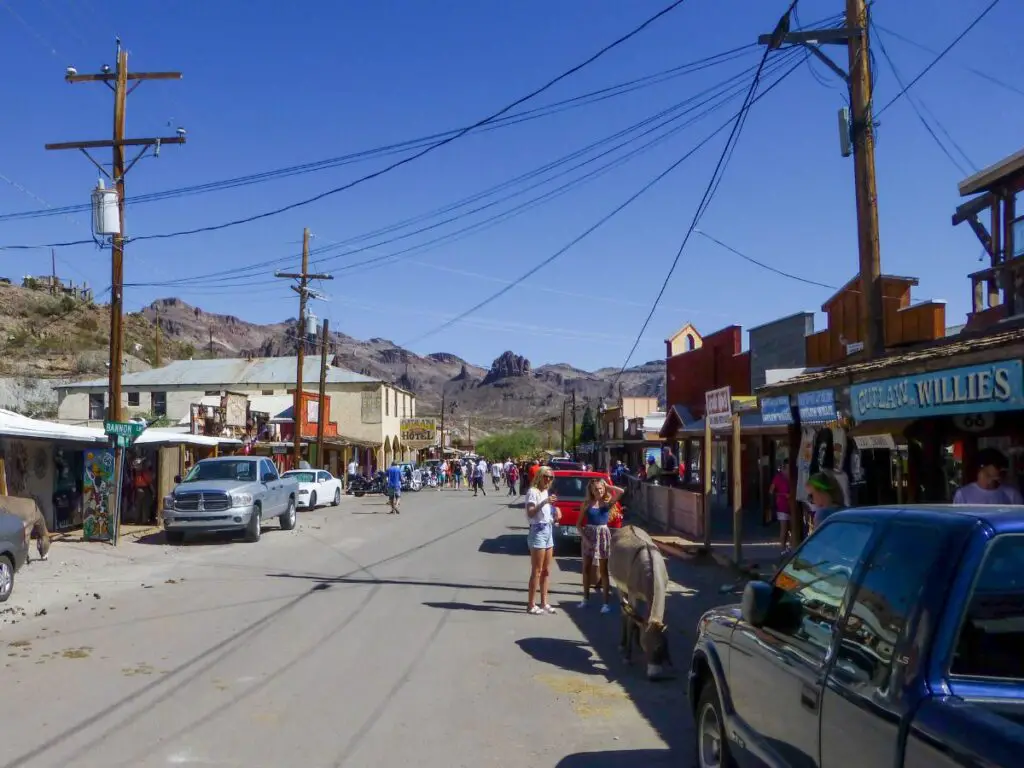 Explore the original Oatman Hotel
This hotel is an amazing sight and is the oldest building in the town after a fire ripped through the town in the 1920s.
They like to say that Clark Gable honeymooned here but apparently that's disputed – it's a part of the hotel's history though and so you might see references to that.
One tradition that has caused the inside of the hotel to look like nothing you've ever seen before is to attach a one dollar bill to the walls. The place is covered in them! You have to see it to believe it!
You can't overnight in the hotel any more but there's plenty of other historic Route 66 hotels further on in your journey – try Kingman, Seligman or Needles!
See all the old world style shops
Many of the buildings in Oatman are home to gift shops with all manner of trinkets, antiques and souvenirs to pick up and remind you of your time in this ghost town. As well as shops there are also some stalls selling t-shirts and other items.
Look out for the post office where you can send postcards with a special mark too.
It's a welcome respite from the heat and the people who run these shops are the nicest around!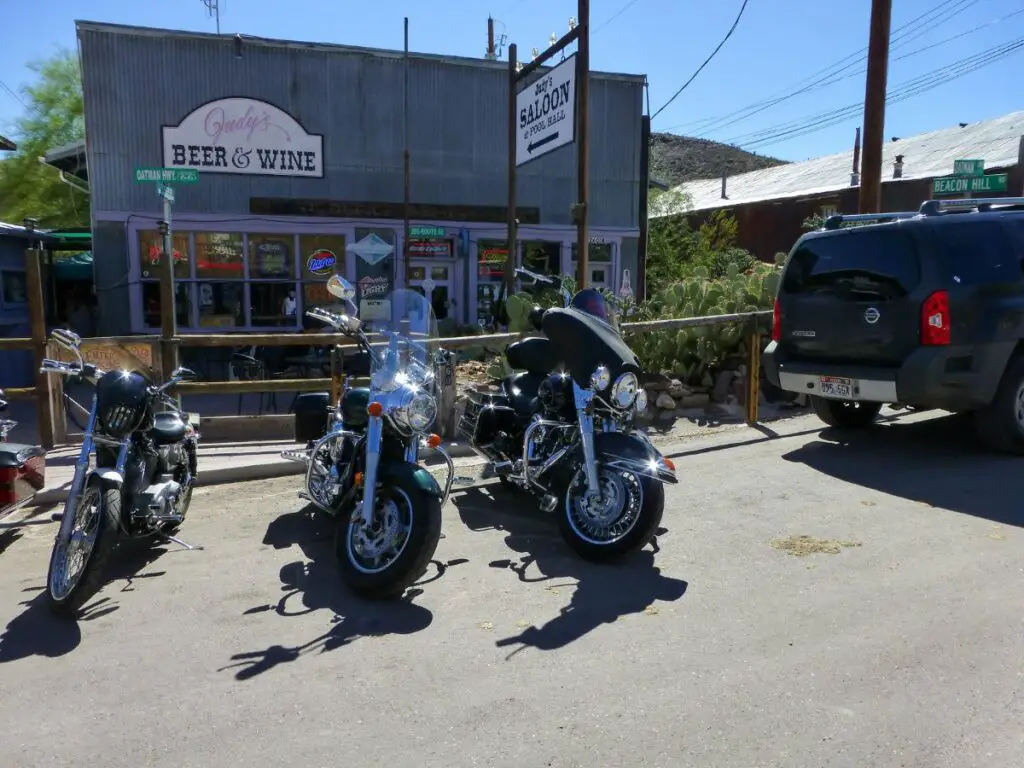 Have a bite to eat or drink
Alongside the original Oatman Hotel there are a number of saloons and watering holes for a cowboy to refresh their thirst!
Pan for gold
Try your luck panning for gold in this area which has a huge history of prospecting.
There are loads of places where you can give it a go and if you're not lucky still purchase some gems.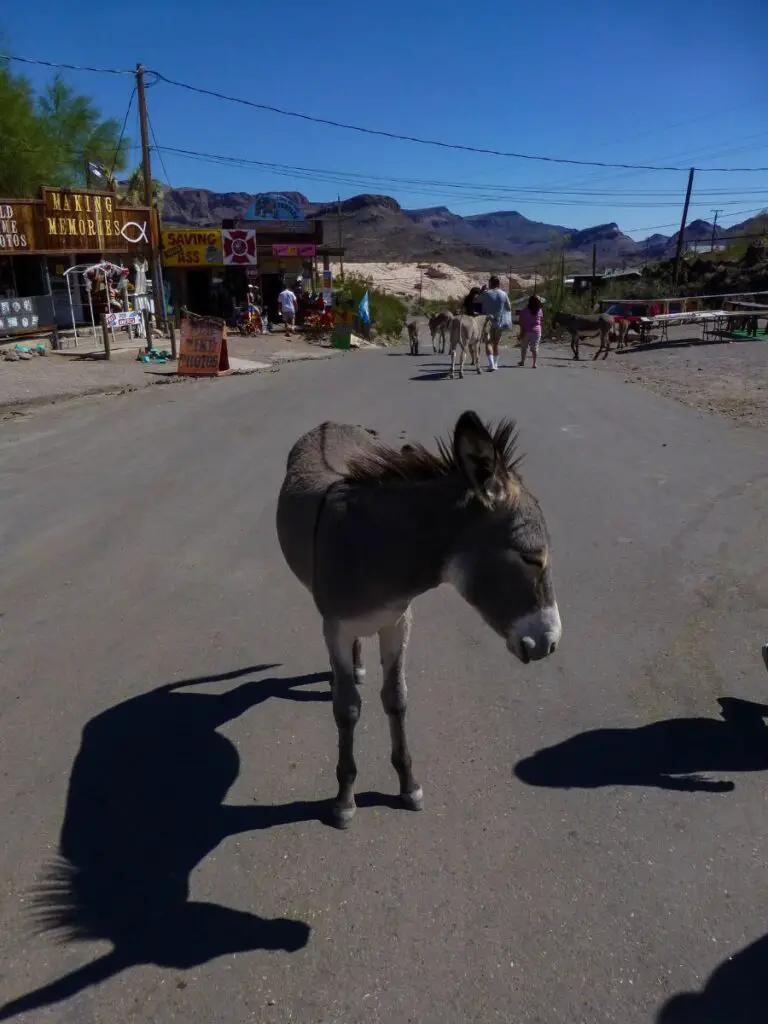 Take all the photos
The whole area has a fun vibe to it and it's a little tongue in cheek. There are quite a lot of photo opportunities there including many cut out boards that you can put your face through. Our kids loved finding them and getting their picture taken.
🇺🇸 Route 66 FAQ 🇺🇸
Do I need insurance for traveling Route 66?
YES! I always recommend people take travel insurance even when travelling domestically! If you have booked something non refundable it might be the only way you'll get money back if your plans change.
Check Travel Insurance Master for quote comparisons from different providers.
Who is the best car rental company for Route 66?
There are many car rental companies who you can choose from – I recommend comparing prices using DiscoverCars to get the best price for you or at least a good idea of a ball park figure. (see more)
Where to book Hotels for Route 66?
For hotels I recommend Booking.com as they tend to have good cancellation policies so you can keep flexible on the road.
Often some historic Route 66 hotels will need to be booked direct.
What to pack for Route 66?
Keeping yourself cool and comfortable is a must for any road trip.
See my post about what to pack for a Route 66 road trip
What's the best guidebook for Route 66 ?
I really like the Route 66 Adventure Handbook but there are a lot to choose from depending on what stage of planning you're at (see more)
Where to get flights for Route 66?
Skyscanner is my first port of call for finding cheap flights to start your road trip.