Wondering where to stop on a road trip is all part of planning an epic vacation. If you're heading towards the Texas Pan Handle, along Route 66 then you might be wondering where is a good place to explore. If traveling East to West, the small city of Shamrock is the first point of interest as you enter the state of Texas. Here's some ideas of things to do in Shamrock if you do decide to stop a while.
Our very first experience of Route 66 was in this sleepy little place and it was an absolute delight. We loved exploring in early evening as the neon lit up and then the next day to find out more about the town.
This article probably contains affiliate links.  
This means that if you buy or book after clicking, I may get a commission at no extra cost to you. Thanks!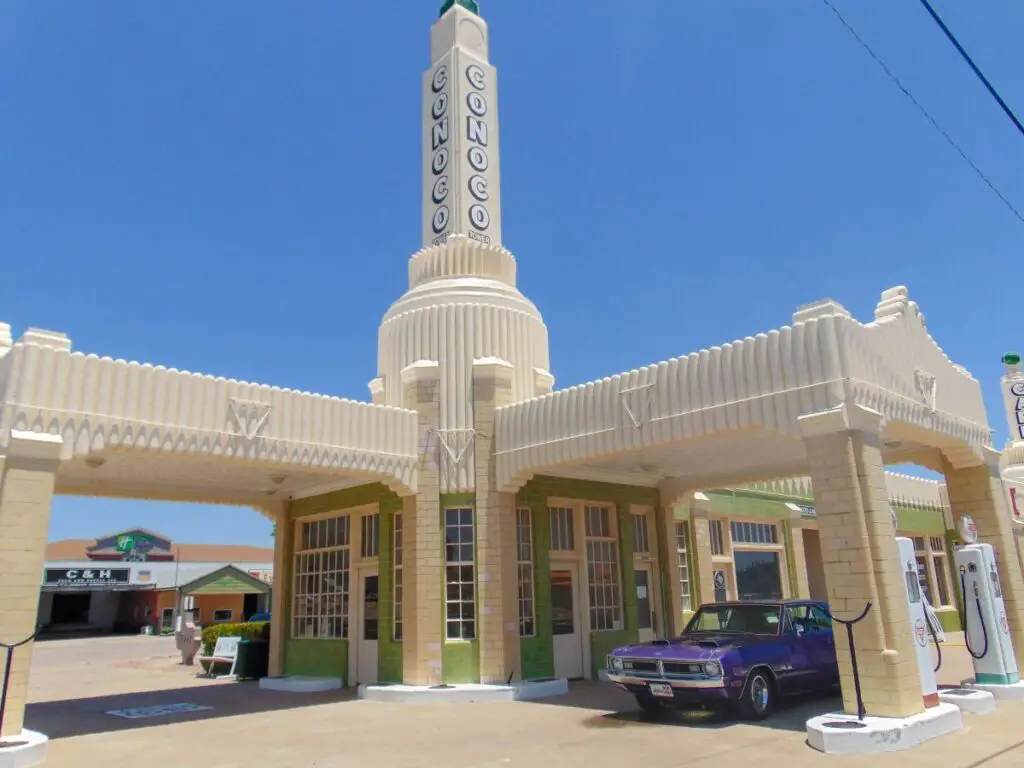 A note from the writer: Hey! I'm Kirsty and I'm a Route 66 enthusiast – I first became obsessed almost 20 years ago and then first visited in 2014. I've recently just come back from my last trip too! Comment below if you have any questions about your road trip and I'll get back to you ASAP – or join me in my free FB group here.
Is Shamrock a good place to stop for the night?
Yes! I often recommend this place for an overnight stop because as well as some interesting places to check out, the neon that lights up the U-drop Inn is quite spectacular. Either plan in a late afternoon/evening stop or stay over if you can.
Here are some options: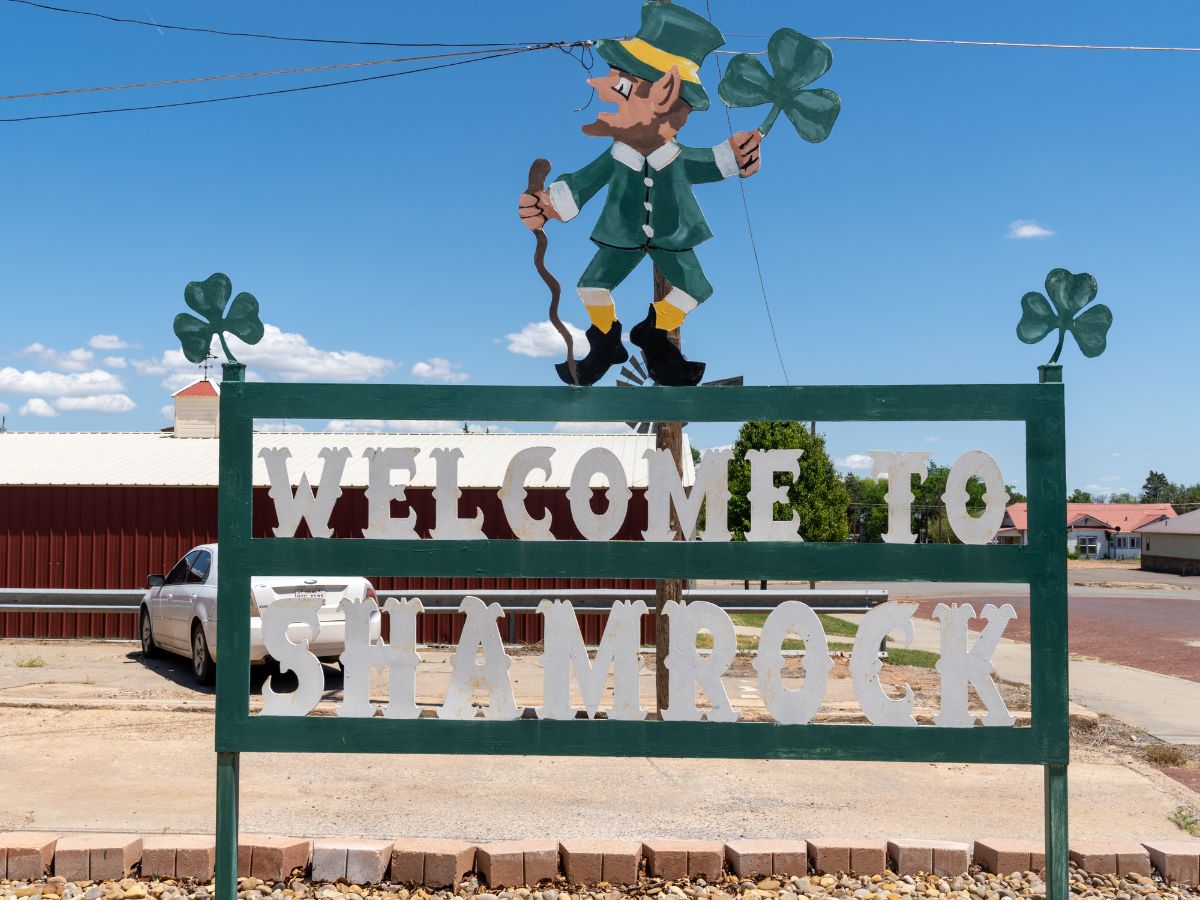 Shamrock? Anything to do with Ireland?
You might be wondering if this small town in the state of Texas is connected to Ireland and, no surprises, yes it is! Shamrock, TX is very proud of its connection to Ireland and you'll see so many examples of leprechauns, shamrocks, pots of gold and much more as you explore. One of the original founders of the city wanted to incorporate their Irish heritage and as such the name of Shamrock came about.
If you're traveling Route 66 in Spring and around the time of St Patrick's Day then you must check out what the city puts on – parades, music and much more.
Things to do in Shamrock
So what things can you see in Shamrock, TX? If you're passing through you probably know that you're on old Route 66 and a lot of the town has been built up around the road (and the railroad prior to that).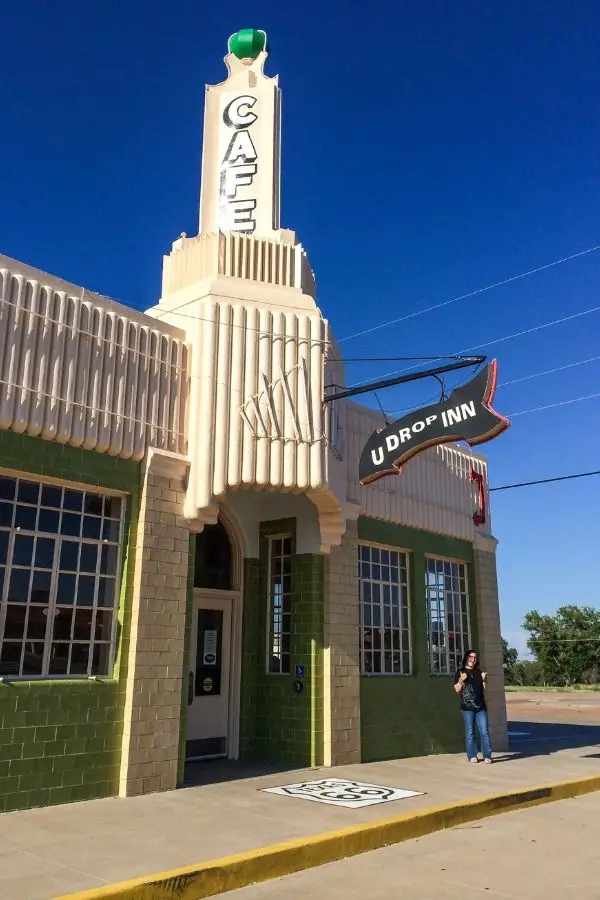 U-drop Inn Cafe / Conoco Tower
This place was top of my list to check out when I realised that Ramone's Garage (from Disney's Cars) actually existed in this real life Radiator Springs location!
The building is really impressive from the outside with its Art Deco design and curved walls, vintage gas pumps and, if you're lucky, some classic cars dotted around. It's been meticulously preserved and apart from the funky style it's not really showing its age.
At night time it looks just as stunning and if you can definitely hang around until the neon is switched on.
Inside is now a cafe and looking at their Facebook Page it looks like it serves up some amazing food!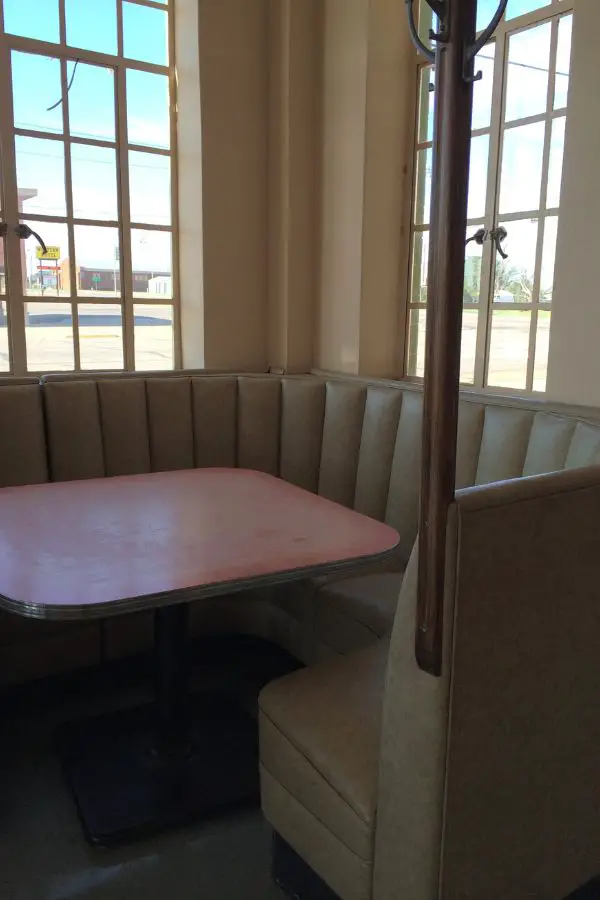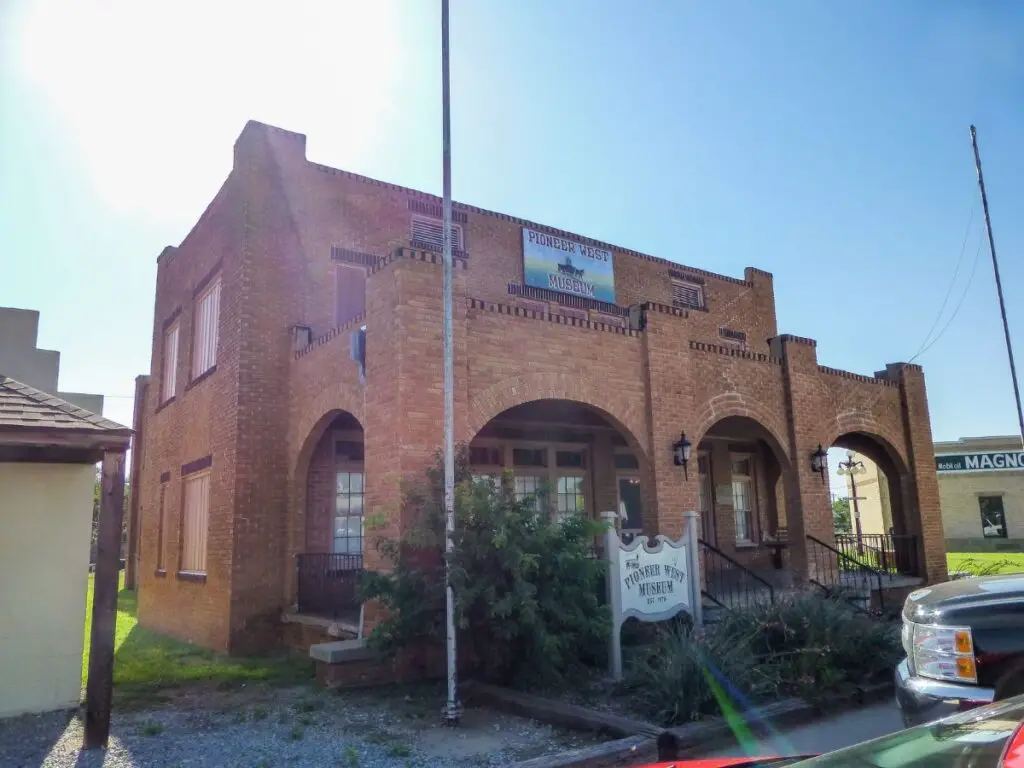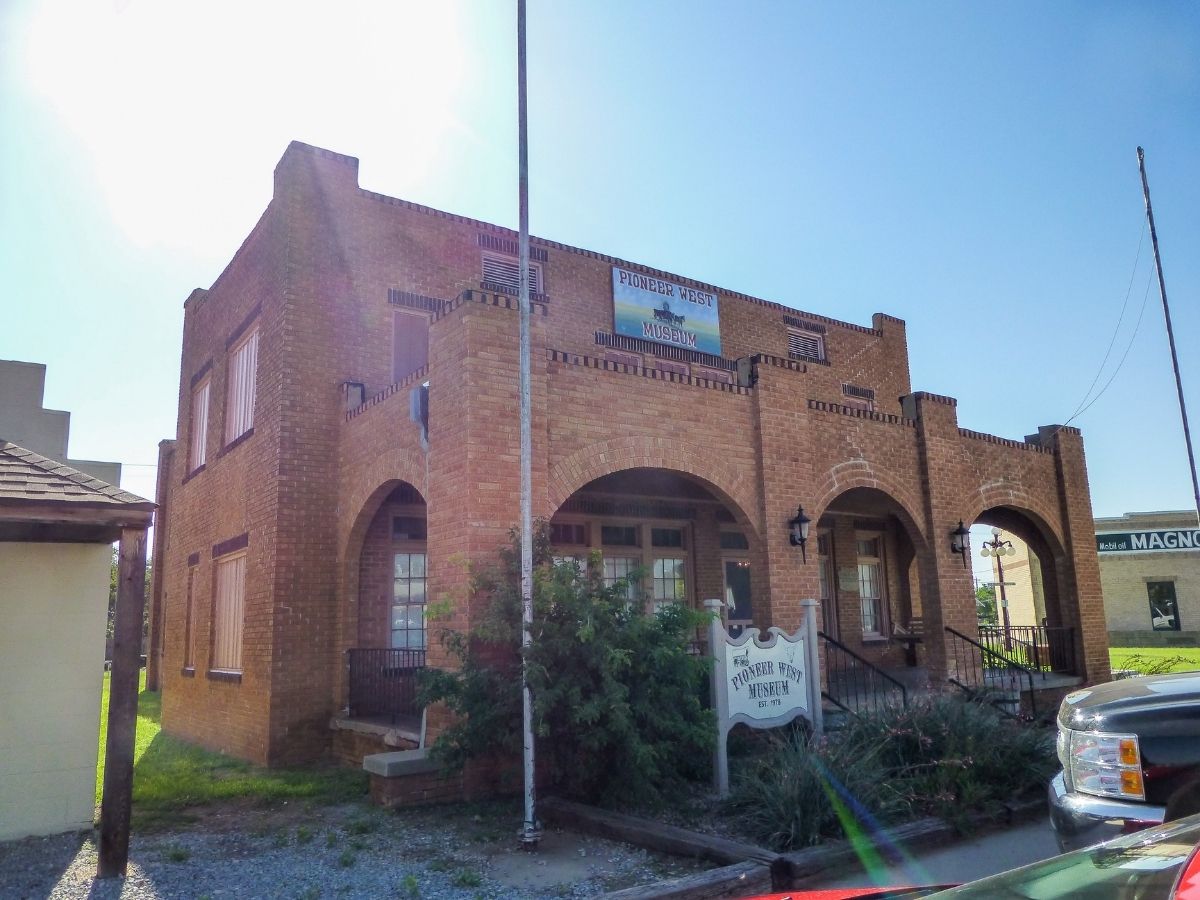 Pioneer West Museum
This small museum, which still manages to house a LOT of artefacts is well worth your time to visit.
It's run by volunteers, who were incredibly friendly when we visited, and who will also give you a tour if it's quiet.
The museum is located in an old hotel that dates to the 1920s and the different rooms house a number of exhibitions about local life, Native Americans, pioneers and even some local lore about Bonnie and Clyde.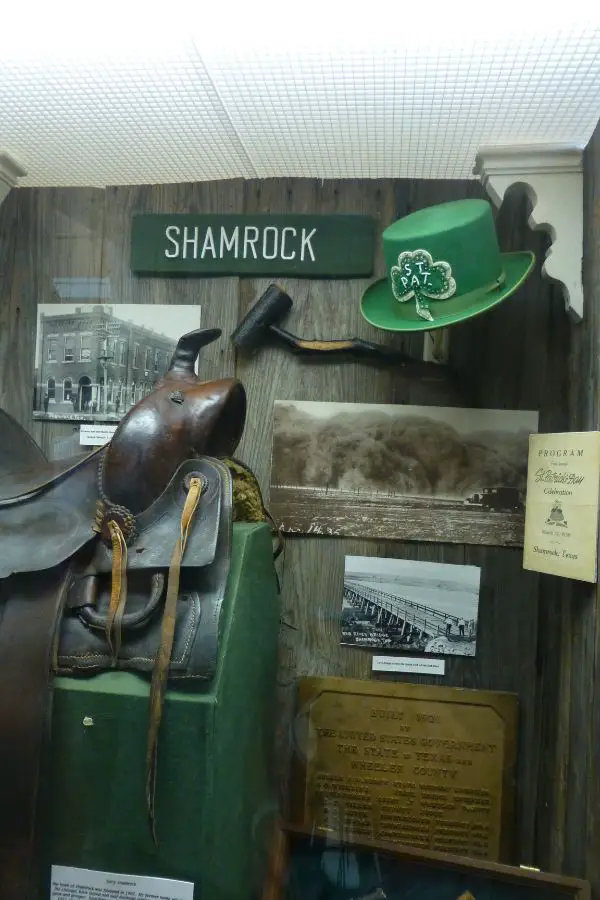 Don't miss exploring outside as well as there's some vintage farm machinery and also the restored Magnolia Garage as well.
Admission is free although donations are much appreciate. Open 9am-5pm but closed for lunch at 12-1pm.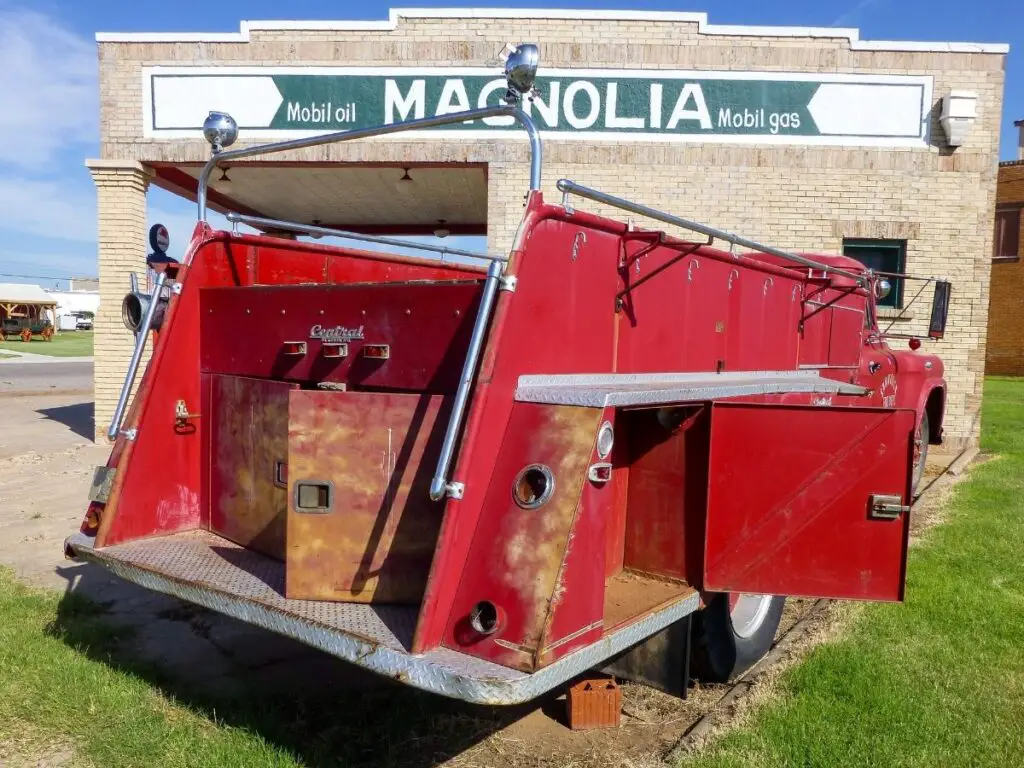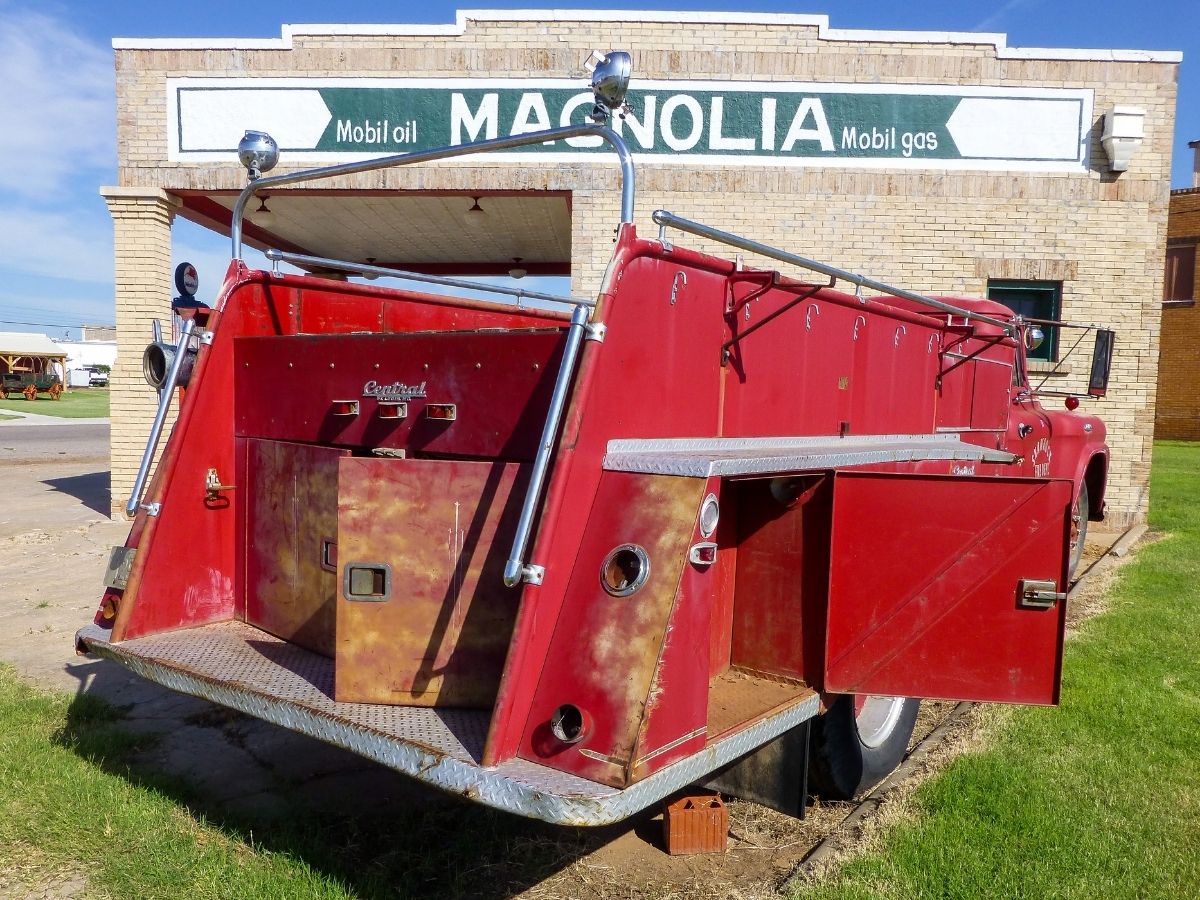 Magnolia Garage
It's right next to the museum, but if you don't have time to explore inside it's still worth a stop to get that all important photo!
The garage has some old, restored gas pumps and right next to it is an old Fire Truck for Shamrock.
Touch the Blarney Stone
Shamrock has its own piece of actual Ireland in the town – a piece of the original Blarney Stone! Yes, the one where you kiss it. Legend says that if you kiss it (or maybe just touch in our post Covid world) you get the gift of eloquence and persuasion – a worthwhile pursuit!
The stone is in Blarney Stone Plaza where there's also some more plaques to learn about the town and the Irish connection.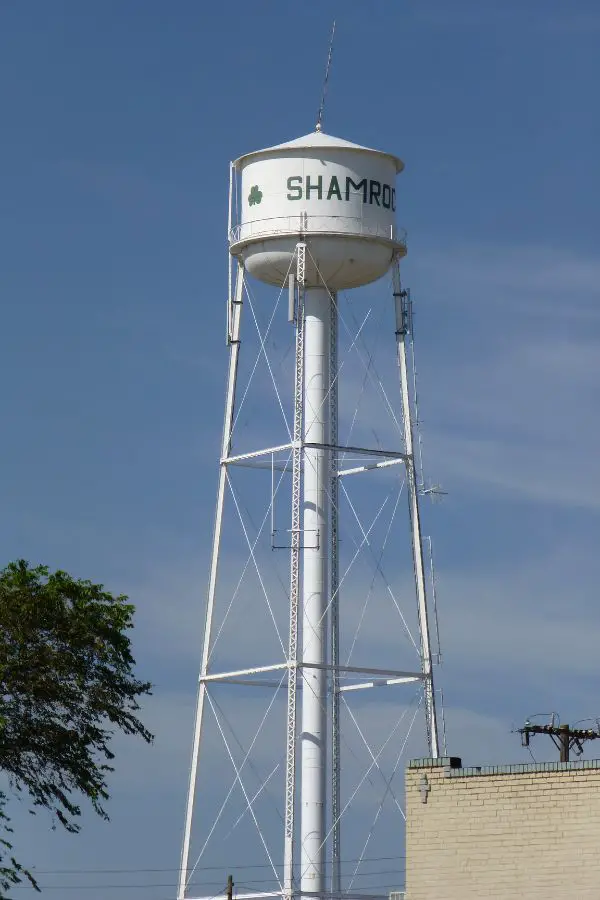 Tower Plaza & the Water Tower
Another small plaza in Shamrock is mid way down the Main Street and is directly under the water tower. It's not far from the Blarney Stone and can be visited together if you like.
Tower Plaza has a huge mural showcasing the history of Shamrock and a number of plaques detailing the history of how the water tower was built.
The water tower itself has been an attraction for the town for many years since it was one of the largest water towers in the state. Not bad since it was built in 1915!
Find the Dancer Sculpture
Located in the north of the city this is a quirky sculpture by a local artist. It was made in late 2020 using recycled tools and metal.
You'll find it in the Taco Bell parking lot (of all places!) right next to a gas station. The location is a little bit on the weird side, but this is Route 66 and we like a little bit of weird!
Play Golf at the Shamrock Country Club
Shamrock might not seem like the kind of place that you'd be playing golf at, being in one of the hottest areas along Route 66, but there's a place where you can play a round of 9 holes if that's your kind of thing.
Located at the south of the city, this country club also hosts a lot of events. Check their FB page out if you're looking to visit.
Still got questions? Join our FREE Route 66 community!
Come and join our FREE Facebook group where you can get help with planning your Route 66 road trip of a lifetime!