Driving the Mother Road makes you think of small town America and miles between each stop. There are actually a number of major cities on Route 66 to enjoy on a road trip though. So what are they, are they worth a visit or should you just stick to the small towns?
Cities along Route 66 bring a different feel to a road trip which I have to say can definitely be welcome. You'll find a host of different attractions that don't necessarily need to be about Route 66 to make them worthwhile.
Museums, nightlife, kids attractions, cinemas and restaurants – yes you can get these in the small towns too but in a city you have so much more choice.
This article probably contains affiliate links.  
This means that if you buy or book after clicking, I may get a commission at no extra cost to you. Thanks!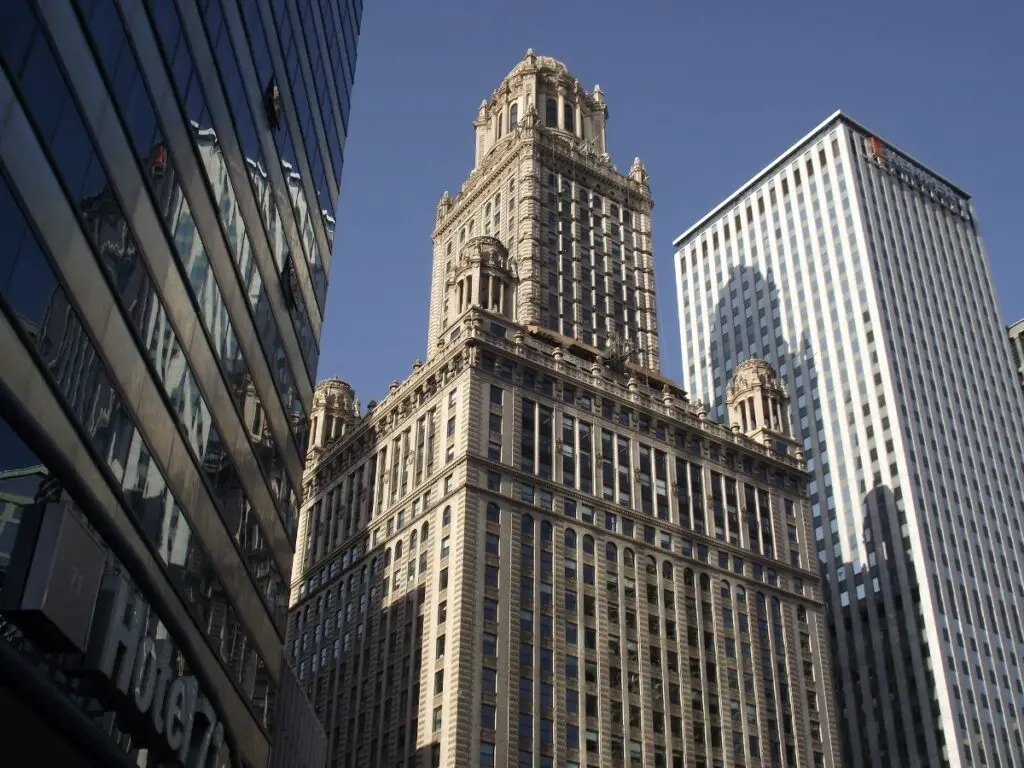 A note from the writer: Hey! I'm Kirsty and I'm a Route 66 enthusiast – I first became obsessed almost 20 years ago and then first visited in 2014. I've recently just come back from my last trip too! Comment below if you have any questions about your road trip and I'll get back to you ASAP – or join me in my free FB group here.
Through 8 states, there are 10 major cities along Route 66, but many other smaller cities. For each city in this guide I'll give a suggestion for where to stay and any must see attractions there. Here's the 10 cities on Route 66 I'll be covering:
Chicago, IL
Springfield, IL
St Louis, MO
Springfield, MO
Tulsa, OK
Oklahoma City, OK
Amarillo, TX
Albuquerque, NM
Flagstaff, AZ
Los Angeles, CA
While compiling this list I came upon the inevitable question of what makes a place a city rather than a town and then what makes a major city. I chose an arbitrary number which made sense to me* – a population of more than 75,000 people for this list.

*I'm from the UK – take from that what you will!
The best major cities on Route 66
These cities along Route 66 all have something different to offer. They all would be a good base to explore some of the Road without having to drive the whole route. So if, after finding out how long it takes to drive Route 66, you don't have time to dedicate to the trip, a city break to any of these could be a great alternative.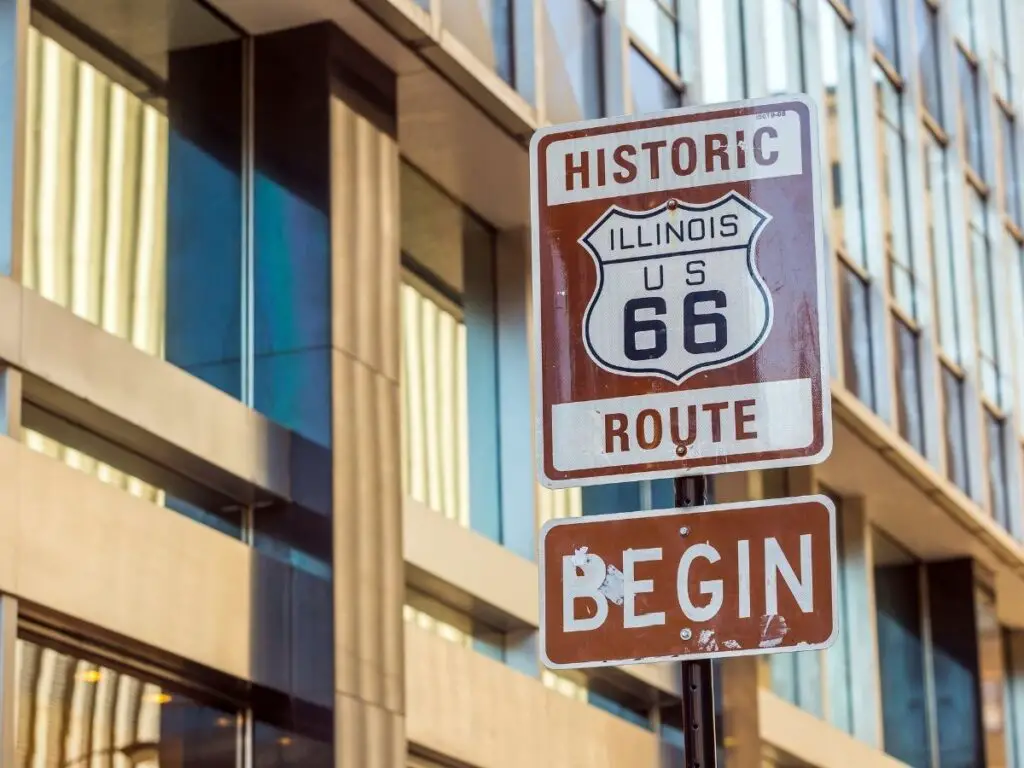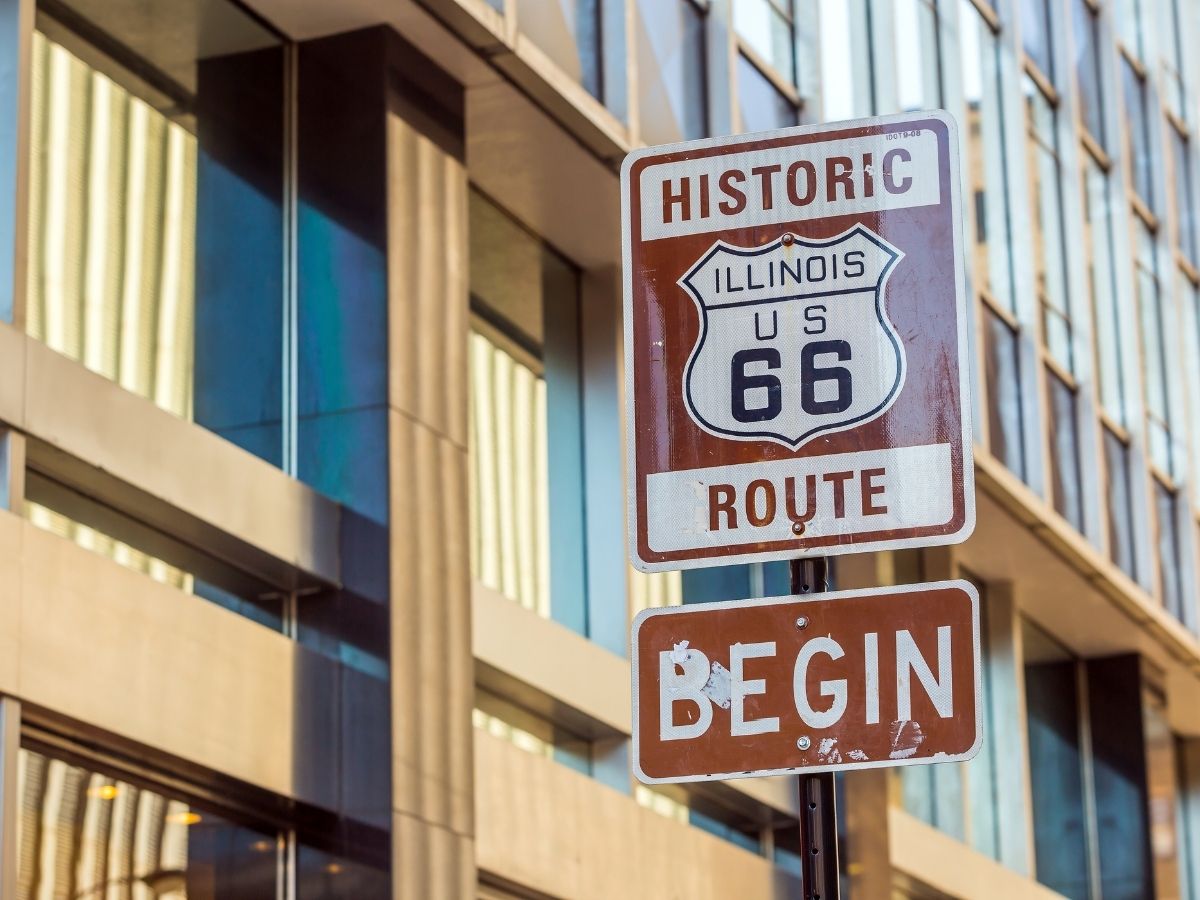 Chicago, Illinois
Chicago is the starting point for so many people travelling Route 66 from East to West but it might also be the finishing point if you do the journey the other way.
The Route 66 sign to mark the beginning of the route is on the corner of Adams Street and Michigan Avenue, directly across from the Art Institute of Chicago. This area of downtown Chicago is known as The Loop and there's a tonne of history to be found here.
I suggest a tour of the mob history in the city which is contemporary with the beginning of Route 66 history. For something a bit more up to date try the Skydeck at the Willis Tower.
Where to stay in Chicago? You have the whole city to explore but the Hilton Garden Inn Chicago Central Loop would be a good choice on the original road and not far from Lou Mitchell's – a breakfast icon for Route 66 travelers.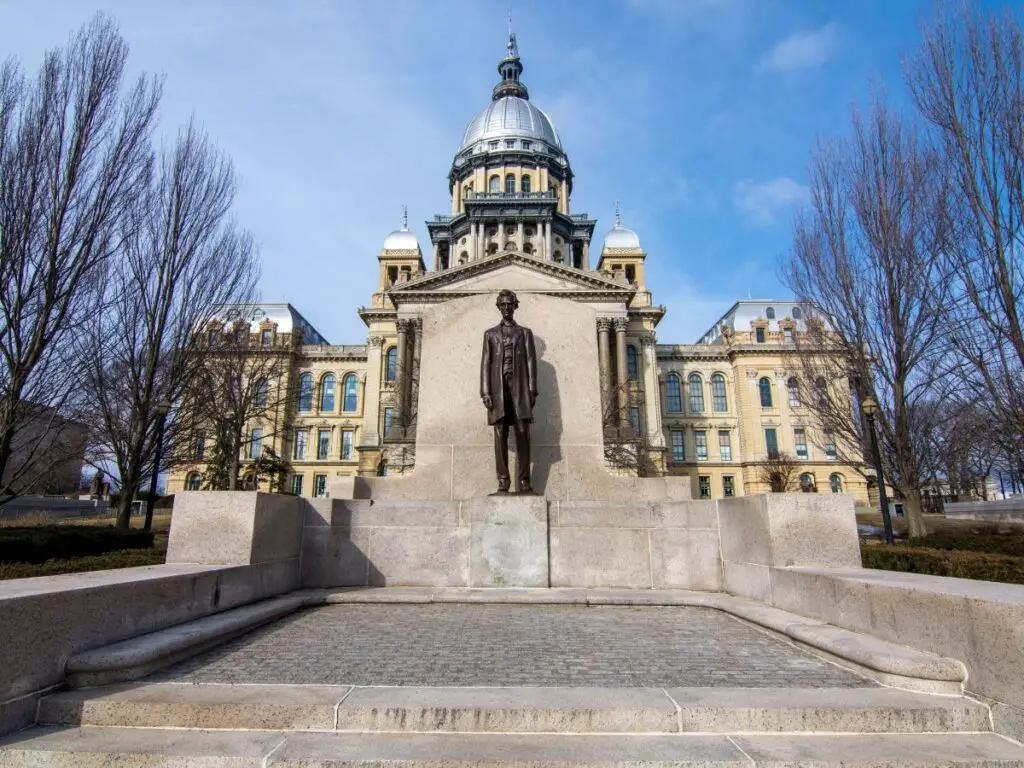 Springfield, Illinois
Once you leave Chicago the next major city on Route 66 in Illinois is Springfield. While the Route 66 history is extensive here and there are a lot of attractions to take your time, the other claim to fame that the city has is its connection to President Abraham Lincoln. He lived in Springfield before he became President and moved to Washington DC.
Don't miss going on a tour around Lincoln's home, have some proper retro American food at the Cozy Dog Drive In and learn about black history at the Route History museum.
Where to stay in Springfield? The Route 66 Hotel and Conference center is a good, inexpensive option to consider.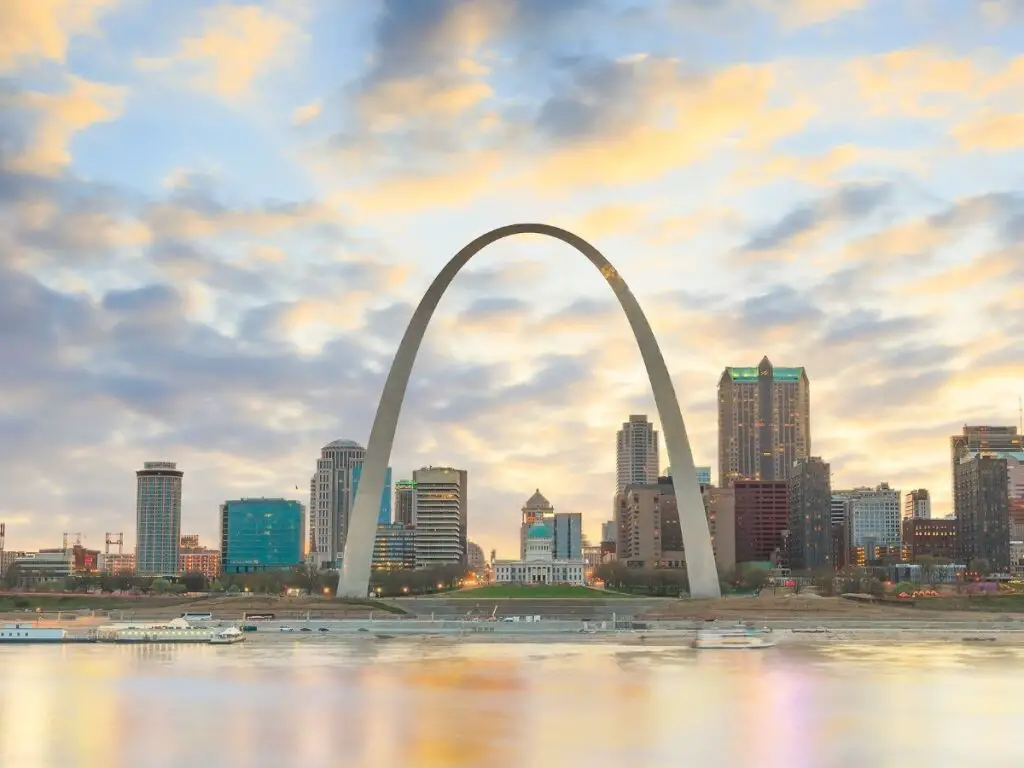 St Louis, Missouri
Outside of Chicago and LA, St Louis is the largest city on Route 66.
The north of St Louis is home to the Chain of Rocks bridge which is one of the most iconic and photographed bridges along Route 66. You can't drive on it anymore but you can walk on it and imagine what road trippers in the past would have seen.
In St Louis itself you'll want to take time to visit the Gateway Arch to get amazing views over the Mississippi and go on a Paddle Steamer Cruise.
For old Route 66 in the city itself head to Maplewood District. With plenty of history including a 100 year old bowling alley at Saratoga Lanes you'll find lots to see. Check out the sidewalk on Manchester Avenue for lots of plaques on the road remembering the business that were in the area in Route 66's heyday.
Where to stay in St Louis? I recommend a downtown hotel to be by the Gateway Arch.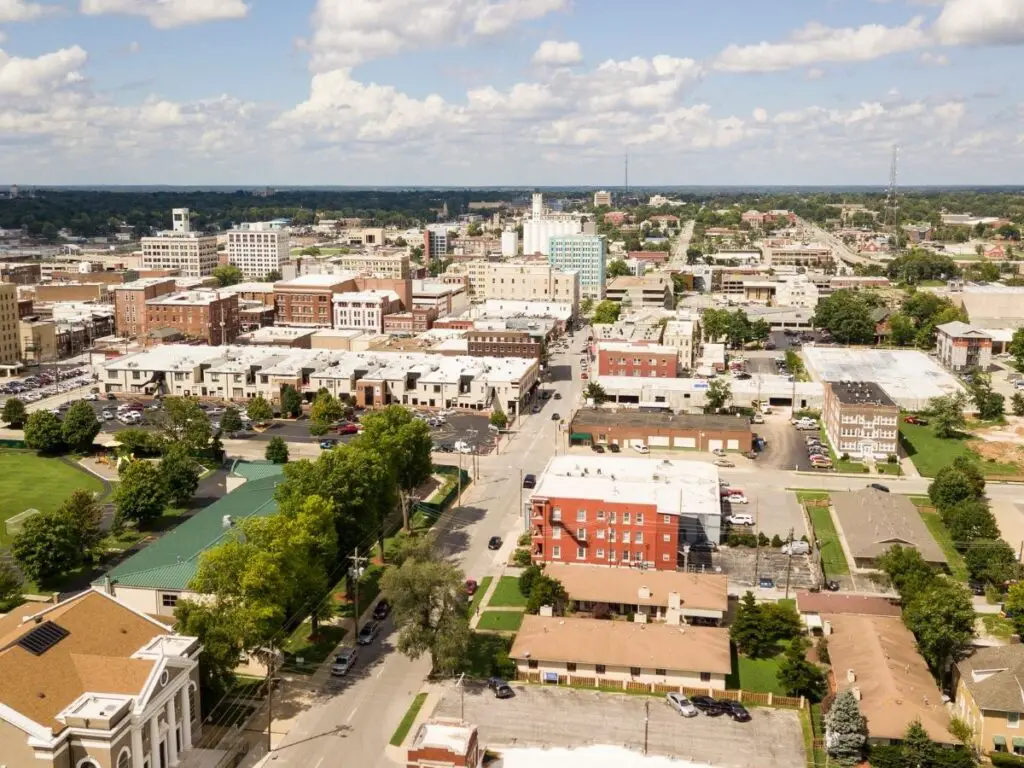 Springfield, Missouri
Another city along Route 66 and another Springfield (yes, my inner Simpson's geek loves it!), this time in Missouri. They cite it as the birthplace of Route 66 since it's from here that a telegram was sent proposing that the new route be called 'Route 66'.
Along Route 66 in Springfield you have a number of museums that would be a good place to spend some time. The Route 66 car museum is as you'd expect, something for the car enthusiasts among us. Many people driving route 66 can appreciate the old cars of America and so this museum will have something for everyone.
There's also the Museum on the Square in Downtown Springfield which tells the history and how it shaped this area. From Native Americans to Pioneers, the Civil War and the birth of Route 66 – it's all here to explore and learn.
Springfield is also in the heart of the Ozarks and is a great jumping off point to the great outdoors, fishing, walking and relaxation.
Where to stay in Springfield, MO? Try Rockwood Motor Court for a historic and classic motel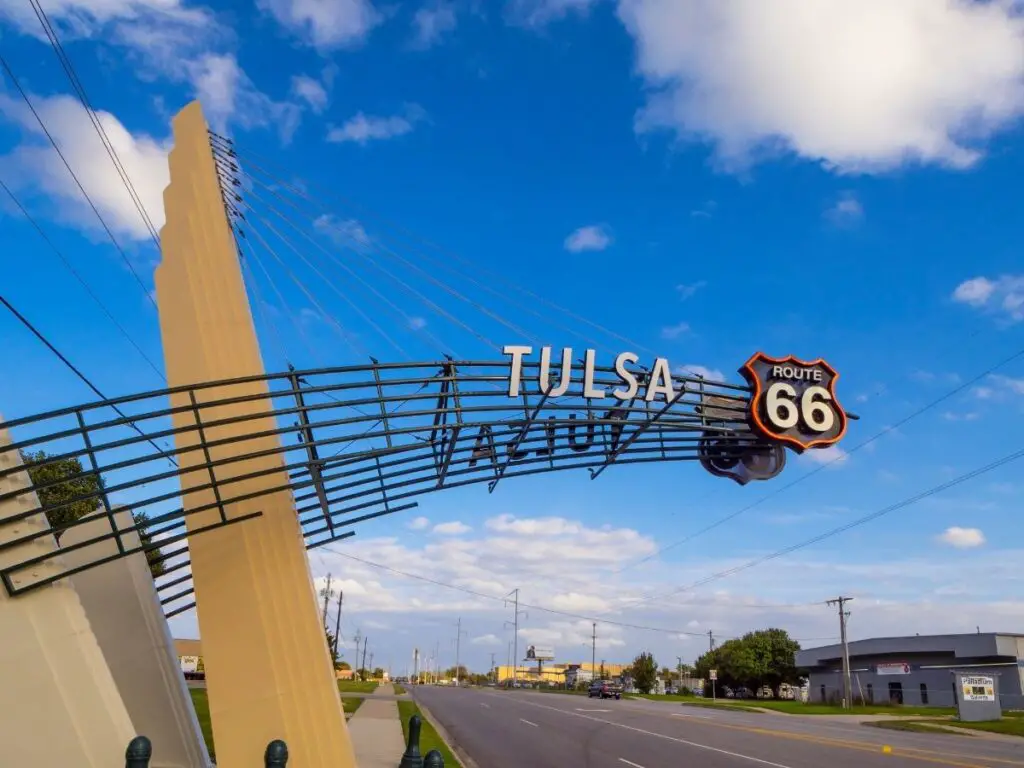 Tulsa, Oklahoma
Oklahoma is home to two large cities going through Route 66 and Tulsa is the first one that you meet if you're traveling east to west.
A new endeavour in Tulsa is the Mother Road Market which is a food hall with all sorts of local and small food outlets to choose from. It doesn't matter what you fancy to eat, you'll find something here.
Tulsa is great for lovers of Art and Architecture with many buildings from an Art Deco era. The Philbrook Museum of Art is a highly recommended attraction which is set in a mansion with huge, ornate gardens.
Of course, not all history on Route 66 is cuddly and nostalgic. Tulsa has a dark past and you can learn about one major event, the Tulsa Race Massacre, at the area that was once known as Black Wall Street. Greenwood Rising is a museum that's dedicated to telling the story and it's a must see to understand what happened.
Where to stay in Tulsa? The Campbell hotel is situated on Route 66 and is a little different to your regular historic hotel on the road – it's an upmarket hotel that's brimming with history and even has a Route 66 room.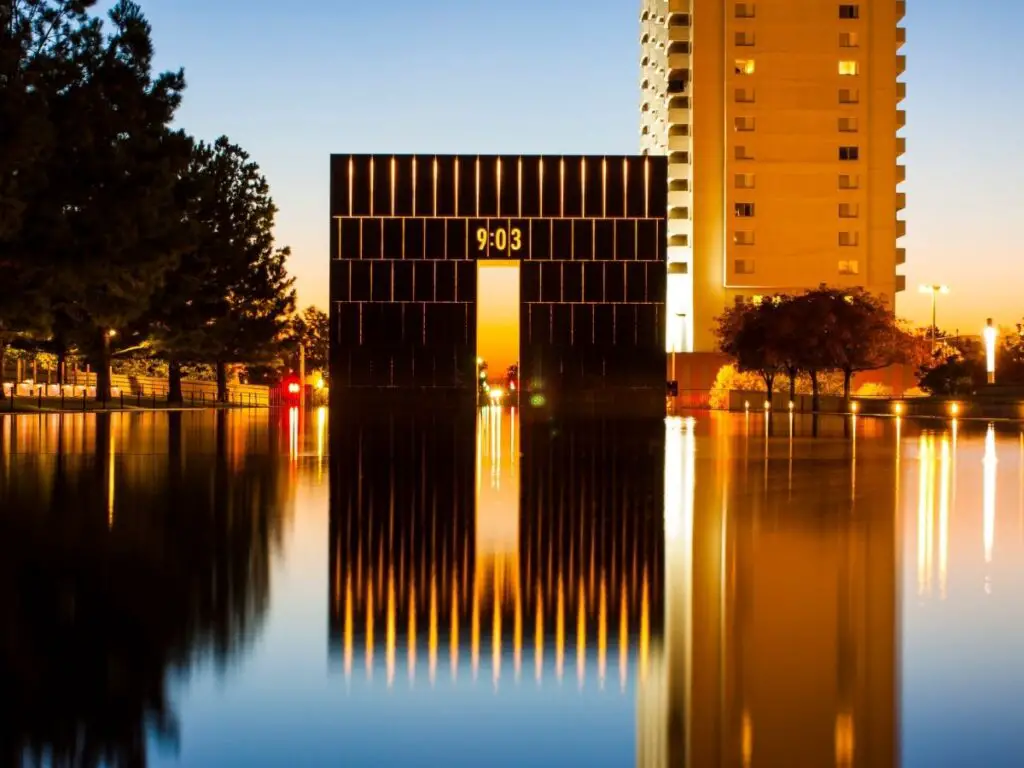 Oklahoma City, Oklahoma
Oklahoma City is the state capital and has a rich history. It's a large city of over 640,000 people and so there's a lot to see and do here. It would make a fantastic start point for a short trip on the road being right in the centre.
OKC is known for its cowboys and you'll see that when you're in the city – The National Cowboy and Western Museum is for you if you want to learn more about this national institution.
The First Americans museum is also worth exploring too to honour the people who were here long before the city began to rise.
You also can't visit Oklahoma City without taking time to visit the Memorial Centre which commemorates the victims of the 1995 bombing and is a peaceful and solemn place to gather your thoughts.
Where to stay in Oklahoma City? While not on the road itself, 21C Museum Hotel is a quirky stop in downtown OKC which used to be an old car assembly plant!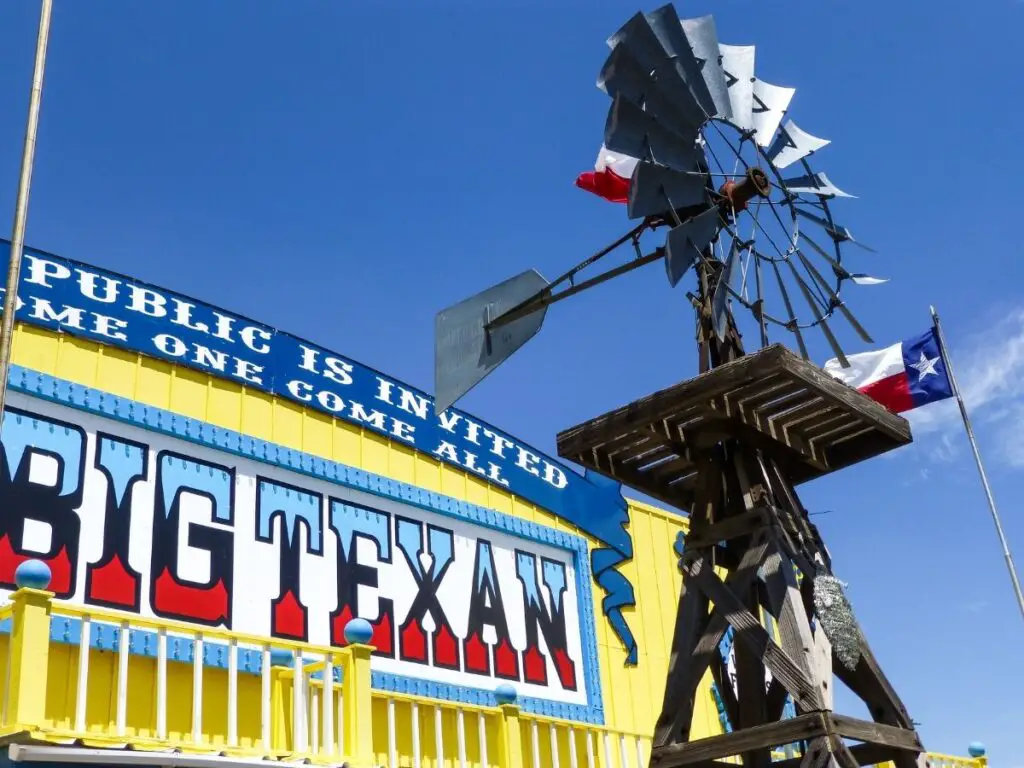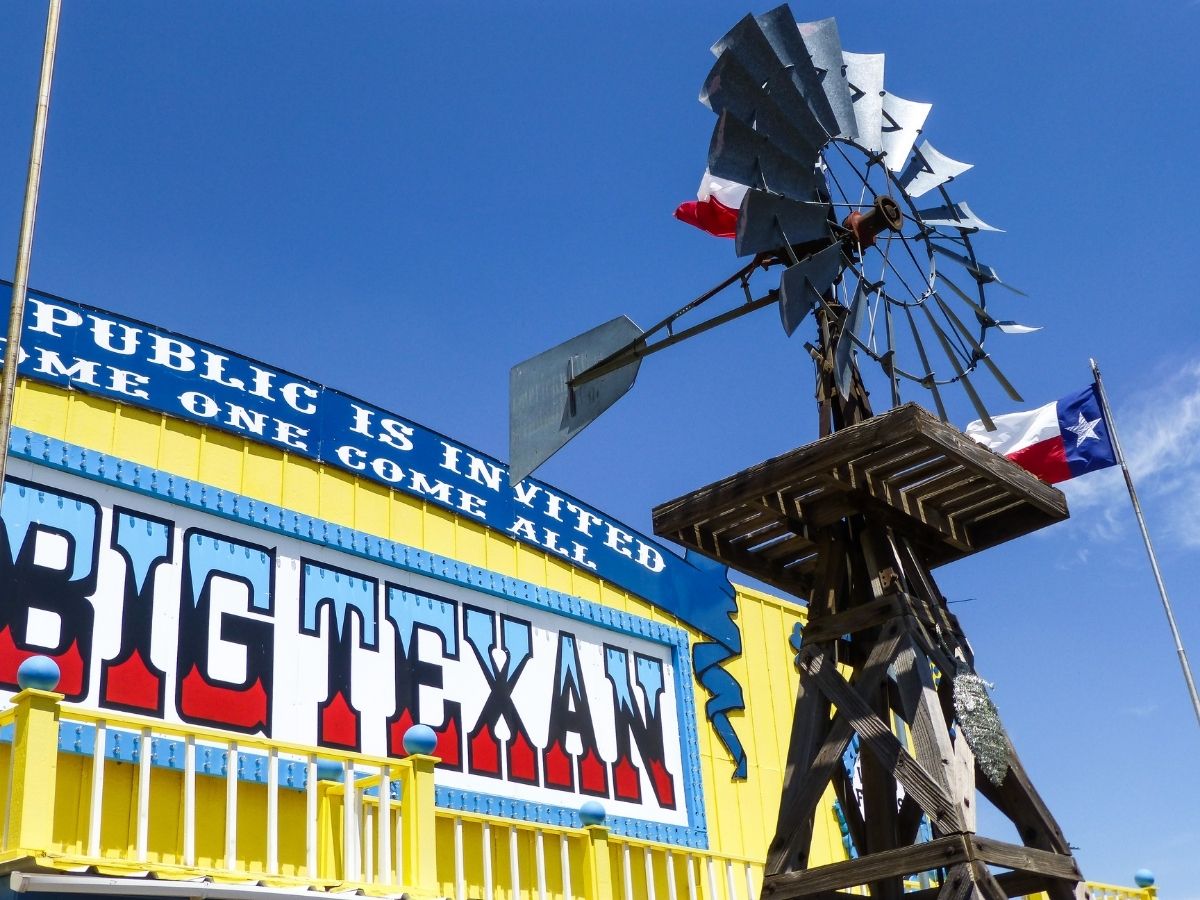 Amarillo, Texas
Route 66 passes through just the panhandle of Texas but there is one large city of note along the way – Amarillo.
When we travelled the road *every time* we saw a sign for Amarillo we'd sign the song 'Is this the way to Amarillo. Yes it got a little tiresome after a while!
While you're in Amarillo you must check out the Big Texan Steak Ranch. It's one of the most popular attractions in Texas on Route 66 where people can take the challenge to eat their 72oz steak in just an hour. There's a gift shop if you'd just like to look around or you can, of course, get a bite to eat there too.
Also in Amarillo is the Cadillac Ranch which is an art installation showing 10 Cadillac cars buried in the ground. Road trippers come from all over to spray paint their names on the cars. Disney fans might also recognise its shape as a location from Disney's Cars – the rock formation was called Cadillac Range and looks just like the real one in Amarillo.
In the city look out for 6th Avenue which is the historic district and contains old Route 66. You'll find quirky antique shops, murals and plenty of places to eat too.
Where to stay in Amarillo? The Big Texan Motel has the look of an old wild west town on the outside but much more modern on the inside.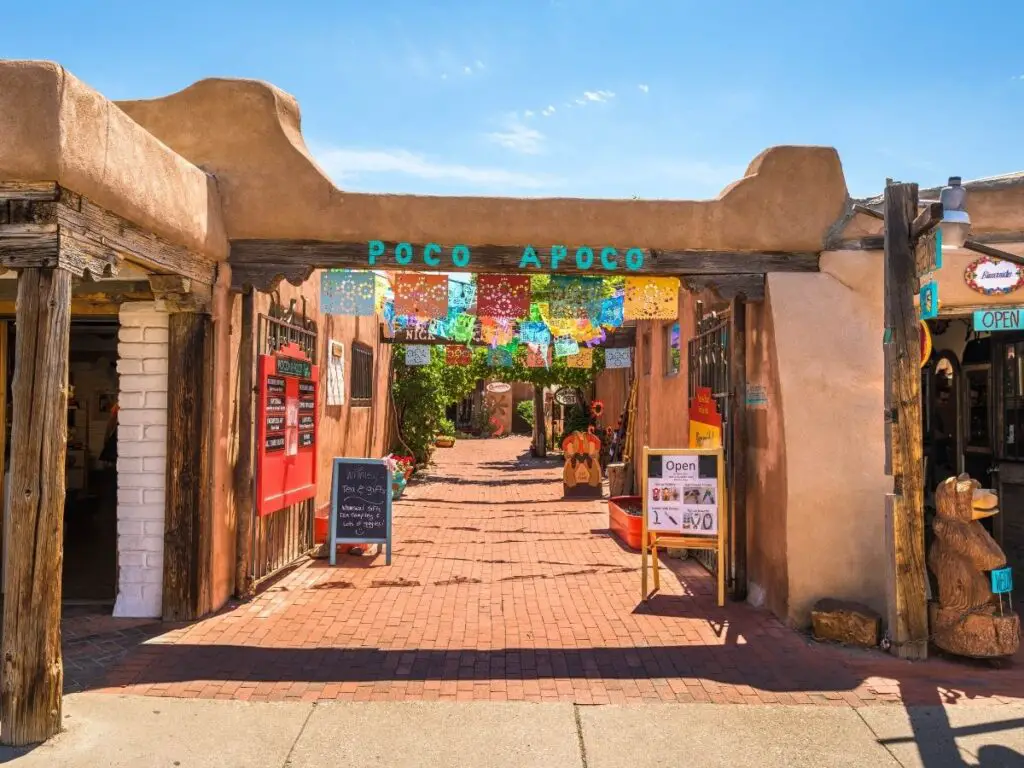 Albuquerque, New Mexico
The largest city in New Mexico, Albuquerque, also has Route 66 running right through it.
Nob Hill embodies the route with many classic diners and places to fill hungry bellies. Route 66 runs right through this Albuquerque district. Check out the Nob Hill Business Centre especially in the evening as it lights up with neon.
The Old Town in the centre is definitely worth exploring as well. It's over 300 years old and the history here covers much more than just the road. You can go shopping, explore museums and just soak up the unique city area here.
If you happen to be driving the road in October be sure to try and see the Balloon Festival which transforms the skies around Albuquerque – not to be missed!
Where to stay in Albuquerque? Why not base yourself in the Old Town at the Bottger Mansion of Old Town, a boutique hotel within easy reach of much of the city's sights.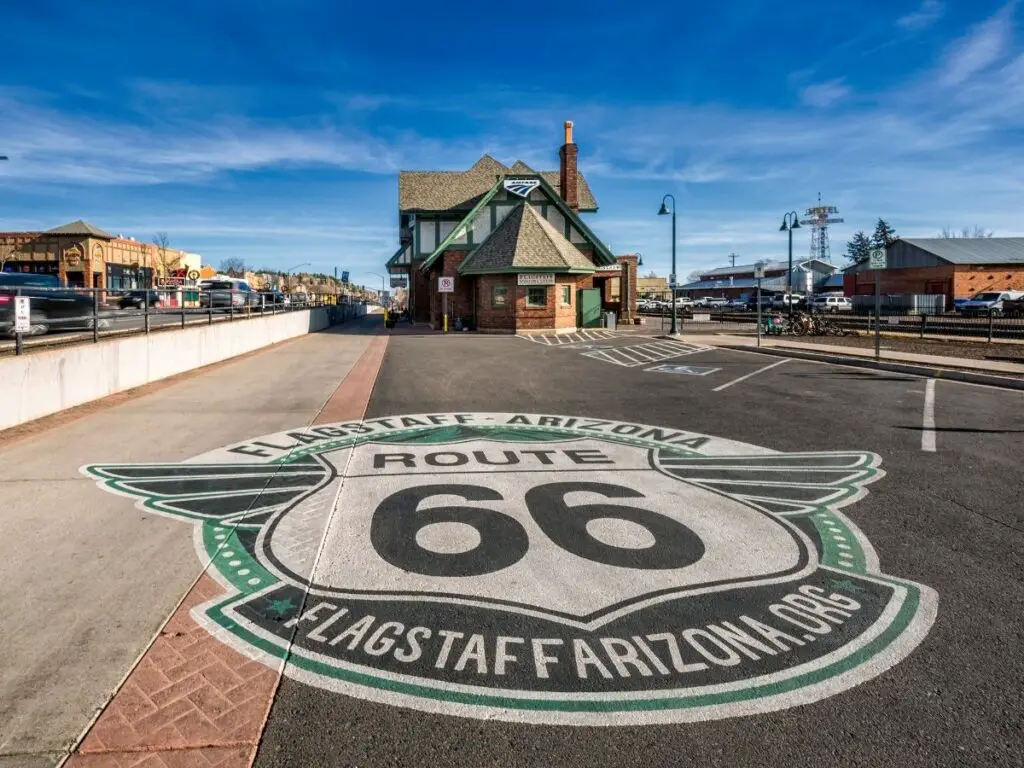 Flagstaff, Arizona
After spending some time in the hot desert it's quite a change to get to Flagstaff and feel that mountain air. Flagstaff is one of the smallest cities on this page with only around a population of 75,000 but I wanted to include an Arizona city on the road.
While Flagstaff is a popular place to take a few days out from driving to explore the Grand Canyon, there's a lot to be seen in the city itself too.
To slow down your road trip why not take a walk around downtown Flagstaff with the help of an audio guide that has been produced called Walk This Talk – Route 66.
Fo somewhere interesting and a little different to eat and drink why not try the Mother Road Brewing Company which is on the road and while a youngster compared to others it really embodies the spirit of the road.
The area is great for stargazing so a trip to the Lowell observatory is a must for anyone interested in the night sky.
Where to stay in Flagstaff? The Motel DuBeau is an original motel on Route 66 and is in the heart of Downtown Flagstaff for access to the history of the road on your doorstep.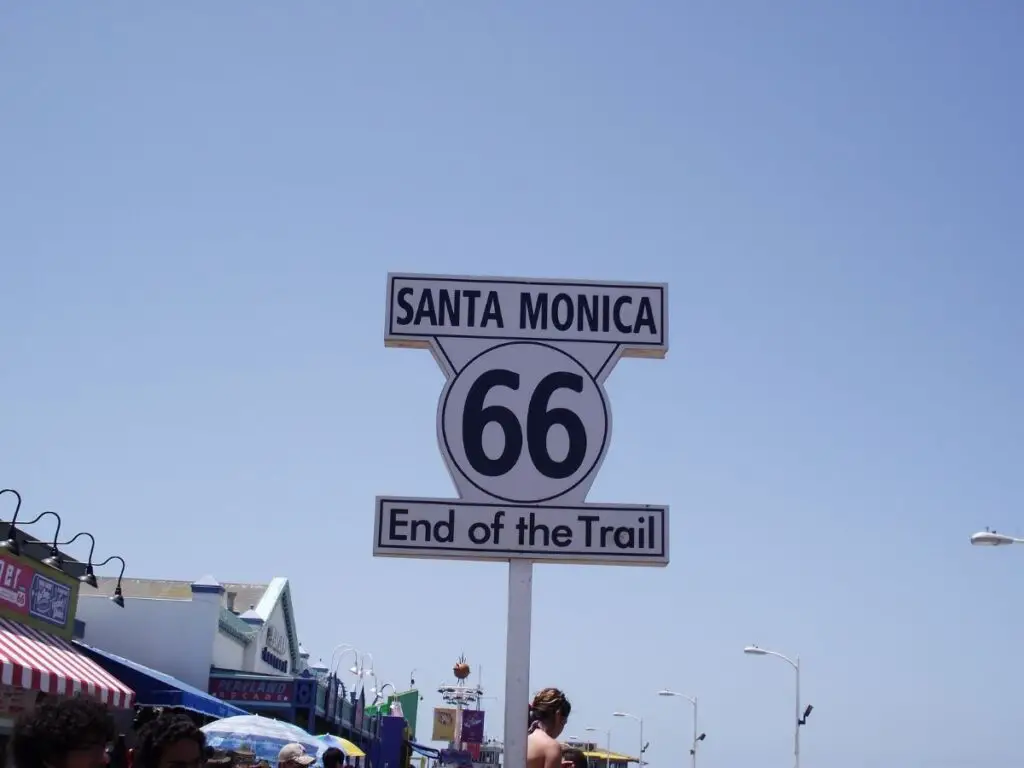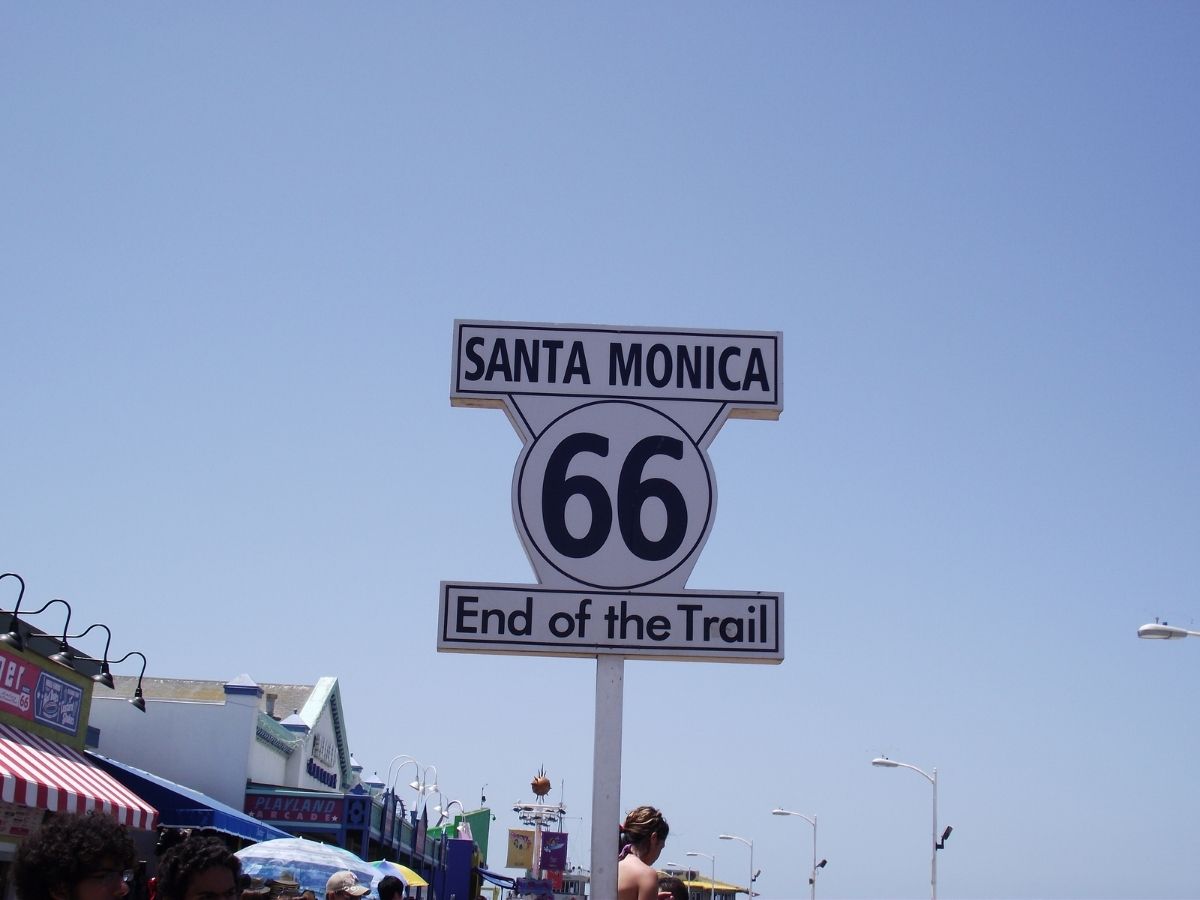 Santa Monica and Los Angeles, California
Our final big city along Route 66 is, of course, Los Angeles. The road winds it's way through the north of the city finally culminating at Santa Monica (which is actually it's own separate city but for the purposes of this article I'm keeping them together!)
The original end of the road is was the corner of Lincoln and Olympic Boulevards and you can still see the signs here that mimic the ones in Chicago.
The more accepted and symbolic end is on Santa Monica Pier and it really feels like you've made it when you get there and to the Pacific Ocean.
While in LA, don't miss the Hollywood connection whether that's by visiting film studios or going on a tour of the sites and homes of the stars.
Where to stay in Santa Monica or Los Angeles? For some Art Deco vibes, stay at The Georgian in Santa Monica right by the sea. A great place to end, or begin, a road trip
Still got questions? Join our FREE Route 66 community!
Come and join our FREE Facebook group where you can get help with planning your Route 66 road trip of a lifetime!