Route 66 in Illinois is where it all started. On the shores of Lake Michigan you can wave good bye to one huge body of water and get motoring to find another huge body of water across country. This is the State where the dreams of the nostalgic and iconic road trip start.
If you're looking to drive the mother road in Illinois then this page is for you. I'll answer your state specific questions about Route 66 as it winds through this state.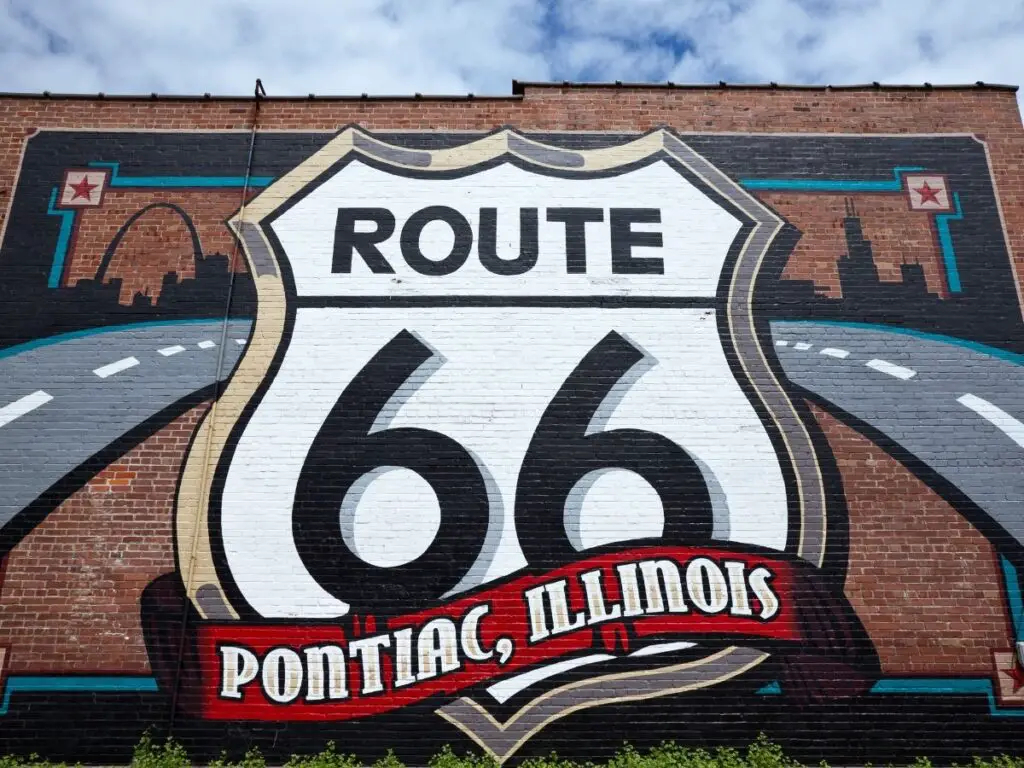 If you're specifically looking for information on what to do and where to stay along Rt 66 in Illinois then I invite you to check out these two posts that concentrate just on those topics:
And if you're looking to learn more about the whole road all the way from Illinois to California there's a tonne of posts on this site about roadside attractions to see, how to drive the road and where to stay. Start your Route 66 journey by slowing down and checking them all out!
Illinois Facts
State Name: Illinois
Nickname: The Prairie State
Population: 12.67 million

Route 66 mileage: 301 miles (484 km)
Major cities: Chicago, Springfield
Top Attractions: Begin sign, Gemini Giant
Does Route 66 still exist in Illinois?
Yes Route 66 still exists in Illinois although like much of the road it has been changed along the way. Some parts of the road in Illinois are no longer drivable on by car but have changed into pedestrian walkways – a great way to slow down even more these days!
In order to learn about the alignments and be able to drive the road comfortably I highly recommend getting a guide book that has directions and insight into the road and where you need to go. You can see my recommendations here – Route 66 guide books.
Where does route 66 start and end in Illinois?
Where does Route 66 begin in Illinois?
Route 66 begins in Illinois in the city of Chicago which is also the begin point for the whole road (or end if you drive the other way!)
What street does Route 66 start on in Chicago?
There's actually 2 points that you need to know about for your Route 66 trip. The begin sign for those driving East to West is on the intersection between Adams Street and Michigan Avenue.
When the road started it actually began one block south on Jackson Boulevard, where the 'end' sign is now. The streets became one way in the 1950s which meant you could no longer start on Jackson. Read more about the begin and end points of Route 66.
Where does Route 66 End in Illinois?
The end point, assuming you're driving East to West is Granite City on the East of the Mississippi River before entering St Louis.
The actual Route 66 has changed a lot over the years in this area and used to go over the river at the Chain of Rocks bridge just south of I-270. Cars can't go over any more but you can still visit and walk over it.
Does Route 66 run through Chicago?
Yes, if you're driving Route 66 from the start point in Chicago you'll drive through many of the suburbs of the city on the way out.
What cities and towns does Route 66 go through in Illinois?
Route 66 goes through a number of cities and towns through Illinois:
Chicago
Romeoville
Joliet
Elwood
Wilmington
Braidwood
Gardner
Dwight
Odell
Pontiac
Chenoa
Lexington
Towanda
Normal
Bloomington
Atlanta
Lincoln
Elkhart
Williamsville
Sherman
Springfield
Carlinville
Litchfield
Staunton
Collinsville
Granite City
What is there to do on in Illinois on Route 66?
You'll find a wealth of attractions in Illinois along Route 66 from Muffler Men giants along the roadside like in Wilmington to restored gas stations that look just as they did when the road first opened. Small mom and pop diners can also be found along the road in small towns just waiting for you to drop in and have a bite to eat – some have been there years and others are a bit newer but have that same Route 66 spirit.
If you like cities then Chicago, of course, has a tonne of things to do but once you're out on the road you also have the city of Springfield where you can learn about President Lincoln who once lived there.
Route 66 in Illinois – Maps
Here are some maps I've made of Route 66 along Illinois. I'm working on a turn by turn version and will add as and when they are available!