Looking for those classic Route 66 towns with neon, murals and quirky photo opportunities? The Route 66 attractions in Arizona are almost everything that you could wish to see on a Route 66 trip.
Arizona was such a wonderful state to explore for us, certainly making it into one of our favorite states and I'm itching to go back and see more.
It has natural wonders, small towns, big personalities and numerous shops, motels, and diners to explore and learn about. What more could you possibly want when looking for Route 66 attractions on your road trip?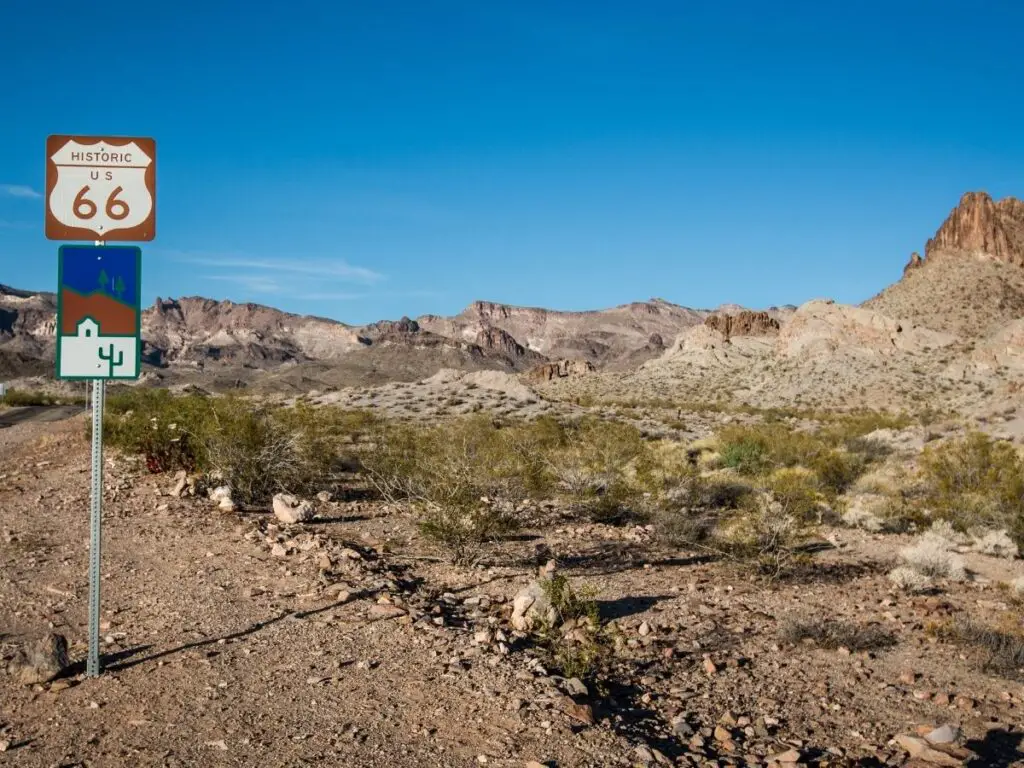 Let's take a look at some of the things to do in Arizona along route 66 on your road trip. We'll start in the East and travel Westward:
This post was first published in 2016 on my travel blog Lost in Landmarks, but has been updated in 2022 for my new Route 66 specific site
Map of Route 66 attractions in Arizona
To help you locate these things to see in Arizona on Route 66 I've created this map of the state:
If you need some ideas of places to stay as you travel through this state check out our Route 66 Motels in Arizona guide
Querino Canyon Bridge
Location: Houck, Arizona
If you like old bridges that feel like they are out of an old 70s tv car chase then you'll find Querino Canyon Bridge will fit the bill. It's situated just near the border with New Mexico and just off the main i-40 at exit 346.
Painted Desert Trading Post
Location: Just outside the Petrified Forest NP, Arizona
Once a dilapidated shell of a building the Painted Desert Trading Post gas station is being refurbished currently and is looking so much like it did in its heyday. It is really situated in the middle of nowhere with miles of nothing around.
In reality it's based in a cattle ranch and access is through a gate. Check out the FB group of the restoration here.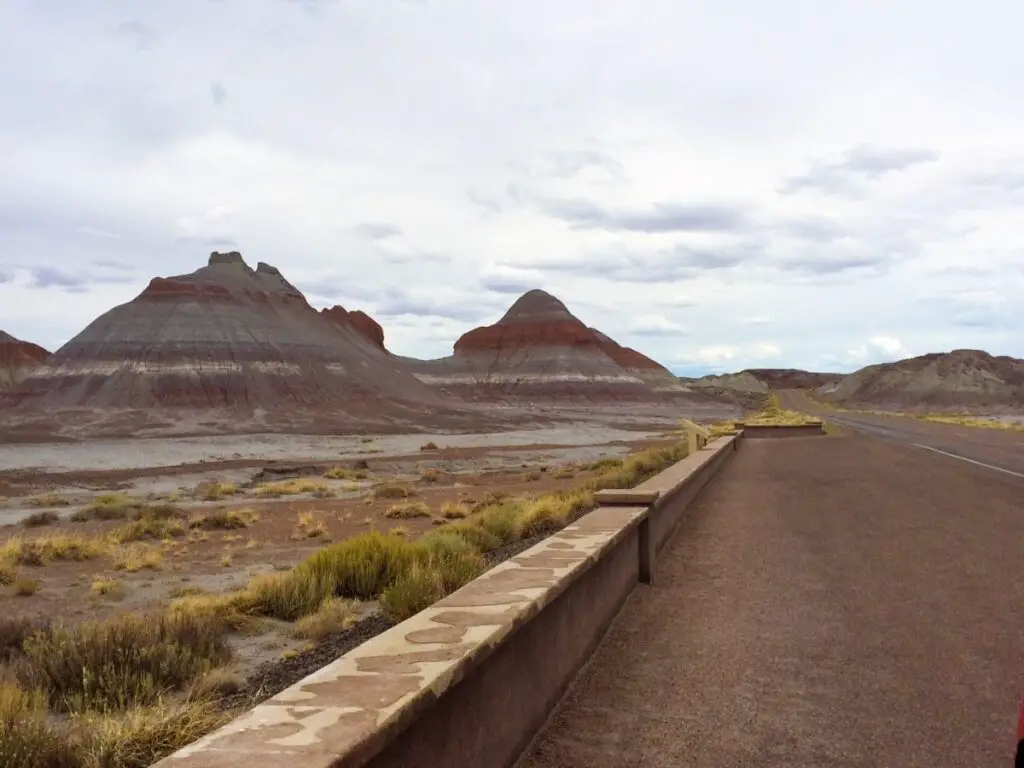 Petrified Forest National Park
Location: Near Holbrook, Arizona
With petrified wood strewn about, rock formations that are stunning colours and old relics of a car reminding you of Route 66's past as it passed through the area. You can even see the old telephone masts that would have lined the road.
If you want a slow day on your road trip then planning a day hanging around the Petrified Forest would be a great choice.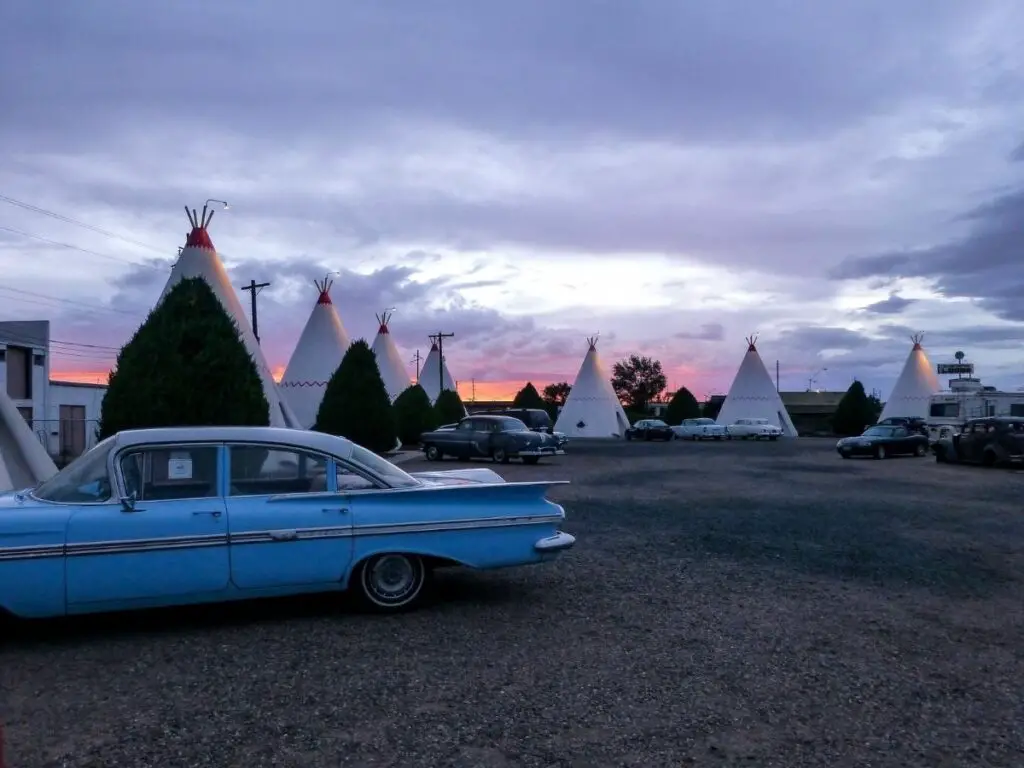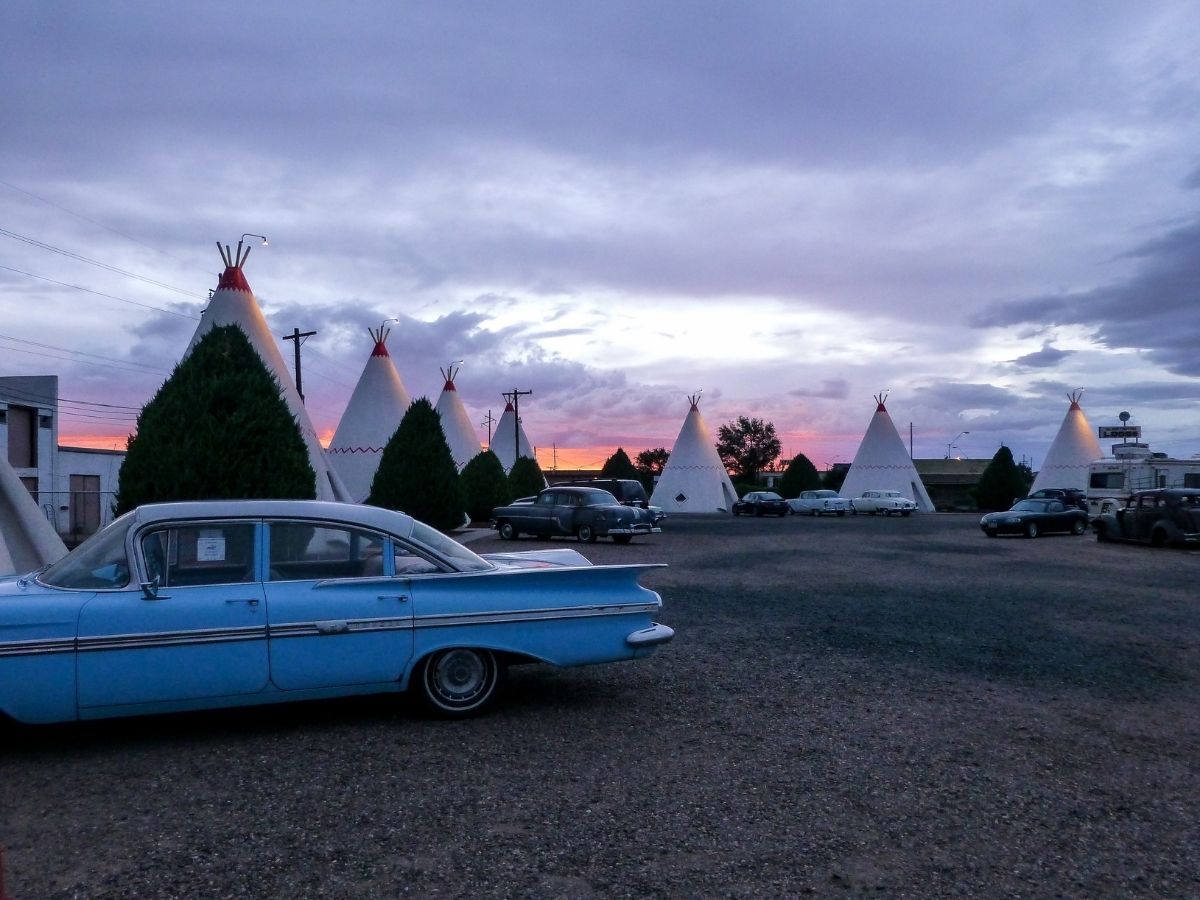 The Wigwam Motel
Location: Holbrook, Arizona
Have you seen in the Disney Cars film where Sally has a motel called the Cozy Cone?  Well this is what it was based on, except of course these were huge wigwams!
The teepee motel is fairly basic, which is reflected in the price really – it was actually our cheapest night on the road, but a fantastic place to wander around and soak up the atmosphere – we were treated to the most beautiful sunset while we were exploring and taking pics of the old cars parked around outside.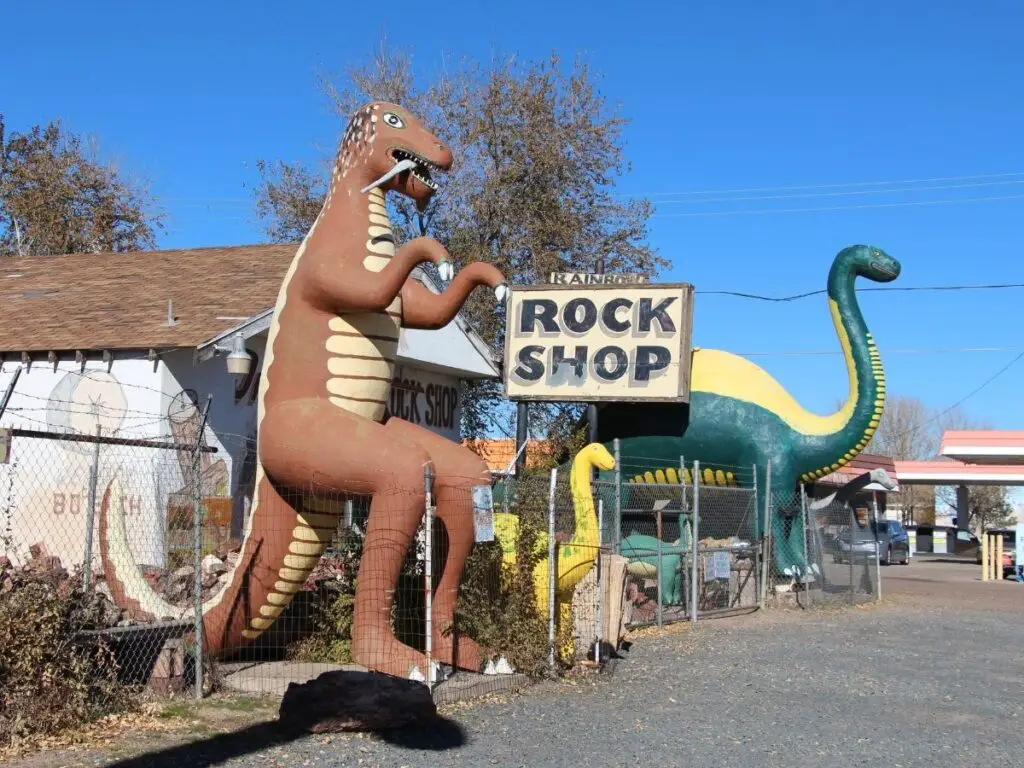 Rock, fossil and crystal shops near Holbrook
Location: Holbrook, Arizona
There are a number of rock sellers around Holbrook selling petrified wood, fossils and crystals. Many of the shops have quirky frontages designed to get you to pull over and check them out like the Rainbow Rock shop and dinosaurs in the centre of Holbrook.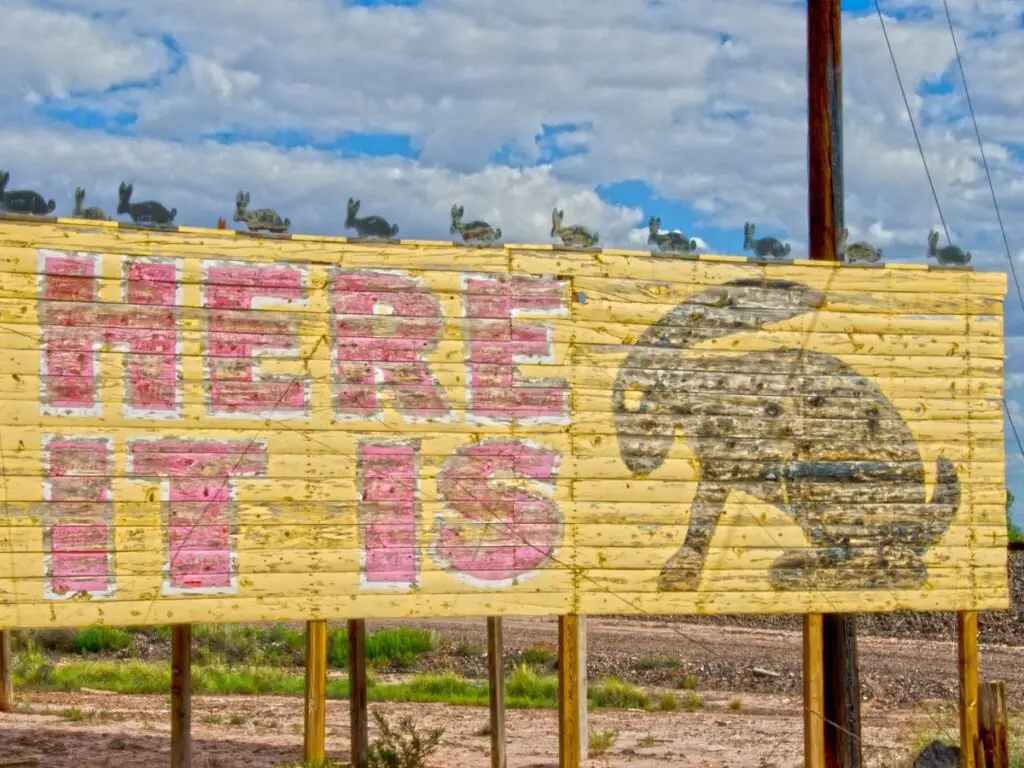 Jack Rabbit Trading Post
Location: Joseph City, Arizona
The iconic yellow sign that you will have seen with a rabbit saying 'Here it is' is just past Joseph City. It's called the Jack Rabbit Trading Post and it's been under the same ownership since 1945. Well worth a stop for souvenirs and photo opportunities with a giant rabbit!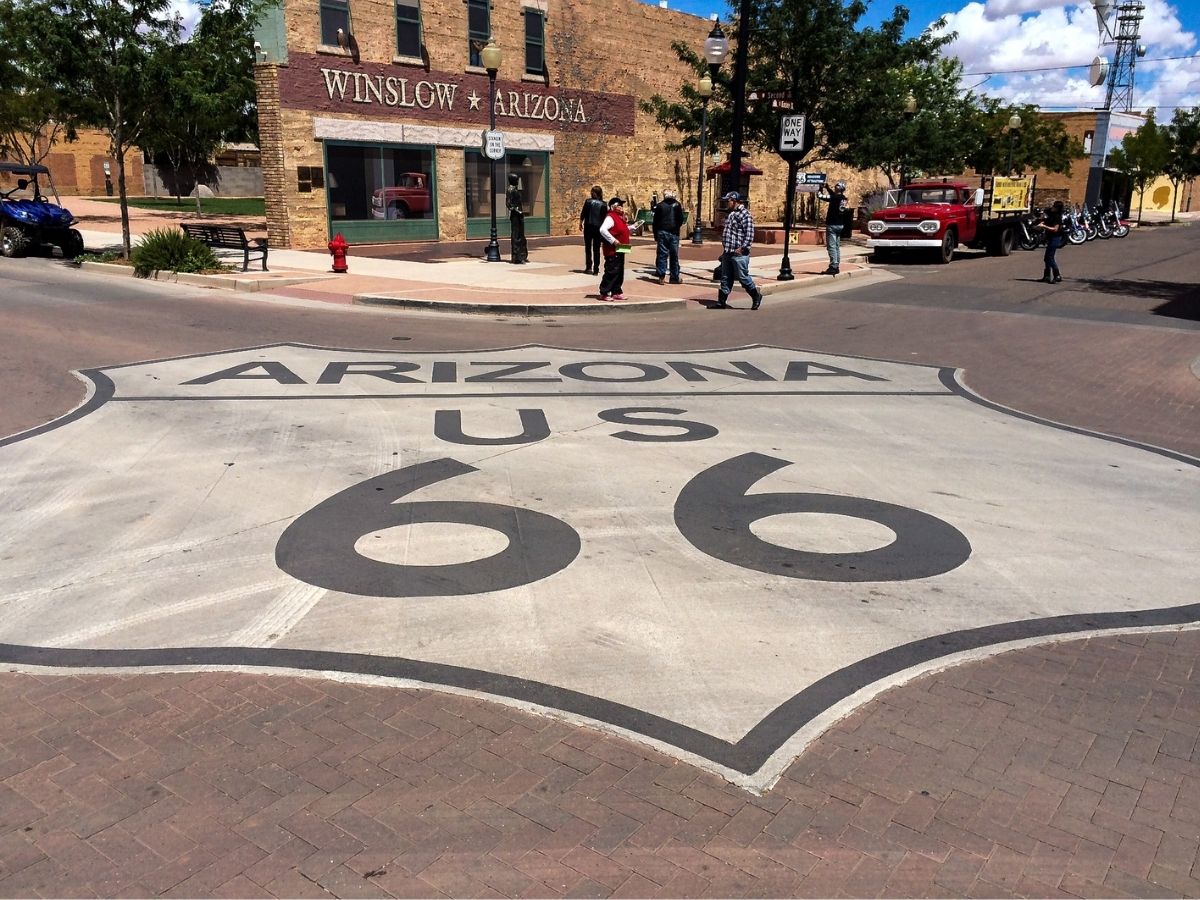 Standin' on the Corner in Winslow Arizona
Location: Winslow, Arizona
Made famous by the Eagles song 'Takin it Easy' is this quirky little part of the town of Winslow Arizona.  We just had to have a photo opportunity of us 'standin on the corner in Winslow Arizona!' with the statue and the flatbed Ford.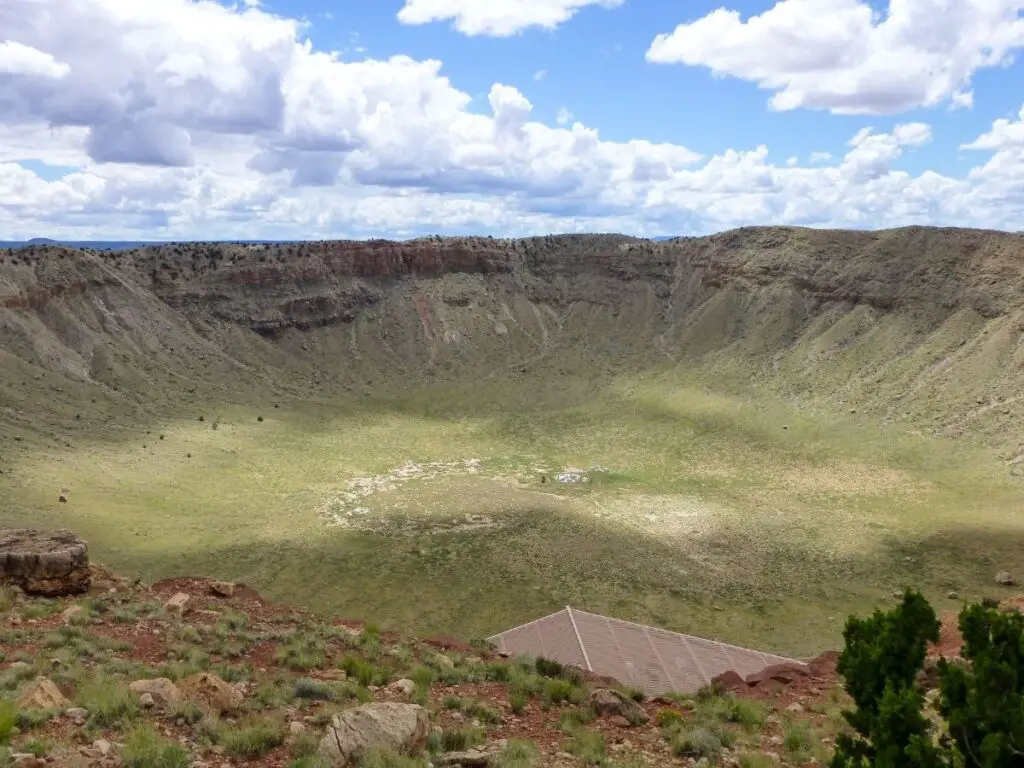 Meteor Crater
Location: Outside Winslow, Arizona
The Meteor Crater and Barringer Space Museum in Arizona is another 'must see' Arizona landmark.  Where else can you see a meteor crater like this?  It was absolutely ginormous!
You can see the crater from various view points and go on a guided walk around the rim. There's a nice museum on the site of the crater which has lots of information and exhibits to learn about space and what caused the massive hole in the ground.  Don't miss watching the movie theatre as well which shows a short film about the crater.
Apache Death Cave & Two Guns
Location: Two Guns, Arizona
For people who love exploring ghost towns and quirky history. Two Guns has a weird history – apparently it was a tourist stop with a zoo and tours also ran to the Apache death cave which has it's own gruesome tale too.
There's a lot to see in the area so leave an hour or so to explore and I recommend reading up on the history beforehand if you can.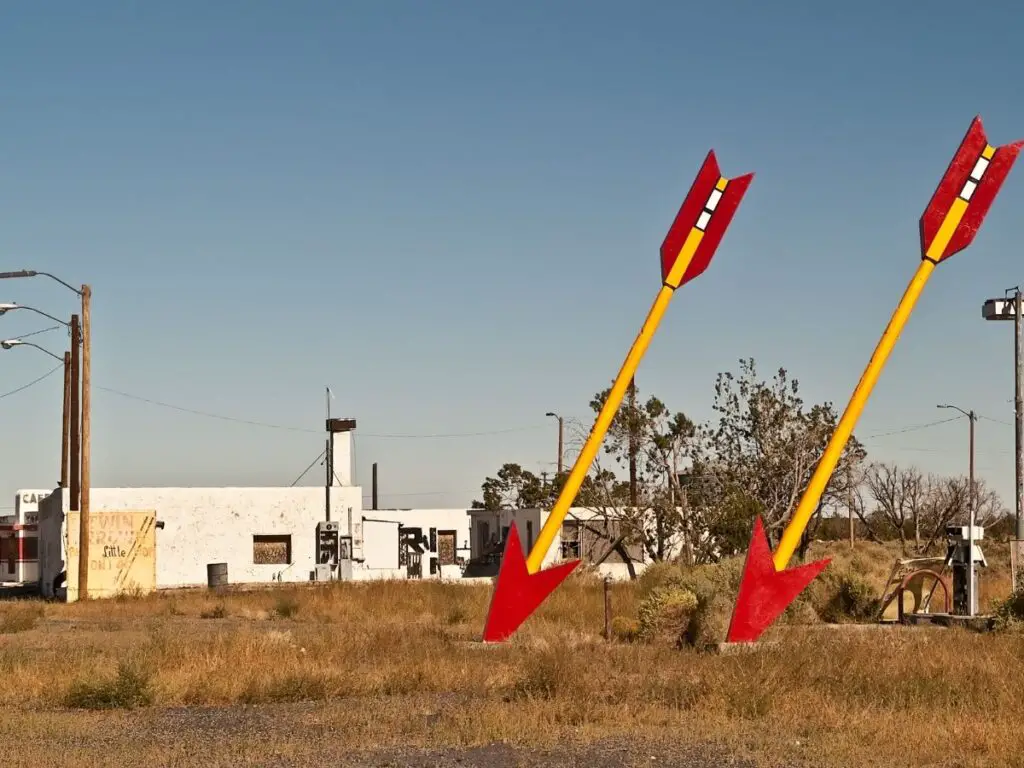 Twin Arrows trading stop ruins
Location: near Winona, Arizona
Although starting to fall into serious disrepair now this is a photo opportunity you should stop for. The arrows used to guide motorists off Route 66 to the diner, shop and gas station.
There's also a new casino nearby but the original arrows are on the other side of the
Walnut Canyon Bridge, Winona
Location: Winona, Arizona
An old photogenic bridge in the town of Winona (don't forget Winona!). It's just off the main road so not used and can be photographed safely.
The Walnut Creek National Monument Park is also close by if you're looking for some walking trails and getting out in nature.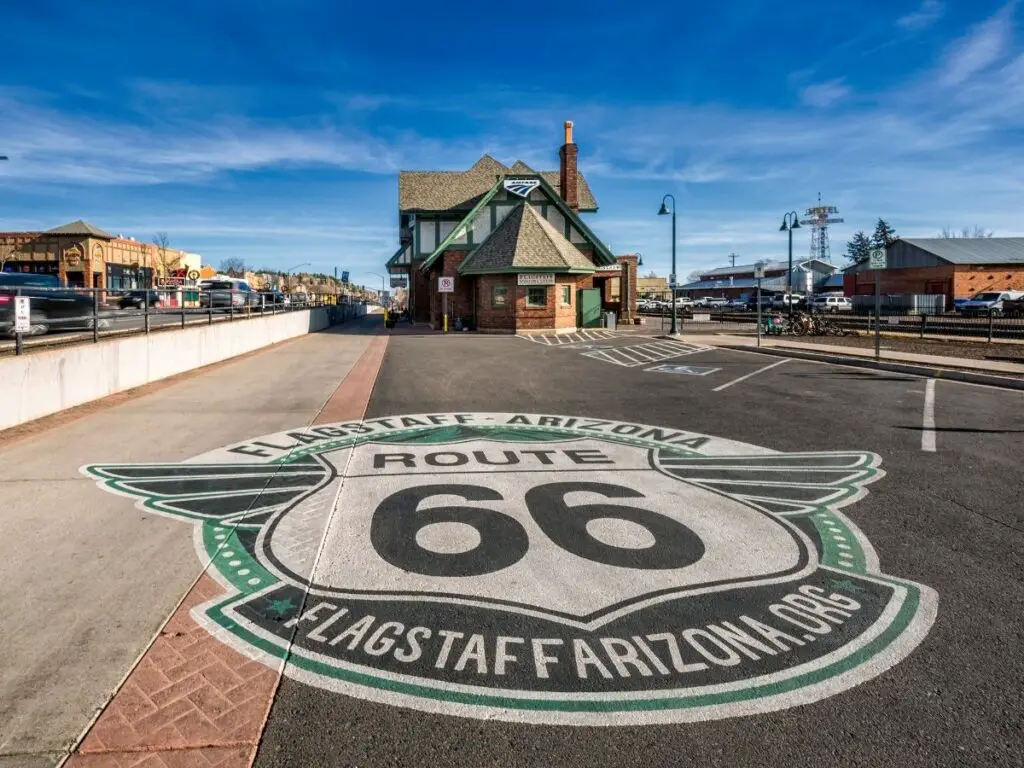 Flagstaff Visitor Center
Location: Flagstaff
Downtown Flagstaff is a great place to explore and good place to start that exploration is the visitor center which is also the Amtrak station as well.
There's a large sign on the road which is begging to be photographed and a walking trail called 'Walk This Talk' that will help you understand what's around.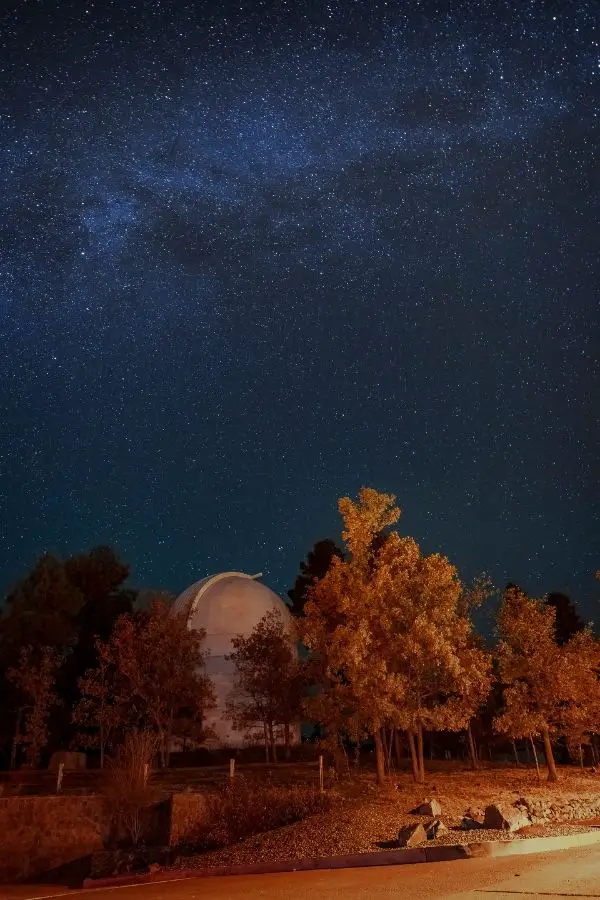 Lowell Observatory
Location: Flagstaff, Arizona
Stargazers are in the right place here at this historic Observatory, founded way back in 1894. You can attend talks, explore the area all day and be around when it gets dark to see the skies and view through telescopes.
Pine Breeze Inn
Location: Between Williams and Flagstaff, Arizona
Pine Breeze Inn is a relic from the past but also an old movie location. The movie Easy Rider was filmed there in 1969 and it's an old bit of Route 66 road to drive along as well that isn't part of I-40 any more.
Williams
Location: William, Arizona
The whole town of Williams is a great place to stop for a while or even overnight if you want to do a day trip to the Grand Canyon.
Williams was last place to be bypassed by the interstates in the 1980s and so it didn't have time to be run down like some other places. There are a lot of shops on the main road that are fun to check out.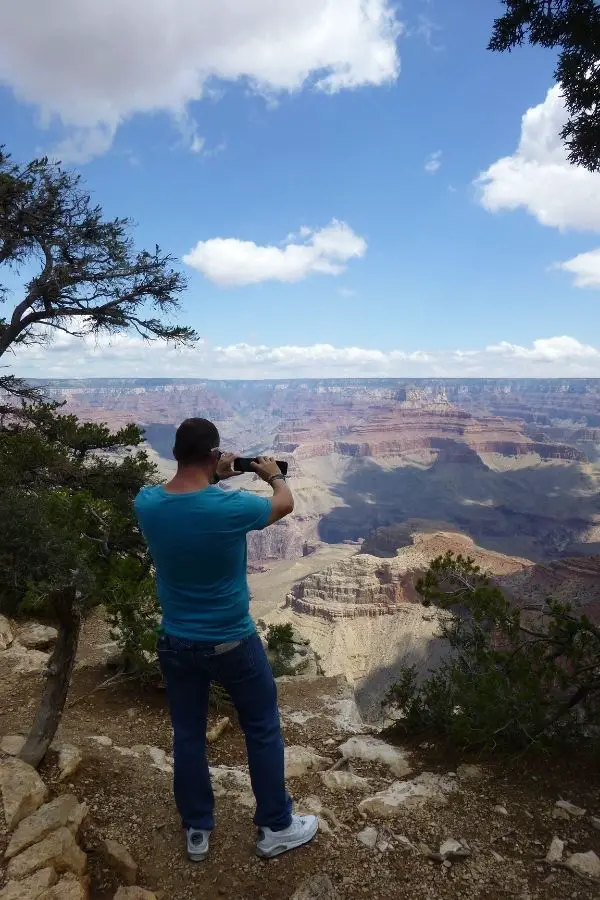 Day trip to the Grand Canyon
Location: Grand Canyon Village, Arizona
Although it isn't strictly on Route 66, we couldn't really go this far, be so close and not go on a side trip to the Grand Canyon so perhaps it will be the same for you.  
It's about a 45 minute drive from Williams where we based ourselves and a really easy day trip from there. We also really appreciated having 2 nights in the same location!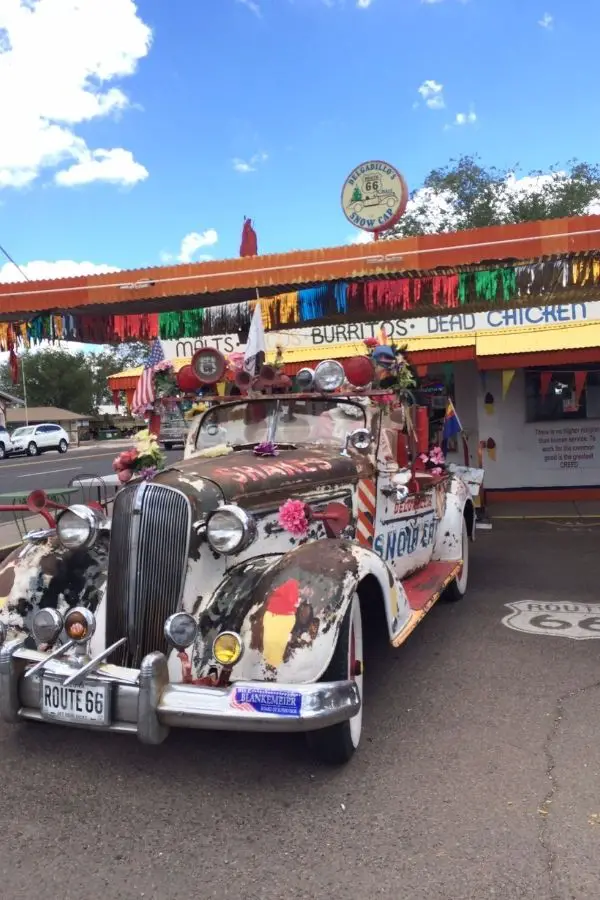 Snowcap in Seligman AZ
Seligman is a special place.  Some might say it's the original Radiator Springs on Route 66 (the town in the Disney Cars movie) and the history of the town is definitely one of the inspirations for the story.  
There are a lot of gift shops and plenty of places to eat too. It's often somewhere that coach trips will stop so you might find flurries of it being busy there.
There are a lot of old cars and colourful buildings here too – a great place to spend time taking pictures!
Angel Delgadillo is a barber in the town and a local celebrity.  We knew of him as we'd watched one of the documentaries about the story behind Cars and were really excited to meet him.  He was working and cutting someone's hair while taking the time to chat to us.  He was a super guy and I was so pleased to meet him.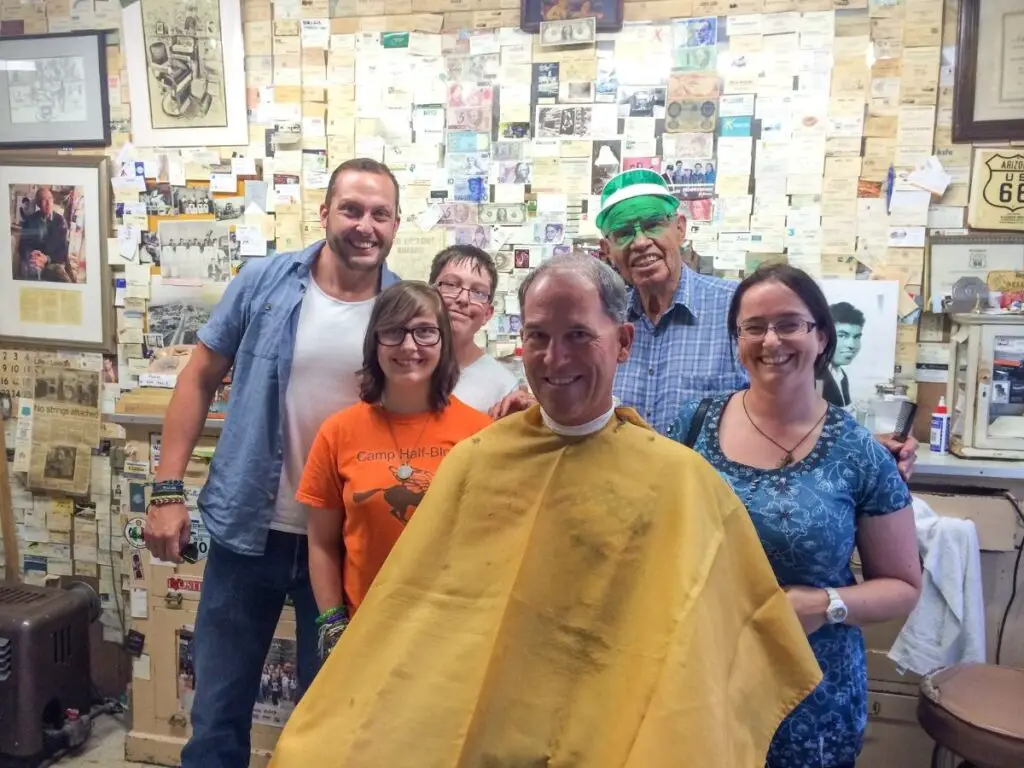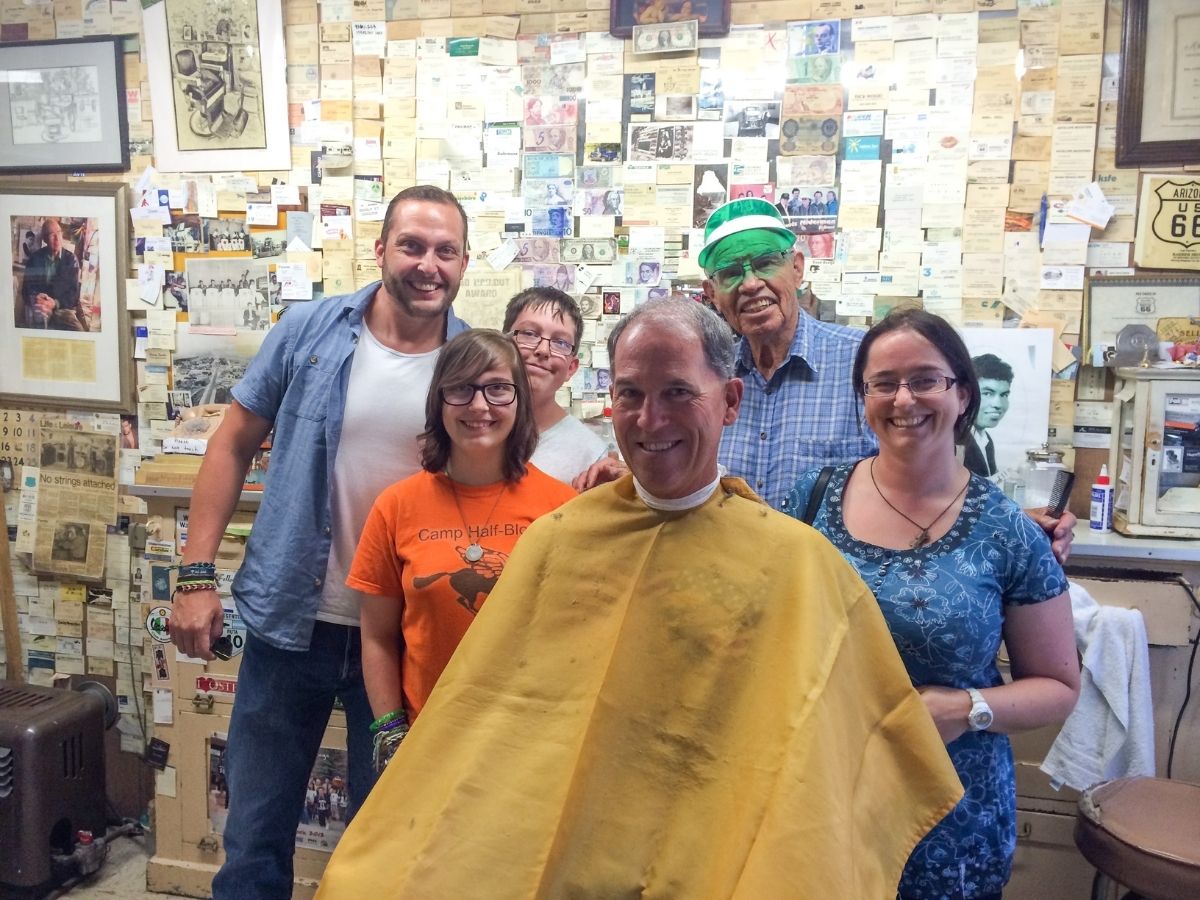 Grand Canyon Caverns
Location: Peach Springs, Arizona
A dry cavern that's 210ft below the surface. Different tours run each day and can be for all ages and abilities or for those a little fitter.
Outside there's a lot of larger than life statues of dinosaurs and cars that remind you of a certain Disney film – it's a fun attraction for kids doing Route 66.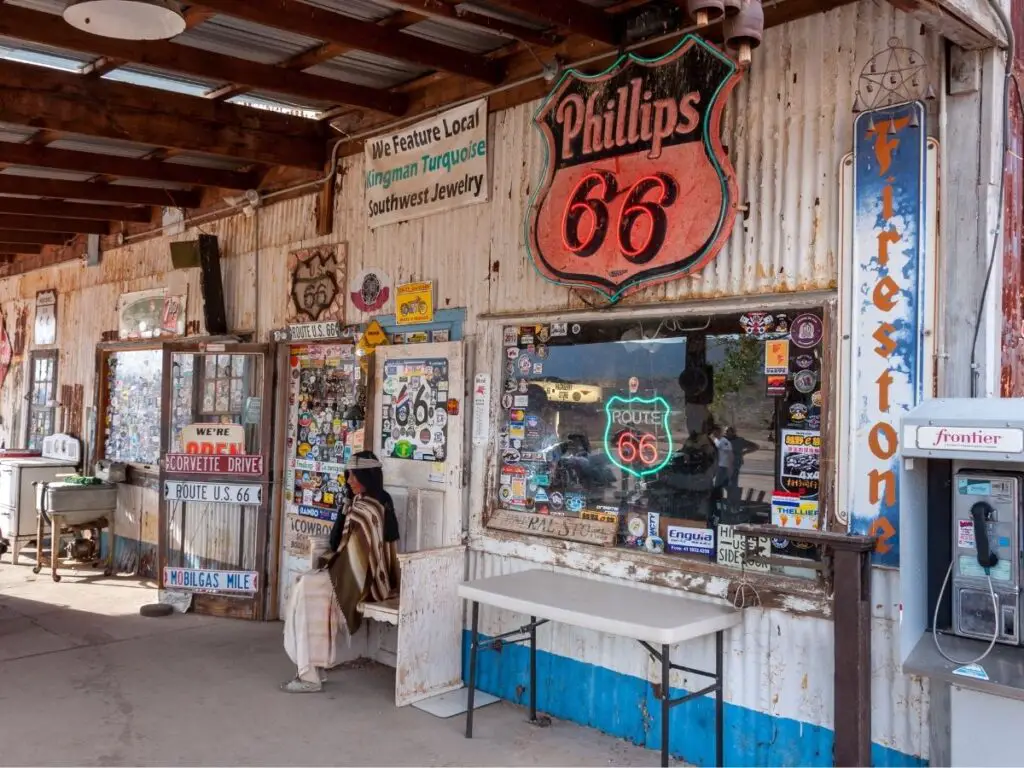 Hackberry General Store
A rustic and quirky shop and stop where you can buy some souvenirs and refreshments. It's a perfect photo opportunity as it has a retro car and gas pumps outside.
Apparently the old owner, Bob Waldmire, was the inspiration for Fillmore (my favourite character!) in the Disney Cars movie.
Giganticus Headicus
An Easter Island head on the side of the road which is a perfect photo opportunity for kids and adults alike. There's also a gift shop and visitors centre next to it.
Kingman Route 66 Museum & Locomotive Park
Kingman is quite a large town, compared to some of the tiny towns in Arizona so it's a good place to find a place to sleep – maybe try the retro El Trovatore Motel?
While there you can see the Route 66 museum where you can learn all about the road and its history. Outside and across the street is a park with lots of old steam train locomotives around which is really interesting.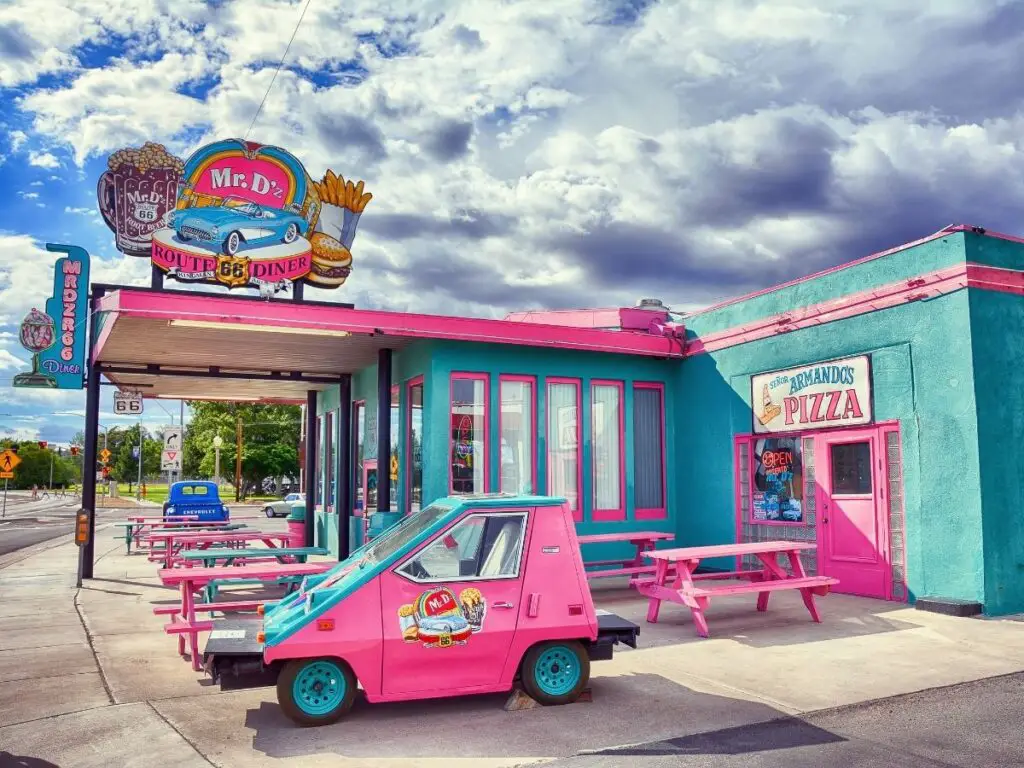 Mr D'z Diner
For a real American retro diner experience then get yourself to Mr D'z for burgers, milkshakes and root beer floats! It's a bit bright on the outside too – perfect for photos!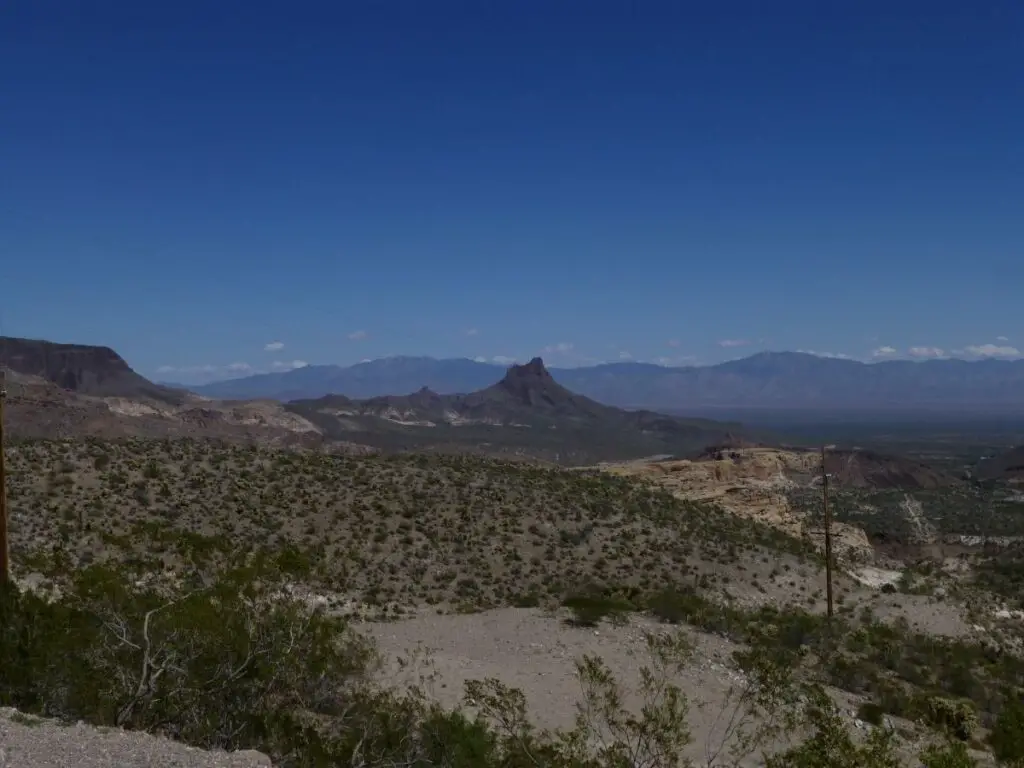 Sitgreaves Pass
On the drive up to Oatman you'll go completely off the interstate and along some very windy roads.  Sitgreaves Pass viewpoint is a great place to stop off, soak in some views and have a rest – if you're driving you can't always enjoy the view!
I'd actually read about the road and there was a bit of concern for people driving them, especially with big vehicles.  I figured it couldn't be that bad, we come from the UK where these roads are the norm, but I still remember them making my stomach churn a bit!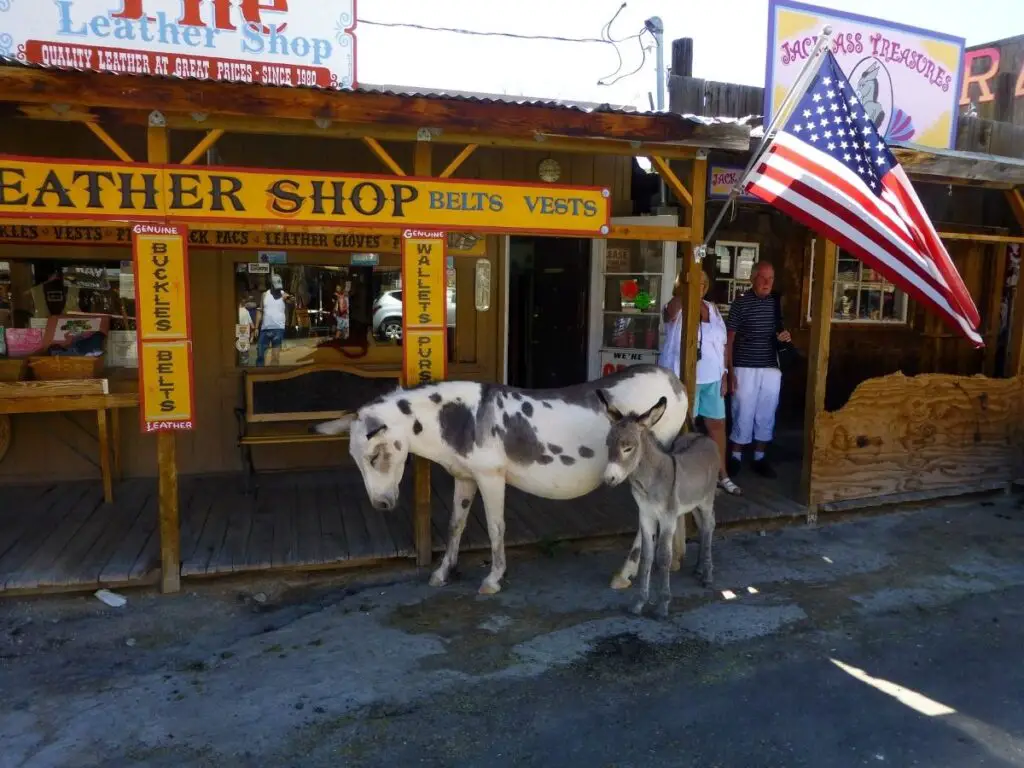 Oatman ghost town gunfight and Wild Burros
Ever fancied watching a ghost town gunfight?  How about being wild donkeys (burros) up close?  You can see that all in Oatman AZ which is a ghost town that has been brought back to life for the Route 66 tourists.
Oatman used to be a gold rush town – people moved in to capitalise on the gold that was around, but when it ran out so did many of the people.  When Route 66 was built it kept the place alive for a while longer, but it turned in to a ghost town when it was bypassed with the Interstate.
It feels like a proper wild west town and there's even some shoot outs that take place a few times a day.  There are wild burros (donkeys) all over the place too looking for food.  Oatman was certainly a unique place.
After Oatman it's not long before passing over the Colorado River into the last state on Route 66 – California!