We're now looking at the sixth state on this road trip, assuming you're driving the whole road, which sees you take in Route 66 in New Mexico! There's a couple of ways to travel this state due to a major alignment change early on in the road's history.
You can travel north to the city of Santa Fe or miss that section out altogether and drive in a straight westward line to Albuquerque and beyond. Or alternatively, take a bit longer and explore all that New Mexico has to offer!
If you're looking to drive historic Route 66 through New Mexico then this page is for you. It'll answer your state specific questions about the mother road as it drives right across the state and link to any further posts I have about this state.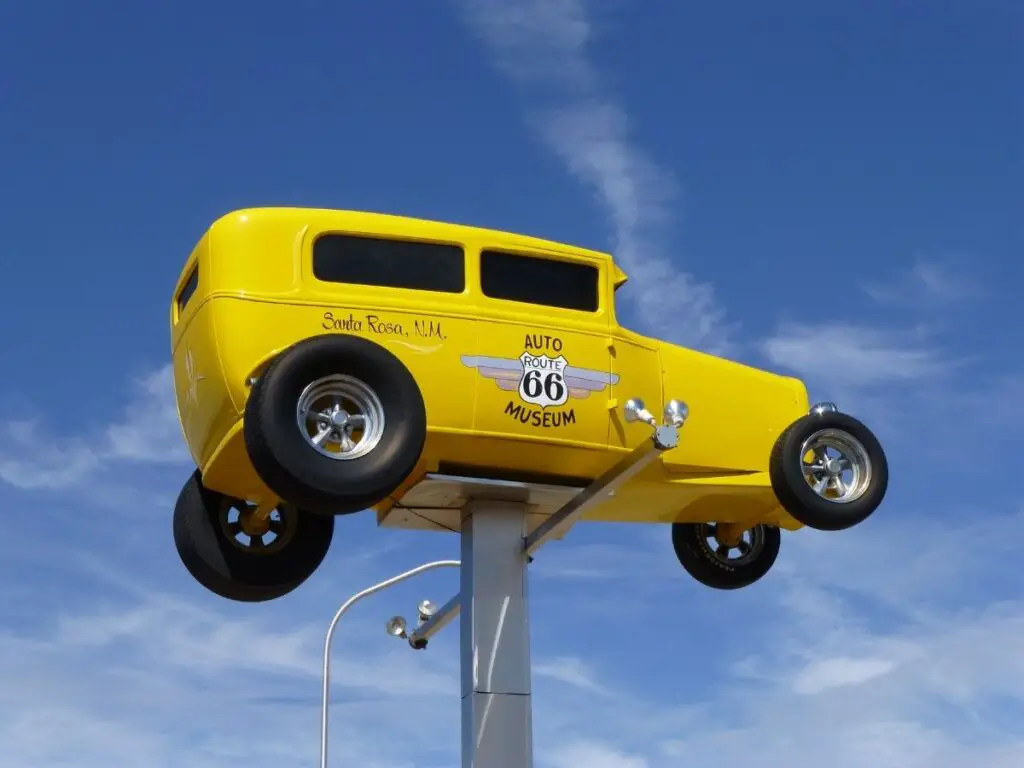 If you're just looking for specifics on what to do and where to stay along Rt 66 in New Mexico then you can check out these posts which focus just on those topics:
If you're looking for more State wide guides to learn more about Historic Route 66 all the way from the beginning to the end there's lots of posts on this site about roadside attractions to see, how to drive the road and where to stay. Alternatively you might like to check out our Start Here page.
New Mexico Facts
State Name: New Mexico
Nickname: The Land of Enchantment
Population: 2.097 million

Route 66 mileage: 380 miles (611 km)
Major cities: Albuquerque, Santa Fe
Top Attractions: Tucumcari, Santa Fe, Albuquerque Old Town
Does Route 66 still exist in New Mexico?
Yes Route 66 still exists in New Mexico although, as it is throughout the whole length, it varies in what's still around. There's quite a lot of old dirt roads in this state, if you're wanting to drive the original route, so be wary if you're renting a car.
Old 66 is still drivable as I-40 along much of the state too – you'll just want to remember to come off and explore the towns.
Much of the original road that went through the city of Santa Fe is now one way so it's quite difficult to drive it easily. Best to stay the night if you can and explore on foot!
It's always easy to go off course so if you're wanting to be faithful to the old road, or just want a helping hand with directions I encourage you to get a guide book which will help.
Where does route 66 start and end in New Mexico?
Where does Route 66 begin in New Mexico?
The border town of Glenrio, which is now a ghost town with very few signs of life, straddles the state line with Texas and is where New Mexico's Route 66 portion begins.
Where does Route 66 End in New Mexico?
The last part of Route 66 in New Mexico, if you're driving East to West is a small village called Manuelito just before the Arizona state line.
What towns does Route 66 go through in New Mexico?
Route 66 goes through a number of towns on its way through New Mexico:
Tucumcari
Santa Rosa
Moriarty
Albuquerque
Santa Fe
Grants
Gallup
What is there to do on in New Mexico on Route 66?
There's a lot to see and do in New Mexico and it starts off well with the wonderful town of Tucumcari. If you were tempted to drive Route 66 to see neon, vintage motels and quirky sites, this is for you!
There are plenty of trails and hikes to do in the area too so if you're looking to stretch your legs and get out and about check those out, especially if you're headed towards Santa Fe. I can personally recommend the Petroglyph National Monument near Albuquerque too – one of many National Park owned sites on the road.
Indulge in amazing food while here – a route 66 trip doesn't have to be all burgers and fries, New Mexico brings in a welcome change with spicy mexican cuisine!
Route 66 in New Mexico – Maps
Here are some maps I've made of Route 66 through New Mexico. More coming soon!