One of the first things to do when planning your Route 66 road trip is to decide when you want to go. I've talked before about the best time to do Route 66 but in this post I'll be looking at what it's like to drive in each season.
For the purposes of this article Spring means the months of March, April and May!
This article probably contains affiliate links.  
This means that if you buy or book after clicking, I may get a commission at no extra cost to you. Thanks!
You might also like to check out the other articles in this series:
Spring is the time of new beginnings and for Route 66 it's no different with businesses reopening for the tourist season after a sleepy winter. They're ready for visitors and excited to see who comes their way. Will it be you?
A note from the writer: Hey! I'm Kirsty and I'm a Route 66 enthusiast – I first became obsessed almost 20 years ago and then first visited in 2014. I've recently just come back from my last trip too! Comment below if you have any questions about your road trip and I'll get back to you ASAP – or join me in my free FB group here.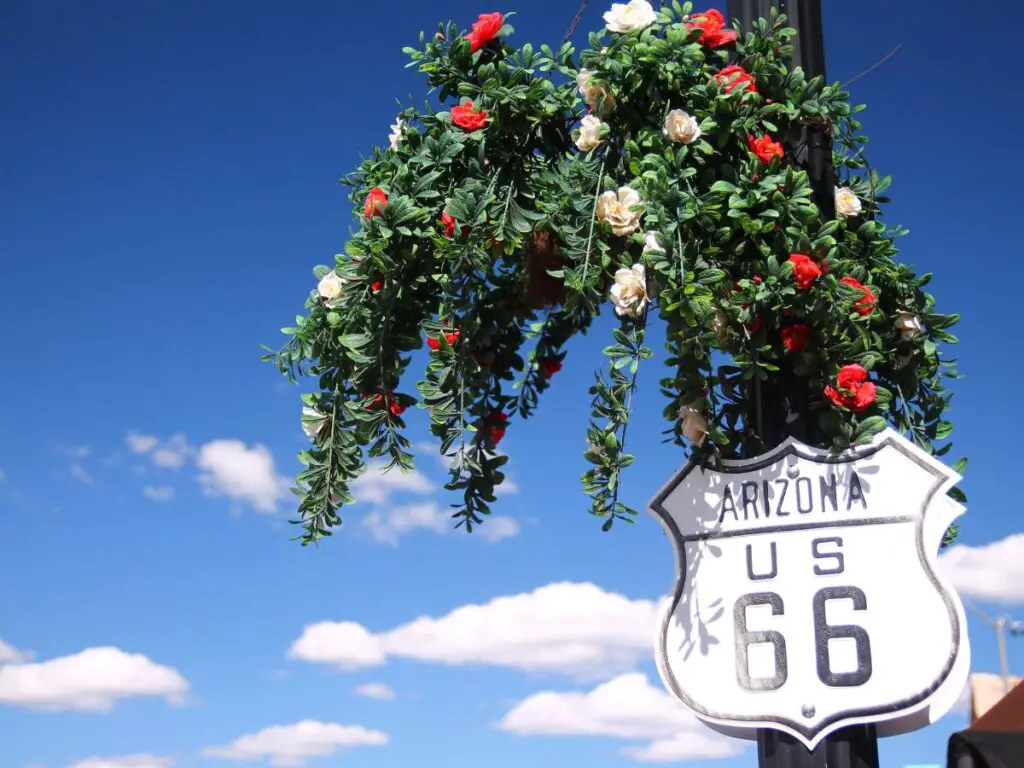 Is Spring a good time to drive Route 66?
Spring can be a really good time of year to drive Route 66 because the weather is generally good but not too hot and the attractions are generally open.
You may find that if you drive Route 66 in March and early April some places along the road won't be open. My advice to you is to check whether there is an attraction that you definitely want to see and double check with their website or FB page to see if they are open.
Many things are open year round and of course lots of Route 66's roadside attractions are often just there ready for a photo opportunity so don't feel like you'll be missing out.
For those that are looking to do the reverse journey that starts in California and goes east instead of the classic direction, Spring can be a good time as you'll start in the warmer states and by the time you arrive in Illinois it's also getting warmer!
Spring weather along Route 66
While the weather is generally good along Route 66 in Spring, not too hot at least, you'll find quite a distinct change as you go along the road.
Spring in Illinois where most people start their journey can be quite cold, specifically in the earlier months of Spring and you'll definitely want to pack some layers. Even March can continue to be cold as you get into Missouri too.
As you get further south and into the drier states the weather is much warmer although as you head into mountainous areas of Arizona around Flagstaff be prepared that it could get cold again.
Tornadoes
One thing thing that you should definitely be aware of when driving Route 66 in the spring months is that there is a risk of tornadoes in some of the states.
Missouri, Kansas, Oklahoma and Texas are all in the 'at risk' area of tornadoes at this time of year (march through June) and so does bring some dangers. It always pays to keep aware of local news reports when driving.
Wildfires
As the weather starts to turn warmer and drier there's also a risk of wildfires around some states. In 2022 New Mexico and Arizona suffered from fires in the vicinity of some of Route 66. Again, listen to local news reports.
Spring holidays and festivals
Here are some dates that you should bear in mind when planning your trip as they may make your intended destination busy and accommodation booked in advance or it may encourage you to visit specifically.
Mardi Gras
Only sometimes is Mardi Gras held in March, depending on when Easter falls. If you're traveling around this time check out St Louis, Missouri who holds a really large carnival each year!
St Patrick's Day
St Patrick's Day is a big deal in many US towns and cities but there are two that definitely like to celebrate on Route 66. It takes place on March 17th but many events are on the weekends surrounding.
Chicago is, of course, the start of the journey and they go in for this holiday in a big way. They have a big parade on the Saturday before St Patrick's Day. It's also when they dye the river a bright green!
Shamrock, in Texas, is very proud of its Irish heritage and also celebrates in a big way. They tend to celebrate over a weekend nearest to the day itself and they have all sorts on from concerts to rodeos.
Easter
You could find attractions closed on this weekend.
Memorial Day
The last Monday in May and considered the start of summer. This can be a busy weekend since many people have time off work.
Still got questions? Join our FREE Route 66 community!
Come and join our FREE Facebook group where you can get help with planning your Route 66 road trip of a lifetime!