Oklahoma is a great state for a Route 66 road tripper as you'll see with the things to see along the way. The Route 66 attractions in Oklahoma vary from museums to giant statues and ghost towns to big vibrant cities. There's a lot to take in.
There are a lot of museums in Oklahoma, a testament to the fact that they really value and cherish their local history, which often correlates with the Route 66 history. You'll find a lot of different ones listed here – don't feel like you have to do too many or it will just be overwhelming. For those on a budget, many are free or very low admission price/donation so it's a good cheap thing to do.
This article probably contains affiliate links.  
This means that if you buy or book after clicking, I may get a commission at no extra cost to you. Thanks!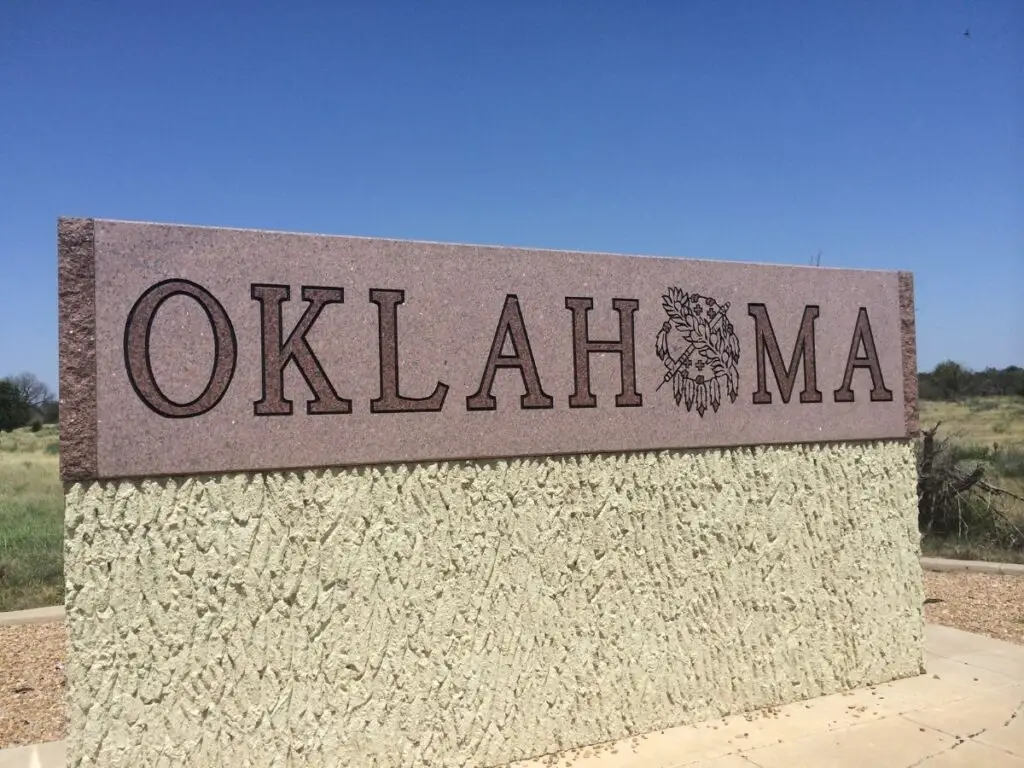 A note from the writer: Hey! I'm Kirsty and I'm a Route 66 enthusiast – I first became obsessed almost 20 years ago and then first visited in 2014. I've recently just come back from my last trip too! Comment below if you have any questions about your road trip and I'll get back to you ASAP – or join me in my free FB group here.
If you started your Route 66 journey in Chicago you're now a good portion of the way through and probably you're getting into the swing of things. You'll find that Route 66 is a little easier to follow through the state of Oklahoma compared to earlier portions and the roadside attractions come thick and fast.
Route 66 Attractions in Oklahoma
To help with finding where each of these attractions are in the large state of Oklahoma I've created this map which highlights each attraction on this page.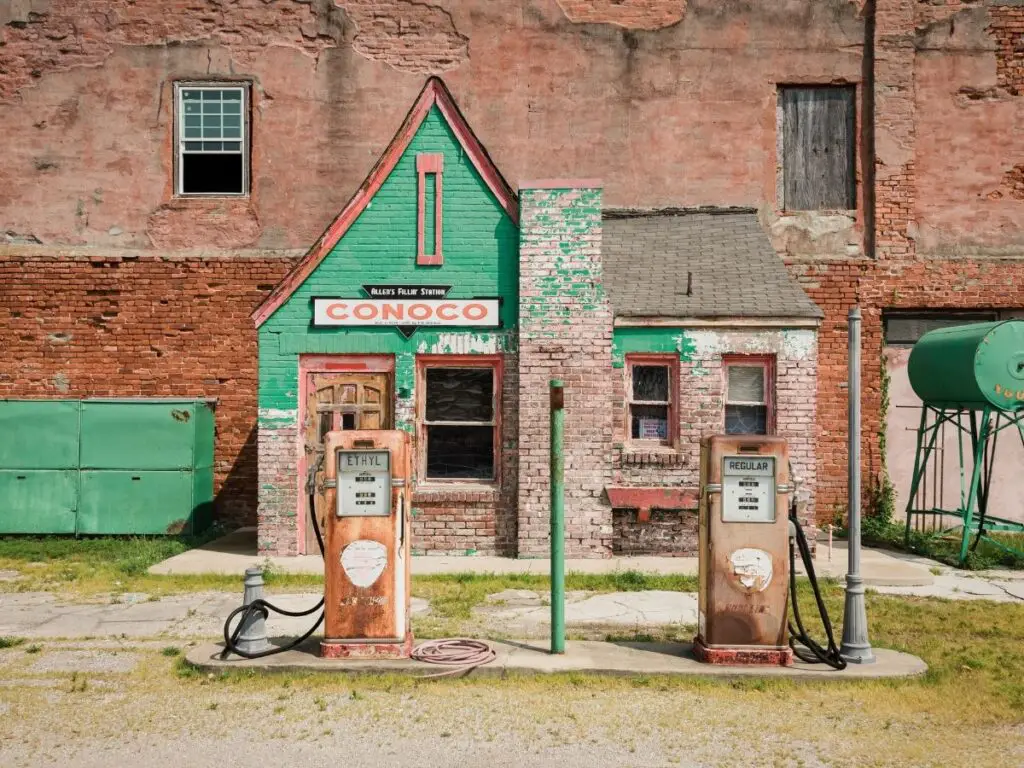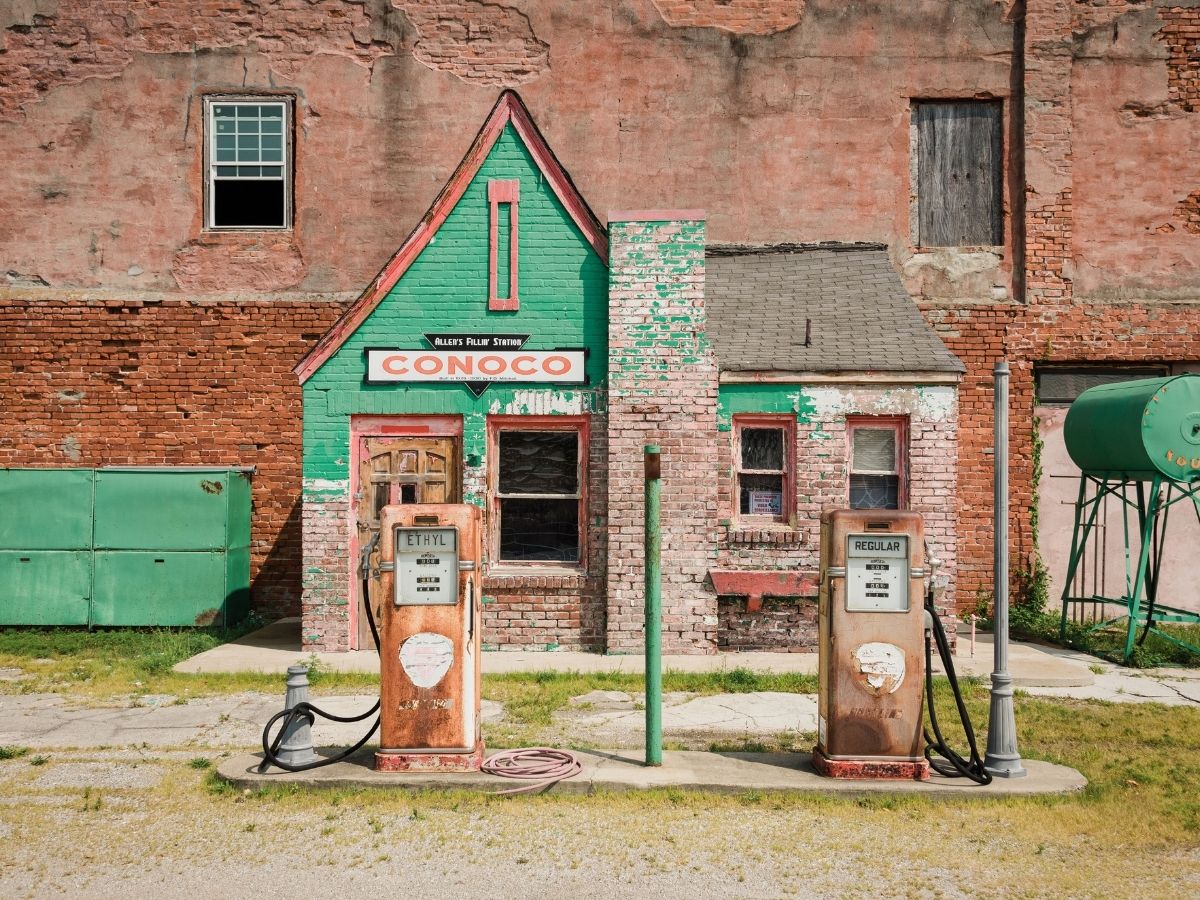 Allen's Conoco Filling Station
Location: Commerce, Oklahoma
After leaving Route 66 in Kansas, our first stop in Oklahoma (going East to West) is in the small town of Commerce. There's a lovely, old gas station here to stop and take a look at. There's an interesting design to it, almost like a playhouse had been added to the side of the building.
While you're here, take a look across the road to Dairy King for a classic Route 66 diner.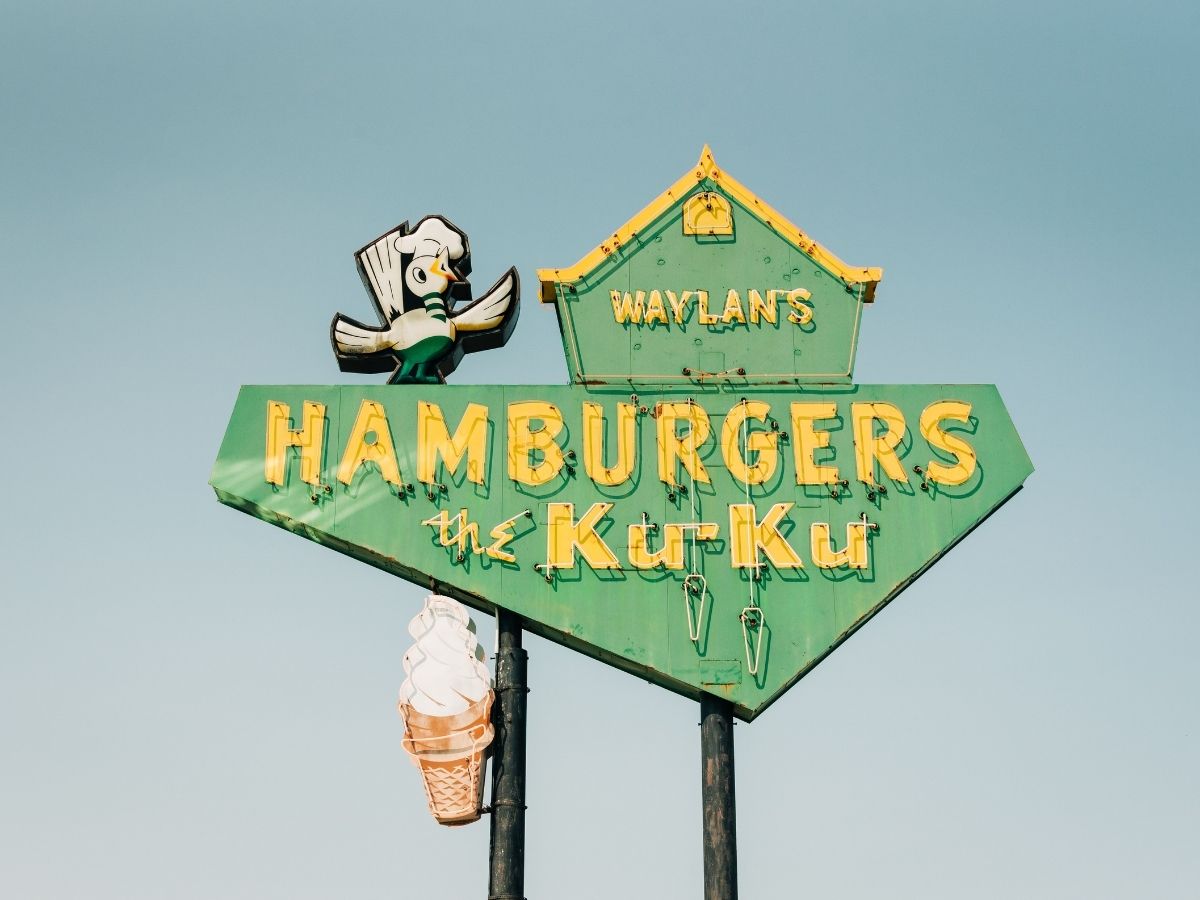 Waylan's Kuku
Location: Miami, Oklahoma
Another historic diner, with a quirky cuckoo peeking out at your from the top is Waylan's Kuku. Selling traditional hamburgers you can't get much more of a classic road trip food stop! It's one of a few highlights in Miami so perhaps a place to refuel before exploring the town.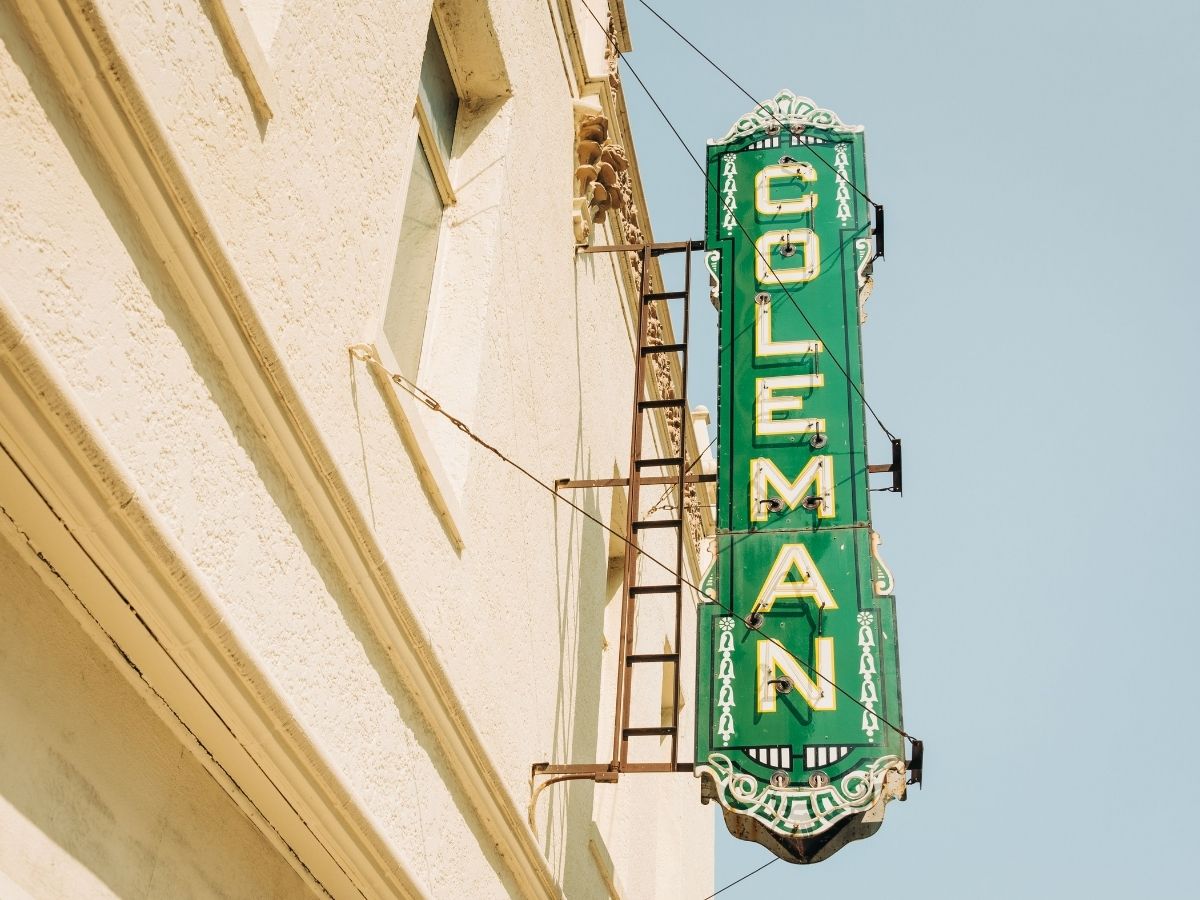 Coleman Theatre
Location: Miami, Oklahoma
A beautiful example of architecture from the 1920s, this theatre opened just a few years after Route 66 began in 1929. It's a stunning place to visit and they do guided tours around the historic building as well as hosting events such as music, plays and films.
Dobson Museum
Location: Miami, Oklahoma
Just a few blocks away from the Coleman Theatre is the Dobson Museum which is a small, free museum with exhibitions about the local area including a decent amount on the local Native American tribes. There's also a section of Texaco memorabilia from a local collector too.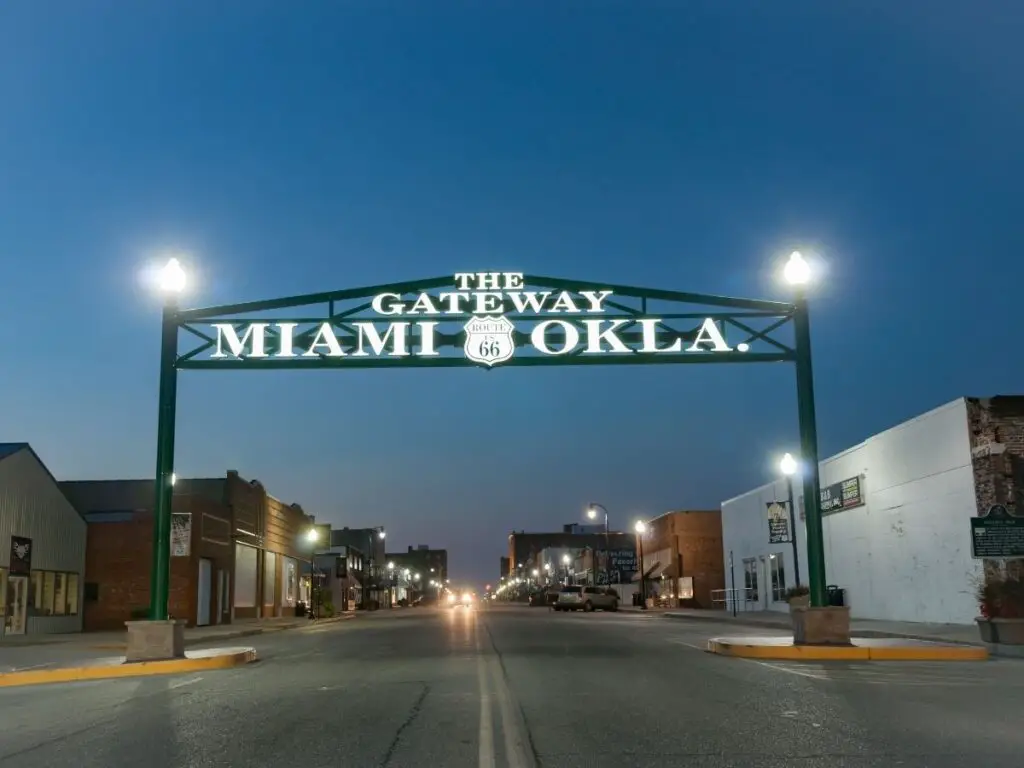 Route 66 Gateway Sign
Location: Miami, Oklahoma
Located at the south side of the city is a wonderful welcome sign for the road. Miami actually boasts the longest main street on Route 66 and it's a great town to stop a while in. Don't forget to take a photo with the sign!
Route 66 Ribbon Road
Location: between Afton and Miami, Oklahoma
An original section of the road can be seen between Afton and Miami and if you can, it's worth a moment to take a look. It's looking more than past it's sell by date but that's to be expected!
Nowhere on Route 66
Location: Afton, Oklahoma
When you feel like you're driving in the middle of nowhere on Route 66 then it's time for something to eat and 'Nowhere' is a great place to get some BBQ food on the road. It's a rustic diner but comes highly recommended and of course it's directly on the road.
Vinita Route 66 Breezeway
Location: Vinita, Oklahoma
A recent addition to the city of Vinita, which is the 2nd oldest in Oklahoma, is a Breezeway. This is an area that they have regenerated between some of the historic buildings in the town. There's artwork up, seats to have a picnic on and it's just a nice area for pedestrians to slow down and enjoy the area.
Eastern Trails Museum
Location: Vinita, Oklahoma
While you're exploring Vinita you should definitely check out the Eastern Trails museum which is a local museum with lots of exhibits about the area, civil war history and of course, some route 66 history too. It's free to enter but appreciates donations.
Route 66 Inn Sign
Location: Vinita, Oklahoma
The Route 66 Inn has a quite distinctive sign which is very typical of the 50s and 60s designs. It's a very basic motel that you can stay in if needed, but the recent reviews aren't exactly glowing.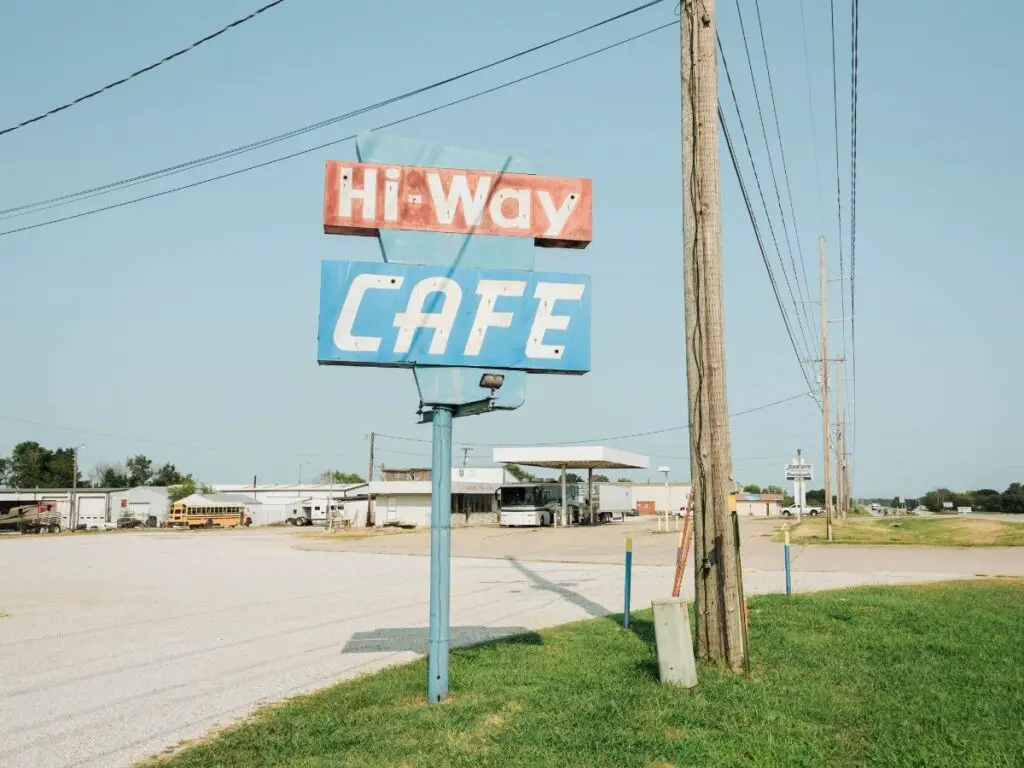 Hi-Way Cafe
Location: Vinita, Oklahoma
You'll find the Hi-Way Cafe just when leaving Vinita and as well as the cute sign it also has a lot of Route 66 murals on the outside which are just begging to be photographed. Inside you'll find traditional diner food and it's a great place to refuel if you need it.
Pryor Creek Bridge
Location: Chelsea, Oklahoma
An old bridge, built in 1926 so as old as the road itself is this one just outside of the town of Chelsea. On such a small road it's hard to imagine that this was the main route to the town!
Chelsea Motel
Location: Chelsea, Oklahoma
An abandoned motel in Chelsea with an old sign, this is worth a stop to get that reminder that not everything from the road gets saved and restored. Some bits of history stay there! It opened at some point in the 30s but when the town was bypassed by the Turner Turnpike in 1953 passing traffic would have completely died for the business and eventually helped to put it out of business.
Ed Galloway's Totem Pole Park
Location: Near Foyil, Oklahoma
Featuring the world's largest totem pole this small folk art park is a little off Route 66 but is one of those classic stops that it has to be included. It's quite historic, having been started in 1937 but it fell into disrepair after Galloway died in the 60s. It's since been restored and it's a great place to come and see some artwork and there's a small trail as well that takes you around the park so great for stretching your legs.
J M Davis Arms and Historical Museum
Location: Claremore, Oklahoma
A bit of a different museum which will be worth a stop to those with an interest in guns, warfare, the wild west and historical wars. It's the biggest privately owned collection of firearms in the world, quite impressive it has to be said! They often have events happening too.
Will Rogers Memorial Museum
Location: Claremore, Oklahoma
A little off the actual road but if you're in Claremore it should definitely be added to your list.
Will Rogers was a great name from Oklahoma and Route 66 is often known as Will Rogers Highway after it was dedicated to him after he died in a plane crash. He was a native american comic, poet and actor and was well loved. This museum is dedicated to him and if you want to know more about hime then this is the place to come.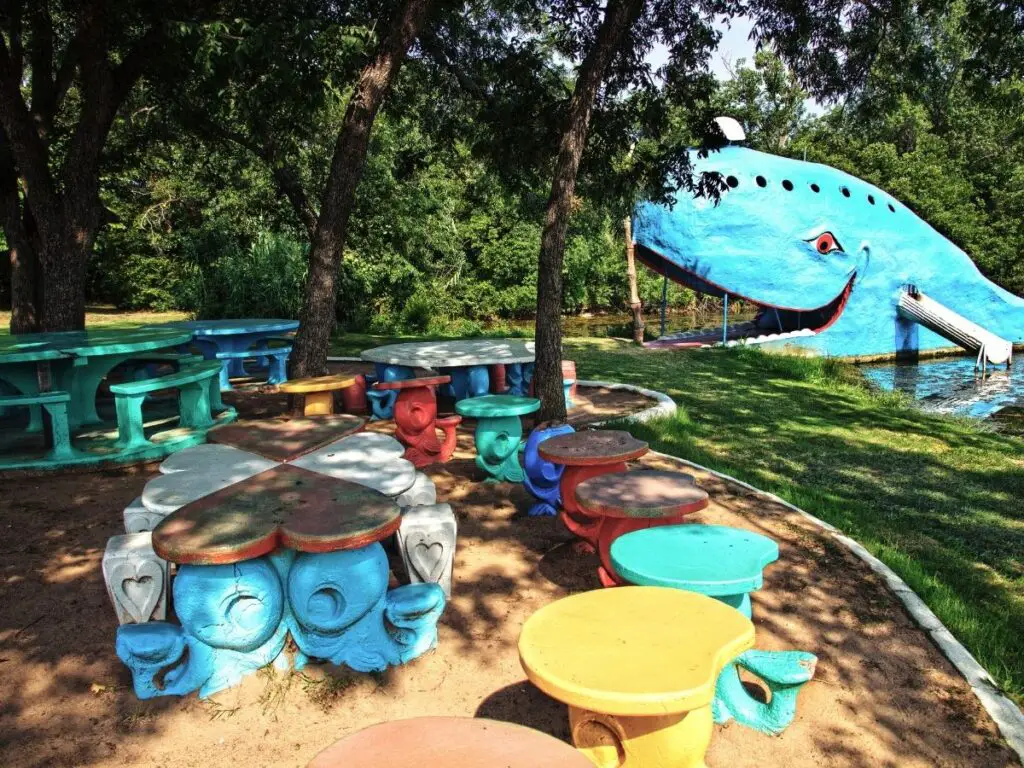 Blue Whale of Catoosa
Location: Catoosa, Oklahoma
One of the best loved attractions on Route 66 in Oklahoma is the Blue Whale. It was actually built in the 1970s, so not as old as some attractions, and it was actually an anniversary present! It was a popular swimming hole for road tripping families and locals alike. It declined in the 80s and was brought back to it's former glory more recently.
Golden Driller Statue
Location: Tulsa, Oklahoma
Tulsa is a great city on Route 66 and there are some great, iconic attractions to look out for. The Giant Miner is a great example of a giant attraction, of which there are many, on the road. He was built in 1966 and was a symbol of the International Petroleum Exposition that took place at the venue. Nowadays there are many events and fairs that happen, so be aware if you're travelling to see the statue.
Philbrook Museum of Art
Location: Tulsa, Oklahoma
One of the most wonderful buildings in Tulsa is the beautiful Philbrook Museum of Art. It was originally built in 1927 but was given to the city in 1939 and was turned into what it is today. So that's a long time that it's been delighting visitors to Tulsa!
As well as enjoying the art that's on offer there's often events taking place at the museum which are worth checking out.
Greenwood Black Historical Museum
Location: Tulsa, Oklahoma
Tulsa was the location of some quite intense racial violence at the beginning of the 1900s. With racial segregation came a district just for black people and their businesses, and it thrived – it was nicknamed Black Wall Stree. Many people were not happy about this being the case and in 1921 there was a horrific massacre in the area and the businesses were all burned to the ground.
If you're in the area there is a museum dedicated to the history of the area and making sure that the story is not forgotten. It's worth checking out the mural on one of the walls across the street as well with a picture of how it used to look and the names of the businesses that were lost.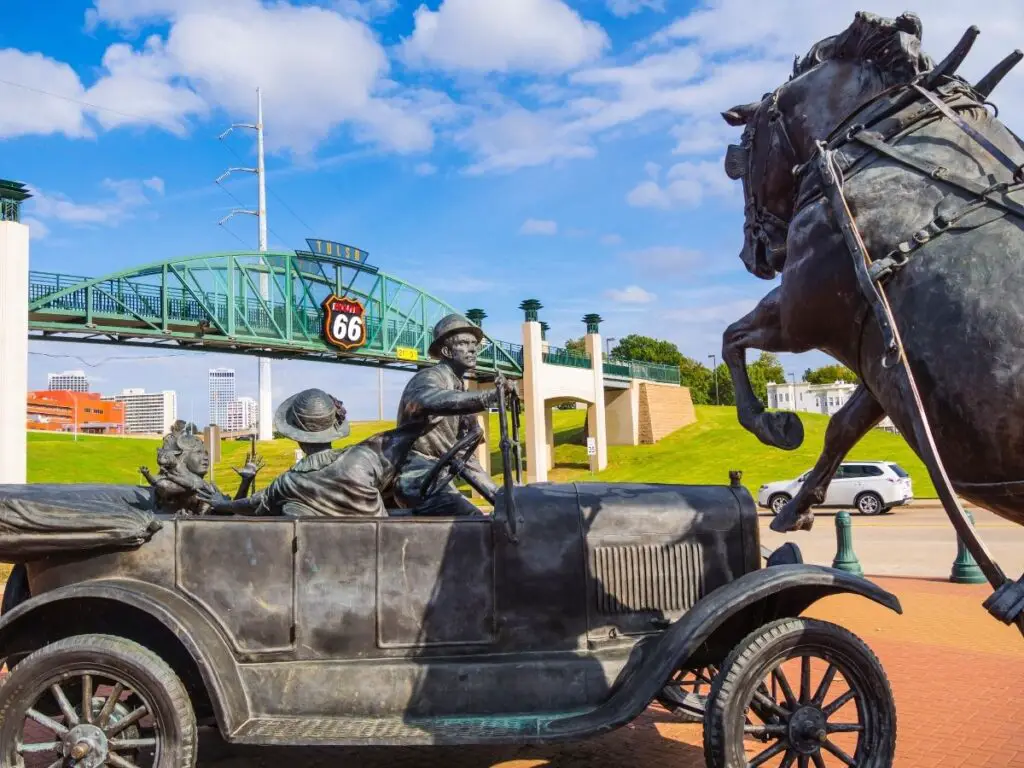 Cyrus Avery Centennial Plaza
Location: Tulsa, Oklahoma
A nice open space in Tulsa just before you leave the city. It's dedicated to Cyrus Avery, the man whose idea Route 66 was and the man who helped ensure it came through Oklahoma as much as it did.
It's a great place to stretch your legs and be sure to check out the statue 'East meets West' which is quite striking.
Route 66 Historical Village
Location: Tulsa, Oklahoma
An open air museum just on the outskirts of the city. It's aim is to educate about the oil and transportation history in the area and it does that through, a replica gas station, oil field pumps, a huge derrick, route 66 signs and a restored train, to just name a few things!
Downtown Sapulpa
Location: Sapulpa, Oklahoma
Sapulpa is a must see town in Oklahoma for Route 66 travelers and there are a number of sights within the town that are worth keeping an eye out for. The one place you should definitely stop is the Sapulpa Crossroads which is where Route 66 and Route 75 intersect. As you know, Route 66 goes East to West but Route 75 went north to south and was the equivalent big route as the road system was being developed.
There's a large mural here and some shops you should check out too if you have time.
Waite Phillips-Barnsdall Filling Station Museum
Location: Sapulpa, Oklahoma
A vintage filling station that has been turned into a museum. Just a couple of blocks away from the actual road, there's lots to see for anyone who likes gas station artefacts and retro signs.
Heart of Route 66 Auto Museum & Giant Gas Pump
Just as you're heading out of Sapulpa you'll see a museum dedicated to vintage cars. Whether you want to look round and get a closer look at some of the great old cars on display or just want a photo opportunity with the world's tallest gas pump you should definitely stop!
Rock Creek Bridge
Location: Just outside Sapulpa, Oklahoma
Another old bridge that used to cross the river here. It's interesting in that there's still a brick road underfoot that you can see when you cross.
TeePee Drive In Theatre
Location: Near Sapulpa, Oklahoma
If you've stopped to see the Rock Creek Bridge then you're right by the Tee Pee Drive In Theatre. It was an abandoned attraction on the road until very recently. Originally built in 1949 it has recently been renovated and restored and is now open!
Bristow Train Depot & Museum
Location: Bristow, Oklahoma
A small, local historical museum in the centre of Bristow. The museum is based in the old train depot building and has an old caboose out front. Really good place to go if you want to learn about pioneers and the oil boom in this area.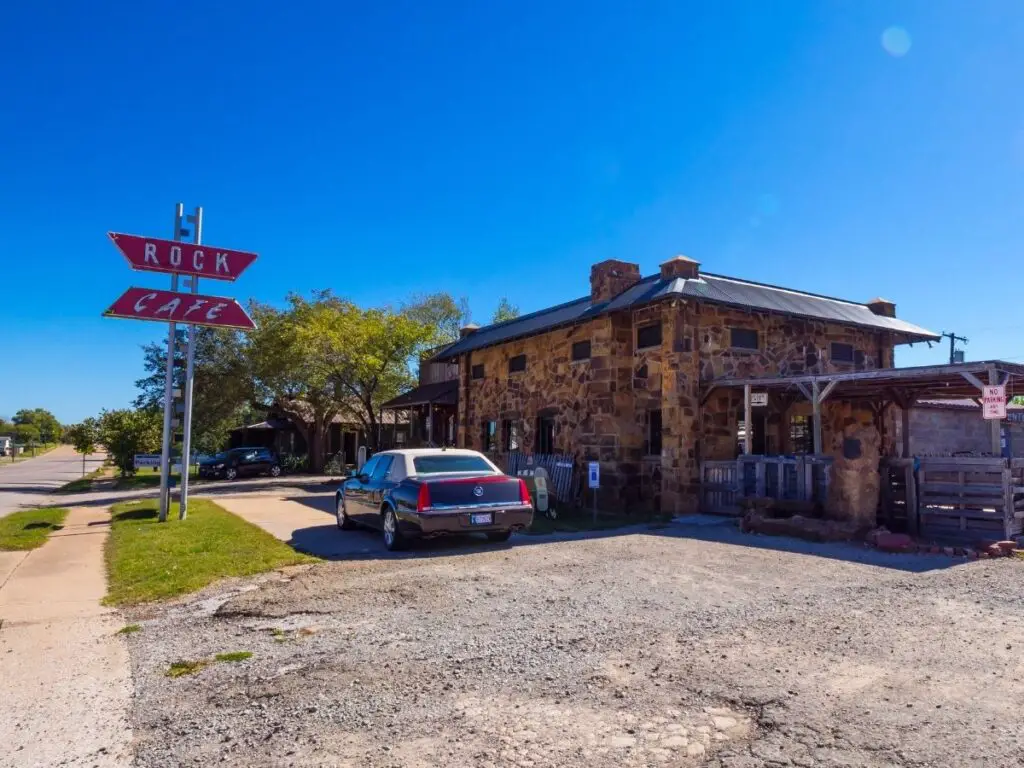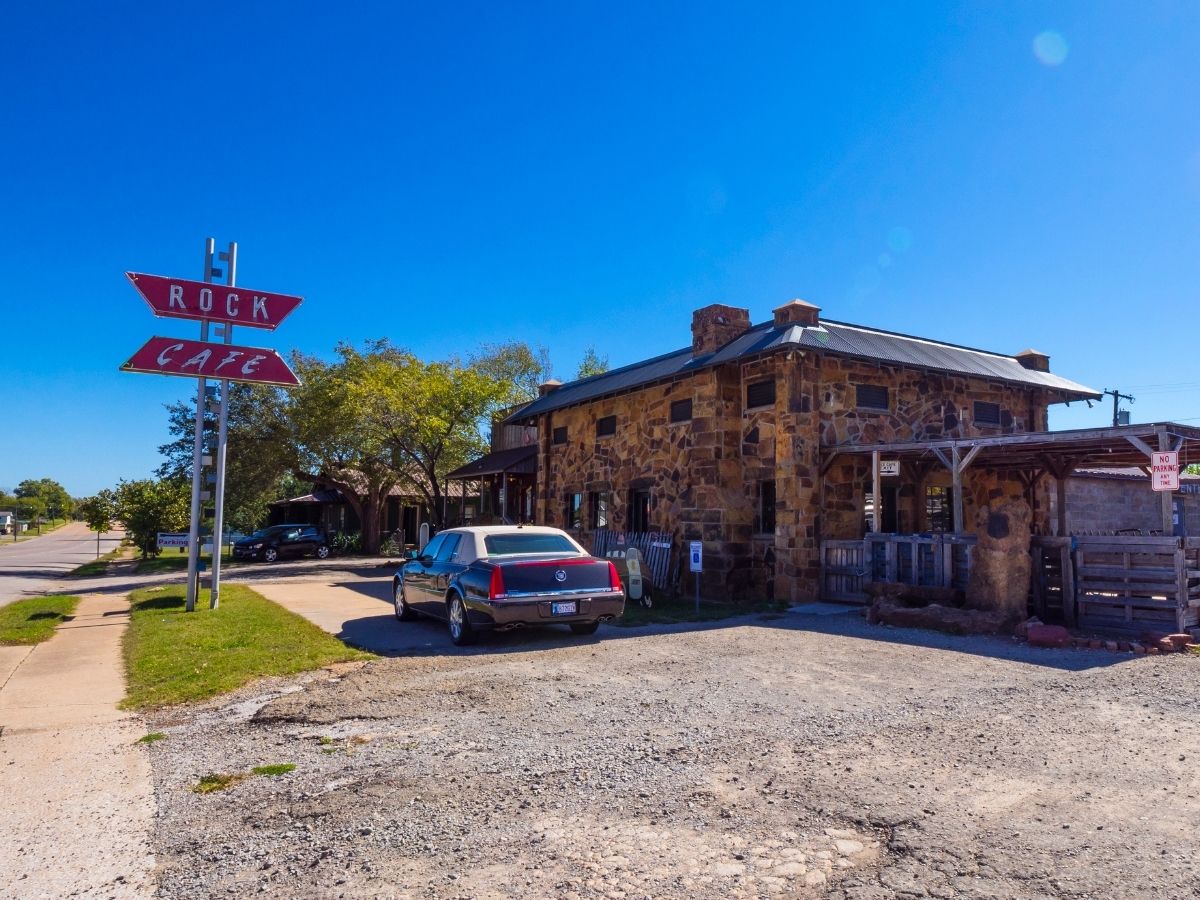 Rock Cafe
Location: Stroud, Oklahoma
A wonderful Route 66 diner that should be firmly on your list of places to stop for some food. This place has seen some things including a tornado that devastated the town and a fire which almost ruined the building. It's been restored recently and is back open.
For fans of the Disney Cars movie – the owner, Dawn, was the inspiration for Sally! It's got some Cars signs out front for photo ops nowadays to celebrate this iconic Radiator Springs location in real life!
Route 66 Interpretive Center
Location: Chandler, Oklahoma
A little different to other museums on the road, the Route 66 Interpretive Center has interactive exhibits and movies to watch that bring the road to life.
There's a nice gift shop too if you need to pick up some special souvenirs from local artisans.
McJerry's Route 66 Gallery
Location: Chandler, Oklahoma
The writer of the famous EZ66 guide book (that I have discussed on my Route 66 guide books post) lives in Chandler and invites any of his readers to come and visit, get your book signed and take a look at his gallery. A must stop! He is open all the time and happy to take visits but you might need to ring ahead. Check his site for latest updates.
Museum of Pioneer History
Location: Chandler, Oklahoma
A small, local museum that focuses on the pioneers who came to this place and how life was for them. Lots of interesting exhibits about local characters.
Just next to the museum is an old Phillips gas station that's worth a photo or two as well!
Seaba Station Motorcycle Museum
Location: Warwick, Oklahoma
Located in an old filling station that even predates the official opening of the road (1921!), Seaba Station has a lot of history to show. It's gone through a few changes in its life and currently it houses a motorcycle museum with all sorts of historic bikes on show.
Threatt Filling Station
Location: Near Luther, Oklahoma
Looking rather run down and abandoned, Threatt Filling Station is a little bit different from many of the other gas stations listed on this page. That's because it was run by black people and catered to to african americans who would travel the road. It's not often talked about, but black people couldn't just stop anywhere for food, fuel and restrooms – they had to go where they knew they would be safe. Threatts was one such place.
It was built in 1915 and looks similar to how it would have been in the day, nothing has changed much at all.
I believe that it's currently in the process of being restored so will update when I hear more!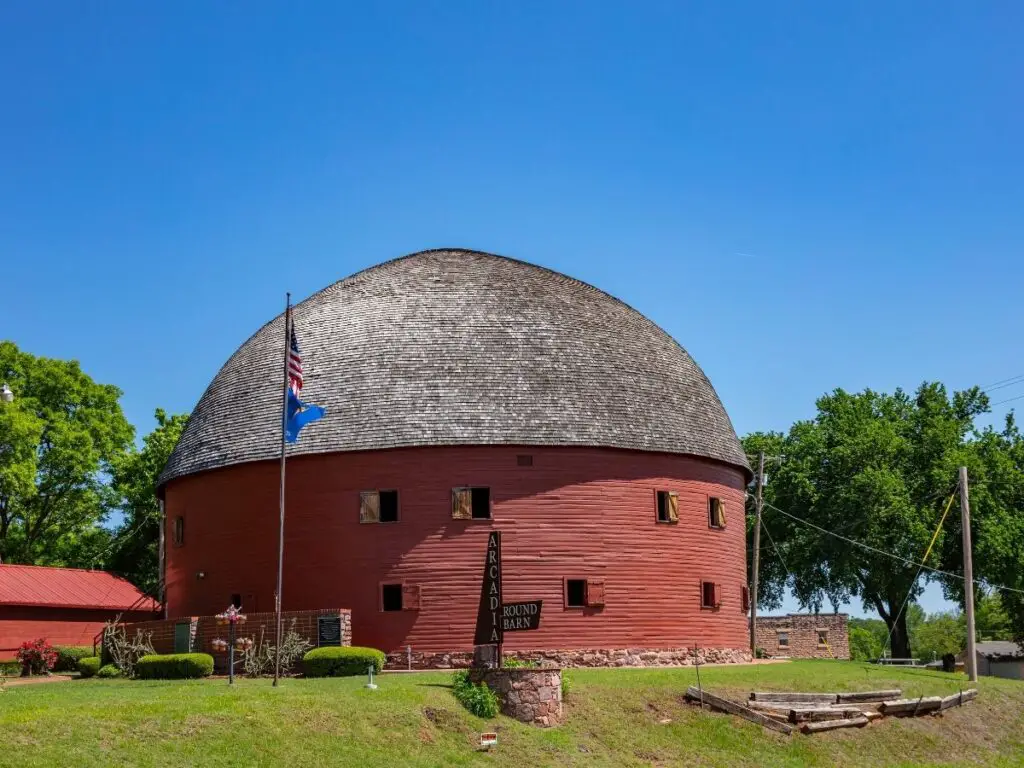 Arcadia Round Barn
Location: Arcadia, Oklahoma
This interesting barn in Arcadia is built in a round shape because it was believed to be helpful should it be in the way of a tornado. The wood had to be softened to bend it to the right shape and you can learn about how it was built in the free museum that's housed inside.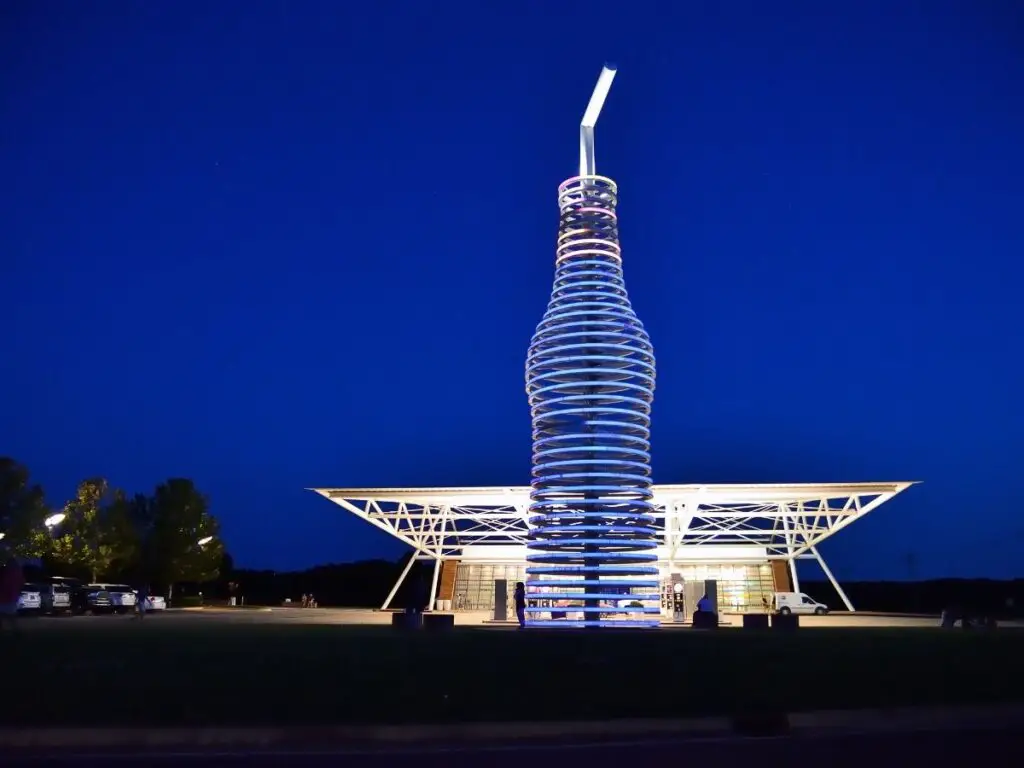 Pops on 66
Location: Arcadia, Oklahoma
A new attraction on Route 66 having only been built in 2007 but it's proven to be a very popular stop, probably because of the giant soda bottle out front that lights up at night. A great attraction and photo opportunity!
It's a filling station, diner and gift shop all in one so a great place to stop when on a road trip!
National Cowboy and Western Heritage Museum
Location: Oklahoma City, Oklahoma
A large museum in Oklahoma City if you want to explore the history of cowboys, native americans and the wild west. With firearms, art, artefacts from the time and exhibits showing what life was like. It'll take you a good few hours to explore so allow plenty of time. There are food options too.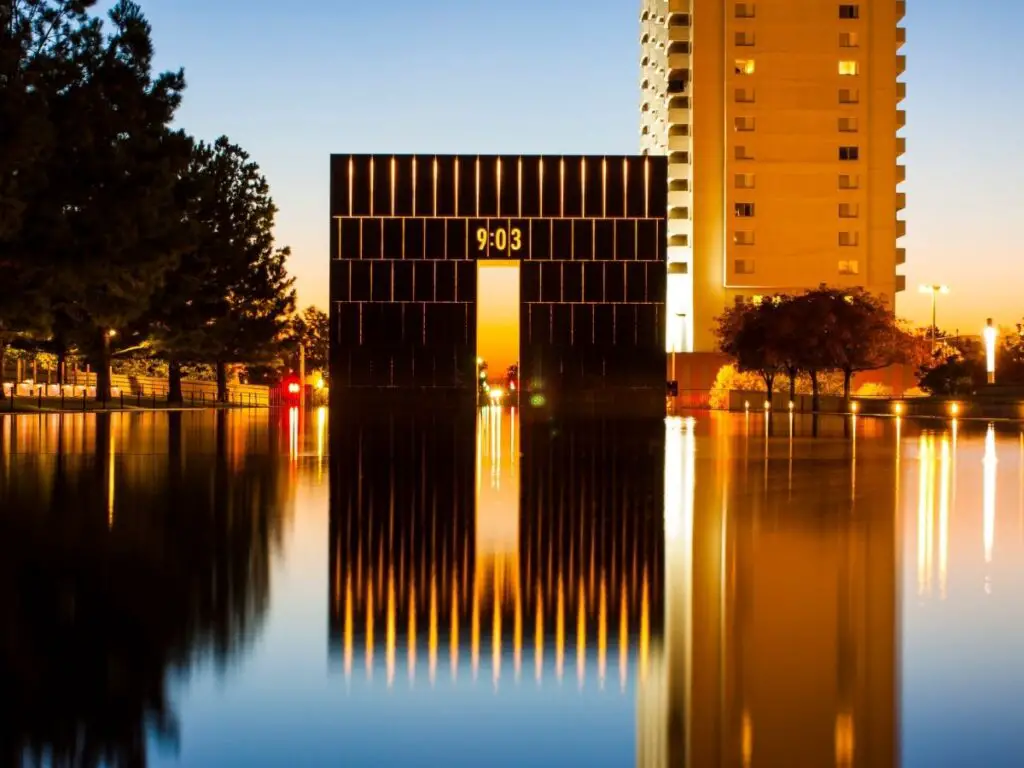 Oklahoma City National Memorial and Museum
Location: Oklahoma City, Oklahoma
A moving memorial to the bombing of the Murrah building in 1995. If you have time it's definitely a place where you should stop and reflect a while. Evening is particularly beautiful when it all lights up so if you're staying in Oklahoma City then it's worth adding that to your evening.
There's a museum here as well detailing what happened and with remains from the building.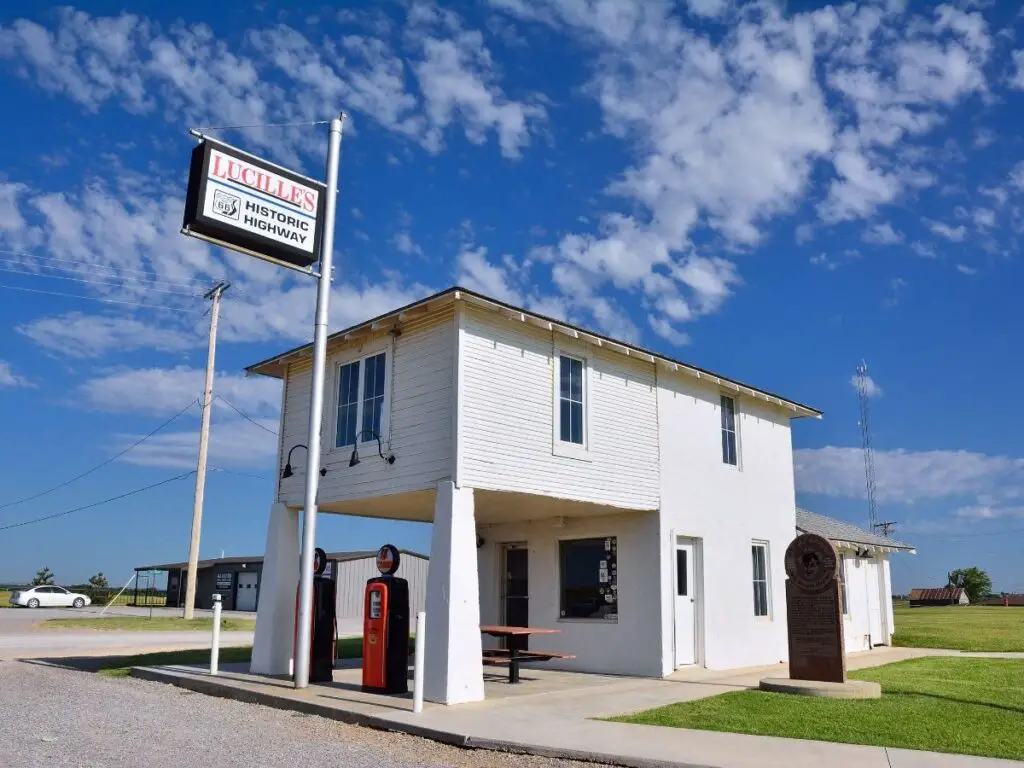 Lucille's Historic Highway Gas Station
Location: Hydro, Oklahoma
A restored gas station that is a drive through style. A great place to stop and take some pictures and perhaps have a picnic now that they've added a picnic bench underneath. Old style gas pumps are outside too.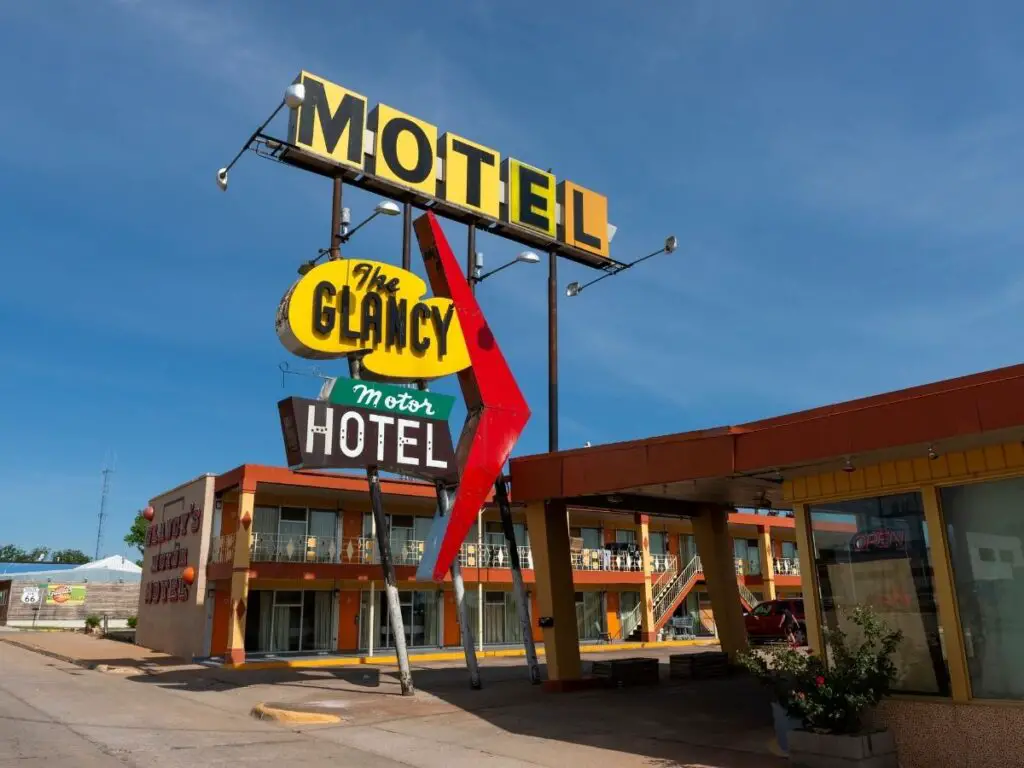 Glancy Motel
Location: Clinton, Oklahoma
An abandoned motel on Route 66 with a nice sign and some awesome architecture. The motel has been suffering for many years but it's thought it may be on the way to being renovated soon.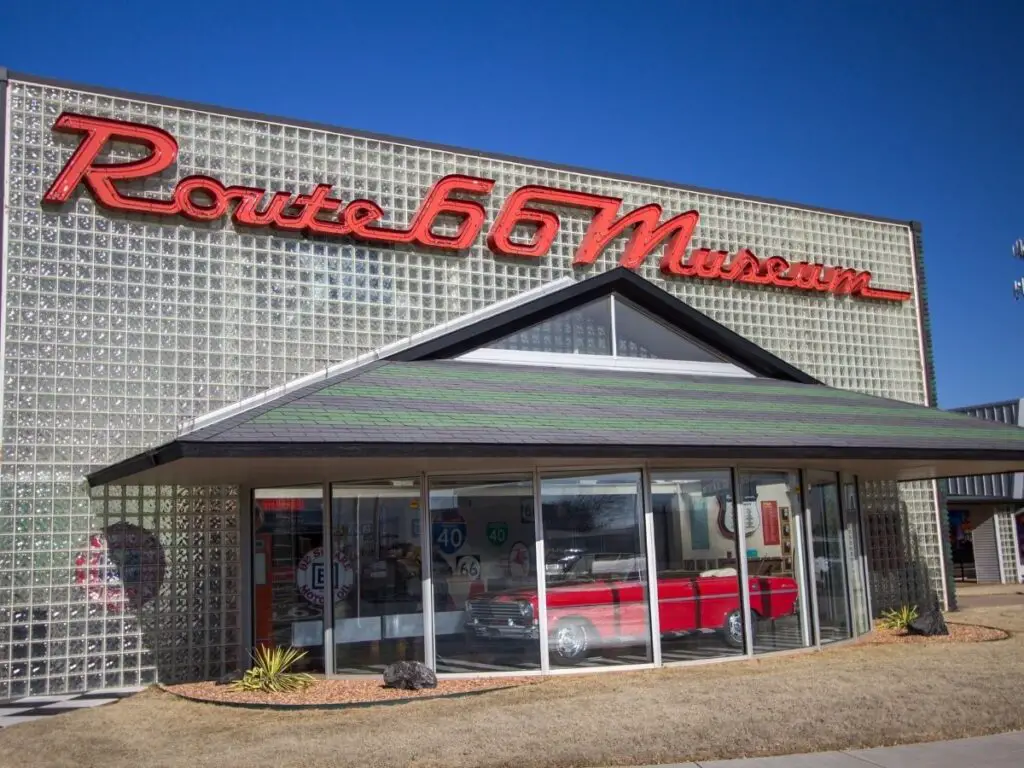 Route 66 Museum
Location: Clinton, Oklahoma
One of a couple of large museums in the area, the Route 66 Museum in Clinton welcomes you with a giant neon sign and a vintage car on display. A sign of things you'll see inside! The building is stunning and just what you want to see on a route 66 road trip.
Inside is full of retro cars, signs and route 66 memorabilia. You can spend a couple of hours here at least.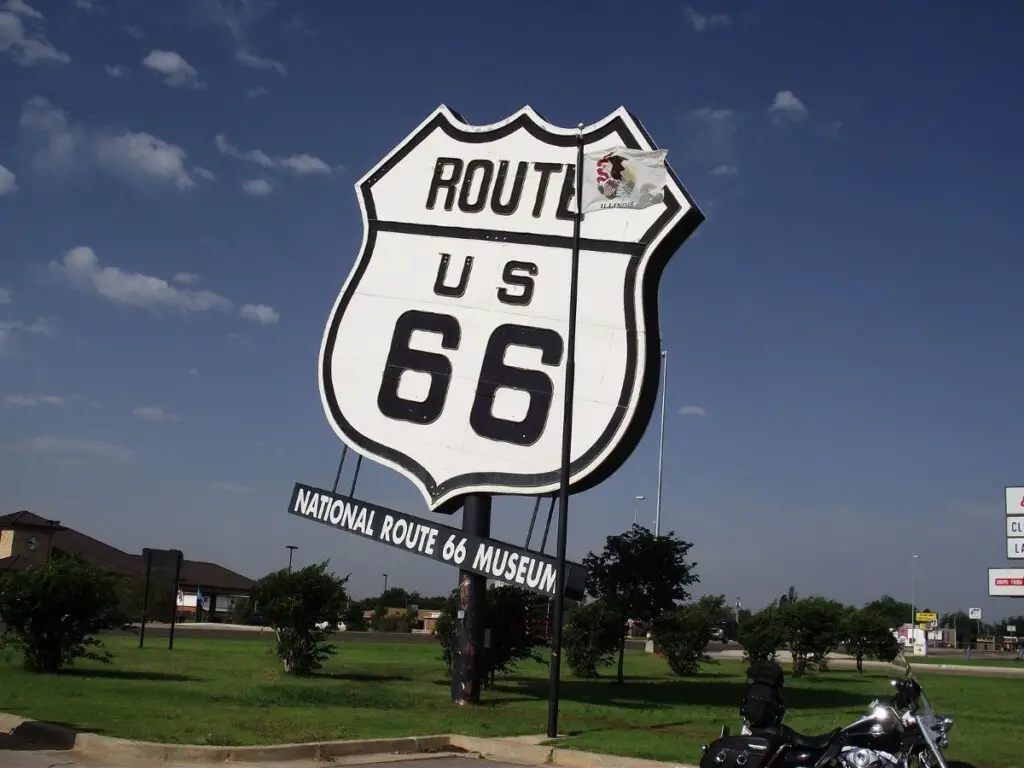 National Route 66 Museum and Transportation Museum
Location: Elk City, Oklahoma
A great place to stop for a couple of hours and explore. The Elk City museum has a number of attractions from vintage cars and exhibitions to a recreation of what a main street would have looked like in the heyday of Route 66. It's an inexpensive admission price as well which means more money to spend at the gift shop!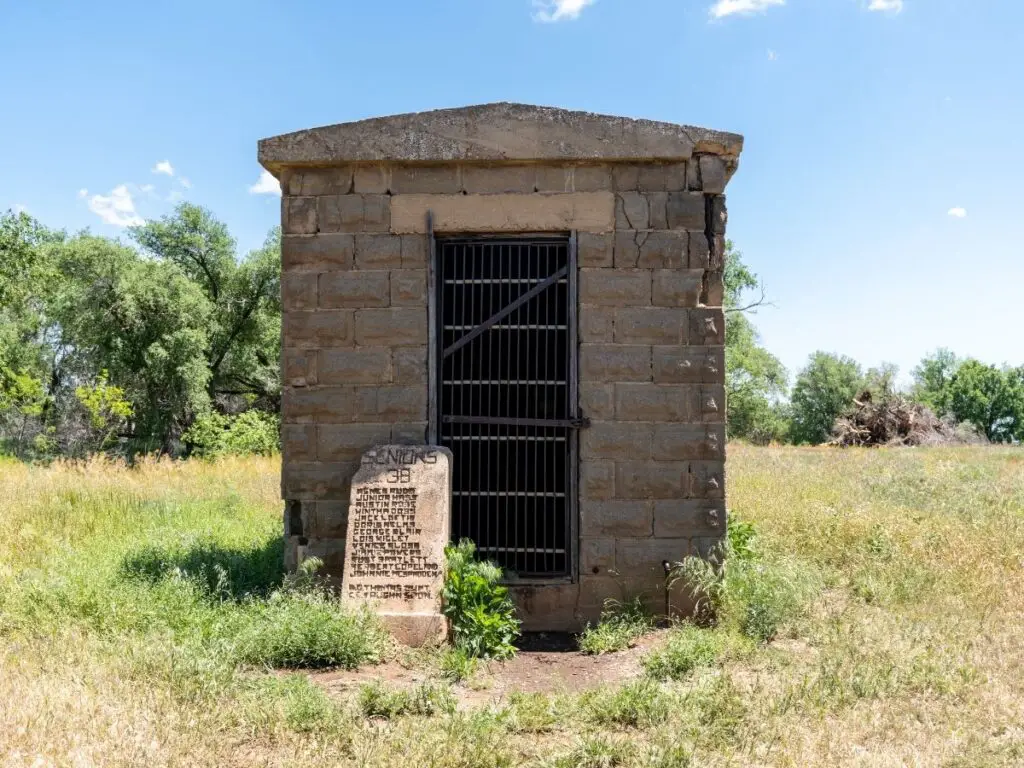 One Room Jail, Texola
Location: Texola, Oklahoma
Texola is a ghost town, or very near to it, with almost all of the buildings being abandoned. There are a few people who live here so be aware not to trespass.
The one room jail is worth checking out if you like quirky history. It's a tiny shed like building that dates to the very end of the 1800s and has a couple of displays inside.
Still got questions? Join our FREE Route 66 community!
Come and join our FREE Facebook group where you can get help with planning your Route 66 road trip of a lifetime!