We're getting near the end of our trip and entering the the seventh state, assuming you're driving the whole road, which brings us to Route 66 in Arizona!
Arizona has something for everyone whether you're looking for wide open spaces and National Parks to hike in or small towns with old motels and characters to get to know.
If you're looking to drive historic Route 66 through Arizona then this page is for you. It'll answer your state specific questions about the mother road as it drives right across the state of Arizona and link to any further posts I have about this state.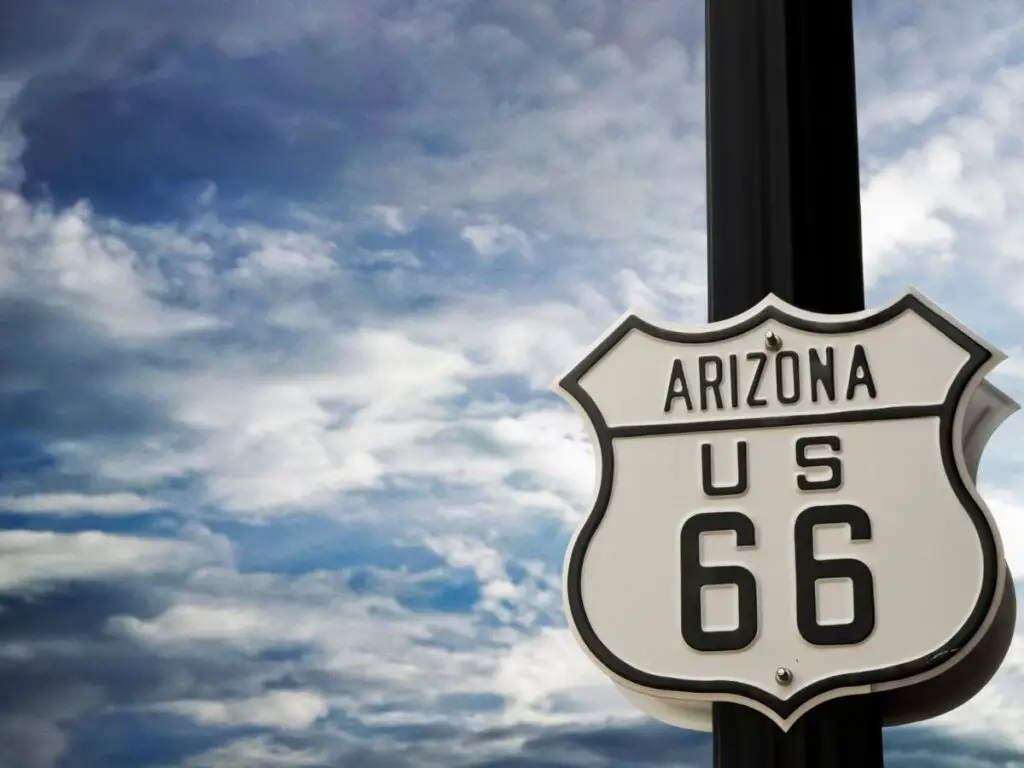 If you're just looking for specifics on what to see and where to stay along Rt 66 in Arizona then you should check out these posts which focus just on those topics:
If you're looking for more State wide guides to learn more about Historic Route 66 all the way from the beginning to the end there's lots of posts on this site about roadside attractions to see, how to drive the road and where to stay. Alternatively you might like to check out our Start Here page.
Arizona Facts
State Name: Arizona
Nickname: The Grand Canyon State
Population: 7.174 million

Route 66 mileage: 401 miles (645 km)
Major cities: Flagstaff
Top Attractions: Petrified Forest NP, Meteor Crater, Oatman
Does Route 66 still exist in Arizona?
Yes Route 66 still exists in Arizona but it's not always easy to find the original alignments. There's quite a lot of old dirt roads and private roads, if you're wanting to drive the original route, so be wary if you're renting a car.
Old 66 is still drivable as I-40 along much of the state – you'll just want to remember to come off and explore the towns that the interstate bypassed.
It's always easy to go off course so if you're wanting to be faithful to the old road, or just want a helping hand with directions I encourage you to get a guide book which will help.
Where does route 66 start and end in Arizona?
Where does Route 66 begin in Arizona?
Lupton is a small community with a large teepee trading post that marks where Arizona's Route 66 portion begins after traveling through New Mexico.
Where does Route 66 End in Arizona?
The last part of Route 66 in Arizona, if you're driving East to West is a small place called Topock just after driving the Oatman Highway and before crossing the Colorado River into California.
What towns does Route 66 go through in Arizona?
Route 66 goes through a number of towns on its way through Arizona:
Holbrook
Winslow
Flagstaff
Williams
Seligman
Peach Springs
Kingman
Oatman
What is there to do on in Arizona on Route 66?
You'll find plenty of natural sights to explore on Route 66 in Arizona from the wonderful Petrified Forest National Park, where the road drives straight through it, to the meteor crater which is just enormous!
Around Flagstaff and Williams there are plenty of trails and hikes to do if you're needing to stretch your legs. You're also within reach of some jaw dropping bucket list places such as Grand Canyon, and perhaps even Monument Valley if you have time as a side trip. Hoover Dam and Las Vegas are also within easy reach of Route 66 along Arizona.
Budding geologists, rock collectors and fossil hunters will love the many places to buy souvenirs of the trip around Holbrook. And fans of the night sky should definitely take some time around Flagstaff to do some stargazing – it's spectacular around these parts!
Of course there's also plenty of neon, retro goodness and old small town America to be found. If you want a taste of the old west you can even explore Oatman, once a ghost town and now a tourist trap!
Route 66 in Arizona – Maps
Here are some maps I've made of Route 66 through Arizona. More coming soon!
More posts about Route 66 in Arizona