Sat in amongst the pylons that cross the skyline as you drive the Mother Road through Texas you might think that one looks just like a giant cross – and you'd be right! Situated a stones throw from Route 66 is one of many 'giants' on the road – some call it the Giant Cross, others The Cross of Our Lord Jesus Christ Ministries.
Whether you're curious about how it looks up close, want to tick this Texas Route 66 attraction off your list or you'd like to spend time there to reflect on your beliefs the Cross Ministries is open to all who would like to visit.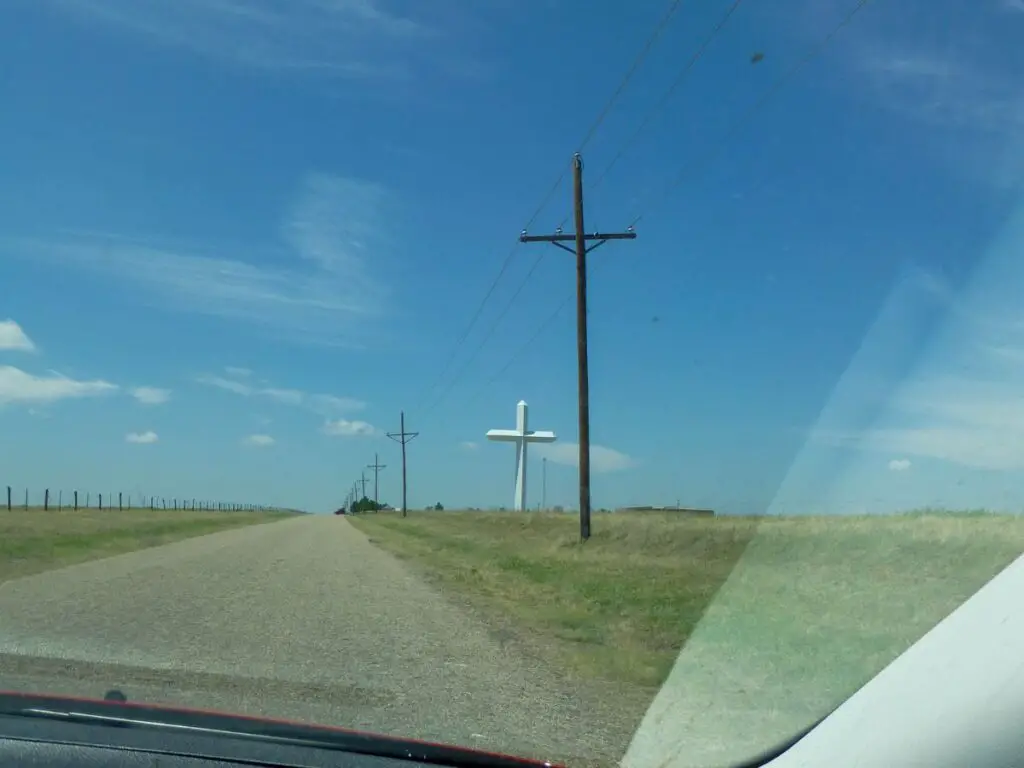 If you're wanting to learn more about how you can visit the Giant Cross in Texas then read on for more information.
Where is the Giant Cross located?
The Giant Cross is situated just outside a small town in Texas called Groom. It's in between the newer I-40 road and the older Route 66 alignment and you can actually see it from either if you're just driving past (see above – this is the Google Street view from the I-40).
Groom is about 45 minutes east of Amarillo in the pan handle area of Texas. It's a similar distance from the small town of Shamrock which is a particular favorite of mine (especially if you love neon lights!)
If you're driving Route 66 then it's a really easy roadside attraction that you can pull over for a short while to enjoy.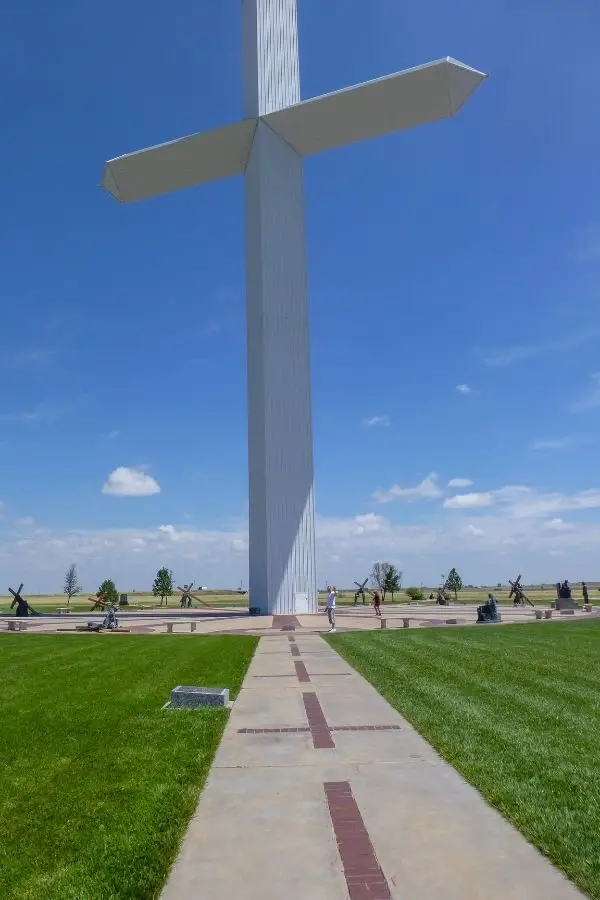 What's the history of the Giant Cross?
Compared to some attractions on Route 66 the Giant Cross is a relative youngster! It was built in 1995 as a project by the husband and wife founders Steve and Bobby Thomas.
The cross was regarded as the largest in American and in the western hemisphere when it was built but there's a slightly larger one in Effingham, IL now and another in Missouri that has overtaken both! It's still quite impressive though so not being the biggest doesn't really detract from the wonder of the place.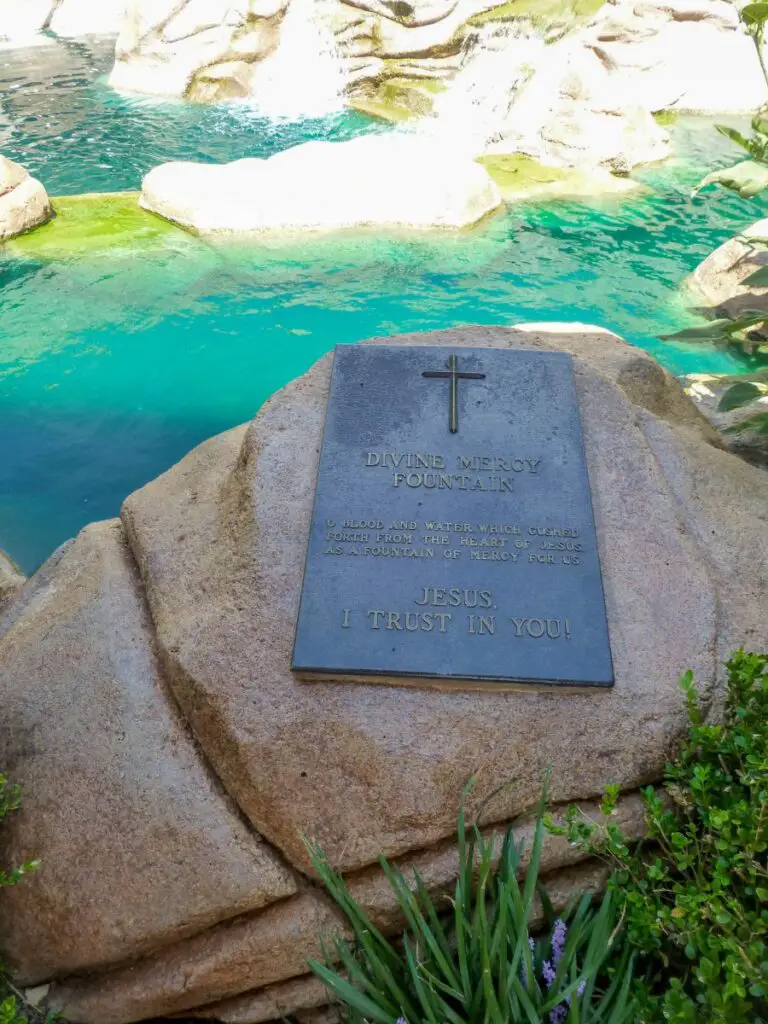 The Cross Ministries isn't affiliated with any one church or denomination so it welcomes anyone and everyone to come and reflect on Jesus and his life.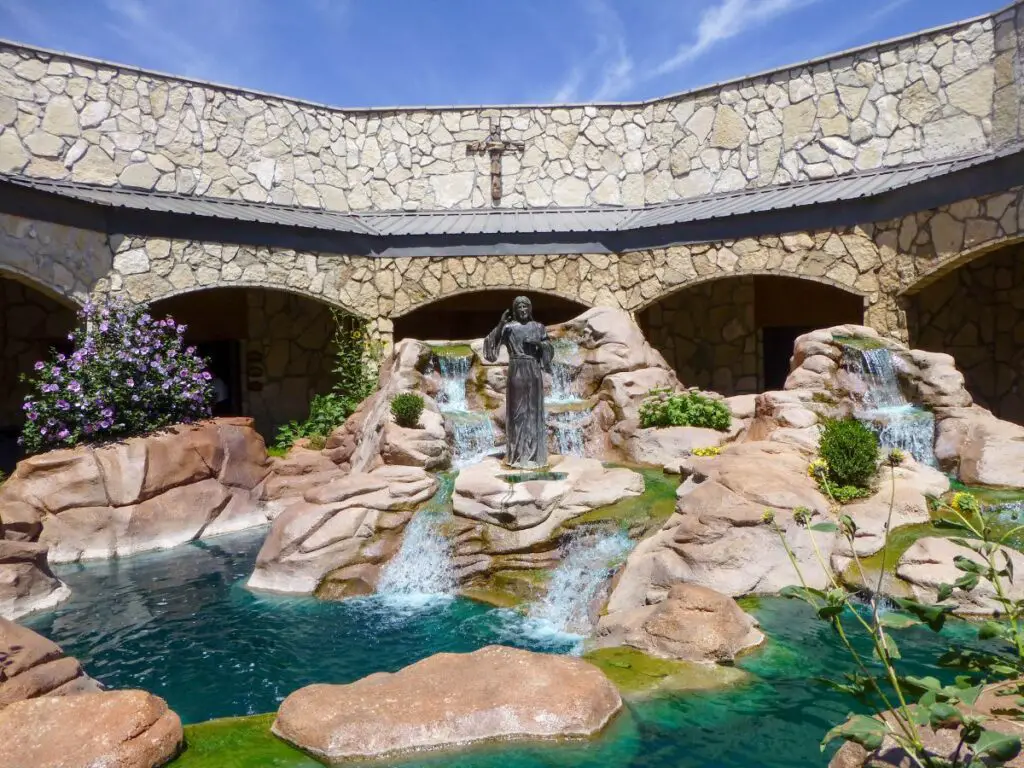 Can you visit the Giant Cross on Route 66? What can you see there?
Yes, you absolutely can visit the cross and we did so on our very first Route 66 trip. I'm not religious at all so I definitely wondered about whether I would be welcome there. If you're the same or if you subscribe to another religion then don't worry – the place was really welcoming and actually we could wander around and enjoy the site on our own.
As well as the large cross to see and try and fit into your photos there's also the depiction of Jesus in what's known as the Stations of the Cross. It's some sculptures that show the timeline of the crucifixion and resurrection.
The whole site has a number of statues, memorials and areas that you can reflect on.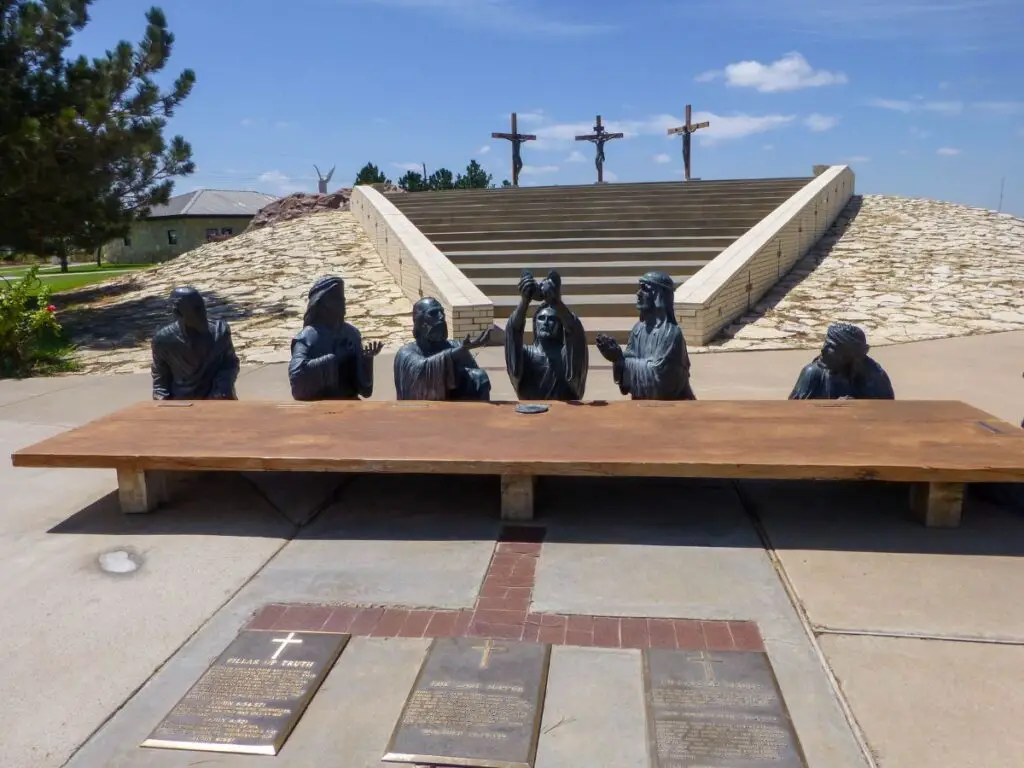 An information centre is there too to learn more about the project which is still ongoing to this day as they add to the sculptures on the site. Inside the centre you'll find a replica of the Shroud of Turin as well.
The site is open 24 hours so if you're traveling late and want to pop by then you can although the indoors parts may not be open.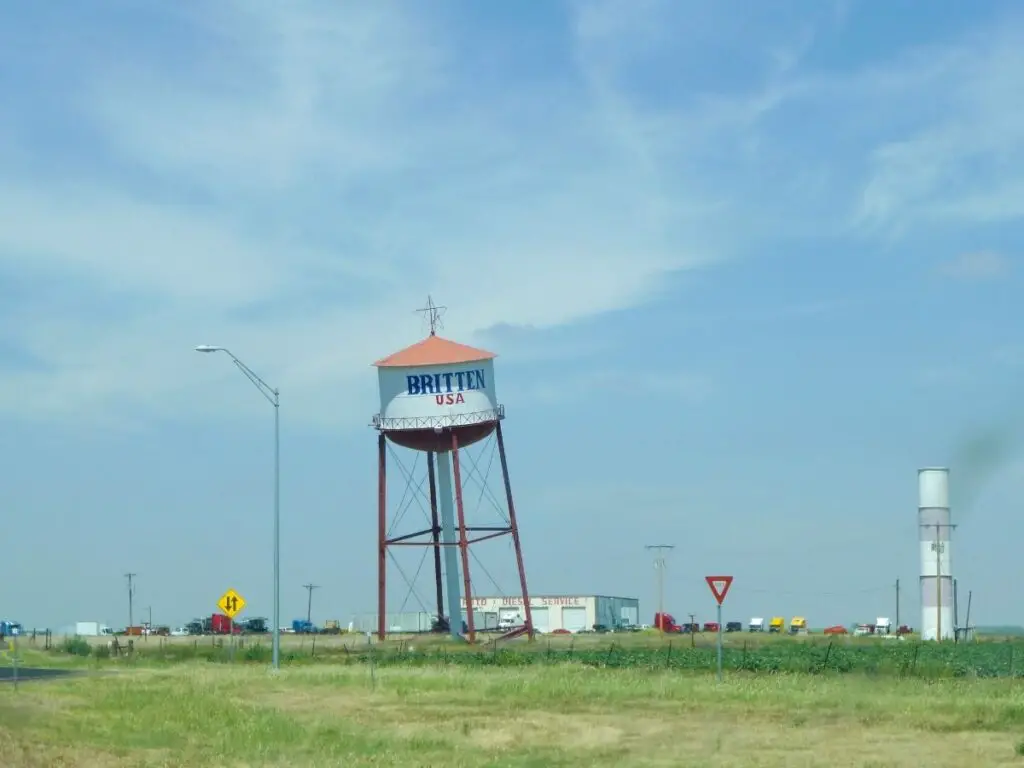 What other Route 66 must sees are nearby?
While in Groom be sure to check out the 'Leaning tower of Texas' as you enter the town (from East to West)
You're also very near to Jericho which is just to the east of Groom – this was a notorious spot in the early days of the road where cars would often get really stuck in mud!
The town of McLean should also not be missed with its quirky yet interesting museum on barbed wire!
Texas has a lot of interesting sights on Route 66 so you'll definitely not be spoiled for choice!
Where to stay nearby Groom, TX on Route 66
Groom is a very small town on the small section of Route 66 that passes through Texas.
For the best Texas accommodation options after visiting the Giant Cross I'd probably head towards Amarillo for the night if you're traveling East to West or to Shamrock if you're driving the opposite way.
Here are some motels that I recommend near Groom (always check latest reviews):
Big Texan Motel
Western Motel
🇺🇸 Route 66 FAQ 🇺🇸
Do I need insurance for traveling Route 66?
YES! I always recommend people take travel insurance even when travelling domestically! If you have booked something non refundable it might be the only way you'll get money back if your plans change.
Check Travel Insurance Master for quote comparisons from different providers.
Who is the best car rental company for Route 66?
There are many car rental companies who you can choose from – I recommend comparing prices using DiscoverCars to get the best price for you or at least a good idea of a ball park figure. (see more)
Where to book Hotels for Route 66?
For hotels I recommend Booking.com as they tend to have good cancellation policies so you can keep flexible on the road.
Often some historic Route 66 hotels will need to be booked direct.
What to pack for Route 66?
Keeping yourself cool and comfortable is a must for any road trip.
See my post about what to pack for a Route 66 road trip
What's the best guidebook for Route 66 ?
I really like the Route 66 Adventure Handbook but there are a lot to choose from depending on what stage of planning you're at (see more)
Where to get flights for Route 66?
Skyscanner is my first port of call for finding cheap flights to start your road trip.