Missouri is known as the Show Me state and with all these Route 66 attractions in Missouri I think we can definitely conclude that they are having fun showing off all the things to do in the state!
From the huge city of St Louis, Route 66 drives south west through the state discovering the hills of the Ozarks, small towns, bigger cities and plenty of retro goodness!
It's a little different to Route 66 in Illinois, Missouri tells the story of the Westward Expansion and you'll see the change as you drive the road westward and there are plenty of museums to fill in your knowledge if you're interested in pioneers and trails heading to the west coast.
This article probably contains affiliate links.  
This means that if you buy or book after clicking, I may get a commission at no extra cost to you. Thanks!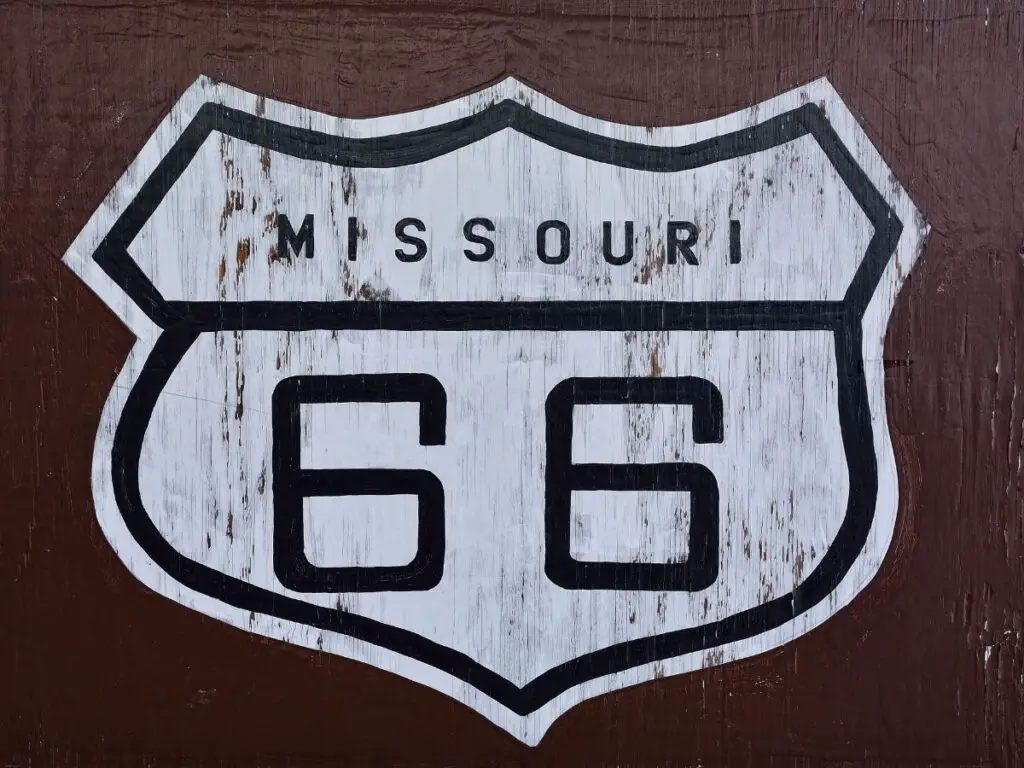 A note from the writer: Hey! I'm Kirsty and I'm a Route 66 enthusiast – I first became obsessed almost 20 years ago and then first visited in 2014. I've recently just come back from my last trip too! Comment below if you have any questions about your road trip and I'll get back to you ASAP – or join me in my free FB group here.
The route 66 attractions along this state will provide photo opps, good food and plenty of stories to listen to from people who are passionate about the road. Are you ready?
Route 66 attractions in Missouri
If you're looking to find where these stops in Missouri along Route 66 are I've created this map which details all of the attractions listed on this post.
If you're in need of somewhere to stay for your time here then check these Route 66 motels and hotels in Missouri.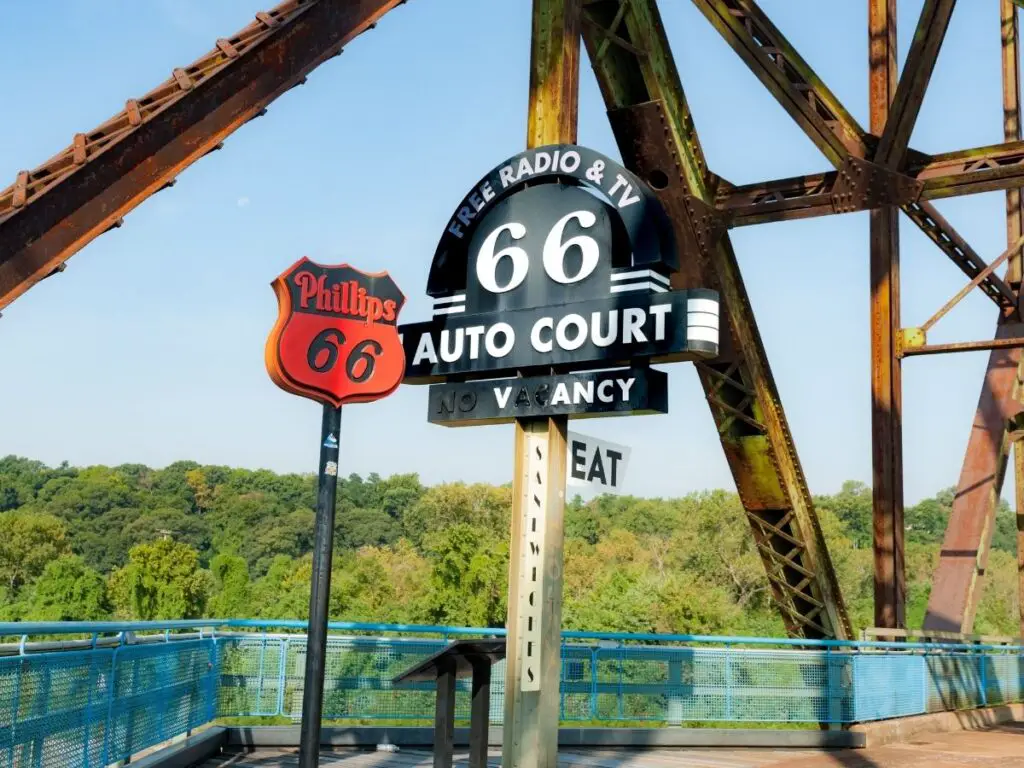 Chain of Rocks Bridge
Location: St Louis, Missouri
If you're coming from my guide to Illinois attractions you'll already have seen this one but I'm including it again here for anyone starting their Route 66 trip in Missouri!
The Chain of Rocks bridge has a distinctive bend in the middle as it crosses the Mississippi River although it's no longer open to vehicles. You can still walk over the bridge though and there's plenty of photo ops with some old signs that are around the bridge.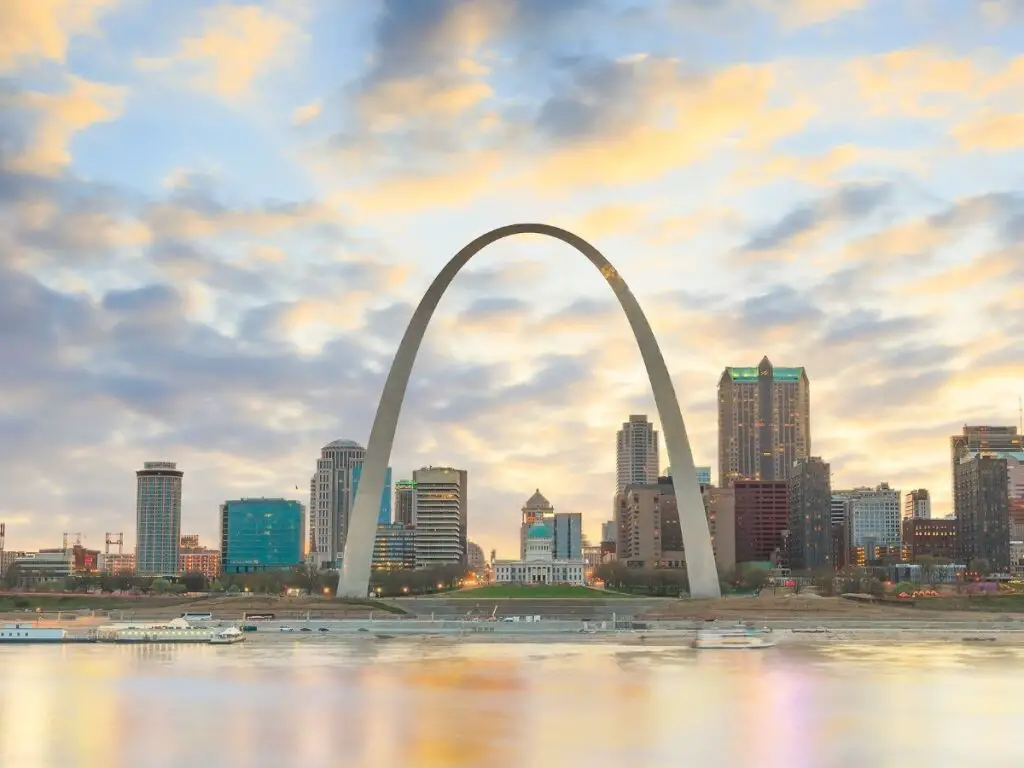 Gateway Arch
Location: St Louis, Missouri
If you're planning to stop in St Louis then you have to go and see the iconic Gateway Arch. It was built in the 60s, right when Route 66 was bustling with road trippers, to honour the pioneering spirit of the United States.
To this day it's a monument about the westward expansion, amazing people in the history of St Louis and it's also a great place to get an unforgettable view of the city and Mississippi River.
Ted Drewes Frozen Custard
Location: St Louis, Missouri
A popular food stop before you leave St Louis is Ted Drewes Frozen Custard on Chippewa Street. It's been serving Route 66 travelers since 1941 with their popular dessert. Expect long lines with locals and visitors wanting one of the many flavors. Try a 'concrete' which is handed to you after being turned upside down to show how thick it really is!
National Museum of Transportation
Location: Kirkwood, Missouri
Located in a suburb of St Louis, this museum has one of the largest collection of transportation vehicles in the world. Whether you like trains, planes or cars (or all three) you'll find something to enjoy here. A great place to spend a few hours.
Times Beach/Route 66 State Park
Location: near Eureka, Missouri
This Missouri stop on Route 66 is a great place to stretch your legs and have a break after the potentially busy section of road through St Louis. The area has a really interesting past and though you'd not know it to look at it, it's actually classed as a ghost town.
Times Beach was once a housing estate but in the 1980s it was evacuated due to high levels of Dioxin in the soil making it unsafe for habitation. The town was demolished apart from one building – the roadhouse which is now a visitor centre.
Don't worry – the soil has since been tested and it's safe for visitors. There are a few trails in the area to have a walk around and enjoy.
Red Cedar Inn
Location: Pacific, Missouri
Once a regular eating destination on Route 66, Red Cedar Inn was built just after prohibition ended and its owners, who had previously made their living by bootlegging liquor, had to change their career. It was an instant success since its location on Route 66 was just outside St Louis.
It closed in 2005 and although there was some talk about turning it into a museum this hasn't happened so far.
Shaw Nature Reserve
Location: Gray's Summit
With lots of trails to walk on and native plants and wildlife to see this place makes a great picnic stop or place to stretch your legs. It's located right on Route 66 so no need to drive far for it! There is an admission fee but it's quite low.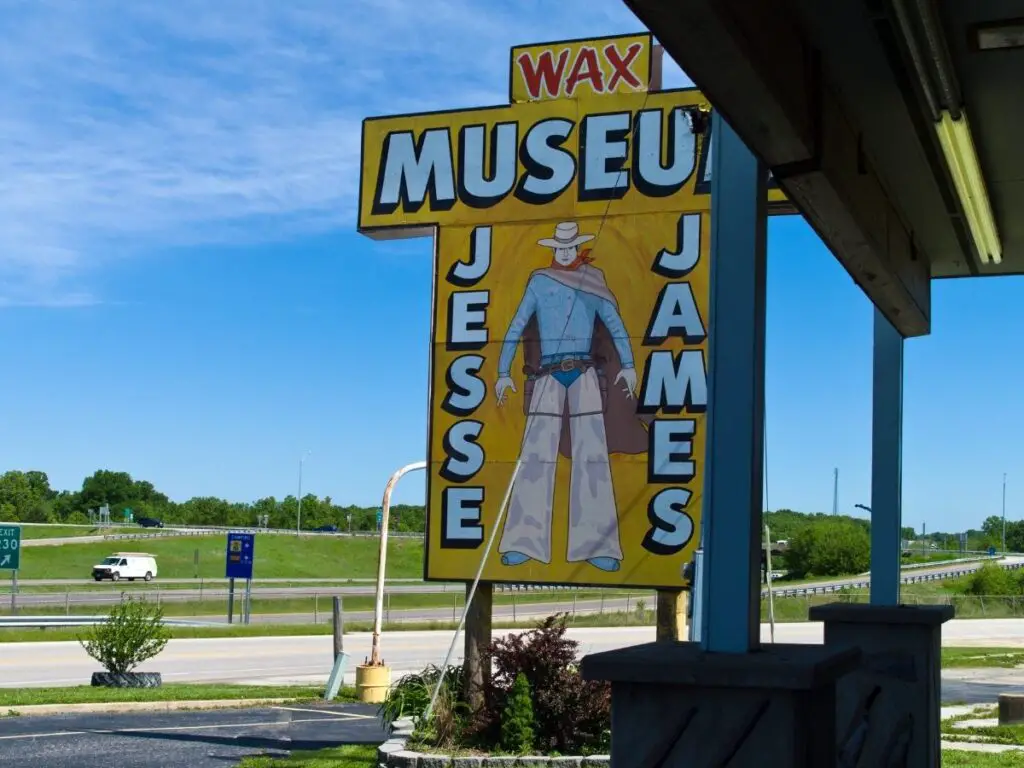 Jesse James Wax Museum
Location: Stanton, Missouri
Jesse James was an outlaw who was supposed to have died in 1882 but there were some claims that he had not and that he hid out in the area around Stanton (see the caves below). This museum tells the story of his life and what they think happened to him.
Open daily from June to Labor Day and open weekends outside of that but closed for the winter from October-March. Next door is the closed down Toy Museum and old motel showing some of the decay of the area since Route 66 was bypassed.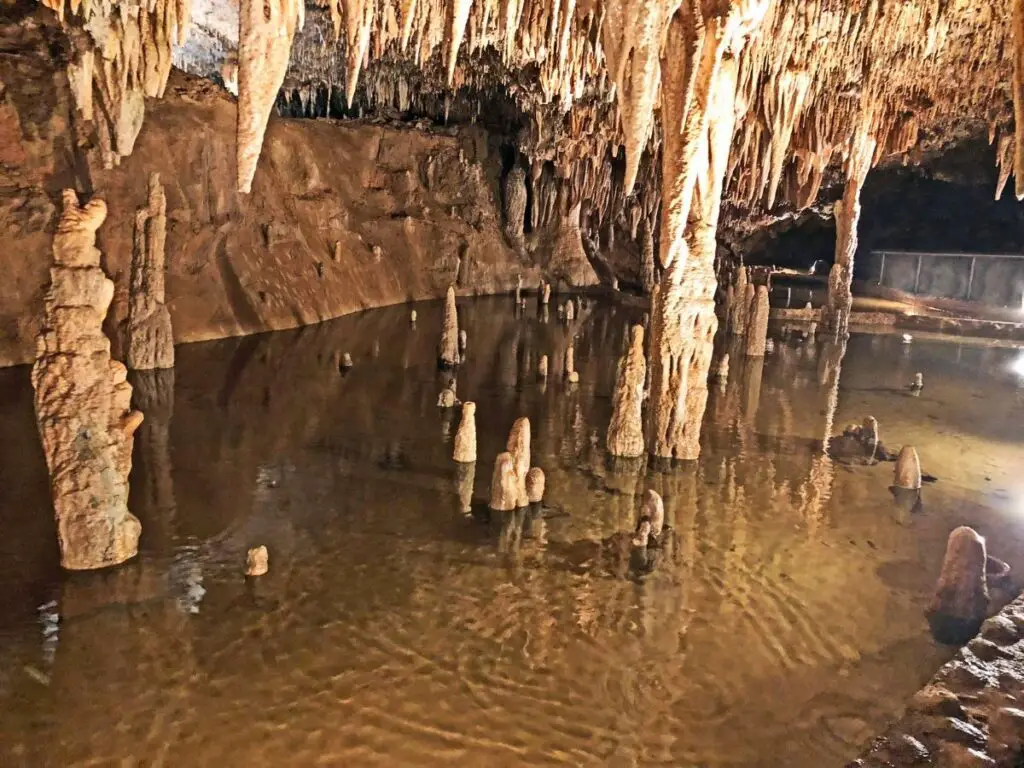 Meramec Caverns
Location: Near Stanton, Missouri
Just a little off the main road is one of the most popular stops in Missouri on Route 66. Meramec Caverns is that attraction you might have seen advertised on barns along the roadside and they've been doing that for years to attract travelers to stop.
It's a set of limestone caves and caverns with tours that run through. One story they tell is that of Jesse James – some think it may have been his hideout, although there's little evidence to suggest this was true.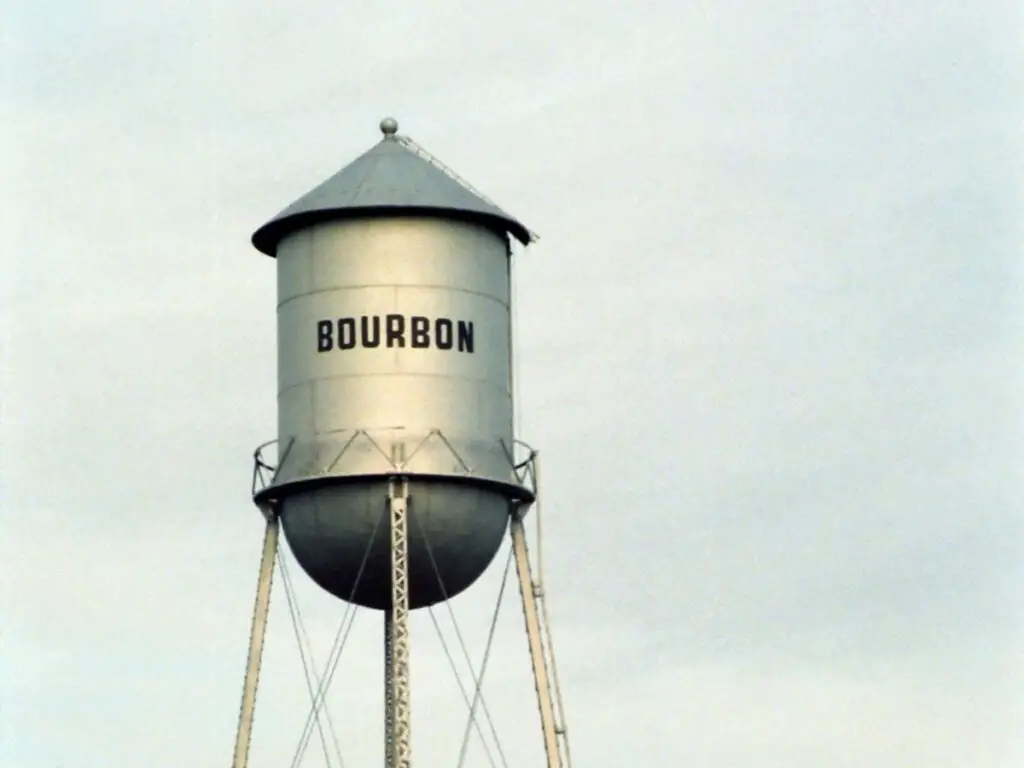 Bourbon Water Tower
Location: Bourbon, Missouri
The next town on your route through Missouri is Bourbon, apparently named because the workers there liked to drink it. The water tower is an old fashioned one with the word BOURBON on it and is a popular photo stop. Sadly, it is not filled with bourbon.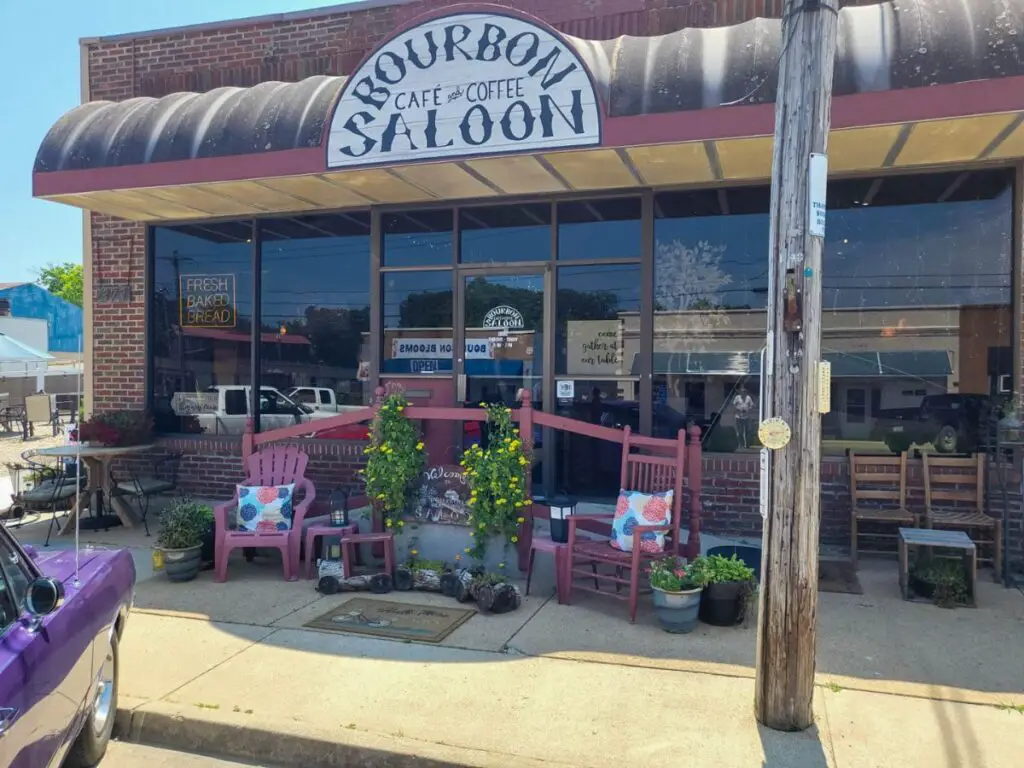 Bourbon Cafe & Coffee Saloon
If you're looking to stop for a bite to eat in Bourbon then this recent addition to the road is worth looking up – we were recommended this by a reader and it's firmly on our list for our next trip! They have amazing home cooked food and often have musicians in too!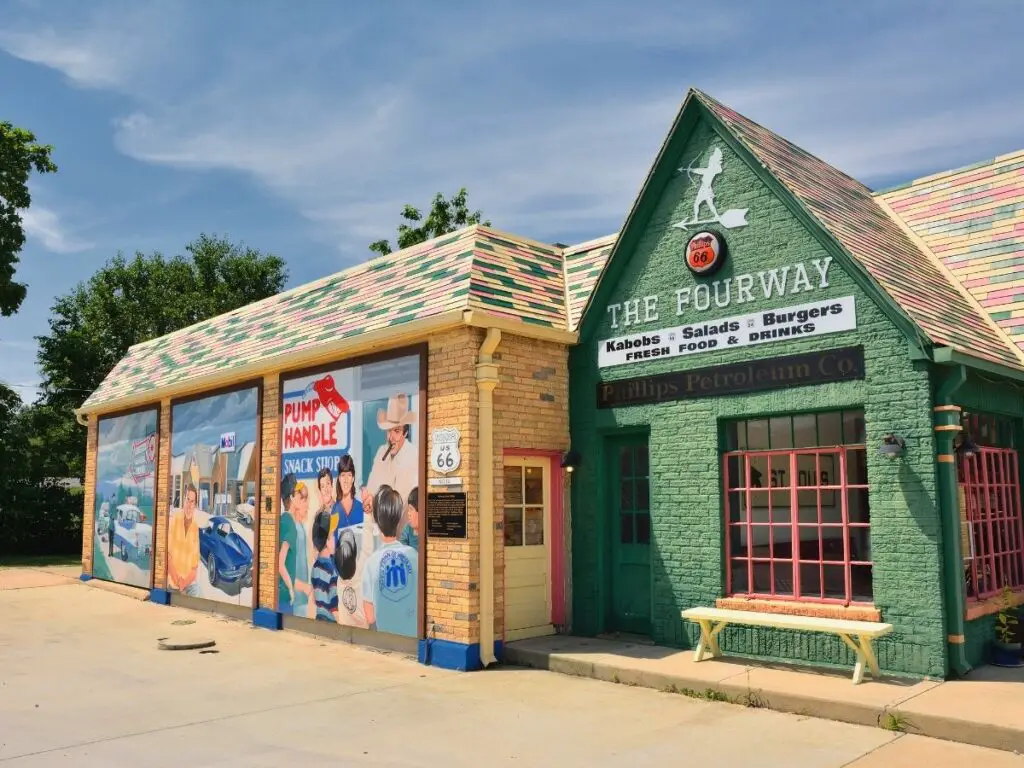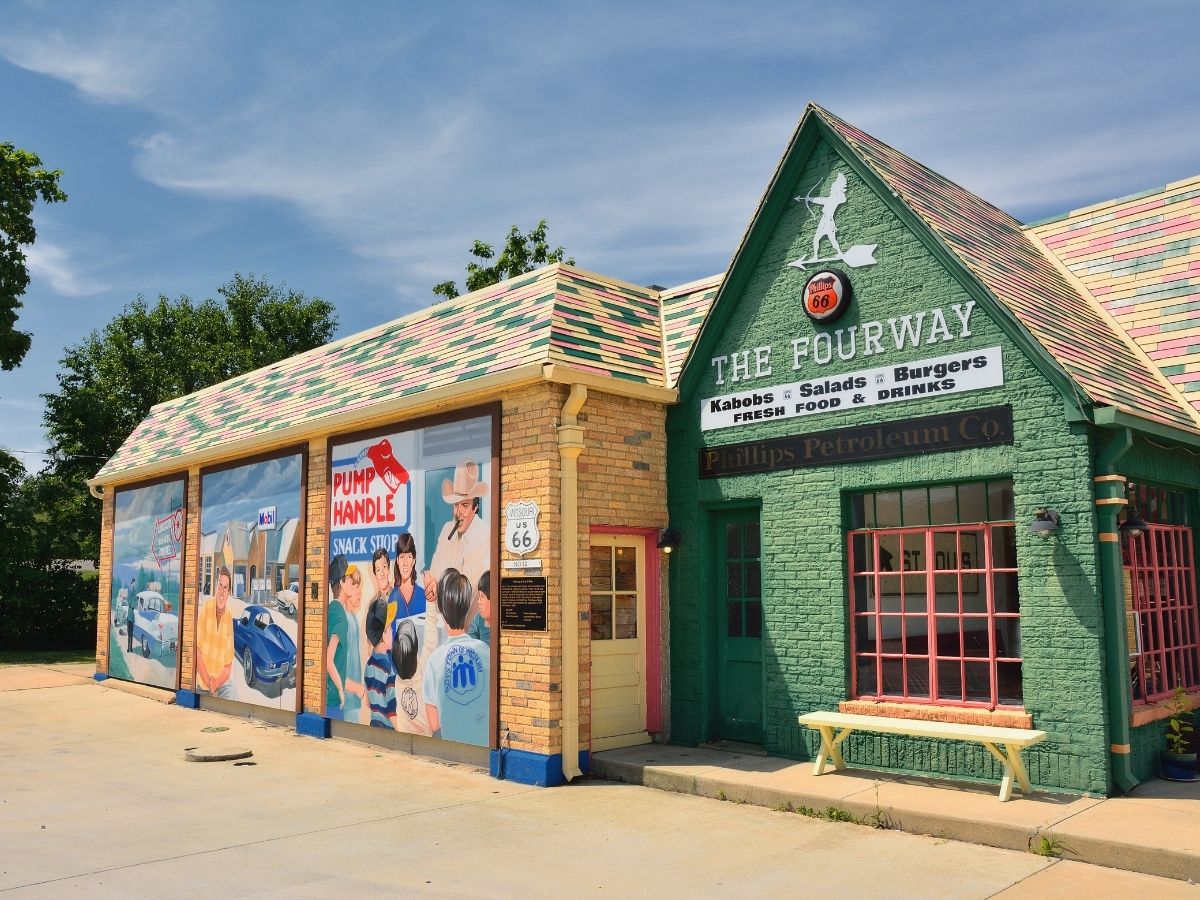 Cuba Murals
Location: Cuba, Missouri
A must stop on any trip through Missouri on Route 66 is Cuba. This small town has embraced Route 66 travelers with a tonne of murals to see through the town, many of which look at the history of the area. Plenty of old fashioned places to eat like the one based in an old gas station, although like many Route 66 establishments, it changes hands and names over the years – it's now called Weir on 66.
Wagon Wheel Motel
Location: Cuba, Missouri
While you're in Cuba you might want to rest your head at the Wagon Wheel Motel, one of the Route 66 stalwarts and classics. Built in 1935 it's been a favorite for many years and they boast that it's the oldest, continuously operated motel on the road.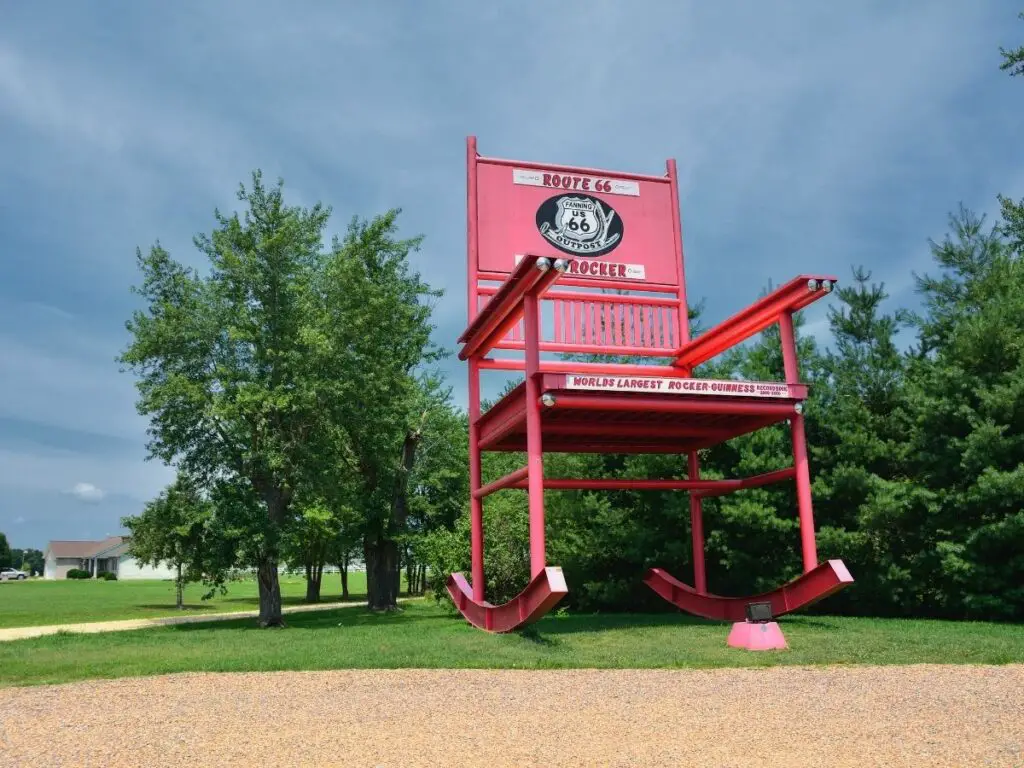 Giant Rocker
Location: Fanning, Missouri
This giant rocking chair is located in Fanning, Missouri. You used to be able to climb on to it, but I don't think you can any more. It was once the largest rocker in the world but has recently lost the title. It's still quite impressive though so well worth a stop on your trip west.
Neon Faucet Sign
Location: Outside St James, Missouri
This neon sign is situated outside Murdon Concrete company and looks unassuming to the untrained eye. It actually dates to 1948 and used to advertise a plumbing company.
Route 66 Motors
Location: Dillon, Missouri
This used to be a place to come and pick up a classic car and it was a favorite stop along the road for road trippers looking for a bit of car nostalgia. There was a gift shop too to pick up something unique.
It was up for sale for a few years, I'm unsure as to what the status is right now, but it's worth pulling over and seeing if there are still some classic cars around.
Mule Trading Post and Giant Hillbilly
Location: Outside Rolla, Missouri
Quirky and vintage souvenir shop selling tourist and Route 66 memorabilia. Has recently changed hands and seems to not be quite what it used to be, but the history of it is worth preserving. There's a giant hillbilly out front of the next shop which makes a great photo op too.
Miniature Stonehenge
Location: Rolla, Missouri
Rolla is a university city and houses the Science and Technology campus. One interesting thing in the city is a half sized replica of Stonehenge. It has some information plaques around it helpfully telling about how it was built and some of the science and history of it all.
John's Modern Cabins
Location: Newburg, Missouri
This old motor court has a real ghost town feeling. It was built in the 30s for passing traffic but closed down in the 60s and it's been in a state of disrepair since.
You can still see the remains of some of the log cabins and one is still standing (but for how long, who knows) – it's a very eerie place to see!
Larry Bagget's Trail of Tears Memorial
Location: Arlington, Missouri
A moving memorial that was built when a local man was informed that his property was on the trail of tears. The owner has recently died but the memorial is still being looked after and it's well worth a visit.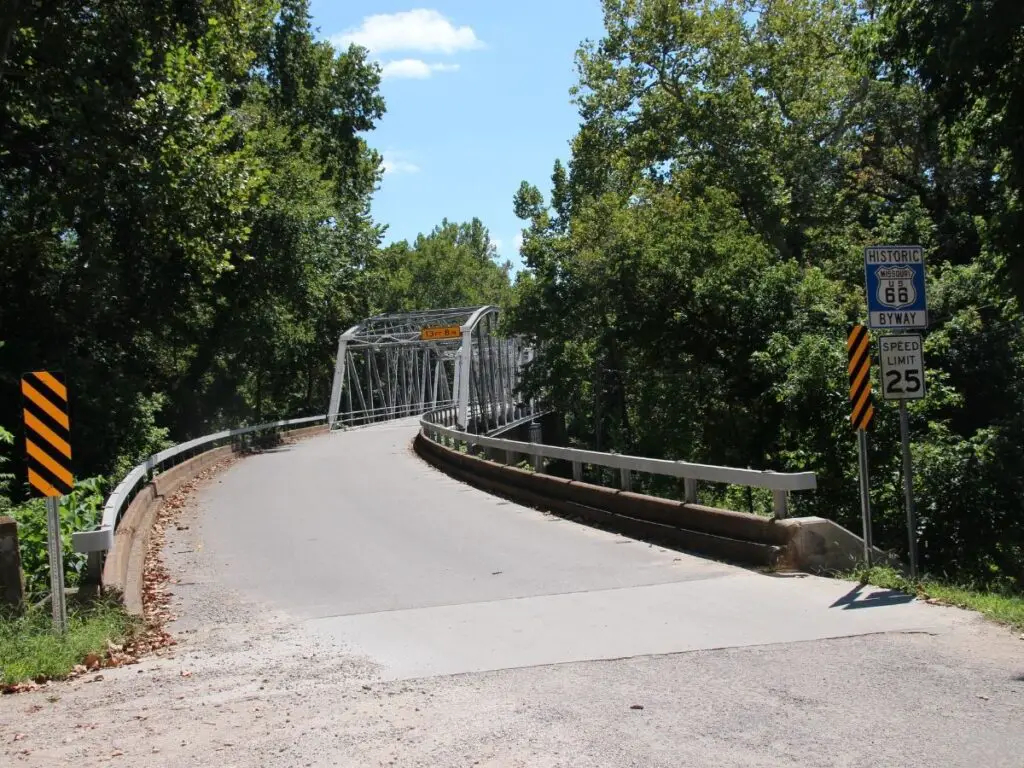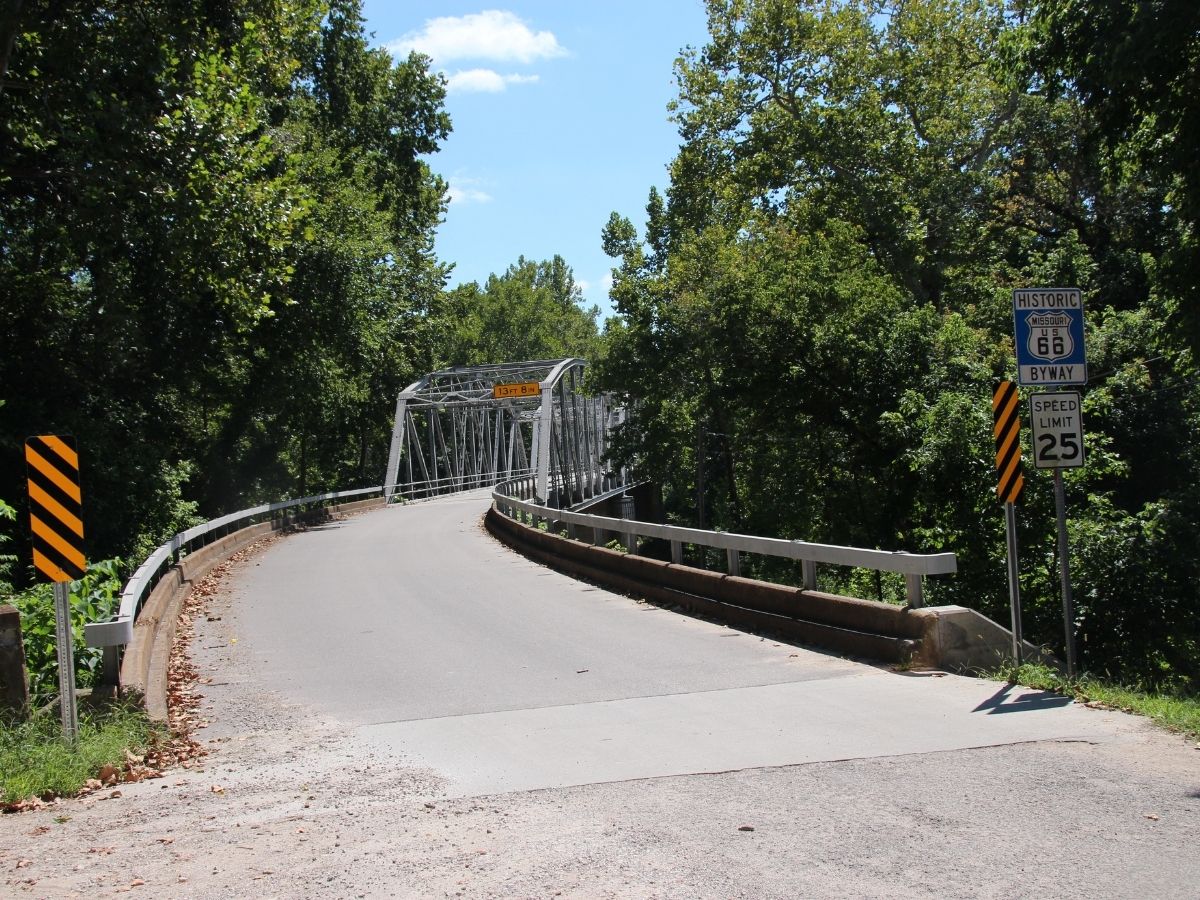 Devil's Elbow Bridge
Location: Devil's Elbow, Missouri
This area is a good example of how Route 66 changed over the years. It originally passed through Devil's Elbow, so named because logs would get jammed up on the river bend, but the winding roads made it a bit of a nightmare to drive, especially when used for WW2 traffic. It got bypassed to a bit further along and then bypassed again to be I-44.
Frog Rock
Location: Waynesville, Missouri
On the road west, look to your right to see a rock that was shaped like a frog. Over the years it was then painted to look even more like one!
Old Stagecoach Stop
Location: Waynesville, Missouri
Waynesville has a couple of places worth pulling over for so a good idea to factor in some time here. One is the Old Stagecoach Stop which was built by pioneers as a resting place for stagecoaches. It was taken over in the Civil War period and used a hospital.
Also check out the Route 66 courthouse a block away with a small museum too and some shops on the main road as well for souvenirs.
Gasconade River Bridge
Location: Hazelgreen, Missouri
This is an old bridge which has fell in to disrepair lately and has been closed to vehicles. Worth checking out to see this one – hopefully it can be restored so it can be enjoyed again.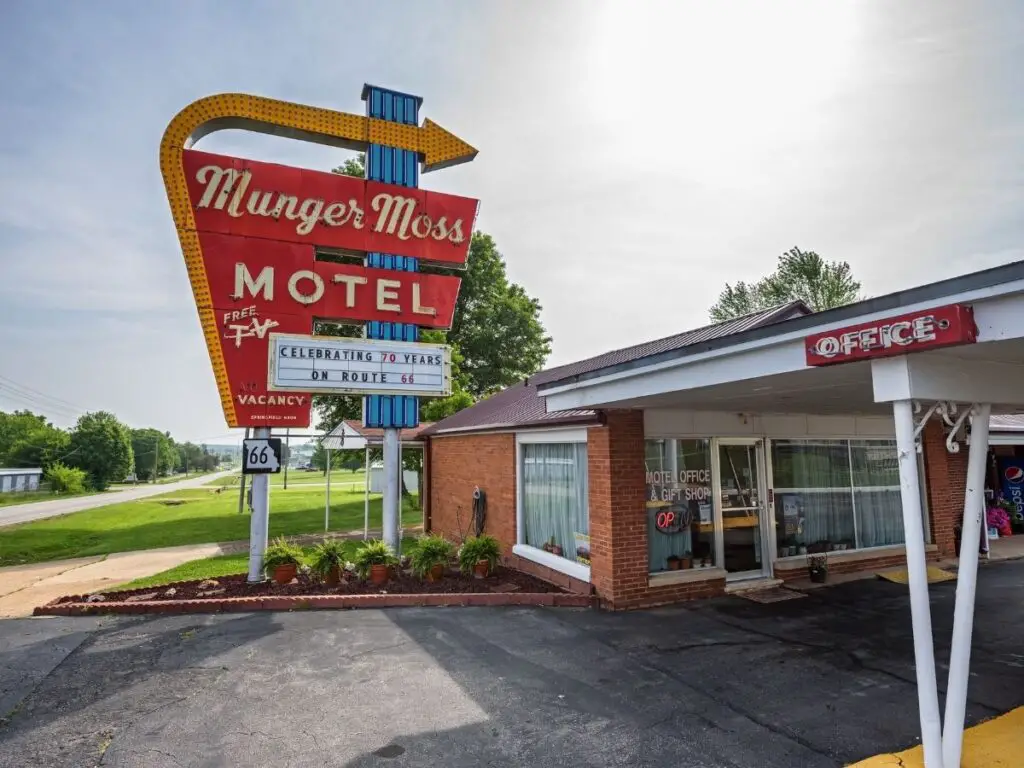 Munger Moss Motel
Location: Lebanon, Missouri
One of the best preserved motels on the entire road is Munger Moss and for that reason it's a must stop for many travelers on the road. There's a fabulous neon sign outside which lights up at night and it's perfect for getting those retro vibes overnight!
Conway Rest Area
Location: Near Conway, Missouri
The Conway Rest Area is a service station on I-44 with a welcome center for Route 66 information. There's a neon sign and plenty of route 66 memorabilia for photos.
Rest Haven Motel
Location: Springfield, Missouri
If you want to stay a while in the city of Springfield but still want some old style Route 66 charm then a stop at the Rest Haven Motel is a must. There's a large neon sign outside that is still lit up on an evening to top it off!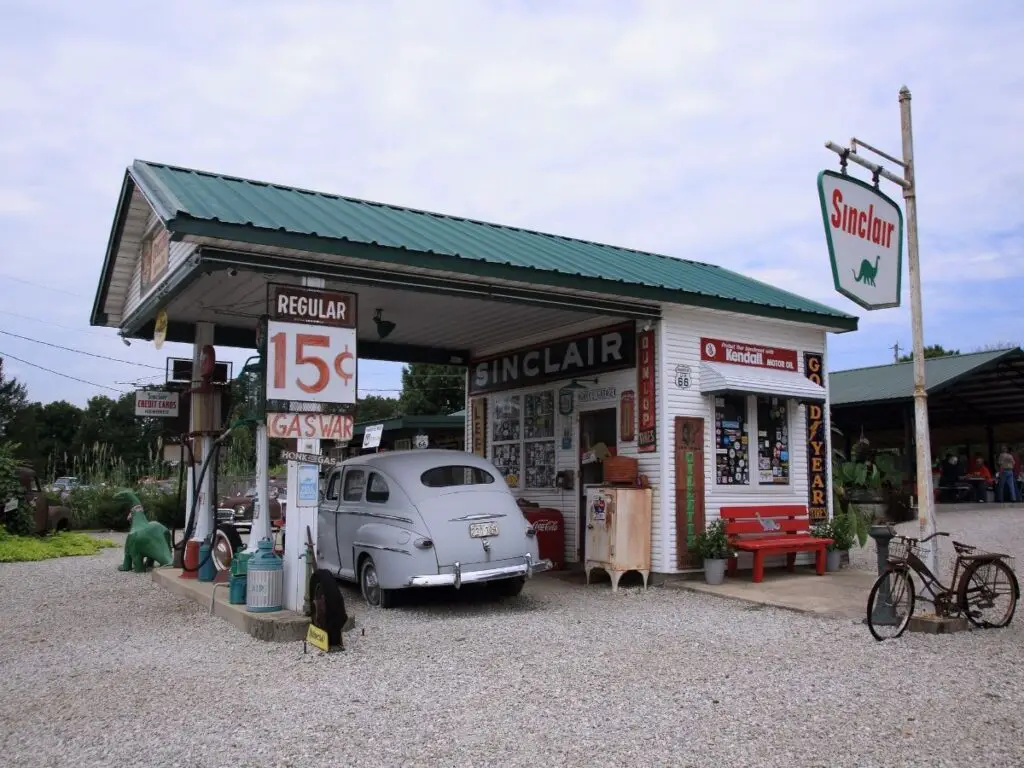 Gay Parita
Location: Paris Springs, Missouri
This restored gas station is an absolute joy and run by enthusiastic owners who will happily chat to you when you come by. With classic cars, restored gas pumps and route 66 memorabilia it's a must stop on the road.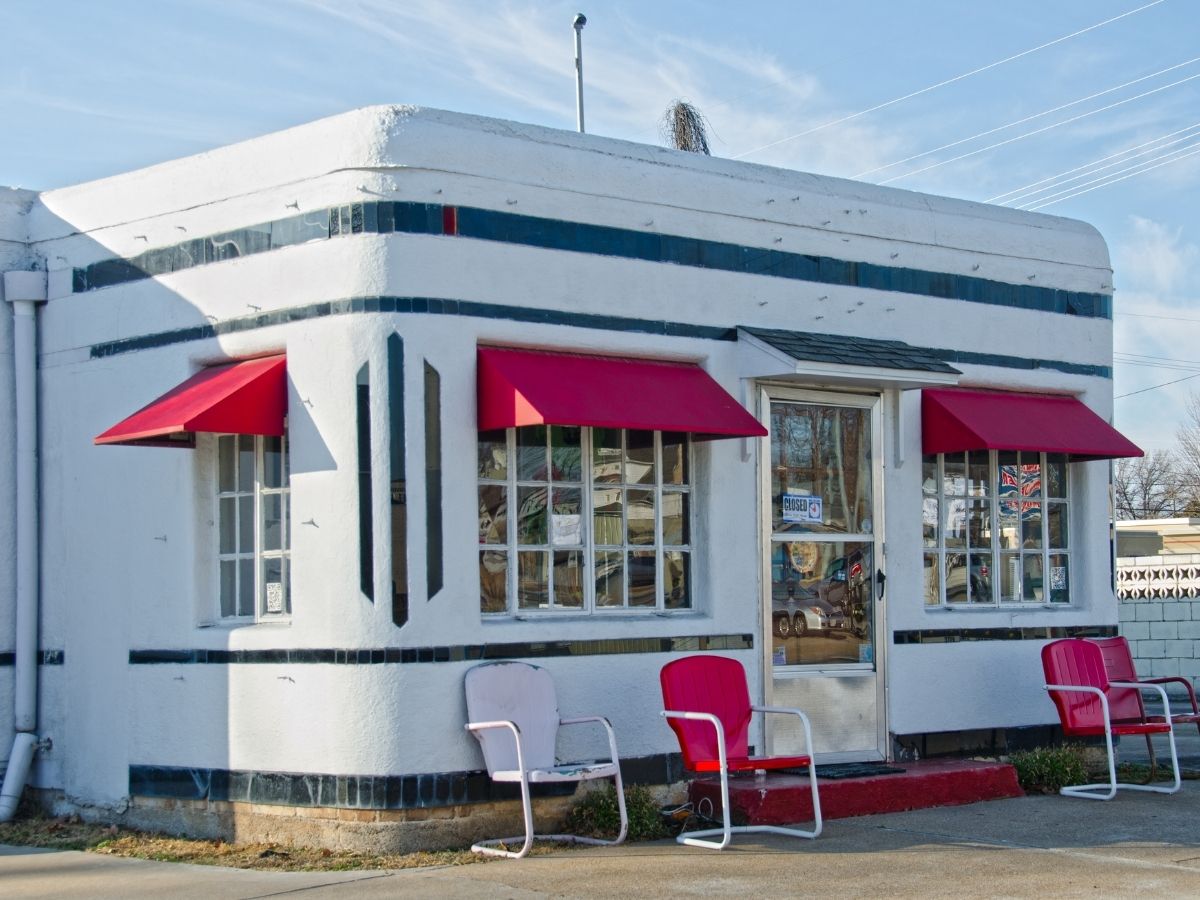 Boots Court Motel
Location: Carthage, Missouri
A gorgeous example of a retro motel to rest your head in Missouri and before you hit the next state on the road, Kansas. This one was built in 1939 and was saved from demolition at one point. Hard to imagine that happening to such an icon. It's since changed hands and hopefully the new owners will have it open to visitors very soon.
Carthage Drive IN
Location: Carthage, Missouri
This drive in movie theatre is a must stop if you're looking for that retro american feel on your road trip. This place has been entertaining locals and travelers for many years on the road and it's a great example of a drive in, of which there aren't lots still left.
Combine it with a stay at the Boots Court Motel which is close by.
Still got questions? Join our FREE Route 66 community!
Come and join our FREE Facebook group where you can get help with planning your Route 66 road trip of a lifetime!