Route 66 attractions and roadside stops are one part of what made the historic road special over the years. Especially in the heyday of road trips for leisure purposes, in the 50s and 60s, the roadside attractions really made the journey.
There are so many thing to see on Route 66. All along the road, through all of the 8 states, small businesses would try and catch the attention of passers by to their establishments. They'd build giant, quirky landmarks that you could see as you were driving, or they would have constant advertisements saying how far you were from it so that eventually you were excited to see what it was!
You'll see murals, giant statues, museums, natural attractions, shops, motels and diners on the historic mother road. Sometimes you'll see all of that in one stop!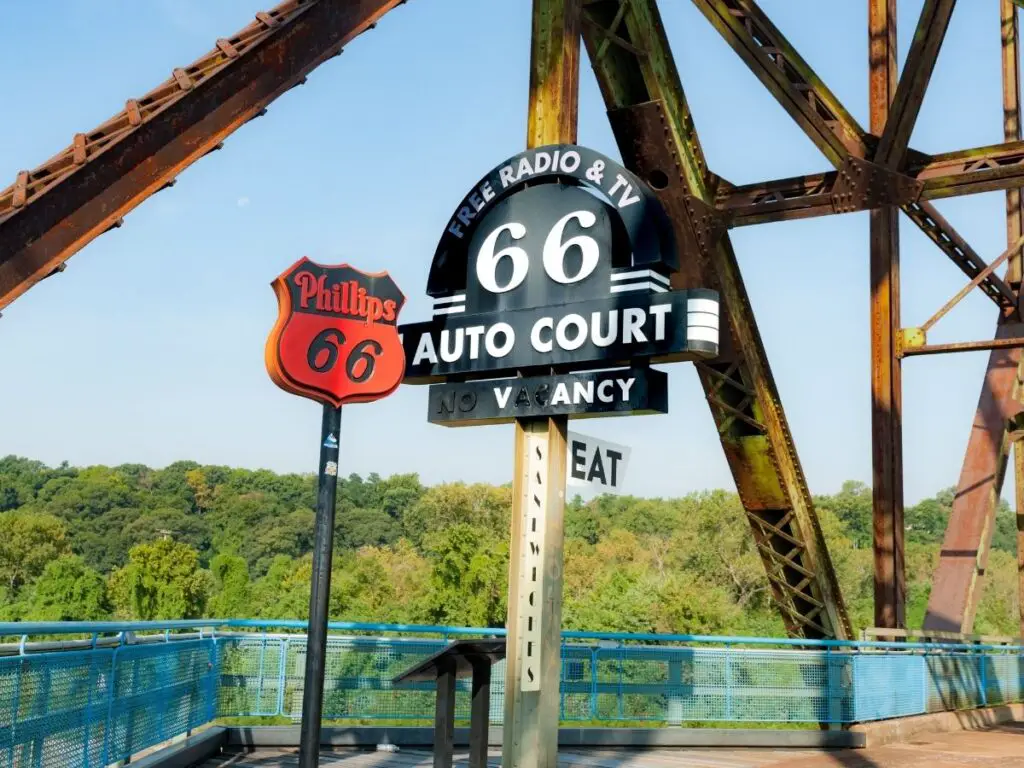 I loved seeing all the roadside stops on our Route 66 trip, I love a good photo opportunity and there are plenty of them on the road!
I do wish we weren't all going through a weird selfie phase at the time though – some of our pictures are so funny, but probably not good for framing! That's what this road trip is about though, having fun!
There's always more to see as well. Even though we researched our trip as well as we could, we still missed a lot, so a return journey will always sound like a good idea. Don't worry if you miss spots – always be open to more exploration at a later date!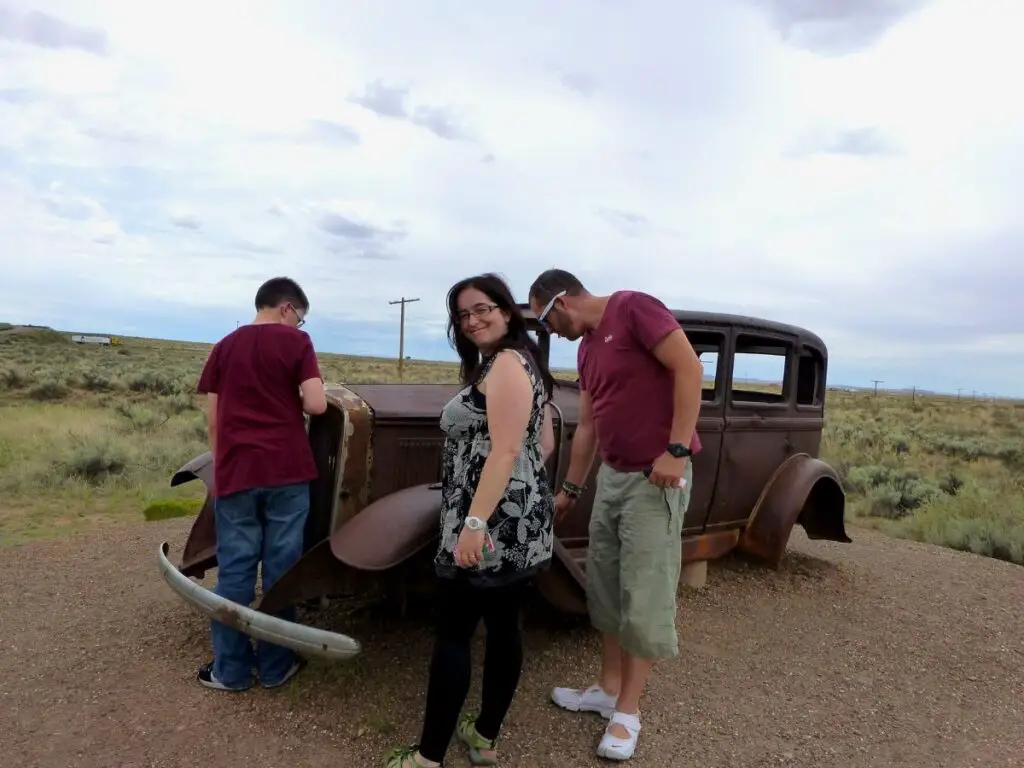 State by State guide to Route 66 Attractions and things to see
Now, this post is by no means a definitive guide to the stops and attractions that you will see on the entire Route 66 from beginning to end so please don't shout at me for missing something. It's purpose is to hopefully give you a good overview of what you can see, prepare you for the rabbit hole of research and get you interested in planning your trip along the road.
For a more in depth look at each state you can click on the links to take you each state's attractions (coming soon!) where you'll see much more than what's on this list.
Illinois
The Prairie State gets us started on Route 66 with lots of attractions that are worth pulling over for. Let's take a look at some of the top sights in the state: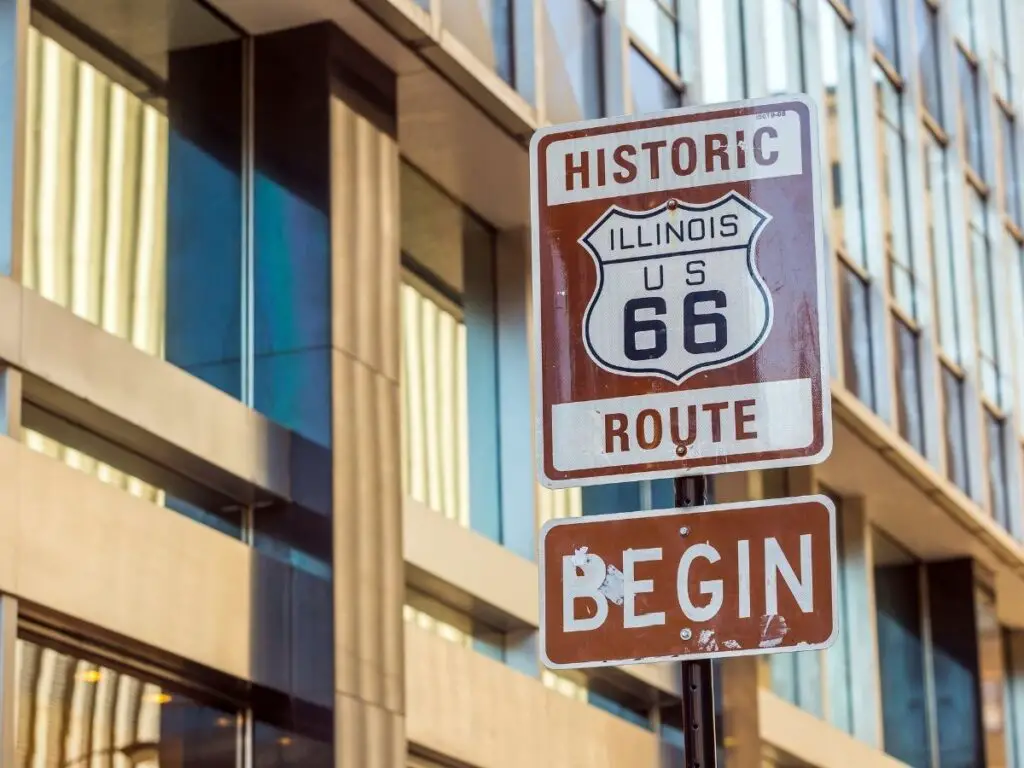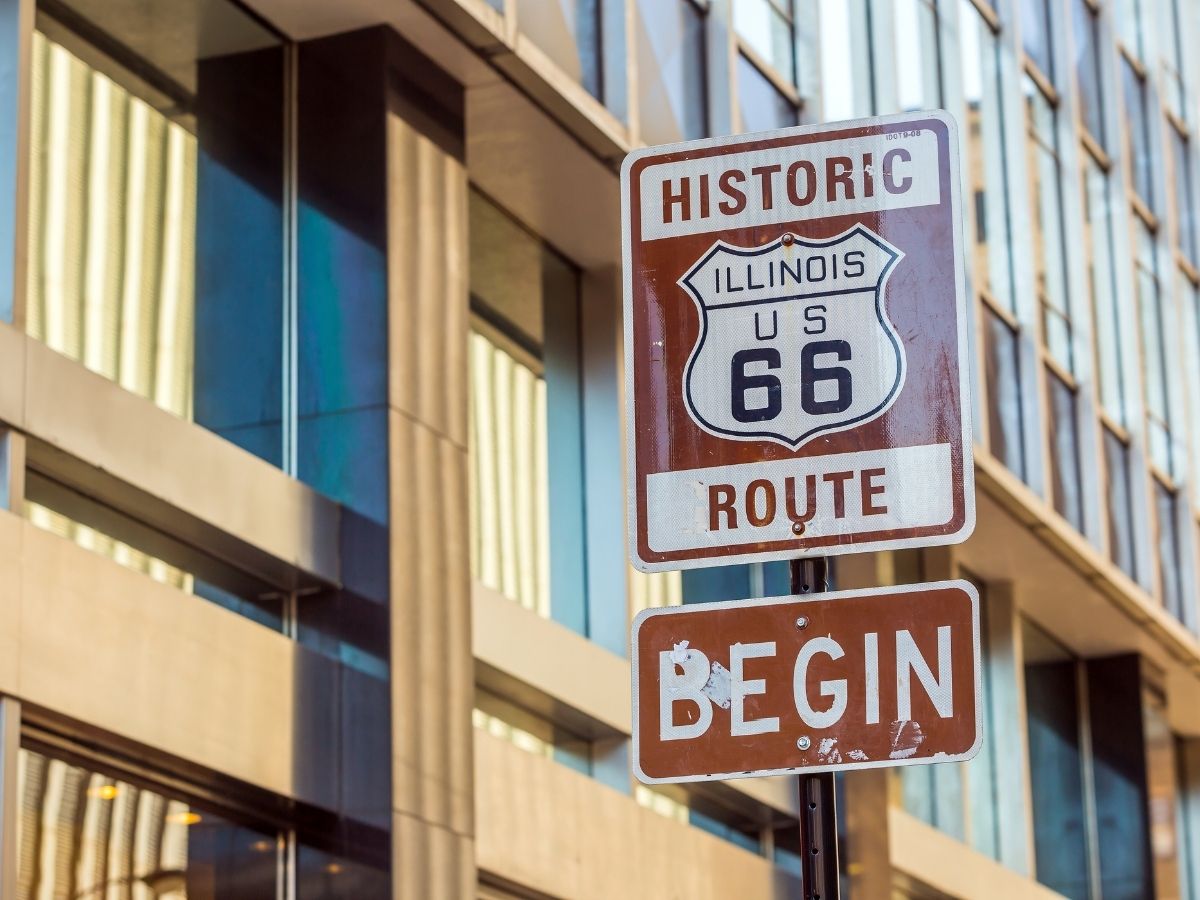 Route 66 begin and end sign
Location: Chicago, Illinois
Where most people begin their trip along Route 66, but many others end it. The Begin sign is at the corner of Adams Street and Michigan Avenue and the End sign is on the corner of Jackson and Michigan, one block south. The roads were made one way in the 50s which is why the begin and end signs are on different streets.
Gemini Giant Muffler Man
Location: Wilmington, Illinois
Wilmington, Illinois is home to one of the most recognizable Route 66 icons on the road – the Gemini Giant. He was a muffler man, a statue that was seen a lot outside 'muffler garages' in the 50s. Many of the statues were personalised and moved to different locations over the years like this one that got a space theme.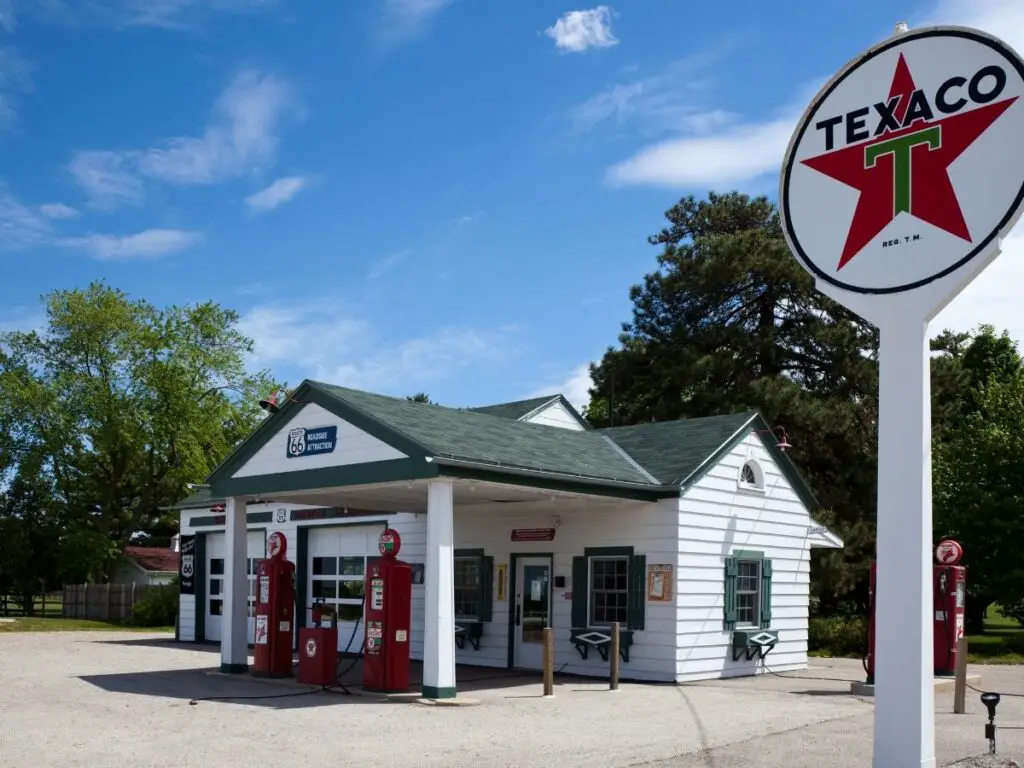 Dwight restored gas station
Location: Dwight, Illinois
You'll see a lot of restored retro gas stations along route 66 and this one in Dwight, Illinois is a nice example of one. It dates all the way back to 1933 and has a cottage style which was due to oil companies not wanting to intrude on local life.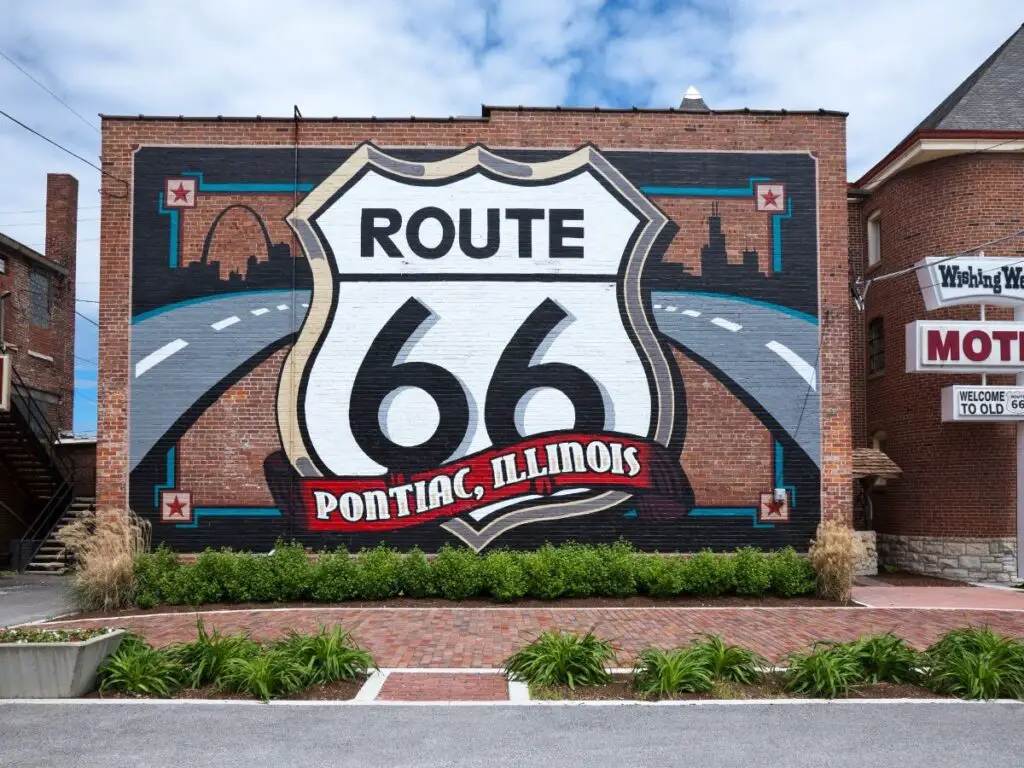 Pontiac museums
Location: Pontiac, Illinois
Home to the car brand and a number of museums about various topics, Pontiac is a great place to stop in Illinois on Route 66.
You'll find murals, a car museum and also a Route 66 museum.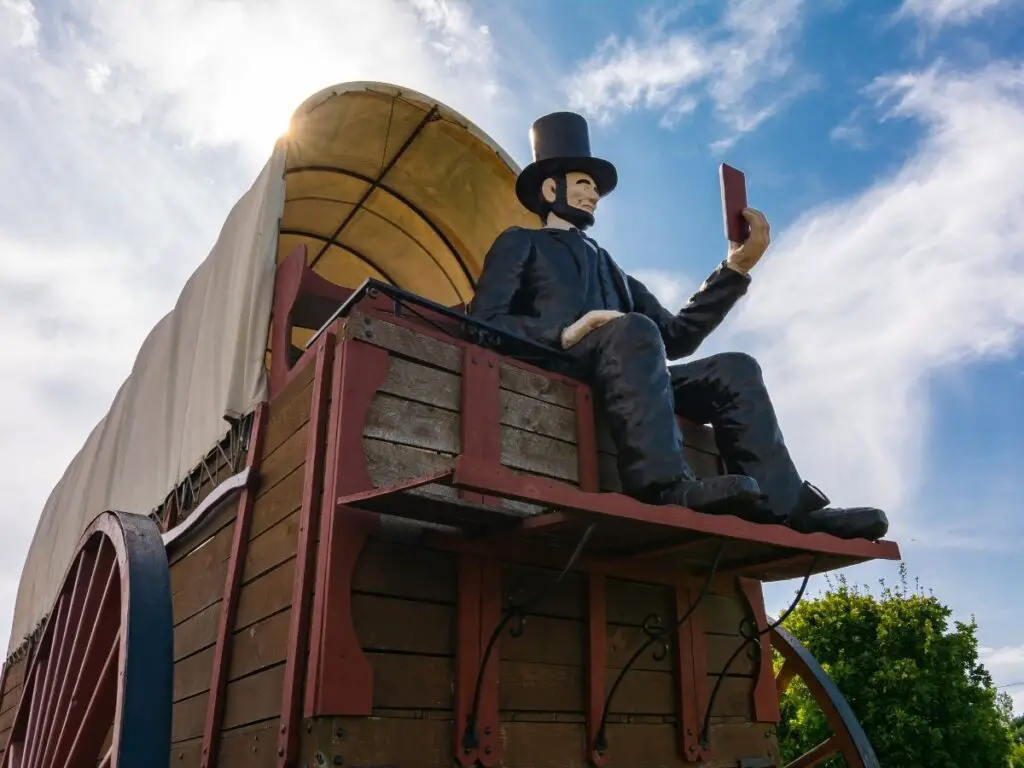 World's biggest covered wagon
Location: Lincoln, Illinois
Not far from the old road is the 24 ft tall covered wagon in Lincoln. Sat upon the wagon is Abraham Lincoln for whom the town was named. It's a perfect example of something made giant to encourage road trippers to slow down and stop for a photo.
Henry's Rabbit Ranch
Location: Staunton, Illinois
Not just a place with furry rabbits, although there are a couple of them around you might be able to see. This stop is a resting place for many old vehicles, a shop with unique items and plenty of photo opportunities. There's a giant rabbit and some Volkswagen Rabbits buried in the ground not unlike the Cadillac Ranch in Texas! A fun stop.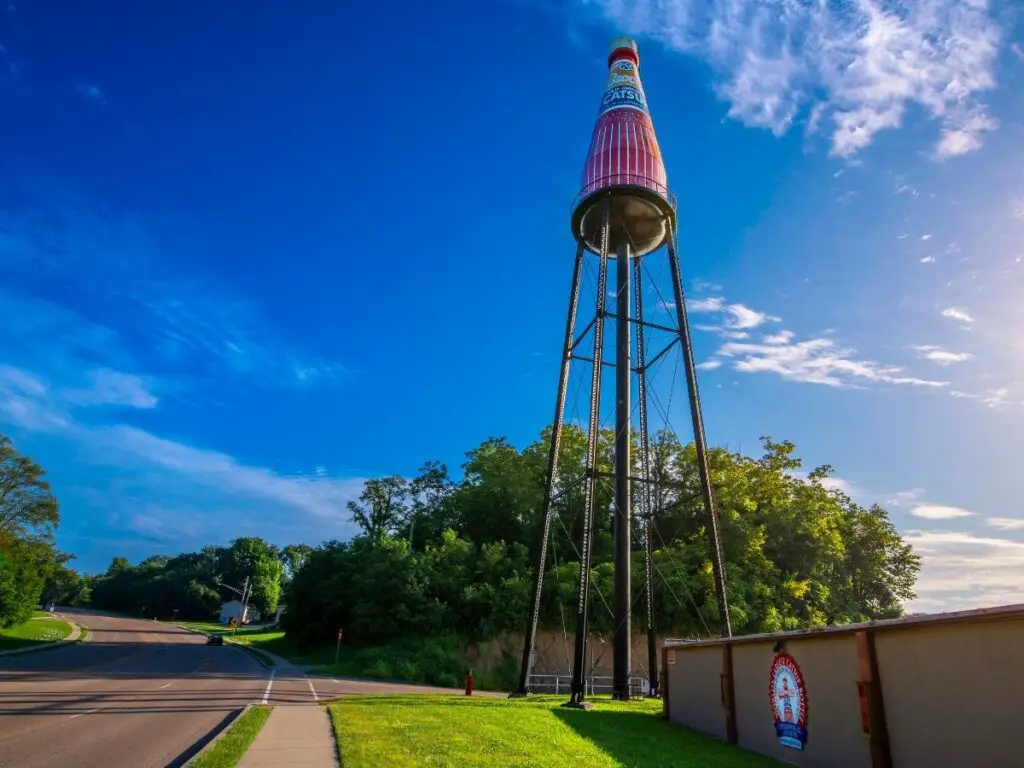 World's largest catsup bottle
Location: Collinsville, Illinois
Another of the world's largest – this time a catsup (ketchup) bottle. It's actually a water tower been made to look like a bottle of catsup made by a local company. In total it's 170ft tall!
Chain of Rocks Bridge
Location: North of St Louis between Illinois and Missouri
Crossing the Mississippi River and over into Missouri is the Chain of Rocks Bridge. One of the interesting bits about this bridge is the angle in the middle of it – it's not a straight bridge!
It's no longer in use as a vehicle bridge but you can visit and walk and cycle over it. There are some photo opportunities and retro signs up on the bridge too.
Read our post on more Route 66 Attractions in Illinois here
Missouri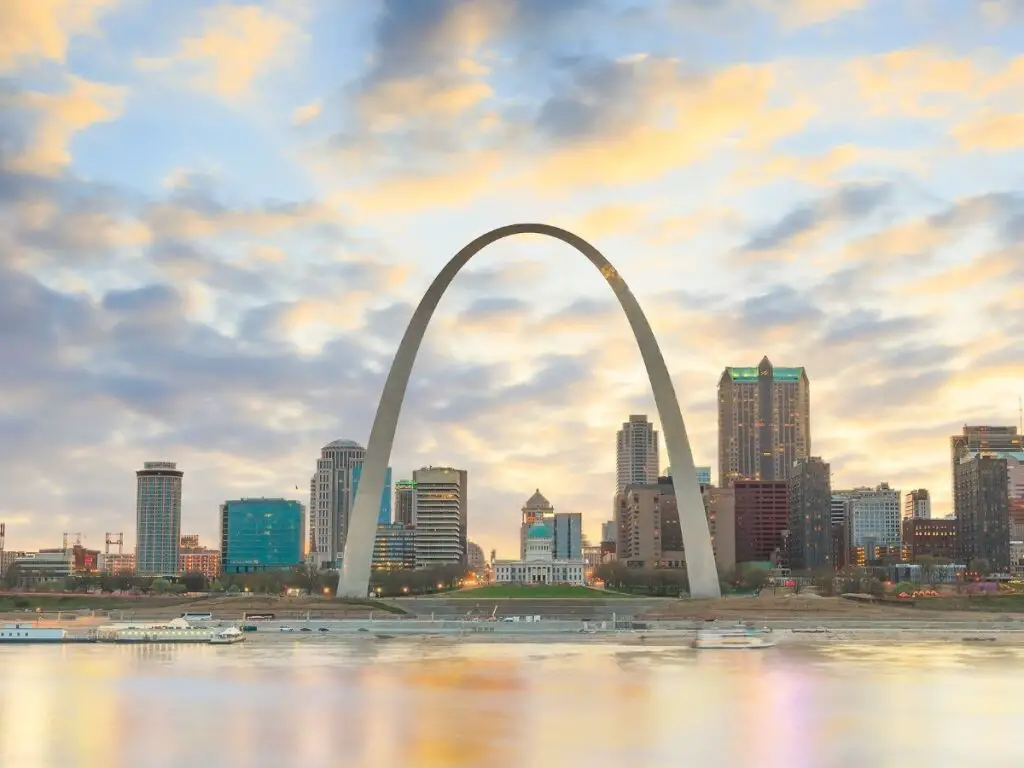 Gateway Arch
Location: St Louis, Missouri
Assuming you're taking time out in St Louis then you can't miss (literally and figuratively) the Gateway Arch. Ascend to the top for amazing views over the Mississippi River and chill out at the bottom in the smallest National Park in the USA.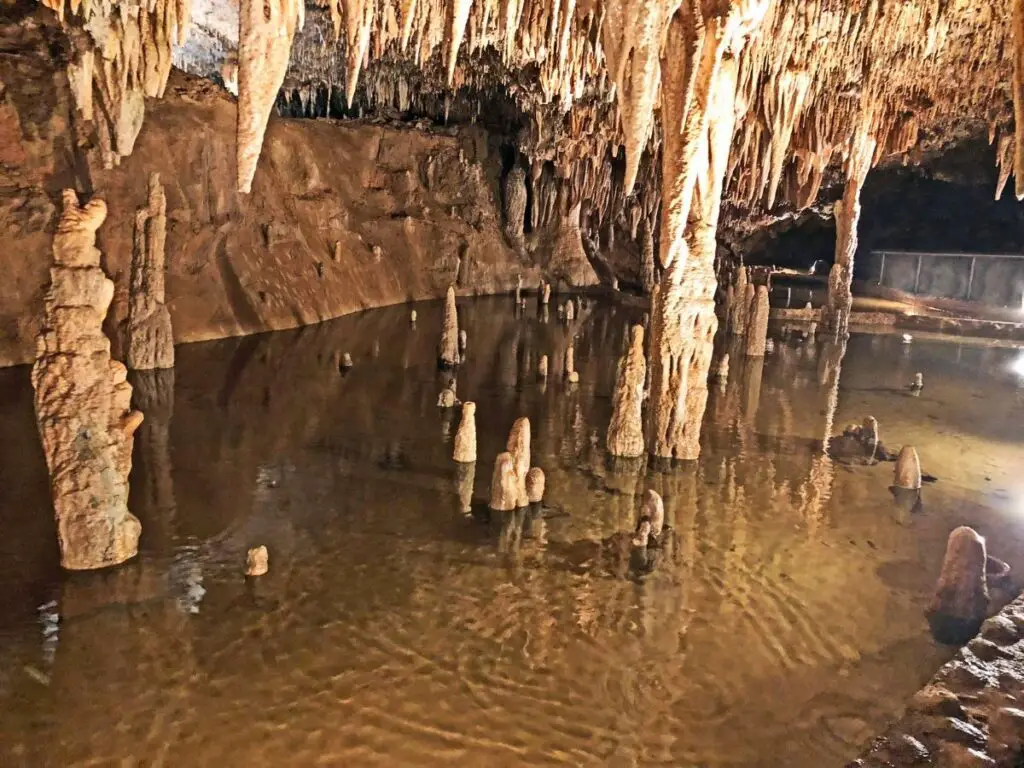 Meramec Caverns
Location: Stanton, Missouri
One of those attractions that you see signposted for miles, in what is quite a good martketing technique, is Meramec Caverns. Lots of history is told about the caves, but much of it could well be elaborated on to entice people to visit, such as the tale about outlaw Jesse James hiding out there.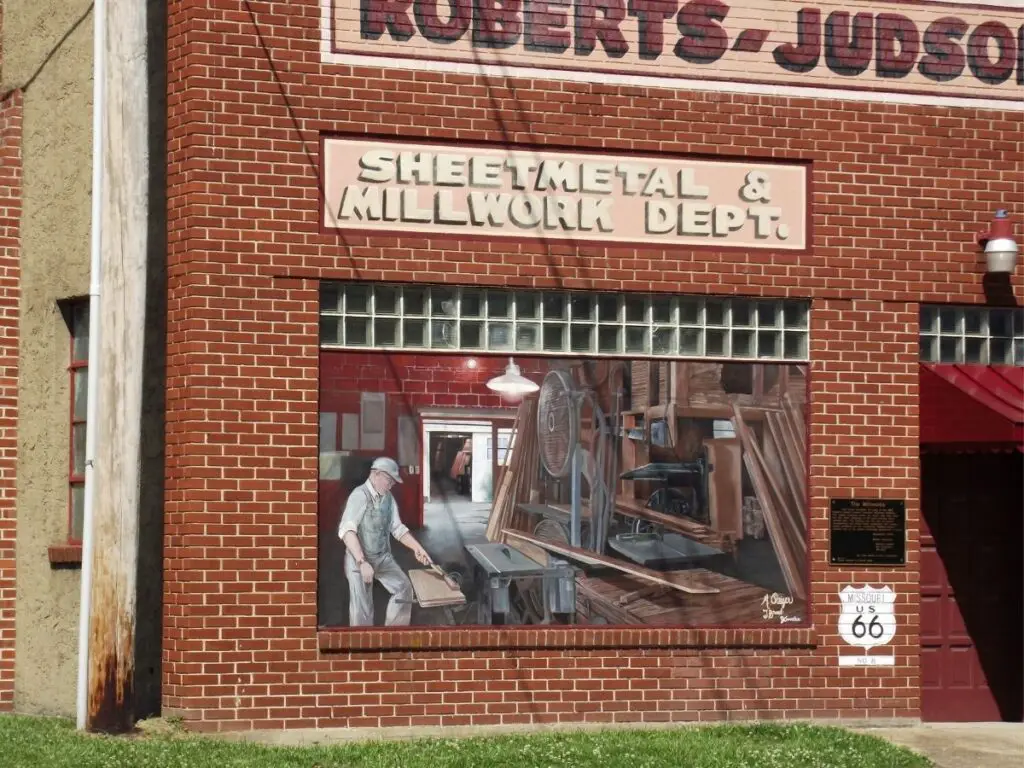 Murals in Cuba
Location: Cuba, Missouri
Cuba is a fun town that is very proud of its Route 66 heritage. There are a number of murals around Cuba depicting historical scenes form the area like the one above that my father in law took of the metalwork history (he's a steelworker in the UK so connected straight away!)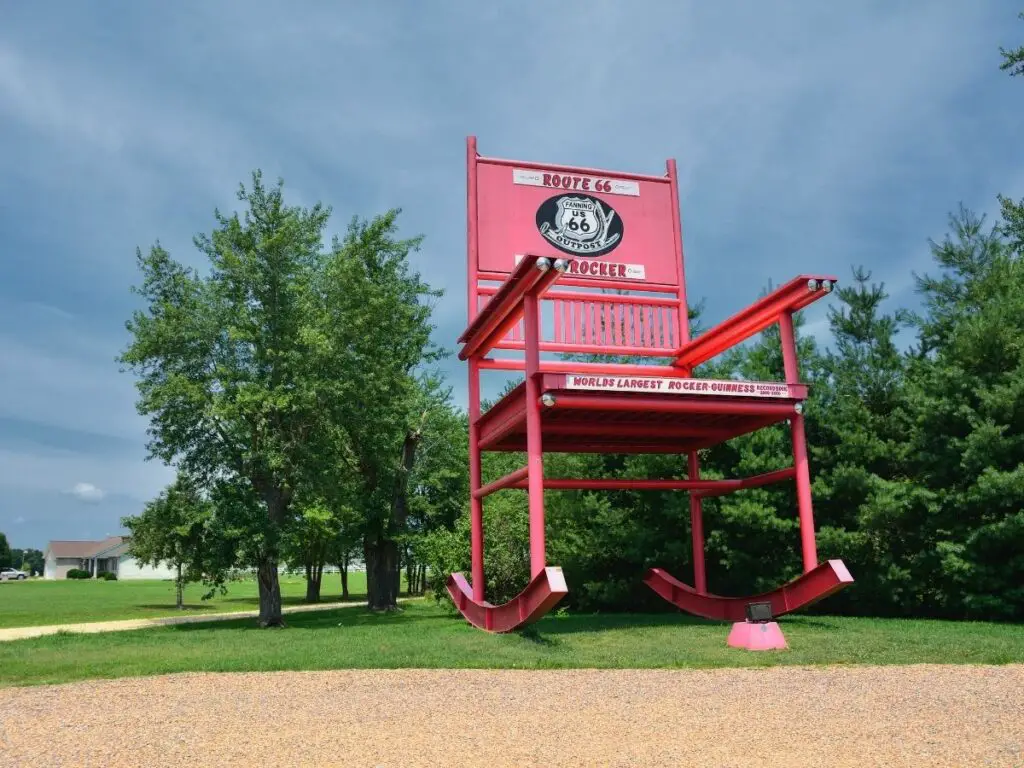 World's largest rocker – Fanning
I think we're seeing a pattern developing here of people making these attractions and stops so big that they end up in the Guinness book of records!
This one is a large rocking chair in Fanning, Missouri. (It's no longer the largest but still worth a stop all the same!)
Larry Baggett's Trail of Tears Monument
Location: Jerome, Missouri
This area of the USA is part of the Trail of Tears which is a route that displaced Native American tribes were forced to travel to new lands. It's a tragic tale that I confess I know little about and am learning. In Missouri one man whose land the trail went through set up a monument to the past there. It's recently been taken over after the original owner died and well worth a stop if you can.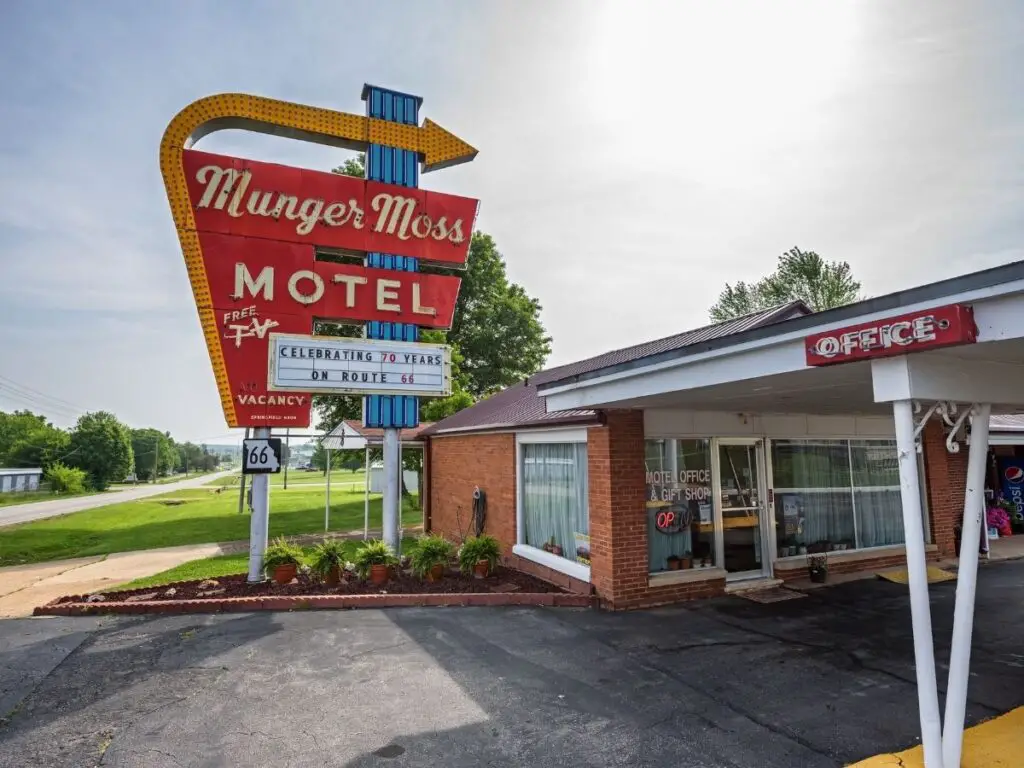 Munger Moss Motel
A gorgeous example of a retro and historic motel on Route 66 is the Munger Moss just outside the town of Lebanon. Neon signs were again such a classic way that businesses would attract customers to their place and this one doesn't disappoint. Even if you don't stop the night it's a must see photo opportunity.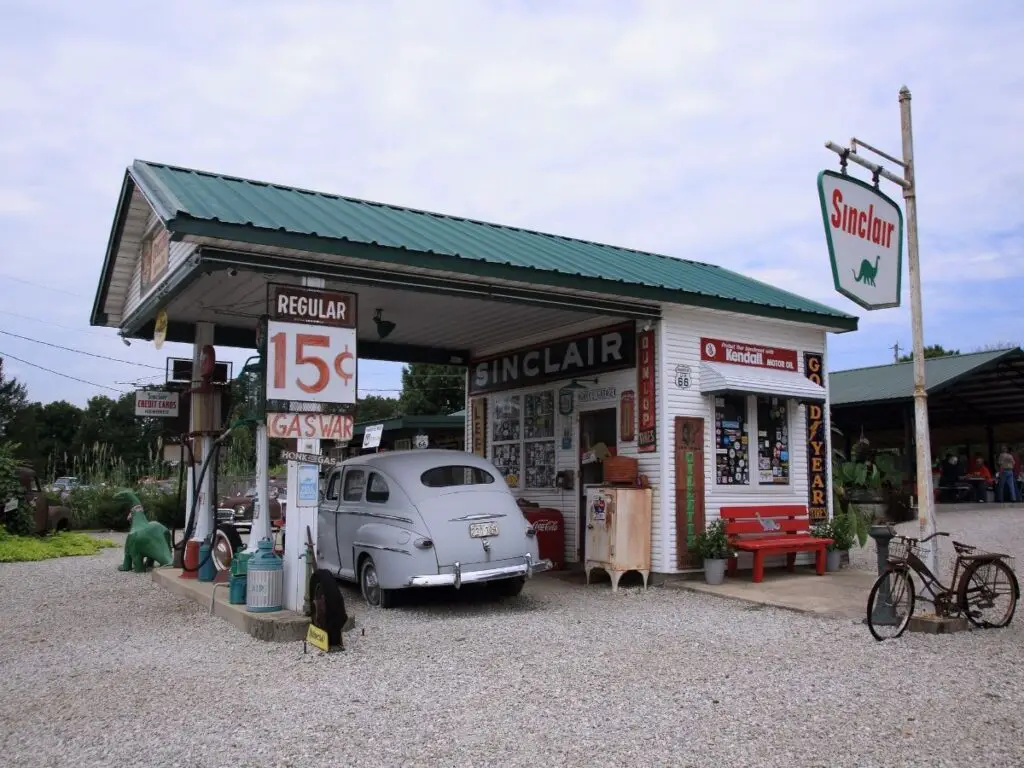 Gay Parita Filling Station
Location: Paris Springs, Missouri
This retro and 1930s style filling station is just classic Route 66 and what everyone imagines they'll see on the road. It's a restored gas station surrounded by classic cars, a shop with a tonne of vintage things to see and buy and often classic car shows too.
Route 66 Drive In Theatre
Location: Carthage, Missouri
You can't get more old school than a drive in movie theatre and there's one right on the road in Carthage that's been around since the 40s. If you're planning to stop nearby then it's a great night out, especially if you don't really get drive in theatres where you live like me!
Read our post on more Route 66 Attractions in Missouri here
Kansas
With only a short stretch of Route 66 going through their state the people of Kansas have been conscious of keeping the history alive on their patch.
The original Tow-mater from Disney's Cars
Location: Galena, Kansas
In the town of Galena you must stop to see the original inspiration for the character Mater who was the tow truck in Disney Cars. And if you haven't seen Cars, even adults love it so I highly recommend it and then you can look out for real life Radiator Springs locations along the road!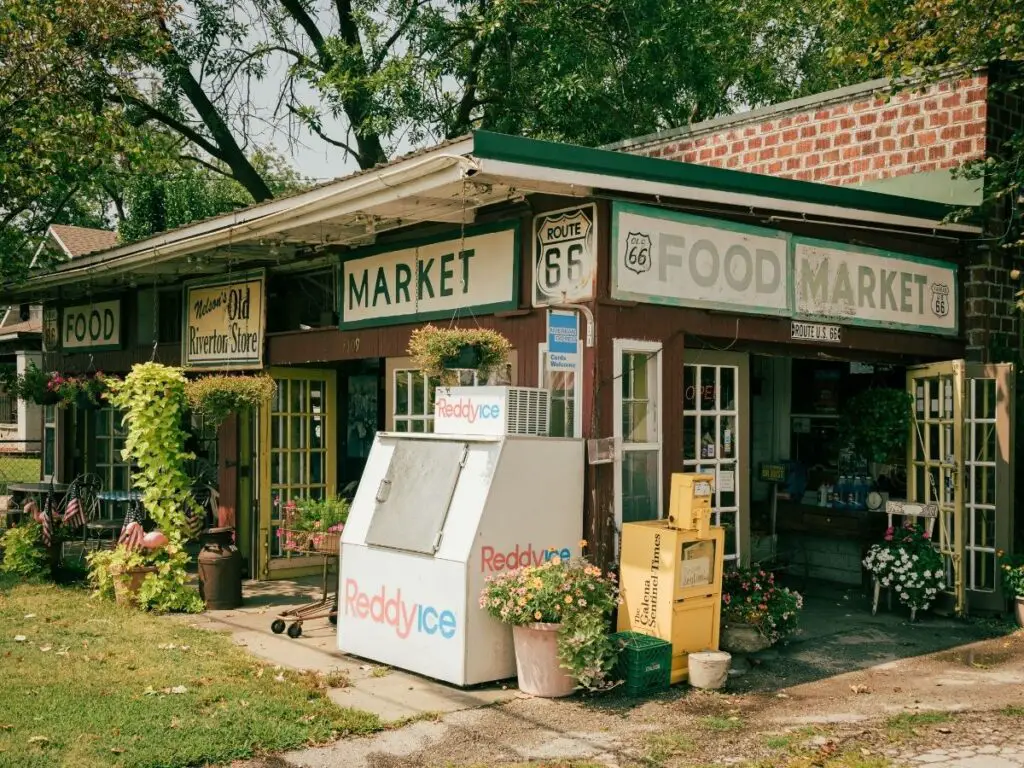 Riverton store
Location: Riverton, Kansas
Another classic old world store where you can buy just about anything and everything. Slow down, get yourself a bite to eat and enjoy the blast from the past in Riverton.
Baxter Springs Visitor Centre
Location: Baxter Springs, Kansas
Baxter Springs Visitor Centre used to be a gas station and repair garage in the days when Route 66 was thriving. It's since been restored to a tourist attraction and information centre.
It's situated in the centre of the town which means you get to explore all the shops and cafes nearby in this really quaint, historic place.
Read our post on more Route 66 Attractions in Kansas here
Oklahoma
There's so much history to be told in Oklahoma and if you're looking for that you'll see a lot. It's where the Route 66 idea came from and the state is very proud of the road here. You'll find it's easy to drive in Oklahoma too.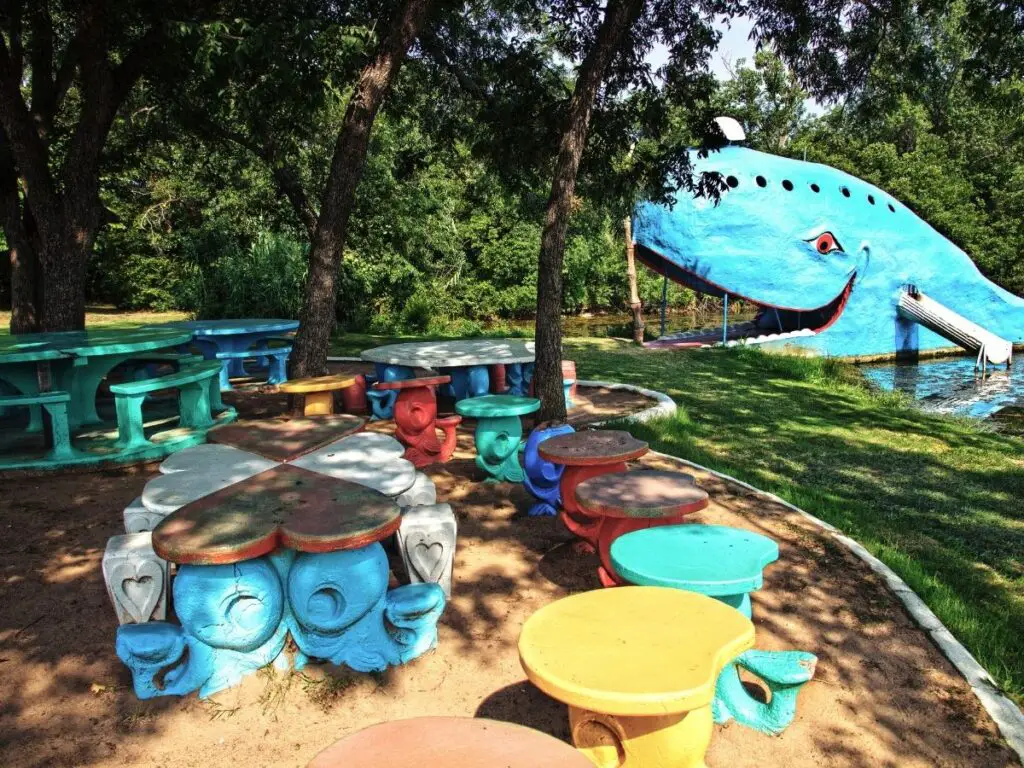 Blue whale
Location: Catoosa, Oklahoma
A classic Route 66 roadside attraction. Stop for a while here and let your kids run around and have a play. The Blue Whale used to be a swimming hole for locals and travellers until the site closed in the late 80s. Like many sites along route 66, locals raised money to restore it as an historic landmark.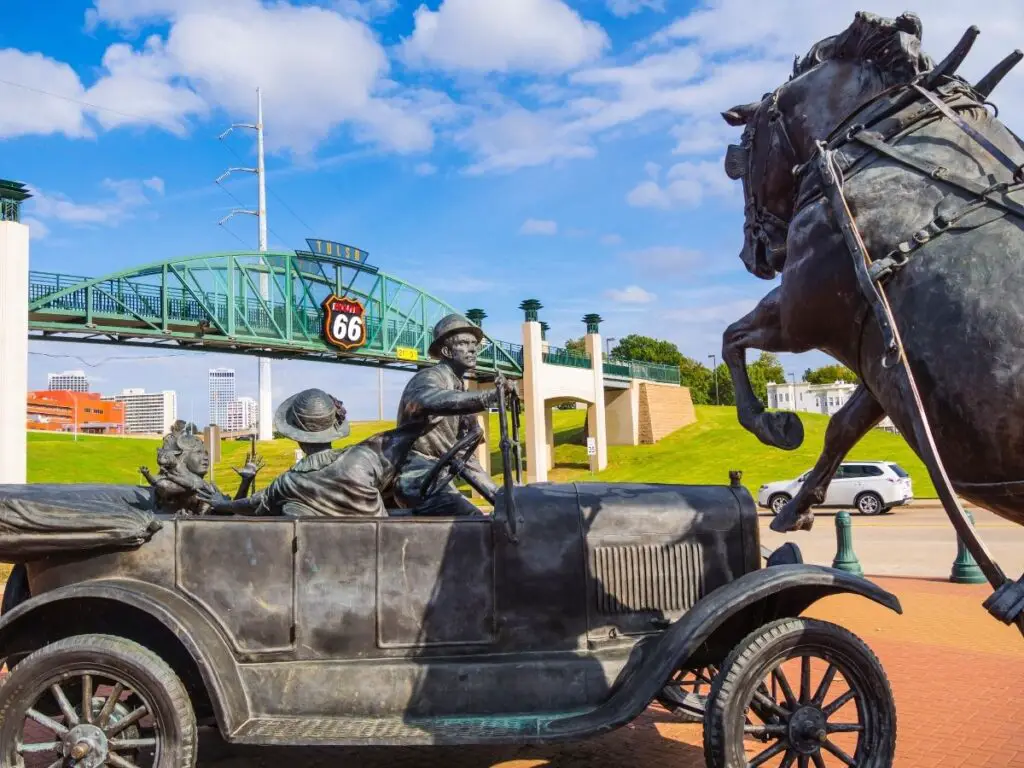 Cyrus Avery Centennial Plaza
Location: Tulsa, Oklahoma
If you're driving through Tulsa then a great place to stop for a bit of fresh air is the Centennial Plaza. It's dedicated to Cyrus Avery, the man who came up with the idea for Route 66 and there's a lot to see in the park including a really striking 'East meets West' statue.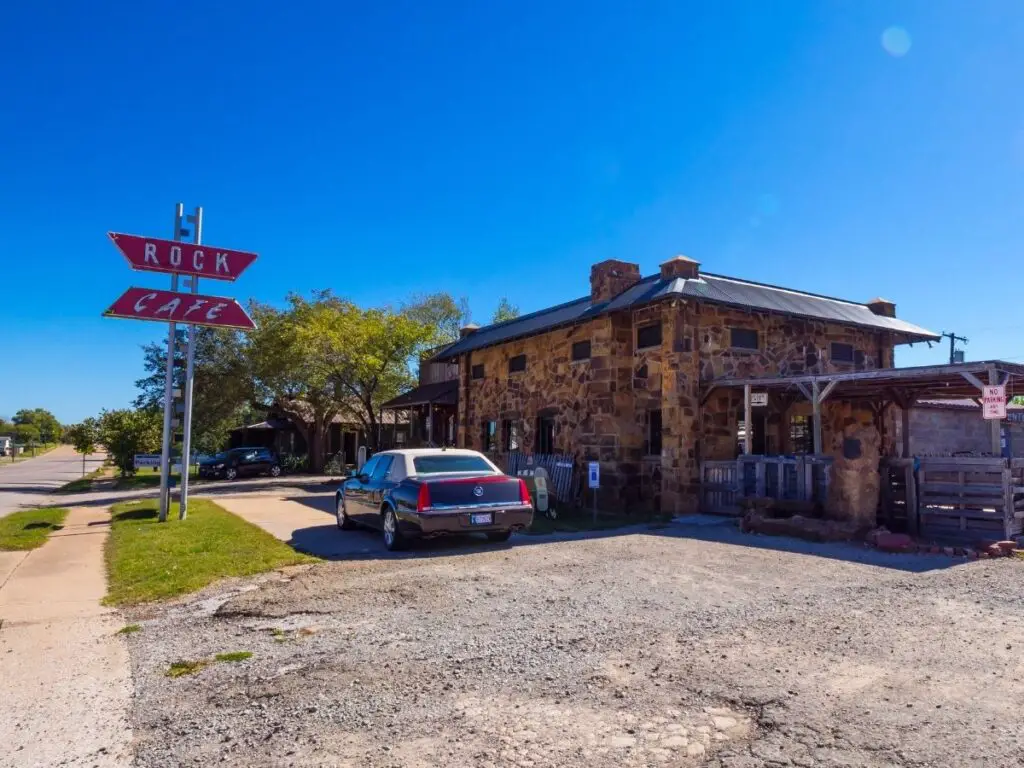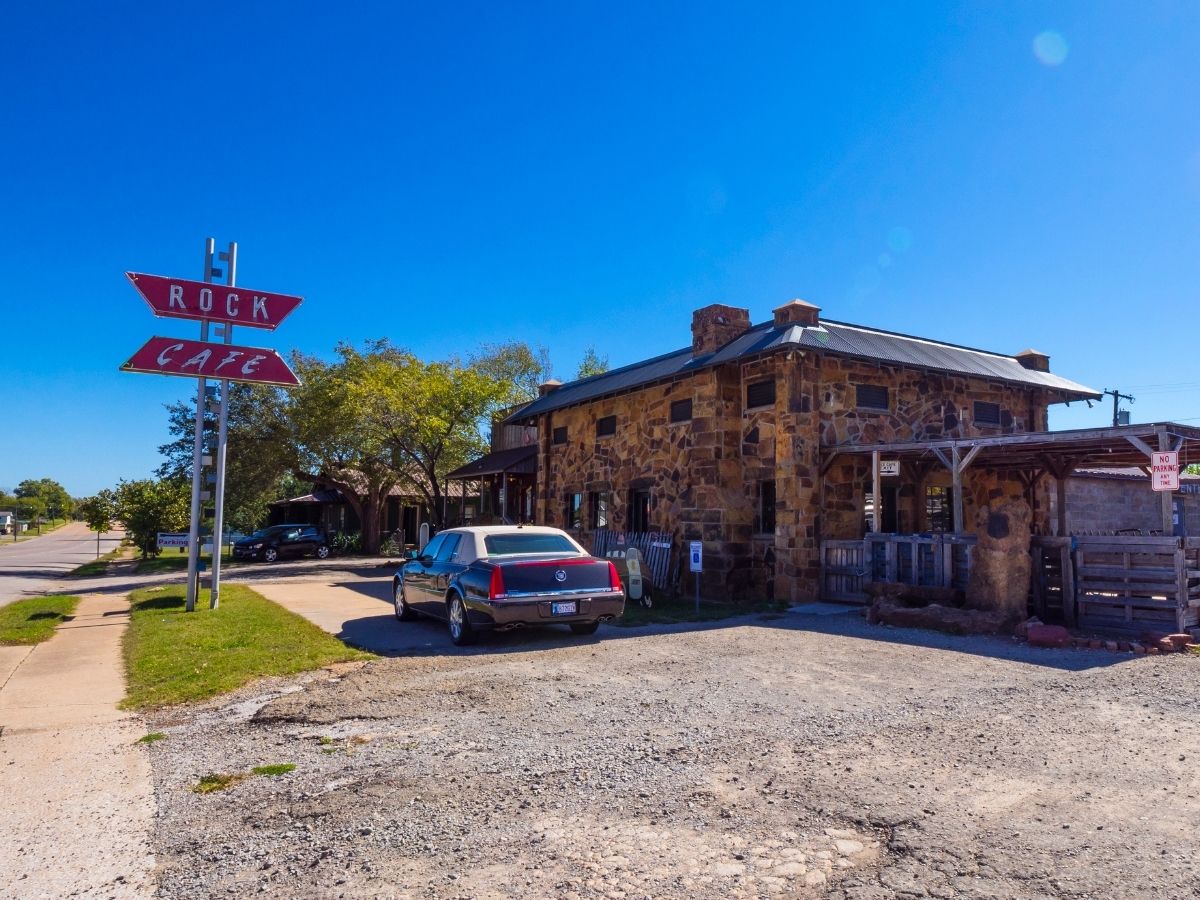 The Rock Cafe
Location: Stroud, Oklahoma
The Rock cafe in Stroud is almost as old as the road itself and dates all the way back to the 1930s. It's a proper retro diner serving good, local food. The restaurant has had tough times after the town was devastated by a tornado in the 90s and a fire destroyed it in 2008. It was restored in 2009 and now is a must see stop in Oklahoma.
The current owner is also the inspiration for the Cars character Sally!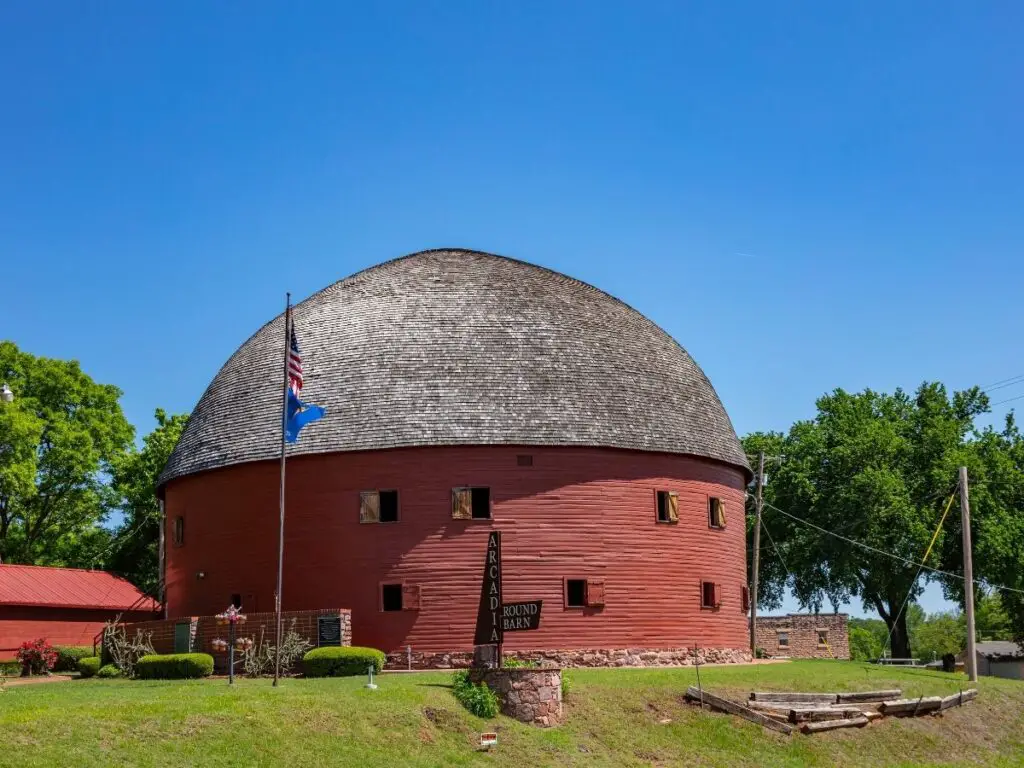 Arcadia Round Barn
Location: Arcadia, Oklahoma
This round barn in Oklahoma is older than route 66 – it was built in 1898! The reason for it being round? The farmer who built it thought that it would more easily survive the tornadoes in the area if it was round.
Situated on Route 66, you'll not miss it and it's a great stop. Free to look around and they have a small museum too.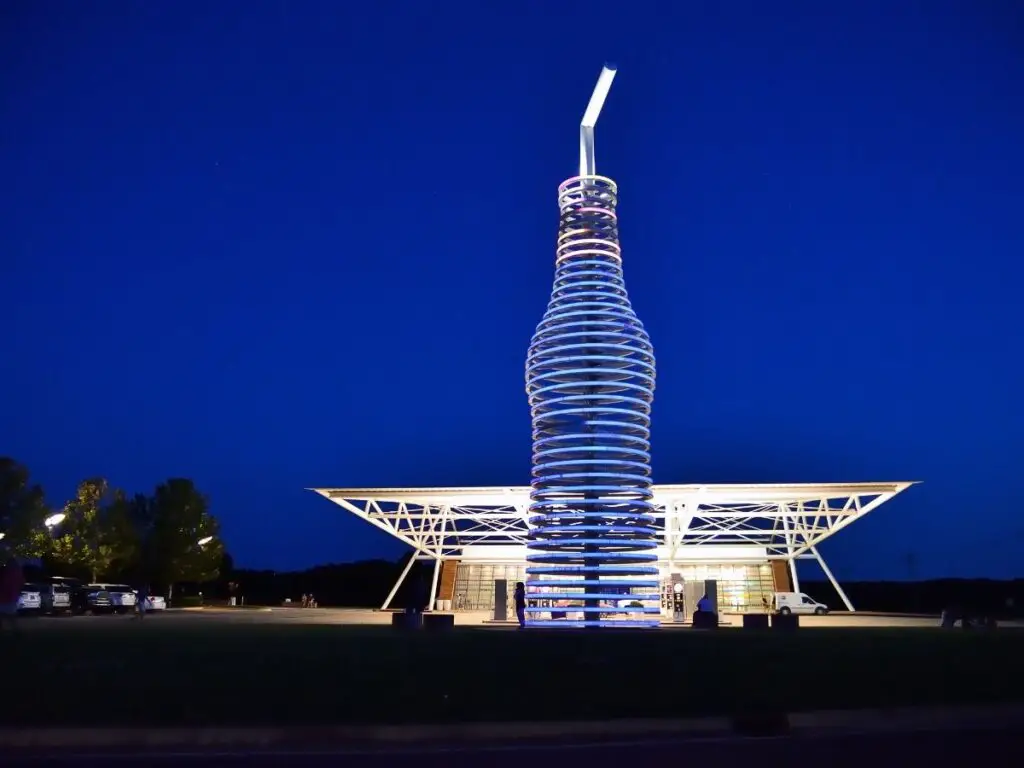 Pops 66
Location: Arcadia, Oklahoma
While in Arcadia you'll see another iconic Oklahoma roadside stop – Pops 66. This is a relatively modern roadside attraction on 66 having only been built in 2007 but the giant pop bottle outside that lights up at night makes it a must see.
Inside they do a lot of soda drink options!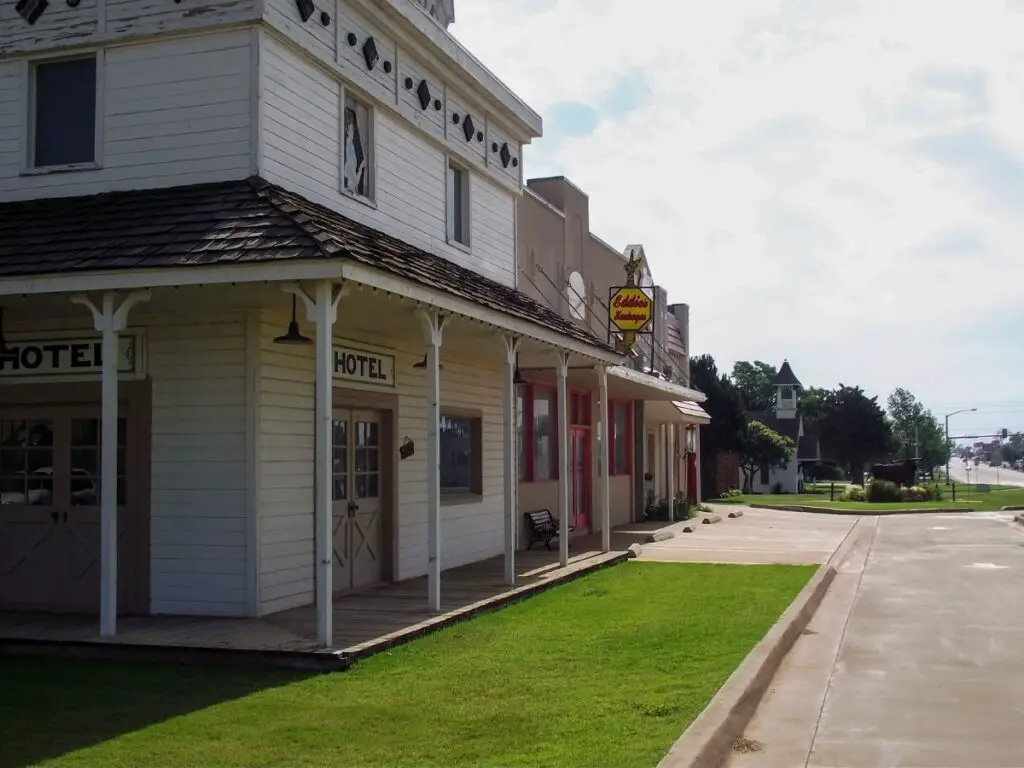 National Route 66 Museum
Location: Elk City, Oklahoma
This Route 66 museum doesn't just focus on the place where it's located but covers all 8 of the states and explores the history of the road as a whole.
As well as the inside you can also see recreations of how an old town would have looked in the heyday of the road.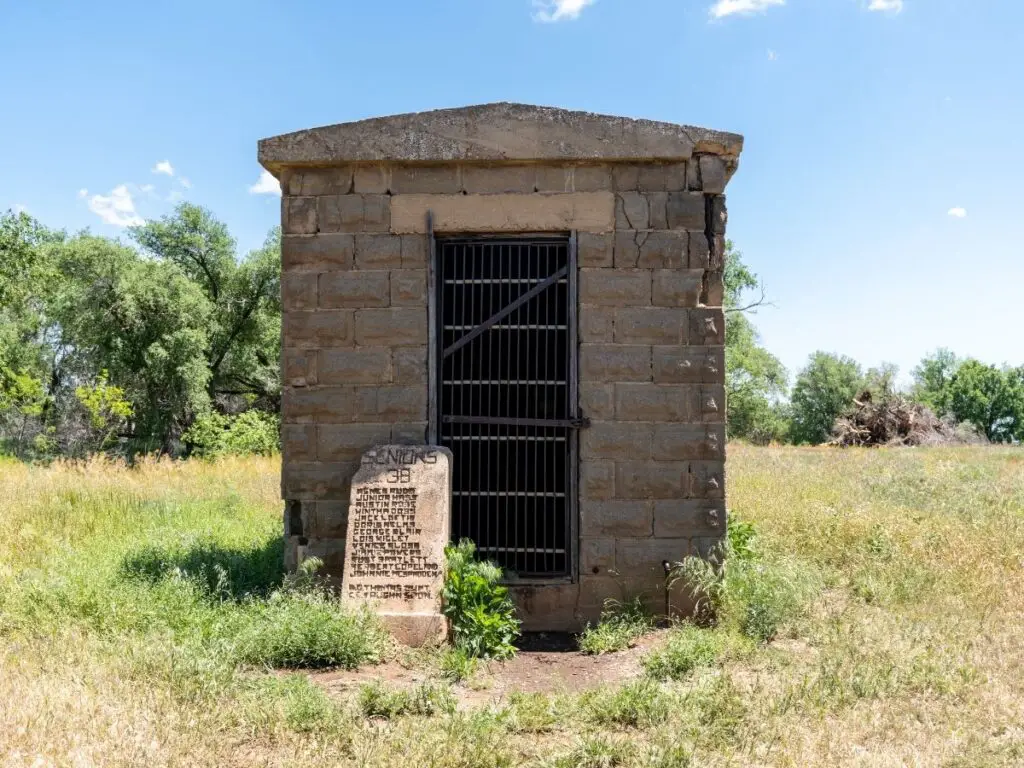 Texola one room jail
Location: Texola, Oklahoma
Texola is an 'almost' ghost town right on the state border with Texas. There are people living there but many of its buildings are abandoned.
The one room jail is worth a stop while passing through – it was built in the late 1890s to hold criminals. Presumably there weren't many otherwise it would have been bigger!
Read our post on more Route 66 Attractions in Oklahoma here
Texas
Texas was one of my absolute favorite states on the road and while it has a short section of Route 66 compared to some of the others there's a lot to see!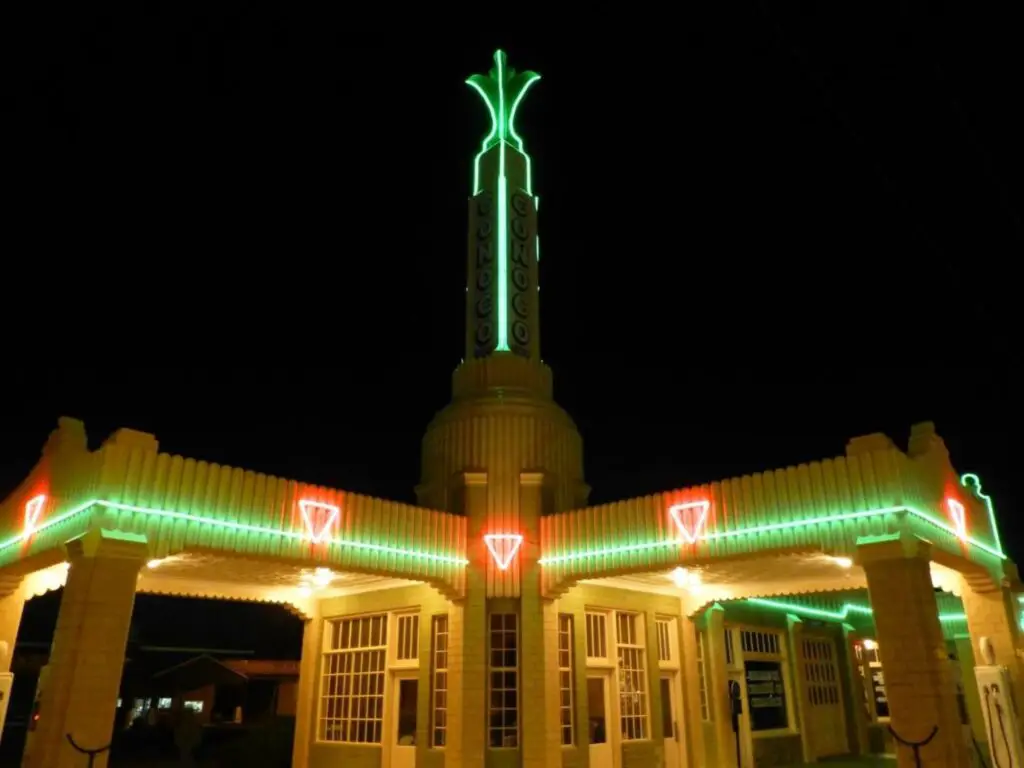 U drop Inn
Location: Shamrock, Texas
This was my top place to see on Route 66 when I was planning our trip. We'd seen the Disney Cars film and I was surprised that Ramone's garage actually existed! I had to see it and the beautiful art deco architecture.
I wasn't disappointed and you won't be either. If you can, stay in the town and see it lit up at night.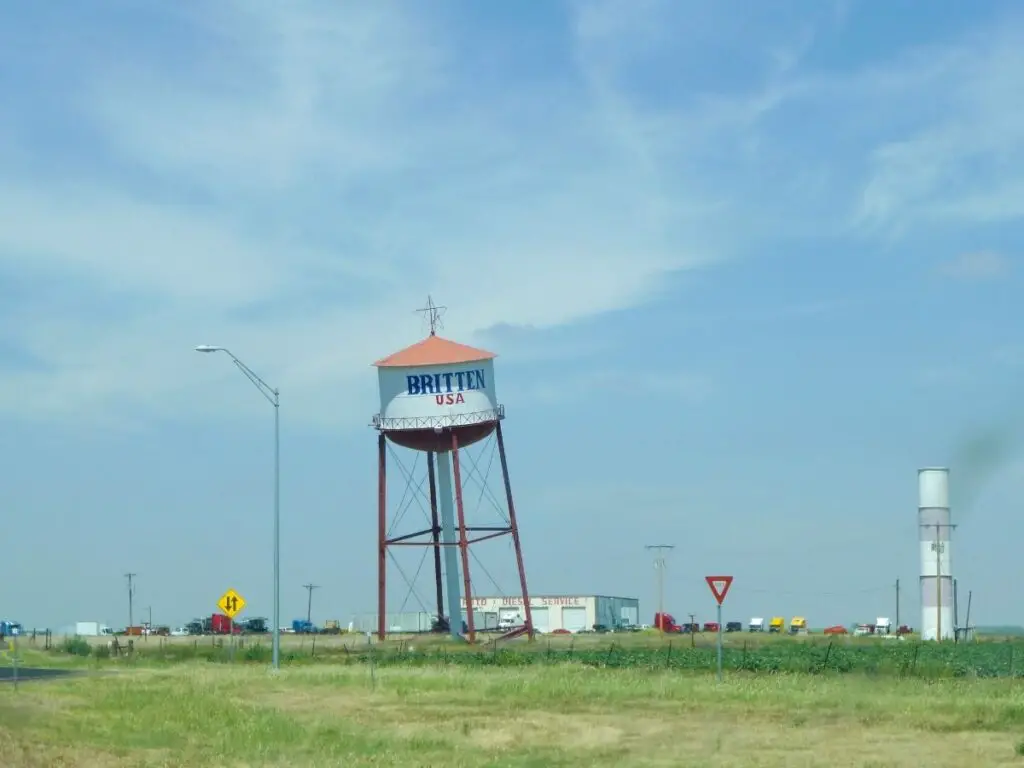 Leaning tower of Britten
Location: Groom, Texas
This used to be a functioning water tower but now is simply a roadside attraction. Why is it leaning? I don't know, let's stop and see! Obviously that ploy worked to get people to stop since it's still a popular Route 66 stop to this day!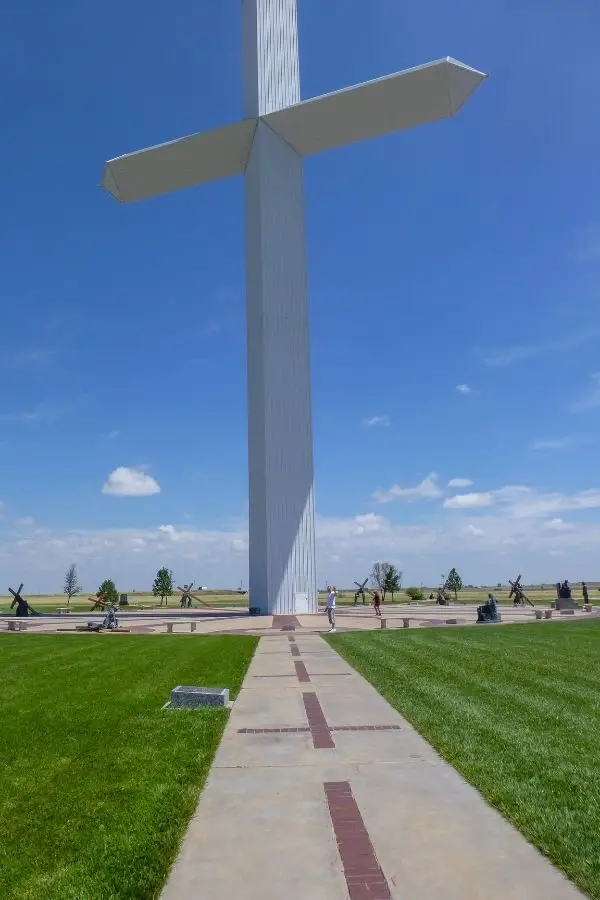 Giant cross
Location: Groom, Texas
The Giant Cross is another example of things that are supersized on Route 66. This is supposedly the largest cross in the western hemisphere, but seems to have been superseded now. It is really impressive when you get up close to it.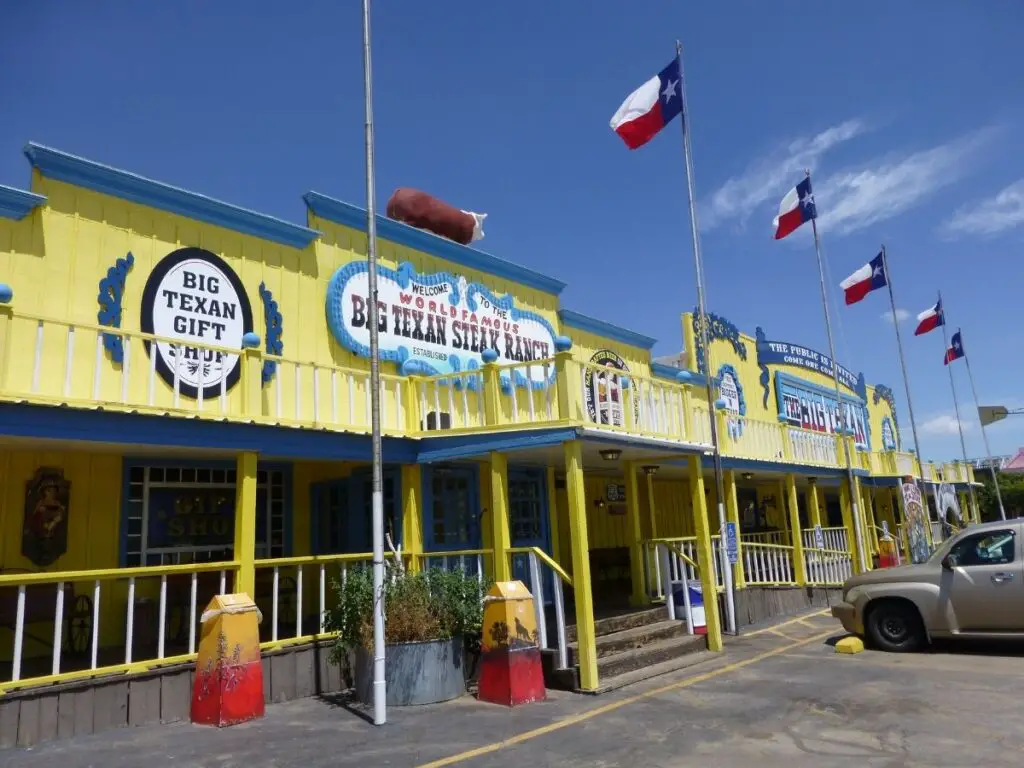 Big Texan
Location: Amarillo, Texas
The Big Texan is a must see restaurant on the road where hungry and competitive travelers see if they can win the 72oz steak for free by eating it in under an hour!
Even if you don't want to eat there it's worth a stop off to look around their gift shop and take photos outside.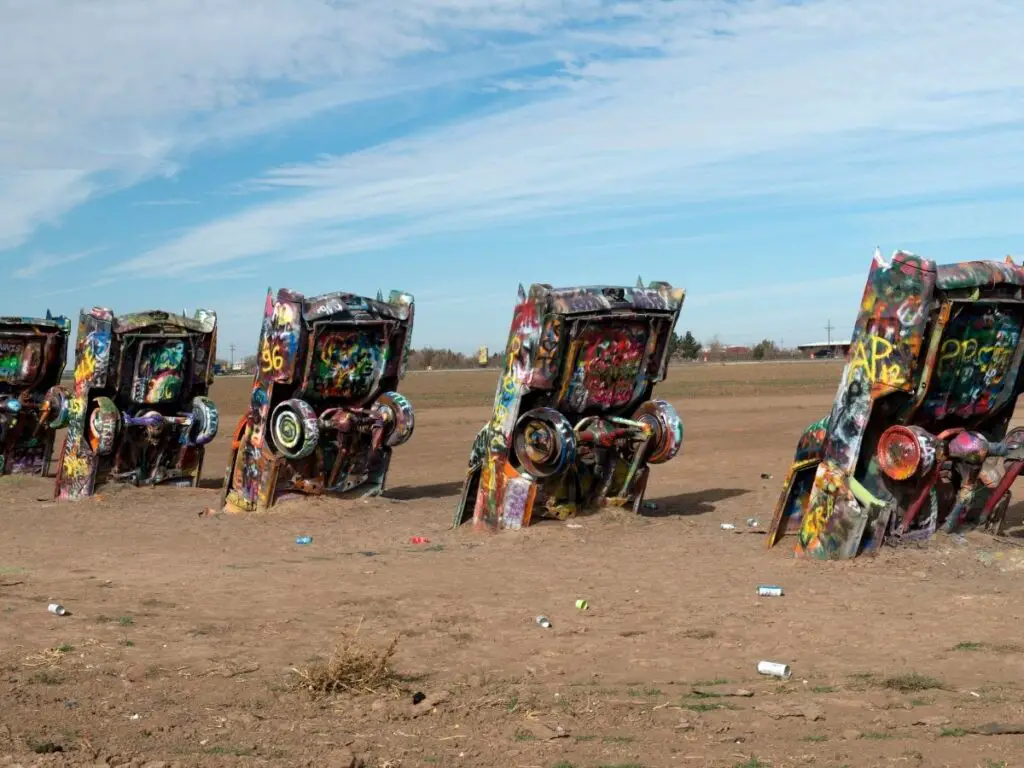 Cadillac Ranch
Location: Amarillo, Texas
Any book about Route 66 rightly has an image of the Cadillacs that are nose down in the ground and at an angle. It's called the Cadillac ranch and is an art installation just out of Amarillo. You can make your mark on the cars with spray paint if you like!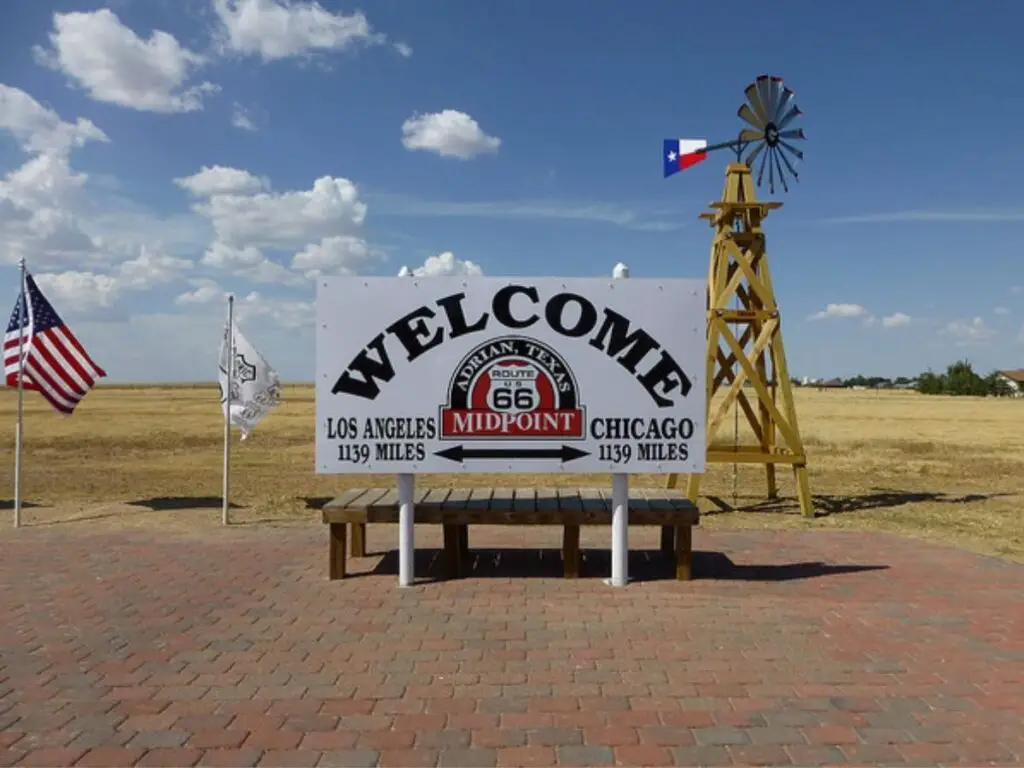 Route 66 mid-point
Location: Adrian, Texas
If you started your road trip in either Chicago or Santa Monica then when you get to Texas you're half way through the journey! This is celebrated at the Mid Point in Adrian where there's a photo spot and also a cafe.
Read our post on more Route 66 Attractions in Texas here
New Mexico
New Mexico shares attractions of all kinds on Route 66 from retro towns to ancient stone markings.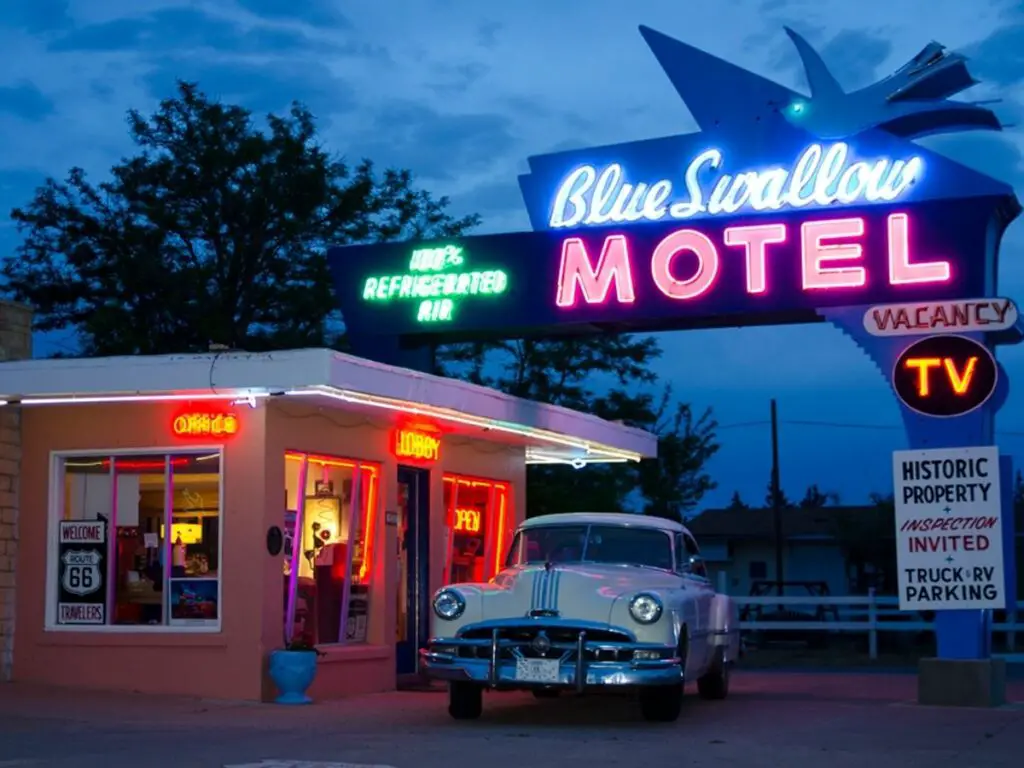 Blue Swallow Motel
Location: Tucumcari, New Mexico
The Blue Swallow Motel is one of many retro motels in the small town of Tucumcari which lights up at night time and is a joy to wander around. It's probably one of the most photographed spots along Route 66 today.
In the day, check out many murals on the walls of Tucumcari too.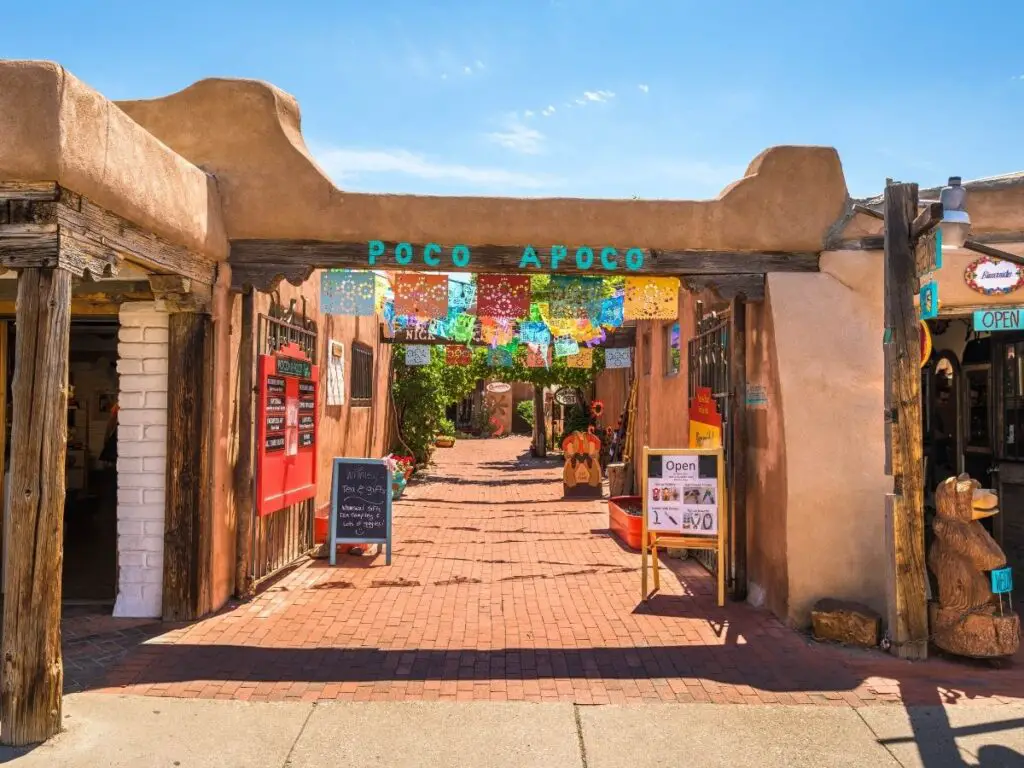 Old Town of Albuquerque
Location: Albuquerque, New Mexico
There's lots to see in Albuquerque but something a little different is the Old Town which has some historic buildings in a really interesting architectural style, plenty of shops and museums too. Albuquerque was founded in 1706 by the Spanish so very different to some of the other cities on Route 66 you might have seen so far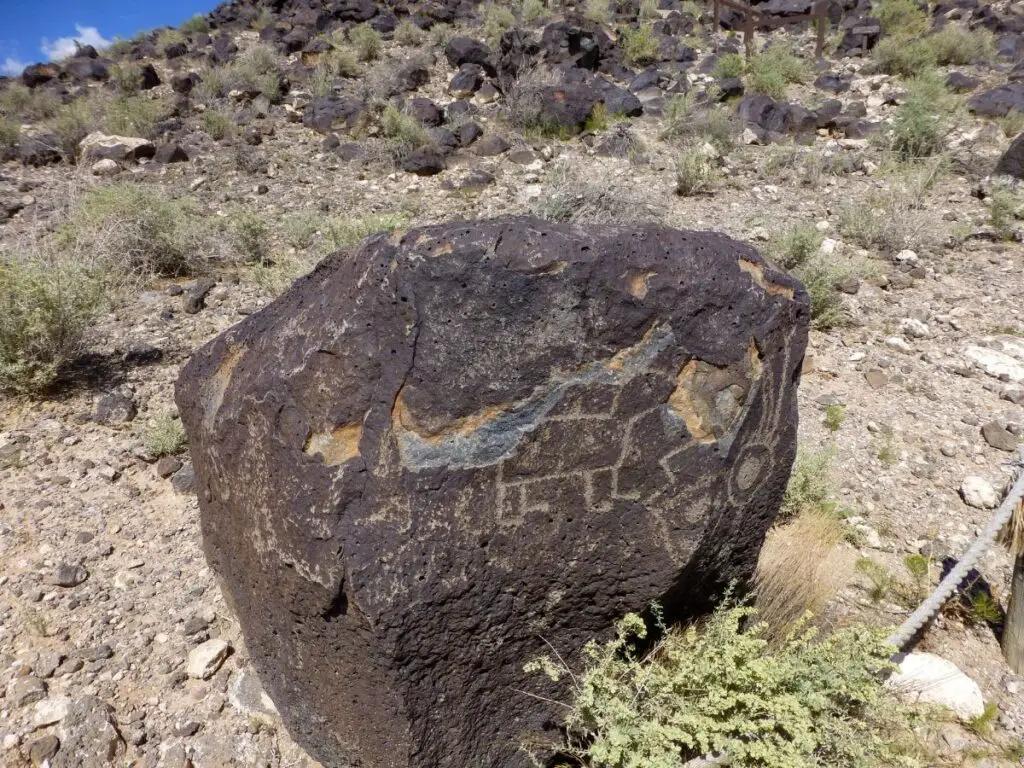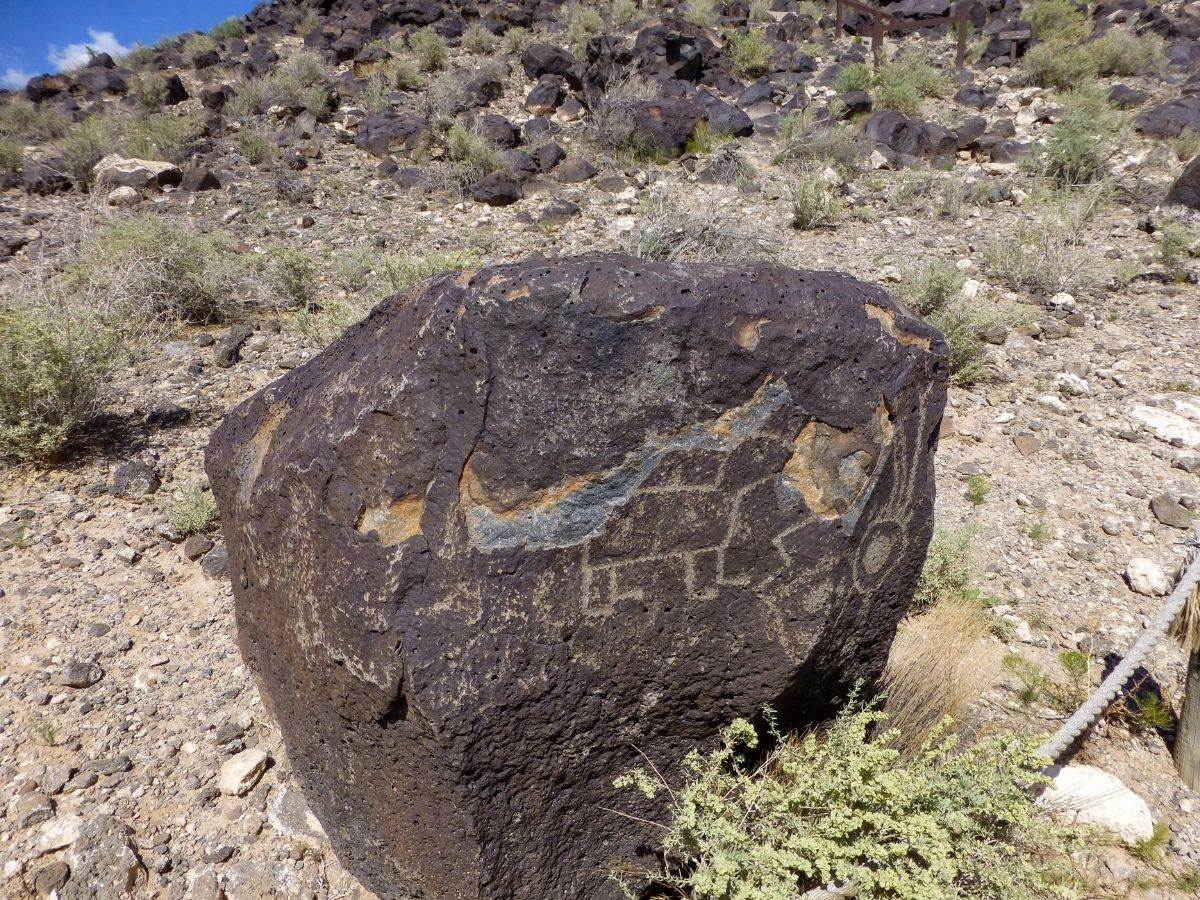 Petroglyph National Monument
Location: Albuquerque, New Mexico
Go for a hike and take in the wonderful views of Albuquerque and the Rio Grande. You'll also see prehistoric drawings made by native americans as you walk around. It's a stunning place to stretch your legs.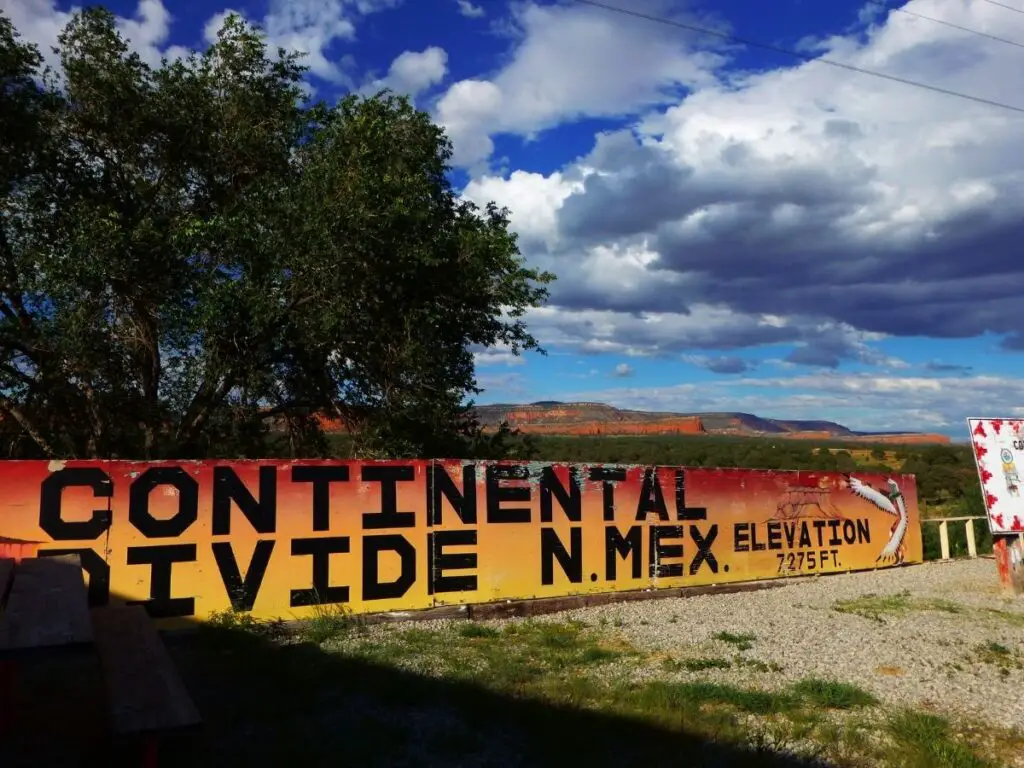 Continental divide
Location: Continental Divide, New Mexico
Located in a community of the same name is the natural landmark of the Continental Divide. At this spot any rain that falls to the west will flow to the Pacific and any to the East toward the atlantic.
There's a sign to take photos and a shop for souvenirs and snacks.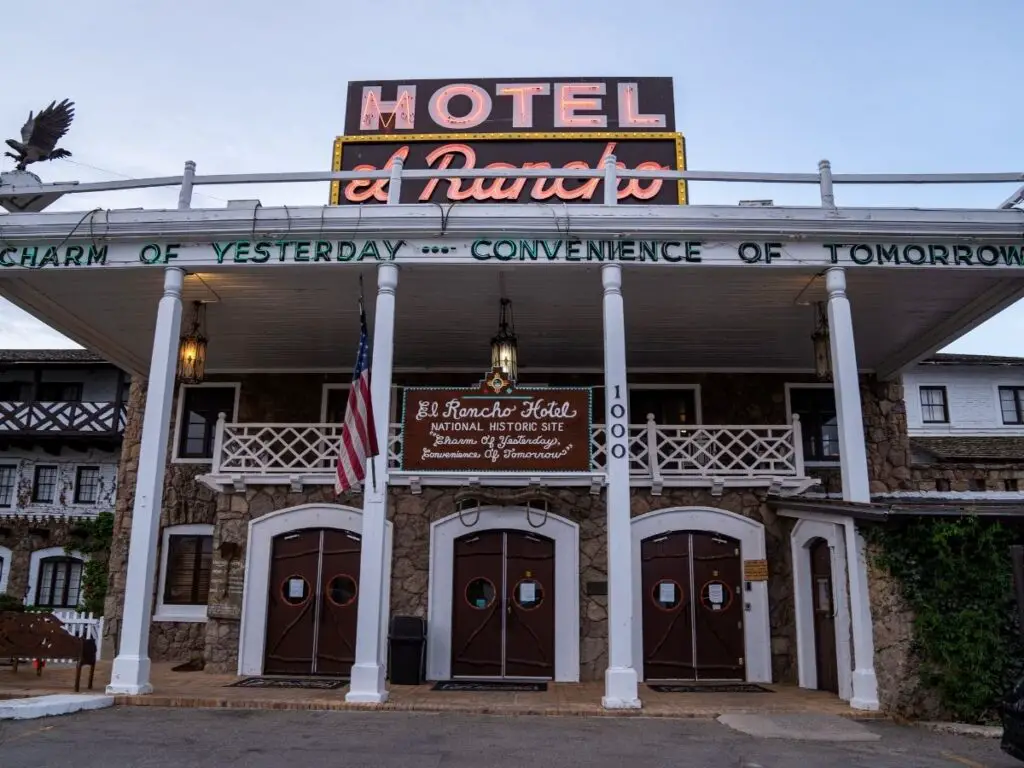 El Rancho Hotel
Location: Gallup, New Mexico
In the town of Gallup you'll find another iconic historic Route 66 hotel and this one has history that includes some of the silver screen legends. Names such as Clark Gable and John Wayne have stayed here and the hotel is very proud of this and displays photographs of past visitors on the walls.
Read our post on more Route 66 Attractions in New Mexico here
Arizona
Arizona has wide open spaces, small towns, fossils and of course is the gateway to the Grand Canyon.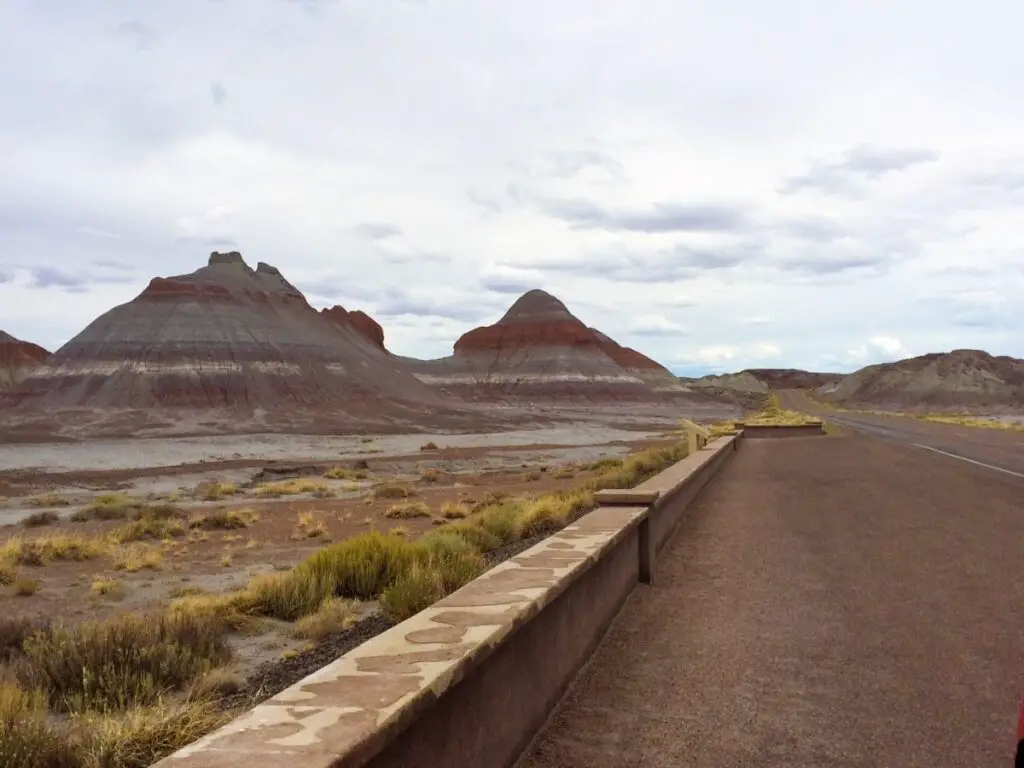 Petrified Forest National Park
Location: Arizona
The only National Park that Route 66 drives straight through the middle of is the Petrified Forest and Painted Desert. It's easily explore with a car or you can go for a walk along some of the trails as well.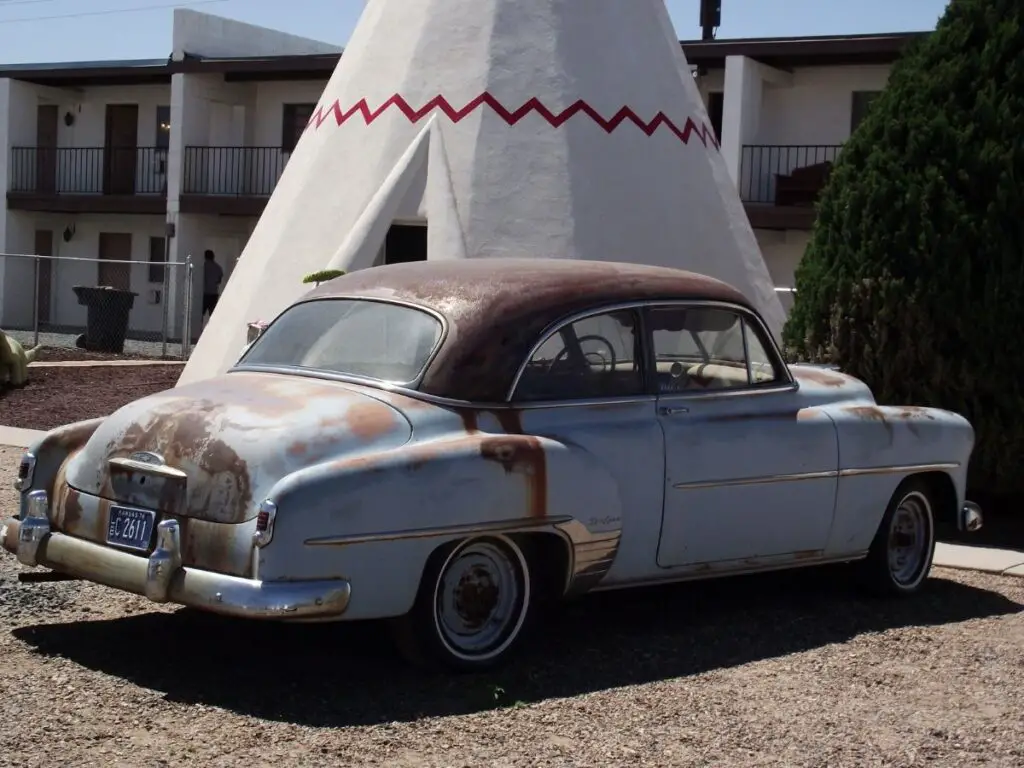 Wigwam Motel
Location: Holbrook, Arizona
A retro motel where you can spend a night in a (concrete) teepee. Whether you choose to stay or just pass by there's a lot of photo opportunities here with old cars outside and of course the wonderful neon in the evening.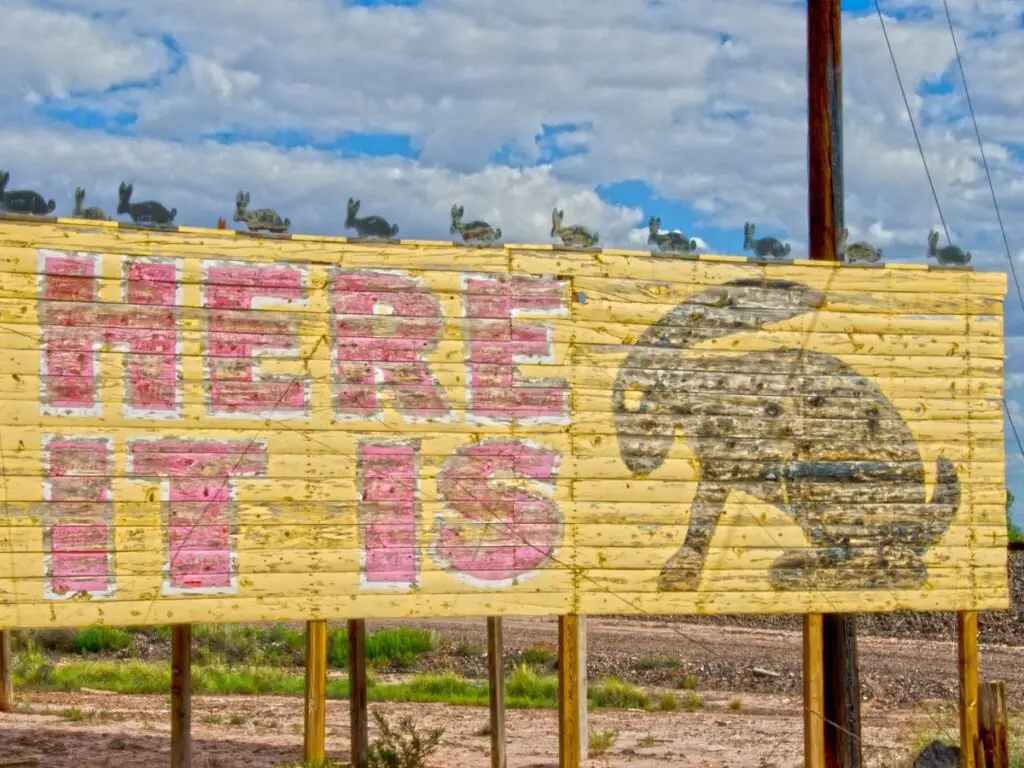 Jack Rabbit Trading Post
Location: Joseph City, Arizona
Like the Meramac Caves in Missouri, the Jack Rabbit Trading post advertises for miles on Route 66. So much so that you really want to know what 'It' is that is finally here! In fact it's a shop, large jack rabbit for photo opps and a nice rest spot!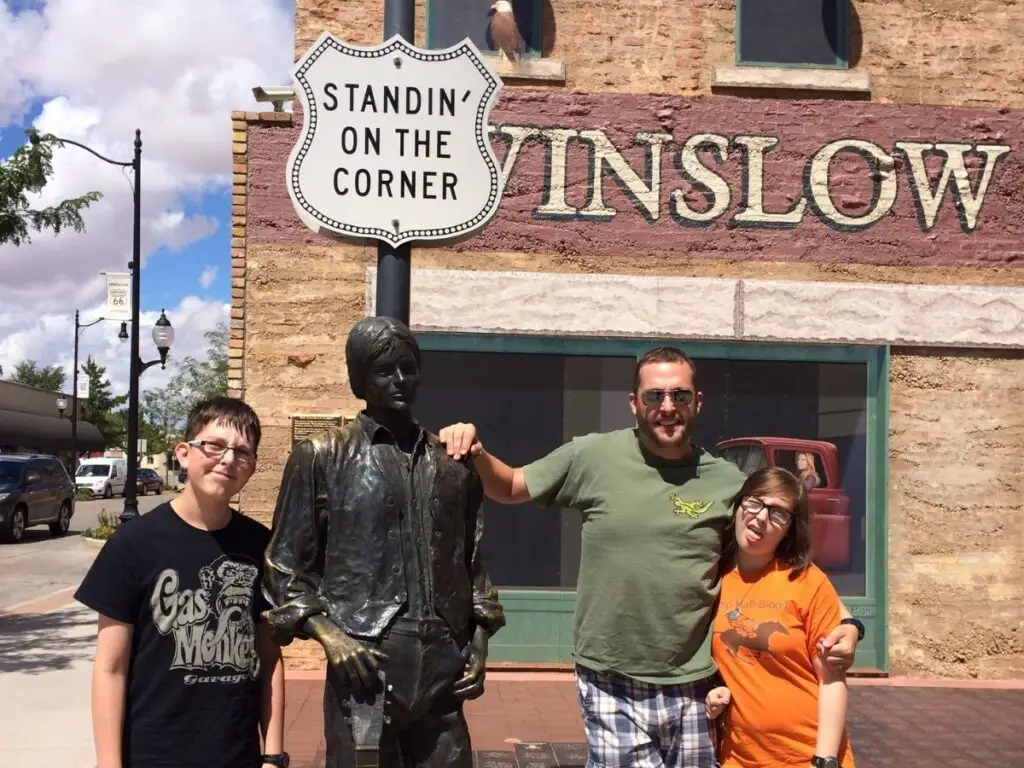 Standing on a Corner
Location: Winslow, Arizona
The Eagles song 'Taking It Easy' inspired this attraction in Winslow. The song speaks of the man standing on a corner in Winslow Arizona and you can do that here too! There's a statue and mural of the flat bed ford as well.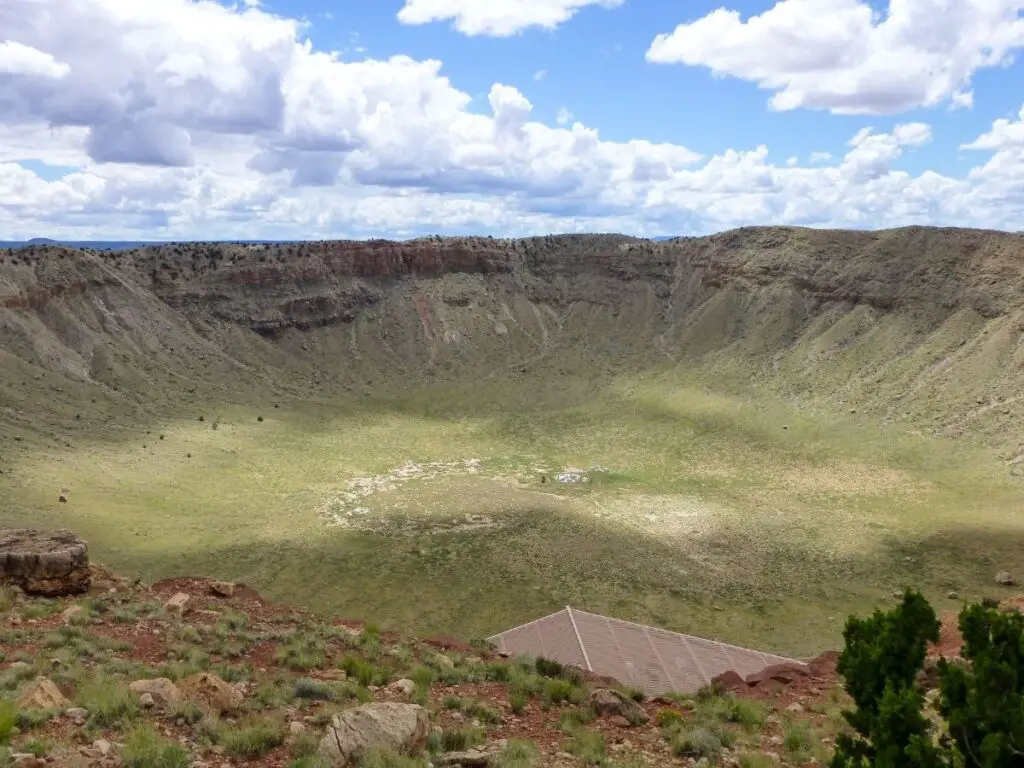 Meteor Crater
Location: near Winslow, Arizona
If you've ever wondered what a huge meteor crater looks like then you're in luck because just a little off the road there's a huge example of that very thing.
It's hard to convey in images quite the size of this thing so I recommend heading there in real life. There's a museum there too to learn more about space and meteorites.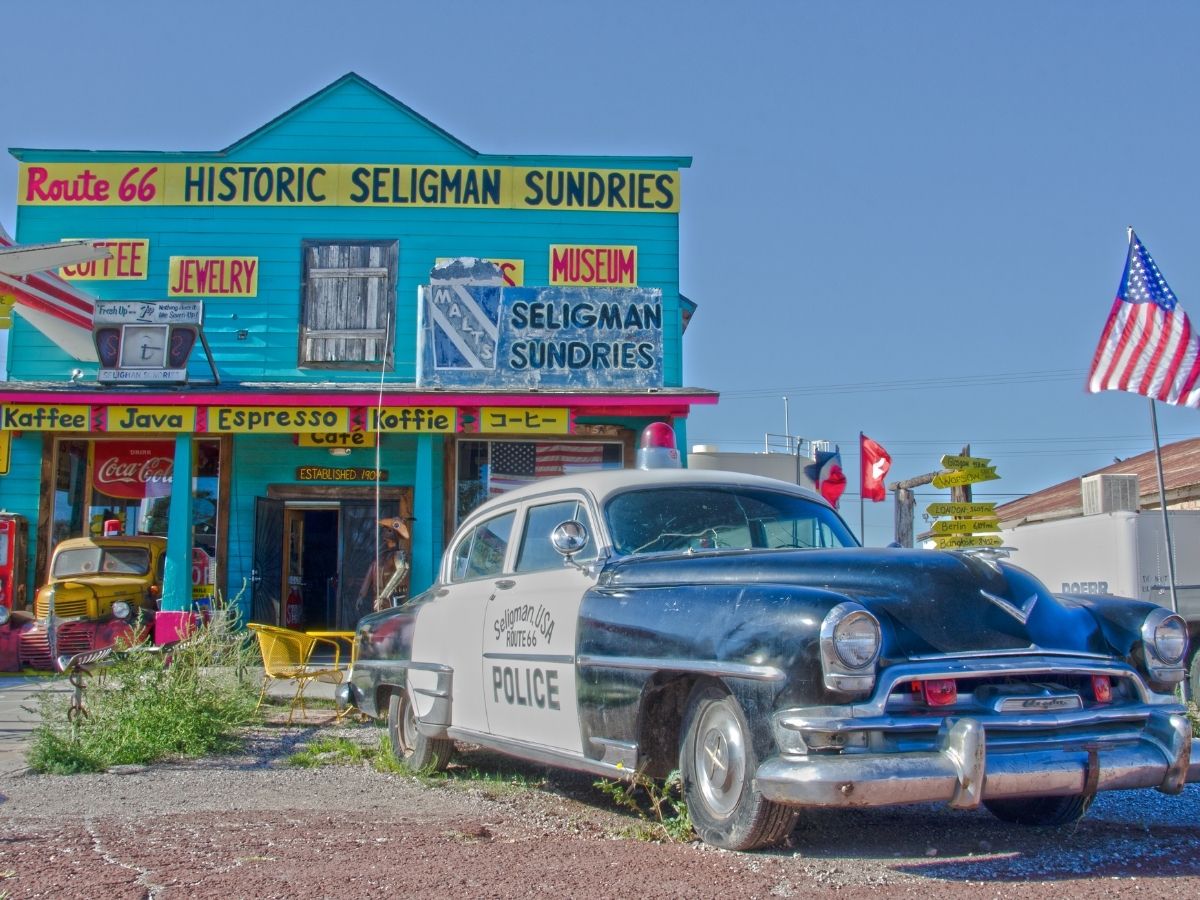 Seligman
Location: Seligman, Arizona
Seligman is one of those towns where the revival of Route 66 is really felt. That's because some of the inhabitants, such as Angel Delgadillo, were the ones to fight for the survival and resurgence of the road.
We were lucky to have a quick chat with Angel while he was doing what he does best, cutting people's hair when passing through!
There are a lot of shops, retro food options and plenty of photo opps here too.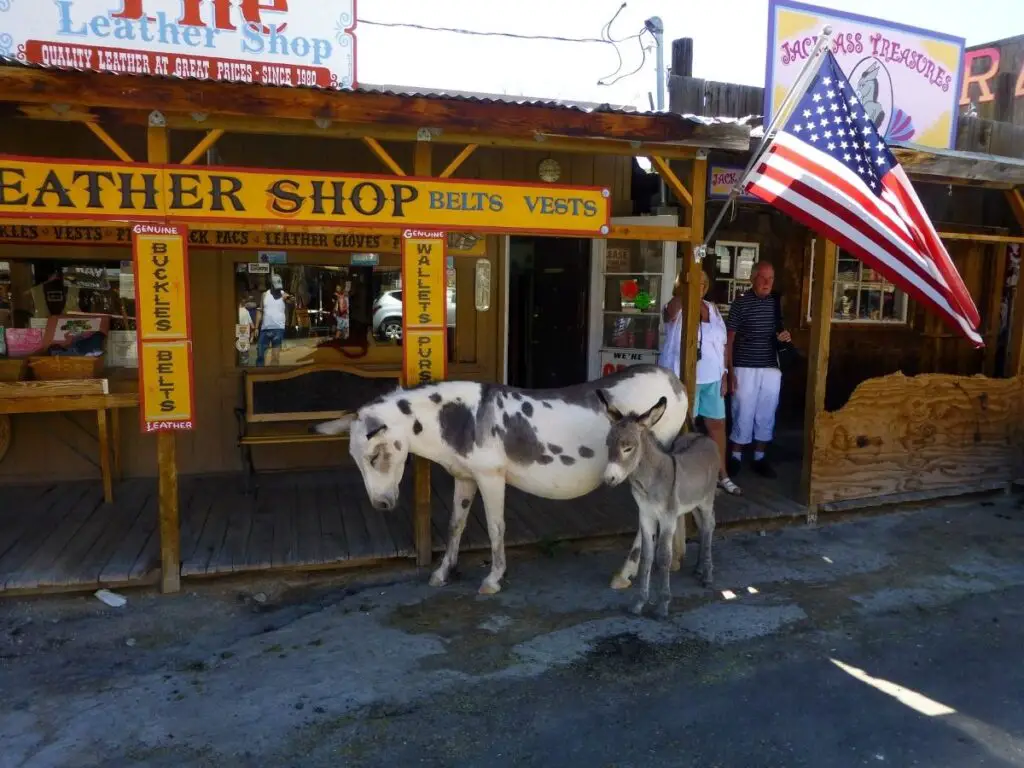 Oatman
Location: Oatman, Arizona
Oatman is an old ghost town that's seen somewhat of a revival in a tourist way. You can visit and it's full of shops and bars but with that old time feeling to it. In some ways it feels like a theme park but this was actually a wild west town.
There are wild burros (donkeys) roaming to add to the ambience and there are also staged gun fights each day too. You'll either love it or hate it there!
Hackberry General Store
Location: Hackberry, Arizona
Looking for that special something but not sure what it is? Perhaps the Hackberry General Store will have it! This is a special place that was once owned by the legend that is Bob Waldmire, a real advocate of the route and artist who made lots of postcards you might see. It's a perfect place to stop, look around and take some pictures.
Read our post on more Route 66 Attractions in Arizona here
California
The final state on our trip along some of the Mother Road attractions is California and while it feels like it's not long until you get swallowed up by the city of LA, there's still plenty to see.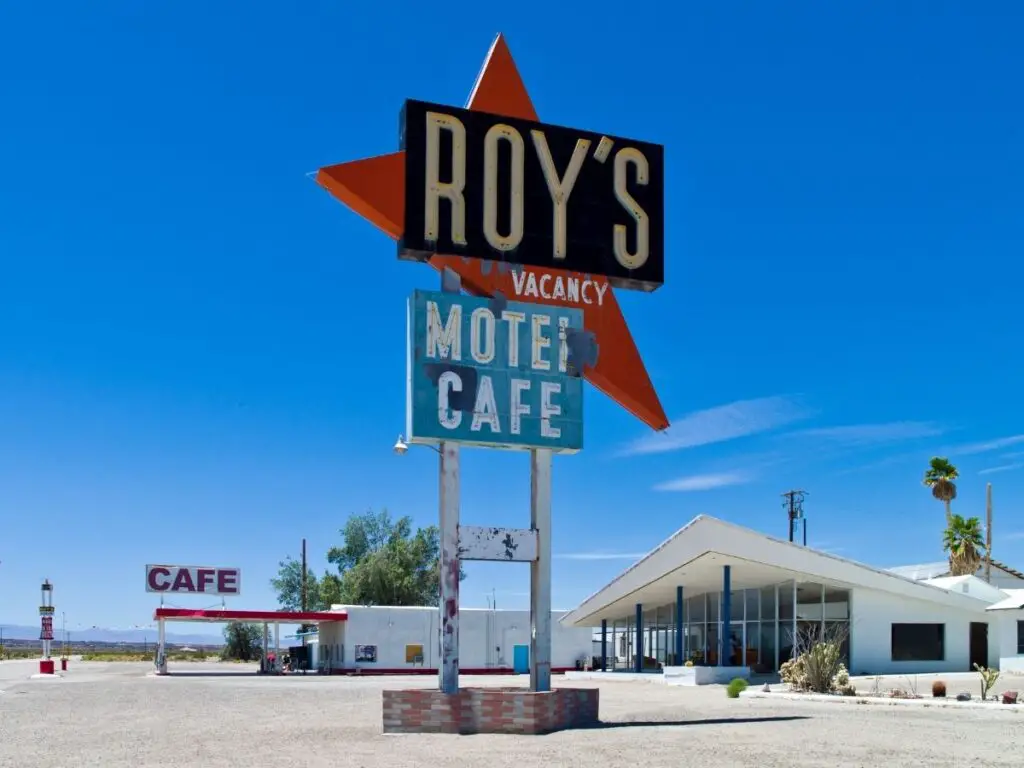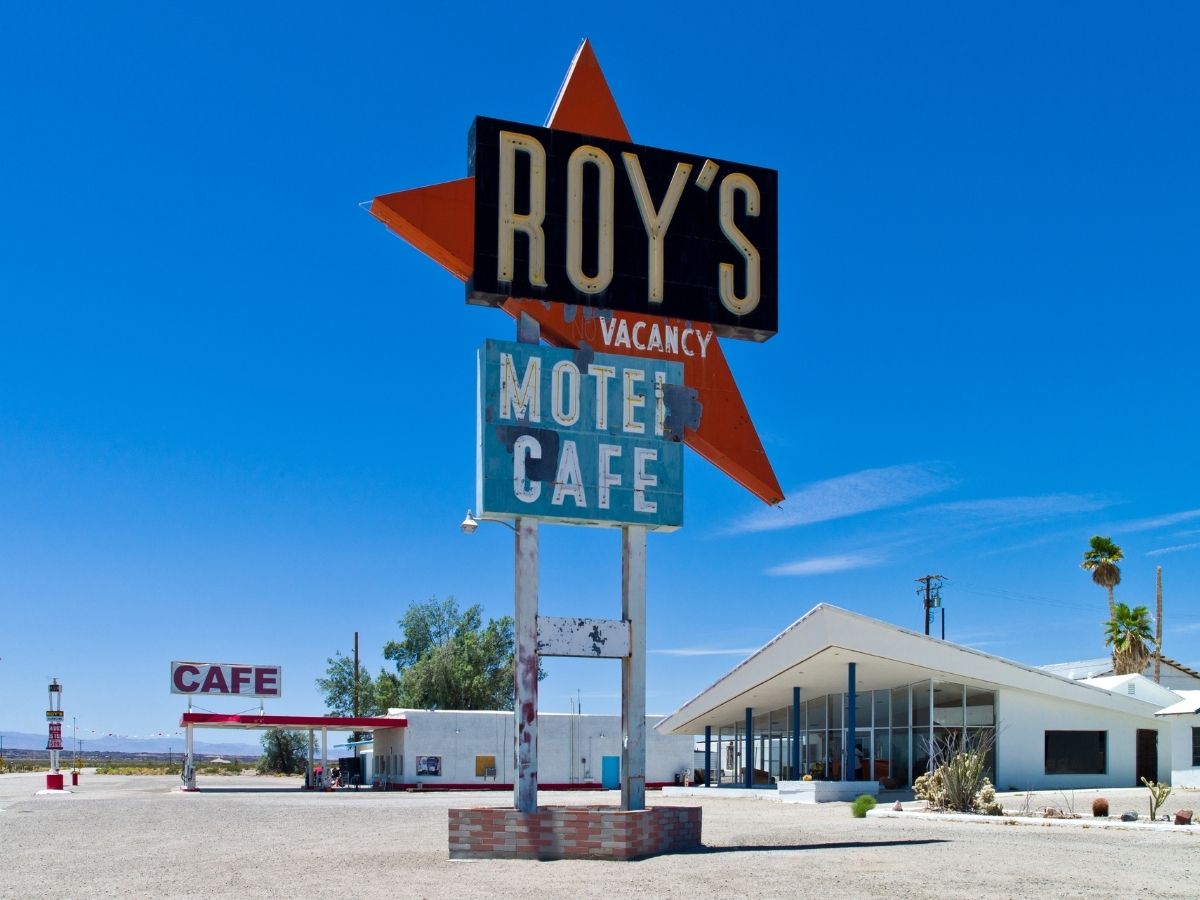 Roy's Motel
Location: Amboy, California
A classic, battered and faded motel sign in California is the one for Roy's Motel. It has that retro mid century feel to it and it's in hundreds of books about the road.
It's actually being renovated so perhaps when you visit it will be open for a bite to eat and perhaps a place to stay. Until then make sure to stop and grab a photo!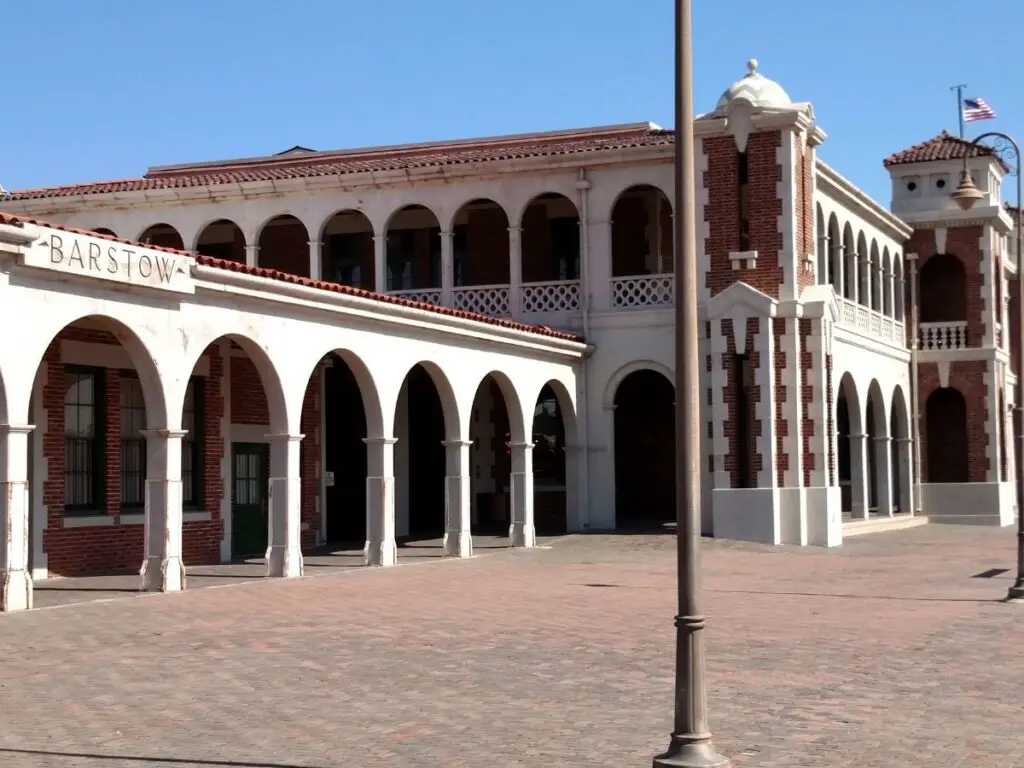 Barstow
Location: Barstow, California
Barstow was once home to a railway station and saw trains arrive from the midwest on their way to California on the Santa Fe railroad.
You can see the history of this area at a museum and see old locomotives and the old railways station outside too.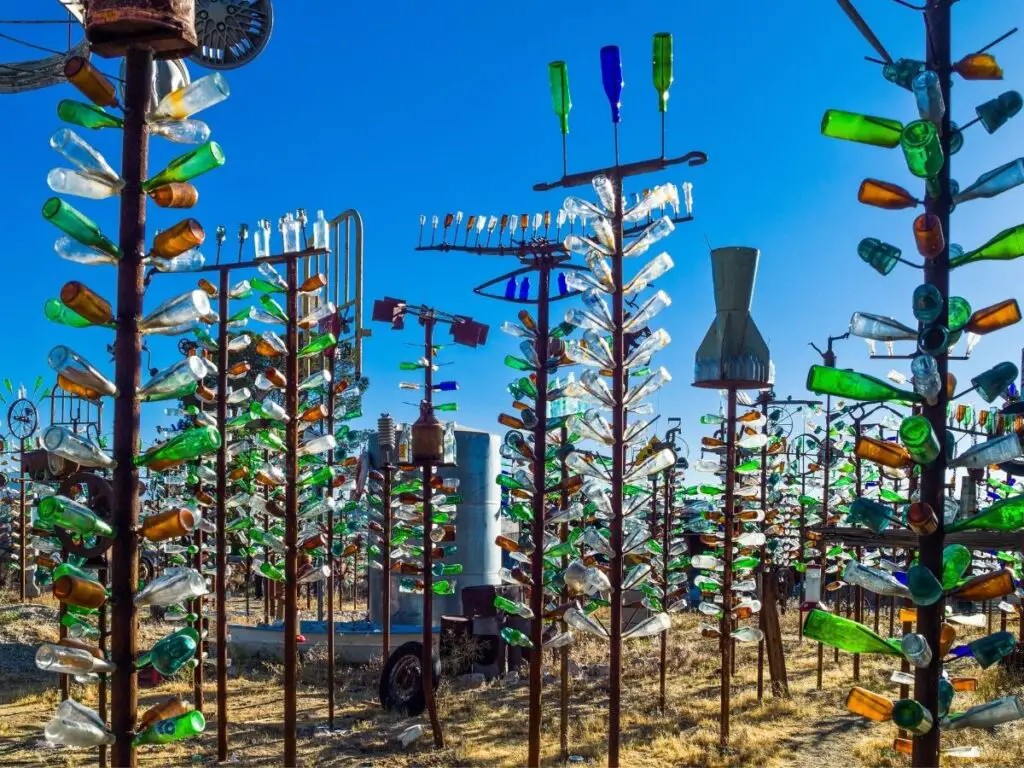 Elmer's Bottle Tree Ranch
Location: Oro Grande, California
You wanted quirky stops on Route 66? You got 'em! This bottle tree ranch is one of the weirdest but still rather cool attractions in California. It's basically a forest made up of vintage glass bottles made to look like trees.
The owner passed away just recently in 2019 but it seems that the ranch is still open for visitors after an uncertain few years.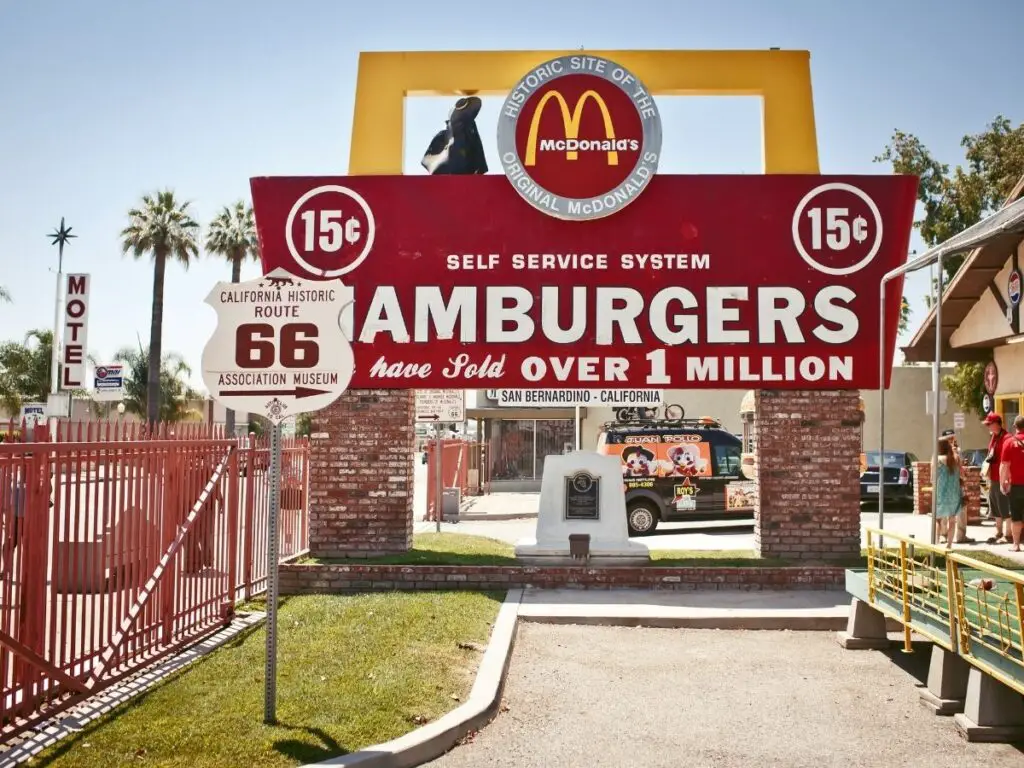 Original McDonalds Museum
Location: San Bernardino, California
The site of the very first McDonalds Restaurant is in California and it's now a museum where you can learn all about the rise of the food giant. Even if you're not a fan of their food you'll love the history, quirky items on display and the nostalgia!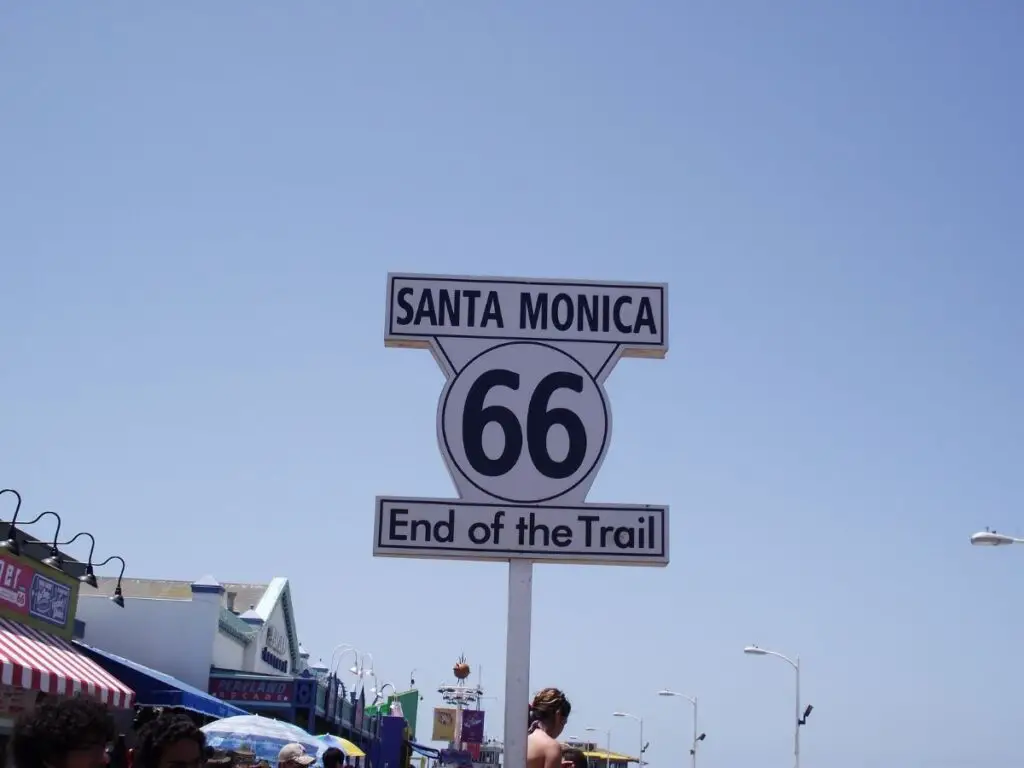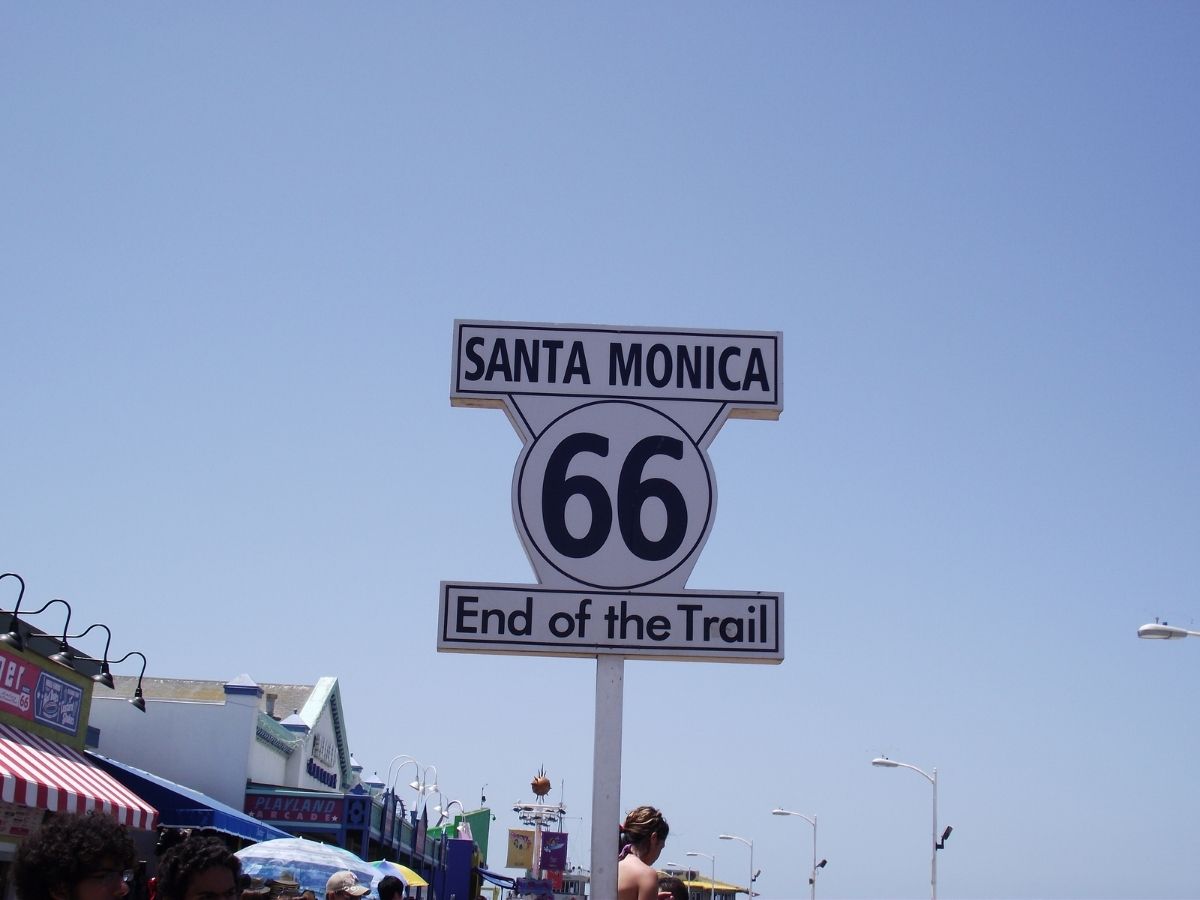 Santa Monica pier
The end of the trail and the final attraction on Route 66 is the end sign situated on Santa Monica pier. Seeing the Pacific Ocean stretch out in front on you after such a long ribbon of tarmac through the US is quite something.
Read our post on more Route 66 Attractions in California here