If you want classic historic roadside stops then these route 66 attractions in Texas should have all you need and more. You have vintage buildings lit up with neon, ghost towns, larger than life restaurants (it is Texas after all) and quirky roadside attractions.
Texas has some of my favorite stops along the way, it's so quintessentially Route 66.  In fact if you can only do one state then Texas would actually be quite a good choice.  
Route 66 spans around 178 miles in the Lone Star State so lots to see but without being too overwhelming like some of the other, larger states can be.
This article probably contains affiliate links.  
This means that if you buy or book after clicking, I may get a commission at no extra cost to you. Thanks!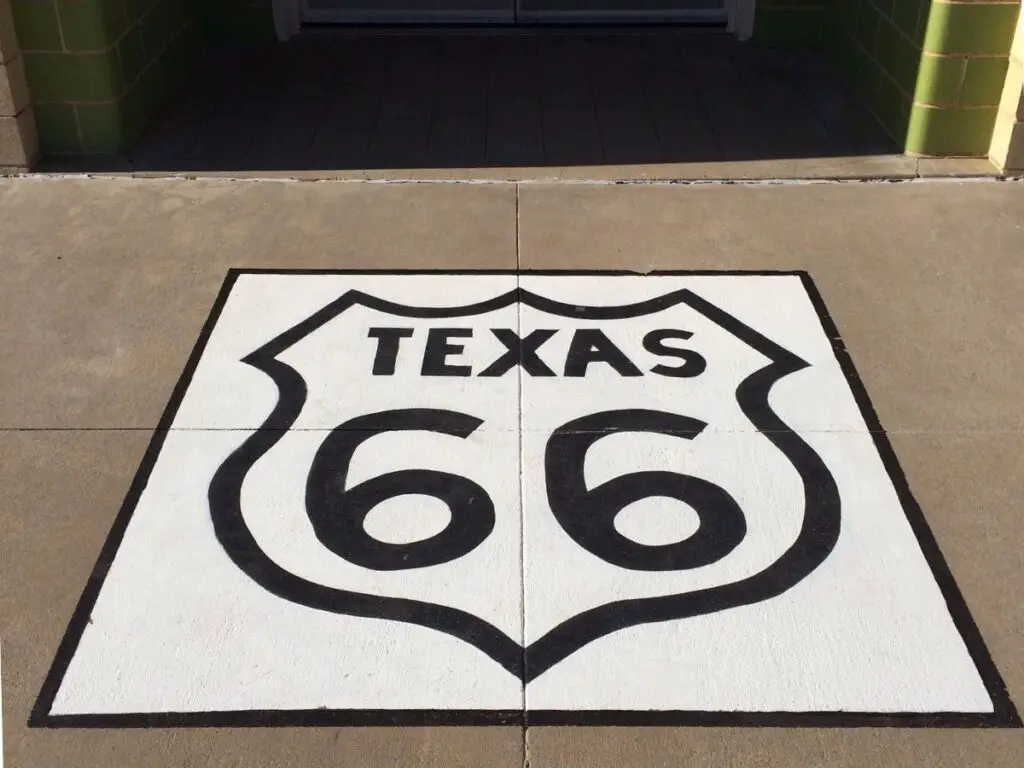 A note from the writer: Hey! I'm Kirsty and I'm a Route 66 enthusiast – I first became obsessed almost 20 years ago and then first visited in 2014. I've recently just come back from my last trip too! Comment below if you have any questions about your road trip and I'll get back to you ASAP – or join me in my free FB group here.
Map of Route 66 Texas attractions
After Oklahoma, Route 66 cuts across the top of the Texas Pan handle and heads pretty much east to west in a straight line. If you want to check out where any of the roadside attractions in Texas are on Route 66 then hopefully this map will help you.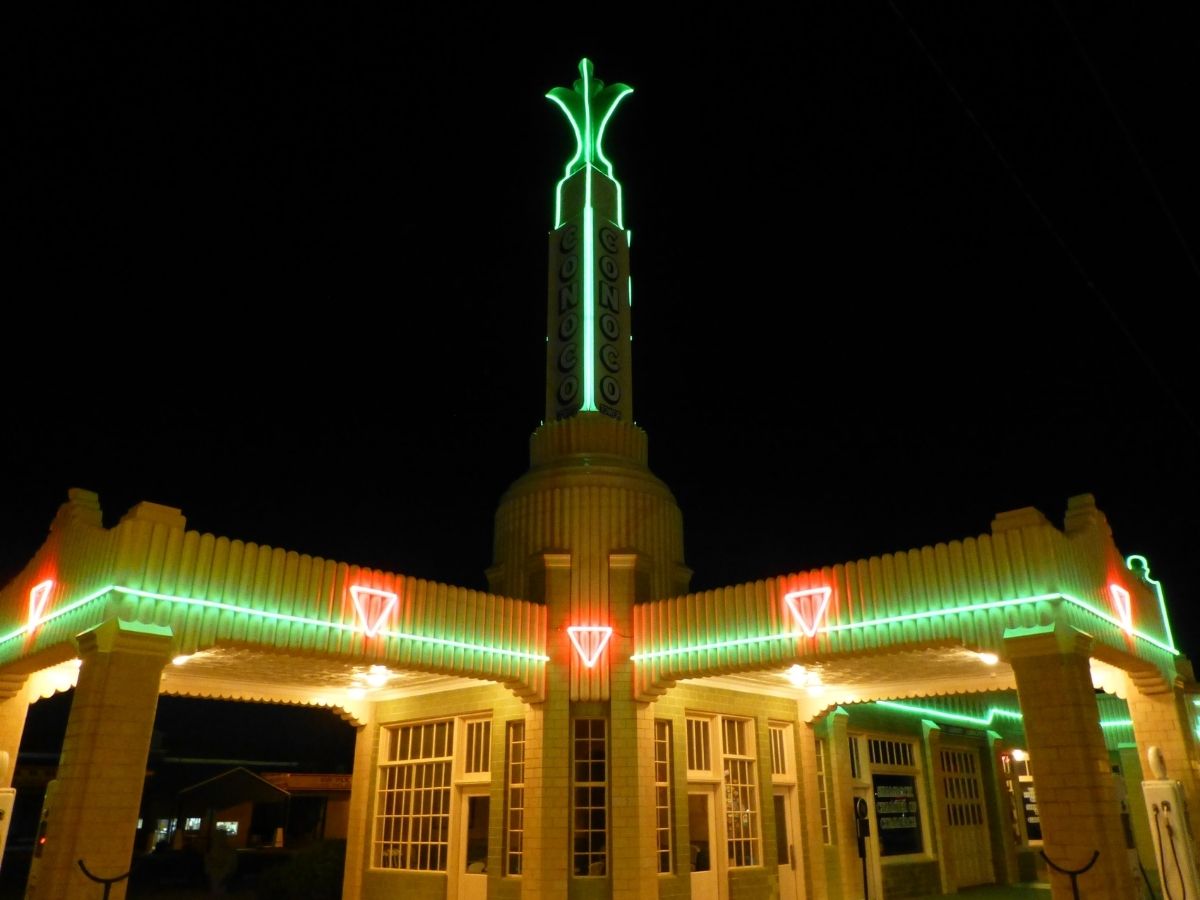 The U Drop Inn
Location: Shamrock, Texas
The U Drop Inn is an old cafe and gas station and it's the most striking building as you go through the town of Shamrock.  If your kids are fans of Disney, or let's face it if you as an adult is a fan of Disney (like me!) then you'll recognise the building as a real life location of Ramone's garage from the Cars film.  
It was built in 1936 and is a great example of art deco architecture.
Nowadays it hosts a small gift shop and some artefacts from the route and you can still get a drink from there and sit and enjoy the vibe.  At night it's lit up with neon and is really spectacular so staying in Shamrock is definitely worth it if you can.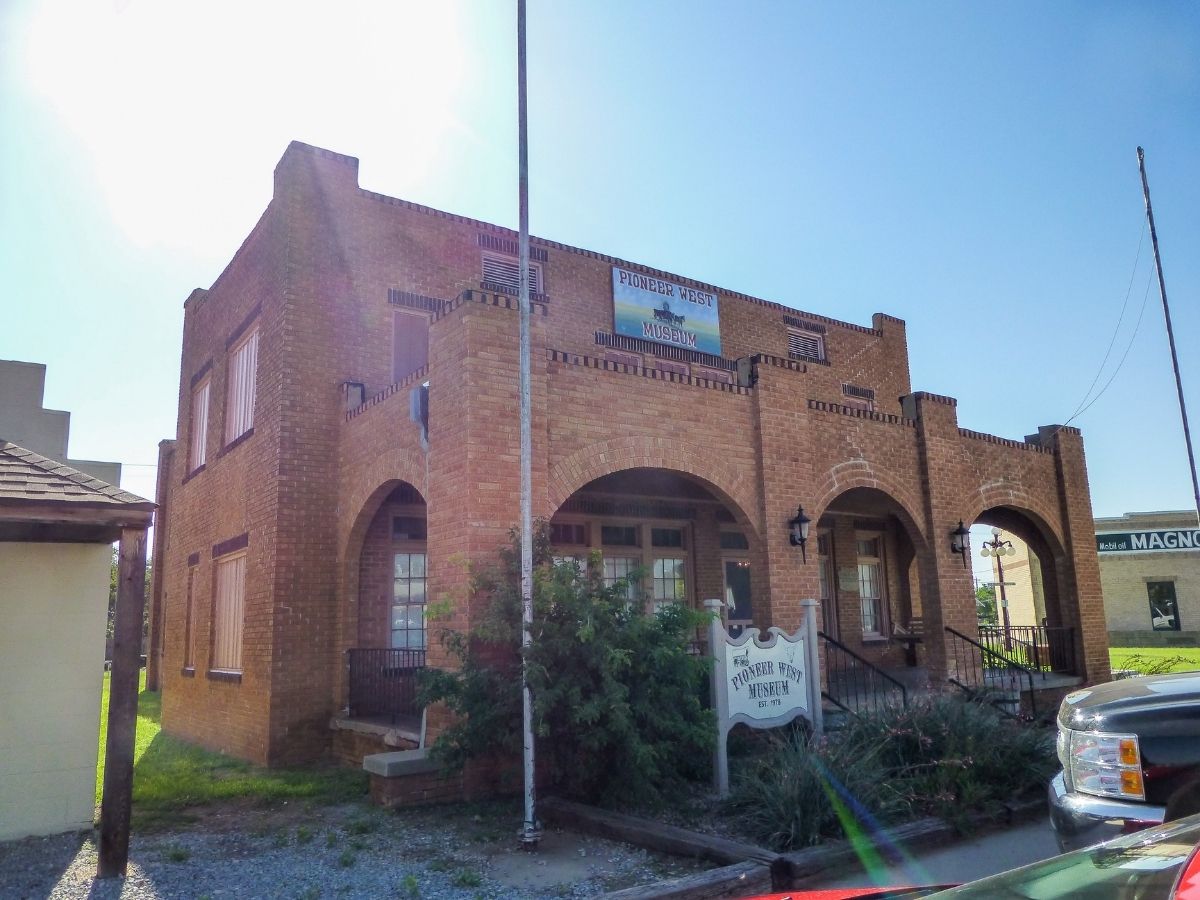 Pioneer West Museum and Magnolia Gas Station
Location: Shamrock, Texas
The Shamrock Pioneer West Museum is a cute little place with lots of exhibits about the history of the area. The volunteer who was there was also really helpful and showed us round the museum personally as we were the only ones there at that time.
Outside the museum are some more photo opportunities with the old Magnolia gas station and fire truck.  It all looks so well maintained that you'd think they were all brand new!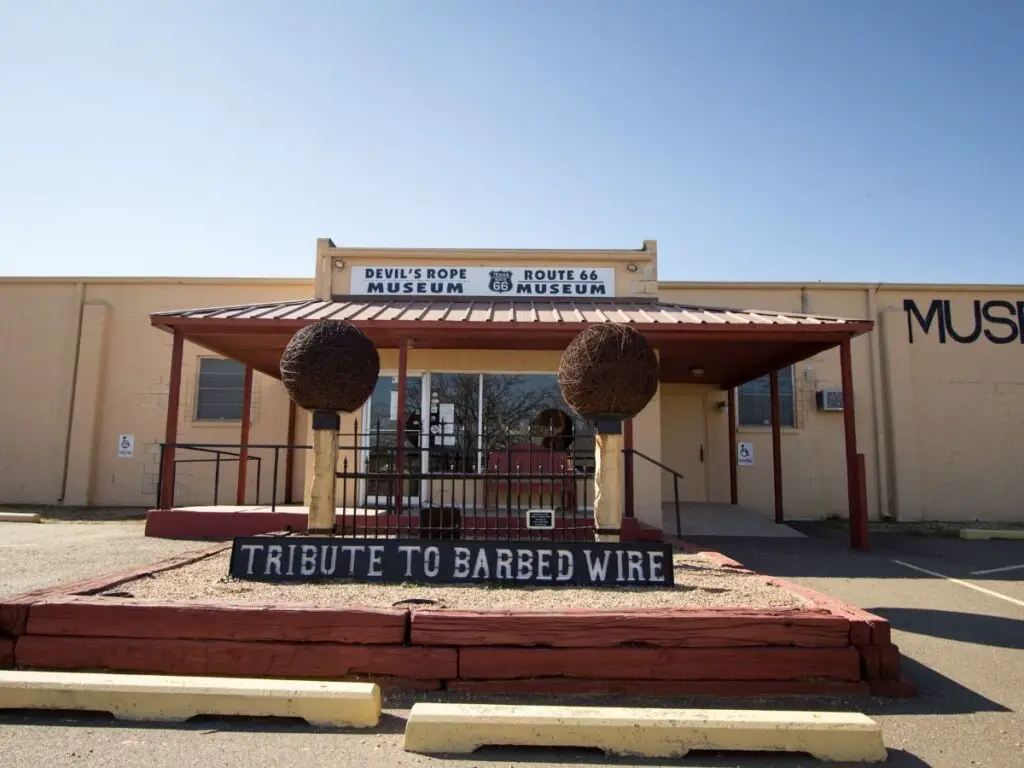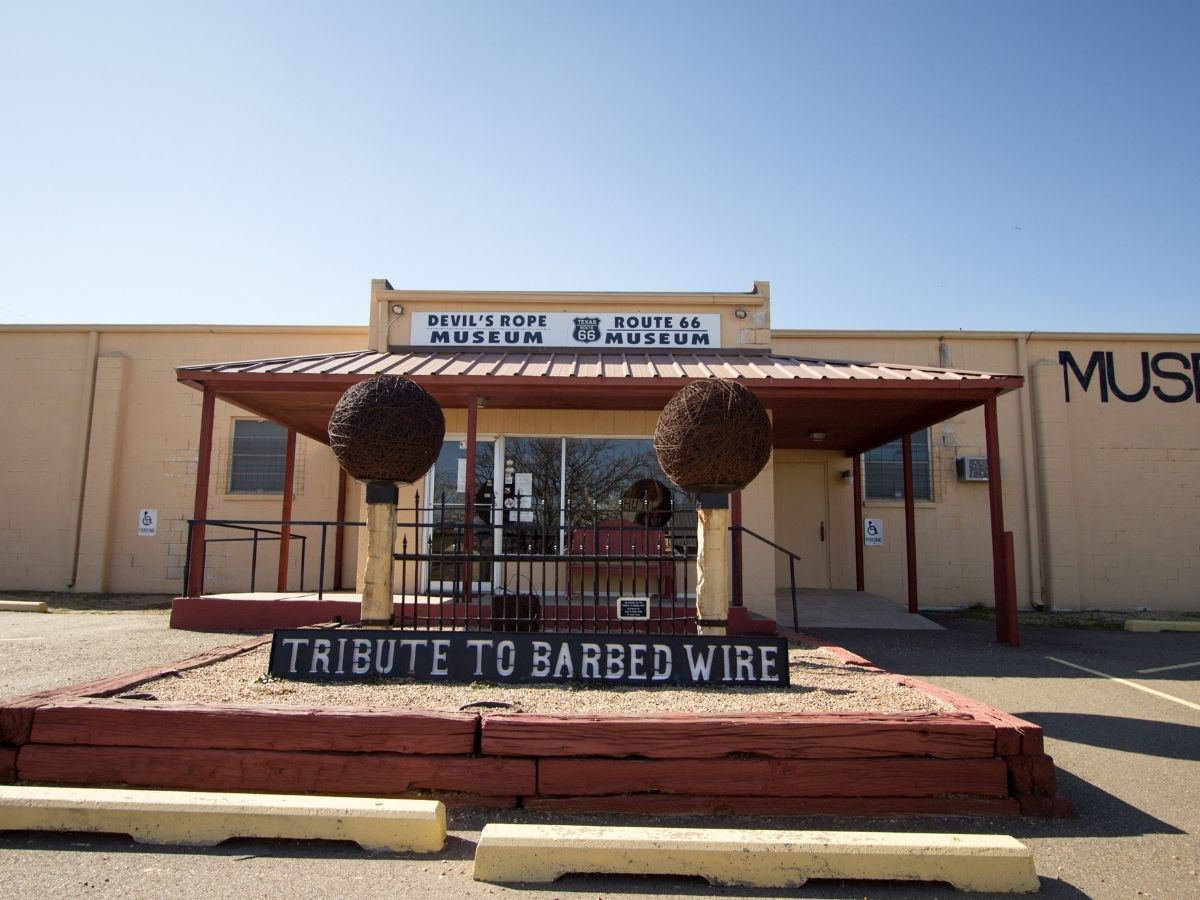 Devil's Rope museum
Location: McLean, Texas
If you're looking for a quirky stop you'll not find much quirkier than this!  This is a museum dedicated to barbed wire and fencing tools.  The museum details the history of how barbed wire came to be and the patented designs that were out there.  I had no idea!  
Mclean-Alanreed Museum
Location: Mclean, Texas
The Mclean-Alanreed museum is also in the same town and it contains exhibits about the history of the area and also some info on an old prisoner of war camp from world war 2 that was close by as well.
There are also quite a few murals out front for a photo opp.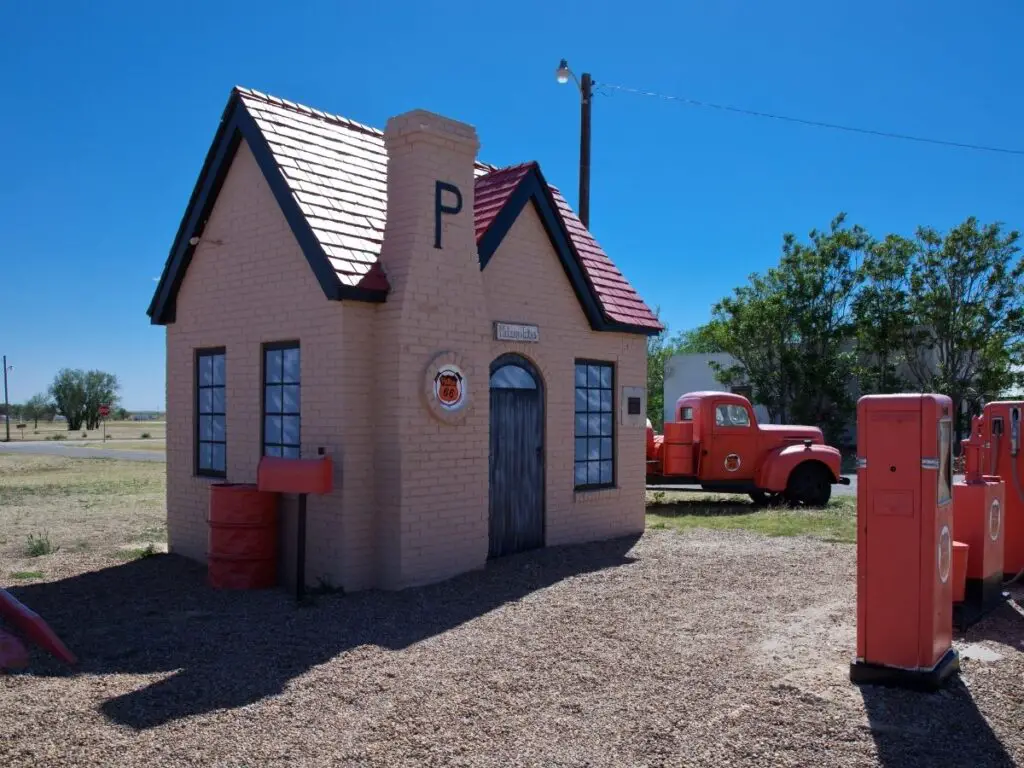 Restored gas station
Location: McLean, Texas
Before you leave the town of Mclean there's also a really nice restored gas station to explore. It was built in 1929 and it's a tiny little building (makes me think of a small play house for kids) with some restored gas pumps outside and a vintage car too.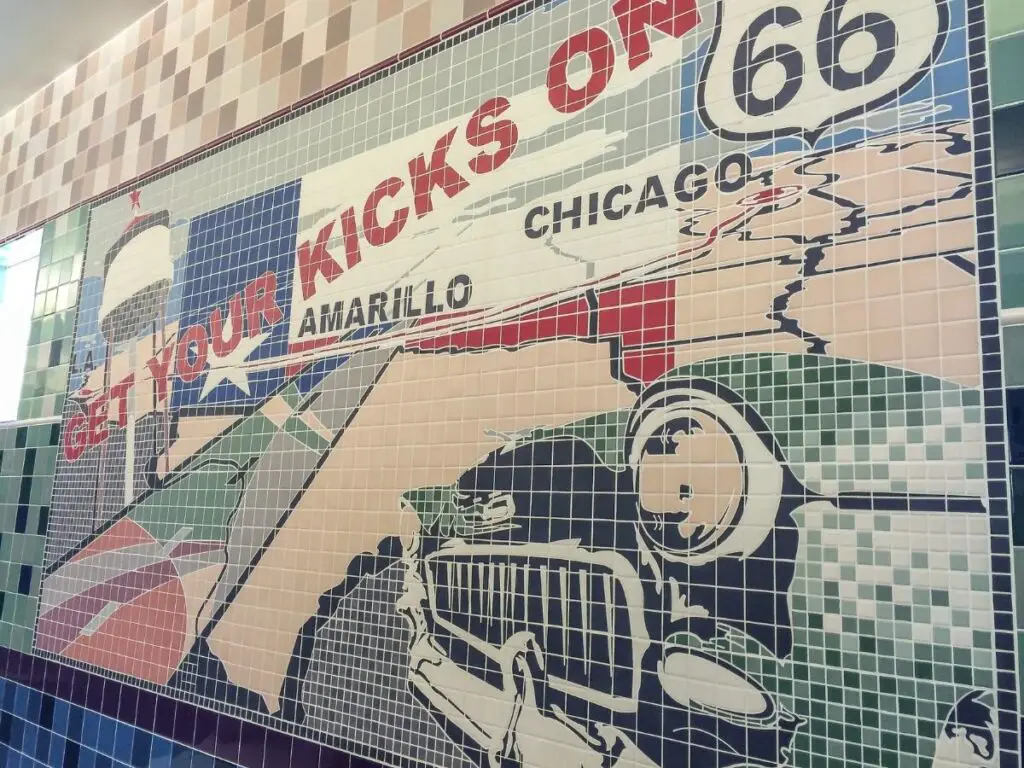 Rest area on I-40
Location: Just west of Alanreed, Texas
Just out of McLean and along the interstate there's a pretty cool service area.  There are two so depending on which side you travel on will depend on which you can visit.
So what's so great about an interstate service stop?  Well this one has lots of exhibitions about the road and is just generally a really pretty place – even the toilets were photogenic and had some cool route 66 mosaics!
It also had a reminder of the weather complications around these parts as there was a tornado shelter inside.
Jericho Gap
Location: Jericho, Texas
Jericho is a ghost town in Texas but in the heyday of Route 66 Jericho Gap was a section of the road that could cause serious issues to cars. No end of vehicles got stuck in the mud at this area resulting in locals needing to pull them out.
Jericho got bypassed early on in the roads history and the town died out soon after.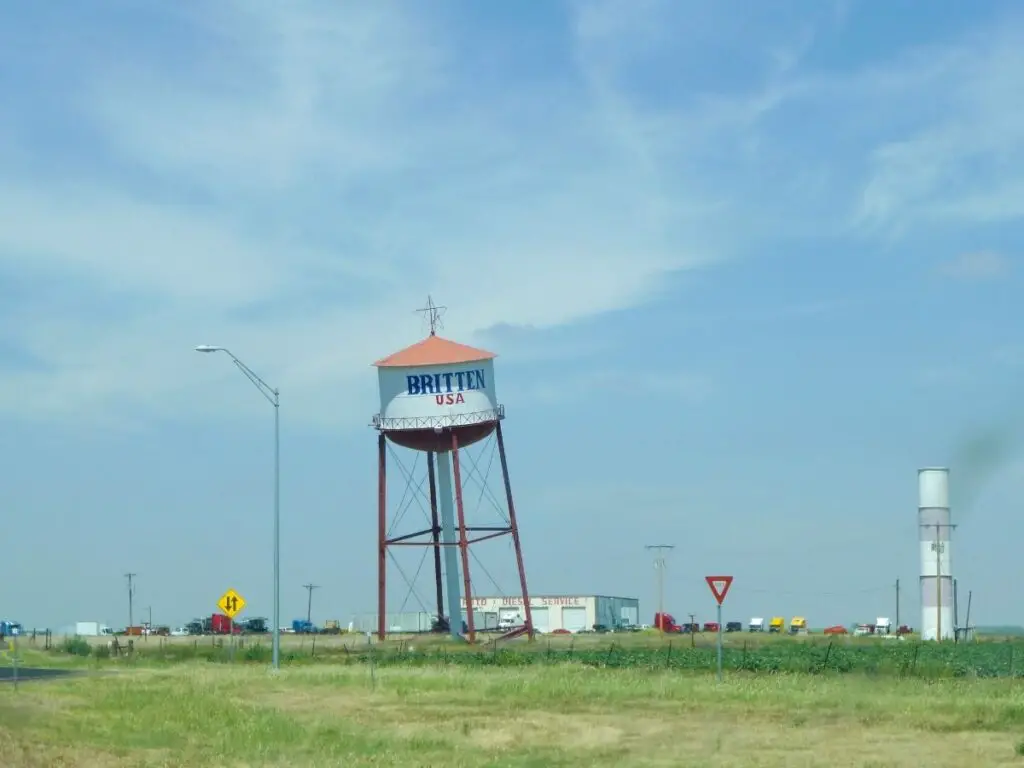 Leaning Tower of Texas
Location: Groom, Texas
Here you'll find the Leaning Tower of Texas (or leaning tower of Britten) which is a water tower that probably doesn't hold as much as it could!  
It was built like that to entice people to slow down and it did just that. The owner also had a food stop and often people would stop to warn of the water tower looking like it was going to topple (when you couldn't just google about it!).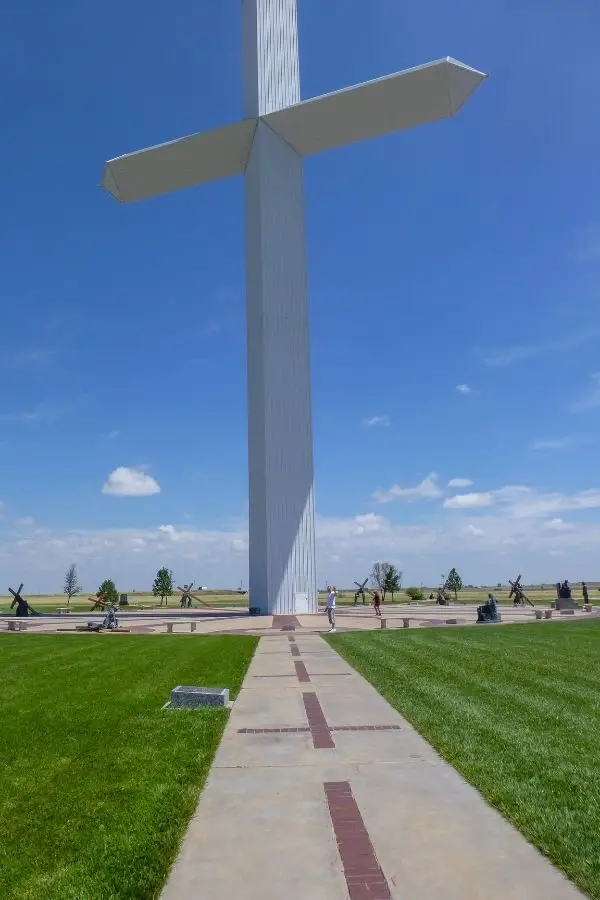 Cross of our Lord
Location: Groom, Texas
When driving through Groom you also can't really miss the ginormous cross there which is part of the Cross of our Lord church there.  It was built in 1995 so doesn't quite have the history of lots of other spots but fits in quite nicely with the giant aspect.  There's a gift shop and a church there as well as some sculptures.  
Bug Ranch
Location: Conway, Texas
Between Groom and Amarillo is a small town called Conway which houses a new site – Bug Ranch.  It's very similar to the cadillac ranch on the other side of Amarillo.  
Leave your mark like many others have done before you and explore some other abandoned Route 66 buildings nearby too.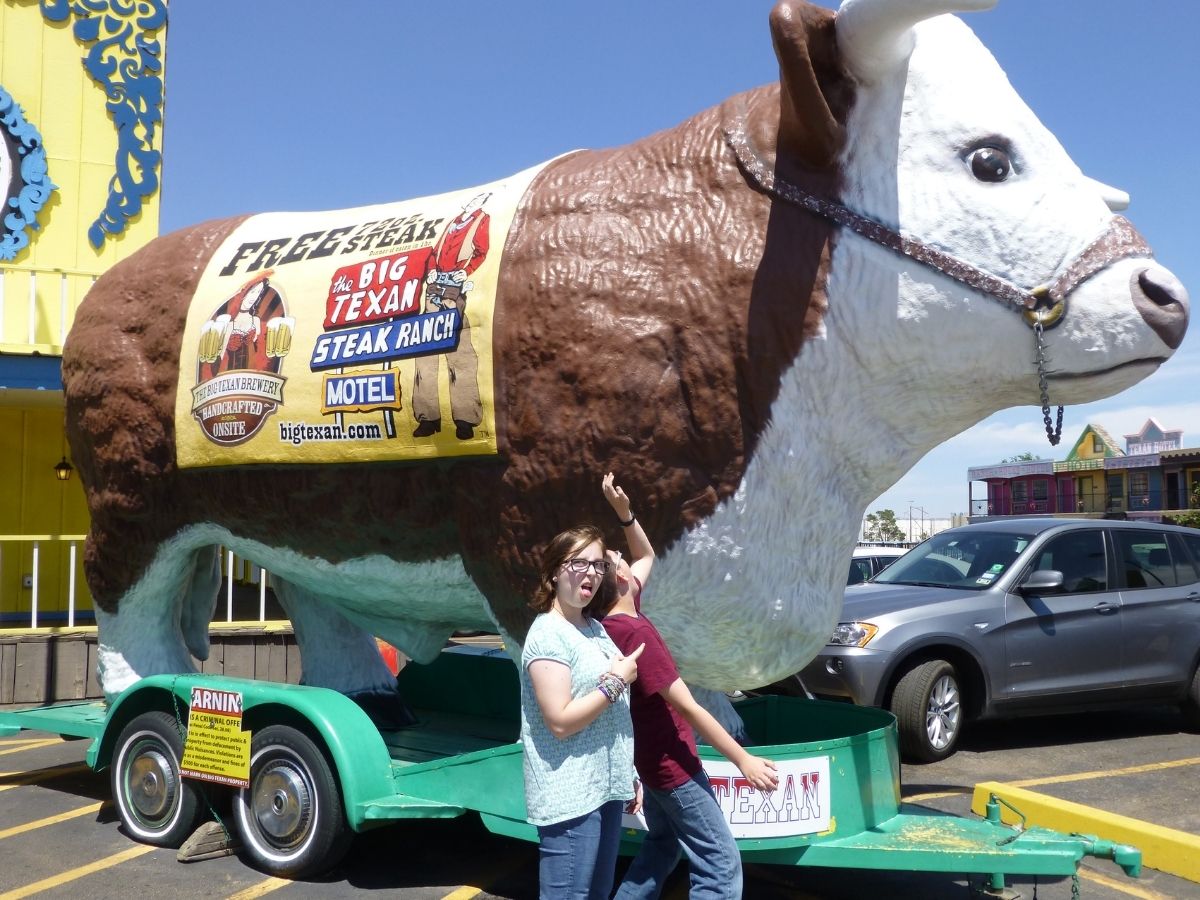 Big Texan Steak Ranch
Location: Amarillo, Texas
The Big Texan is a classic for Route 66 travelers and the story of the restaurant is interesting too. They actually moved the entire location when a fire gutted the original building. It's probably a better location for them, despite not being on an original Route 66 alignment since it's just off I-40 and super easy to find.
As well as being a restaurant there's also a gift shop attached. Definitely worth a stop even if you don't want some food. If you are hungry and you can eat the 72oz steak in less than an hour you'll get it for free – we didn't give it a go! Next time perhaps!
It's a good place to rest your head as there's rooms next door in the old motel that have been remodeled for 2021 and look quite awesome!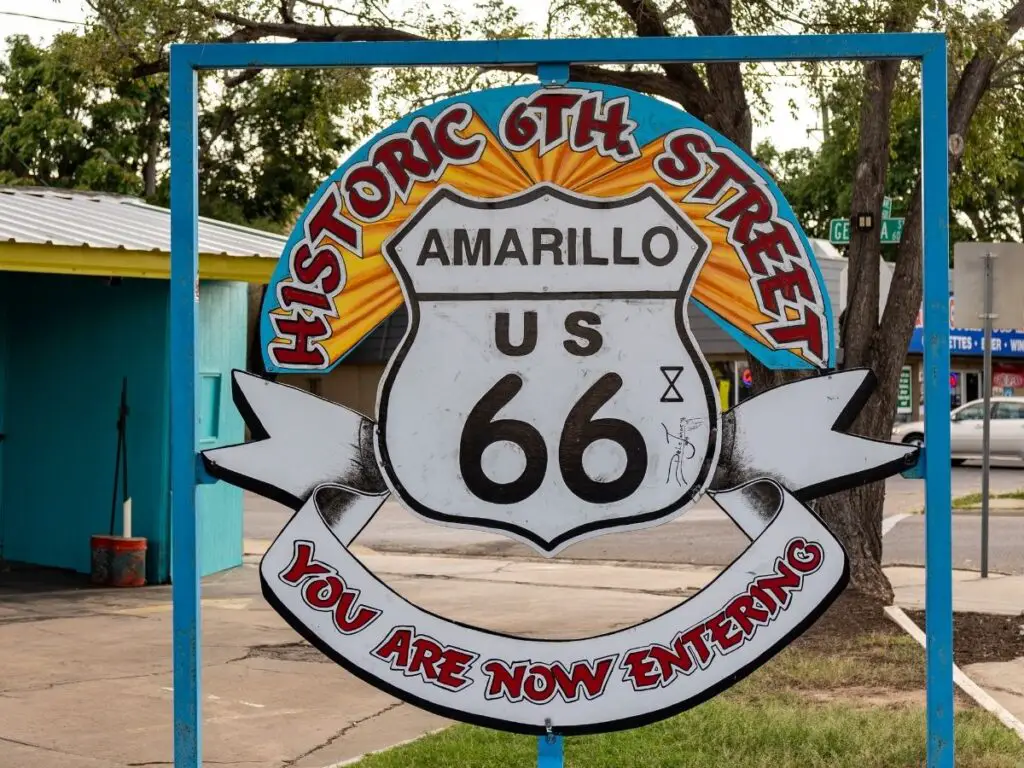 6th Avenue
Location: Amarillo, Texas
Head into Amarillo to find the original stretch of Route 66 on 6th Avenue. There are some neat shops and cafes to check out if you have time for a wander.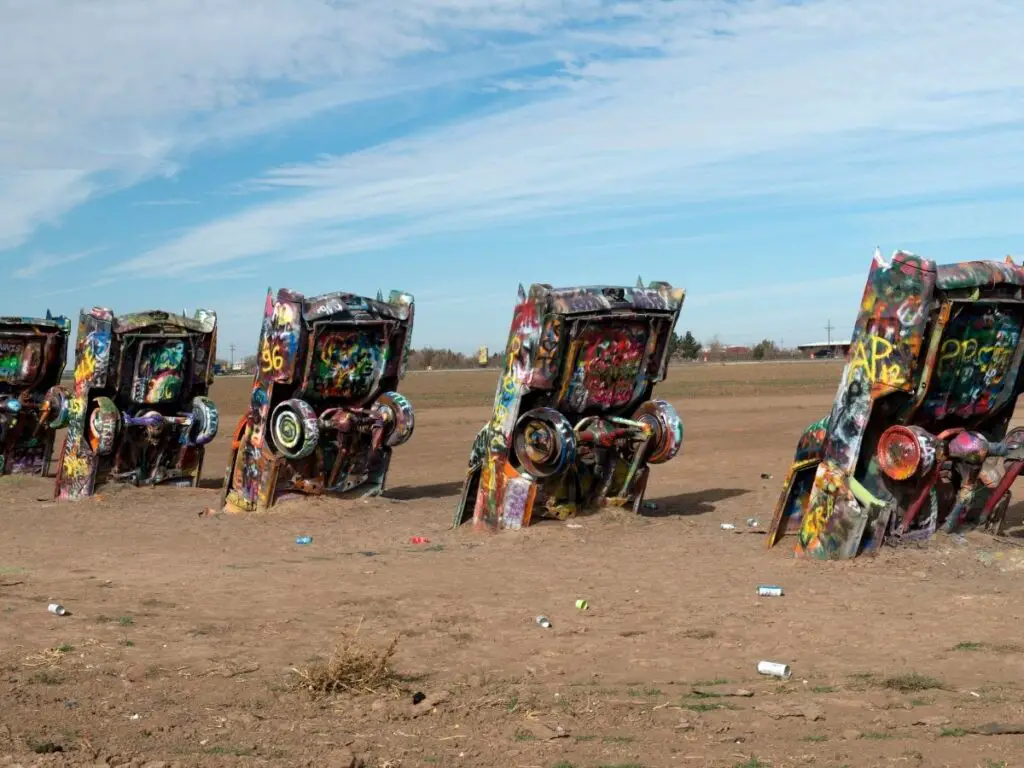 Cadillac Ranch
Location: Amarillo, Texas
An absolute classic roadside stop on Texas's Route 66 portion is the Cadillac Ranch. It's an installation of old Cadillacs, put there in the 70s, that have been half buried in the ground and look quite spectacular.  You can add your mark to it with spray paint so it means they are always changing their look – just remember to clean up after yourself as I've heard lots of people leave litter there.
You can get there just off I-40 after you pass through Amarillo on the west side.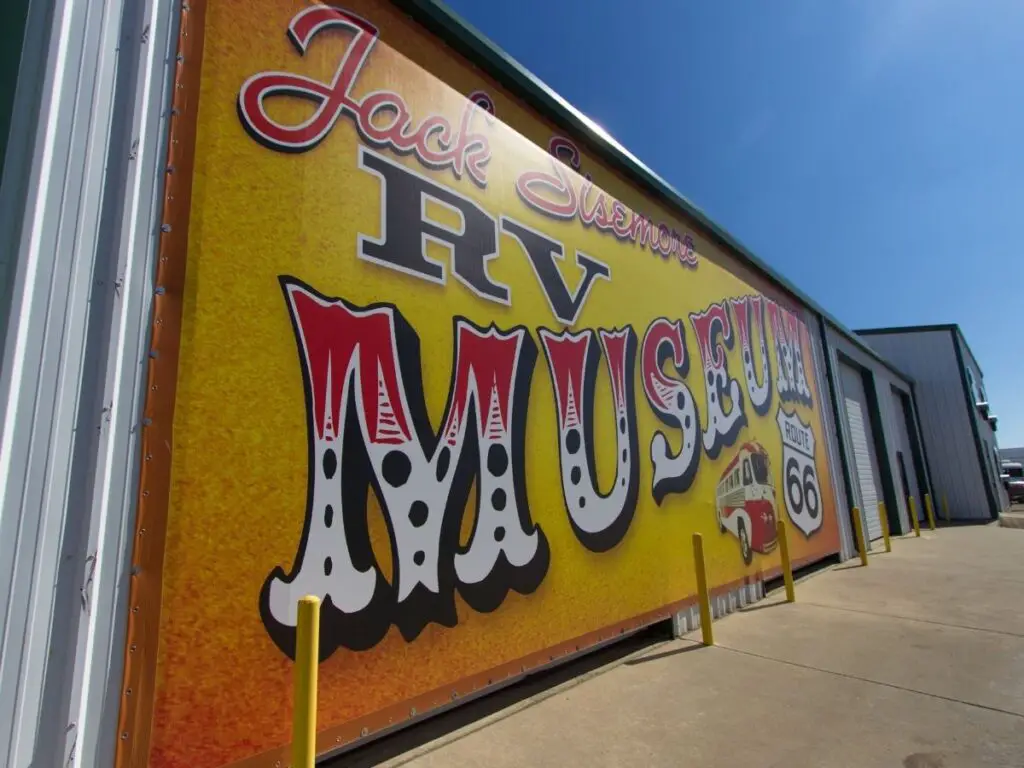 RV Museum
Location: Amarillo, Texas
Not quite on the road itself, but only a short detour south of Amarillo is the RV museum. It houses some wonderful vintage RVs like airstreams and also a lot of old motorcycles too, so if you're interested in any of these things go and visit! It's free, but appreciates donations.
Dot's Mini Museum
Location: Vega, Texas
A cute little outdoor museum and collection of bits and bobs. This was set up as a collection of Dot Leavitt's things and morphed into a museum of sorts over the years.
Milburn culture museum & gas station
Location: Vega, Texas
This small museum has another must see for fans of the Cars movie – Lizzie! As well as that you'll lots of Route 66 memorabilia and local history. It's a really nice stop if you're in the area.
Roosters
Location: Vega, Texas
Roosters is a really fun place to eat if you're around Vega and getting a bit hungry. There's a large Rooster out front welcoming you inside to eat some wonderful mexican food, perfect if you want a change from hamburgers and american diner fare!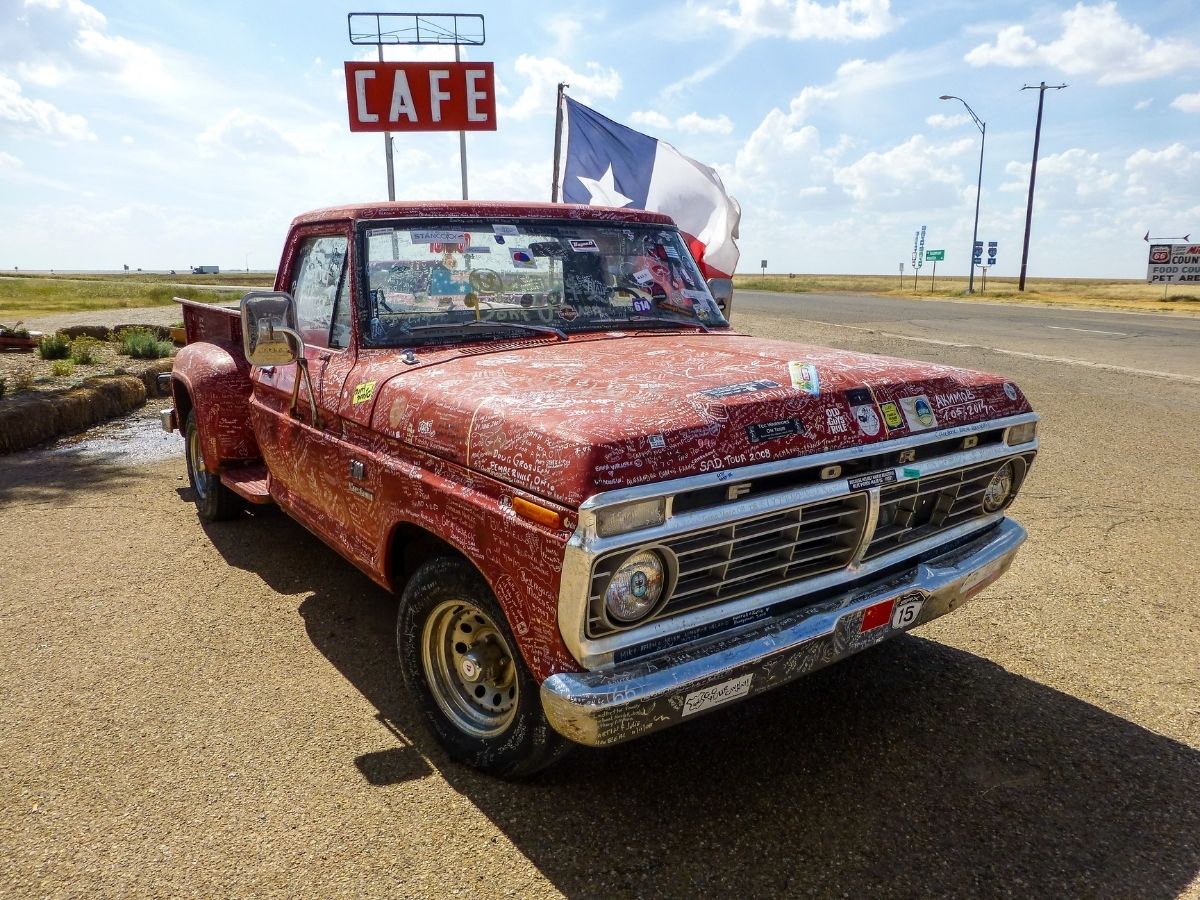 Route 66 mid-point
Location: Adrian, Texas
The mid-point of Route 66, as you can imagine, has a decent stop for you to take some pictures and enjoy a break. There's large sign and road markings in the area.
If you're hungry then the midpoint cafe is also worth a stop. This is the place that was the inspiration for Flo's cafe in the Disney Cars movie. Unfortunately we arrived after it closed so make sure to check opening times if you need food!
Glenrio
Location: Glenrio, Texas/New Mexico border
The last stop is another ghost town right on the border between the states of New Mexico and Texas. Originally the railroad came through the area and the town began at the beginning of the 1900s. With Route 66 also passing through it sustained the town but when it was bypassed there was nothing left to stay for and it's mostly dilapidated buildings and a road with weeds growing through it.
Still got questions? Join our FREE Route 66 community!
Come and join our FREE Facebook group where you can get help with planning your Route 66 road trip of a lifetime!