Known as the Golden State, the Route 66 attractions in California are also quite spectacularly golden and unique.
California was the destination for pioneers, gold seekers, dust bowl escapees and also tourists making the epic trip. They hoped that their lives would be changed by reaching this fabled place of gold, sunshine and fortune.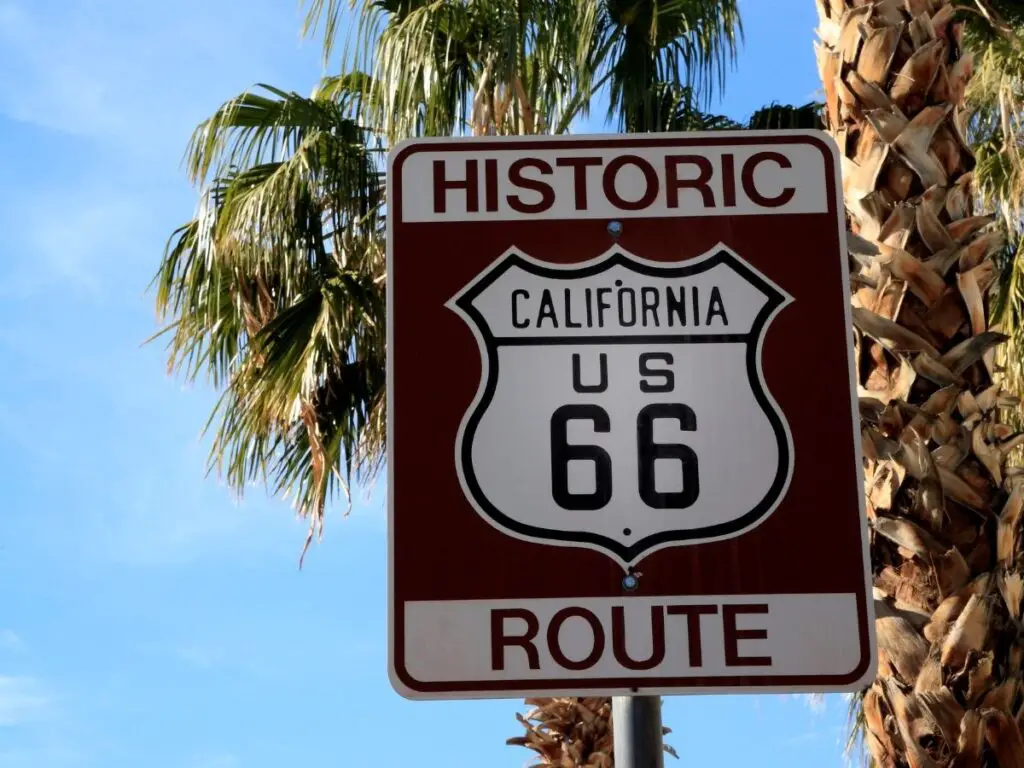 For those making a Route 66 trip today it might be the end of a long journey, but there's still a lot to see here. You'll find ghost towns, desert stops, abandoned relics and that classic route 66 vibe. Let's take a look at the historic sites to see in California along Route 66.
Map of Route 66 attractions in California
Check out this map of the attractions along Route 66 in California to get your bearings and find out where everything is: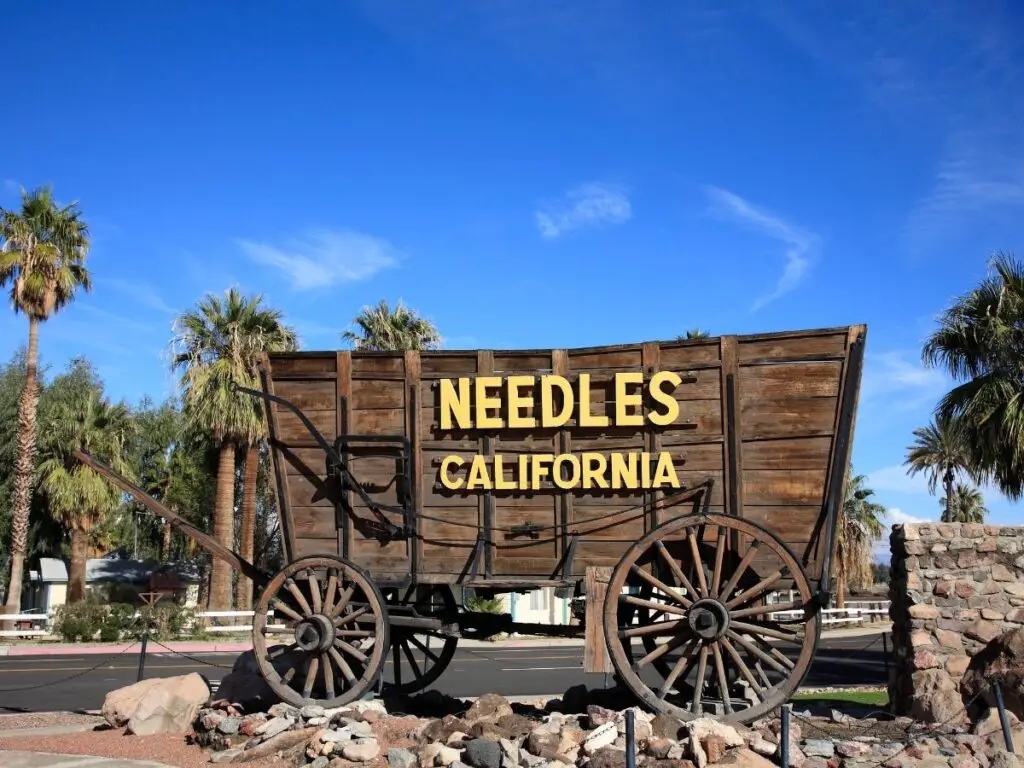 Needles Borax Wagon
Location: Needles, California
The city of Needles is the first one you'll arrive in as you cross the Colorado River from Arizona. It's a delight with quite a few retro motels and signs around.
One quirky roadside item is this original wagon used to transport borax from the Death Valley where it was mined. Now it graces the side of the road and welcomes you to the city.
El Garces Hotel
Location: Needles, California
While you're exploring Needles check out El Garces Hotel which was the railroad depot for the town and quite a grand one at that. After many years of popularity as a cafe and hotel the decline of rail travelers led to the downfall of the building. It's been abandoned for a while now but there are hopes to restore it. There are also sometimes tours of the building and a museum across the road to learn more.
Goffs Schoolhouse
Location: Goffs, California
This old Schoolhouse in the desert town of Goffs has been turned into a museum with exhibits about mining and desert life. Outside there are old, rusty cars, mining equipment and a lot of history to be seen.
Najah's Desert Oasis
Location: Fenner, California
If you left it too late to fill up and all of a sudden found yourself short of fuel, for yourself or your car, you'll be pleased to see this service area in Fenner. It's really the only thing around but a pleasant place to stop. Prices are higher here than outside the desert, which makes sense, but be prepared for that if you do need to stop!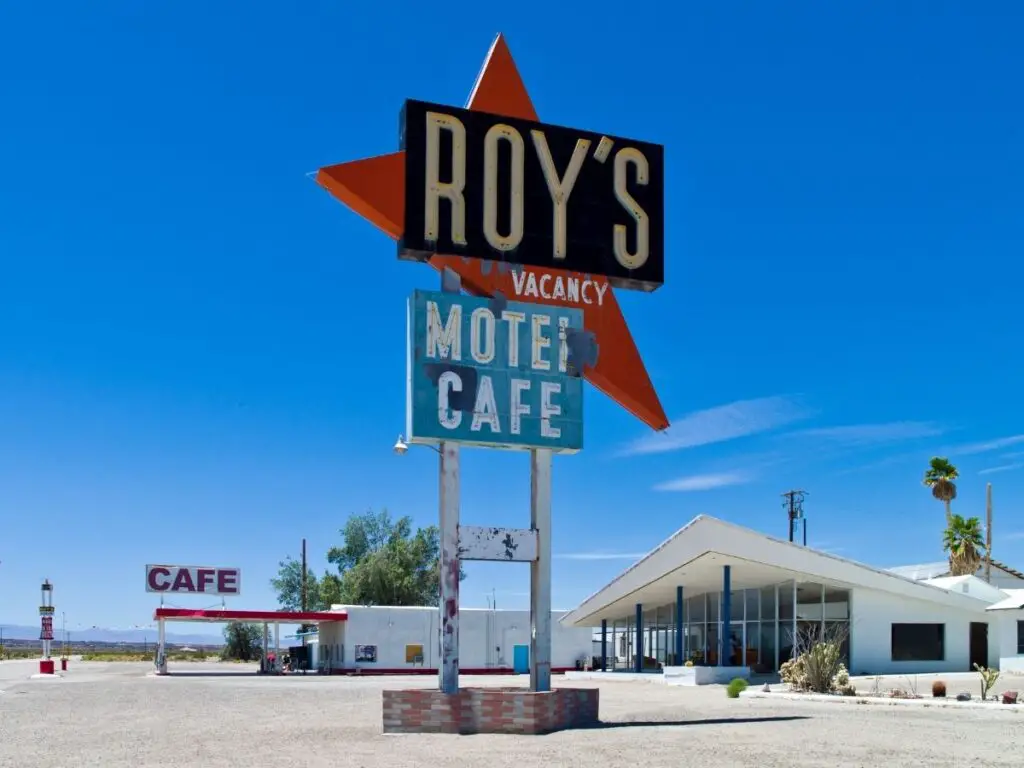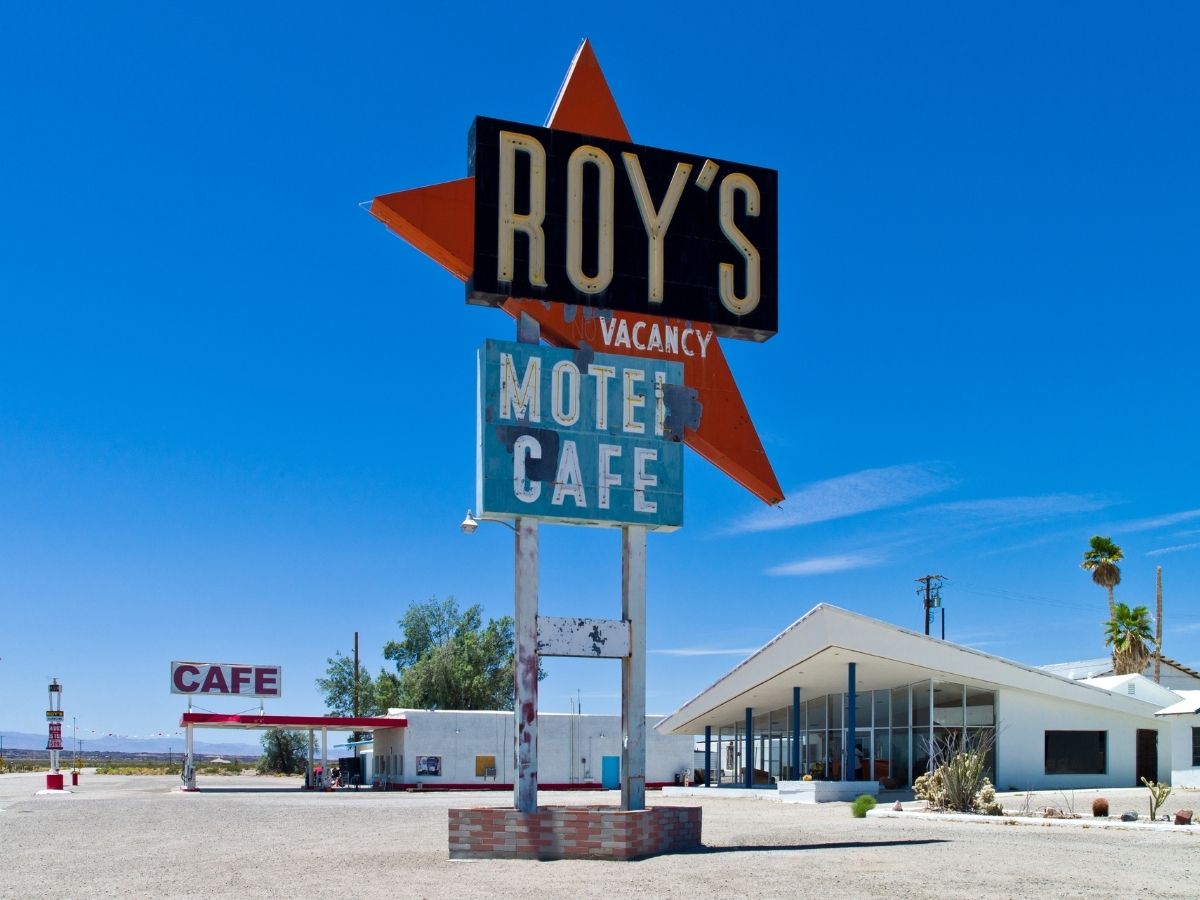 Roy's Motel and Cafe
Location: Amboy, California
One of the most photographed abandoned motels and cafes on the road, Roy's Motel is deep in the desert and it's easy to see why it might have been given up on. There are plans to restore it but until then you might be able to get some souvenirs and snacks.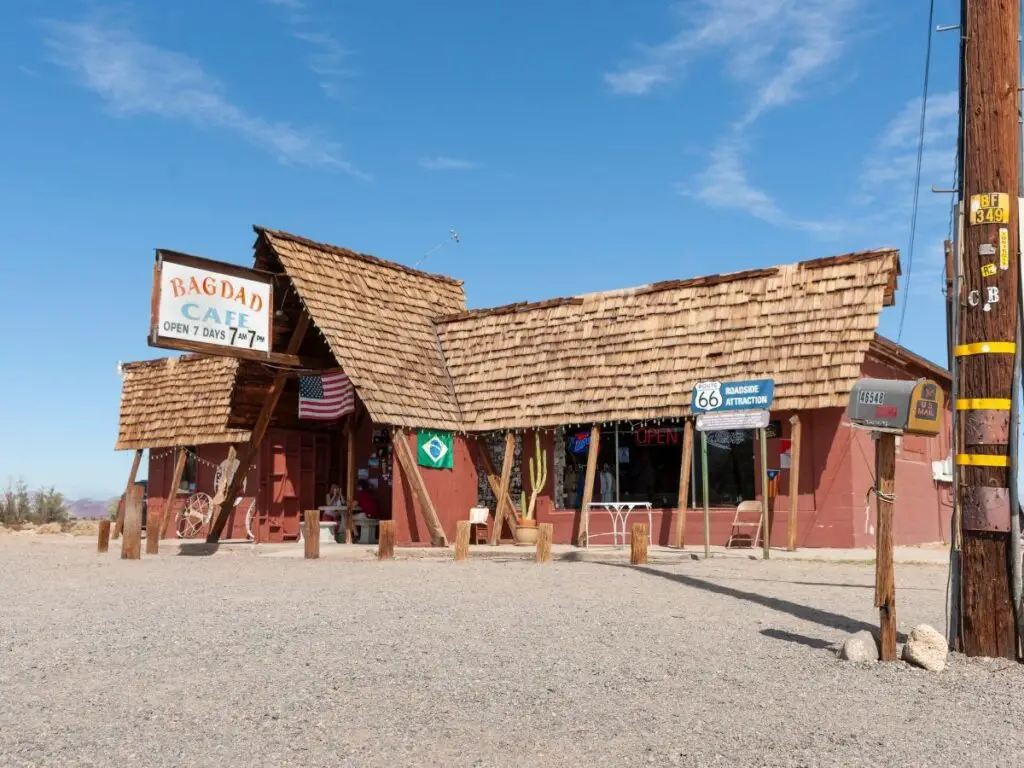 Bagdad Cafe
Location: Newberry Springs, California
Bagdad Cafe was a movie made in the 1980s and filmed here in Newberry Springs. There was actually another Bagdad Cafe in the nearby ghost town of Bagdad but it's been long gone. This one changed it's name after the movie and has been an iconic stop ever since!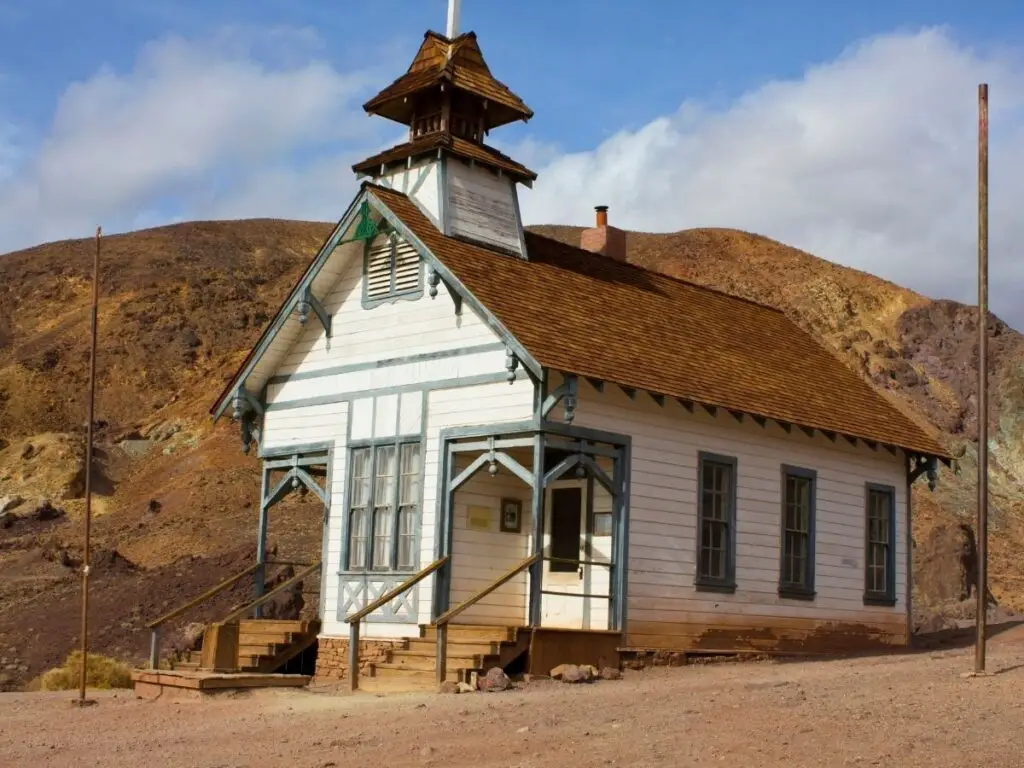 Calico Ghost Town
Location: Calico, California
Calico isn't quite on Route 66 but it's only a short drive from it and so worth adding in this list. Built in the early 1880s and not even lasting 20 years before it was abandoned, Calico was a silver rush town. It's now restored as a tourist attraction and you can even stay over there too in a bunkhouse. There's a small admission fee to the area.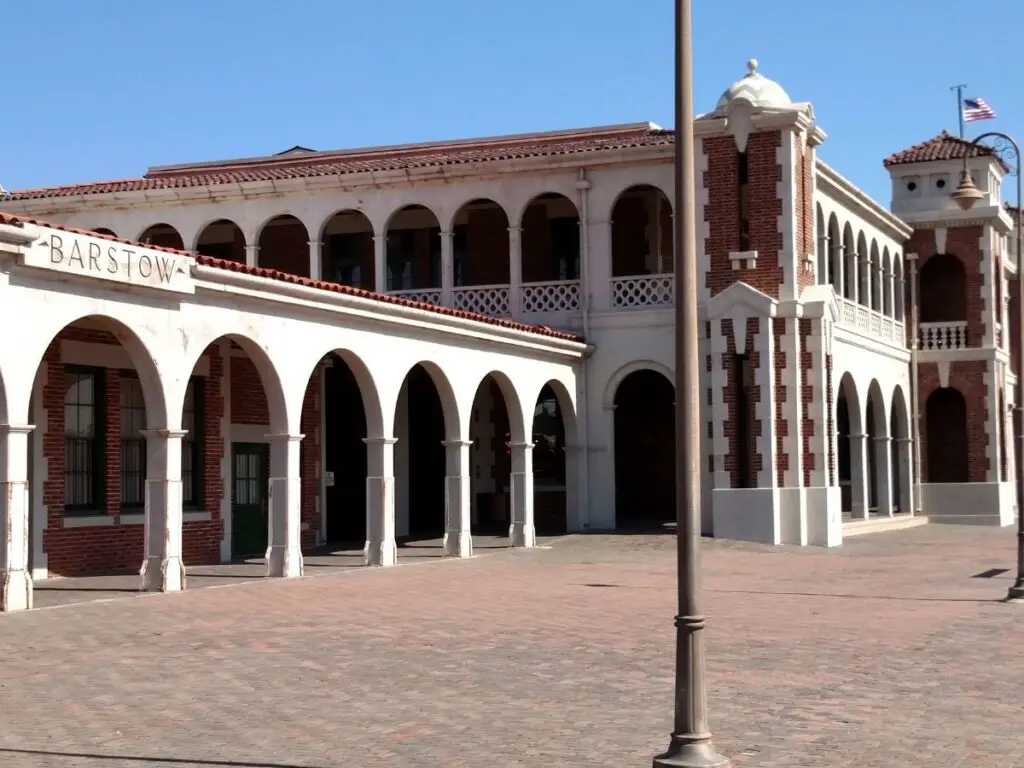 Barstow Rt 66 Museum and Railroad
Location: Barstow, California
The Route 66 Mother Road museum in Barstow has lots of artefacts and exhibitions about the history of the road and in particular from this area. It's located by the wonderful railroad station building with some old locomotives and rail cars around too and another museum dedicated to the railways. Both are only open a few days a week but it's worth a stop to see the building and trains outside in any case.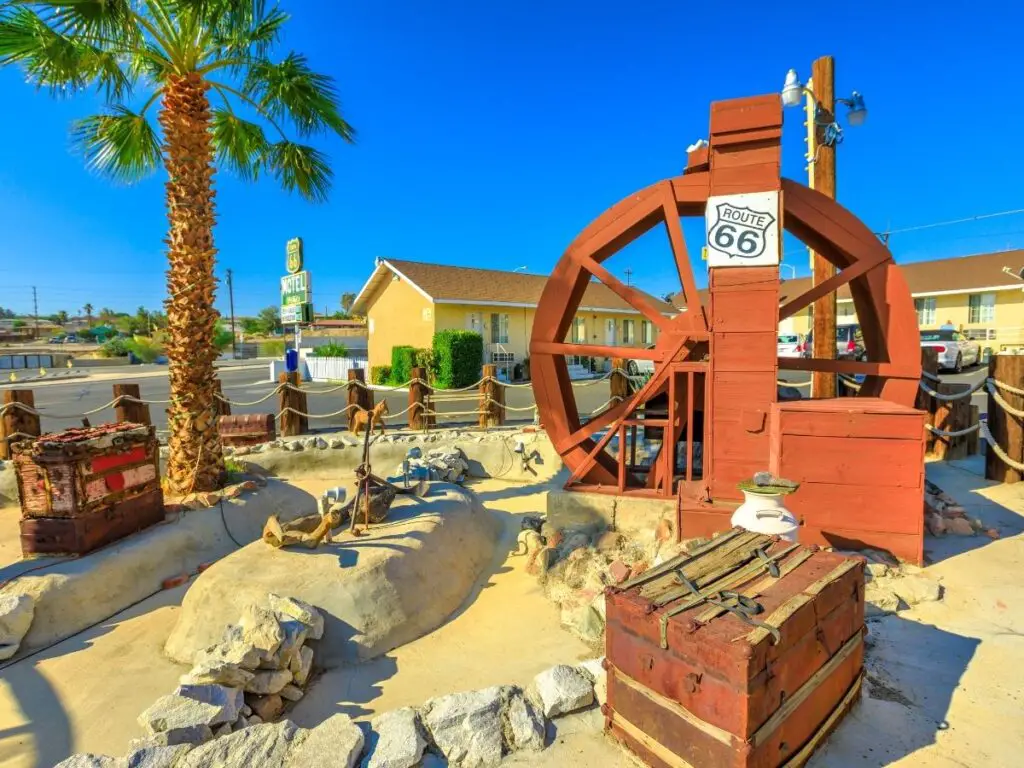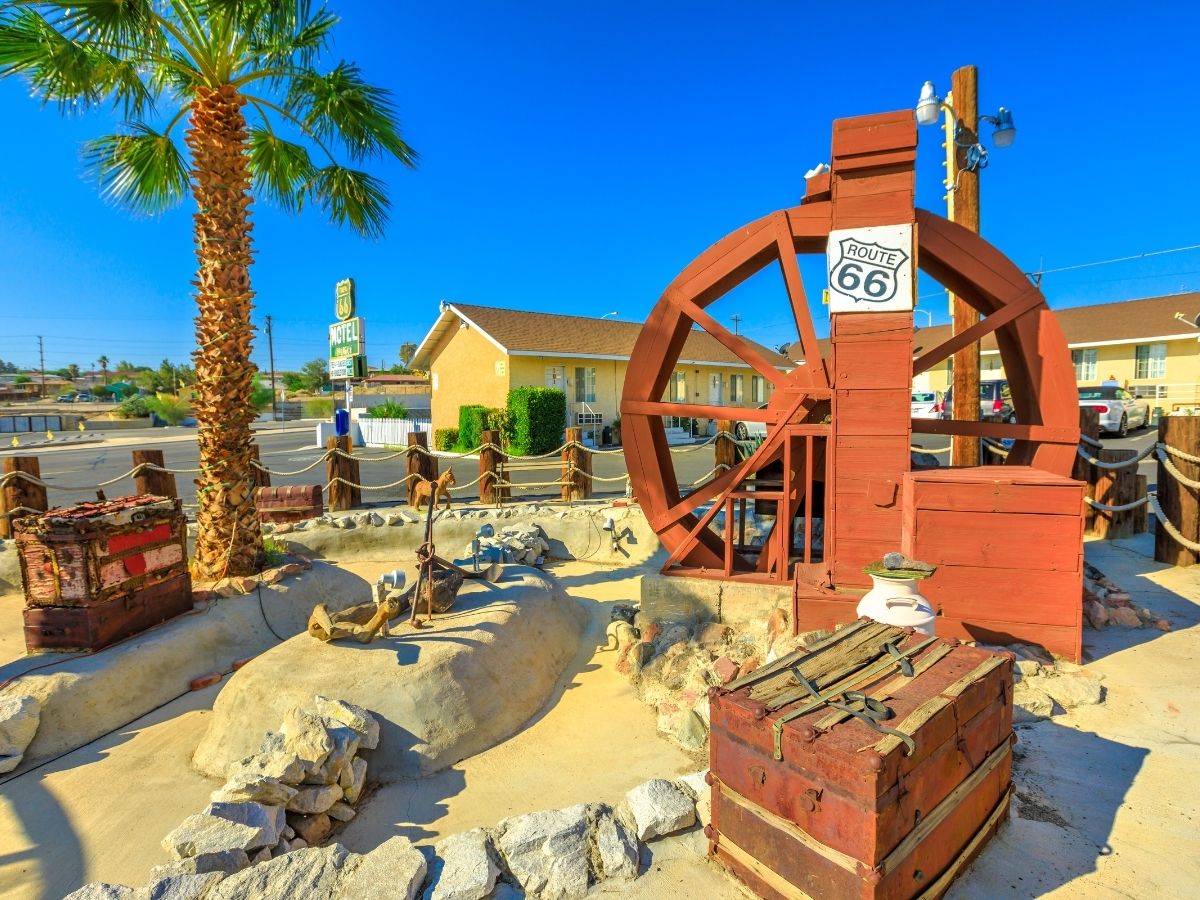 Rt 66 Motel
Location: Barstow, California
A real old motel for this area having been built in 1922. The Route 66 Motel boasts retro neon and cars outside and a no frill interior. A good place to rest your head in this area if you like to patronize the mom and pop motels.
Elmer's Bottle Tree Ranch
Location: Oro Grande, California
A really unique stop in California is this outdoor folk art installation made with loads of vintage glass bottles. It's one of those one of a kind places that are great for getting your camera out and being creative.
Elmer Long, the creator of the ranch, has recently died but his family are keeping it going for visitors.
California Route 66 Museum
Location: Victorville, California
A small museum in Victorville with a huge amount of memorabilia and exhibitions about the road all the way through all 8 states. You can see vintage gas pumps, maps, toys and all sorts of old knick knacks. There's also a gift shop with plenty to choose from too.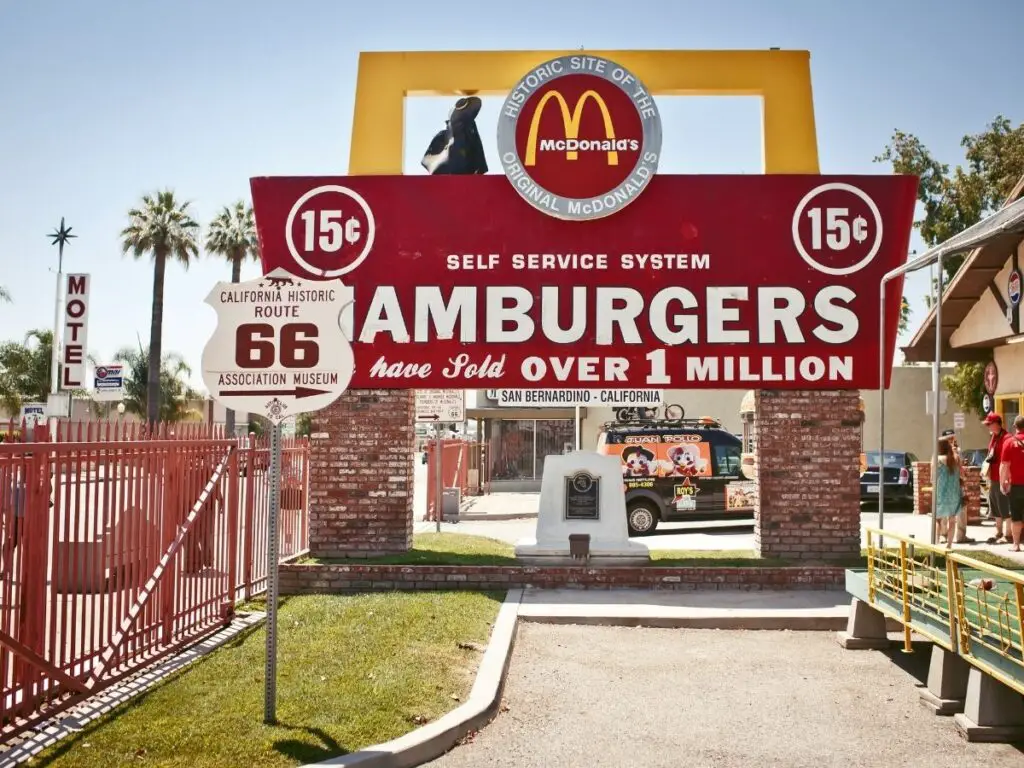 Original McDonalds
Location: San Bernardino, California
We're starting to get into the sprawl of Los Angeles now but there are still some delights to come across such as the first ever McDonald's location. It's now a museum dedicated to the story of the chain and its beginnings. A real interesting place for American history!
Wigwam Motel
Location: Rialto, California
Just like the wigwam motel in Holbrook, Arizona, this is a quirky place to lay your head if you're staying away from chain hotels on your road trip! Unlike the other one, this has a pool, perhaps a reminder that you're now in California!
Even if you don't stay overnight it's a cool place to explore and take photos.
Magic Lamp Inn
Location: Rancho Cucamonga, California
The Magic Lamp Inn was established in 1955 and sometimes it looks like it could still be from that era with a lounge like interior and a real retro feel to it. It's been serving customers all that time and doesn't look to be stopping. The Aladdin's Lamp sign outside lights up with neon at night.
Flappy Jacks Pancakes
Location: Glendora, California
It doesn't have the long history of some of the Route 66 sites in California, but Flappy Jacks embodies the spirit of Route 66 with a great vibe, classic food and a love of the road. If you're looking for some food before you hit LA properly this would be a great option.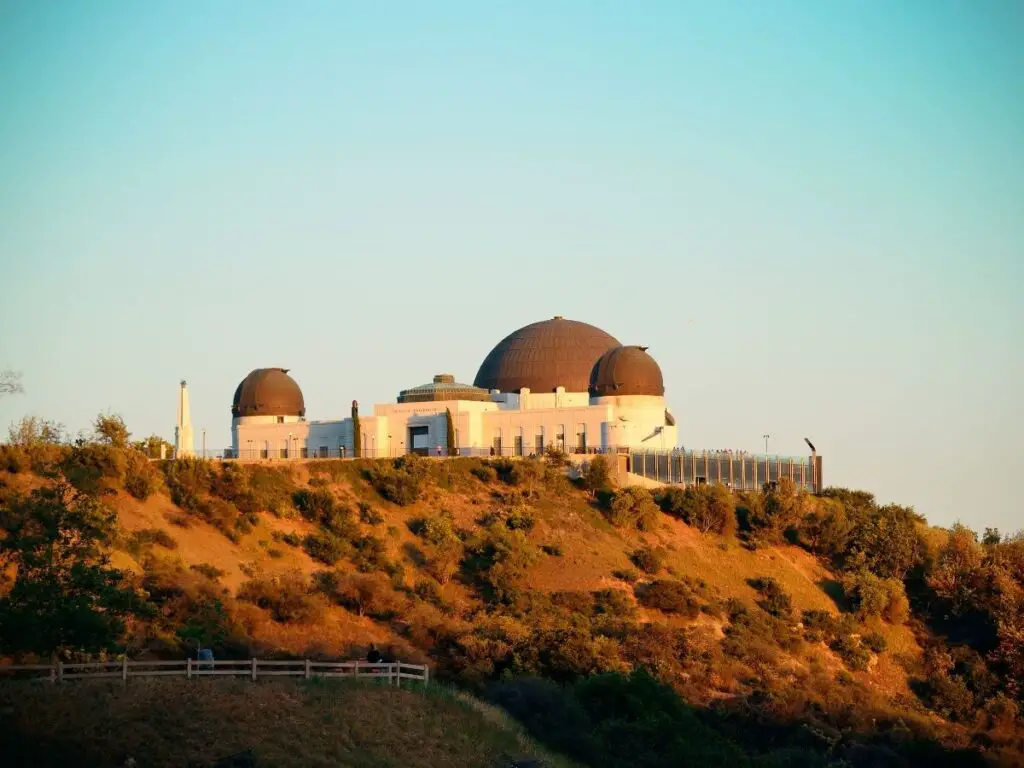 Griffith Observatory
Location: Los Angeles, California
There is so much to do in LA that I can't possibly cover it all in this guide, but I'm adding just a couple of spots that I think are worth seeing from that historic point of view.
First off we have the Girffith Observatory which was opened in 1935 and so has been around almost as long as Route 66 itself and I'm sure was a great attraction to road trippers over the years. The area offers amazing views over the city and lots of telescopes to observe the night sky if you come later in the day.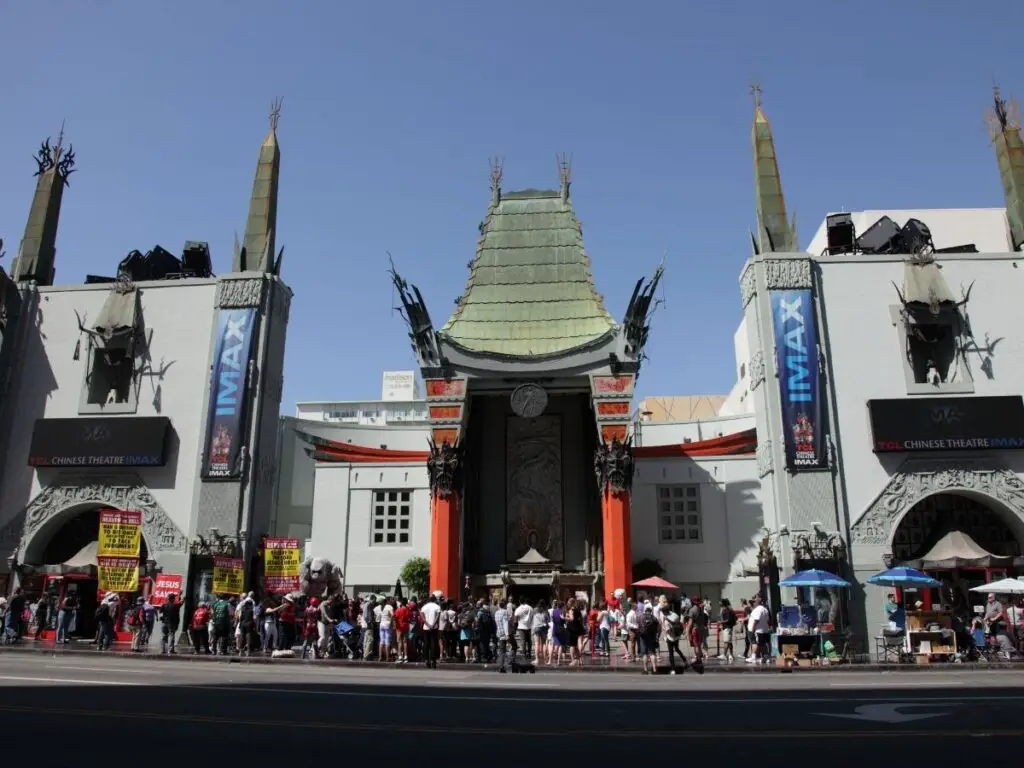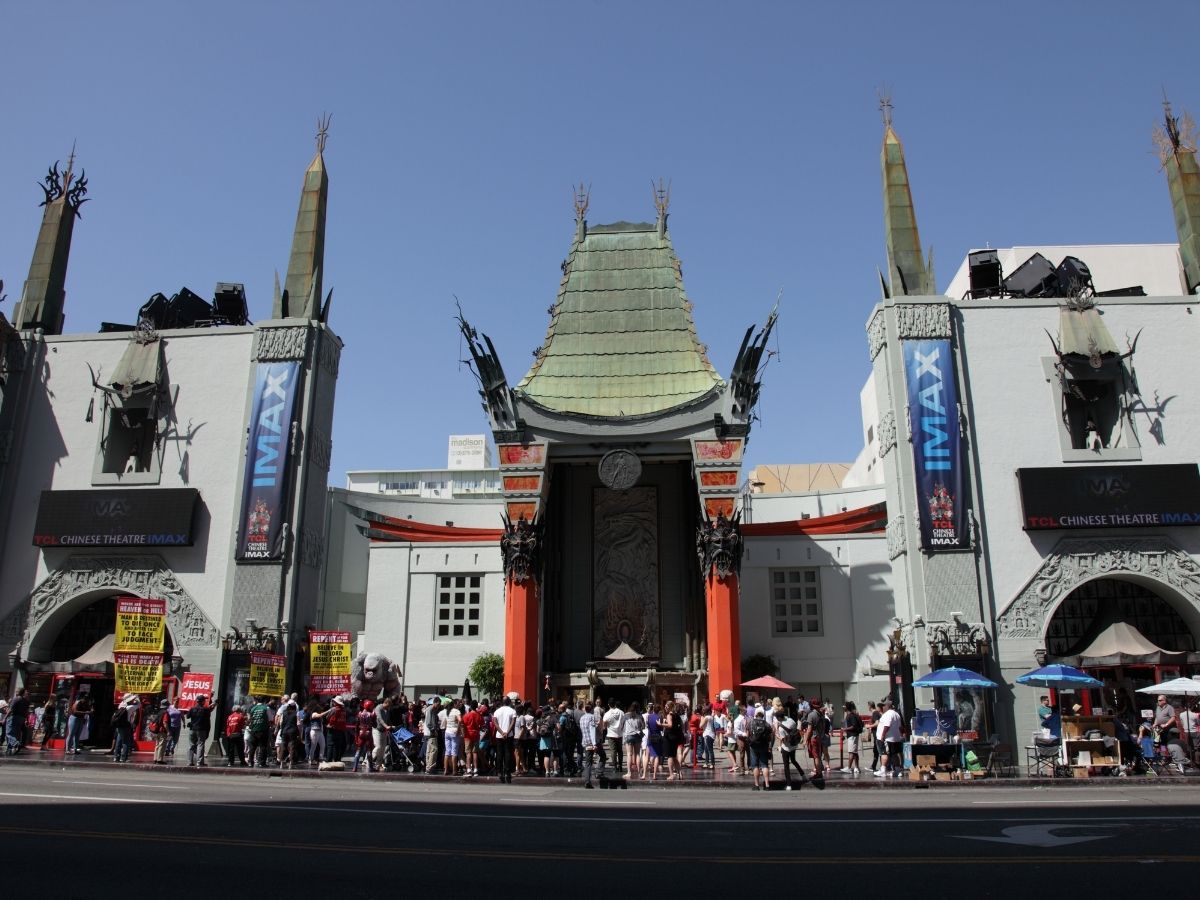 TCL Theatre and the Hollywood Walk of Fame
Location: Hollywood, California
The iconic Chinese theatre in the heart of Hollywood was opened in 1927 and has been showing films ever since, including many premieres attended by the stars.
You can still go and enjoy a film in this interesting piece of history or just enjoy it from the outside. As well as the Hollywood walk of fame, with Stars in the ground all around, there's also the handprints that are in the TCL theatre's forecourt. A must visit for anyone with an interest in Hollywood, classic or otherwise.
Opposite the TCL theatre is the El Capitan, another historic building from around the same time period and also built by Grauman, who built the TCL and a few others. This one is owned by Disney and plays Disney films – maybe a good one for kids, big or small!
Mel's Drive in / Official end
Location: Santa Monica, California
Santa Monica Pier is the spiritual end of the road, but the actual, official end of Route 66 was located at the corner of Lincoln and Olympic Boulevard, just a few blocks from the pier.
The actual end is signposted in a similar fashion to that of the start of the road in Chicago, but it's definitely a bit of a let down. You can always head to Mel's Drive In which is at the end point. It's located in an original 50s building that used to be a cafe back in the day.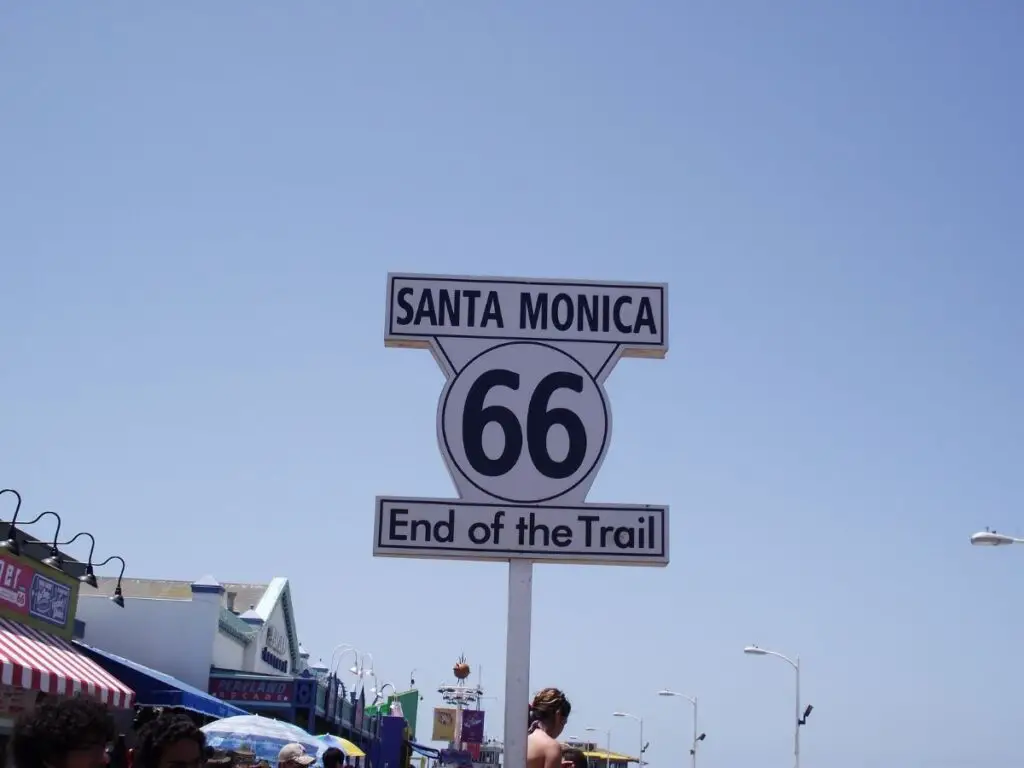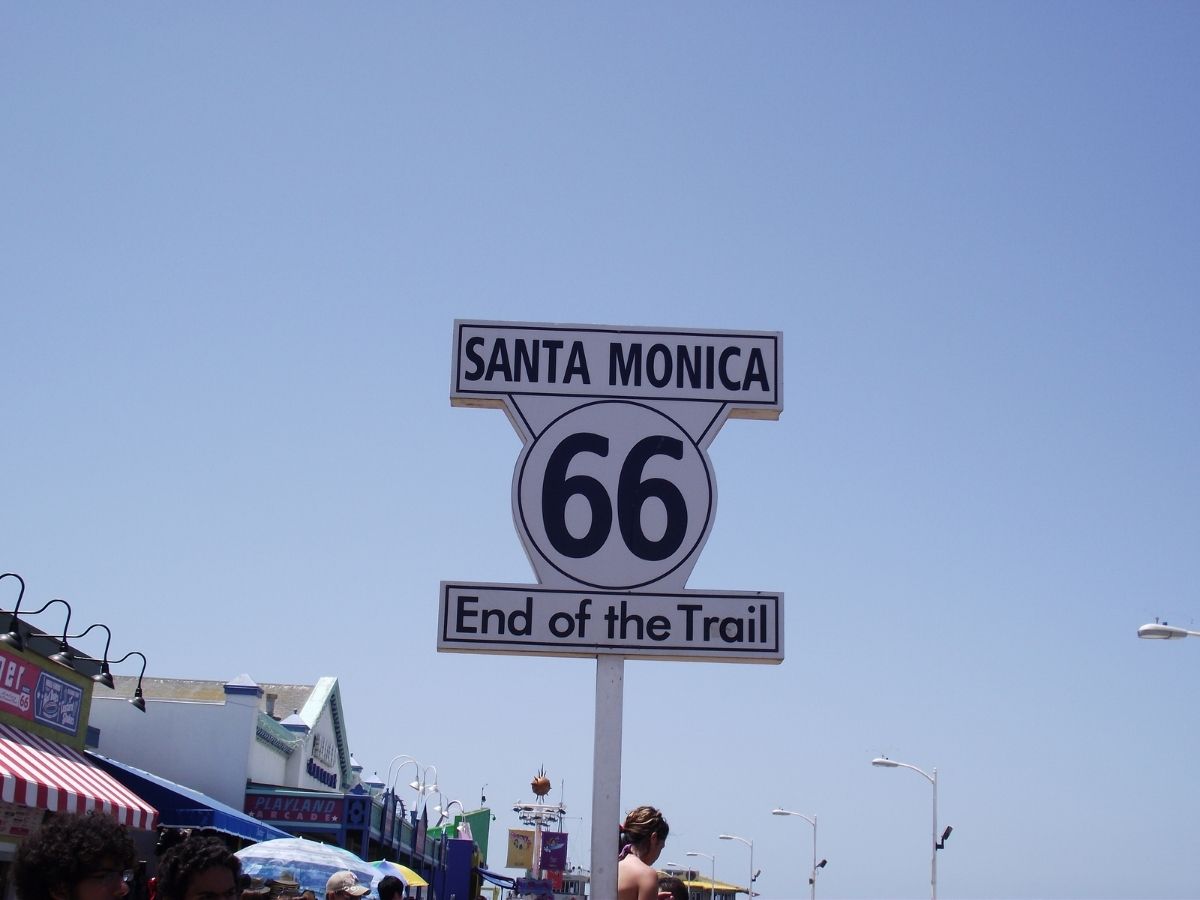 Santa Monica Pier
Location: Santa Monica, California
Our final Route 66 site in California is Santa Monica Pier with the 'End of The Trail' sign waiting for you to pose against. There's also a small shop on the pier if you still need to get some souvenirs for back home.
If you can, go for a walk on the beach and dip your toes in the pacific ocean – you've deserved it after that long journey!