Route 66 in Kansas, is the third state you'll drive through if you're driving west from the beginning point in Illinois. It's just a small section of the expanse of Kansas and you'll just drive 13 miles across the very corner tip of the state, but still well worth the visit.
This part of Kansas is mining country and the towns you'll pass through have a history of this industry all around.
If you're looking to drive the mother road in Kansas then this page is for you. It'll answer your state specific questions about Route 66 as it cuts across through the corner of the state
This article probably contains affiliate links.  
This means that if you buy or book after clicking, I may get a commission at no extra cost to you. Thanks!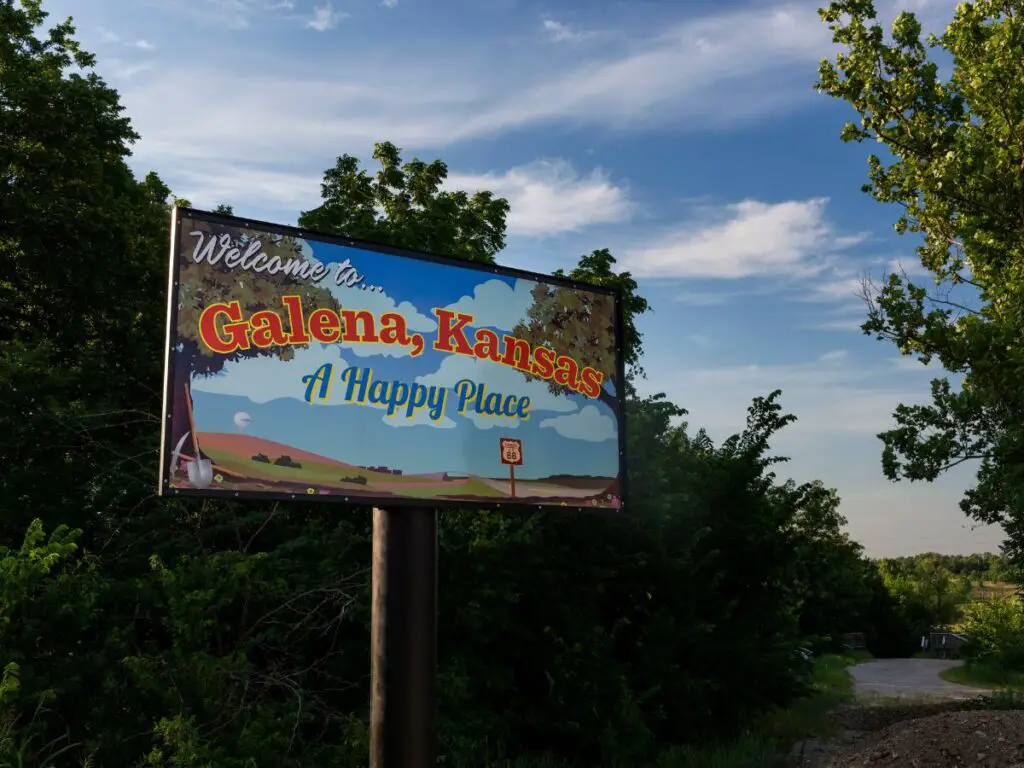 A note from the writer: Hey! I'm Kirsty and I'm a Route 66 enthusiast – I first became obsessed almost 20 years ago and then first visited in 2014. I've recently just come back from my last trip too! Comment below if you have any questions about your road trip and I'll get back to you ASAP – or join me in my free FB group here.
If you're specifically looking for information on what to do and where to stay along Rt 66 in Kansas then I invite you to check out these posts which focus just on those topics:
If you're looking for more State wide guides to learn more about Historic Route 66 all the way from the beginning to the end there's lots of posts on this site about roadside attractions to see, how to drive the road and where to stay. Alternatively you might like to check out our Start Here page.
Kansas Facts
State Name: Kansas
Nickname: The Sunflower State
Population: 2.913 million

Route 66 mileage: 13 miles (21 km)
Major cities: none!
Top Attractions: Mater from Cars, Riverton Store, Baxter Springs
Does Route 66 still exist in Kansas?
Yes Route 66 still exists in Kansas although, as in many places along the road, there have been changes to the original road alignment over the years.
With Kansas being so small it's really easy to explore the old road and not get lost here!
Where does route 66 start and end in Kansas?
Where does Route 66 begin in Kansas?
Route 66 begins in Kansas between Joplin and Galena. The main road is still 66 and you can take that straight in to Galena – this is a new 70's alignment.
You might like to travel West Old 66 Boulevard which is slightly north and begin Route 66 in Kansas that way on the older alignment. They have a neat, new marker on the road now which shows where the state line is, just outside Hogs and Hot Rods Diner – it's a 'yellow brick road' with the Route 66 shields as well – a great photo opportunity!
Where does Route 66 End in Kansas?
The end point, assuming you're driving East to West is just south of Baxter Springs, heading into Oklahoma.
What towns does Route 66 go through in Kansas?
Route 66 goes through just a small number of towns through Kansas:
Galena
Riverton
Baxter Springs
What is there to do on in Kansas on Route 66?
With Kansas just being a really short portion of Route 66 you have a couple of options: scoot right on by and don't worry too much about it, or, take your time and explore the state in full!
I opt for the latter!
There are a small amount of attractions whether you like civil war history, small town America or looking for locations that have real life Disney Cars connections. Plenty of characters and locals who love the road and businesses to support too!
The area is also mining country and there are museums around which touch on this. If you explore a little further off road you'll also see a huge mining relic called Big Brutus (about 30 miles north).
Route 66 in Kansas – Maps
Here are some maps I've made of Route 66 along Kansas.
Still got questions? Join our FREE Route 66 community!
Come and join our FREE Facebook group where you can get help with planning your Route 66 road trip of a lifetime!