As contrasts go, Las Vegas and Route 66 is a pretty big one. I guess you still have the kitsch and neon but it's quite a different experience to head out of the city towards one of the great US roads.
On our trip from Route 66 to Las Vegas (we did the opposite way!) we stopped off and did loads of sites – the area is full of things to do which is great if you want to tick off a few items from your bucket list!
If you don't have a car, or don't want to rent one, a tour can be a great way to see the area.
Some people just want a taster of Route 66 and if that's you then Las Vegas is a great place to jump off from. It's so easy to get to from most places in the US, and internationally too, and of course is well set up with plenty to do there too!
Perhaps you're planning a day away from the heady lights of Las Vegas and looking for tours that take you to see a little more of small town USA? If so these tours will be great for you – life slows down on Route 66 and it feels like it's a million miles away from the city!
Read on to discover my top picks for Route 66 tours from Las Vegas – they're all a little bit different too so there should be something for all tastes!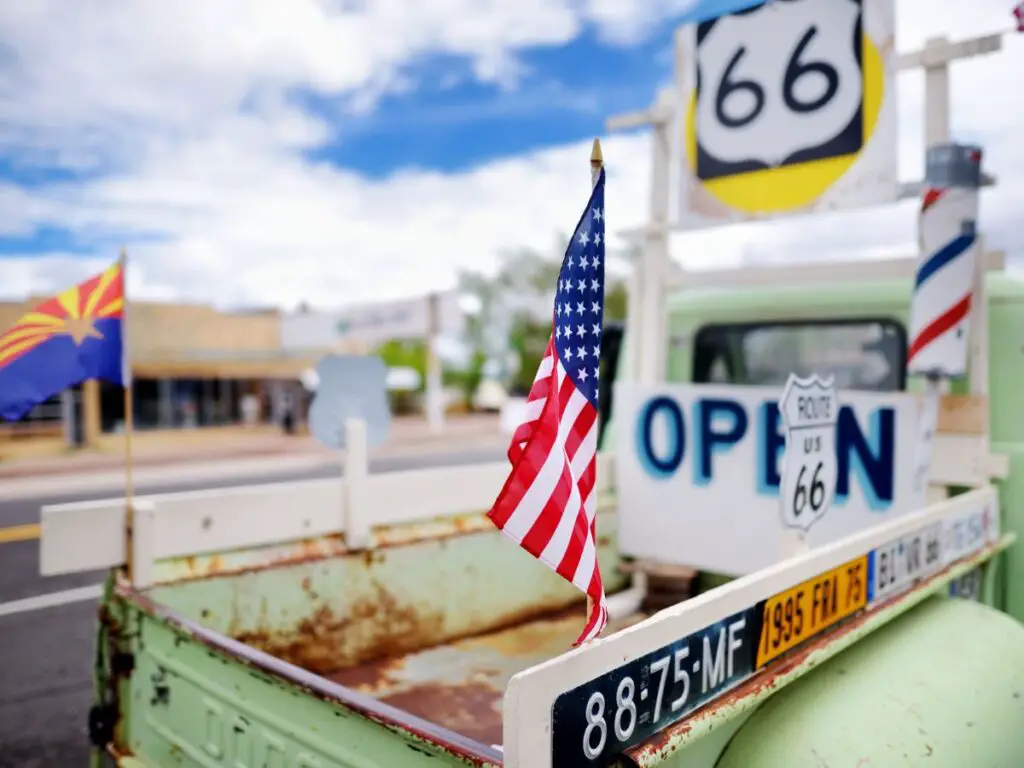 Best Route 66 tours from Las Vegas:
Most of these tours will pick you up right from your hotel on the Strip in Las Vegas. If you're staying elsewhere it's a good idea to get in touch to see if it's covered for pick up.
Rated 5.0 out of 5.0 (45+ reviews) | run by Desert Wonder Tours
If you solely want to get the Route 66 experience from Las Vegas then this is the tour for you.
It will take you straight to Arizona where you'll experience a number of different sights from the road and getting you that vintage vibe that oozes Route 66!
The highlight has to be the visit to Oatman which is an old mining town which was abandoned. There's a lot of history there but it's also a fun place to visit now with wild burros roaming around town, plenty of shops to explore and 'gun fights' happening daily!
The tour includes:
Route 66 Museum in Kingman
Cool Springs Station
Oatman Ghost Mining Village
Amazing views from Sitgreaves Pass
Pick up from your Las Vegas Hotel
Air conditioned vehicle
Bottled water
⭐️⭐️⭐️⭐️⭐️ – Excellent tour excursion! Nice get away from Las Vegas totally different from anything close to the city. Bob was a wonderful guide. Highly recommended. Excellent choice for adults and kids.

Julie – Jan 2023. See more reviews here
This is one of my favourite areas of Route 66 and this tour packs in a lot of the sights for you in a small group!
Rated 5.0 out of 5.0 (130+ reviews)
Since Las Vegas is so close to some of the most amazing sights around it makes a lot of sense to include them on a tour to Route 66. This group tour does just that combining a trip to Hoover Dam and the Grand Canyon with some classic mother road sights too.
This tour also includes a hike should you want to join in – one for those who have some energy!
The tour includes:
Grand Canyon South Rim
2 hour hike in the canyon
Drive on to Route 66 and Seligman
Finish with a Hoover Dam Tour
Lunch, drinks and snacks are included
Small group of up to 14 people
Pick up from your Las Vegas Hotel
⭐️⭐️⭐️⭐️⭐️ – What a awesome place to visit. And our guide Claudiu was brilliant, friendly and informative. It was definitely worth the money. I highly recommend this.

Angela – Nov 2022. See more reviews here
If ticking off some major bucket list sites is important to you, then this Route 66 tour from Las Vegas is a really great choice!
Rated 5.0 out of 5.0 (35+ reviews) – run by Desert Wonder Tours
This tour is a little different and brings in beer, wine and sprit tasting alongside visiting some of Route 66's most amazing sights.
This is what's included in the Route 66 and winery tour from Las Vegas:
Kingman Rt 66 Museum
Lunch and beer at Black Bridge Brewery
Wine tastings at Cella Winery and Stetson Winery
Local and knowledgable guides
Las Vegas Hotel Pick Up
Air conditioned vehicle
⭐️⭐️⭐️⭐️⭐️ – Long drive but our guide made it fun! The winery, route 66 museum and bistro were all fabulous! Sm group was the best!

Nancy – Jan 2023. See more reviews here
For a winery and distillery tour from Las Vega with a bit of added retro Route 66 goodness this one is a great option!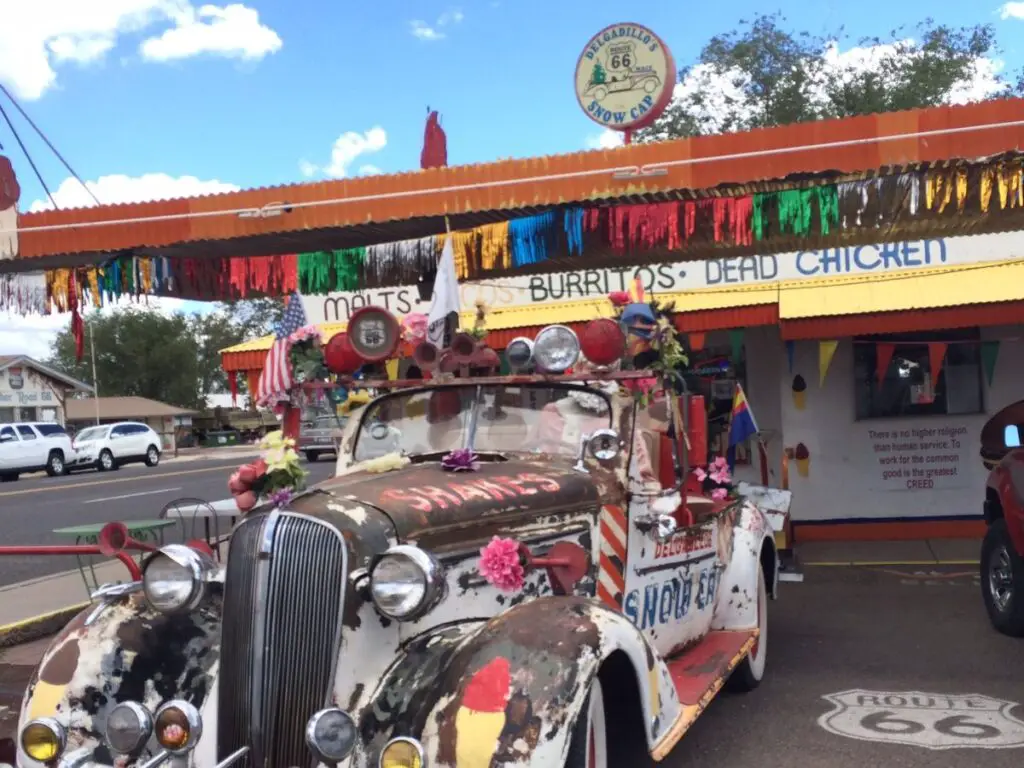 5.0 out of 5.0 (10+ reviews) – Run by Sananda Top Tours
This simple tour combines a trip to the wonderful Arizona town of Seligman on Route 66 with a stop at the Grand Canyon South Rim.
If you're looking for a Las Vegas to Grand Canyon tour and then fancy adding in a trip to a classic Route 66 stop as well then this is probably going to be a good option for you.
You'll get a short amount of time in Seligman where you can explore the gift shops and the retro cars that line the street giving you a great amount of photo opportunities. Then you'll head on to the south Rim visitor center at the Grand Canyon Nation Park for time there.
If you're interested in the Wild West and Ghost Towns then this tour is going to be the one for you as it combines a couple of them and one that was part of Route 66 – Oatman!
This tour will take you past the immense sight of Hoover Dam before traveling down the road to the 'almost' ghost town of Chloride. So called because it almost became one but not quite. It has a great feel to it with lots of old world relics around.
Then you'll head towards Route 66 itself and the town of Oatman – this is another Ghost town although it doesn't feel like it any more! It attracts many tourists who enjoy 'gun fights' and learning about the history of the place.