While Route 66 can conjure up thoughts of small town America there's so much more to the road as you drive along. America's wonderful natural spaces, historic sights and National Parks are dotted along the road in amongst the towns and cities.
We're looking at National Parks on Route 66 in this post but as well as the big parks I'm also going to list some National Monuments (NM) and National Historic Sites that are on or very close to the road too. They might not be on your National Park bucket list but they are definitely worth a stop to stretch your legs whilst driving Route 66.
This article probably contains affiliate links.  
This means that if you buy or book after clicking, I may get a commission at no extra cost to you. Thanks!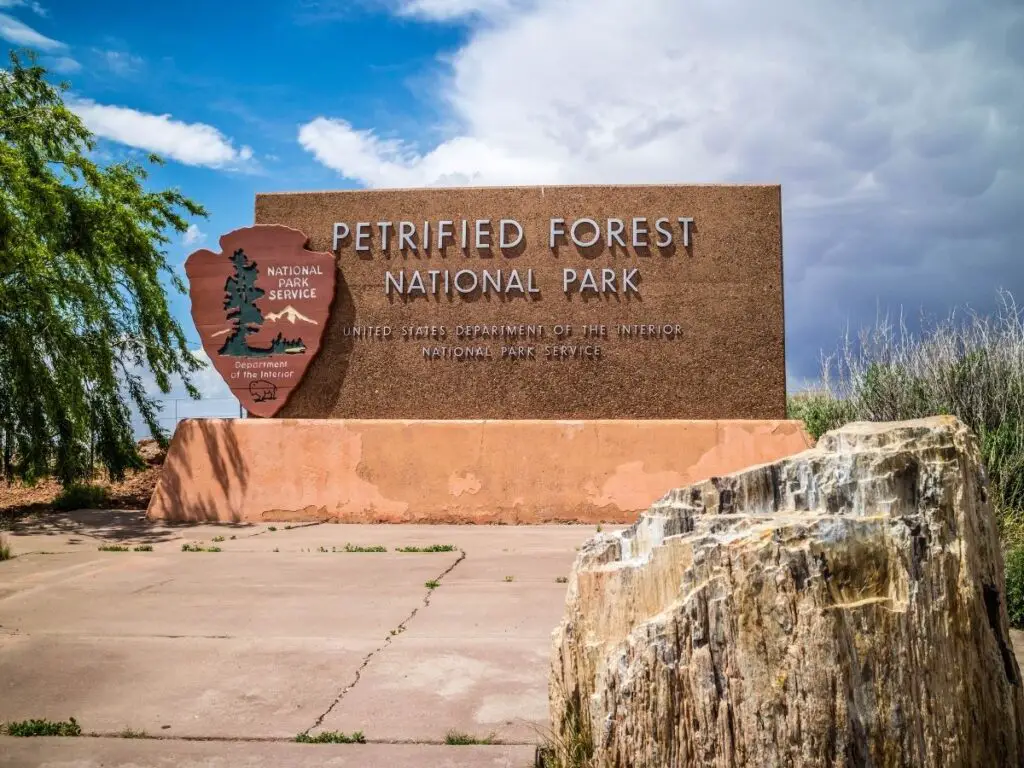 There are also a few National Parks that are fairly close to Route 66 and should be considered if you have the time to add them in as a side trip.
A note from the writer: Hey! I'm Kirsty and I'm a Route 66 enthusiast – I first became obsessed almost 20 years ago and then first visited in 2014. I've recently just come back from my last trip too! Comment below if you have any questions about your road trip and I'll get back to you ASAP – or join me in my free FB group here.
National Parks on Route 66
There are 2 National Parks that are directly on Route 66: Gateway Arch NP in St Louis, Missouri and Petrified Forest NP in Arizona.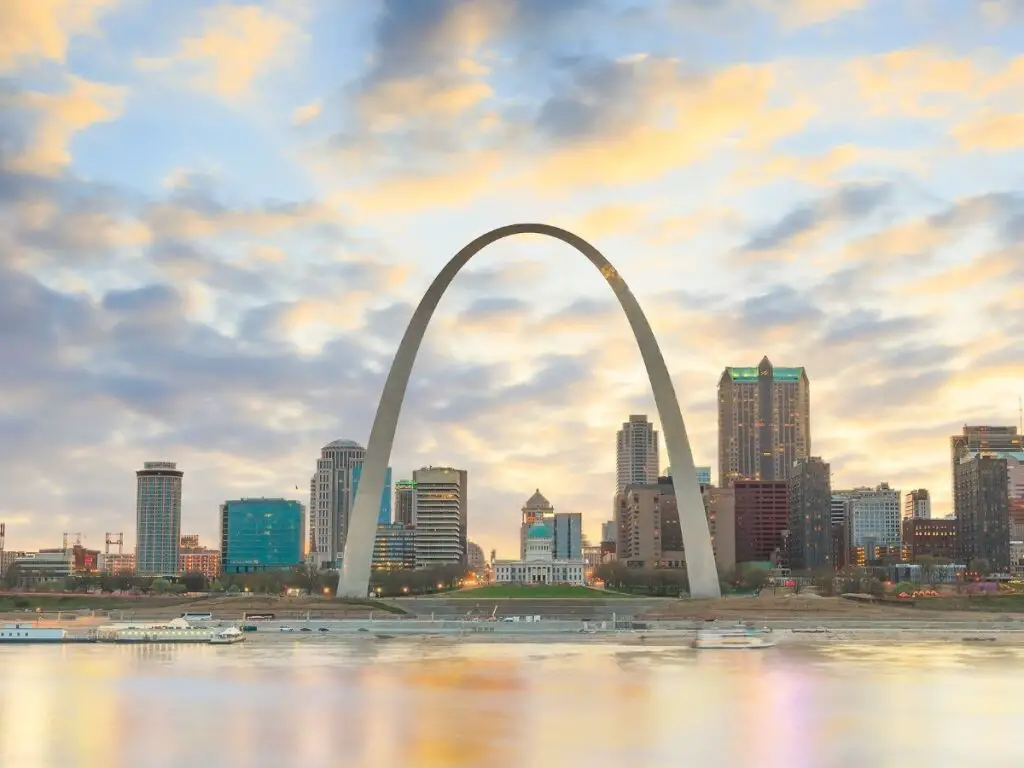 Gateway Arch
Location: St Louis, MO
Situated right in downtown St Louis, the Gateway Arch National Park is a new addition to National Parks on Route 66 – up until a few years ago it was just a National Memorial (Jefferson National Expansion Memorial) but has recently changed to be one of the newest National Parks.
Gateway Arch NP also has the honor of being the smallest National Park in the USA!
You can take a trip to the top of the arch and get views over the city and Mississippi River. When back on land you can also take a historic replica steam boat cruise on the river too.
Admission: $3 entrance to park. Further costs for tram to top, riverboat cruise etc.
Pet friendly? Yes, on a leash in grounds only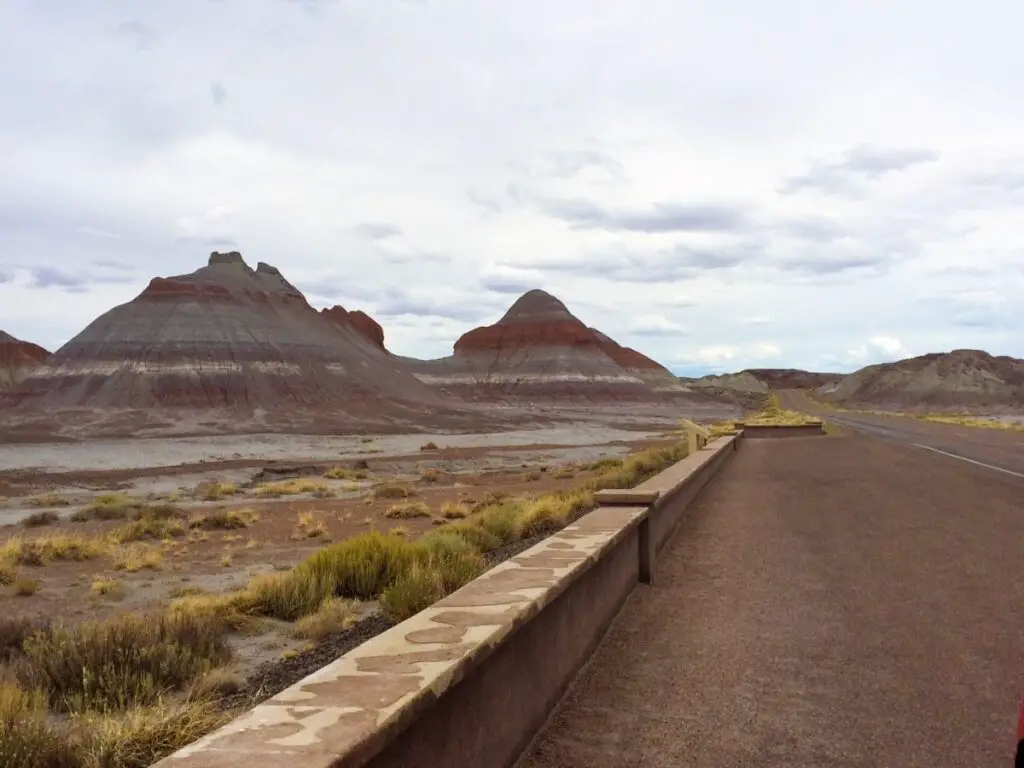 Petrified Forest
Location: Holbrook, Arizona
The only National Park that includes a section of Route 66 going right through it is the Petrified Forest National Park.
It's a wonderful place to explore, especially if time is tight and you can't do too many side trips on your route – it's directly on old 66! In fact there are some parts where you can see the old telephone poles that would have lined the old road.
The landscape of the painted desert areas are just stunning and you can also get right up close to some huge petrified logs as well.
Petrified Forest NP has been must stop for many over the years when driving Route 66!
Admission: $25 for one car and passengers (valid for 7 days)
Pet friendly: yes, on a leash
Is a Pass worth it? If you're just visiting a couple of National Parks on your Route 66 trip then you might be cheaper to just pay as you go.

If you are likely to visit more in a year period then it may well be cost effective to buy a pass.

An America The Beautiful pass is $80 and lasts a year – most places charge by the vehicle so just one pass would be needed. See more about the passes here.
National Monuments & Historic Sites on Route 66
As well as National Parks there are a number of places on Route 66 that are under the protection of the National Park Service (NPS) and as such should definitely be considered when planning your trip.
Most of these sites are either on the road itself or a very short detour from it.
They are also mostly free to enter so they make a great addition to your trip if you're driving Route 66 on a budget!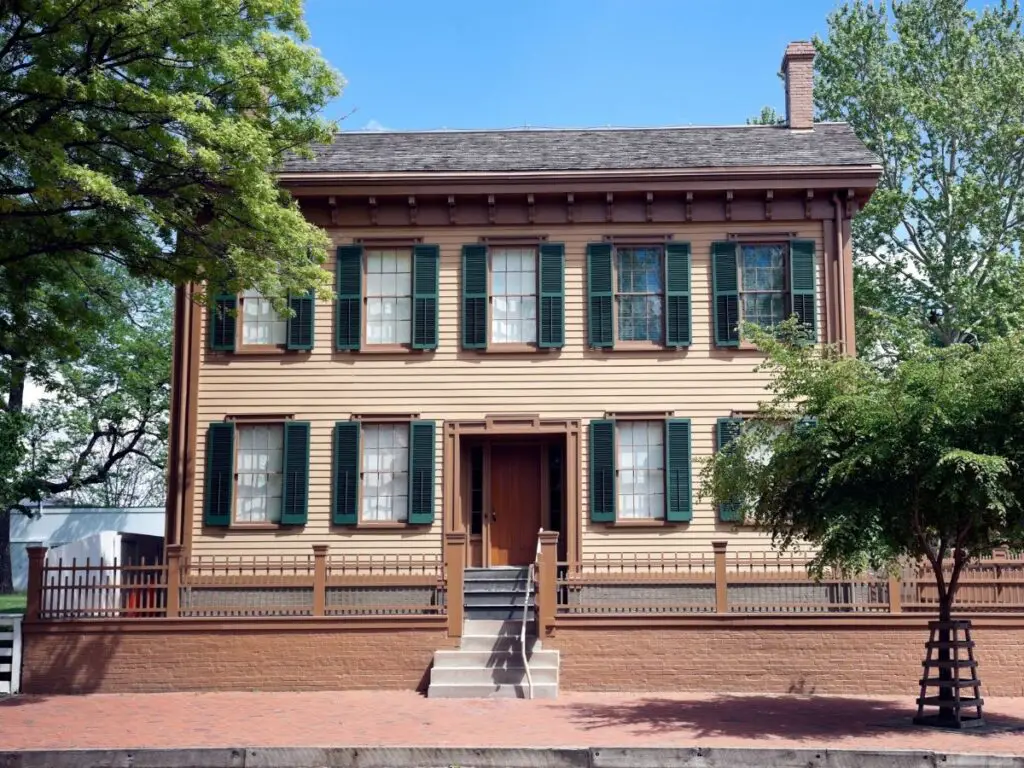 Lincoln Home National Historic Site
Location: Springfield, Illinois
While exploring one the cities along Route 66 in Springfield you can also discover the history of Abraham Lincoln's time living there.
This house is the one that he lived in for seventeen years with his family and it's been kept the way that it would have been in those days so you can see for yourself what life was like.
Admission: free (timed tickets need to be obtained)
Pet friendly? Only around historic neighborhood outside.
Ulysses S Grant National Historic Site
Location: near St Louis, Missouri
Similar to the Lincoln Home site, this is another place where you can see where an important historical figure lived – this time it's Ulysses S Grant, a Civil War general and President.
The historic site is located near St Louis and so a great additional stop once you've visited the Gateway Arch, you can watch a film to learn more about the man, explore the museum and also tour the grounds and his house.
Admission: free
Pet friendly: Only in outdoor grounds
George Washington Carver National Monument
Location: Near Joplin, Missouri
George Washington Carver was an important inventor and scientist and this National Monument in Missouri shows his birthplace and encourages you to take a walk in his footsteps, amongst the woods and in nature.
There's a small visitor centre as well if you want to learn more and they also do some guided tours through the day.
Admission: free
Pet friendly? yes, outdoors on a leash
Washita Battlefield National Historic Site
Location: Cheyenne, Oklahoma around 25 miles north of Route 66 (Sayre)
The site of an attack by the US army, led by Custer, on a Native American village in 1868. This is a reflective memorial site with some self guided trails around.
Admission: free
Pet friendly? On leashes only on Visitor Centre trail, not in buildings or battlefield trail.
Pecos National Historic Park
Location: Near Glorieta, New Mexico
If you're heading to on the older alignment of Route 66 towards Santa Fe in New Mexico you might like to stop and explore Pecos National Historical Park.
With old buildings to explore and trails to wander along it's a great place to enjoy the scenic area and mountains while also learning about the people who came along before!
Admission: free
Pet friendly? Yes, all trails except South Pasture Loop Trail. Not allowed in buildings. Beware of rattlesnakes in area.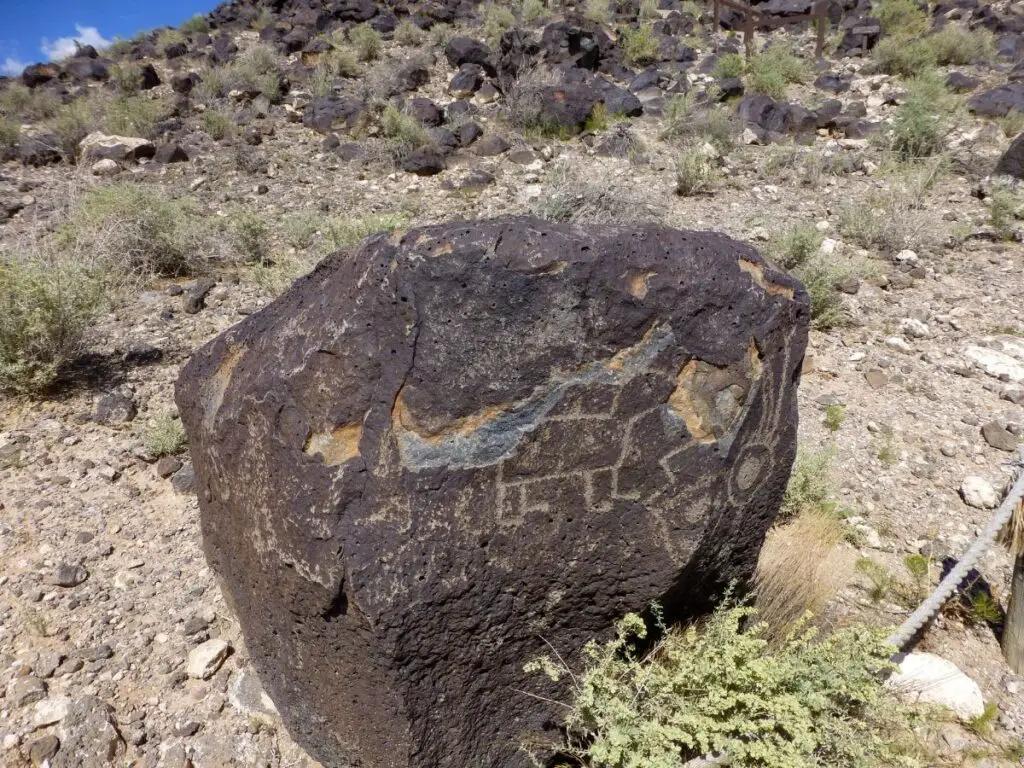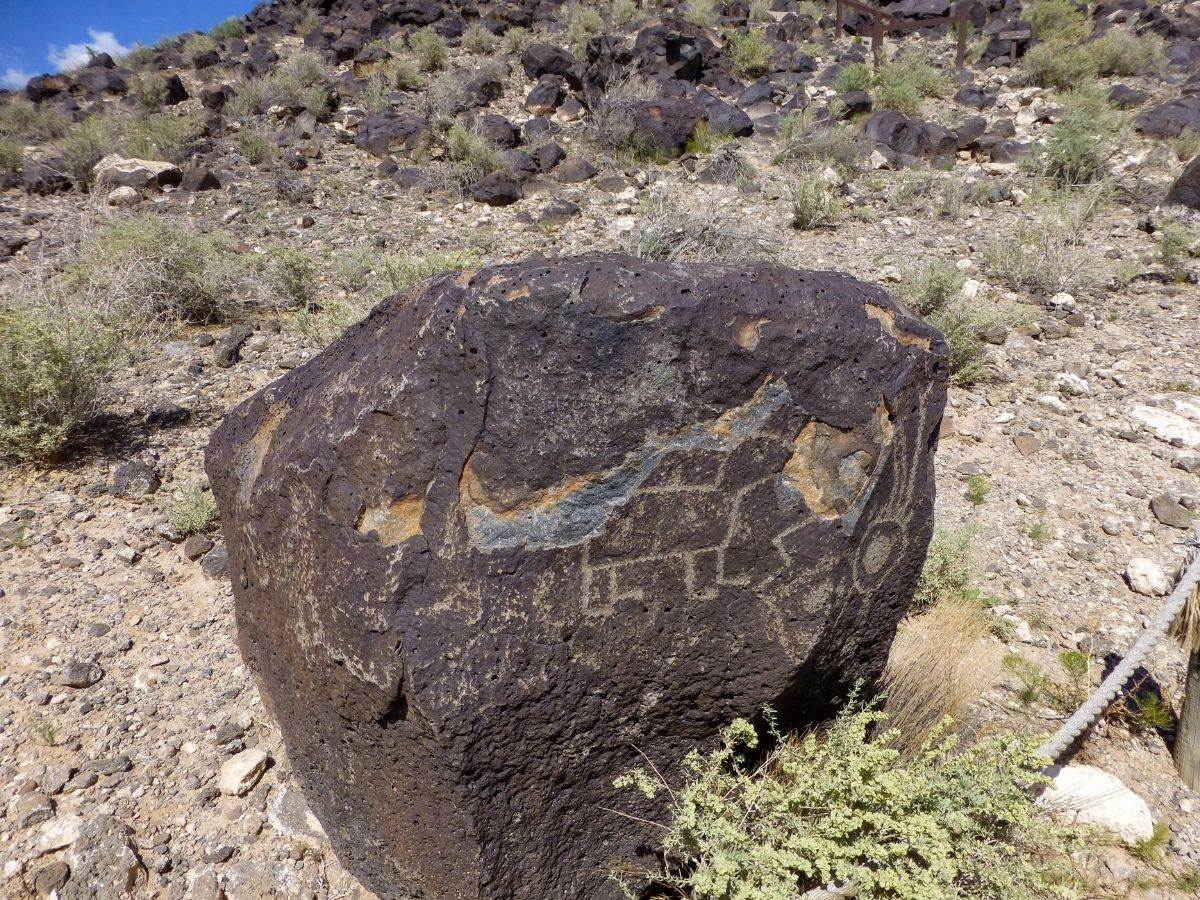 Petroglyph National Monument
Location: Near Albuquerque, New Mexico
A great alternative to the city of Albuquerque (or addition) is the Petroglyph National Monument. You'll see some amazing views over the city and the Rio Grande.
You'll also see some wonderful examples of ancient art that has been preserved on rocks throughout the area. These were made by Native Americans and early Spanish settlers.
Admission: free
Pet friendly? Yes on a leash but not allowed on Petroglyph trails (Boca Negra Canyon)
Walnut Canyon National Monument
Location: South of Flagstaff, Arizona
At Walnut Canyon NM you'll find ancient cave dwellings and some interesting trails to walk along. Be aware that the island trail has a number of steps and can be tricky for those not in shape!
Admission: $25 per car, including occupants. Valid for 7 days.
Pet friendly? Yes, on a leash in parking lot and on Rim Trail. Not in visitor centre or on Island Trail.
Sunset Crater Volcano National Monument
Location: About 20 miles north of Flagstaff, Arizona
A fantastic landscape which shows Arizona's volcanic past. This place, about 1000 years ago, was an active and changing landscape. Today you can see the volcanic rock and lava flows.
Admission: $25 per car, including occupants. Valid for 7 days and includes Wupatki National Monument
Pet friendly? Yes, on a leash on the paved portion of the Lava trail. Many trails don't allow dogs.
Wupatki National Monument
Location: North of Flagstaff, Arizona
Wupatki National Monument is another historical site with ancient dwellings to explore while on many hikes in the area. Some of the pueblos are around 900 years old.
Admission: $25 per car, including occupants. Valid for 7 days and includes Sunset Crater Volcano NM
Pet friendly? No
Money Saving Tip: If you're looking to enjoy all of the Arizona National Monuments (Walnut Canyon, Sunset Crater & Wupatki) you might want to look at the Flagstaff Area National Monument pass which is $45 and valid for one year. You can buy it at any of the national monuments.
Other National Parks near Route 66
If National Parks are your thing and you want to tick off as many as possible when driving Route 66 then here are a few others that are within around 100 miles of the road and which can be done easily as a side trip.
Indiana Dunes
Location: Indiana, Lake Michigan shoreline
Before you head on the road properly you might like to do a detour round the edge of Lake Michigan to the Indiana Dunes National Park.
With beaches, trails and that stunning view of the lake Indiana Dunes is a very different kind of state park to many others!
Admission: $25 per car, including occupants. (separate fee at the State Park)
Pet friendly? Yes, on a leash, even on the beach. Some trails do not allow dogs.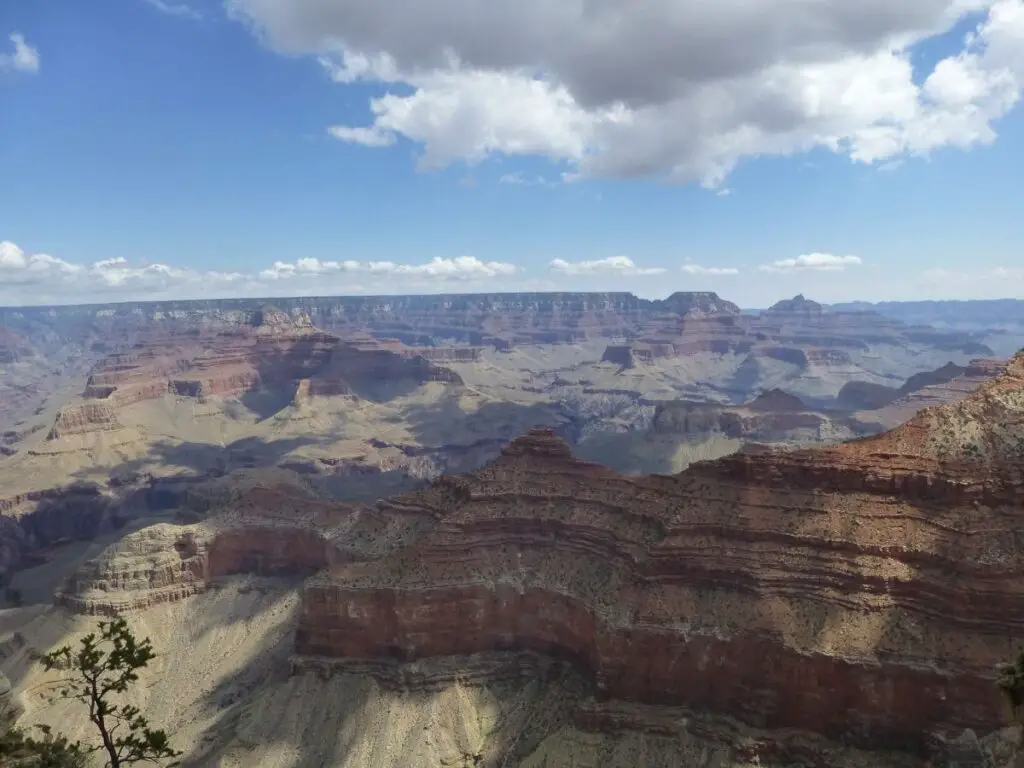 Grand Canyon
Location: Arizona
One of the most popular National Parks to visit when driving Route 66 isn't actually on the road itself but it's a super easy side trip there – Grand Canyon National Park.
You can access the park from a number of areas along Route 66 but the easiest has to be from Williams where it's a short, 60 mile drive to the south rim.
You can go on hikes, explore the nature or just bask in the crazy size of this place!
Admission: $35 per car, including occupants. Valid for 7 days.
Pet friendly? Yes, on a leash in many areas. However many trails and areas aren't allowed.
Joshua Tree
Location: California
This one has long been a bucket list destination for my husband and hopefully we can tick it off soon!
A desert landscape with many of the unique and iconic Joshua trees around. You can go on many trails to explore the Joshua Tree National Park and if you can, stay for stargazing!
Admission: $30 per car, including occupants. Valid for 7 days.
Pet friendly? Yes, on a leash at picnic areas, roads and campgrounds. Not allowed on trails.
Death Valley
Location: California/Nevada
Probably the National Park that's furthest from Route 66 but one that many take the time to visit. Apparently the hottest and driest place so not a place to visit lightly – take precautions before taking to any hikes and always make sure you take plenty of water!
Death Valley is north of Route 66 – Barstow is probably a good place to depart on a trip to explore.
Admission: $30 per car, including occupants. Valid for 7 days.
Pet friendly? Yes, on a leash on road areas. Not allowed in buildings or trails.
Still got questions? Join our FREE Route 66 community!
Come and join our FREE Facebook group where you can get help with planning your Route 66 road trip of a lifetime!