Anyone planning a road trip wants to make sure that it's a safe one. With an iconic and popular road trip like Route 66 it's easy to assume that the road is perfectly safe, but is that the truth? Is Route 66 dangerous to drive in 2022?
Overall I found that Route 66 was a very safe road to drive, we had no issues at all when we traveled it even with our kids. There are some things you should bear in mind though before and during your trip to make it less dangerous.
Please note – these views are simply my own and representative of our own time on Route 66. I realise that we all don't have the same experiences and particularly people of color may find their answer to 'is it safe' to be much different. I recognize my privilege of being a white person driving the road and that it may not be the same for everyone.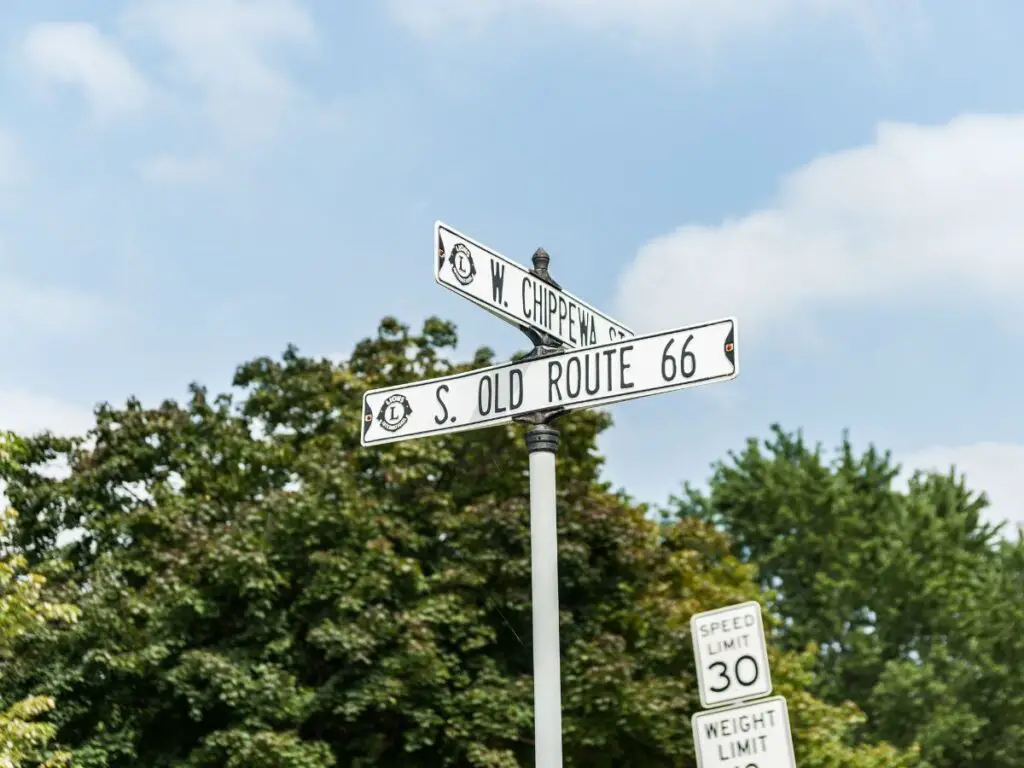 If you've landed on this page you're thinking about whether Route 66 is safe to drive at the moment and that can mean many things to different people. Some people mean 'are the road conditions safe', some are worried about unsafe areas with crime and others might have extreme weather on their minds. I'm going to try and cover all of the potential ways that Route 66 may be dangerous and then you can take that information and make an informed decision.
Let's take a look at some areas where Route 66 may be dangerous to drive:
Crime
Since the towns along Route 66 often rely on tourism for much of their survival any amount of huge crime is going to be detrimental to them. Of course crime happens everywhere but thankfully it tends to be low where you're going to be.
Having said that, anywhere where there's tourists there can be opportunists. Tourists bring money and they are often distracted with the sights and sounds around. Exploring neon lit areas means exploring after dark and that can increase risks.
Tip: Keep your wits about you when exploring and keep a tight hold of any valuables.
It's also worth noting that if you're traveling the road you'll have all your belongings with you at all times in your car. That means if you're bringing laptops, cameras and your passport you don't have the luxury of storing it in a hotel while exploring.
Tip: always lock your valuables in the trunk of your car. Don't leave it unlocked even if you're just popping out for a photograph. Make sure nothing is on show.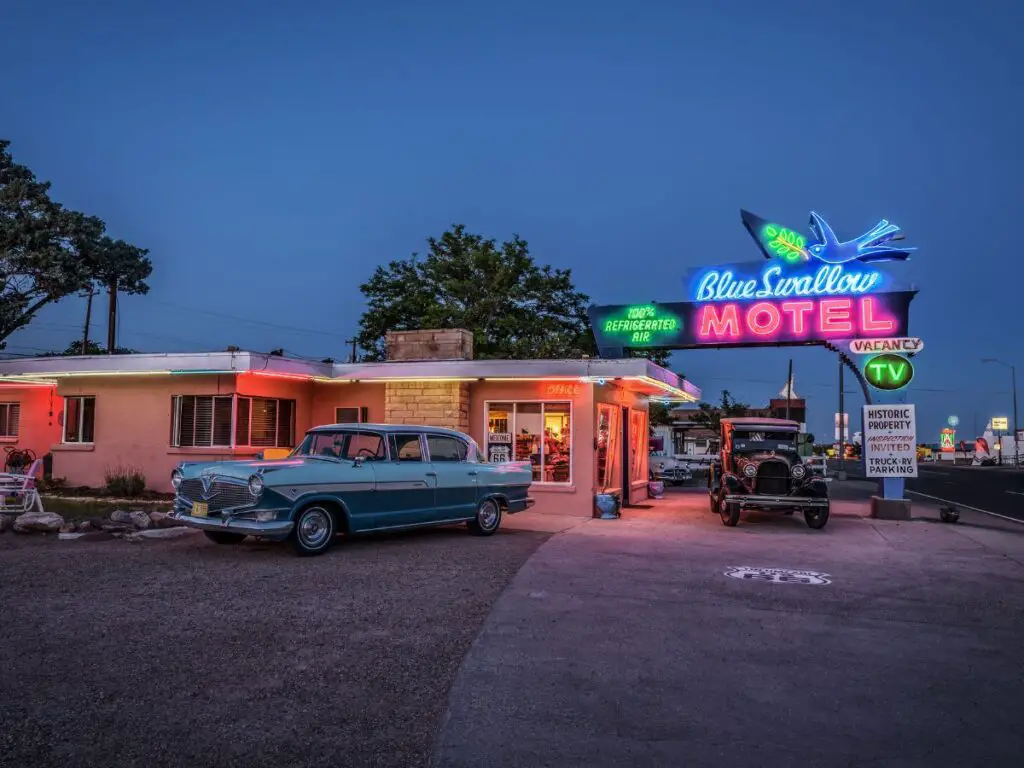 Unsafe areas
It's not all small town America along the road, Route 66 passes through major cities on its way from Chicago to LA, and of course includes those mega cities too.
All cities have their run down areas and the cities that Route 66 passes through is no exception. If you're traveling in the day time you should be safer.
Tip – keep your wits about you as you drive and if something doesn't feel safe then don't get out the car – keep driving.
Tip – try to stay away from unfamiliar cities at night time. If you are staying overnight try and make sure you have a room booked ahead of time.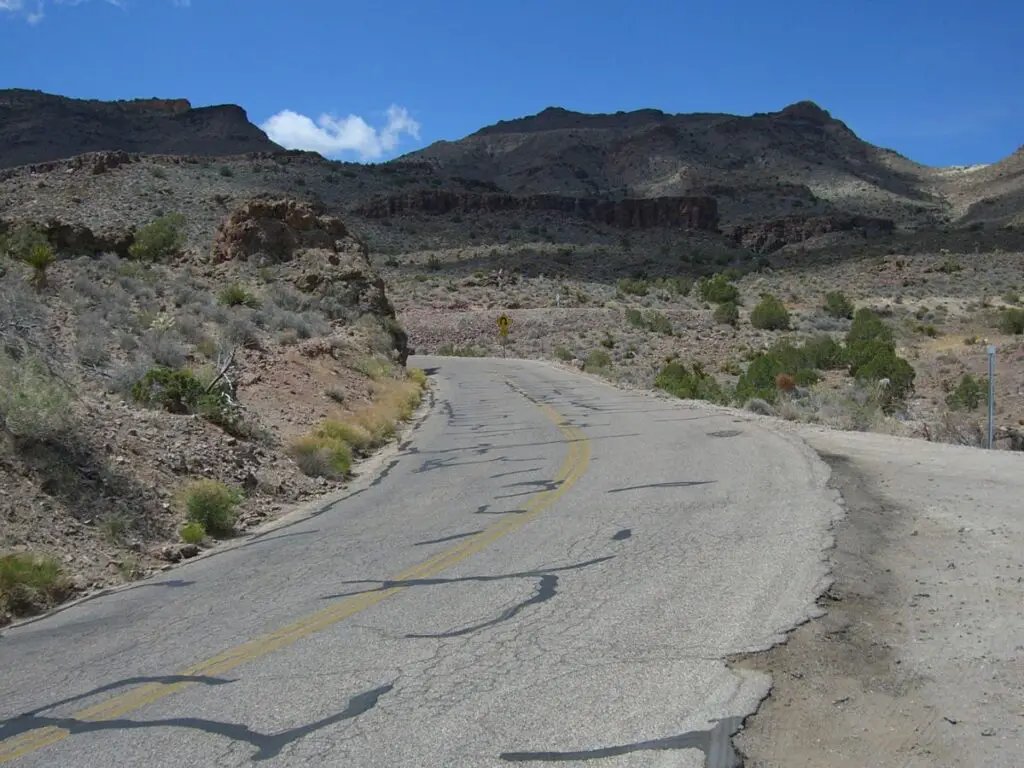 Road conditions
While Route 66 doesn't exist as one giant ribbon of road anymore the roads that make up the journey can be of varying quality and conditions.
Driving through cities can be treacherous if you're trying to stick to the right road and it's very busy. Unless you're determined to see each inch of the road it doesn't matter if you miss small portions and that can make driving through cities safer since you'll not be distracted and looking for road signs.
Tip: sat nav and mobile phone apps can help when driving though big cities. Generally they aren't so good for Route 66 navigation but are useful to have.
Small back roads can sometimes be made up of gravel tracks which should be driven slowly and carefully or bypassed if you're renting your car. It's easy to skid on these kinds of roads.
The majority of the roads along the road are safe and normal to drive. One section in Arizona towards Oatman is often considered a dangerous road and for some it's definitely a winding and scary road! We didn't mind it too much however we're used to that kind of driving.
Tip: if you're driving the mountain road to Oatman take your time. It's not suitable for very large vehicles such as RVs.
Extreme weather – tornadoes, wild fires and snow
As you can imagine, since Route 66 spans 8 states and over 2000 miles the terrain changes quite a bit along the way.
Extreme weather can happen anywhere on any trip but it's good to be prepared.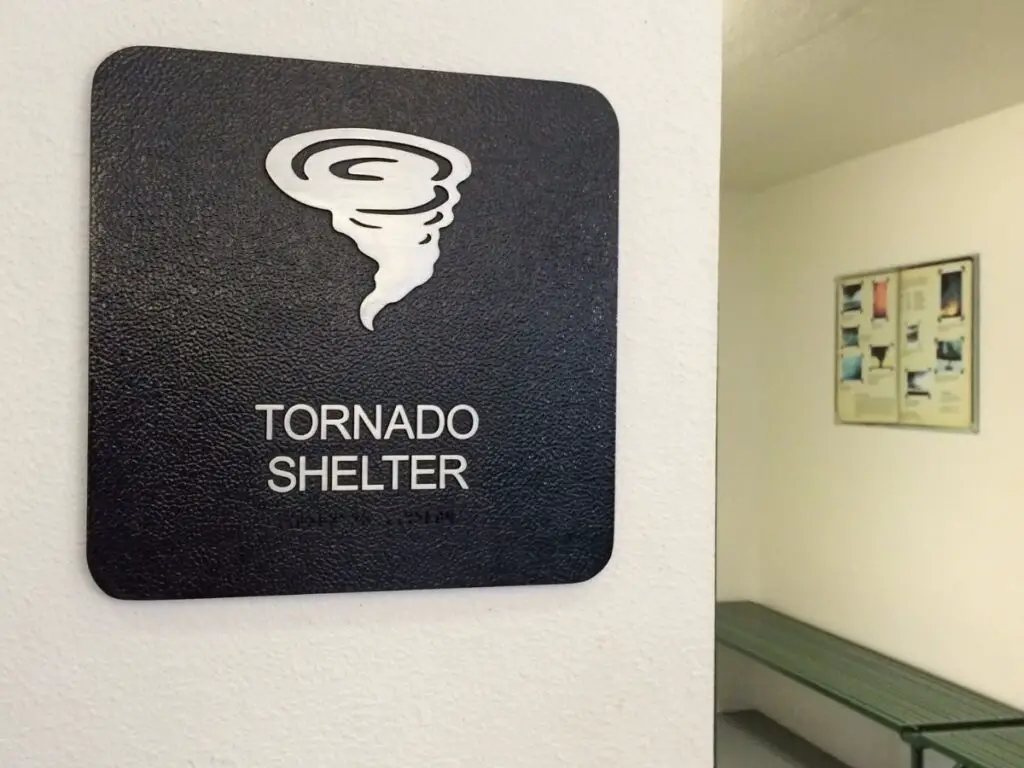 Tornadoes
The mid west states of Missouri, Kansas, Oklahoma and Texas all are prone to tornadoes. I'll admit this was one of my worries when we were driving the road but thankfully they don't tend to present all year round.
Tornadoes are most likely to happen in the spring months and are very localised events. They will sometimes happen on areas around Route 66 – so what can you do?
Tip: listen or watch the local news each day before traveling and keep aware of the weather situation.
Wildfires
This year (2022) already has seen many wild fires take place in the states of New Mexico and Arizona but they aren't just local to those states. Many areas can suffer especially in extremely dry spells and through the hot summer months.
Tip: again, listen or watch local news and keep abreast of any fire warning when you're traveling.
Tip: be extra careful when hiking or exploring to not leave rubbish or make fires which can easily get out of hand.
Extreme heat
This is one danger that we did come across on our first visit as we decided to visit the USA in the peak summer months – August to be exact.
Summer temperatures regularly soar all along the route but especially in areas such as Texas. We often saw 100℉+ days which for us was quite different to what we were used to (I'm from the UK!).
Air conditioning can make the extreme heat bearable but remember that many old buildings and museums may not have that. Our daughter nearly passed out one time in a Texas museum because the heat was so bad and the air wasn't moving much.
Tip: always make sure to have enough water in your vehicle – more than you think you'll need.
Tip: stay out of the mid day sun and explore in mornings and late afternoons if possible.
Heavy Snow
This one isn't as much of an issue for most Route 66 drivers as the majority of tourists come in the spring, summer or fall. However if you're intending on traveling in winter you should expect that you might see some heavy snow. This is an issue specifically in Illinois and Chicago, but not only for there. For example, mountain areas in Arizona can see a lot of snow and many other states can suffer too.
Tip: be aware of the weather before you drive and be extra careful if there's been fresh snow or a storm due. Small backroads may not be cleared as much as major roads.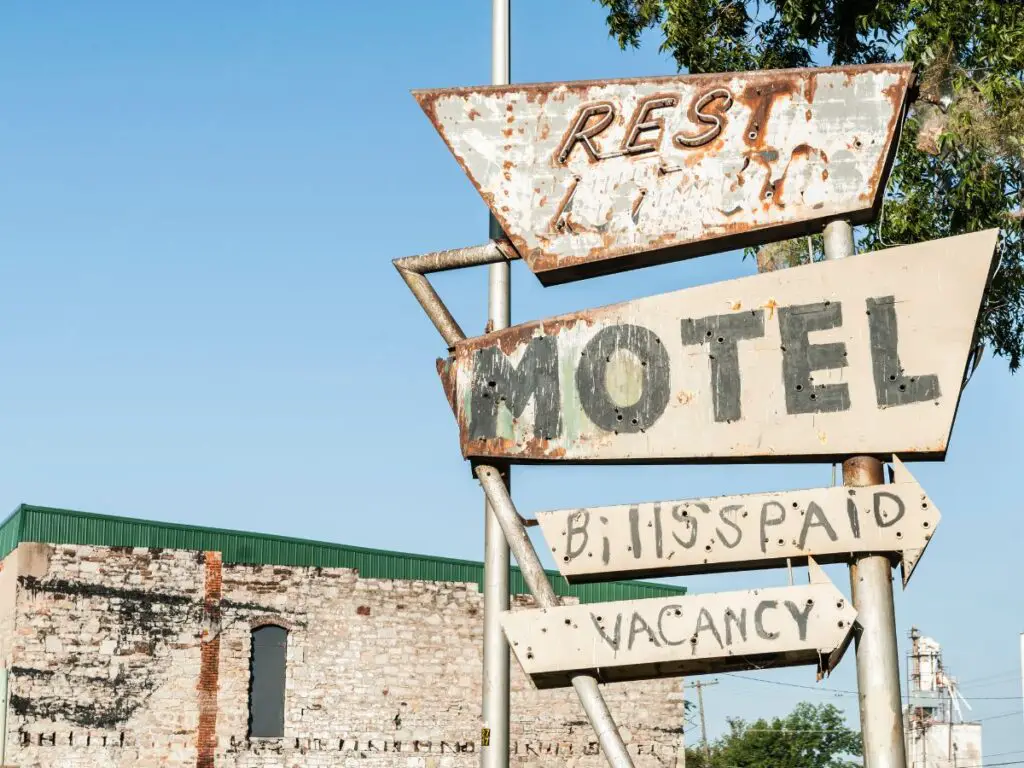 Abandoned buildings
The Mother Road is littered with abandoned buildings and towns and while we can romanticise them it's important to remember that they can be unsafe and that might be why they were abandoned in the first place.
Always be careful when exploring and remember that abandoned places may still belong to someone. I've heard of dogs protecting these places so don't assume it's safe to walk around. It may still be trespassing.
Tip: respect the boundaries of buildings and take photos from afar.