A road trip along Route 66 is a bucket list adventure for so many people.  This Route 66 packing list was designed specifically for people taking the trip and looking for tips on what to pack for overnight stops on the road.
Depending on how long you're planning on driving Route 66, you might have 14 – 21 nights or so on the road and that requires some thought to bring the right things.
Making sure you have everything you need will be the difference between a stress free trip and something that can turn into an unenjoyable chore.
This post was first written for my travel blog Lost in Landmarks in 2021 and was fully updated for this Route 66 specific site in 2022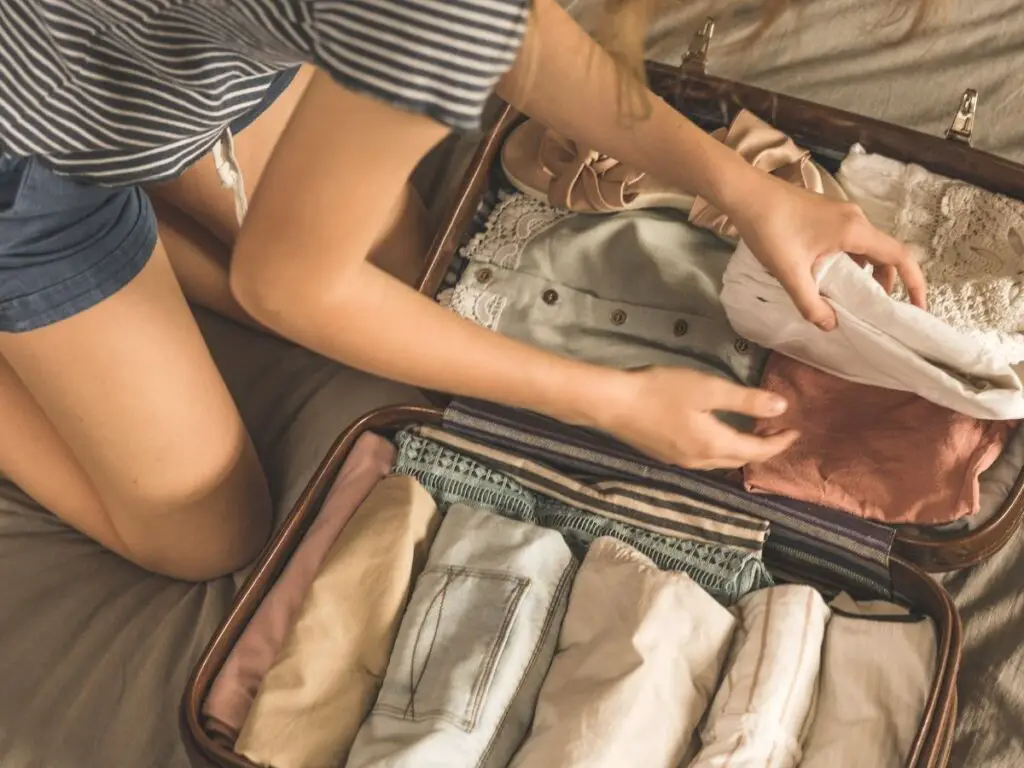 Honestly, when we drove the road for the first time I didn't really pay too much attention to what we'd need. I wish I'd thought more about the weather and our comfort when driving, although it was so different to any weather we'd ever had in the UK that I'm not sure I could imagine it!
First before we get into my recommendations, let's have a think about some practical tips for the road.
Packing for Route 66
When you're traveling Route 66 you'll likely be staying in a different hotel or motel each night and bringing your luggage in from your car each time.  Believe me when I say that it can be a bit tiresome living out of a suitcase.
So, let's start from a good position to make it less annoying.
Firstly, you'll want to make sure you're not travelling with too much stuff and then what you do take needs to be organized as well as you can
Suitcase or bags?
This is probably a personal preference thing but for me, a suitcase works every time.
Consider hard sided luggage – your belongings will be protected as you constantly take things in and out!  I find they are easier to organise too – essential if you're in and out of them every day.  
I like American Tourister suitcases – they are a more budget version of Samsonite cases (I think owned by the same company). I love my orange one!
(We used rucksacks on our first trip and they were quite annoying to find things – we've since changed!!)
Organizing your luggage
I have just one word for you, ok two – Packing cubes.
Packing cubes are a lifesaver when living out of a suitcase – you can have a cube with your night or comfy clothes when you're done for the day and know exactly where they are.  We got different colours for each person so no getting mixed up too.
Flying beforehand
If you're flying in to your start point to drive Route 66 then I also recommend some digital scales that will weigh your luggage.  I'm someone who always worries I've brought too much back so this can really calm my nerves before checking my bags!!
Scales are essential if you're coming to do Route 66 from the UK like we did – I just know how much stuff we all like to bring back from these once in a lifetime trips! Airlines are much more strict nowadays too – best to be safe.
Other thoughts:
While we're talking about luggage and packing I really recommend considering what vehicle you're going to be driving. This might not apply to you if you're driving from another state and using your own car but is definitely for you if you're planning to rent a car for Route 66.
Make sure that your chosen vehicle will accommodate your luggage that you decide to bring with room to spare.  It's one thing thinking you'll save money by getting a small rental car and quite another when you realise you're travelling with your suitcase on the backseat because it doesn't fit anywhere else (and that's not very safe when you're out and about).
So have a think whether a bigger car will make sense or pare down what you'll take.
If you haven't already sorted your car rental… Check out DiscoverCars.com here (even if it's one-way)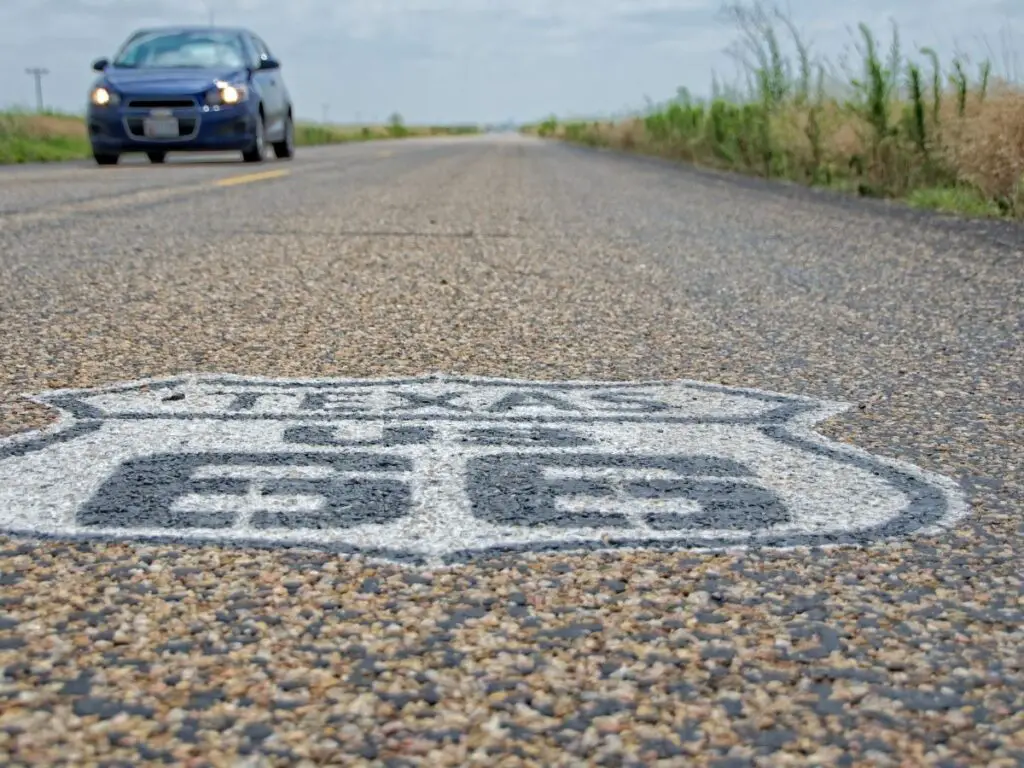 What to take on a Route 66 road trip – my top 10 essentials
Right, let's take a look at some of my essentials that you'll want to have on your US road trip with this packing list for Route 66:
1. Guide book
Before you ever think about clothes and other sundries, I want you to seriously consider getting a good guide book for the trip.  It's my number one essential for the road.
I know we all have internet, Google Maps and all that jazz but believe me, having a good, old fashioned guidebook you can check will be so helpful.
The reason for this is because Route 66 has changed so much over the years. It's not an official road, but does still exist in some sense so it's not how it looks that has changed, but where the road actually goes.
Some of it changed into the Interstate, some of it branched off into little towns, sometimes there were a few different versions at the same place!  If you don't have a guidebook or you don't know where you're going beforehand you might find yourself on the Interstate and miss a good deal of what you came all that way to see.
Depending on how much you know about Route 66 there are 2 guides I recommend. The EZ66 Guide that you can see above and also the Route 66 Adventure handbook. (I go into much more detail about these on my guide book post here.)
2. Packing cubes
I alluded to these earlier and they are really an essential for a trip when you'll be in and out of different stops each night.
We bought ours a while ago (almost 10 years and still going strong!) – we got eBags ones like these.
They are really sturdy fabric and you can fit a lot in them. Highly recommended!
A pack of different sized ones are good for different kinds of clothes. Definitely consider different colours for different people if you're traveling with others.
3. Hanging Toiletry Bag
While you're in and out of different motels and hotels on Route 66 having a good sized toiletry bag that can hang up was a game changer for me.
I knew that being able to hang it up meant that I wouldn't inadvertently get my toiletries wet if the sink set up wasn't ideal. You know how it is when you're in an unfamiliar place!
I also like to have something that bottles can stand up in. When you have to pack up and move on you want everything secure and no risk of leaks. I really recommend the style of wash bag you see here as it keeps everything secure and upright
They're also big enough to keep separate in the trunk of the car too, with an easy carry handle. You always know where it is when you arrive which is so important.
4. Mini toiletries
While you're going to be in a western country and for many people, their own country, sometimes you'll be in the middle of nowhere with only small shops around you.
If you need toiletries and personal items it's best to bring them with you. Some larger chain hotels might have them for you but the smaller chains might not.
To save space I always recommend taking your favorites decanted into these squeezable bottles. They should fit easily in to the toiletry bag mentioned above too.
Don't forget medicines and a first aid kit too.
If you or one of your companions might get travel sick when being in a car then having some remedies on hand might be worth thinking about. Travel bands are a good option to have on hand and better to have them in advance I think!
Route 66 doesn't have many winding roads that last for a long time (except near Oatman in Arizona) so hopefully you won't need them.
5. Day Pack
When you're travelling the road everything comes with you in the car and you'll want to be careful about what you leave in the car when you're out exploring. Obviously you can't take everything, but a bag that can handle anything that is expensive should be taken.
While Route 66 isn't terribly dangerous, you can stick out as a tourist so it pays to be careful what you do and not draw attention to what you have.
What kind of day bag you take might depend on whether you're planning on hiking or just exploring museums and towns. It shouldn't be too big either as many of the small shops on the road can be narrow with lots of items inside!
I quite like the Travelon bags which are anti theft but don't stick out as tourist bags. They do some regular purses that might suit and also some backpacks as shown in the picture.
6. Travel Pillows
Essential to be comfortable in the car especially if you have long days of driving planned. The whole 2000+ mile road trip doesn't need to be uncomfortable!
I prefer ones that are rectangular shaped and just like a mini regular pillow that I can lean against the side of the car. My kids preferred the ones that fit around your neck and these are probably best for on a flight as well.
If you have a flight at either end of the trip then it's a must!
7. Light rain jacket
It definitely pays to be prepared on a Route 66 trip. You're travelling through 8 states and the weather will not be the same everywhere. Unless you're traveling in the off season when it might get cold, a light jacket should hopefully be enough for you.
Something that packs small is good if you're short on space and not sure if you'll need it. I like this one from Columbia which is available in a lot of colours.
8. Battery Pack and chargers
You always want to be able to charge your phone no matter where you are so I highly recommend taking at least a spare charger and if possible a battery pack too.
You'll likely be able to charge your phone in the car and most rental cars should have a usb socket nowadays but for days out walking and exploring an extra battery source is a must.
Thankfully most of these are fairly lightweight nowadays and not too bulky. Most are similar in shape and size to a regular smart phone.
9. Sunglasses or driving glasses
You'll definitely want some sunglasses for driving along Route 66. As the day passes you'll be driving westward into the setting sun and it can cause issues if you can't see well and headaches if you end up squinting too much.
If you need glasses then prescription sunglasses are definitely worth the investment!
10. Laundry Bag
Finally on my list of essentials is a laundry bag. Depending on the length of your trip, you might need to do a wash in a laundrette at some point (many motels have them) and having a dedicated laundry bag to bring makes it so much easier. You really don't want to be bringing your clothes to be washed in plastic bags.
It's also just so much more pleasant to keep your dirty laundry separate from the rest of your clean clothes as you're travelling.
I recommend something that's designed for travel which should fold nicely and be easily packed in your suitcase.
Clothes and Shoes to take
A little note on clothes to take. I'm not going to dive deep here because what we wear is very different from person to person!
Comfort is the name of the game on any road trip in my opinion.  Route 66 is a long journey and depending on how long you have to take the trip you might find you're spending a lot of time sat down!
You'll also want to bear in mind the time of year when you're planning to go and any attractions you'll be wanting to visit.  We went in August which I'll say right now is probably not the best month to explore Texas!
So with that in mind here's some ideas of what clothes to pack for your Route 66 trip:
Cool clothes – tanks tops and loose t-shirts
Jeans or comfortable trousers
Shorts or skirts for hot days
yoga pants can be good for long journeys
Light coverups – air conditioning can make you get cold quickly so having something light to cover you up when exploring museums, going for a meal or simply heading into the grocery store is a good idea.
Hat – don't forget to cover your head especially when you're in the hotter states.
plenty of underwear – even if you plan to do a laundry load in the middle of your trip you'll want enough clothes to see you through.