Accommodation for your Route 66 road trip is a big part, not only of the experience but also of your budget as well. So, it's important to get this bit as right as you can. With this in mind let's take a look at some tips for booking your Route 66 accommodation.
On our first Route 66 trip I wasn't sure what to expect. It was our first US trip as well as being out on the road, plus we were driving in summer – would it be busy? We had no idea! We ended up doing a mix of small local motels and chains while trying to be as flexible as possible. But was that the best way?
How you decide to book your Route 66 nights will depend on your trip style, your comfort levels and your budget. Let's have a look at some tips and ideas for you.
Useful links for booking Route 66 hotels and motels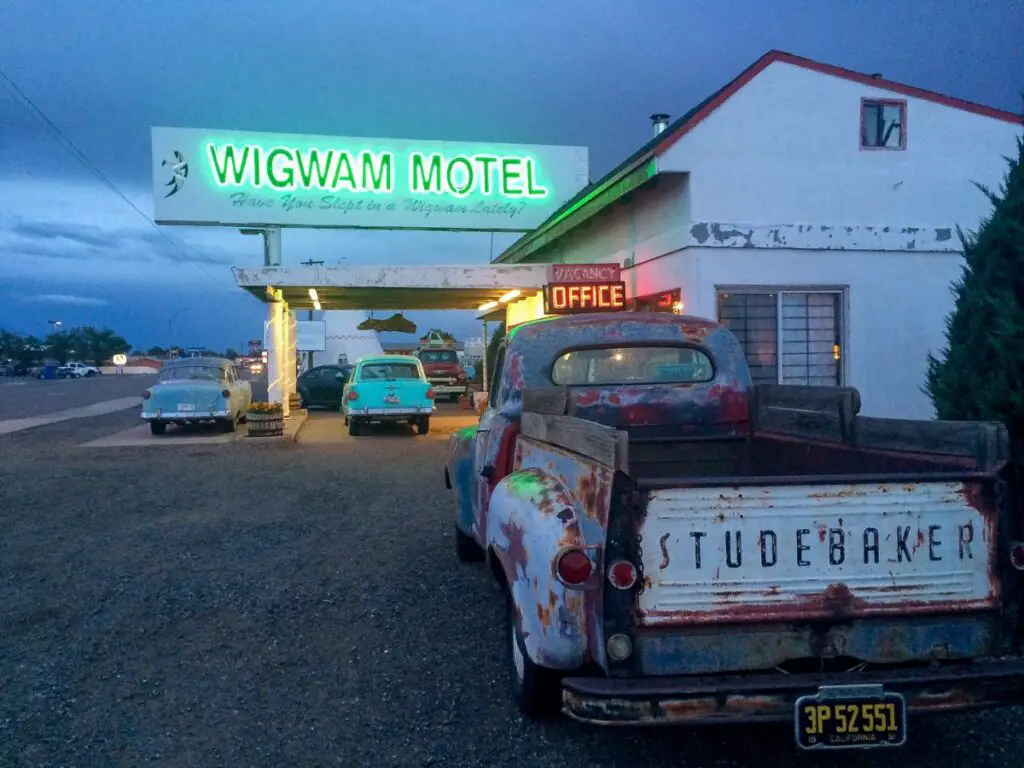 How to choose your Route 66 accommodation?
With so many options around, how do you begin to choose?
First of all, you'll want to think about your proposed itinerary and where each days driving ends. What is available? Is there a classic historic hotel that takes your fancy or any chains that you're loyal to? What about any attractions nearby for the next day?
Next, check reviews. Even if you're thinking about staying at a hotel that someone recommended years ago, it's always worth checking for more up to date thoughts. Hotels and motels on Route 66, particularly independent ones, can change hands a lot and can go downhill, and uphill. I use TripAdvisor and/or Google Reviews to check before deciding about booking.
State by state Route 66 accommodation guides:
Should you book Route 66 accommodation in advance?
This is highly personal. I always feel better having a hotel booked for the night (and we traveled with kids which made it feel more sensible) but I appreciate that not all are like me!
Route 66, for some, is about the spirit of the open road and being able to be free to come and go as the day dictates. Booking a hotel in advance might well hinder that spirit!
It's entirely possible to do the whole trip without booking your hotels but in many places you'll want to be flexible and have a few options available to you if one is full. Remember that some places on Route 66 only have a few options to stay. You might also need to incorporate chain hotels this way.
Tip: Check out the accommodation posts (there's one for each state) and make a note of where you'll likely be so you have an idea of the options available to you.
Tip: Be aware of any public holidays or events that might make accommodation scarce.
For others, the iconic motels are top of their list of attractions and staying in them is essential. If this is you then I highly recommend booking in advance anything that is a 'must' for you. For us this was staying in the Wigwam Motel in Holbrook and also staying in the heart of Tucumcari.
Tip: I used Booking.com and also Hotels.com a lot – many had good cancellation policies.
No matter what your preference, if you're staying in any of the big cities on the road you might wish to have something booked in advance. Certainly somewhere for the beginning in Chicago and the end in Santa Monica (if you're driving the whole way).
Tip: Check our Illinois and California guides for hotel tips near to Route 66 in Chicago and Santa Monica.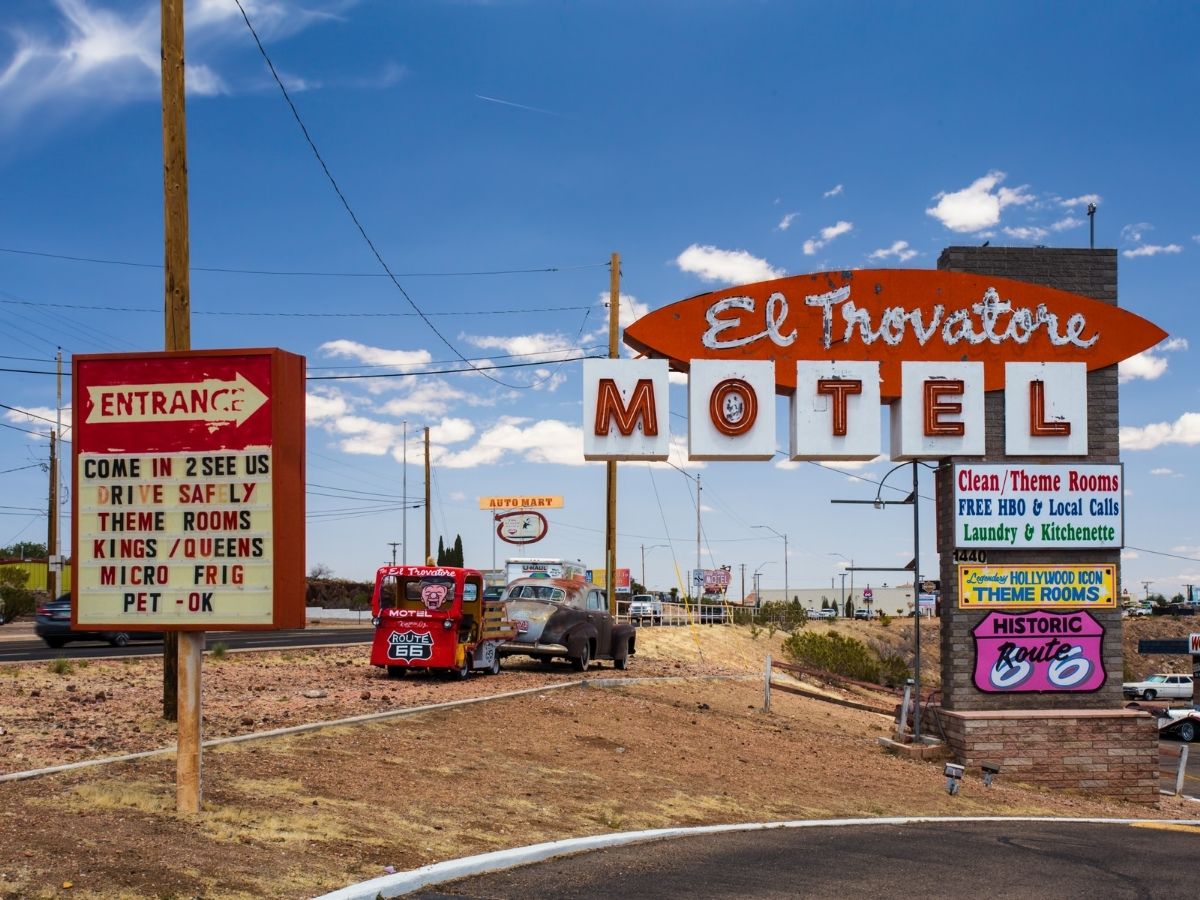 What's best – chains or local motels?
We actually sampled a variety of both chain and local 'mom and pop' motels on our trip. We were on a very tight budget so sometimes the chains gave us a better deal, especially if we got breakfast included.
Mom and Pop motels, like these historic Route 66 hotels, are what makes the road for me. The history, kept alive by enthusiastic proprietors and filled with travelers who love the road is something special.
If you can, definitely stay at some of these motels. It's a different experience and they are worth preserving.
If you need to use some chains, that's ok too! After all, a safe place to put your head at night is all you need sometimes.
What about vacation rentals?
Should you consider using vacation rentals from Airbnb and VRBO? If you're planning to spend any significant time in an area on the road, perhaps in a city or somewhere like the Grand Canyon then it could be a good way to have a break from the hotels.
I love having my own space and these definitely provide that. But they are better for stays of a couple of nights at minimum so many people won't consider them for a road trip where they are moving on every day.