Welcome to the fourth of my state by state guides of where to stay while you're on the road – this time we're looking at Route 66 motels in Oklahoma!
There's plenty of small towns along Route 66 in OK but also some bigger cities too with both Oklahoma City and Tulsa having the road go right through it. So you can get a variety of different places to stay if you want to through this state.
We're listing motels, hotels and some vacation rentals through Oklahoma. Let's take a look.
This article probably contains affiliate links.  
This means that if you buy or book after clicking, I may get a commission at no extra cost to you. Thanks!
Notable Places to Stay on Route 66 in Oklahoma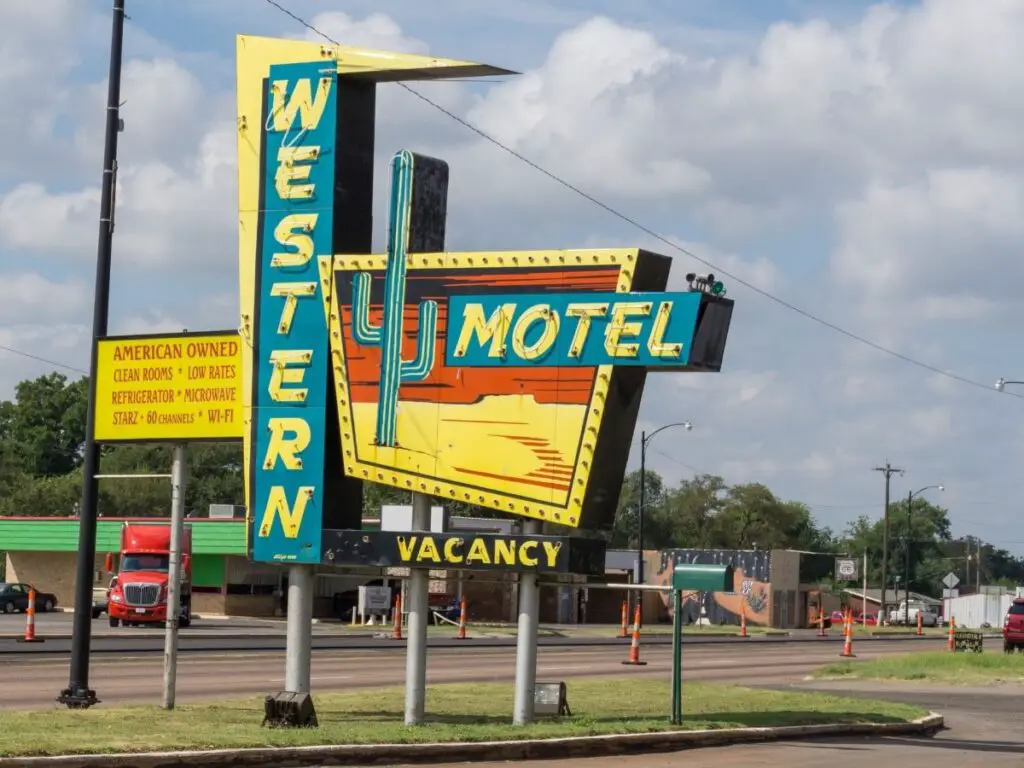 A note from the writer: Hey! I'm Kirsty and I'm a Route 66 enthusiast – I first became obsessed almost 20 years ago and then first visited in 2014. I've recently just come back from my last trip too! Comment below if you have any questions about your road trip and I'll get back to you ASAP – or join me in my free FB group here.
What kind of Route 66 motels in Oklahoma can you expect?
Oklahoma has a lot of Route 66 history and a few motels that have stuck around for a while. There's lots of retro, 60s vibe architecture and basic motels. If you're looking for vintage and neon motel signs there are a few options there too!
Many motels have disappeared over the years to be replaced by generic chain options but there are still some locally owned independents out there too.
Should you book your Route 66 accommodation in Oklahoma in advance?
This depends on your travel style and whether you like to wing it or not along the road. I am someone who likes to know where they're sleeping that night so I always like to book ahead if I can, even if that just means booking online on the morning of travel. Cancellation policies are often good so you can change if needed.
Some people like to just see where the day takes them and that can work too. There's a lot of chain hotels around too so you'll likely be ok.
If you have specific towns you want to spend time in, attractions you want to see or Motels on your list then it makes sense to book ahead.
Traveling in high season or over public holidays might also be a good time to book in advance.
If you're planning to stay in the cities of Tulsa or Oklahoma City it's recommended to book ahead.
With all of this in mind, please note that this is simple a list of motels and hotels in Oklahoma along Route 66.

I have not inspected every property on this list and inclusion here is not a recommendation.

Reading reviews is best practice before booking or if you're just turning up, ask to check a room before paying.
Route 66 Motels and Hotels in Oklahoma
Miami
Just over the state border from Kansas you might like to stay here if you can't find anything along the short Kansas stretch. Unfortunately it's just generic chain hotels.
Vinita
Home to a small museum and some great traditional route 66 cafes. Vinita is a great place to stop with a couple of traditional style motels.
Relax Inn – book on Booking.com
Route 66 Inn – no online booking.
Western Inn – no online booking.
Vacation Rental w/ private pool – book on VRBO.com | Booking.com
Chelsea
Not far from the Totem Pole Park in Foyil
Claremore
Historic town with lots to do and plenty of museums to keep you occupied.
Tulsa
The city of Tulsa has a lot to offer for so many interests so you might like to stay for a couple of nights to make the most of it. You have a lot to choose from here as well so decide based on what you'd like to do in the area.
Sapulpa
Serenity in Sapulpa (vacation rental) – book on VRBO.com
Stroud
Home to the Rock Cafe so if you need a stop round here at least you'll be well fed!
Skyliner Motel – No online bookings
Sooner Motel – No online bookings
Oklahoma City
Like many of the largest cities Oklahoma City has a lot of options. I've included two different but unique offerings here but you may want to explore what's around.
El Reno
Sadly the neon filled Route 66 motel used in the Rainman film that was originally in El Reno, OK is no longer there. Still, if you need to stop a night here there are numerous chains and the below options too.
Clinton
With a large Route 66 museum to take up some of your time you might wish to rest your head in this town. Just across from the museum is a motel so perfect if you want some pictures of the museum lit up at night.
Elk City
Elk City is a great stop with the National Route 66 museum around to explore. You have a couple of options in the town as well as lots of chains just outside town too.
Still got questions? Join our FREE Route 66 community!
Come and join our FREE Facebook group where you can get help with planning your Route 66 road trip of a lifetime!