When looking for ideas on where to stay along Route 66 it helps to break it all down into smaller chunks. The whole road is long and there's a big difference with what's available in Illinois to some of the later states on your journey.
For many, Illinois is the first stop you'll have on your journey along the Mother Road and you'll want to make sure you start off right. I hope you find this guide on where to stay in Illinois along Route 66 helpful!
This article probably contains affiliate links.  
This means that if you buy or book after clicking, I may get a commission at no extra cost to you. Thanks!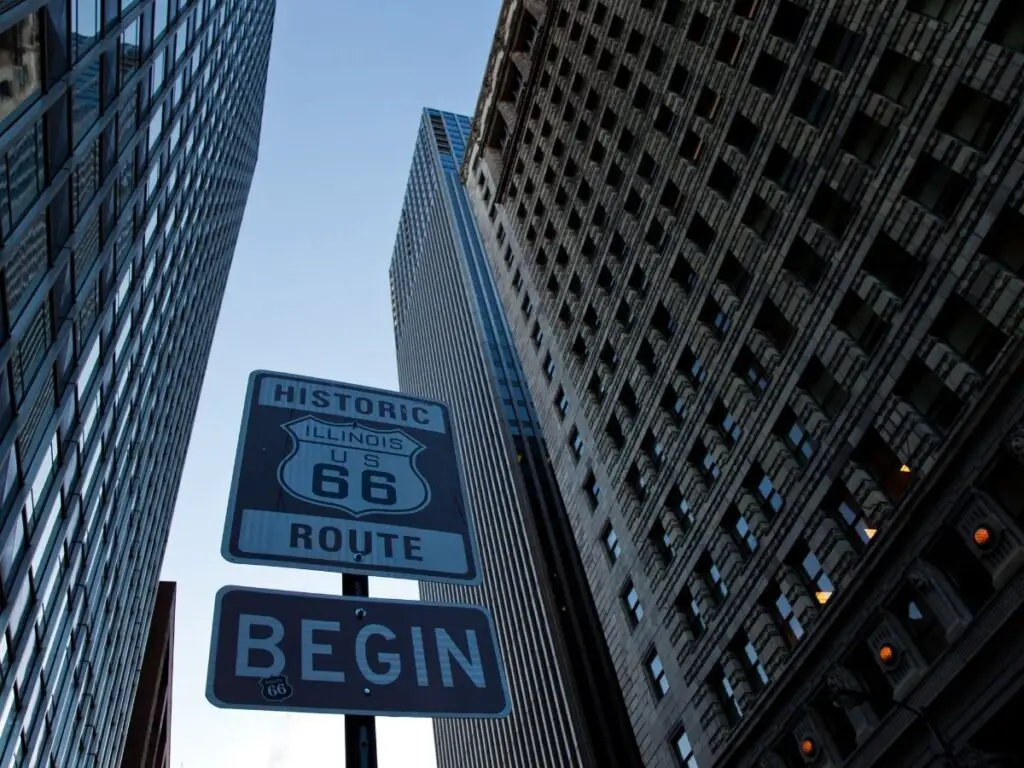 A note from the writer: Hey! I'm Kirsty and I'm a Route 66 enthusiast – I first became obsessed almost 20 years ago and then first visited in 2014. I've recently just come back from my last trip too! Comment below if you have any questions about your road trip and I'll get back to you ASAP – or join me in my free FB group here.
What kind of Route 66 motels in Illinois can you expect?
I'll be honest, Illinois doesn't have the wealth of retro, mom and pop style motels that you can see in some of the other states. They just don't seem to exist as much here. You can see a lot of independent Bed and Breakfast type hotels on offer in this state though so it's worth checking those out for some Route 66 hospitality.
Where a particular town might be worth staying due to their attractions in I've included some chain options as well.
Should you book your Route 66 accommodation in Illinois in advance?
It really depends on your style of traveling really. I'm someone who likes to know I have a room, and bed, waiting for me and I don't like having to make decisions when arriving in a town. For me, I almost always book in advance. You might like to wing it.
You'll want to book your Chicago accommodation in advance and if you're traveling in high season or around any holidays you'd be wise to look into booking beforehand too. July 4th and St Patricks Day in Chicago would be the ones I'd be wary of leaving unbooked.
Which ever way you decide to do your trip it's really useful to check reviews on the booking portals when you're booking your hotels on Route 66, or check google reviews if you need to book direct. Places can change hands and standards can drop, or rise, quickly so it's the best way to gauge how a hotel or motel is doing currently.
With that in mind, please take this as just a list of potential places to stay in Illinois along Route 66.

I have not inspected every property and even if I had things might have changed by the time you stay there. Reading reviews is best practice before booking or if you're just turning up, ask to check a room before paying.
Route 66 hotels in Chicago
The city of Chicago is immense and has a similar size of hotels to draw on as well. For Route 66 travelers you'll want to base yourself in the downtown or South Loop areas as it's where Route 66 starts.
Because of the one way system Route 66 starts on Adams Street but ends on Jackson Boulevard (where the original was before the one way system came in in the 50s). There are a few hotels on these streets mentioned below – many are chain hotels so nothing stands out particularly when it comes to historic hotels.
Hotels in Chicago on Route 66
Historic hotels of note in Chicago near the Route 66 start point
Congress Plaza – a historic hotel built in 1893 and having views over Lake Michigan (book on Booking.com | Hotels.com)
If you don't want to stay in Chicago center you could start your journey by staying in a retro motel in the city.
Cindy Lyn Motel – an original 60s motel that is on Route 66. (book direct)
Joliet
Joliet is on the outskirts of Chicago and has some interesting sights to see in the area including the old prison which was used in the Blues Brothers film. There aren't many places to stay on Route 66 itself but there are a cluster of chain hotels in Joliet near I-80 that could be handy if you need somewhere to stay.
Dwight
Just over an hour outside of Chicago, Dwight is a small town on Route 66. No retro motels but a chain hotel that is fairly inexpensive.
Pontiac
Home of the car of the same name and a good place to stop if you can to enjoy all the town has to offer with museums, murals and good food. Quite a few chain hotels here on the outskirts and a bed and breakfast right in the center for ease to enjoy everything.
Three Roses Bed and Breakfast – (2023 update – Google shows this as permanently closed)
Bloomington/Normal
If you want to stay in the Bloomington or Normal area then you have a lot of options. Unfortunately those options tend to be sterile chain hotels. There is one historic B&B that might be worth checking out if you like your stays with a bit of a story behind them!
Atlanta
Atlanta is a fun town that loves it's Route 66 heritage – it's home to many museums and the Paul Bunyan statue.
Lincoln
A city that's home to the world's largest covered wagon complete with statue of President Lincoln. Not much here that's not a chain hotel.
Springfield
The capital of Illinois and a city on Route 66 with lots of history, especially related to President Lincoln so you'll find lots to do here. You have a lot of options in the city itself from upmarket chains to boutique hotels (some options listed below) and just as you're heading outside of Springfield is the below motel which dates back to the 50s and so has seen a lot on the road!
Carlinville
On an old alignment of Route 66, there are a few variations in this part of Illinois. There's an old motel here
Litchfield
There's a drive in movie theatre in Litchfield so it could be a good place to spend an evening on your road trip. No retro motels here, but a couple of chains – check out the links to what available.
Livingston
Close by to the Pink Elephant Antique mall for some quirky souvenirs!
Mitchell
Located near the city of St Louis and the border into Missouri this could be a good place to base yourself to enjoy what the city has to offer.
Still got questions? Join our FREE Route 66 community!
Come and join our FREE Facebook group where you can get help with planning your Route 66 road trip of a lifetime!