Traveling Route 66 is a dream for so many people, but is it something that is doable with kids in tow? Is it somewhere that you should wait and experience when they've grown or can you enjoy it now?
When we took our kids on a Route 66 trip we really didn't know what to expect. They were 12 & 14 at the time so not too young to have to be kept constantly happy and occupied, but we still had to keep these ideas in mind so they enjoyed it.
I'm sharing my tips on driving Route 66 with kids today and I hope that it will encourage you to bring your children on a road trip of a lifetime too.
This article probably contains affiliate links.  
This means that if you buy or book after clicking, I may get a commission at no extra cost to you. Thanks!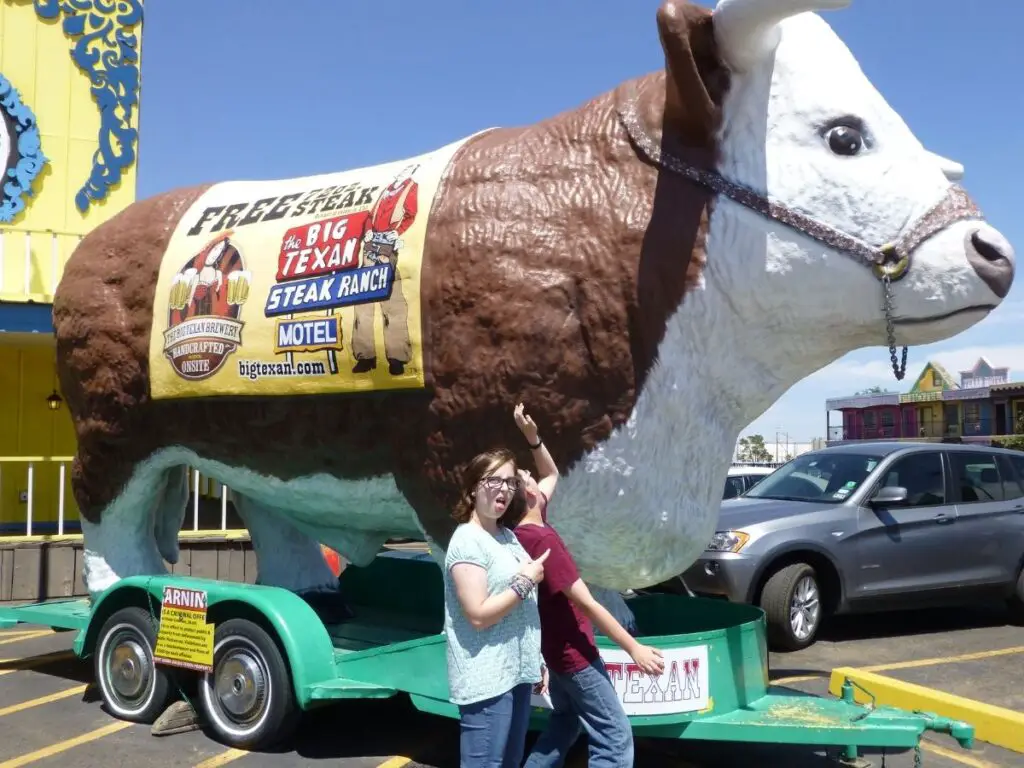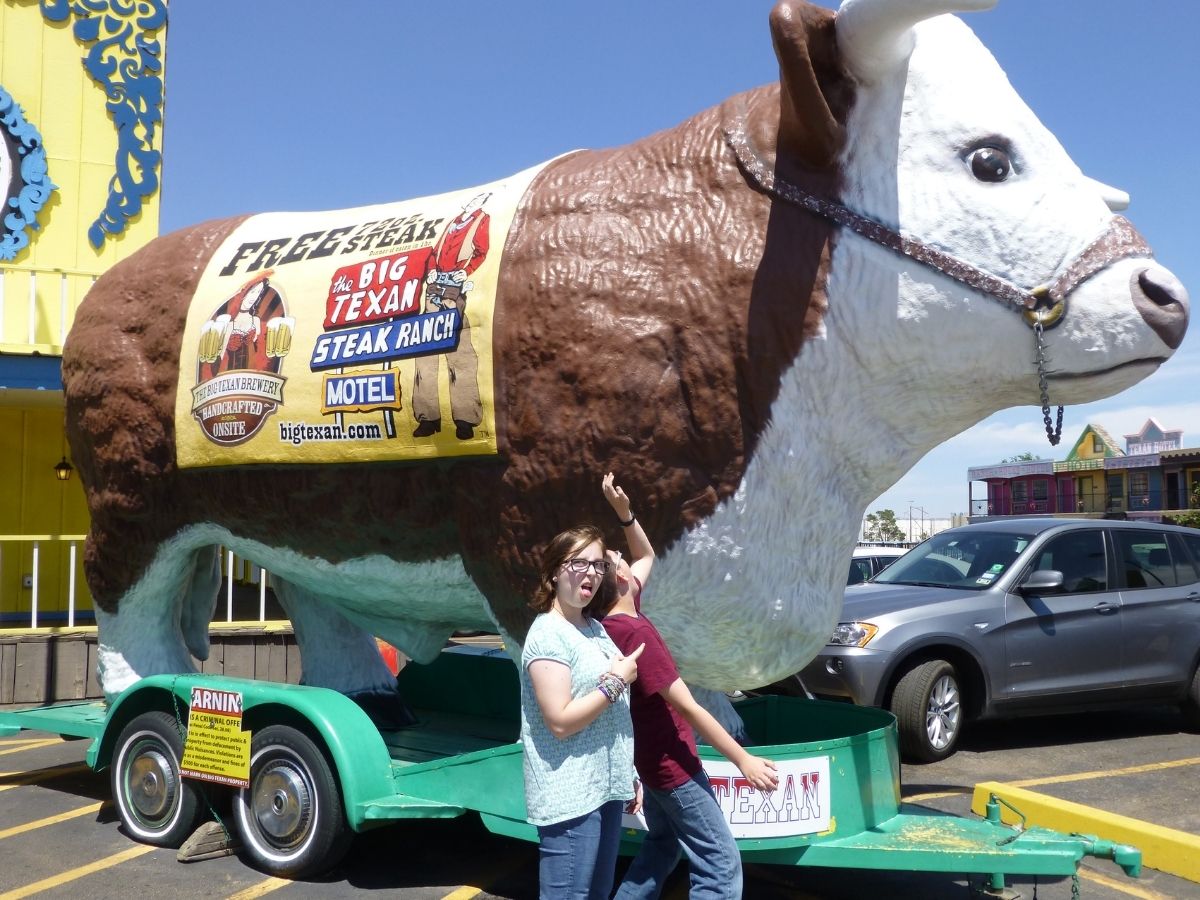 A note from the writer: Hey! I'm Kirsty and I'm a Route 66 enthusiast – I first became obsessed almost 20 years ago and then first visited in 2014. I've recently just come back from my last trip too! Comment below if you have any questions about your road trip and I'll get back to you ASAP – or join me in my free FB group here.
Tips for driving Route 66 with kids
The ages of your children might dictate which of these tips will have the most effect. There's much to enjoy along the road but a bit of planning ahead of time is always a good idea.
Don't feel like you have to do the whole route.
My first tip for you when you're planning your road trip is to not feel pressured to do the whole route all the way from Chicago to Los Angeles. It's tempting to feel like you have to do it or it doesn't count, I know because we felt the same way. In the end we spent about a week on the Route 66, did approximately half the miles, and enjoyed other sites either end.
The entire route is a long way to go with kids. The driving time of Route 66 means that if you travel slow enough to make sure you're not driving too far each day then the trip will take 3-4 weeks which might just feel like too long, if you can spare that much time in the first place.
I suggest a small portion of the route and perhaps taking some time to visit a family friendly attraction afterwards where you can stay in the same spot for a little while, perhaps in a vacation rental to maximise down time. It's the best of both worlds!
Idea – You could start in Arizona and end in Los Angeles and combine it with a trip to Disneyland or Universal Studios. Or you could start in Texas, end in Arizona and spend a few days in the Grand Canyon National Park.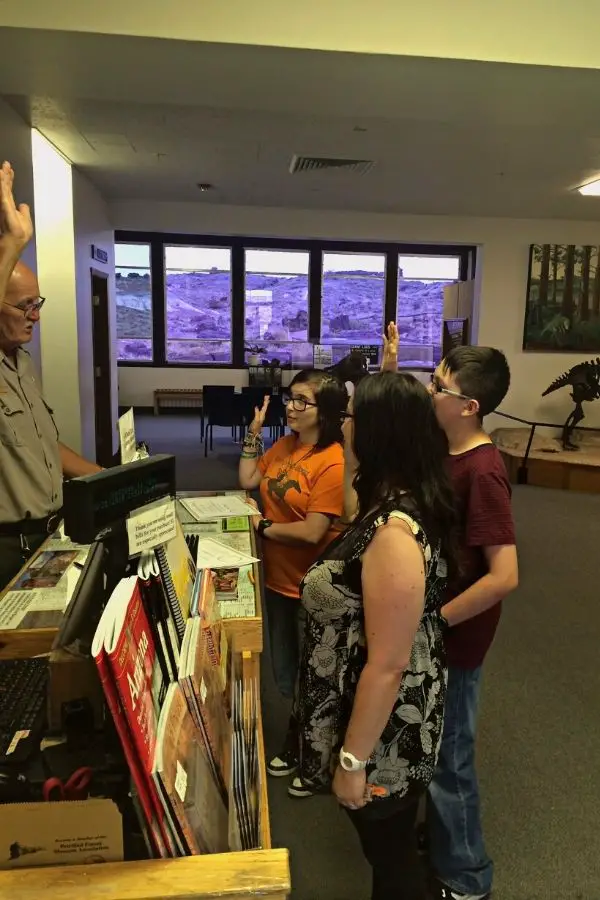 Intersperse days of exploring towns with national parks and hiking
There are a lot of museums, shops and town attractions along route 66 which might be ok once or twice but might get a little too much for kids day in day out.
No matter where you are on the route there are lots of hikes and trails that can be explored with kids. Route 66 even passes through the Petrified Forest National Park if you haven't ticked that one off yet and of course the Grand Canyon is only about 1 hour from the road.
Idea: Get your kids to become Junior Rangers at the Petrified Forest NP! Mine loved that even as older kids and teens.
Stay in quirky spaces
There are a lot of interesting hotels and motels along the whole of Route 66. Evenings were fun when we could walk out of our accommodation and see all the neon lighting up the shops and motels – not everywhere is like this so plan your stays accordingly.
I recommend the Wigwam motel in Holbrook Arizona (and there's another similar one in California too). It's basic but such a cool place and kids love it. For neon all around try Tucumcari in New Mexico.
Don't be afraid to take side trips
There's a lot to see on Route 66 itself but if there's something nearby and off the road that you know your kids would love then definitely take them on a side trip to see it. A lot of what makes Route 66 special is the quirky stop offs and attractions that are around. It doesn't have to be a purist trip that doesn't deviate from the main route!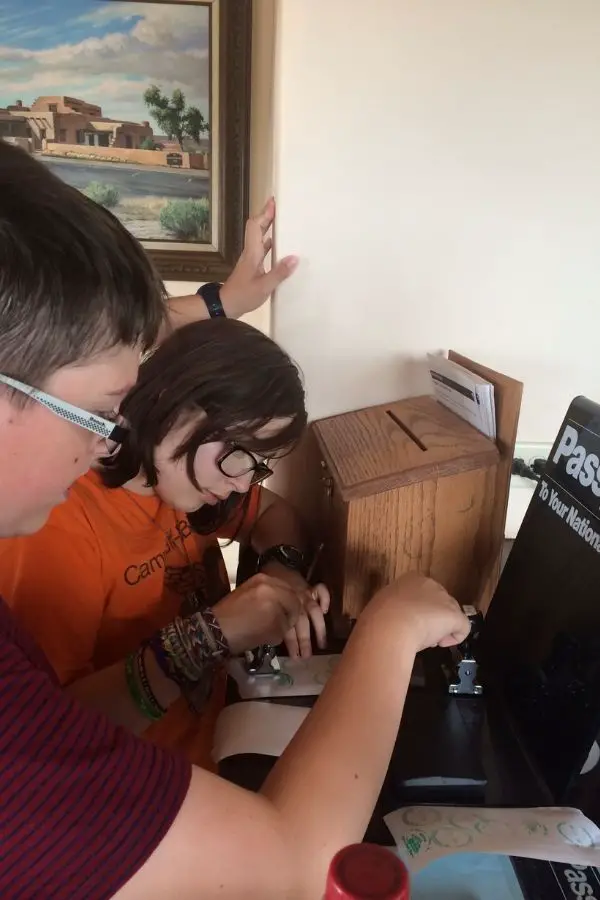 Plan your days on the road so you have something for the kids to look forward to
As adults driving Route 66 it's tempting to just see where you end up, what town attractions appeal to you and move on when you want. For driving route 66 with kids this might not work so well.
I encourage you to have an idea of some kid friendly activities for each day. That could just be heading to a specific diner for a fun lunch and a milkshake or it could be to find a roadside attraction. Having those ideas in mind will help keep the kids happy.
Don't drive for too long and don't move on every day
You'll know your kids limitations for road trips so think about what they are ok with and can handle. We often would try and break up our drives into a sections so we weren't doing long stints at a time. To be honest, this is the best way as otherwise you can just miss big stretches of the road.
I also encourage you to plan for at least once staying in the same area for more than one night. It can get exhausting having to move on every day and finding a new spot to sleep in each night. We did this in Williams, stayed a couple of nights and it really refreshed us.
Make a scavenger hunt
For kids who get bored on the actual drive and need a helping hand why not make up a kiddy scavenger hunt where they can look out for some of the things you'll see on your drive. Perhaps that might include a Route 66 sign, some neon, an abandoned house or a rusty old car (there are so many of these along the road!)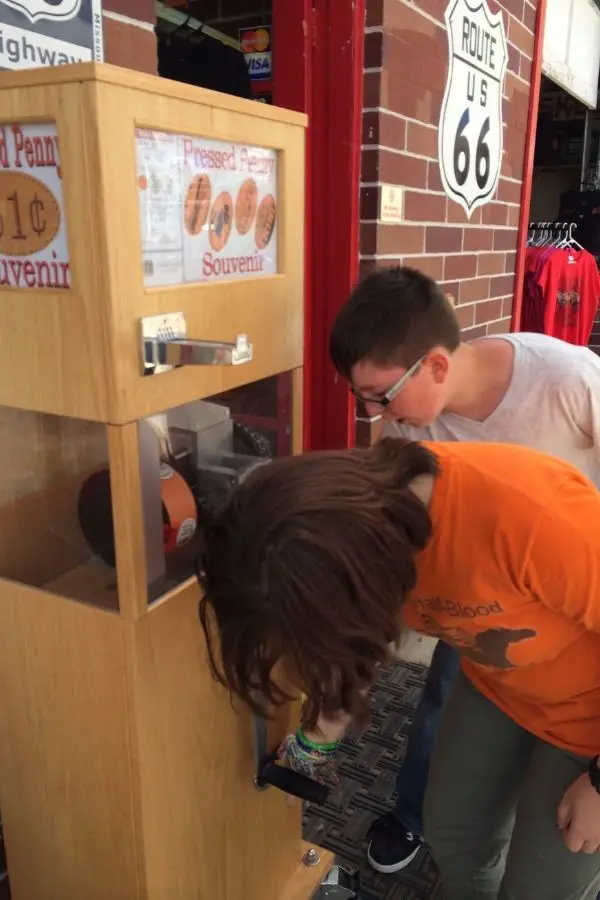 Find all the kid friendly roadside attractions
Many of the roadside attractions are aimed at getting the attention of kids. Whether it's the Gemini Giant, the Blue Whale or perhaps the Cadillac Ranch, they all will provide a tonne of memories for your kids.
One thing you might like to do is take a look at the roadside attractions near where you're driving and ask your kids which ones they'd like to see – this will help them be involved in the trip and they'll be more excited to find them.
There are actually a lot of major cities along Route 66 so if you feel like you need more specific child friendly attractions check those out.
Idea: encourage your kids to take photos of the fun roadside attractions they see
Make a road trip play list
Involve your kids in making a special playlist for their time on the road.
Alternative you could download some audio books if your kids like to listen to those in the car. We're much more of a music family but we're all different!
Take plenty of snacks & drinks
Always make sure to have plenty of drinks and healthy snacks available for in the car. We don't always want to stop off in a cafe for food, especially if we're travelling on a budget, so having some fruit, nuts and cereal bars around was helpful for us to keep us going until we were all ready to have a meal.
Much of Route 66 is through desert and it can get very hot – having water on hand is essential.
Make sure they've watched Cars!
Finally if you're taking your kids on a Route 66 adventure then I highly recommend that you let your kids watch the Disney Cars film before going. There are actually lots of real life Radiator Springs locations that the film is based on and if your kids are interested you could add those to your sightseeing list too.
The film is a fun one for any age, I just watched it again a couple of days ago, and it can definitely get you excited for the trip. The music is good too if you need any ideas for your road trip playlist too!
Still got questions? Join our FREE Route 66 community!
Come and join our FREE Facebook group where you can get help with planning your Route 66 road trip of a lifetime!