Las Vegas is relatively close to Route 66 (though not on it as some have wondered) and since it's such a popular city for a short break it's also a great jumping off point for a short trip on Route 66 for those who can't spare the time to do the whole trip.
While it's close by it can be a full on day trip with an early start (specifically if you go on an organized trip) or if you want to fit in a trip to the Grand Canyon as well.
We drove from Route 66 to Las Vegas and since the roads were pretty good all the way it wasn't a difficult trip. We added in a side trip to Hoover Dam too which is also worth thinking about if you have the time.
If you're thinking about combining a day on Route 66 with a trip to Los Angeles you might like my 1 day itinerary post which takes you along some of California's Route 66 sights.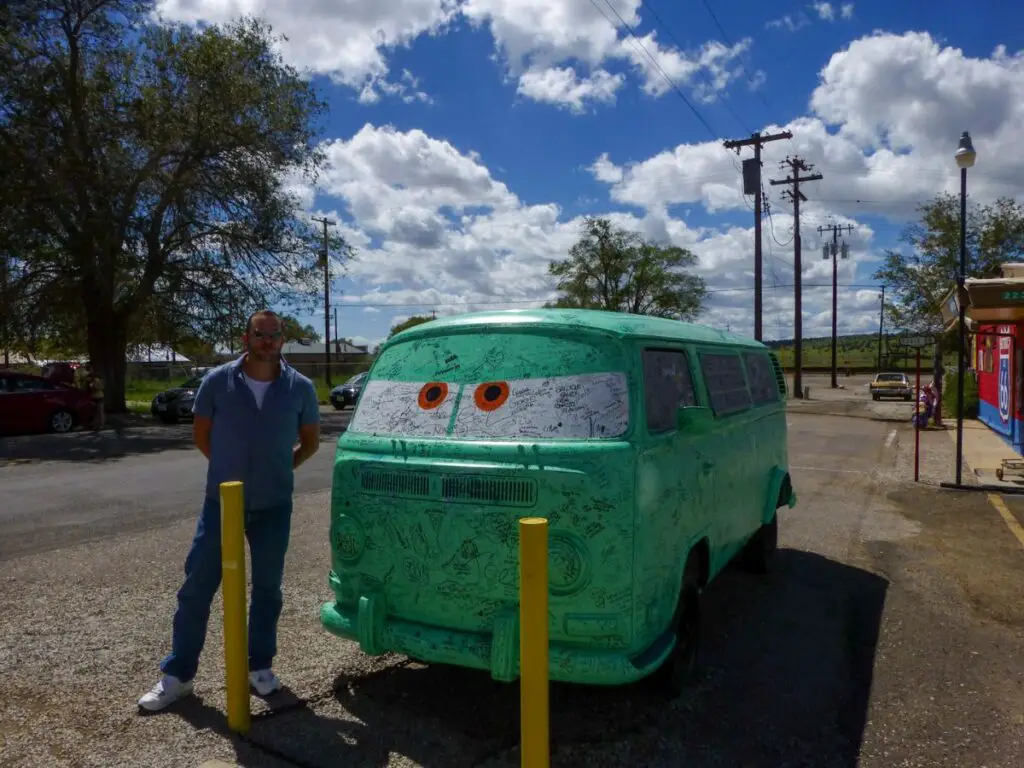 How far is Route 66 from Las Vegas?
There are a couple of places along Route 66 that are close to Las Vegas. In California you have the town of Needles which is down US-95 and is around 111 miles away. In Arizona, Kingman is probably the closest town at 107 miles away, down US-93. Both are easy to get to on the highway.

Can your do a day trip from Las Vegas to Route 66?
Yes! It's really a great city to choose for a day trip along Route 66 because you can see so much of the classic road, neon signs, cute diners, wide open spaces and even a national park to enjoy.
If you're not able to commit to driving the whole road then Las Vegas is absolutely a great place to dip your toes in and see a small portion of it.
Should you go it alone or do an organized tour?
You'll want to think about what you want to get out of your Route 66 trip when considering whether you go it alone or join a trip with others.
If you travel alone then you can completely set your own pace and enjoy each place along the road that you see. You'll be able to choose your stops, take your time chatting to locals and choose where to eat as well.
Organized tours can be great for those who don't want to, or can't drive. Often the Route 66 tours from Las Vegas have the Grand Canyon as the main event of their day trip and they just happen to fit in a small portion of Route 66 too. Many will stop in Seligman which is a really cool little town with lots of old cars for that photo opportunity and classic Route 66 food too.
The downside to the group tours are that you don't get to choose your stops and it can be an incredibly long day. However it does take you to some of the quirkiest Route 66 spots so I still think they are worth considering and you also get the Grand Canyon too – two bucket list items in one isn't bad!
Need to rent a car? Check out Discover Cars who will search all the providers in Las Vegas and compare the prices for you.
4 day trip ideas from Las Vegas to Route 66
(If you have the stamina and the time you could always combine some of these ideas!)
Please also see our post on Arizona Route 66 attractions to learn more about what you can see.
Las Vegas – Seligman
Driving time – minimum 3 and a quarter hours one way
Suggested stops:
Hoover Dam
Chloride (before Route 66 – a ghost town that's nearby)
Kingman
Peach Springs
Seligman
Grand Canyon West Rim / Skywalk (2 hours from Peach Springs)
Seligman was one of our favorite stops with loads of places to take photos and plenty of old cars to see. There's some old fashioned gift shops, food options and even Angel Delgadillo the barber if you need your hair cut!
Las Vegas – Needles via Oatman
Driving time – minimum 3 hours one way
Suggested stops:
Hoover Dam
Chloride (before Route 66 – a ghost town that's nearby)
Kingman
Oatman
Needles
Oatman is a fun place that used to be a gold rush town until it was abandoned. The old ghost town is now a Wild West attraction for tourists with gun fight shows being put on each day and the ever present burros (donkeys) that come down for feeding.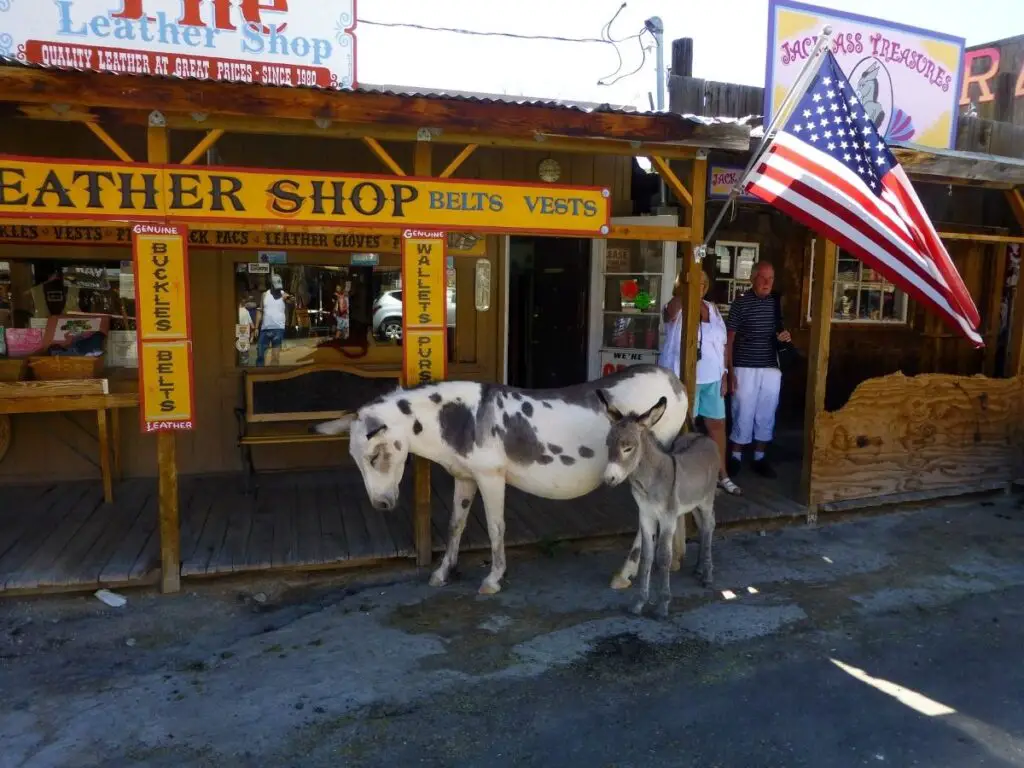 Group tour including Grand Canyon
Time for the trip – most trips are approximately 15 hours long
Here are some trips that are organized for you and include some stops along Route 66:
Stay over in Williams and see the Grand Canyon
Driving time – 5 hours minimum one way
If you can spare the time I recommend trying to spend the night on Route 66 and if you can then a great place to do so is Williams. It's quite a large town with plenty of eating options for you and evening entertainment should you like that too!
It's a great option if you want to add in a trip to the Grand Canyon (you could even go on the Grand Canyon Train) without over stretching yourself.
Day 1:

Check out the towns on Route 66 to Williams including Kingman, Peach Springs and Seligman
Hotel suggestion: Grand Canyon Railway Hotel

Day 2:

Set off early and explore the Grand Canyon National Park before returning to Las Vegas
Return journey is 4.5 hours along interstate and not stopping so allow for plenty of time to get back.