Here's the second in my state guide to motels and hotels when driving on Route 66. This one highlighting the wonderful Route 66 motels in Missouri and where you can stay when driving the Mother Road here.
The second state for many on a Route 66 trip, Missouri has a lot to offer with many attractions including the wonderful (and much advertised) Meramec Caverns. Even if you're thundering along Route 66 at a decent pace, you'll need somewhere to stay and Missouri is a good place to do so.
Let's take a look at where to stay on Route 66 in Missouri…
This article probably contains affiliate links.  
This means that if you buy or book after clicking, I may get a commission at no extra cost to you. Thanks!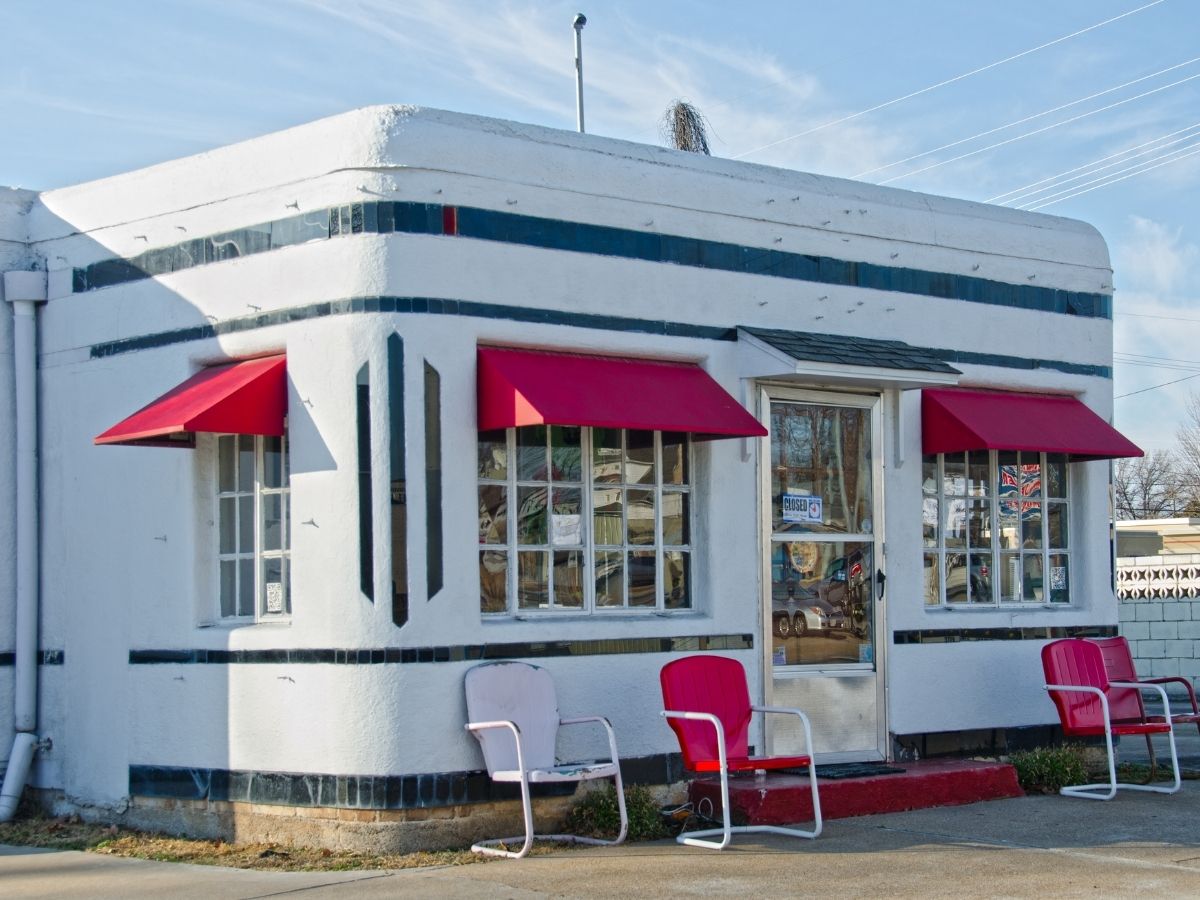 Notable Places to Stay on Route 66 in Missouri
A note from the writer: Hey! I'm Kirsty and I'm a Route 66 enthusiast – I first became obsessed almost 20 years ago and then first visited in 2014. I've recently just come back from my last trip too! Comment below if you have any questions about your road trip and I'll get back to you ASAP – or join me in my free FB group here.
What kind of Route 66 motels in Missouri can you expect?
If you've read my guide to Illinois Route 66 motels, you'll know that there wasn't a huge choice of retro and historic options there. You'll be glad to hear that now we're in Missouri we have a couple of really good motels that capture the spirit of Route 66 and are a haven for travelers.
Many of them have either been restored or have just been lovingly kept in a good state for years by amazing owners.
As always, I encourage you to check out recent reviews when booking, either on the hotel booking site or on TripAdvisor/Google if you have to book direct. Motels can go downhill, or uphill, quickly with changes in ownership and what is recommended one year might not be so much a few years later.
Should you book your Route 66 accommodation in Missouri in advance?
One of my Route 66 tips is to book any motels that you *really* want to stay at in advance and that tip holds strong here too. While you'll not likely struggle for a bed in many places, the popular motels will fill up.
Many people like to see where their day takes them and that can work really well. There are a lot of chain hotels along the road and unless you're traveling at major holidays you can just wing it.
Personally I like to have my bed booked in advance, even if that means I book on the morning of me turning up – it just makes me feel better!
With all of this in mind, please note that this is simple a list of motels and hotels in Missouri along Route 66.

I have not inspected every property on this list.

Reading reviews is best practice before booking or if you're just turning up, ask to check a room before paying.
Hotels on Route 66 in St Louis
The way that Route 66 that go through St Louis has changed so often through the years that it's difficult to give a recommendation that's on the road itself. Also some areas may not be quite so desirable in the city to stay in. In that case I recommend staying in the centre of the city if you're planning to explore.
Here are a couple of options to get your started:
Saint Clair
A good option if you're looking for somewhere just out of St Louis and close by to the Meramec Caves
Cuba
Home to one of the longest standing Route 66 motels in Missouri if you want to spend the night in Cuba you should definitely consider the Wagon Wheel Motel. If you can't get in there are a few chain hotels in the area too.
Devil's Elbow
This area is worth exploring if you like the great outdoors. No motels to recommend but there is a vacation rental should you wish to slow down and enjoy the area.
Vacation Rental – Book on VRBO
Lebanon
Home to another iconic motel that dates back to the 40s and has been serving travelers ever since. It's a great place to stop and enjoy some neon if that's on your Route 66 dream board.
Springfield
It's not often that the cities on Route 66 have some great options as well but Springfield, MO has a couple that will suite Rt 66 travelers and include neon. A great choice if you're flying in to Springfield and starting a road trip from there, or if you're exploring the city
Carthage
Another icon on the road that has just changed hands is in Carthage. The Boots Court Motel should hopefully be back open and accepting customers soon. It's a great place to stay if you're looking to enjoy the drive in cinema in the town.
Boots Court Motel (Should be opening 2022) – check their website to book direct
Still got questions? Join our FREE Route 66 community!
Come and join our FREE Facebook group where you can get help with planning your Route 66 road trip of a lifetime!