Texas is one of my top states to visit and if you're traveling through Route 66 you'll have a great time. There's a lot of Route 66 motels in Texas to check out so you can really enjoy all that there is to do here.
This article probably contains affiliate links.  
This means that if you buy or book after clicking, I may get a commission at no extra cost to you. Thanks!
Notable Places to Stay on Route 66 in Texas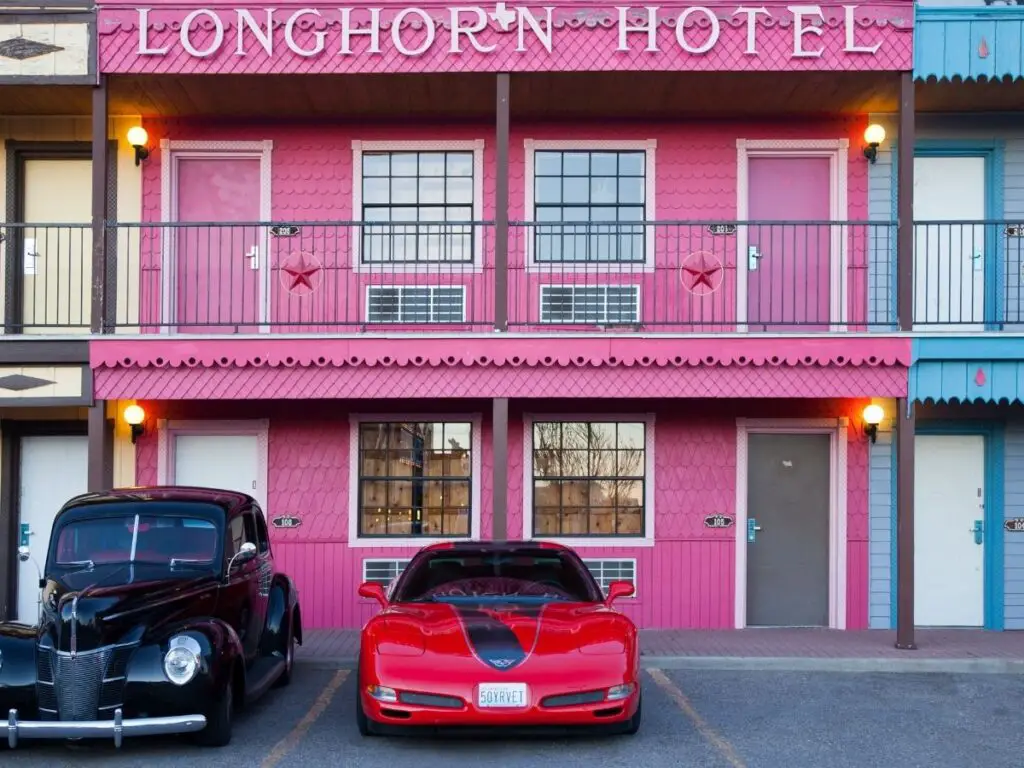 A note from the writer: Hey! I'm Kirsty and I'm a Route 66 enthusiast – I first became obsessed almost 20 years ago and then first visited in 2014. I've recently just come back from my last trip too! Comment below if you have any questions about your road trip and I'll get back to you ASAP – or join me in my free FB group here.
What kind of Route 66 motels in Texas can you expect?
Texas is a relatively short section of Route 66 and it's only a small portion of the large state too. You'll find plenty of traditional motels along the road and some quirky options too like the Big Texan motel which looks a little like a wild west town out front, albeit a little more colorful!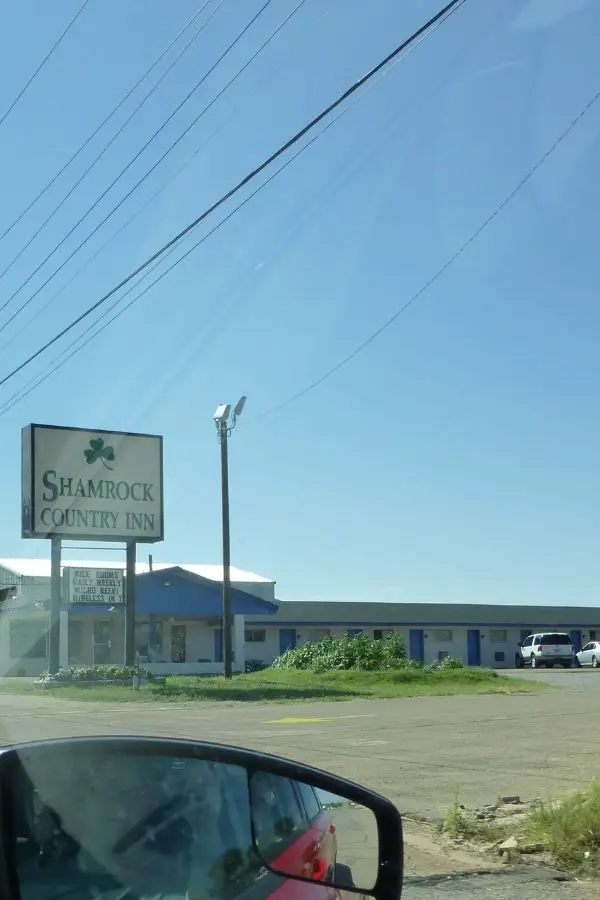 Should you book your Route 66 accommodation in Texas in advance?
This question really depends on your travel style, whether you are confident to wing it or whether you like safety in booking ahead. Personally, I am the latter. I am someone who likes to know where they're sleeping that night so I will always book ahead if I can. Sometimes that just means booking online on the morning of travel too. Cancellation policies are often good so you can change if needed.
If you are someone who likes to see where the day takes them that can work too. There's a lot of chain hotels around too so you'll likely be ok.
If you have specific places you want to spend time in or attractions you want to see then it makes sense to book ahead.
If you're traveling in high season or over public holidays it might be good to book in advance.
With all of this in mind, please note that this is simple a list of motels and hotels in Texas along Route 66.

I have not inspected every property on this list and inclusion here is not a recommendation.

Reading reviews is best practice before booking or if you're just turning up, ask to check a room before paying.
Where to stay in Texas on Route 66
Shamrock
Shamrock is a wonderful town and one of my favorites. The U-drop Inn lights up with neon and it's quite spectacular so if you can I definitely recommend stopping overnight. Check out the free museum as well!
McLean
Home to the Barbed Wire museum and another local museum, McLean is a small town but a good option to rest too.
Groom
Chalet Inn – No online booking
Conway
You'll find the Bug Ranch here – a similar attraction to the more famous Cadillac Ranch!
Amarillo
The only big city in Texas on Route 66, Amarillo is a good place to spend a couple of nights if you wanted to take your foot off the gas for a bit. Loads to do here from classic Route 66 icons like the cadillac ranch and the Big Texan to getting out in nature at the Palo Duro Canyon State Park.
You can also take a look at this map for more Amarillo properties:
Adrian
The mid point of Route 66 is pretty much the end of it for our Texas journey but there's an interesting motel that could be a great stop off point.
Fabulous 40s Motel – Check FB Page or call 806.538.6215
Still got questions? Join our FREE Route 66 community!
Come and join our FREE Facebook group where you can get help with planning your Route 66 road trip of a lifetime!