There are a number of Route 66 guide books on the market at the moment and they really do vary in both the quality and information that's in them. So which one is the best?
I actually wrote this post a number of years ago now (on my travel blog) after we came back from our first trip on the road and I'm now updating it completely to be on this site. I've personally read and have experience with all of the books on here (unless stated otherwise).
I really believe that having a guide book can help in all parts of your journey on Route 66 from the inspiration section where you're just dreaming, to planning the trip and eventually being on the road itself.
There is so much to see, so many little details to point out that unless you have a guide or some maps, there's a real danger that you'll just drive right on by.  
This post was first written for my travel blog Lost in Landmarks in 2016 and was fully updated for this Route 66 specific site in 2022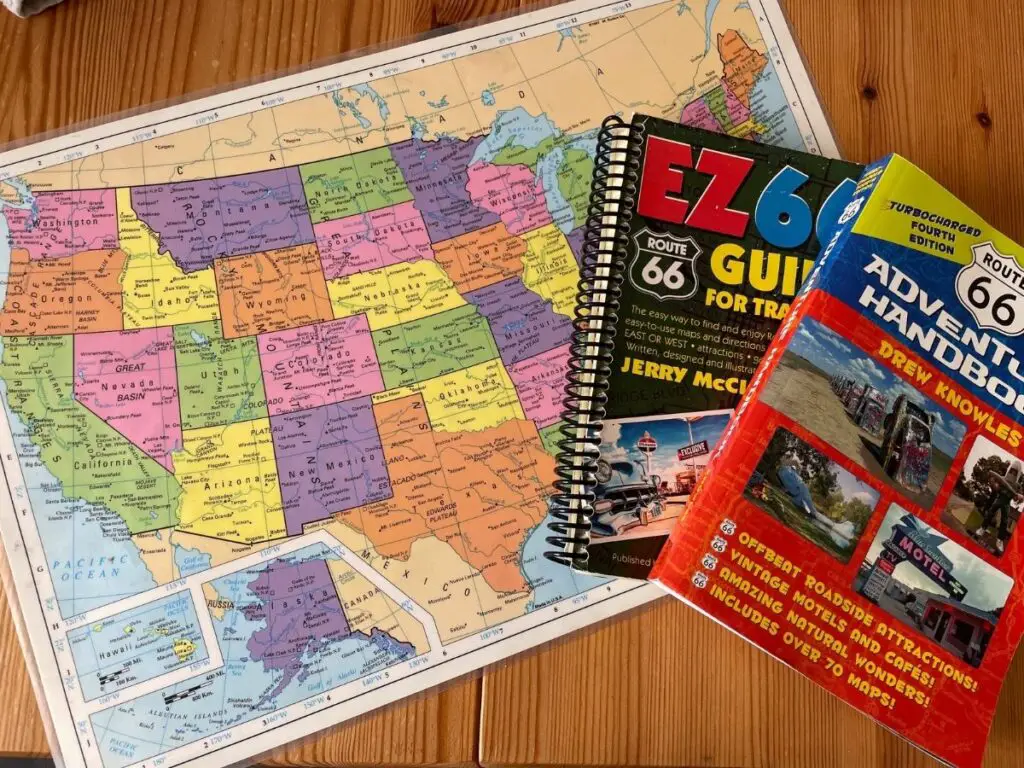 Why use a guide book? Won't this site, and the internet do?
Ha! As much as I love websites and think that they definitely have a place when planning your Route 66 trip, they aren't always the be all and end all.
If you're planning a trip, or if you're on your Route 66 trip already, there might not be signal when you need it most, your cell phone might run out of charge and that's where a guide book will come into its own.
A guide book also doesn't have ads that can distract you, or links to other pages. It's sole purpose is to bring you into the world of the road and guide you!
And when you're traveling a historic route like 66 it kinda feels fitting to go back to the analogue ways and do some research the old fashioned way! Do you agree?
The best Route 66 Travel Guide – what's on offer?
If you're looking for a guide book for Route 66 I'd encourage you first to have a think about what stage of the trip you're on.
Dreaming about the trip – you'll want a great overview of what you can see, something that answers any questions you have and plenty of pictures to inspire you. Older editions will be ok for you at this stage.

Planning a trip – you'll want detailed information about what is in each state and the towns and cities along the road. Maps are a good idea too so you can get familiar with the road. Up to date editions are a priority.

Almost ready to go – you might like detailed books with Route 66 attractions info and maps. You probably know the big picture already, you just need a helping hand. Up to date editions are a priority
Right, with that in mind, let's take a look at the books about Route 66 on the market at the moment:
EZ 66 Guide for Travelers by Jerry McClanahan
Best for – those ready to go
For some this is considered the best Route 66 guide and it's recommended time and time again.  
My personal view is that it's great for those who know a bit about the road already and they are ready to go. I don't think it's as good as an inspirational guide.
There are only drawings rather than any photos and it's hard to get a picture of what you'll see on the road unless you know a little about it before hand.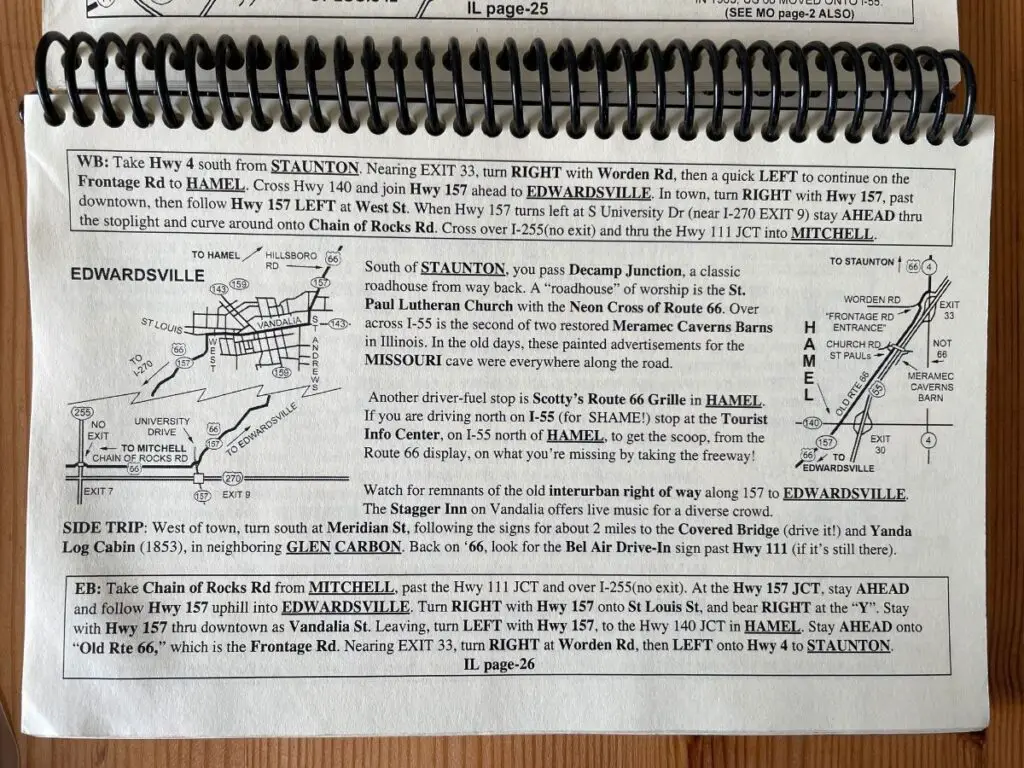 It's a user friendly book with easy to read maps that help you keep on the different alignments. It's also spiral bound which makes it easy to use when you're on the road. You can keep the book open on the page you need which makes a real difference, especially if you're using it for the maps.
I love that it has all sorts of ideas for many age ranges in it, including scavenger hunts and ideas to make the Route 66 trip for kids fun.  
If anything I think the style of the book is a little hard to get used to, especially when you're reading it home rather than on the road, but it doesn't detract from the excellent content. I think if you use it in conjunction with some other books, or with researching with this website you'll love it.
I got frustrated because I couldn't see how this one looks inside on Amazon so hopefully the image will help you decide if it's for you or not.
Update for 2023 – there's a new and updated version of this book out now for 2023! The 5th edition is available here.
Buy EZ66 Guide Book on Amazon here
Route 66 Adventure Handbook by Drew Knowles
Best for: all stages
This is my favourite all round book and if you only have the budget for one book this is what I would suggest. (It's also not as expensive as others which is a bonus)
The Route 66 Adventure Handbook is a great read and is full of interesting bits of history about many of the areas along Route 66.  
I enjoy picking it up, flicking to a different state when I'm in research mode and learning all about what there to see. It helps to get a real overview of the history and what happened in that area. Since my US history knowledge isn't always great (ahem) it prepared me really well for the trip.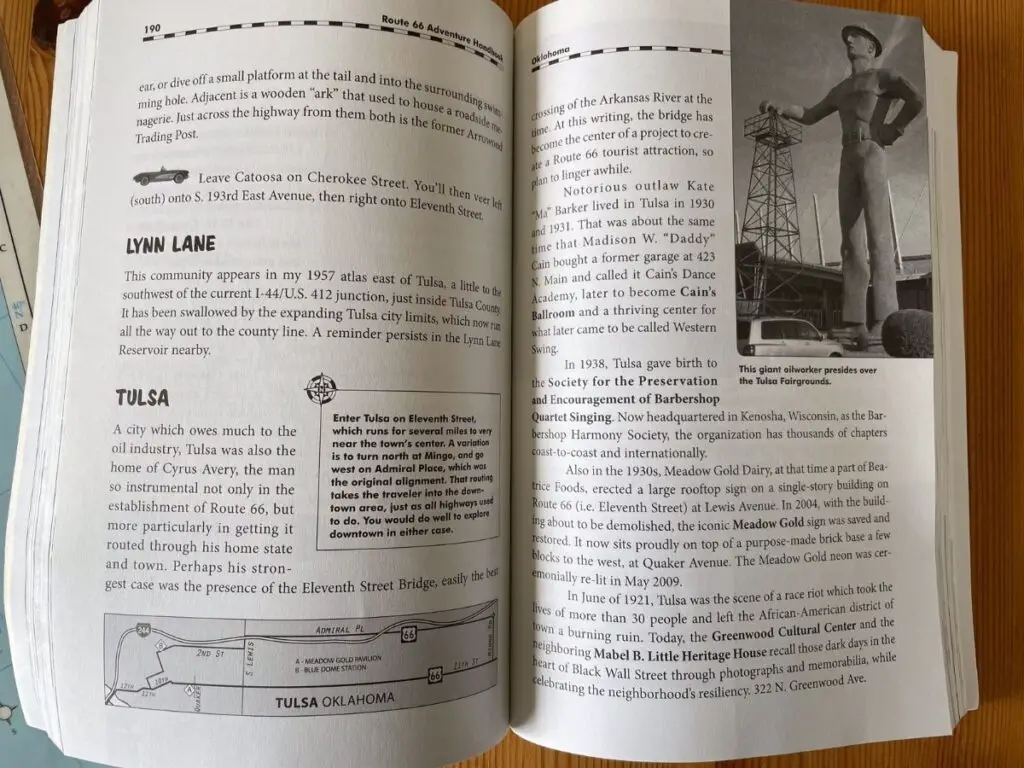 It's not perfect on the road, especially if you're travelling solo, because there is so much to read on each page. If you have passengers it's good to have for them to read as you're going along.  
It's a complete guide, with lodging and attraction info, plus maps – again be wary of things changing and go for the most up to date version.  
Unlike the EZ66 book, this one is available on Kindle so perfect if you need to be packing light!
Buy the Route 66 Adventure Handbook on Amazon here
Route 66 – Dining and Lodging Guide
Best for: those ready to go or in late planning stages
From the same publishers as the EZ 66 Guide comes a guidebook about the lodging and dining options available on Route 66.  
I'll admit that I haven't seen this one in real life as it doesn't seem to be available over in the UK. You can get it in the USA but be aware of how old the book is now.
With over 500 establishments reviewed this is really a great source while you're on the road to discover the best of what's there.  
While I like to check things out online, this isn't always an option while out and about so having this book to hand would be great.  It's especially good if you like to take your time and see where you end up in a day rather than planning too far in advance.
Always look for an up to date version of this book rather than going second hand – things change often on Route 66 so best to get up to date information! Alternatively, use it in conjunction with TripAdvisor or Booking.com reviews.
Buy the Route 66 Dining and Lodging guide on Amazon here
Moon Route 66 Road Trip Guide
Best for: Inspiration and Planning
I was a little unsure about this one but was pleasantly surprised. It has a number of thoughts about smaller towns on the road and some guidance on finding the old Route 66 alignments. It doesn't have a huge amount of information compared to some other guides but that makes it quite accessible and not overwhelming.
There are a few side trips highlighted too which might be helpful for some who don't solely want to stay on Route 66.
It's in colour which is an oddity among these guidebooks so it's perfect for those wanting a good overview of the route and to get inspired about the trip, yet it's detailed enough for getting started on planning your trip.
Buy the Moon Route 66 Road Trip book on Amazon here
Lonely Planet Route 66 Road Trips
Best for: Inspiration or very early planning
The Lonely Planet Route 66 book is more of a general guide for the road, but it would be good to read as part of your planning to get a good overview and inspiration.
When you're looking at the big picture, trying to get an overview of what each state and area has to offer this can be helpful. The sections on Chicago and Los Angeles and other cities on the road are also good – Lonely Planet are excellent with city guides so this isn't a surprise.
I managed to get this on my kindle which helps when having to pack light. I think having it to flick through for inspiration as a real book is best though.
Aside from the city aspects, this one is definitely lacking in detail about the smaller towns on Route 66, especially since its only about this one road trip. A good starter though and you can find it fairly inexpensive online.
Buy the Lonely Planet Route 66 guide book on Amazon
Best Route 66 Maps
If you like to get your hands on real old fashioned maps when you're on a road trip then these will be for you.
You might find that the maps in the guide books will suffice alongside a regular map and sat nav but if not take a look at these options.
Remember that since the road isn't official anymore but only exists as a historic route then regular road atlases will not have the roads you need on them.
Here It Is! The Route 66 Map Series

If you're looking for a separate map for route 66 rather than from guide books then the 'Here It Is!' maps come highly recommended.
These maps are by the same publishers as the EZ66 guide book and actually it's the same maps as the book so if you already have the book you might not want to duplicate that.  
It's important to note that the maps are hand drawn and aren't typical maps, but they are very useful and make a nice memento of the trip afterwards.
Buy the Here It Is Route 66 Map Series on Amazon
Rand McNally Large Scale Road Atlas
I always think having access to a good map is a must for a road trip even with all of the technological advances we have lately. Being able to browse a map for interesting places, side trips and alternative roads is fun! (Just me? Oh well…)
Having a large atlas might not be so easy for those flying to start a route 66 trip, or traveling from the UK like me, but if you're starting from your home state taking one with you is essential.
I don't have personal experience with this one but it's in my basket for our next trip!
Buy the Rand McNally US Road Map on Amazon
Do you have any recommendations for maps and guide books? Please let me know in the comments.