A popular question from those planning their road trip is how far is it from Route 66 to Grand Canyon? Can you include it in your road trip and should you?
If you don't live anywhere near the American West and have always wanted to see the Grand Canyon then it makes a lot of sense to include it in your route 66 trip because it's really not all that far from the road. For us, traveling this part of the world for the first time, it was a no brainer to add it in.
This article probably contains affiliate links.  
This means that if you buy or book after clicking, I may get a commission at no extra cost to you. Thanks!

A note from the writer: Hey! I'm Kirsty and I'm a Route 66 enthusiast – I first became obsessed almost 20 years ago and then first visited in 2014. I've recently just come back from my last trip too! Comment below if you have any questions about your road trip and I'll get back to you ASAP – or join me in my free FB group here.
How far is Grand Canyon from Route 66?
Grand Canyon is only 60 miles from Williams, AZ on Route 66 or around 80 miles from Flagstaff, another bigger city on the road. This will take you to the Grand Canyon Village, read on for details on getting to other areas of the National Park from Route 66.

Grand Canyon makes a great side trip from Route 66 OR if you're already going to Grand Canyon, including some Route 66 stops is definitely worthwhile.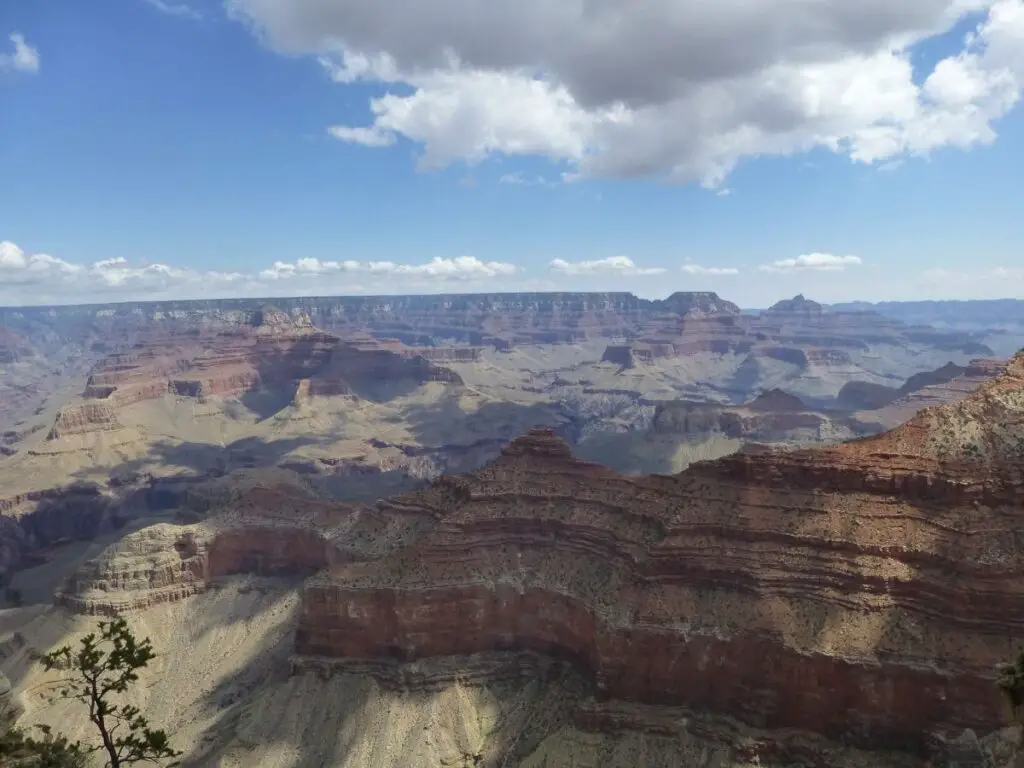 Where to stay when visiting the Grand Canyon near Route 66?
We stayed 2 nights in Williams which was a great option for a side trip to Grand Canyon from historic 66.

The Grand Canyon Railway Hotel will keep you in the heart of the historic district of Williams.
You might also want to consider staying in the park for hiking opportunities, sunrise and sunset spots and to really explore.

Try The Grand Hotel at the Grand Canyon for a special and one of kind experience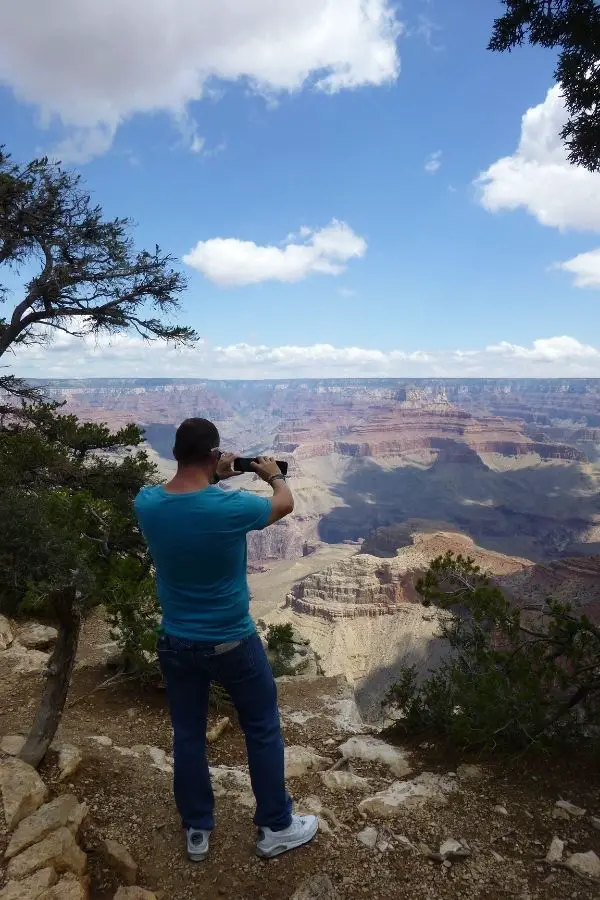 Our experience visiting Grand Canyon from Route 66
Visiting the Grand Canyon was a bucket list experience for us and I dare say we didn't do it justice, but for our purposes – a side trip from Route 66 – it was a perfect day out.
We chose to spend 2 nights in one spot (Williams) to allow us to visit the National Park and to not have too much driving. This was a great idea, especially after being on the road, and moving on, every day prior to that. A much needed slow down and it just felt nice to be in the same spot overnight.
We didn't do a huge amount of walking around and exploring the Grand Canyon, but chose to keep to a few places around the Grand Canyon Village.  Near the Grand Canyon hotel (which James recognised from the National Lampoon film) were some gift shops and also some performances from Native Americans with music and dancing.
If we came again I'd like to have been more prepared to go on an easy(ish) trail, but for us at the time we had a perfect day. It was August so probably not an ideal time to visit with the heat!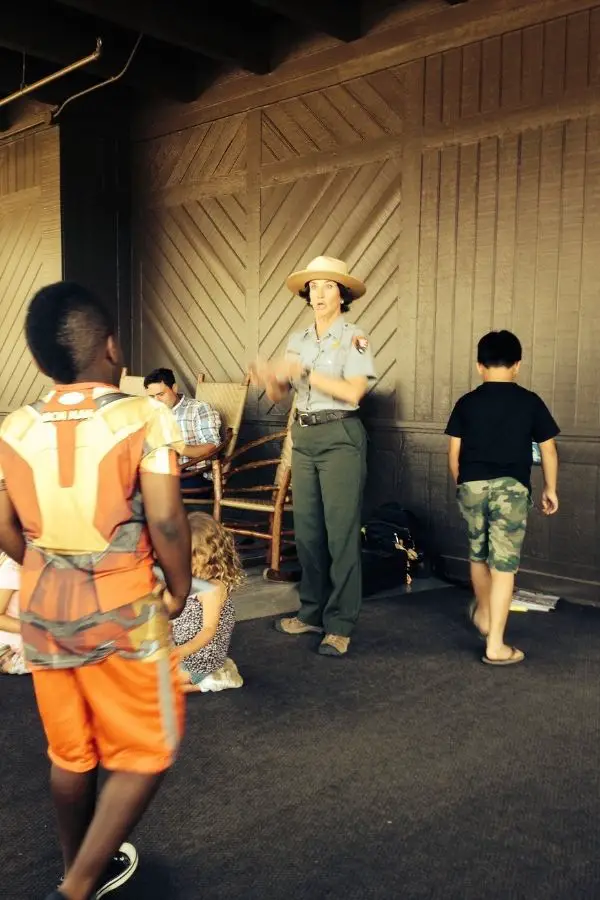 Becoming Junior Park Rangers at Grand Canyon
If you're travelling Route 66 with kids, or if you're just a big kid like me check out the Junior Park Ranger scheme at the National Parks.
After our success at becoming Junior Park Rangers at the Petrified Forest we were keen on doing the same at the Grand Canyon.  Alex, my daughter, and I collected some work books and spent some time filling it all out.
With it being a much bigger park, it was a slightly different set up here.  There were set times when the Park Rangers would do a talk with the kids and they were about different topics.  Ours was led by a fantastic Park Ranger who was amazing at getting all the kids excited about the nature of the area and really made us all laugh and have a great time.
The Junior Park Ranger programmes are free so really well worth taking time to complete – you get a badge at the end of it and sometimes a patch as well (we got one free at the Petrified Forest but it was a dollar or two for the patch at the Grand Canyon – I can't remember exactly).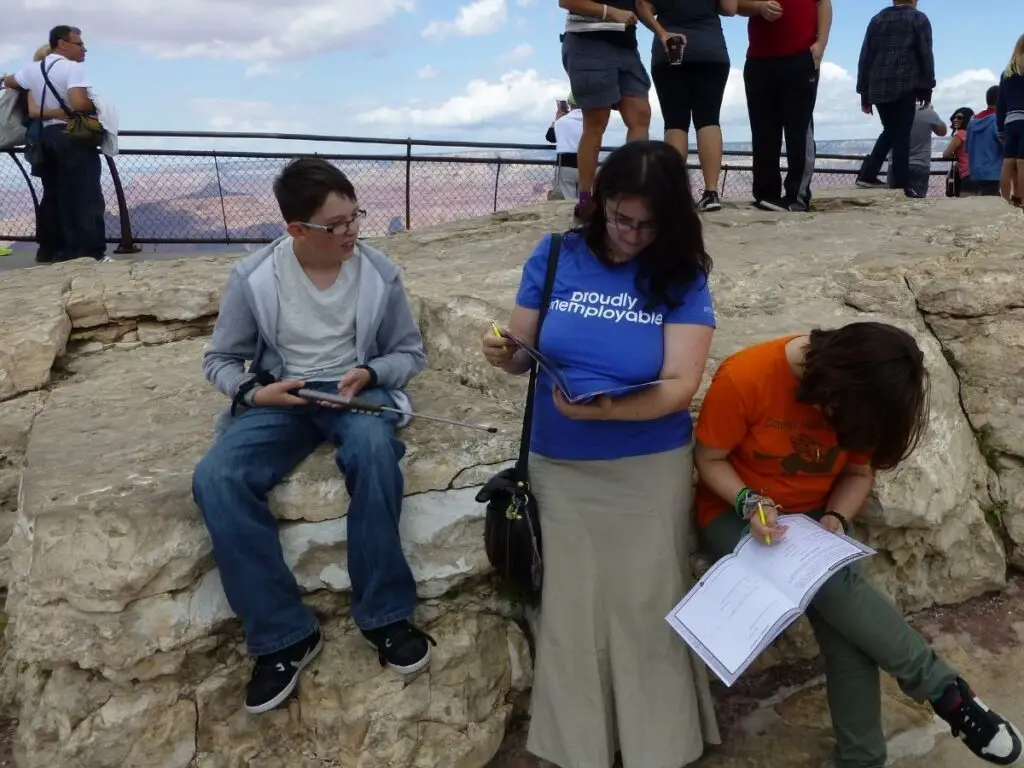 How to get from Route 66 to Grand Canyon
South Rim: Grand Canyon Village
Nearest towns/cities on Route 66: williams (60 miles), Flagstaff (80 miles)
This is the way that we visited the Grand Canyon – it's a good option if you just want the views, don't specifically want to hike and have never been before.
We didn't really know what to expect, didn't want too strenuous a day (we were there in August – so very hot!) and just wanted to see the Grand Canyon! This was a great spot to do that.
Eastern Entrance
Nearest towns/cities on Route 66: Flagstaff (80 miles), Winslow (126 miles)
This is an alternative way to enter the park to visit the South Rim and explore some different lookouts and trails.
West Entrance and Skywalk
Nearest towns/cities on Route 66: Kingman (71 miles), Peach Springs (55 miles)
The western entrance is a great place to visit especially when combined with a trip to Las Vegas, Hoover Dam and Route 66. This is where the Skywalk is, a walkway suspended above the steep cliffside.
North Rim
Nearest towns/cities on Route 66: Flagstaff (210 miles)
It's not particularly easy to reach the North Rim of the Grand Canyon from Route 66 since the road basically runs to the south of the National Park.
If you want to explore the much quieter side of the Grand Canyon then I suggest leaving Route 66 in Flagstaff to travel north. It takes just under 4 hours to reach the North Rim visitor centre from there. You could combine a visit to this area with a trip to Monument Valley.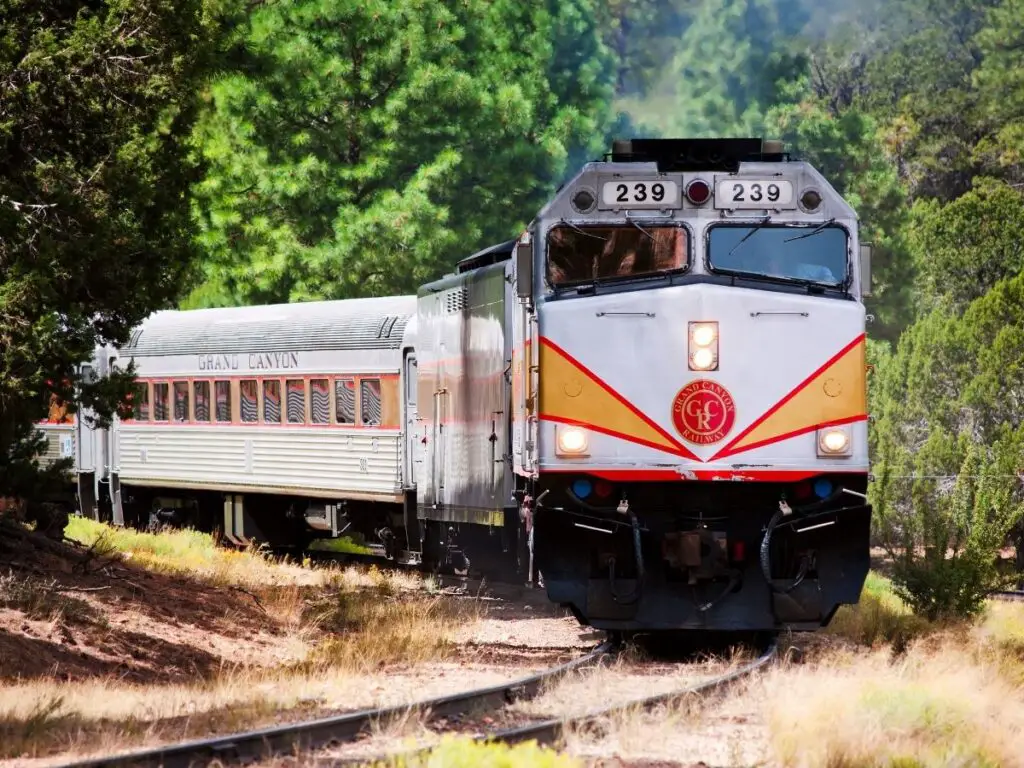 What are the best Route 66 stops near the Grand Canyon?
I have a post all about the roadside attractions in Arizona along Route 66 which might help you decide where to go.
If you're staying at Grand Canyon and want to explore a little of old Route 66 where should you go?
Flagstaff
This city near Grand Canyon has some Route 66 history for you to enjoy. Head to the Flagstaff visitor centre and go on a walk around town using their 'Walk this talk' audio trail.
Williams
Williams was the last town to be bypassed on Route 66 and it's a lovely place to walk round and spend a few hours. There's lots of vintage shops and independent eateries to explore and get that vibe of the old road.
Williams is also accessible by the Grand Canyon Railway so perfect if you want to have a day off from driving and see the world a little differently.
Seligman
A small town that clung on to Route 66 and helped its revival. You'll find classic retro diners, quirky shops, old cars and vintage signs galore here. One of the big characters of the road, Angel Delgadillo, still works as a barber in his shop!
Peach Springs
Just a small settlement on Route 66, you can visit the old historic trading post in town.
Nearby is Hackberry, home to another fun trading post with plenty of vintage vibes, old cars and quirky things to buy.
Kingman
Another railroad town, Kingman has some vintage diners like Mr Dz and plenty of museums dedicated to the history of the area, including Route 66
Winslow
Fans of the Eagles will love Winslow where they can stand on a corner just like in the song, Takin it Easy. There's a great photo opportunity to be had here and a lovely town to explore too.
You might like: Where to stay on Route 66 in Arizona
Still got questions? Join our FREE Route 66 community!
Come and join our FREE Facebook group where you can get help with planning your Route 66 road trip of a lifetime!