Wide open roads, quirky stops, classic and iconic American backdrops – it's clear to see why Route 66 is on the bucket list of so many people. The romance of the road is definitely not dead!
Planning the bucket list road trip is a little more down to earth though and for many people this is where the dream ends – it gets too hard, too overwhelming and, if you're not careful, too expensive.
I've been there myself when we first wanted to drive Route 66 – we didn't plan well and when something happened in life our trip got pushed to the back burner. (And believe me, watching my father in law go and do a trip I'd dreamed of before for years was not fun!!)
Planning isn't always as exciting as doing the trip – but not planning and not doing is a lot worse!
Read on for my tips on how to plan a Route 66 trip without getting overwhelmed!
A note from the writer: Hey! I'm Kirsty and I'm a Route 66 enthusiast – I first became obsessed almost 20 years ago and then first visited in 2014. I've recently just come back from my last trip too! Comment below if you have any questions about your road trip and I'll get back to you ASAP – or join me in my free FB group here.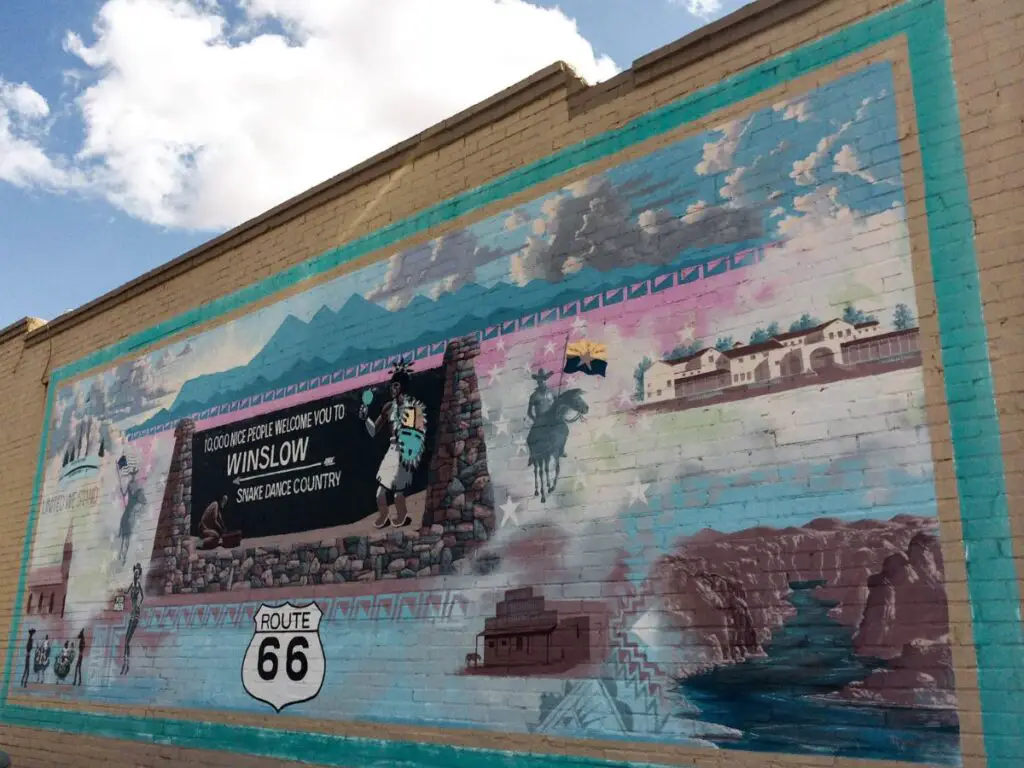 This article probably contains affiliate links.  
This means that if you buy or book after clicking, I may get a commission at no extra cost to you. Thanks!
How to plan a Route 66 road trip – steps you need:
After reading this post – If you're in the beginning stages of mapping out your Route 66 I really recommend heading to the 'START HERE' page on the website. It has a whole heap of links for different stages of the planning process and will get you going easily!

While I've linked to specific pages on this post that could help, don't feel the need to head to all of them straight away. The Start Here page has them all listed too.

We're trying to curb the overwhelm here!
Right, let's get started with how to go about planning a Route 66 road trip that's perfect for you:
Decide when to go, for how long and how to drive it
These are the two big questions that need to be answered before you can go much further in the planning process.
You might not need to look far for the answers – perhaps you have specific time off work and a set period you can drive. If so then you'll probably want move on to answering the how to drive it question.
If you're more loose with your commitments and you have the luxury of being able to drive Route 66 whenever you want then you have some decisions to make.
Here are some questions you should ask yourself:
How much mileage would you like to drive each day?
What kind of things do you like to do and see – museums, hikes, eating out?
Are you a city or a town person
Do you want to keep driving every day for 7, 14, 21+ days?
Do you even want to do the whole end to end trip? Or would you be happier doing a shorter portion?
Do you have any health issues that might make long days in a car unpleasant?
Keeping the answers to these questions at the forefront of your mind will be key.
How long to drive for:
To decide on how long you should take to drive Route 66 you might like to look at some of the free itineraries that are on this site. I've done a few now for different time frames and you'll see the kinds of things that can be included with each one.
When to go:
You'll then want to decide on the time of year to do the trip. I think the best time of year to drive Route 66 is late spring or early Fall but each season has it's pros and cons.
How to drive it
This part is deciding which vehicle you'll choose for the trip and also whether you'll do a round trip or just an end to end trip.
Will you choose to rent a car for Route 66 or drive your own? Each has it's plus points.
Renting a car comes with costs but it means you can choose to just leave it at the end point and fly back home.
Driving your own car is familiar but is it up to the almost 2500 miles you'll do? And then you'll need to get it home again too.
If you rent you could also get a dream car like a mustang?
Your choices for vehicles might determine your final choice about whether it's a round trip or not. Your allocated time for the trip might also impact this too.
Make a loose itinerary
Now is the time to make yourself a loose itinerary. You'll have your first and last nights sorted (whether you're going East to West or being a maverick and driving the other way!) but you'll want to think about where to stop for each night on the road.
Tip – check out my free planner download for you to start outlining your days
This section can take a little while to do and is where you can go down some real rabbit holes (even on my site!) about the history of the places you'll visit and specific attractions. The time it will take might depend on how much you know about the road, where you already have in mind to stop and see or if you're at all familiar with driving in the United States.
Google Maps can be helpful here for marking on a map where you're thinking about stopping and visiting.
One way to hack this part is checking out my sample itineraries on the site. They can help you get an idea of the places on route that are worth stopping at and give you an idea of pace for your time constraints – so feel free to check those out. They can also be helpful if you're not too familiar with the route yet.
Another post that can be helpful at this stage is about the Historic Hotels on Route 66 – you can get an idea of some of the most special places on the road you might like to sleep at and add them on your map.
Another way to decide is to simply think about how many miles you'll do each day (2440 divided by your driving days) and see where fits on the map. This is better if you have a rough idea of where Route 66 goes, the states and cities that you'll be driving through.
If you're not so sure on all of that then there are some links in the Start Here page that will answer those questions and get you up to speed. I don't like to assume that everyone knows about it – I'm from the UK and my American geography is not always great!
Book your non-negotiables
Once you're happy with your loose itinerary, you know when you're driving and for how long, it's time to get booking some parts of your trip.
Book flights
The first thing you'll want to do is book flights if this is part of your trip. I like to use two different sites for this – Skyscanner and Google Flights. I almost always check Skyscanner first and find they are really good for getting deals.
If you're flying into Chicago for the beginning and leaving in LA you'll want to first check the multi city option. You might also want to see if buying flights individually (one way flights) might be cheaper or have better options for you too.
Some flight tips:
Don't always assume cheapest is best. Think about your first and last days on the road – will you want an early flight to start and a late to finish? Don't rush yourself if you can help it.
Adding an extra night at the beginning could be worth it to not have to rush the Chicago start.
Book car rental
It's worthwhile getting your car rental booked as soon as you know your dates. This is especially important if you would like a specific car for your journey.
Remember that if you're driving one way then you're likely to have to pay a one way rental fee – there's no real way to get around this. Just remember it's probably a lot cheaper and easier than going back to the start.
I use Discover Cars to get a good idea of costs from a few different suppliers.
Book hotels and motels
You'll want to see if there are any 'must stop' hotels and motels on your loose itinerary that you can get booked.
I have a few tips for your accommodation on the road but my main one is this – I recommend booking any of the more iconic motels and your first and last nights at the very least.
You might need to still wiggle your nights around as you fine tune your itinerary. Either only book the definites for now or make sure you can cancel.
Wit that in mind, check your cancellation rights when you book – lots will have good cancellation policies and if you use the big booking sites like Booking.com, Expedia, Hotels.com etc it's normally super easy to do so.
Start diving into what to see
Now you have the start of an itinerary, your main things booked and you're well on the way to making this trip happen!
Now's the time to really enjoy and learn about what you can see on the road and fill your itinerary with potential stops.
It's also a good time, if you haven't already, to get yourself a guide book that can show you what's on the road and some of the history behind it. Now you've figured out the big parts and got a good overview of what's to see you'll find the guide books a lot less overwhelming.
Again, if you've not done this already I recommend making yourself a list on Google Maps where you can add each site that you're interested in and it will give a nice visual idea of what you're planning to see, distances between each one and help you make the most of your days.
Remember that, depending on your time available, you might not be able to fit everything in to a trip. You could always come back though?
Still got questions? Join our FREE Route 66 community!
Come and join our FREE Facebook group where you can get help with planning your Route 66 road trip of a lifetime!