The Petrified Forest National Park in Arizona (which also contains the Painted Desert) is right on Route 66, and in fact the road travels straight through it, so if you're doing the iconic road trip there's no need to head too far off from where you already are for this sight.
And what a sight it is!
It was an overcast day for us when we visited, which meant on the upside that it wasn't overly hot for exploring, but on the downside it meant that I don't think we saw the desert at it's best.  I could see that the colours would be magnificent on a sunny day or possibly with that early morning or evening light. Perhaps we'll be lucky on a return visit!
It's been an attraction in Arizona for as long as people have been traveling this part of the world and it's well worth a few hours of your time as you travel through the state.
This article probably contains affiliate links.  
This means that if you buy or book after clicking, I may get a commission at no extra cost to you. Thanks!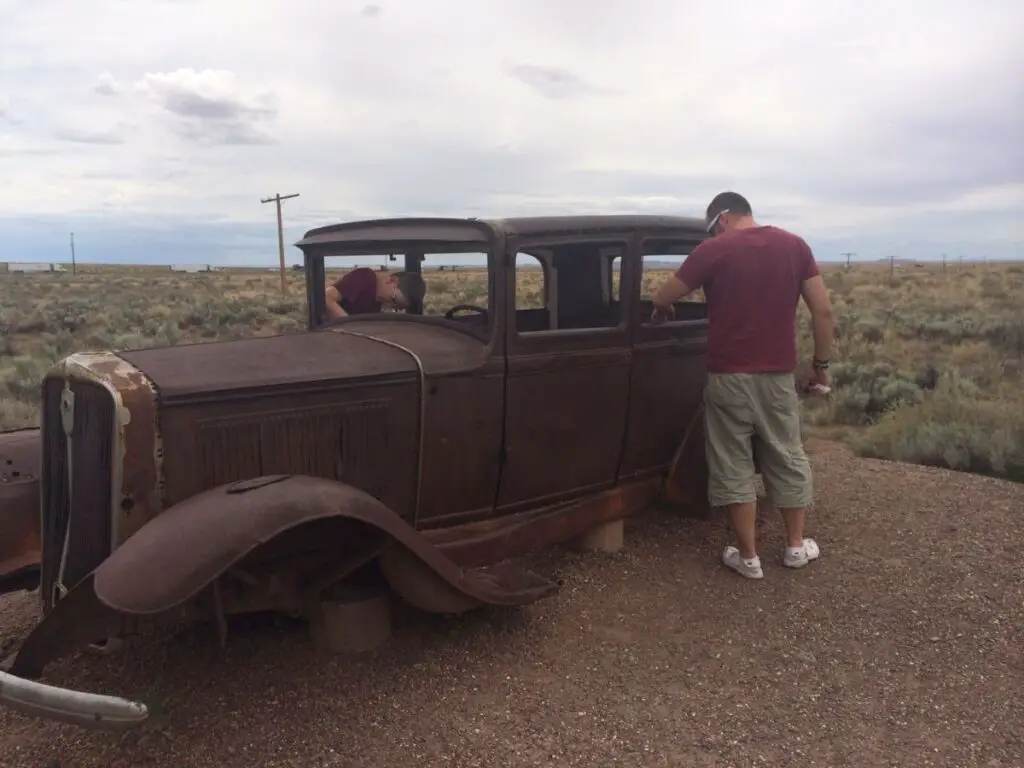 A note from the writer: Hey! I'm Kirsty and I'm a Route 66 enthusiast – I first became obsessed almost 20 years ago and then first visited in 2014. I've recently just come back from my last trip too! Comment below if you have any questions about your road trip and I'll get back to you ASAP – or join me in my free FB group here.
The history of the Petrified Forest and Route 66
We were naturally very interested in the history of Route 66 alongside the park and there was plenty of mentions of the mother road.  
It really did feel like it was an era gone by, never to return again with rusty cars left as a monument to the time.  In the pictures you can just see the telephone poles which apparently ran alongside Route 66 in the past.
The Painted Desert Inn used to be a trading post, dining area and accommodation option for those traveling through the park and needing somewhere to stay or eat.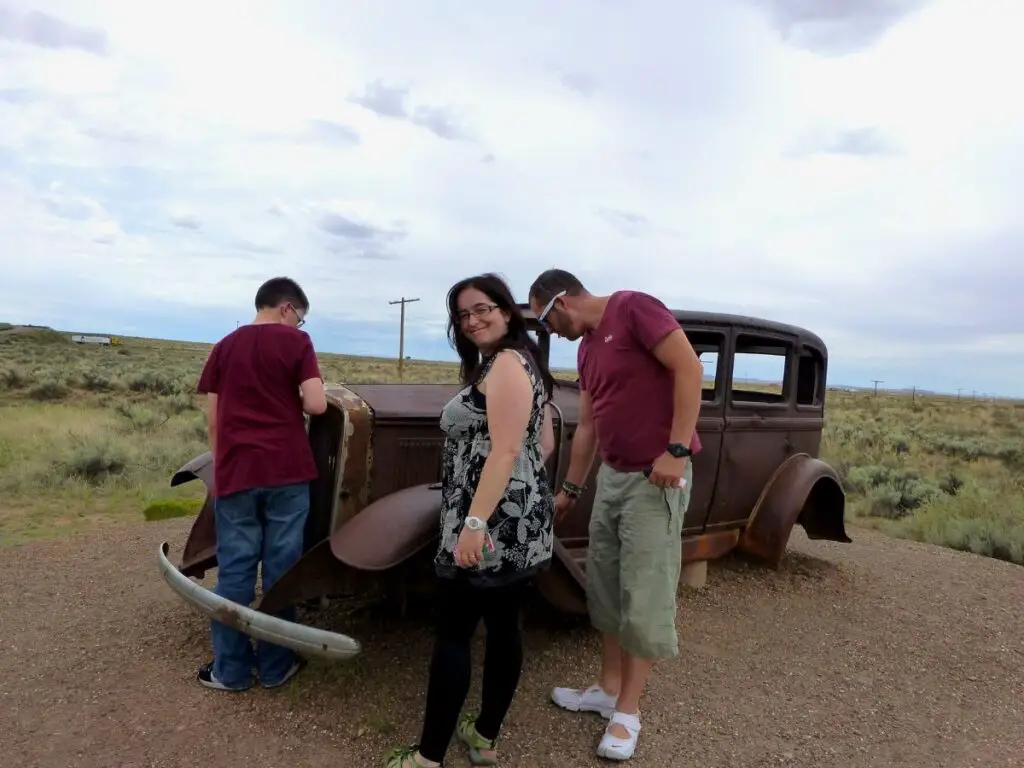 Visiting the Petrified Forest on Route 66 – what you need to know
The park is accessed directly off I-40, exit 311.  If you're coming from the south there's also an entrance there on Highway 180.
The cost for one car and its occupants is $25 (correct as at April 2022).  This covers you for a 7 day period if you want to base yourself in the area and spend more time there.  If you're looking for those perfect photography shots and want to come back at different times of the day then this is great!
With that in mind – the park is open from 8 am – 5pm which includes the visitor centres.  Be aware that Arizona doesn't observe daylight savings and so the time is Mountain Standard Time all year round.
As a newbie to US National Parks we weren't sure what to expect when we first visited, but this is a perfect park to come even if you're slightly unfit (like me!), not sure if you want to walk much, not able to walk much or if you have young kids who might get bored easily.  
The reason for this is that it is super car friendly and has a road that goes all the way round with plenty of stopping spots for you and your car.  You can get out, take pics, explore a little if you're in an area this is allowed or just enjoy from the comfort of your car.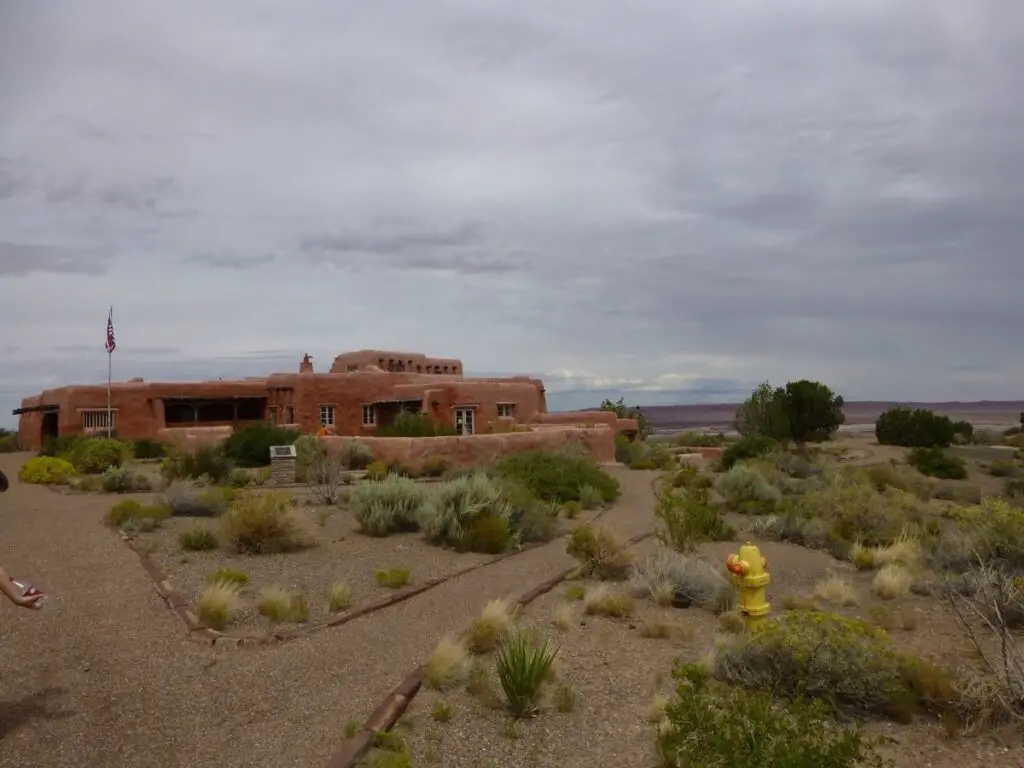 There are a few visitor centres in the park so plenty of areas to learn more, have some refreshments or use the facilities.  
The first one as you arrive has a large shop, cafe and some exhibits.  The one in the picture above is called the Painted Desert Inn and is about half way round the road and is a typical building style of the area.  This is actually an old stopping point on Route 66 but now is no longer accommodation but is a museum
Inside the Painted Desert Inn the kids collected some 'souvenirs' in the form of stamps and we also learned that we could even become junior rangers at the park!  This seemed fun, even to me as they said there was no age limit to being a junior ranger!  Bring it on!
Finally, towards the end of the Park Road you'll find the Rainbow Forest museum.  Again this has lots of things to do and learn about – at this part there are loads of petrified logs that are accessible.  When we were there we asked about the Junior Ranger programme and were given a workbook to complete.  If we completed it and could take the oath at the end we could become Junior Rangers! (see below)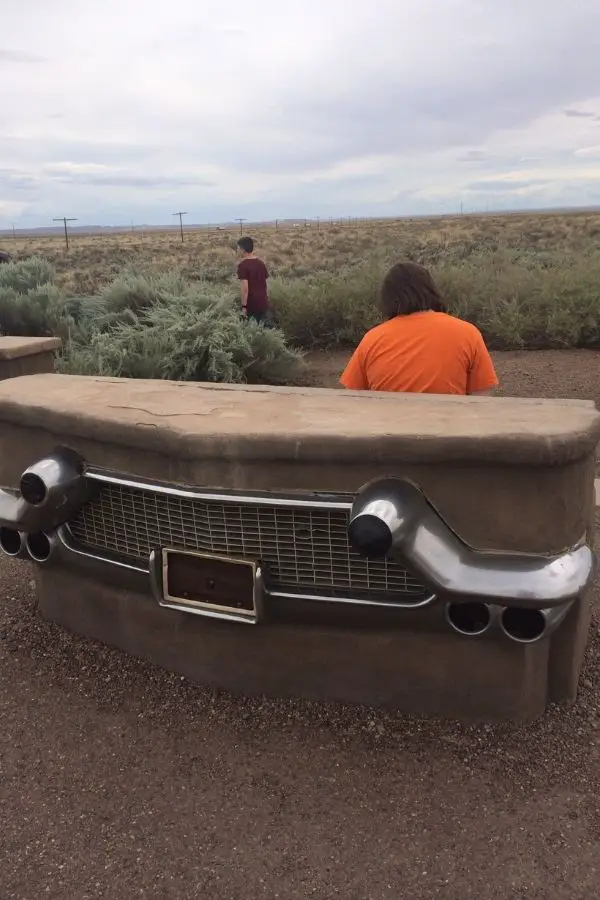 Petrified Forest for kids
We first visited with a 14 and 12 year old and I'd say it was perfect for them and would be a great place to visit for all kids.  We home educated (home-schooled) and so having this place to learn about first hand was perfect – we adore nature and having something so different to what we have back home in the UK was great.
There are loads of opportunities to learn at the park with exhibits that are geared to all age levels.  The park is also very accessible as I said before so even if you have very small kids who don't walk lots you'll still get lots out of it.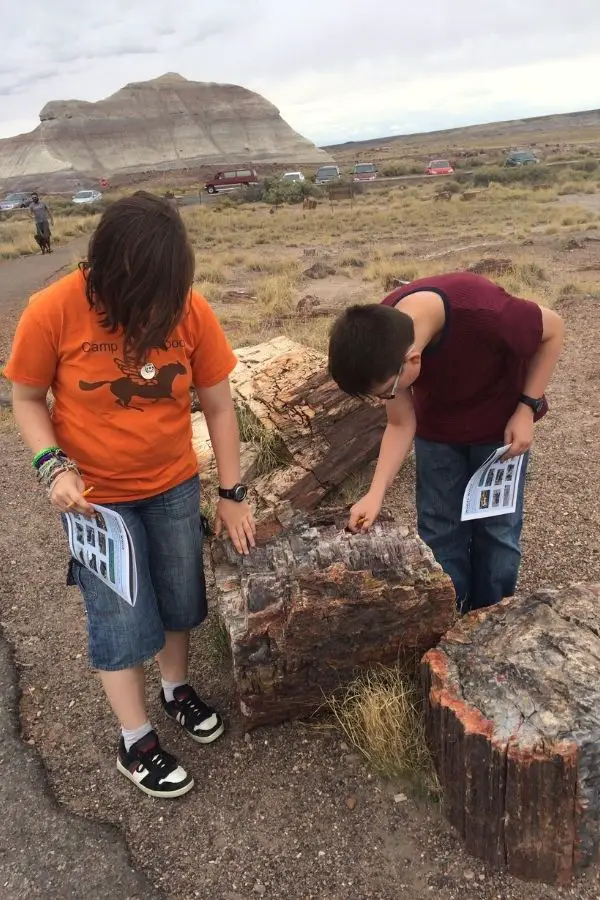 Becoming a Junior Ranger
I'd highly recommend doing this if you have kids or if you're just interested in it – my kids loved doing it and it has remained one of the things they remembered fondly about our Route 66 trip.
The workbook made us really engage with what was around the park and after learning lots of about the logs and about the area, we headed back in to see if we made the grade and could become Junior rangers.  The Park Ranger asked us lots of questions and finally asked us to take an oath to look after nature and the State Parks.  That was it – we were officially Junior Rangers (and we did the same at the Grand Canyon – I was hooked!)
The best bit – it was included in the admission to the park and didn't cost any extra!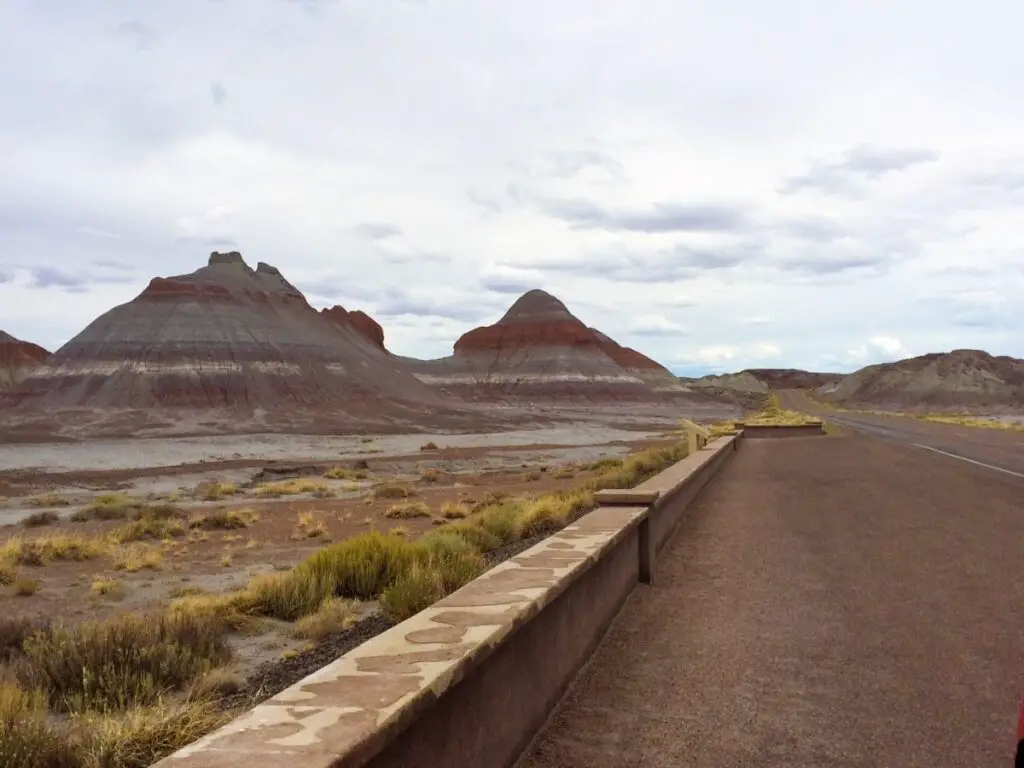 Trails and hiking in the Petrified Forest
We stuck to the road on our visit as none of us are really that great at hiking and we'd not brought great shoes to do anything too much.  However there are some really easy and short trails that we did enjoy at various stops around the park – most were less than a mile long so really no hardship.
There are some options for hiking more in the park and getting a bit more out of the way of the crowds (not that it was really that busy when we were there, even though it was August) – take a look here or ask at the visitors centre if you're interested in this.
Overall we loved our visit here and highly recommend it – such a beautiful place!
Where to stay when visiting the Petrified Forest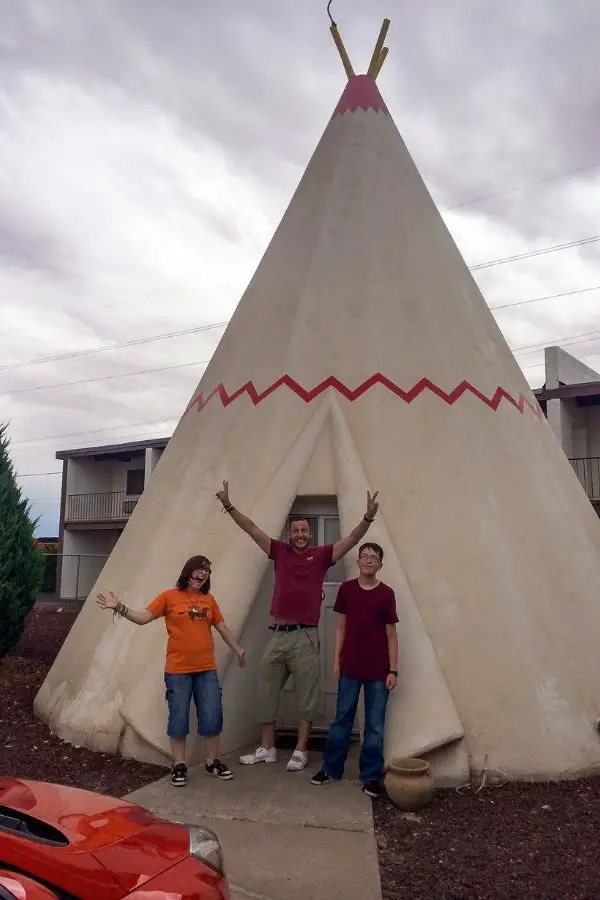 The best place to stay on Route 66 when visiting the national park is going to depend on where you're headed if you're on a road trip or if you just want to be as close as possible for a couple of days in the area.
If you want to be close then the nearest town, which is on the West side of the park, is Holbrook which is around 20-30 mins drive away on I-40.
We stayed here at the very iconic Wigwam Motel.  It's a fairly basic motel but one that's fun and if you like your old cars and retro americana this is the place for you as outside each wigwam is a classic car that you can take photos of.
The Wigwam Motel can get booked up pretty quickly so another option I'd suggest is Brad's Desert Inn just along the street which allows you to still pack in some photo opportunities!  It's got free breakfast too which is one of my favourite things!
Another to consider is the Heritage Inn at Snowflake (I so want to visit a town with this name!) which looks stunning and just like an American country hotel would look like to me.  This is located south of the park, not on Route 66.
On the East side and heading in to New Mexico I'd recommend Gallup where you could spend the night at Hotel El Rancho, another iconic Route 66 offering.
There are options for backcountry camping inside the park and permits are free – check out their site for more info on this.
You might also like: our guide to Route 66 motels and hotels in Arizona
Still got questions? Join our FREE Route 66 community!
Come and join our FREE Facebook group where you can get help with planning your Route 66 road trip of a lifetime!