We've all seen the disaster movies where a meteor hits the earth and chaos ensues haven't we? Did you know that not far off Route 66 there's a real crater caused by one (a meteor, not a disaster movie!) that you can visit? It's a unique attraction, it's a little quirky and you can tick off a bucket list item while you're at it – what's not to love?
When I realised that this was so close to Route 66 we had to add it in to our itinerary, even though it was one of the few paid Mother Road attractions we visited on our budget trip. For many people this will be a once in a lifetime place to visit and see!
The Arizona Meteor Crater was a classic Route 66 stop as well that many family road trips included over the years. Thankfully it's one that's continued too. (Now known as Meteor Crater and Barringer Space Museum to give it it's full name!)
Read on for details of visiting Meteor Crater from Route 66 and all about what you can expect in this amazing natural attraction.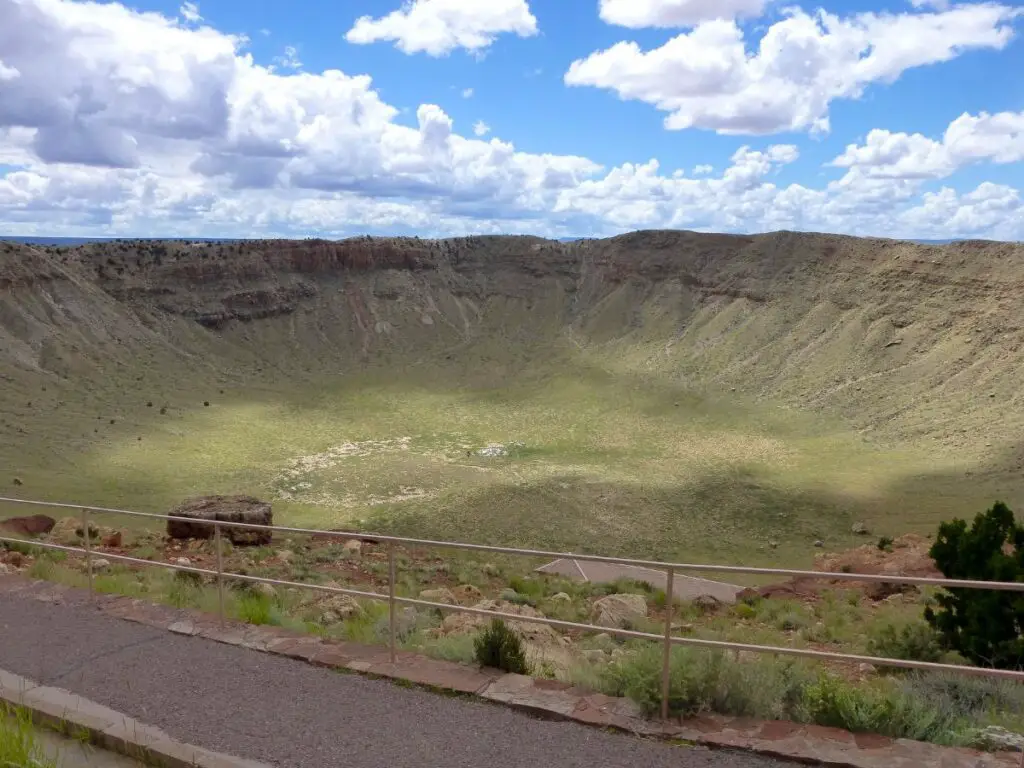 How far is Meteor Crater from Route 66
It's around 6 miles to the Visitor Center from the I-40 exit 233 and takes around 10 minutes to drive.
The nearest town that you might have visited at on an East to West Route 66 trip would be Winslow, Arizona (yup, the one from the Eagles song!).
If you're based in the area and just exploring some of the Route 66 attractions in Arizona then it's around 45 mins from Flagstaff (44 miles) or 1 hour 15 mins from Williams (77 miles)
Is Meteor Crater worth stopping for?
The next question is whether it's worth stopping for when there's so much to see in Arizona on Route 66.
We really enjoyed seeing the attraction and would definitely recommend it to anyone passing by. There's a lot of outdoor attractions in the area so it can potentially feel like a bit of overkill when you're planning your trip – you've got the Petrified Forest NP nearby and you might also be including a side trip to the Grand Canyon too.
I'd have really regretted if we'd not made the very short trip off the road to see it – do it if you can!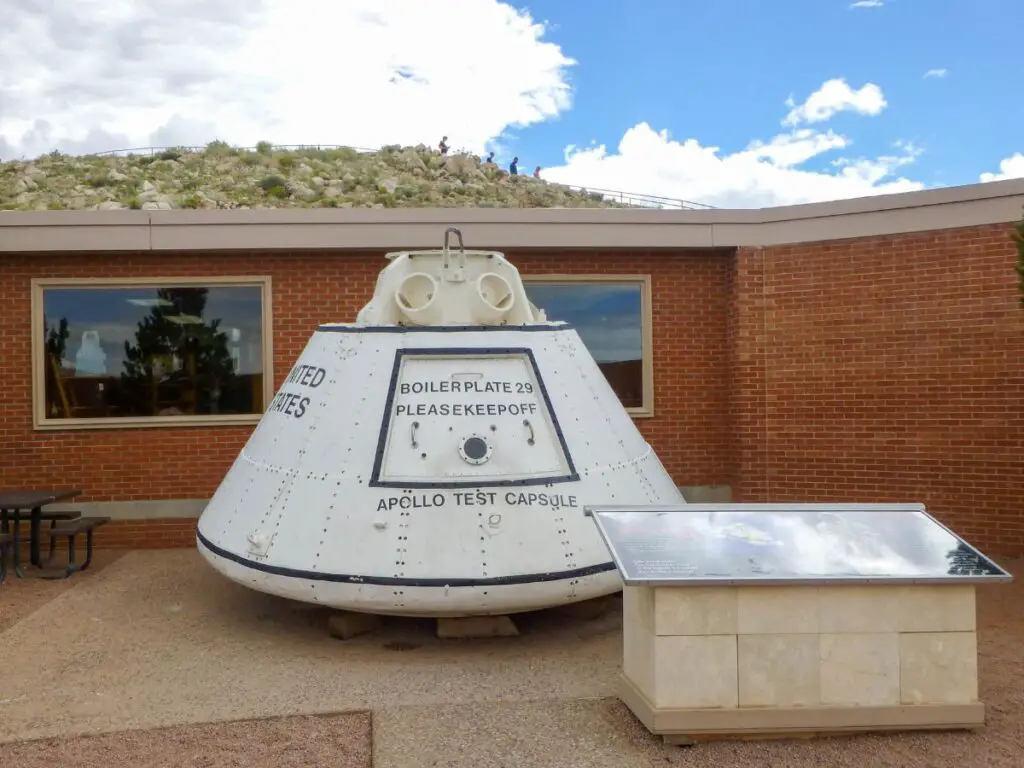 Can you see the Meteor Crater in Arizona without paying?
No, I'm afraid not. It's basically a large hole in the ground so to get any view at all you really need to be on the rim looking down. There's only one way you can do that and that's by paying to visit the attraction.
Even from the car park you can't see anything although you can see one of the Apollo 11 training pods that were used which is rather cool.
Compared to the costs of visiting a National Park it can be quite expensive, but for such a unique site it seems warranted.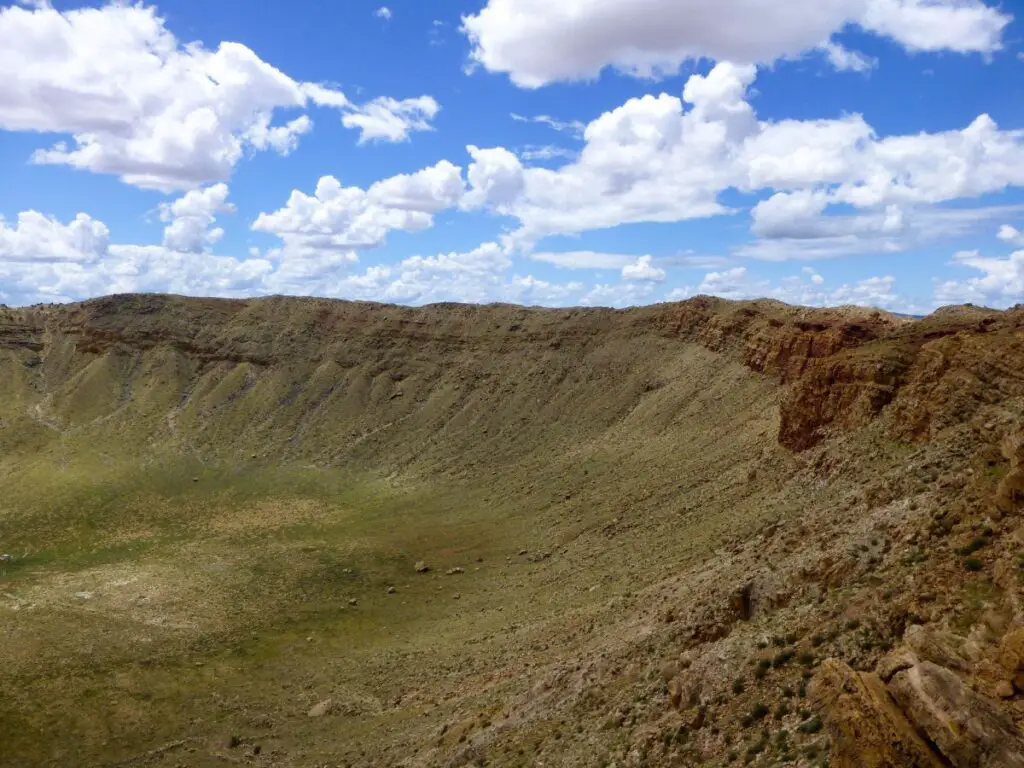 What is there to do at Meteor Crater?
So the main attraction at the Meteor Crater in Arizona is, probably unsurprisingly, the crater itself! It is huge and quite awe inspiring to look and see the scale of it I have to say!
You can look out on to it from inside in an air conditioned area or you can go outdoors and see for yourself what it looks like.
There are four lookout points that you can go to and at each one there's some telescopes fixed on some points of interest in the crater. The 'house size rock' was a particular favorite of mine!
If you like to get the lowdown on a site from people in the know then going on one of the guided tours of the rim is worth doing. I always take in so much more when someone shows me what there is to see rather than having to read it myself! It takes 45 minutes and it's included in your admission price.
Indoors there's the Discovery Center & Space Museum where you can learn about what happened, meteors in general and what they have learned from the crater. It's not the biggest museum but there's plenty there to keep you occupied and help you understand more about what is around. There's also a huge meteorite on display which is the biggest one found on the site.
While indoors there's also the 4D experience where you can help save the earth from another collision – it's good for kids and adults alike!
If you're visiting in the summer you'll be pleased to know that the indoors is fully air conditioned so a bit of a breather from what can be stifling temperatures around.
Can you go inside the crater?
No, you're not able to go for a walk or a hike to the inside of the crater, even though it looks like it would be a fun thing to do.
The crater is still very much used in scientific research so if you ever see people down there that's likely what it's about.
Admission Prices
It is slightly cheaper to get your tickets online in advance which will allow you to pick up something fun from the gift shop!
Be aware that if you buy online and don't make it to the crater then you are unable to get a refund since the tickets are able to be used any day. While this might be ok for those based in Arizona, if you're on a road trip through the state you might not be able to return another day.
| | | |
| --- | --- | --- |
| | Door Price | Online Price |
| Adult (14-59 years) | $25 | $23 |
| Junior (6-13 years) | $16 | $14 |
| Senior (60 years +) | $23 | $21 |
| 5 years and under | Free | |
| Non active duty US Military/veterans (with ID) | $16 | |
| Active duty US Military | Free | |
Prices correct at January 2023
Opening Times
The Arizona Meteor Crater and Barringer Space Museum is open all year round so perfect if you're visiting Route 66 in the winter months and low season.
It's opening times are 8am – 5pm.