The drive from LA to Vegas is one that many people take rather than fly between the cities. It's a short flight but with check in times and navigating airports it can be a lot of hassle. And if you drive? Well you can make a day of it, visit some classic and iconic spots on the way and make some memories!
The traffic around both cities is not to be underestimated though. It can be crazy busy so this trip is not recommended if you are on a tight schedule, but if you're able to take your time it can be really worth it.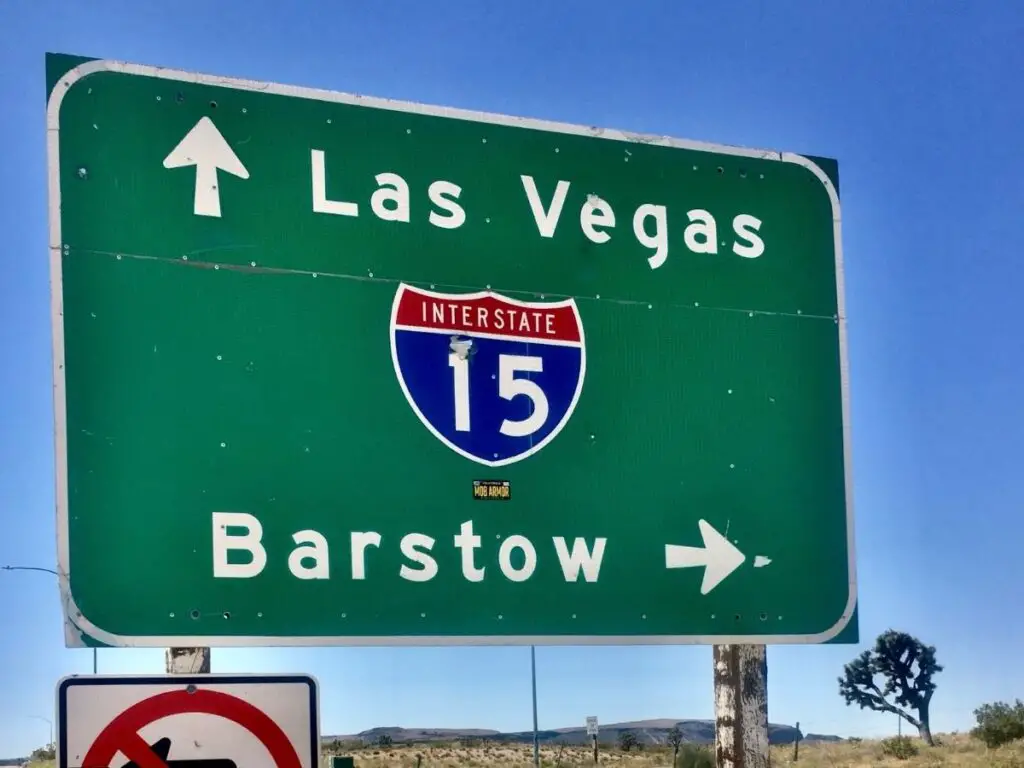 Does Route 66 go to Las Vegas from Los Angeles
If you're driving to Vegas from Los Angeles then you can take Route 66 part of the way. Route 66 doesn't go to Las Vegas so you can't drive it all the way from LA. However it's easy to incorporate the historic route into a road trip from LA to Vegas.
Bear in mind that while Route 66 still exists, in a sense, it's not easily drivable with more quicker and bigger roads available, especially in Los Angeles.
Where should I stop between Las Vegas and Los Angeles?
If you're looking for interesting stops between Las Vegas and Los Angeles here are some to consider. Some would require a slightly longer route to Las Vegas and an overnight stop but if you're looking to make a road trip of it there's some great stops out there.
Rialto Wigwam Motel
San Bernardino
Elmer's Bottle Tree Ranch
Barstow
Amboy (Roy's Motel – a classic retro Route 66 sign)
Needles
Oatman (old ghost town with wandering burros)
Kingman
Hoover Dam
You might also like: How to do a day trip from Las Vegas to Route 66 in Arizona
How long will it take to drive LA to Vegas via Route 66?
The route from Santa Monica pier to Las Vegas, via some stops on Route 66, will take around 300 miles and just around 5 hours of driving (obviously busy city traffic can make that longer).
It could be driven in one day, and I have a small itinerary for you below, but if you want to enjoy what Route 66 has to offer then I definitely encourage you to take a little longer, 2 or 3 days and enjoy some Route 66 towns to the fullest.

LA to Vegas via Route 66 in 1 day
This trip can be reversed if you are traveling Las Vegas to Los Angeles.
This one day itinerary takes you from LA to Vegas (or the reverse) – we'll try and stop at a couple of Route 66 classic areas on the way.
Bear in mind traffic – this is a long driving day but if you want to do it in a day then you can. I've concentrated potential stops on Route 66 – the final driving stretch is on I-15 straight into Las Vegas which isn't Route 66 any more.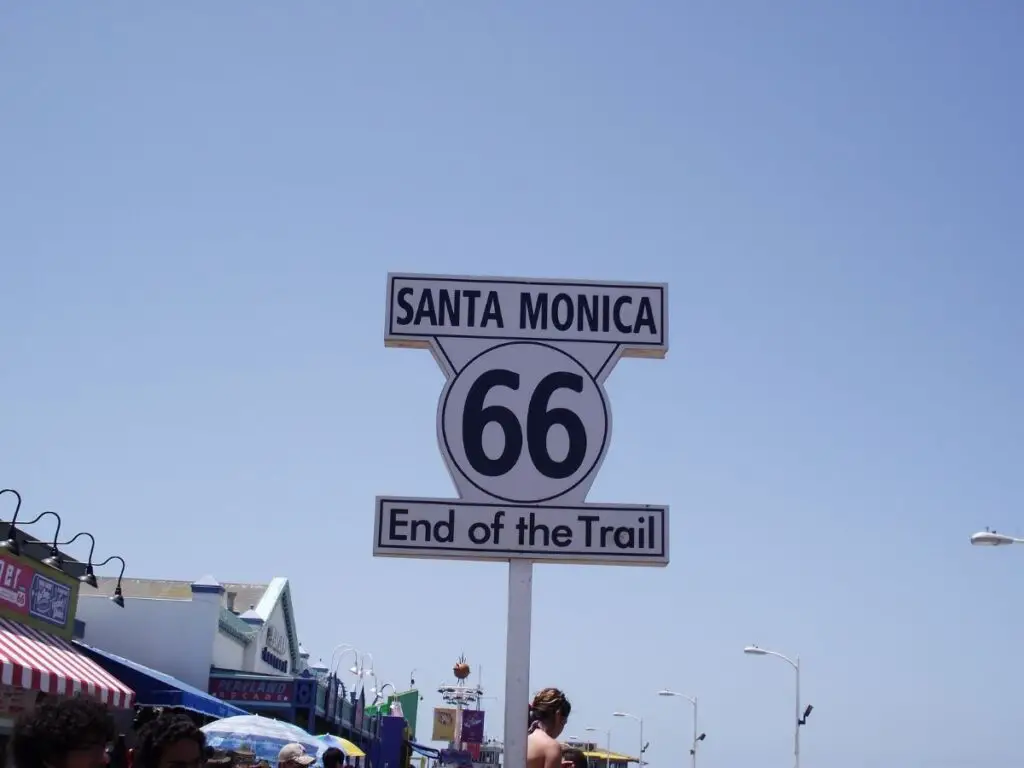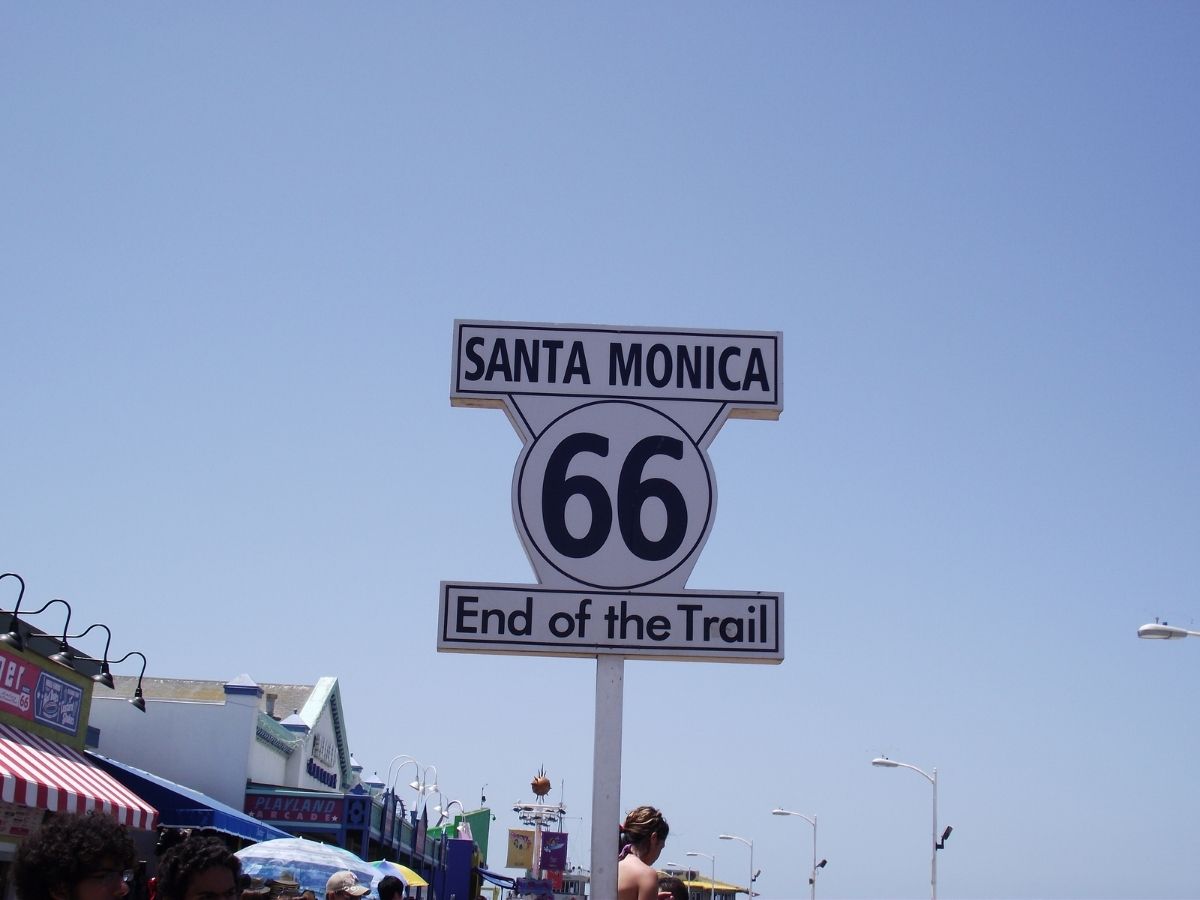 Santa Monica Pier
If you can, start your journey at Santa Monica pier – the end of the road for many but the starting point for you. Park up and enjoy the views of the Pacific and check out the sign on the pier for a photo opportunity.
Route 66 through LA
Since Route 66 passes through Los Angeles you'll be driving along, possibly without knowing it! It goes through Pasadena, San Bernardino and up over the Cajon Pass.
If you want to be on Route 66 proper – you'll need to plan your route through Los Angeles as Google Maps and Sat Nav will just take you onto the larger roads.
A guide book can really help you to make sure you don't miss anything in this area – I like the Route 66 Adventure Handbook
Wigwam Motel, Rialto
In Rialto you'll find the Wigwam motel – a classic example of Route 66 quirky motels! It's worth pulling in and getting some photos of this place. It's a fun motel, it's been around since the late 40s and if you have kids (or you're a big kid like me) you'll be sure it reminds you of a Radiator Springs location from Cars!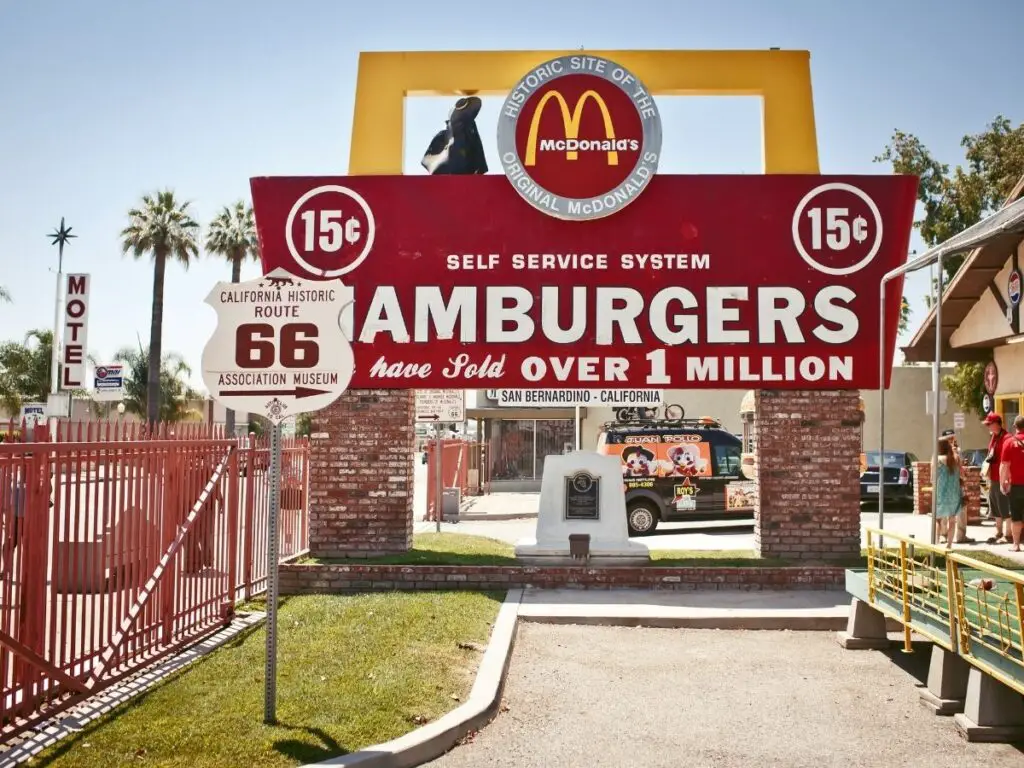 First Original McDonald's
Nearby in San Bernardino you'll also find the first original McDonald's which is now a museum and tells the story of how the small restaurant turned into one of the world's biggest brands. Even if you're not a fast food fan it's a good place to learn the history.
Elmer's Bottle Tree Ranch
Rather than drive all the way to Vegas on the I-15 I encourage you to drive via Oro Grande on old 66. You'll find Elmer's Bottle Tree Ranch as well – a fun example of art on Route 66 and a great place to stretch your legs a bit.
Barstow
Barstow is the last big town before getting to Las Vegas and our last stop on Route 66. It has a large Railroad station which is worth checking out and there are some old trains and cabooses outside. If you have time, and it's open, there's also a small museum there.
You might also like to check out the Route 66 Motel – even if you're not staying there it's a good photo stop and a great example of the kinds of historic accommodation that Route 66 has to offer
If you need food then Roy's Cafe is a good place to get a bite to eat before your final stretch. It's a classic Mom and Pop establishment with a sign just like the one in Amboy (a bit too much of a detour for us today)
Through the desert to Las Vegas
We leave Route 66 at Barstow and our final stretch takes us through the Mojave Desert all the way to Las Vegas. Make sure you and your car are fuelled up and ready!
We'll take the I-15 – it's a 2 and a half hour drive to the city and 156 miles. You'll get some spectacular desert and mountain views on the way.
You might also like to check out our guide to attractions in California on Route 66 to see if there's anything else that takes your fancy!
Got more time?
If you have more time to get to Las Vegas then you can always travel Route 66 through California to Needles and then perhaps explore a little of Arizona as well. There's a lot to see in the area and you can make a nice short road trip if you wanted to and really explore some of those iconic spots.
You could even add in trips to Grand Canyon and Hoover Dam since they are all in the same vicinity – check off some bucket list items!
🇺🇸 Route 66 FAQ 🇺🇸
Do I need insurance for traveling Route 66?
YES! I always recommend people take travel insurance even when travelling domestically! If you have booked something non refundable it might be the only way you'll get money back if your plans change.
Check Travel Insurance Master for quote comparisons from different providers.
Who is the best car rental company for Route 66?
There are many car rental companies who you can choose from – I recommend comparing prices using DiscoverCars to get the best price for you or at least a good idea of a ball park figure. (see more)
Where to book Hotels for Route 66?
For hotels I recommend Booking.com as they tend to have good cancellation policies so you can keep flexible on the road.
Often some historic Route 66 hotels will need to be booked direct.
What to pack for Route 66?
Keeping yourself cool and comfortable is a must for any road trip.
See my post about what to pack for a Route 66 road trip
What's the best guidebook for Route 66 ?
I really like the Route 66 Adventure Handbook but there are a lot to choose from depending on what stage of planning you're at (see more)
Where to get flights for Route 66?
Skyscanner is my first port of call for finding cheap flights to start your road trip.