An iconic site like Hoover Dam is a must see if you're traveling nearby and if you're driving Route 66 the good news is that you will be. If you have time it's definitely worth the side trip. It's an amazing sight and spectacle of human construction and what we can do plus what effect we can have on wildlife (depending on your view point!)
Many people incorporate a visit to Hoover Dam with Las Vagas and the Grand Canyon. Route 66 fits in well with all of these places and it's actually a good way to get a feel for the road if you don't do it all from start to finish.
In this post we're just looking at Hoover Dam, how to get there from Route 66 and some tips for visiting.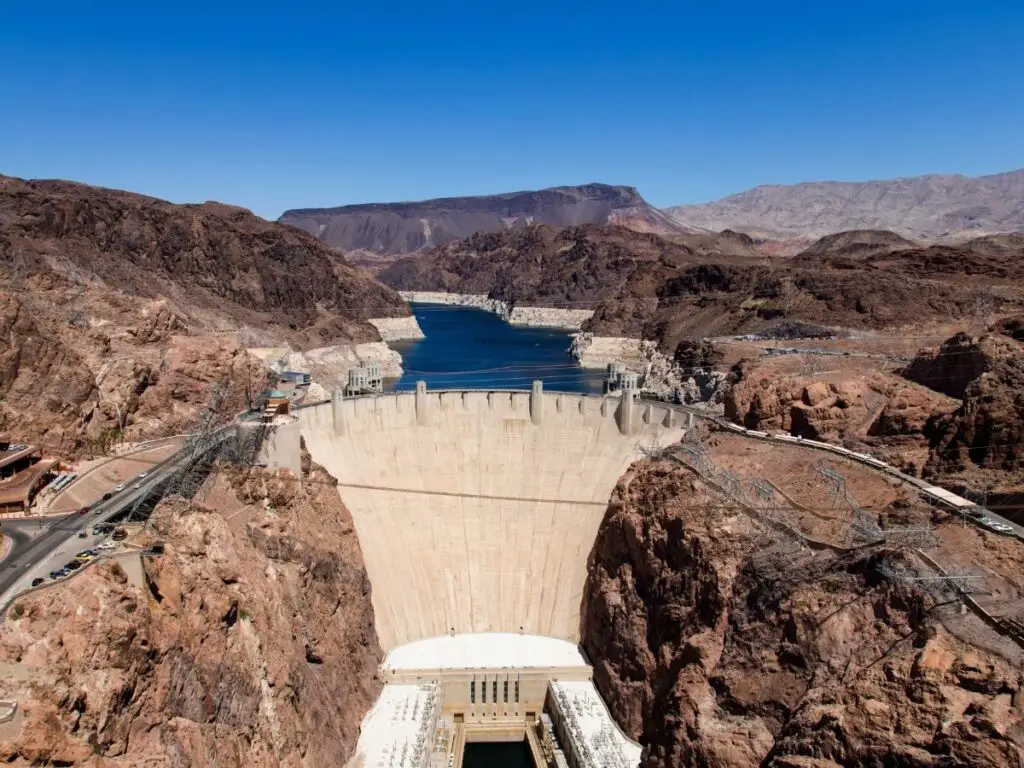 Does Route 66 cross Hoover Dam?
No, Route 66 doesn't cross Hoover Dam however it's so close that many people make it a side trip when traveling the Mother Road.
How far is Hoover Dam from Route 66?
The nearest point on Route 66 to Hoover Dam is Kingman, AZ which is around 70 miles away on US-93 which takes just over 1 hr to drive.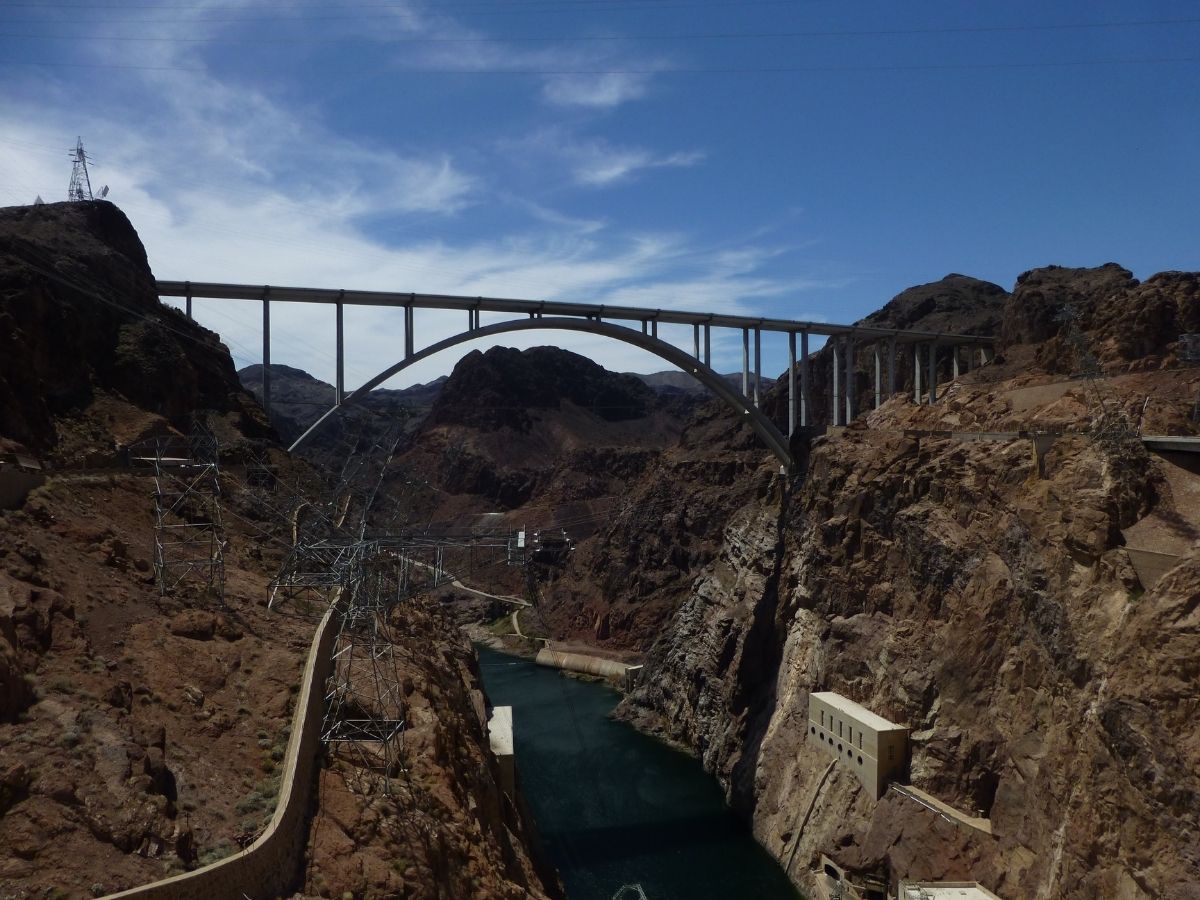 Route 66 to Hoover Dam
If you're driving Route 66 there are 2 main towns that might be worth stepping off the road from.
Kingman, AZ is the first town and a good place to head towards Hoover Dam and Las Vegas. It's around 70 miles and you'll travel on Highway 93.
Another option is from Needles, CA and one that we did when we visited. This is a little further to drive – around 100 miles and you'll travel mostly on Highway 95.
If it's truly a side trip and you intend to rejoin Route 66 afterwards make sure that you're not missing any noteworthy attractions in Arizona. For example, if you left at Kingman and rejoined at Needles you'd miss out on the wonderful ghost town of Oatman!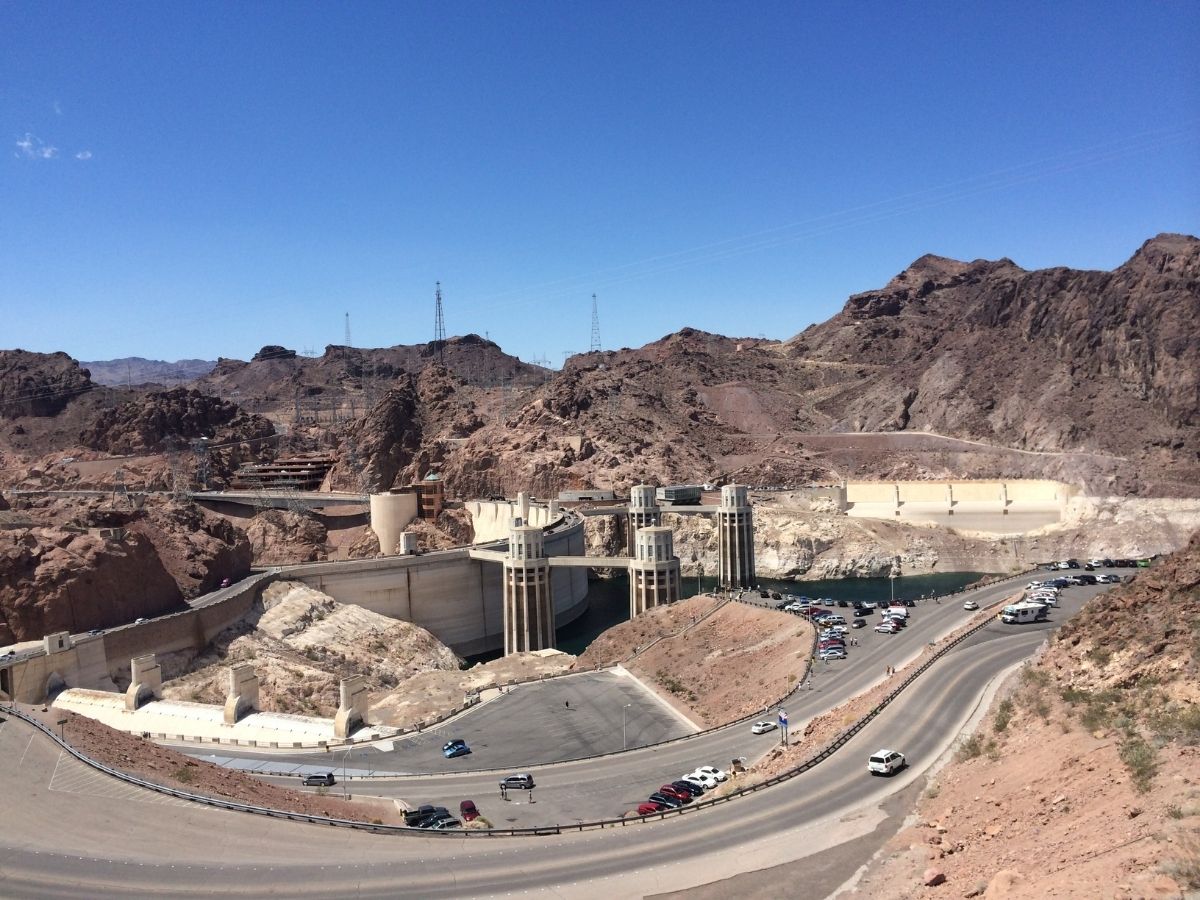 Visiting Hoover Dam
Hoover Dam is a popular tourist attraction in the area and it's well set up for visitors. Be aware that there is strict security on site though and be prepared for that.
Parking
Hoover Dam straddles the state border between Nevada and Arizona. You can access the dam from either side. If you're coming from Route 66 on Highway 93 the Arizona side is nearest however if it's a very hot day you might like to head to the covered lots which are on the Nevada side.
When we visited Hoover Dam it was August, incredibly hot and so we decided to park on the Nevada side in a multi storey car park which cost $10. 
You can park for free in some parking lots on the Arizona side but they require a little bit more of a walk. For us, visiting in the height of summer this felt too much! I'd potentially do it if arriving early enough to enjoy before it gets too hot or if we visited away from the summer months. 
Entrance
You don't need to pay to visit Hoover Dam which puts it in the 'heck yeah' category for me! You are restricted as to when you can visit though – the Hoover dam opening hours are 5am – 9pm and no-one is allowed on the dam after dark.
Things to do
While you're at the dam you can take a tour and they have a couple of different ones on offer:
Guided Dam Tour – $30 per person (includes power plant tour and self guided tour)
Guided Powerplant Tour – $15 per person (includes self guided tour)
Self Guided Visitor Centre Tour – $10 per person
prices correct Apr 2022. Tours open from 9am – 5pm.
We just enjoyed walking round Hoover Dam, we were traveling Route 66 on a strict budget and with 4 of use we didn't want to pay extra for the tours. It's fun enough to just take photos and feel the wind on our faces as we looked over the side of the dam. Not one for if you're scared of heights though!
Be aware that it can get incredibly hot there – the air conditioning in the gift shop was a God send and I definitely recommend heading there to cool down if you need to!
Don't forget the bridge near Hoover Dam as well – it's an iconic structure and there's a pedestrian walkway you can even go across to get some different views of the dam and Lake Mead beyond. 
Accommodation near Hoover Dam
If you're looking for an overnight stop that's close by to Hoover Dam them I recommend heading into nearby Boulder City in Nevada which is closest to the dam. You'll find plenty of hotels, restaurants and even a number of hiking trails if you want to explore the area.
El Rancho Boulder Motel is one to look at if you want to keep the historic motel vibe going on your side trip.
Alternatively check out our Where to Stay in Arizona on Route 66 guide
Based in Vegas?
If you're based in Vegas then it's worth checking out a number of tours in the area that can include Hoover Dam and Route 66.