The first parts of figuring out your own Route 66 itinerary are filled with frustration about where to go, when to stop, how long to drive etc, etc. You know the score!
Sometimes just having a sample itinerary in front of you to copy bits from can be really helpful. Either you'll say – yup, that sounds good, or no way I'm not going to drive for that long!
That's where this post comes in. This is actually my own 10 day itinerary we had planned for our 2020 trip which was cancelled. We now will be doing 2 weeks on our next trip so it's slightly changed however this 10 day plan is still good for anyone else who is a little tight on time.
Read on for how I would travel the historic Mother Road in 10 days and hopefully it will be helpful if you're also driving it in a similar amount of time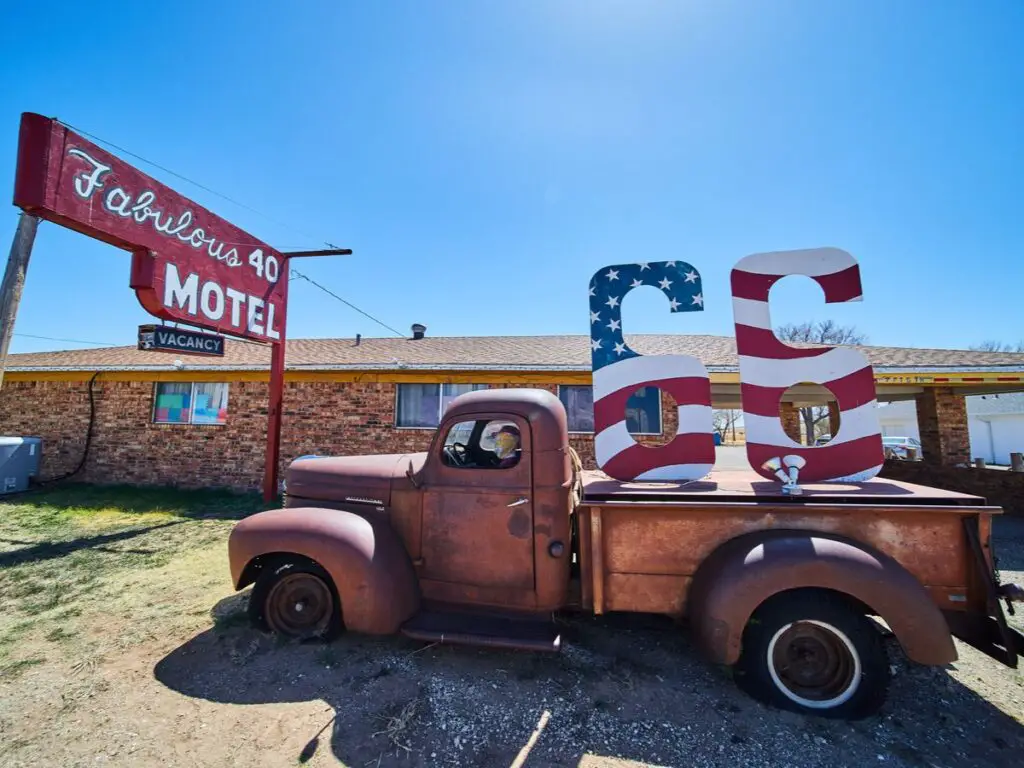 Are you thinking of planning a road trip? When planning I recommend a guide book to get to know all the attractions around. It should also come in handy when you're actually driving too (if you get a book with directions!)

My favorite for the planning stage is the Route 66 Adventure Handbook
Planning your 10 day Route 66 road trip
Before we get started with the itinerary let's take a look at some questions you might need to consider when you're planning this journey:
Route 66 in 10 days – is it enough time?
The first question to consider is whether 10 days is enough to drive Route 66.
Yes, you can do Route 66 in 10 days. Your driving mileage will vary each day from 150 – 300 miles and you'll move on to a different destination each day.
10 days on Route 66 is definitely quite an intense driving time with 4 hours+ driving each day. You're also going to be moving on every day.
You might not have time to do side trips or to fully enjoy many of the cities on the road and you'll certainly miss some places but, yes, 10 days can be enough!
Will 10 days be a good amount of time to do Route 66?
So you can do Route 66 in 10 days, but should you? Are you going to be able to drive it well or will it be a terrible experience?
I think the sweet spot for a Route 66 trip is between 2 and 3 weeks so 10 days falls short of that a little. With that said, some people find that 2+ weeks on the road is too much to drive every day so don't discount a shorter period.
Yes it will have some intense driving periods, you might miss some things but you're still going to be able to see and do a lot!
I recommend concentrating on spending time in the smaller towns rather than cities which can eat up a lot of your time and be stressful to drive round. Don't fret if you can't always stick to the old road, taking the interstate between stops can help get some miles easily under your belt.
How much driving will you do each day?
With this 10 day road trip on Route 66 you'll be driving for between 150 and 300 miles each day. You'll want to break your driving up into sections so it's not too overwhelming so plan in one or two stops every day.
We start the trip with some shorter stints to ease you into it and the end of the trip are fairly consistent with the driving days of around 270 – 300 miles.
We end with a night in Santa Monica to recover but if you didn't want that you could shorten some of the driving days.
Should you book your accommodation in advance?
I like to have my hotels booked in advance but really this is personal preference. I know many people like to keep their options open and see what is available when they arrive. I, personally, am not like that!
Some of the places to stay suggested on this page are popular, iconic motels on the Route 66 and if you're traveling on weekends or in high season, you might be wise to book in advance.
Lots of motels and hotels offer a good cancellation policy these days so if your plans change it shouldn't be an issue but always check when booking, especially if you're booking direct.
I've given ideas of places to stay on the route but you also might like to look at my accommodation state guides too.
Renting a car for route 66?
Most people think about renting a car for their Route 66 trip simply because the distances are so vast and it makes sense financially and also when thinking about the time available. This is especially the case when doing a 10 day trip.
I've written a post about some tips you might find useful for booking your Route 66 rental car but checking out comparison sites like Discover Cars is my number 1 tip to get a good deal.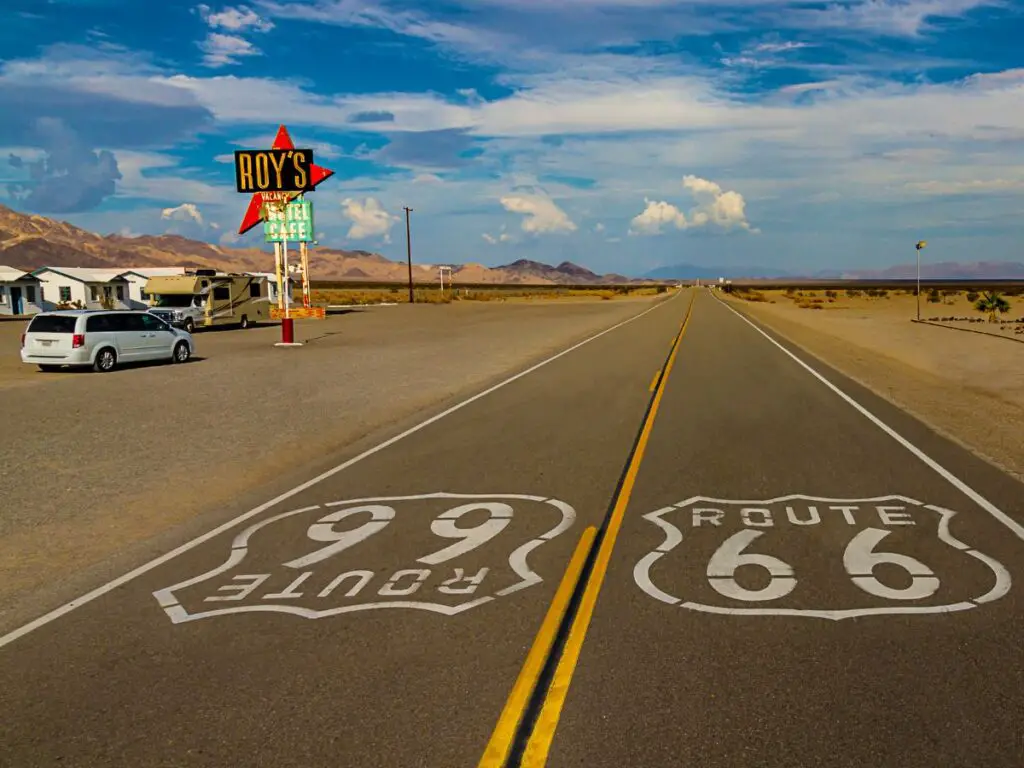 Route 66 10 day road trip itinerary: overview
All mileage is approximate and is gleaned from Google Maps which will take the Interstate rather than the actual Route 66 alignments.
| Day | Plan | Miles |
| --- | --- | --- |
| 1 | Chicago – Atlanta IL | 157 |
| 2 | Atlanta IL – Cuba MO | 226 |
| 3 | Cuba MO – Carthage MO | 189 |
| 4 | Carthage MO – Chandler OK | 190 |
| 5 | Chandler OK – Amarillo TX | 304 |
| 6 | Amarillo TX – Santa Fe NM | 285 |
| 7 | Santa Fe NM – Holbrook AZ | 294 |
| 8 | HolbrookAZ – Needles CA | 300 |
| 9 | Needles CA – Santa Monica CA | 273 |
| 10 | Santa Monica | 0 |
Day 0: Chicago (optional)
You might find that you can get into Chicago the night before allowing you to begin your trip from the sign in the center of the city first thing on day 1.
If not, don't worry too much as our first full day on the road tomorrow is our shortest driving day allowing for time in Chicago to tick off the sign and then heading out of the city.
Accommodation options for day 0
If you do want to stay the night before in Chicago I suggest a hotel in the Downtown/South Loop area which is the vicinity of the beginning of the road.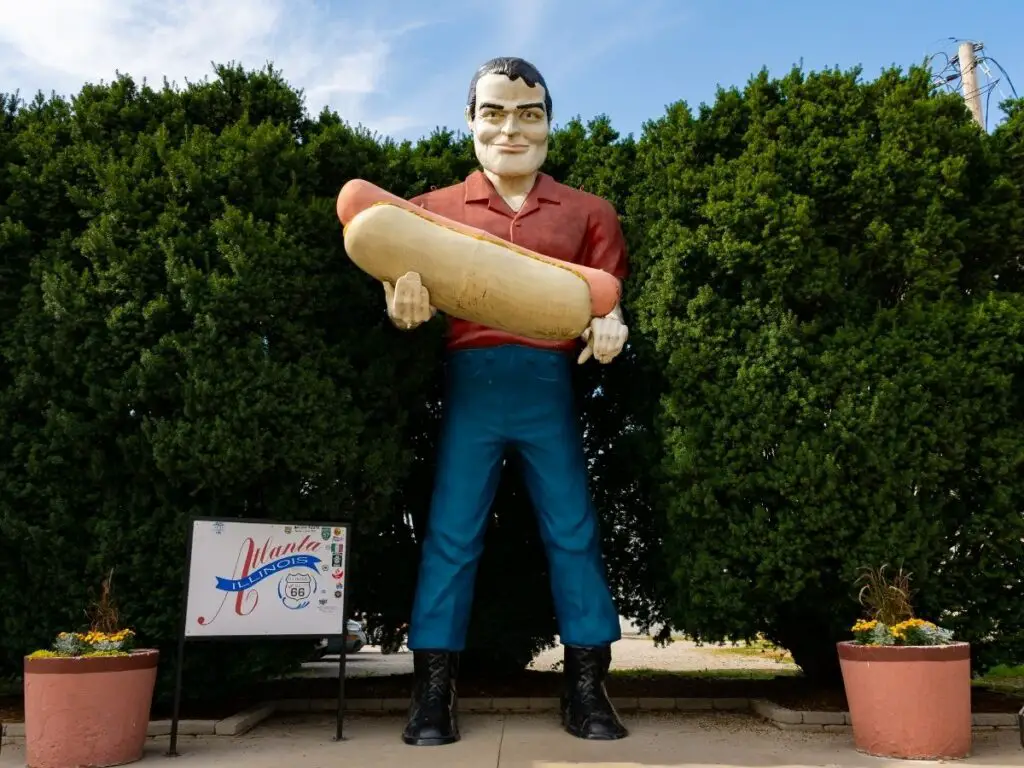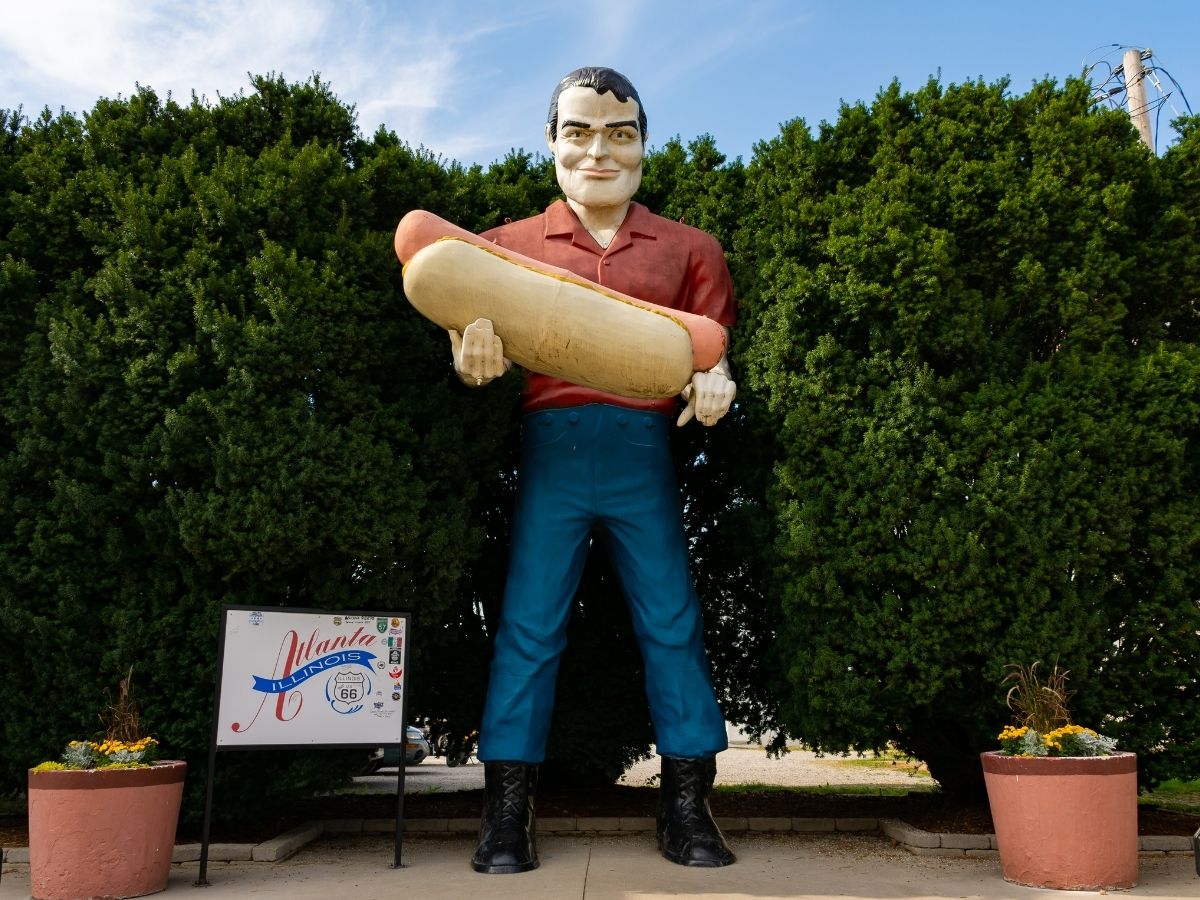 Day 1: Chicago IL – Atlanta IL
Miles to drive: 157
Our first day starts in the city of Chicago. If you're flying in to the city you'll need to make a decision as to whether to drive downtown for the start point and sign or head straight on to the road towards Joliet and the rest of Illinois. (if you can – get to the sign. If you'll only ever do the trip once you might regret not going for it!)
The beginning point of Route 66 is on East Adams Street right by the Art Institute of Chicago. There are a few parking lots around the area if you're concerned about street parking and will give you chance to stretch your legs and perhaps see Lake Michigan.
I'd suggest having left Chicago by lunch time which will still give you the afternoon to head to your destination and check out some of the Route 66 attractions in Illinois.
Some ideas of places to stop on day 1:
Joliet – Blues Brothers filming locations
Gemini Giant in Wilmington
Dwight
Odell
Pontiac
Our final destination is Atlanta which is a small town with a fun Muffler Man statue – Paul Bunyan which is lit up in the evening. There are some shops to explore and a museum as well. If you arrive too late to check them out try and do so in the morning.
Accommodation options for day 1
I'm afraid that Atlanta isn't brimming with hotels but there's a nice Airbnb in the town which can make for a nice historic stop.
If that's not available there's also a small motel on the outskirts of town or you could head to Lincoln, the next big town on the road.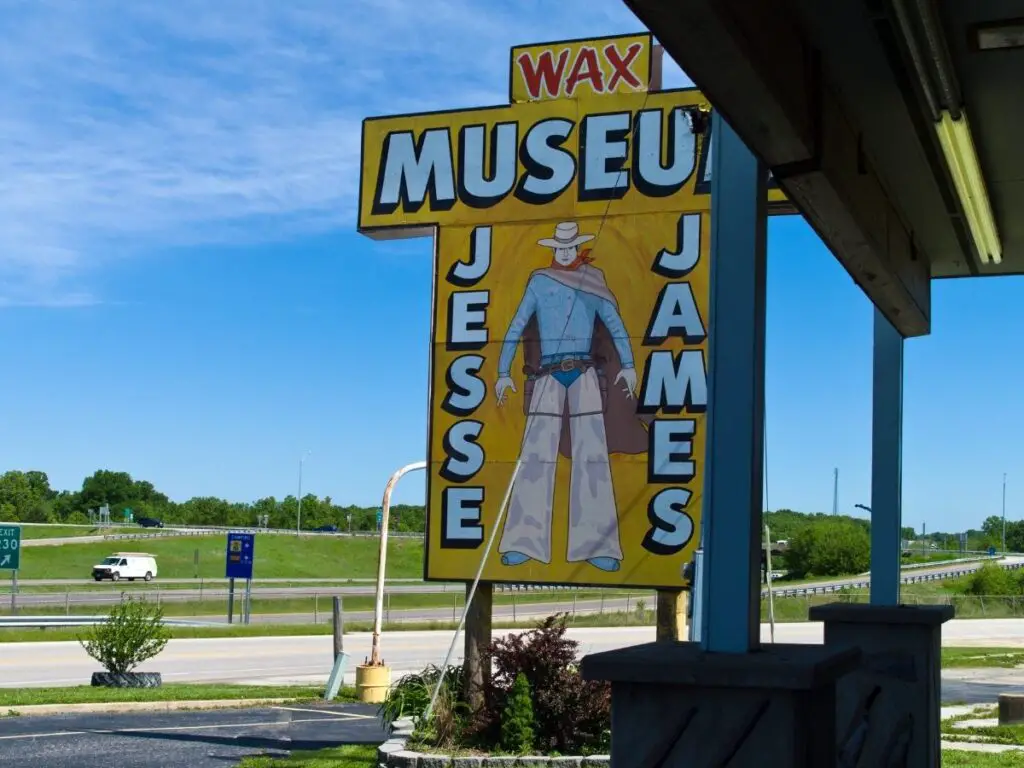 Day 2: Atlanta, IL – Cuba, MO
Miles to drive: 226
While around 4 hours driving today you'll want to start early and then decide whether you'll spend time in the city of St Louis or explore some of the small towns in Illinois and Missouri.
If you choose St Louis then a trip to the top of the Gateway Arch is a must. You can learn about the westward expansion in the museum and a trip on a steamer boat on the Mississippi shouldn't be missed too.
As you leave St Louis be sure to check out Ted Drewes frozen custard shop which has been a must visit spot on Route 66 for many years.
Some ideas of places to stop on day 2:
Lincoln
Springfield, IL (Cozy Dog drive in for a snack!)
Chain of Rocks Bridge
St Louis Gateway Arch
Ted Drewes Frozen Custard
Jesse James Wax Museum, Stanton
Meramec Caverns
You'll end your day in Cuba which is has a lot of murals around to check out.
Accommodation options for day 2
An historic motel that's been open since the 1930s – it's a popular one so a good idea to book ahead of time. Cuba has a few other options if you don't fancy this one with some chains and other budget motels in town.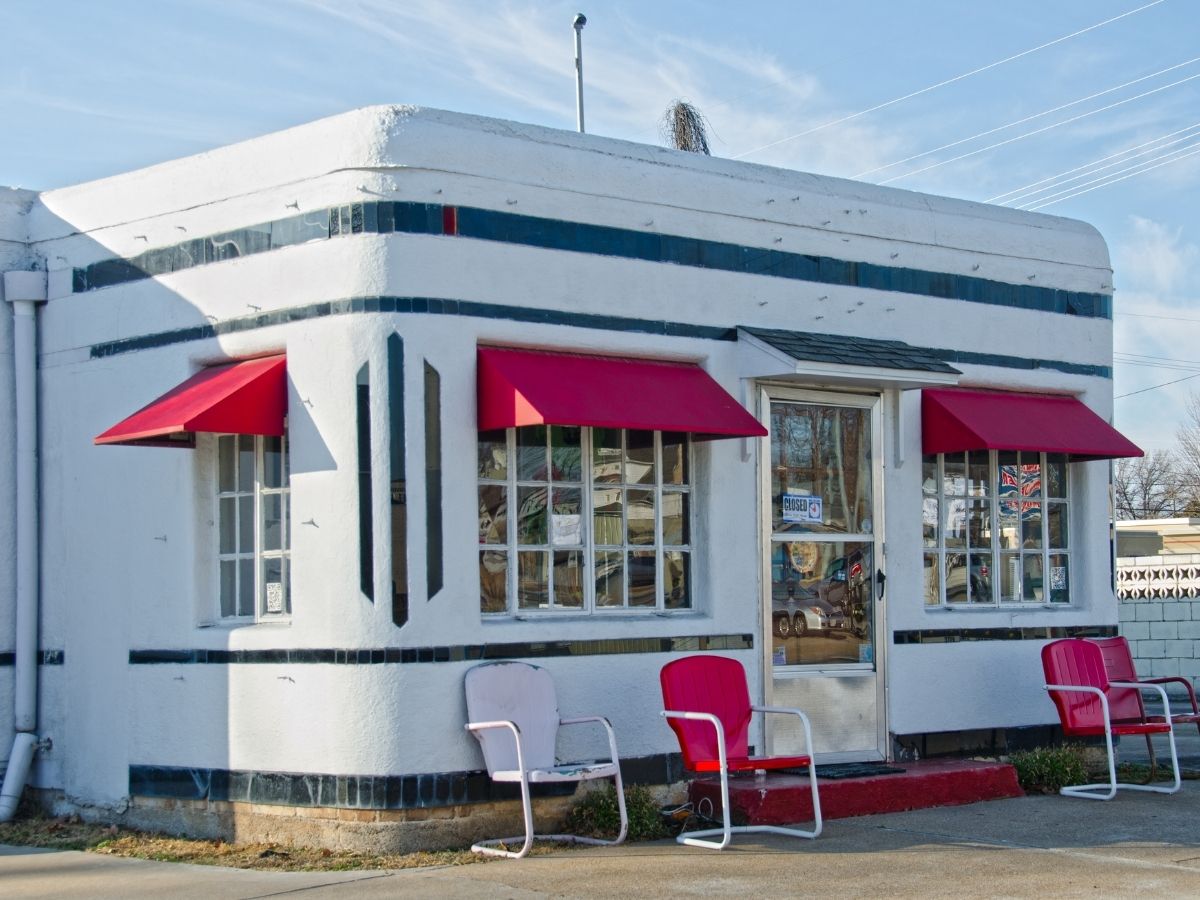 Day 3: Cuba, MO – Carthage, MO
Miles to drive: 189
You'll travel through most of Missouri today with lot to see and plenty of giant roadside attractions including a rocking chair in the next town to Cuba – Fanning.
There's another Springfield city here and this one has a couple of Route 66 spots close by that could be worth spending time in.
Some notable places for you to try not to miss are
Devil's Elbow
Lebanon – Munger Moss Motel
Gay Parita, Paris Springs
Rt 66 Car Museum, Springfield
Rockwood Motor Court Motel, Springfield
66 Drive in Movie Theater (an idea for the evening after checking in!)
Accommodation option for day 3:
The Boots Court Motel in Carthage is currently undergoing renovations but some of it is open and accepting guests. It's one of the most popular stops in Missouri.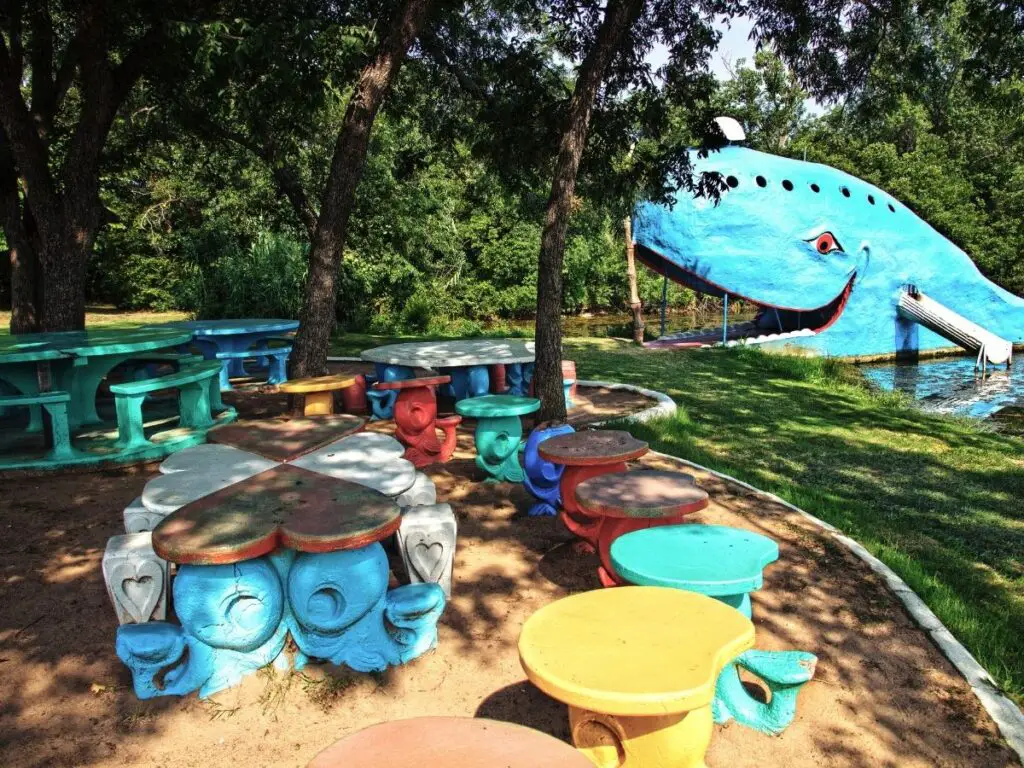 Day 4: Carthage, MO – Chandler, OK
Miles to drive: 190
Today you're right on the border with Kansas and so will cross over and through all 13 miles of that state fairly early. We then cross over into the next state to see what Oklahoma has to offer!
Route 66 also takes you through the city of Tulsa which has a number interesting attractions. Again you might need to make a decision as to whether you're interested in the smaller towns and sights or whether you want to explore the city's attractions.
Ideas for stops on day 4:
Galena – Cars on the Route
Baxter Springs
Miami
Blue whale of Catoosa
Golden Driller Statue
Cyrus Avery Plaza
Before you rest your head a good eating option is in the town of Stroud, just before Chandler. The Rock Cafe is a classic Route 66 diner that was actually the inspirations for Sally in the Disney Cars film.
Our final destination for today is Chandler – a small but interesting town with some museums about the history of Route 66.
Accommodation option for day 4: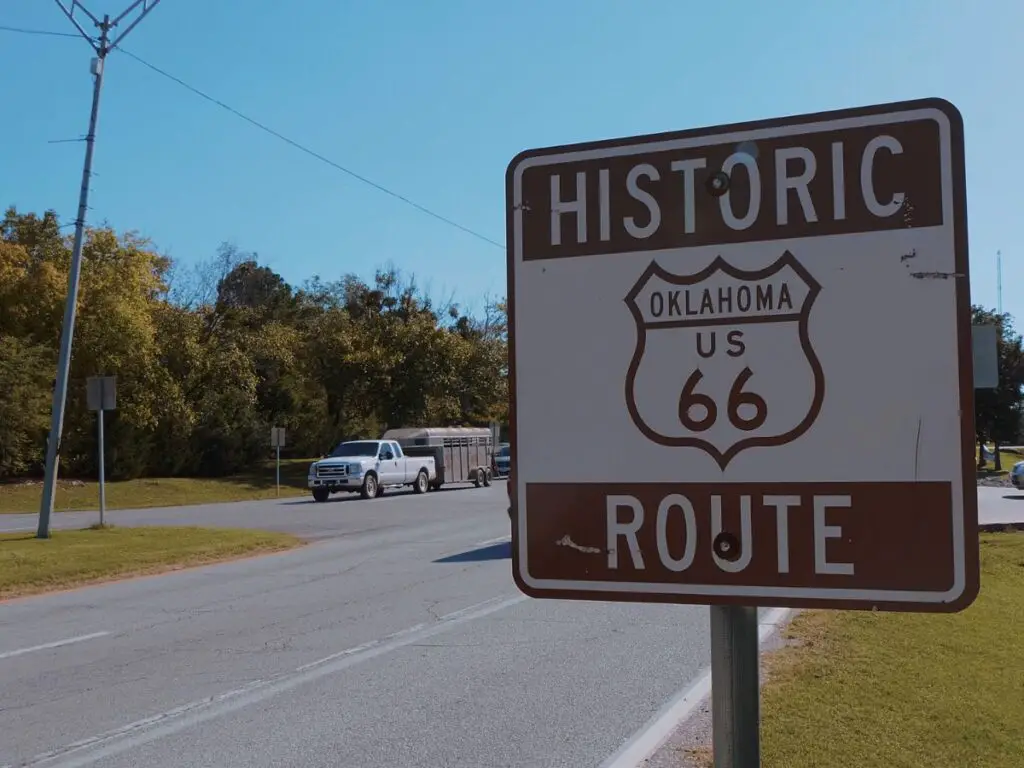 Day 5: Chandler, OK – Amarillo, TX
Miles to drive – 304
Oklahoma has a lot to offer the Route 66 traveler so you'll be pleased to have some more time in the state today before crossing over in to Texas. You'll have lots of museums to choose from
Oklahoma City is the big city you'll pass through today but you may find that you don't have time to do it justice – one to come back to perhaps.
Some places to consider stopping on Day 5:
Arcadia – Pops 66 and the Round Barn
National Cowboy and Western Museum
Oklahoma City Memorial
Clinton
Elk City
Amarillo is our destination for the evening although you'll stay on the outskirts of the city so if you want to explore things to do there you might be ok to leave it until tomorrow.
If you want to do a weird and wonderful Route 66 experience try your hand at eating the 72oz steak at the Big Texan for your evening meal!
Accommodation option for day 5: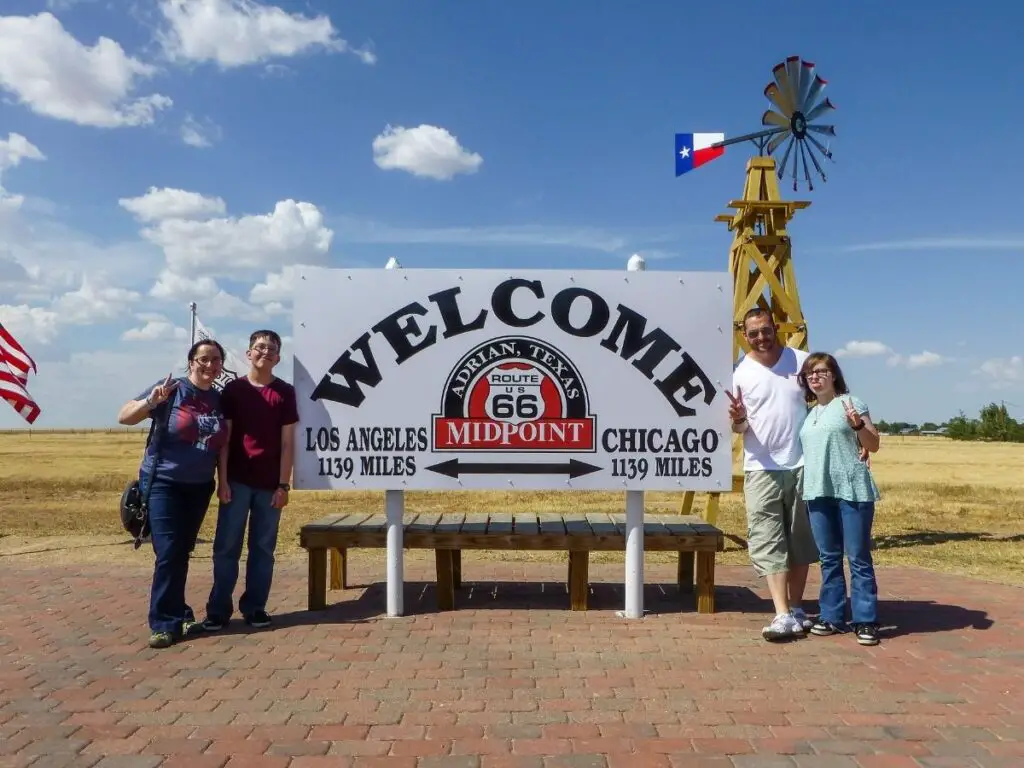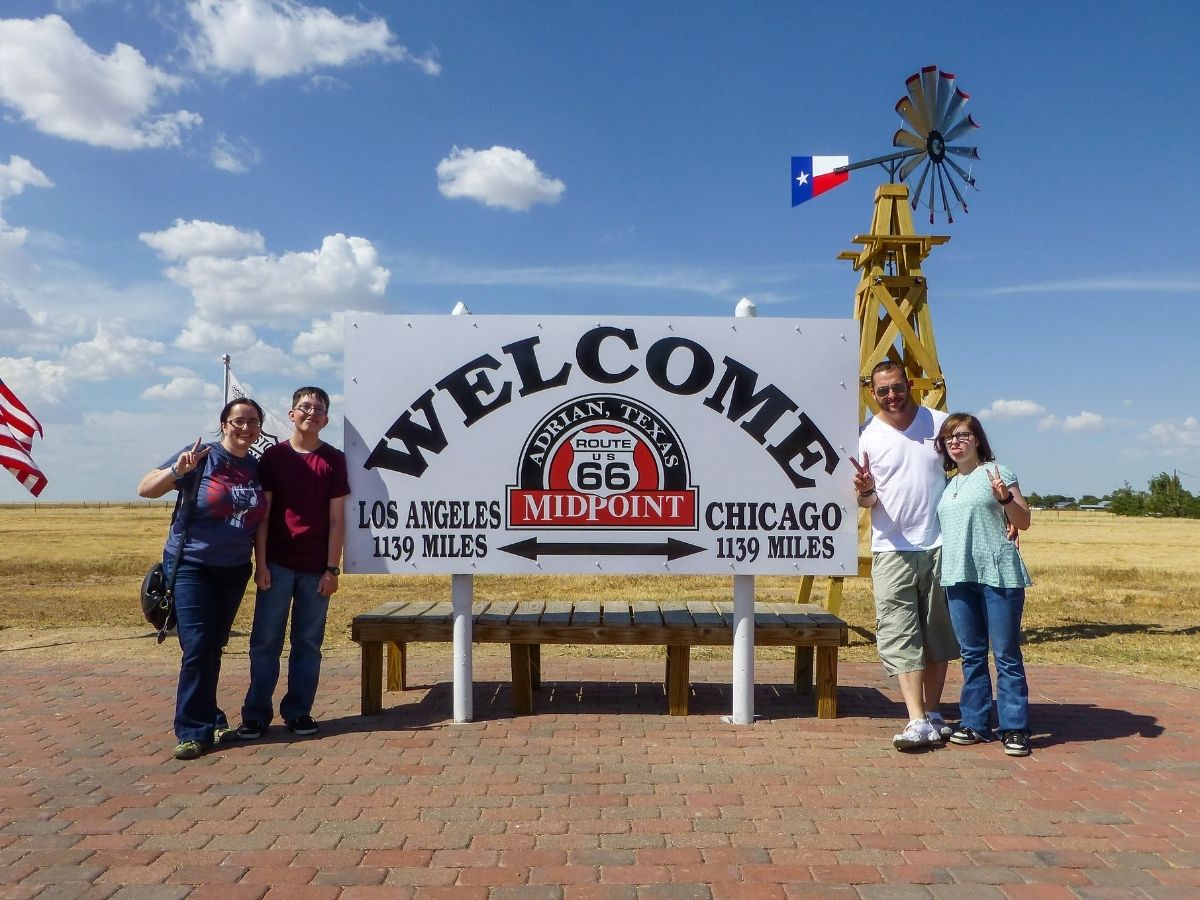 Day 6: Amarillo, TX – Santa Fe, NM
Miles to drive – 285
The city of Amarillo is worth exploring if you have time this morning, it's not as big as the other cities on Route 66 so doesn't feel as time consuming!
Texas has a lot of wide open spaces for that road trip vibe but also lots of road side stops too.
Tucumcari is a good stop to add in with classic motels to see like the Blue Swallow. (I often advocate to stay in Tucumcari overnight and it's a good option if you want to shift things in your own itinerary)
Route 66 in New Mexico has two very different alignments and the original one went through the city of Santa Fe. A few years later it had a much more direct route. For this itinerary we're heading slightly north and exploring round the attractions there and you'll be driving along some of the roads that mirror the Santa Fe trail.
Places to consider stopping on Day 6:
Cadillac Ranch
Midway Point
Tucumcari
Pecos National Historical Park
Santa Fe itself is worth spending time in with plenty of museums and good eating options so try and leave time to enjoy it.
Accommodation option for day 6:
Santa Fe is a little more expensive than some of the other towns you might be staying at on Route 66. The motel El Rey is a good, relatively inexpensive option or you could splash out and enjoy a hotel downtown.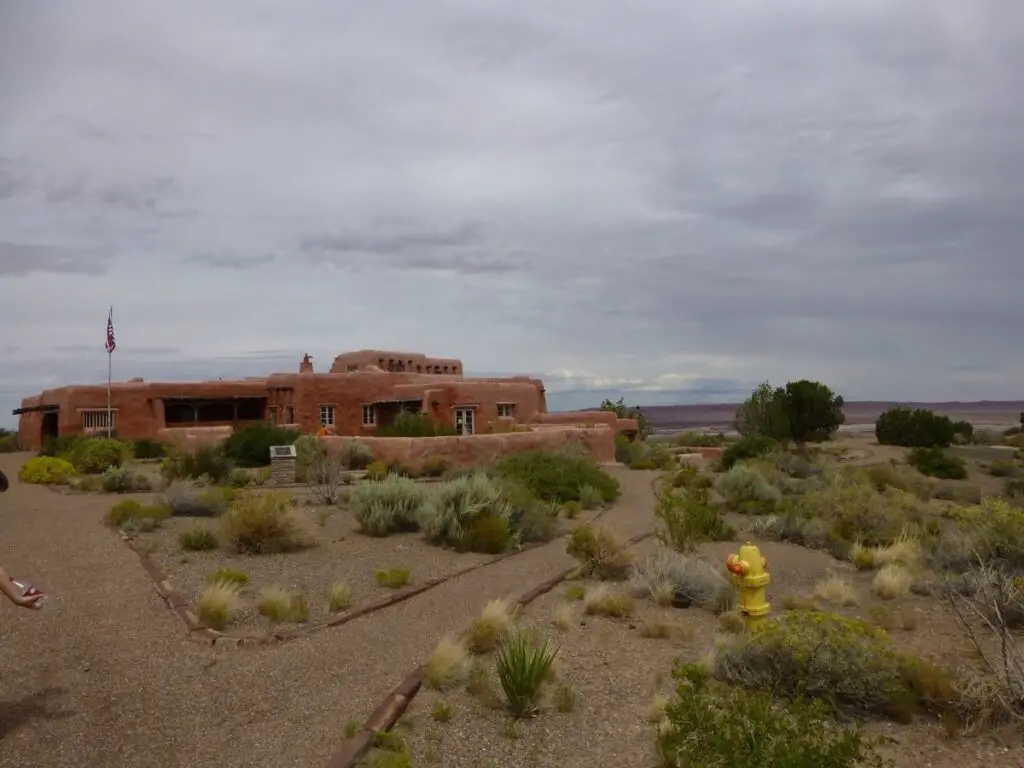 Day 7: Santa Fe, NM – Holbrook, AZ
Miles to drive: 294
You'll be driving a lot through New Mexico today and stopping just over the border with Arizona. Albuquerque is another city on our path today and while it has some attractions I'm going to encourage you to keep going, perhaps enjoying the smaller town of Gallup and then the Petrified Forest.
It's around 4 hours driving to the Petrified Forest from Santa Fe but if you can make sure you have enough time to explore it it is a great place to go today. You can drive around the park, stopping at various points to take in the scenery and learn about the history of the area. I recommend it if you have time! (The park closes at 5pm so factor that in.
Holbrook is not far from the park and if you're still interested in all the rocks, fossils and gemstones you'll find lots of shops to explore.
Accommodation option for day 7:
Holbrook is home to one of Route 66's most iconic motels – the WigWam motel. It's a basic option but a must for many people. There are also a few other options in town if you don't want to stay there.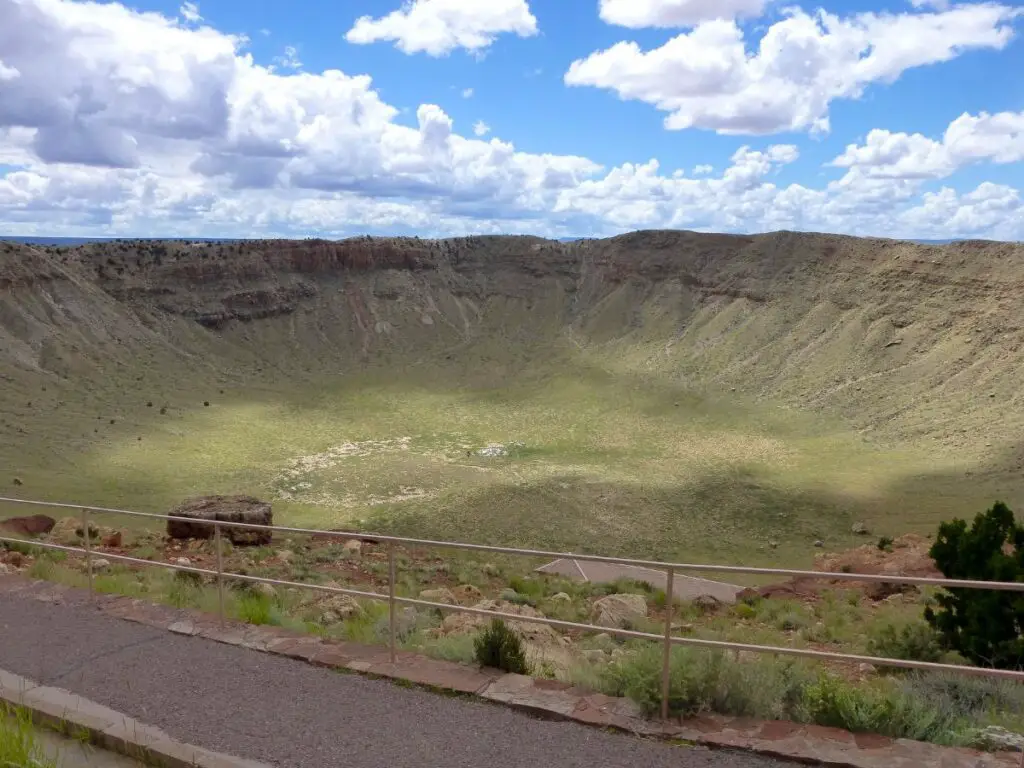 Day 8: Holbrook, AZ – Needles, CA
Miles to drive: 300
We're driving pretty much across the whole of the state today so it's probably another good day to get up early to see as many Arizona attractions as possible.
While it feels odd to not encourage you to check out the Grand Canyon while driving by – you really need a full day for that so don't try and fit it in unless you can add an extra overnight stop somewhere (we did Williams but Flagstaff also works). If you don't have a night in Santa Monica at the end you could do fit it in that way.
There's a lot to see in this state from the enormity of the Meteor Crater to small towns with a retro vibe and of course, plenty of roadside quirky stops. I'd probably encourage you to skip Flagstaff and Williams in favour of the smaller towns today.
Ideas for stops on day 8:
Meteor Crater
Winslow
Seligman
Kingman
Oatman – an old Wild West ghost town
I've chosen Needles for our overnight stop and the California vibe is starting to peep in – plenty of palm trees to see!
Accommodation option for day 8: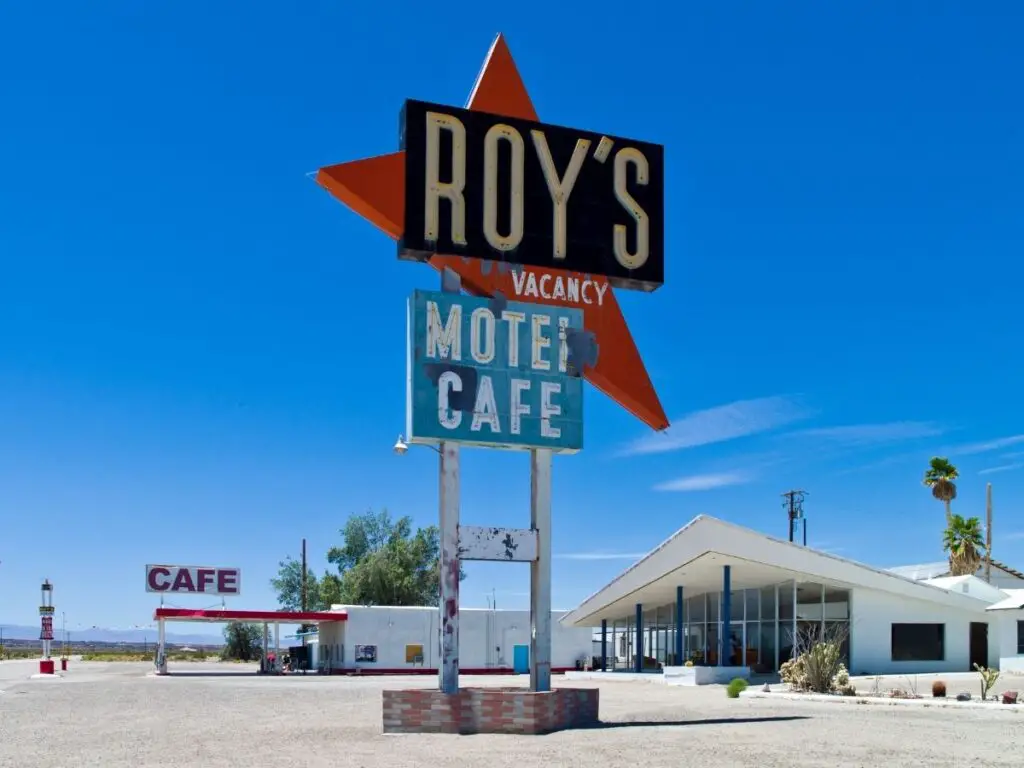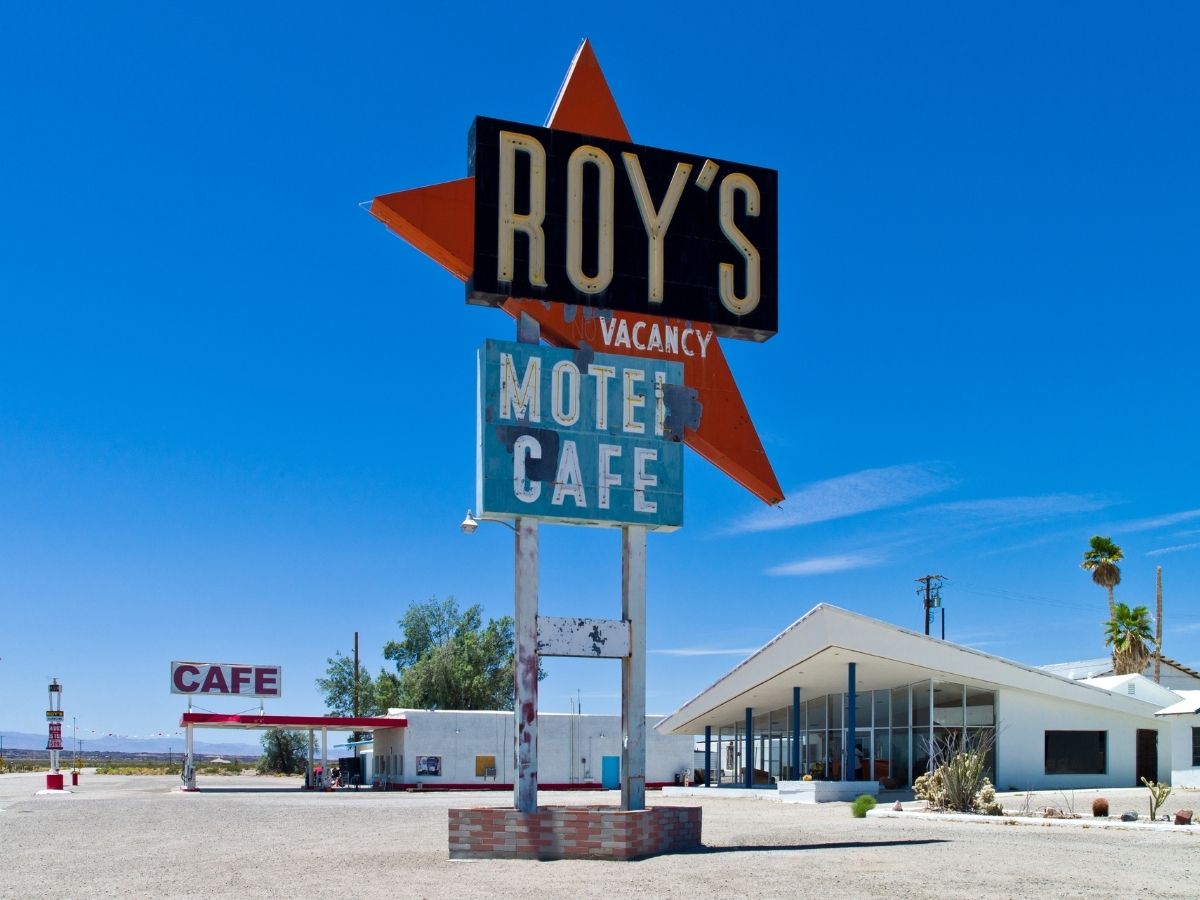 Day 9: Needles, CA – Santa Monica, CA
Miles to drive: 273
Or final day driving on the actual historic road has arrived. You'll either be longing for a day off from being in the car or disappointed that it's all coming to an end. Possibly a bit of both!
Our day today consists of desert, plenty of interesting relics of the past and one of the biggest cities around. Be sure to fill up on gas as you don't want to get caught short before heading into the wide open desert with not many options to replenish you. That goes for food too I guess!
It's a harder days driving today because you'll also be headed in to Los Angeles and dealing with the traffic from that. Give yourself plenty of time to do this stretch justice, factor in plenty of part way stops and have a good navigator for the last bit (or just choose to follow the sat nav for the final descent into LA)
Day 9 ideas for stops:
Roy's Motel & Cafe in Amboy
Bagdad Cafe
Barstow
Bottle Tree Ranch
original McDonalds in San Bernardino
Wigwam Motel
Santa Monica is, of course, the final destination for Route 66 travelers today. The pier is a final photo opportunity on this wonderful (hopefully) trip.
There are many eating options including a few on the pier itself although be aware that you'll likely be paying a premium for the food there with the view of the ocean.
Accommodation option for day 9:
Santa Monica and Los Angeles have a huge array of hotels to choose from. You can go for a special hotel to mark the end of an amazing trip or keep the motel vibe going. Entirely up to you!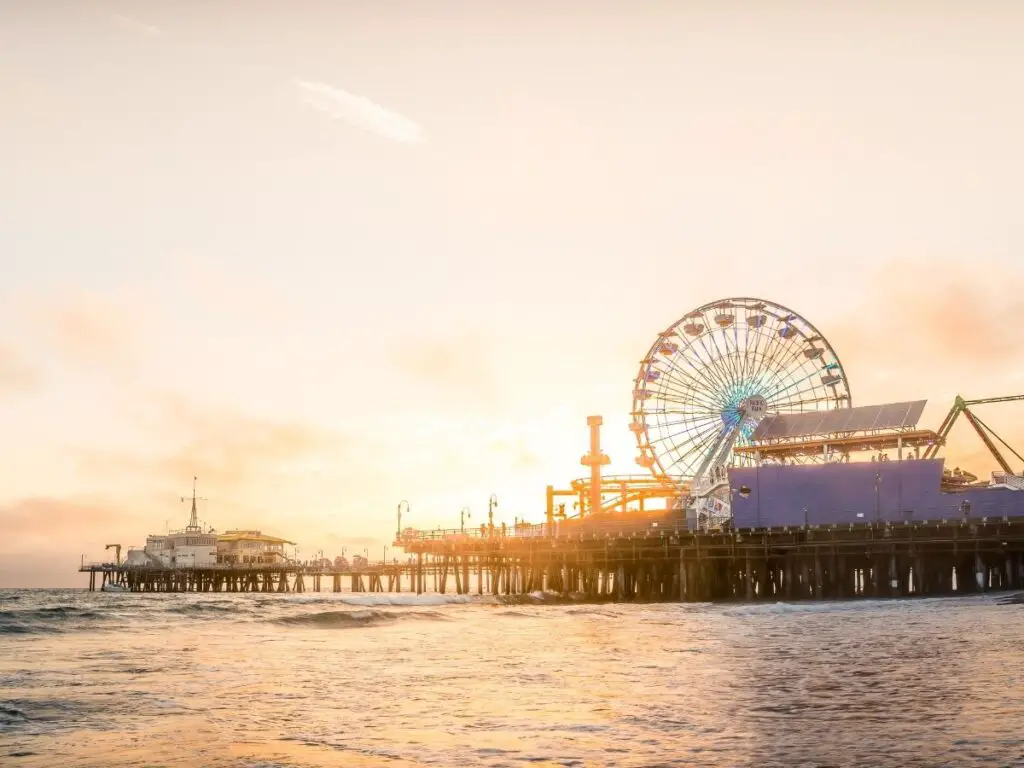 Day 10: Santa Monica
Miles to drive: 0
Your final day will be dictated by how and when you need to leave the Los Angeles sprawl. You can choose to enjoy the beach, do some sightseeing in Hollywood or explore more of the city. If time is tight then an organized tour or hop on hop off bus could help you to fit more in. Yes they are VERY touristy, but sometimes needs must!
Accommodation option for day 10:
None – you're done now, if you want to spend more time in LA or Santa Monica you can add some nights to your existing booking.
If you have 9, 11 or 12 days on Route 66:
If you have some extra time for your vacation and road trip then I'd probably aim to try and have some lighter driving days. What I would do with your extra time is to add a stop in Arizona or Oklahoma giving you shorter days and more time to explore fully. You could also add a night or 2 in Arizona, either in Flagstaff or Williams and spend a day in the Grand Canyon National Park
If you have a day or two less then you might want to end your trip by not staying in Santa Monica and returning home straight away. Alternatively you could save time by driving the newer alignment in New Mexico and cutting out Santa Fe and perhaps also driving further in the first days and stopping further into Illinois.
Our other itineraries to explore:
🇺🇸 Route 66 FAQ 🇺🇸
Do I need insurance for traveling Route 66?
YES! I always recommend people take travel insurance even when travelling domestically! If you have booked something non refundable it might be the only way you'll get money back if your plans change.
Check Travel Insurance Master for quote comparisons from different providers.
Who is the best car rental company for Route 66?
There are many car rental companies who you can choose from – I recommend comparing prices using DiscoverCars to get the best price for you. (see more)
Where to book Hotels for Route 66?
For hotels I recommend Booking.com as they tend to have good cancellation policies so you can keep flexible on the road.
Often some historic Route 66 hotels will need to be booked direct.
What to pack for Route 66?
Keeping yourself cool and comfortable is a must for any road trip.
See my post about what to pack for a Route 66 road trip
What's the best guidebook for Route 66 ?
I really like the Route 66 Adventure Handbook but there are a lot to choose from depending on what stage of planning you're at (see more)
Where to get flights for Route 66?
Skyscanner is my first port of call for finding cheap flights to start your road trip.