You have 3 weeks to travel Route 66, but where do you even start when planning how long to drive, where to stop each day and what to see?
For many road trippers planning the perfect Route 66 road trip can get a little bit overwhelming. I totally understand and have felt the same myself when planning! Checking some sample itineraries of how to do the journey can help get you started when planning your own trip.
That's where this Route 66 21 day itinerary comes in. I've written it as a sample journey from the very beginning of the road in Chicago all the way to the Pacific Ocean. This one also incorporates a lot of the cities on the road too – something you might not have a lot of time for on a shorter journey.
Read on to see how I would plan for 3 weeks on the road and I hope that you'll find this road trip itinerary helpful no matter how long you are driving Route 66.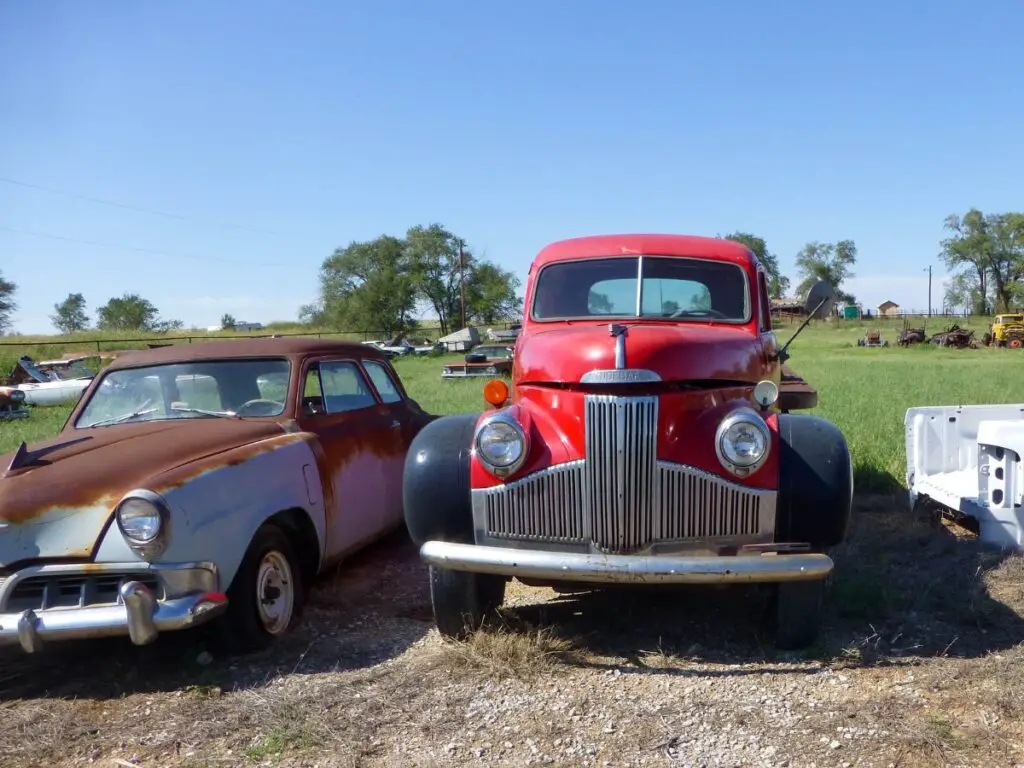 Are you thinking of planning a road trip? I highly recommend a guide book to start to get know all the attractions around. It'll come in handy when you're actually driving too (if you get one with directions!)

My favorite for the planning stage is the Route 66 Adventure Handbook
Planning your 3 week Route 66 road trip
Before we get started with the details of the itinerary let's answer some questions you might be considering when planning this journey:
Is 21 days enough for a Route 66 road trip?
So one of the first questions to answer is whether 21 days is enough to do the road trip.
Yes, you can do easily do Route 66 in 21 days. It's probably an ideal time to do the trip giving you time to linger in areas you want to and space to not have to move on every single day. Your driving mileage will average at around 115 miles each day.
You can spend time at the beginning and end of the trip exploring the cities of Chicago and LA if you want, but obviously this will eat into your actual road trip time.
Will 21 days be a good amount of time to do Route 66? Or too much?
So we've learned that you can do Route 66 in three weeks, but should you? Are you going to do it well, will you get bored or will it be a terrible time?
In my opinion the sweet spot for a Route 66 trip is between 2 and 3 weeks so a 21 day stretch fits in there nicely. You can definitely have a good time, it's not too long that you'll be desperate for a change, and you still might miss places but hopefully that will just encourage you to come back again!
Some people might find that 3 weeks on the road is a little exhausting so this is why I advocate for having some places you can spend two nights so you're not moving on every day.
How much driving will you do each day?
With a 21 day road trip on Route 66 you'll be driving for between 70 and 200 miles each day. So some days might only have an hour or two on the road and some days will have longer driving days that you might want to break up throughout the day. Some days you can relax and take in the area as there's zero driving miles.
Should you book your accommodation in advance?
This is a personal preference and one I've written about a lot. I know that lots of people like to keep their options open and see what is available when they arrive but I, personally, am not like that and I much prefer to have my bed booked!
Some of the accommodation suggested on this page are popular stops on the road and as such, especially if you're traveling in high season, you might be wise to book in advance especially if you feel like where you stay is a big part of the trip. (I do which is why I suggest booking when you can!)
Lots of hotels and even motels offer a good cancellation policy nowadays so if your plans change it shouldn't be an issue but always check before booking, especially if you're booking direct with them.
You might also like my post with tips on booking hotels & motels on Route 66
Renting a car for route 66?
Most people think about renting a car for their Route 66 trip simply because the distances are so vast and it makes sense in a financial sense and also when thinking about the time available. With a 3 week Route 66 road trip this will be a significant chunk of money if you have to rent rather than drive your own car.
I've written a post about some tips you might find useful for booking your Route 66 rental car but checking out comparison sites like Discover Cars is my top tip to get a good deal.
Route 66 21 day road trip itinerary: overview
All mileage is approximate as is gleaned from Google Maps which will take the Interstate rather than the actual Route 66 alignments.
| Day | Plan | Miles |
| --- | --- | --- |
| 1 | Chicago | 0 |
| 2 | Chicago – Pontiac, IL | 100 |
| 3 | Pontiac, IL – St Louis, MO | 200 |
| 4 | St Louis, MO – Lebanon, MO | 163 |
| 5 | Lebanon MO – Carthage, MO | 110 |
| 6 | Carthage, MO – Tulsa, OK | 129 |
| 7 | Tulsa, OK – Oklahoma City, OK | 106 |
| 8 | Oklahoma City, OK – Elk City, OK | 112 |
| 9 | Elk City, OK – Amarillo, TX | 148 |
| 10 | Amarillo, TX – Tucumcari, NM | 115 |
| 11 | Tucumcari, NM – Santa Fe, NM | 178 |
| 12 | Santa Fe, NM | 0 |
| 13 | Santa Fe, NM – Gallup, NM | 200 |
| 14 | Gallup, NM – Holbrook, AZ | 96 |
| 15 | Holbrook, AZ – Flagstaff, AZ | 90 |
| 16 | Flagstaff, AZ | 0 |
| 17 | Flagstaff, AZ – Kingman, AZ | 147 |
| 18 | Kingman, AZ – Barstow, CA | 206 |
| 19 | Barstow, CA – Rialto, CA | 72 |
| 20 | Rialto, CA – Santa Monica, CA | 70 |
| 21 | Santa Monica, CA | 0 |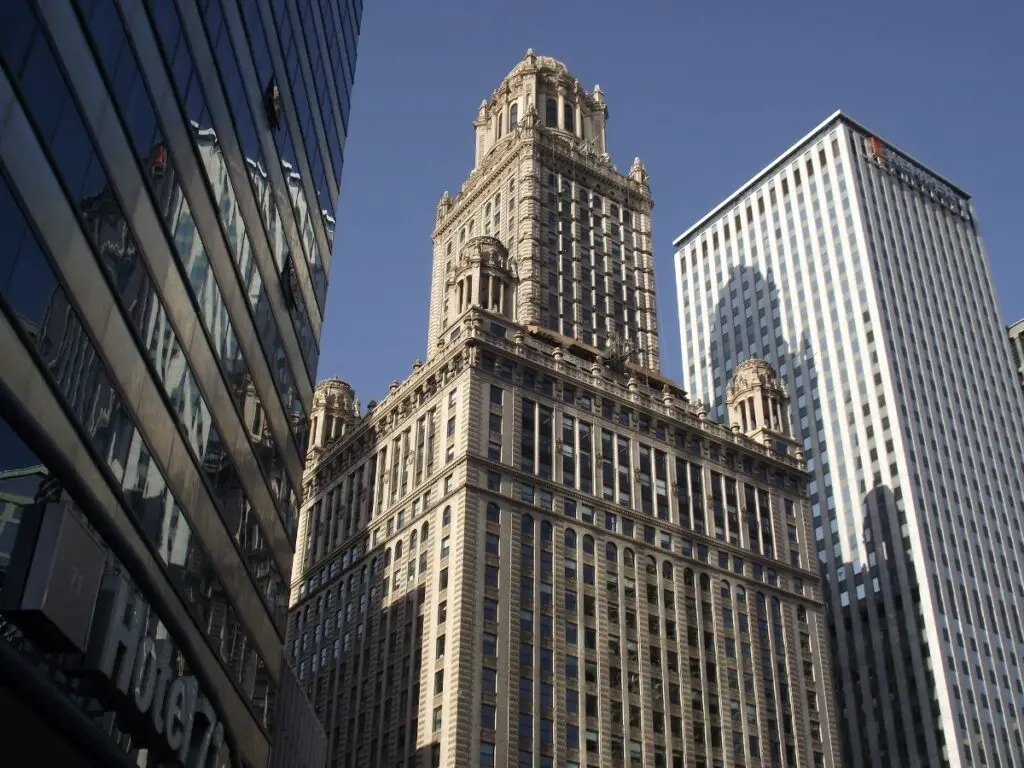 Day 1: Chicago
Miles to drive: 0
Your first day is spent in the city of Chicago and Route 66's 'start' point. If you're flying in to Chicago then much of today might be getting settled in to your hotel and exploring a little.
The beginning point of Route 66 is on East Adams Street right by the Art Institute of Chicago. If you've never been to Chicago then a river cruise could be a good way to get a fun overview of the city architecture, history and sights.
So many eating options here – for a good Chicago style pizza that is on the road itself try out Giordano's on W Jackson Blvd, it's a bigger chain now but still does good food.
Accommodation options for day 1
While you have the entire city of Chicago at your feet, I suggest a hotel in the Downtown/South Loop area. If you want to start your Route 66 trip from the very beginning point it's good to be in the vicinity so that you're not fighting with traffic just to get started. Do be aware that they may have hefty car park charges and budget them in accordingly.
Alternatively you could aim for a hotel with a river view – a little bit of luxury before using the more basic motels that are ahead of you!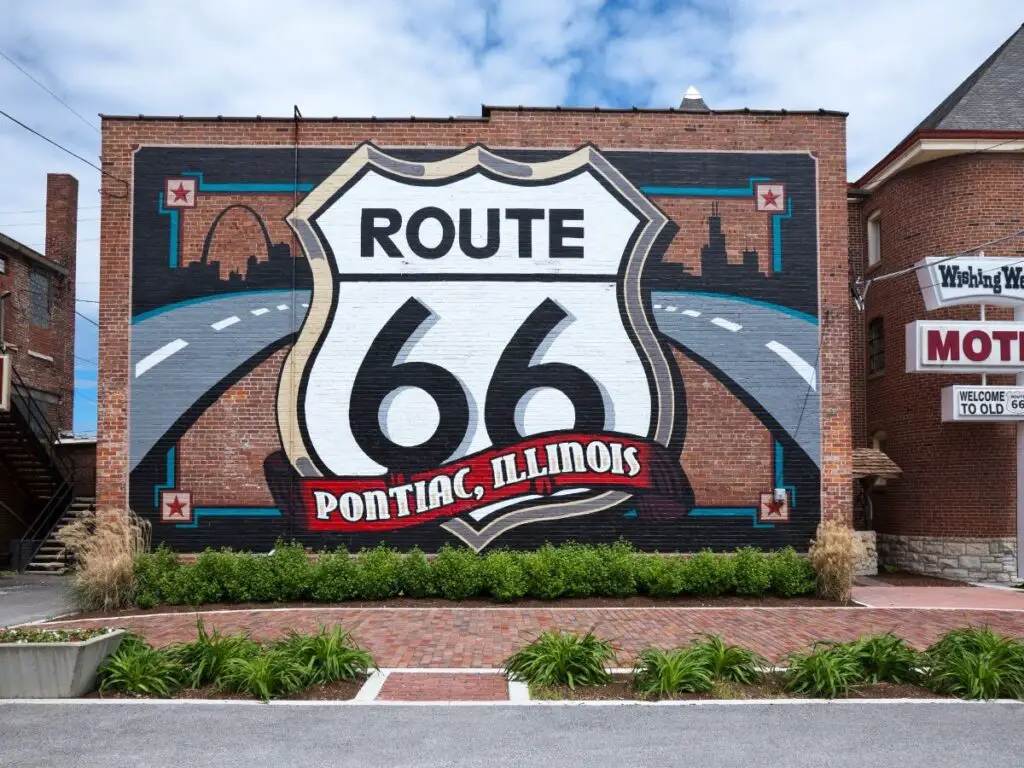 Day 2: Chicago, IL – Pontiac, IL
Miles to drive: 100
Before leaving Chicago in the morning try out Lou Mitchell's for breakfast. It's been a Route 66 classic since the beginning and they do fantastic pancakes.
You should have plenty of time to stop off in Joliet when you're getting on the outskirts of Chicago which is one of the filming locations of the Blues Brother. Look out for the Jail (tours available) which is in the film and some Elwood and Jake statues on top of an ice cream shop.
You'll pass through many small towns on your way through Illinois with many attractions. One that's worth a stop is Wilmington, not far out from Joliet which is the home of the Gemini Giant and The Launching Pad restaurant which could be a good lunch stop.
Your destination for today is Pontiac and should you get there in time there are some interesting museums about the history of the cars from round the area.
Accommodation options for day 2
Pontiac isn't huge but there's still a few options and chain hotels. There are a couple of motels around too but they don't seem to have good reviews recently.
My most local recommendation has just closed so I advise to check on VRBO as there's a few rentals available there and also Booking.com for the hotels around.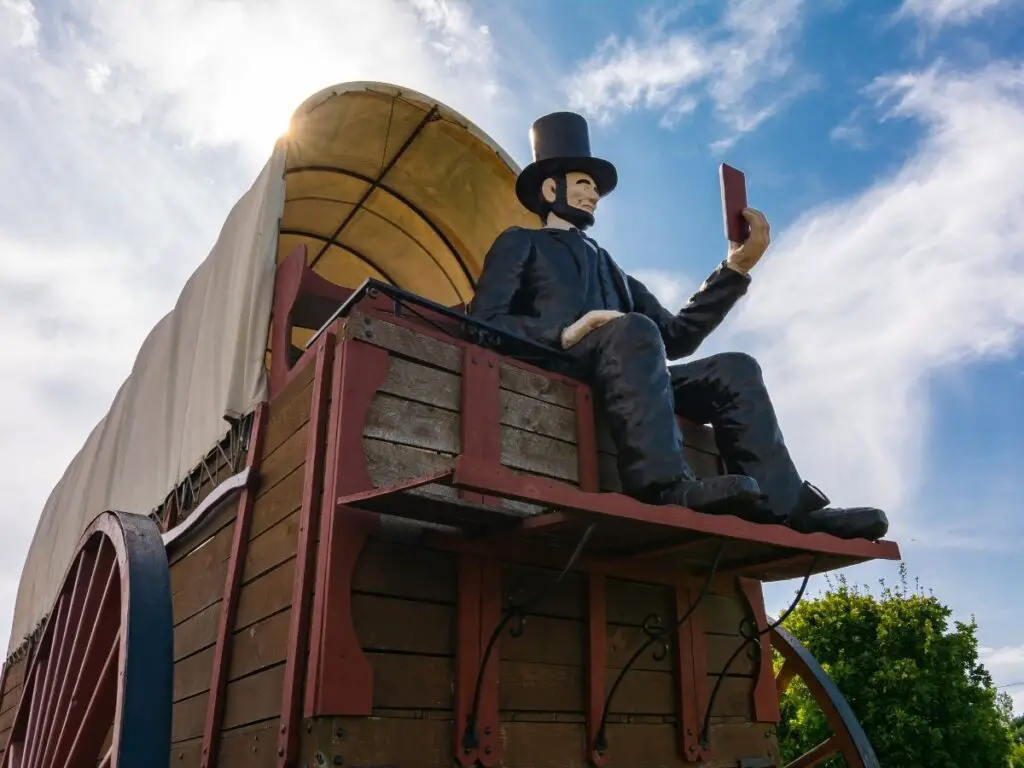 Day 3: Pontiac, IL – St Louis, MO
Miles to drive: 200
For breakfast, before leaving Pontiac, you could try Edinger's Filling Station, a retro style diner nearby.
You have a couple of hundred miles to drive today but still many stops that could be taken. I recommend enjoying all that Springfield has to offer and try to arrive in St Louis for late afternoon / early evening.
Some highlights include:
Springfield – check out President Lincoln's Home
Lincoln – Giant Waggon
For lunch perhaps check out the Cozy Dog in Springfield which was is a staple and should keep you going for a bit!
There's a lot to do when in St Louis – if you want to do the arch today then be aware that it closes at 6pm so you'll need to arrive a bit earlier to have time to enjoy it.
Accommodation option for day 3:
The main attraction in St Louis is the Arch and if you're planning to visit first thing or last thing it's wise to have a stop nearby. This can come at a cost depending on what you choose.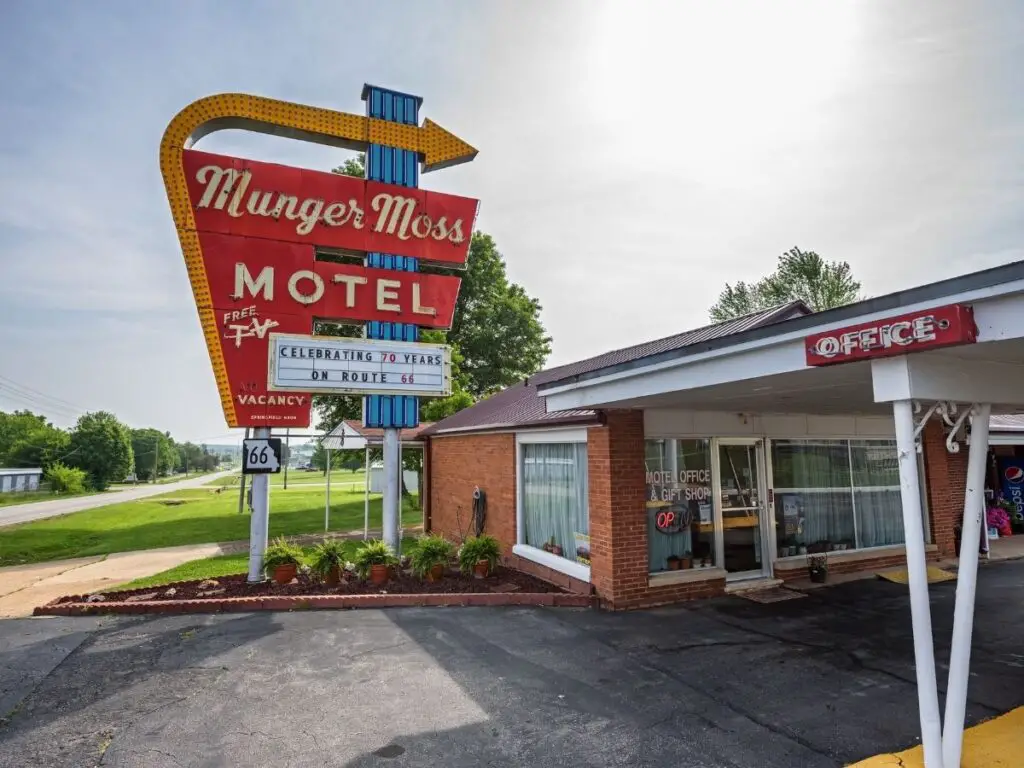 Day 4: St Louis, MO – Lebanon, MO
Miles to drive: 163
If you didn't visit on day 3 then a trip up the Gateway Arch is a must before you leave the city and you can learn all about the westward expansion in the museum too. A trip on a boat on the Mississippi shouldn't be missed if you have time. It's not too far to drive today so feel free to spend the morning in the city.
As you leave St Louis be sure to check out Ted Drewes frozen custard spot, it's been a regular haunt for Route 66 travelers for many years and perfect if it's a warm day!
You might not have time for all of these but here are some spots to check out after leaving St Louis:
Meramec Caves
Cuba – Murals and Wagon Wheel Motel
Fanning – large rocking chair
Devils Elbow
or see more Missouri Route 66 attractions in this post
Your last stop for the day is Lebanon. The motel is just on the outskirts as you drive in so either choose an evening meal stop before getting there or head on into town after checking in. If driving in try The Rail 1868 Restaurant which is steeped in history.
Accommodation option for day 4: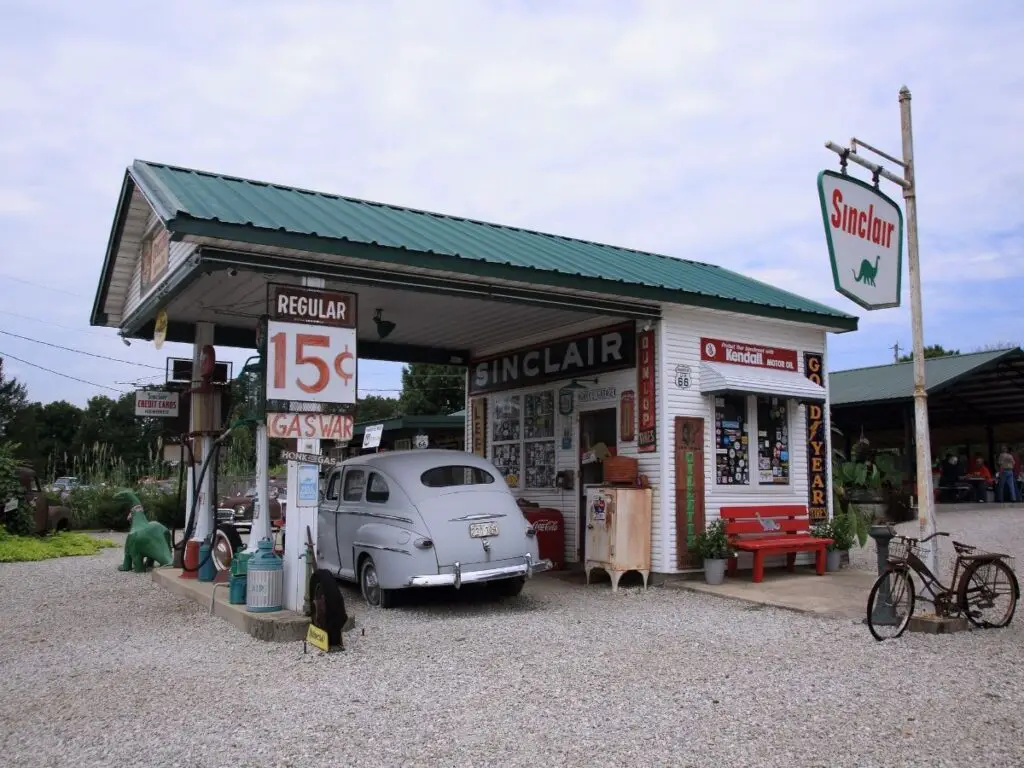 Day 5: Lebanon MO – Carthage MO
Miles to drive: 110
You'll drive through almost the rest of Route 66 in Missouri today but before leaving Lebanon there's a nice Route 66 museum in town if you want to have a leisurely start.
Some highlights on the road today:
Route 66 Museum in Lebanon
Springfield – like many cities lots to do depending on your tastes
Paris Springs – home of Gay Parita's Garage
Carthage Drive in
Our stop for the evening is Carthage where there's a wonderful drive in theatre so it's worth seeing if there's any movies that take your fancy on this night!
Try Whisler's Drive Up in Carthage for some good old fashioned burgers – been serving since the 50s!
Accommodation for day 5: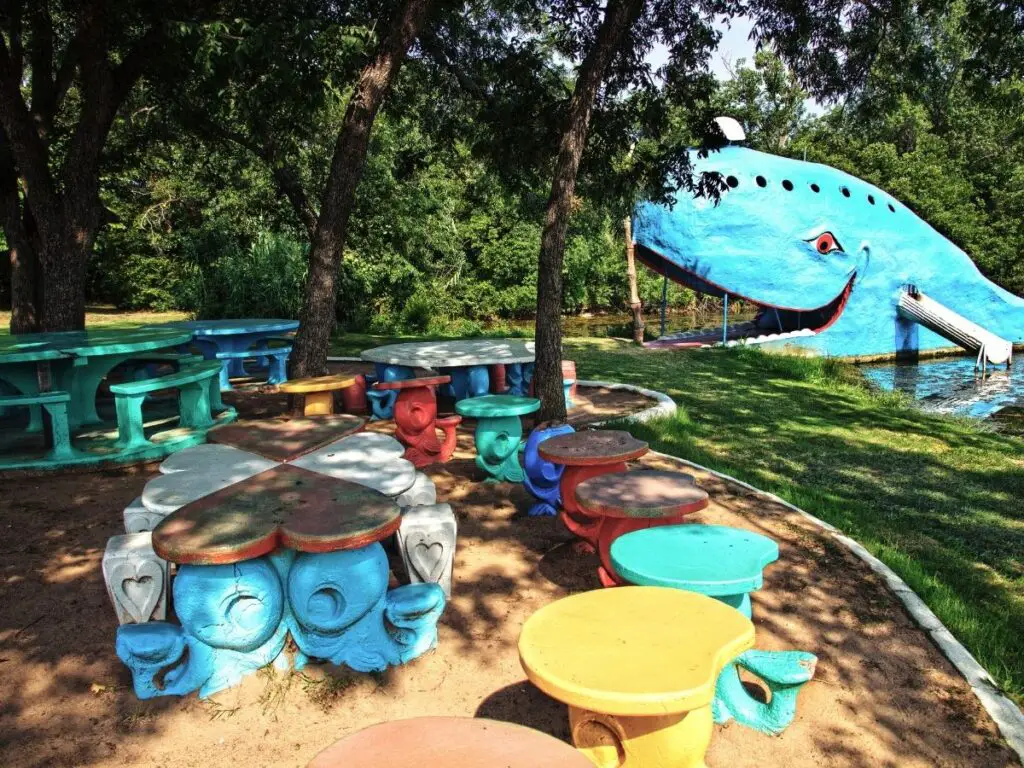 Day 6: Carthage, MO – Tulsa, OK
Miles to drive: 129
Today's drive takes in 3 different states but that's mostly because our Route 66 trail through Kansas is just 13 miles!
It's just 30 mins to the border of Missouri and Kansas so it might be worth saving yourself for Galena and having a late breakfast there at Sweet Creek Diner & Bakery leaving you full enough to explore the town after. Galena has the original Mater from the Cars Movie and an interesting museum about the mining history of the area too.
On the way through Kansas you might want to pick up a sandwich for later from the Riverton Stores – it's been on the road for almost 100 years now! Definitely a relic from the past!
Other spots to check out today:
Baxter Springs
Miami
Vinita
Claremore
Catoose – Blue whale
or check out our post about Oklahoma Route 66 attractions
Our final destination for the day is Tulsa and there's a lot to see there so bear that in mind with your timings this afternoon or deciding what to do tomorrow morning. There's a lot of food options on Route 66 here around the accommodation options below. Maybe check out the Route 66 Food Hall where there's a huge number of different outlets catering for all tastes.
Accommodation for day 6:
Two options for you on Route 66 in Tulsa but of course the whole city is there for you as well: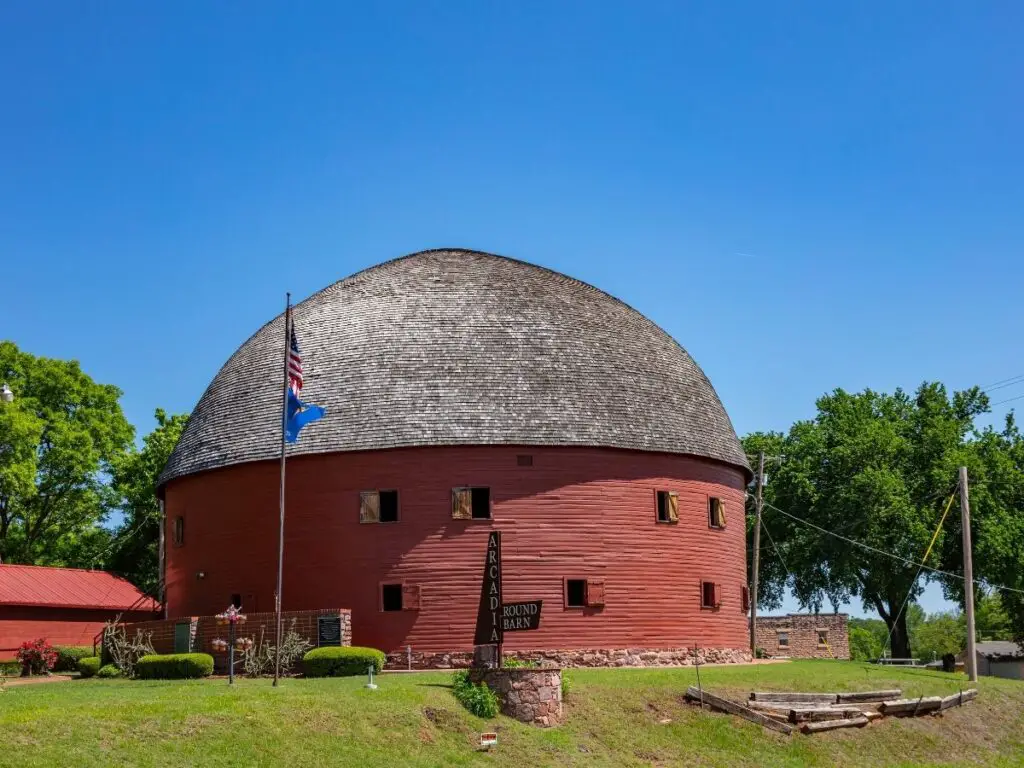 Day 7: Tulsa, OK – Oklahoma City, OK
Miles to drive: 106
Before you leave Tulsa make sure to tick off some of its Route 66 sights like the Golden Driller statue, Buck Atom statue and the Cyrus Avery Centennial Plaza.
We're heading to another city today but there are some nice small towns to explore before you get there. A good place to stop for lunch might be the Rock Cafe in Stroud. The Rock Cafe is a classic Route 66 diner that was one of the many inspirations for the Disney Cars film – the owner also inspired the Sally character!
Other places to consider stopping are:
Sapulpa
Bristow
Chandler
Arcadia – Round Barn and Pops 66
Oklahoma City of course has a lot to offer but one evening option would be to visit the National Memorial which lights up at night.
Accommodation for day 7:
You have a lot of options in the city so it depends on your price point and preference. Check what's available on Booking.com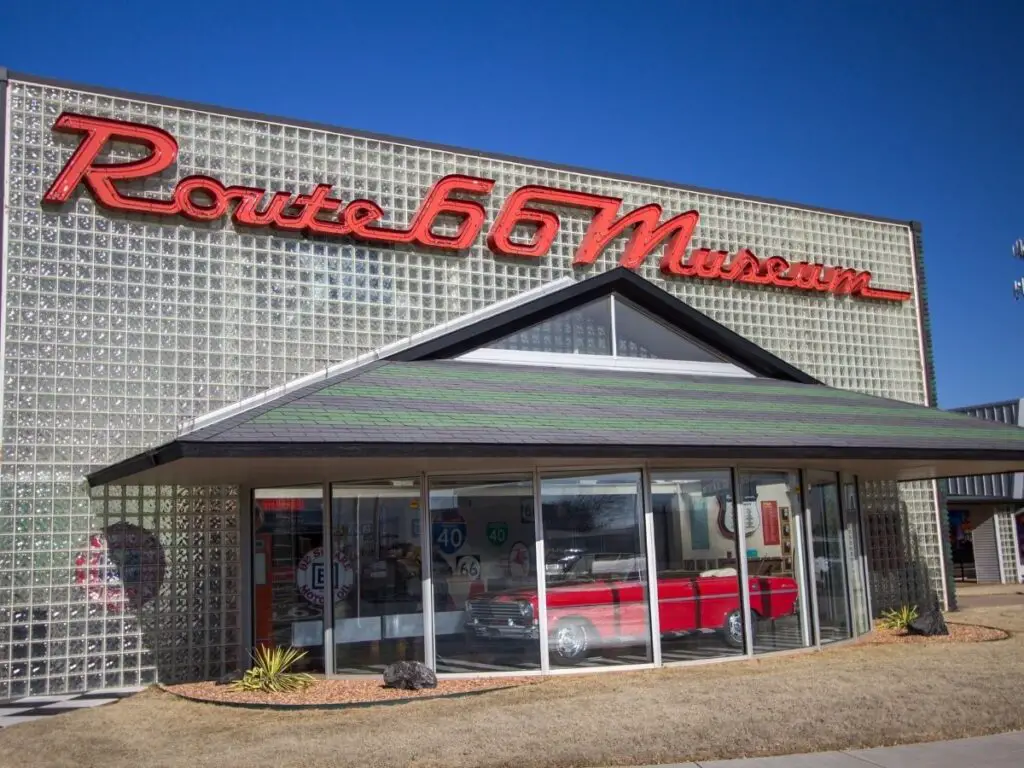 Day 8: Oklahoma City, OK – Elk City, OK
Miles to drive: 112
I'm going to call today a museum day because there are a lot on offer! Probably not wise to try and fit them all in so have a look and see what takes your fancy.
Before you leave Oklahoma City you have the option of visiting The National Cowboy and Western Heritage museum which will be a must for anyone interested in the Wild West.
Clinton houses the Oklahoma Route 66 Museum and Elk City, our destination for the day, has the National Rt 66 and Transportation museum.
Accommodation for day 8: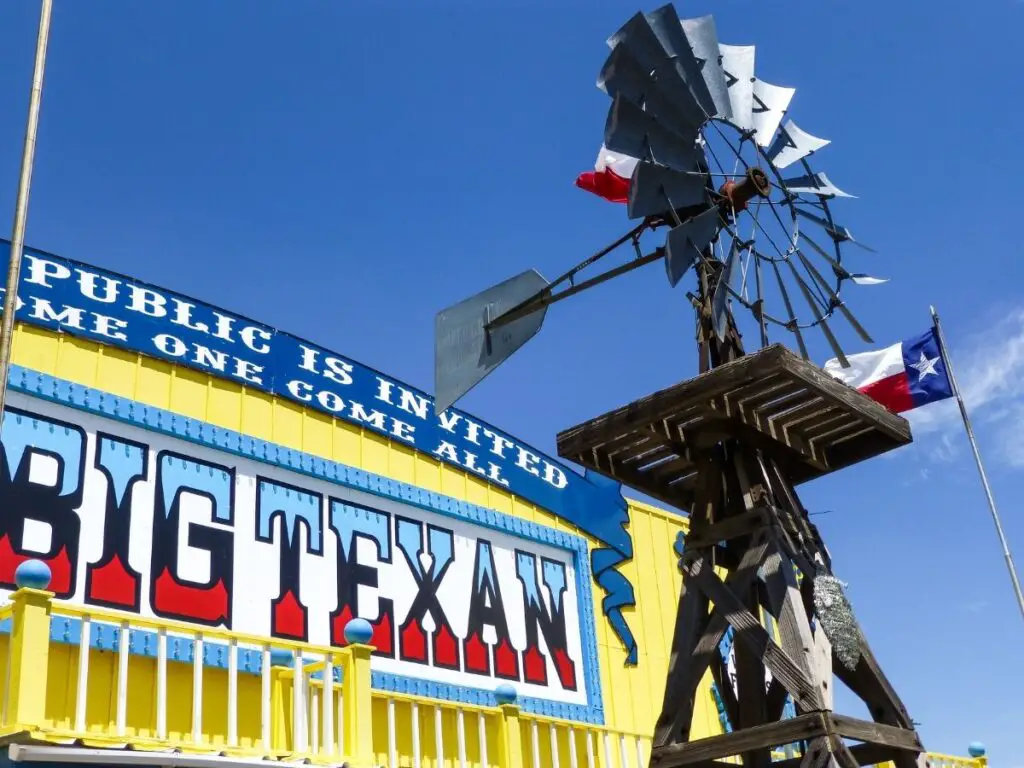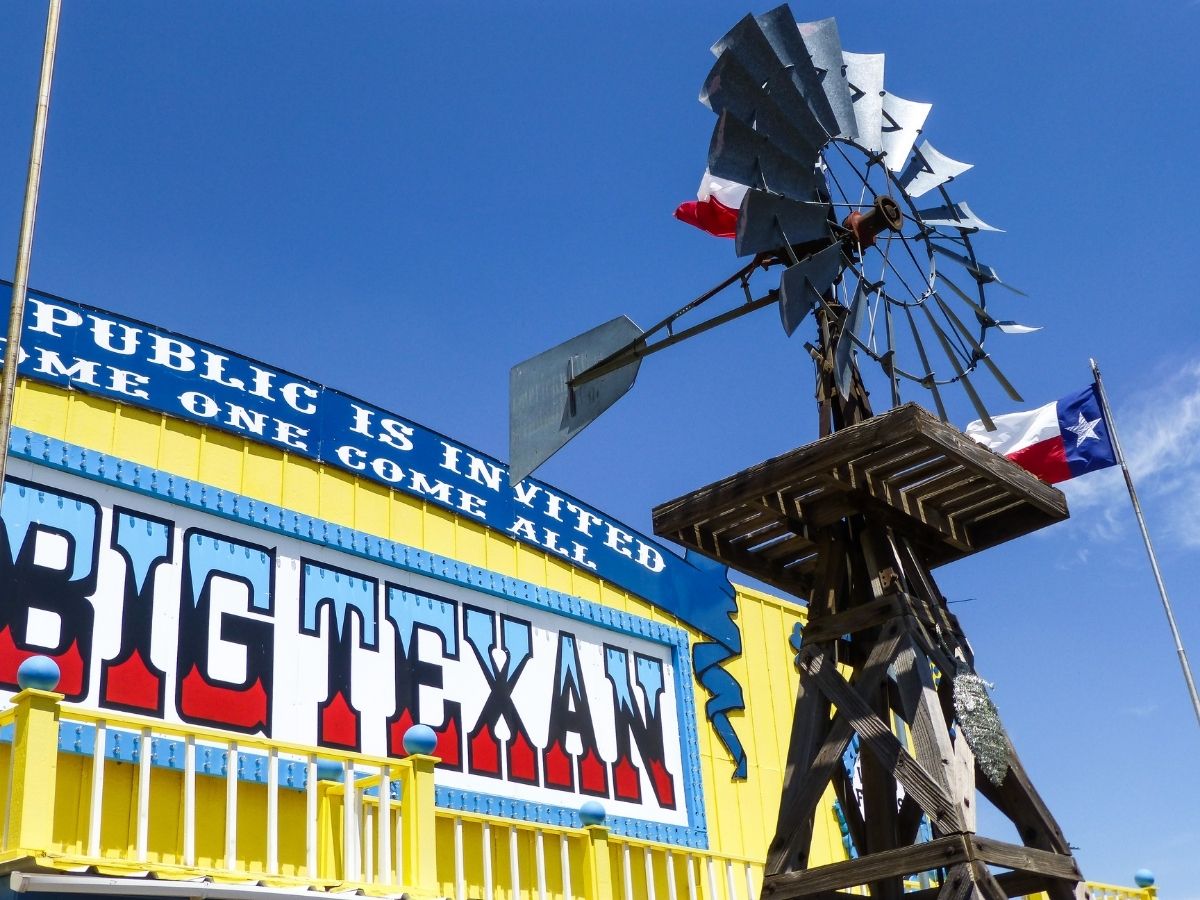 Day 9: Elk City, OK – Amarillo, TX
Miles to drive – 148
We're leaving the state of Oklahoma today and crossing over into the Panhandle of Texas – it's one of my favorite parts of the road so you're in for a treat with lots of things to see.
Shamrock is the first town you find on Route 66 through Texas and it's a stunner. We were drawn here by the Irish connection (my husband has Irish roots) but we really loved the town and the neon – really feels like a proper Route 66 town! For lunch see if the U-drop Inn cafe is open – they've recently started doing food through the middle of the day and you're there at the right time.
There's a few museums in this part of Texas too – the Pioneer West museum in Shamrock and also the Devil's Rope museum which is on the quirky side.
Amarillo is the destination for today and our stop for the night is as you arrive in the city. If you have time you could spend some time exploring 6th Avenue which is the original route of the road before heading back for the night.
For your evening meal you should definitely head to the Big Texan for amazing Texan steak. Your bed for the night is right next door so you can chill and enjoy your evening.
Accommodation for day 9: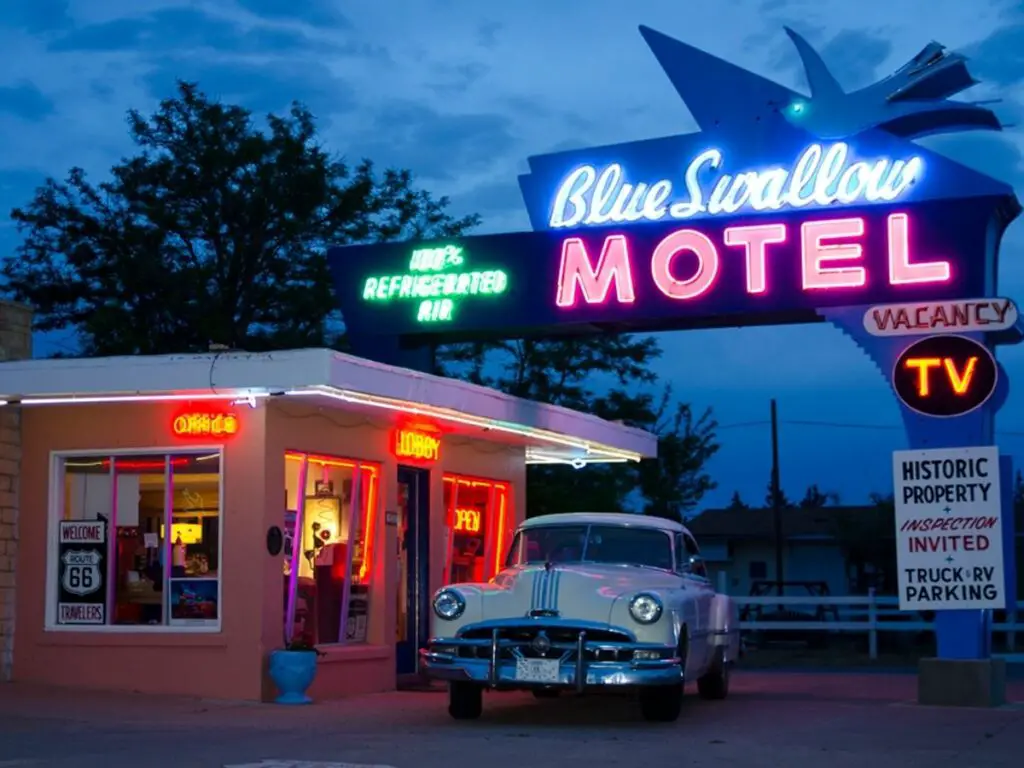 Day 10: Amarillo, TX – Tucumcari, NM
Miles to drive – 115
I'd recommend finding somewhere to enjoy breakfast in Amarillo today because while there's a few miles left in Texas there's not a huge amount of big towns. Unless you're not hungry after eating a huge steak the night before!
It's not a huge driving day so as an alternative to the normal road trip you could choose to head to Palo Duro Canyon State Park which is just south of Amarillo for a bit of a hike and fresh air. Something a little different to the Route 66 towns.
Just after you leave Amarillo be sure to find the Cadillac Ranch which is a perfect stop for getting a selfie and also for leaving your mark on the road. Many people write their names on the cars each day and it's a bit of a tradition.
The mid point of the road is here and by chance we're also around half way through our journey too. You'll want to stop in Adrian to mark the occasion and while there you might find the mid point cafe open too for a later breakfast or lunch.
You'll go through another ghost town on the border of New Mexico, Glenrio, before arriving in Tucumcari. It's worth being in our destination at least for dusk as it's an incredibly pretty town and there's plenty of neon to enjoy with the crickets chirping at night.
Accommodation option for day 10:
Tucumcari has a number of motels that are perfect for Route 66 travelers – and the joy is that you can enjoy them all from the outside as their neon lights up.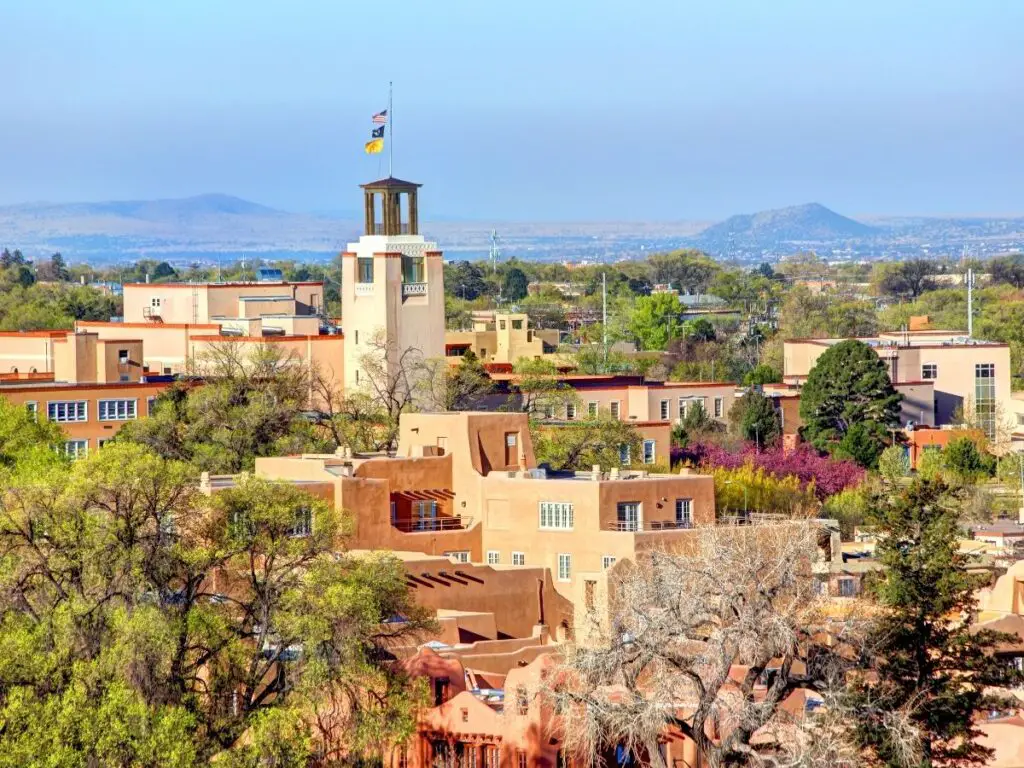 Day 11: Tucumcari, NM – Santa Fe, NM
Miles to drive – 178
Route 66 in New Mexico has two different alignments and the original one went through the city of Santa Fe. A few years later it had a much more direct route. For this itinerary we're heading slightly north and exploring round the New Mexico attractions there!
You'll be driving along some of the roads that mirror the Santa Fe trail. An interesting stop is the Pecos National Historical Park with some old ruins and trails to get you out and about in nature.
We have two nights in Santa Fe as it is worth spending time in with plenty of museums, good eating options and nightlife.
Accommodation option for day 11:
Santa Fe is a little more expensive than some of the other towns you might be staying at on Route 66. The motel El Rey is a good, relatively inexpensive option or you could splash out and enjoy a hotel downtown.
Day 12: Santa Fe, NM
Miles to drive – 0
We're just over halfway through the itinerary so you're probably itching to have a bit of a break from changing your bed every night!
Today you can spend in Santa Fe exploring the wonderful city – take it easy and maybe have a sleep in!
Accommodation for day 12:
As for day 11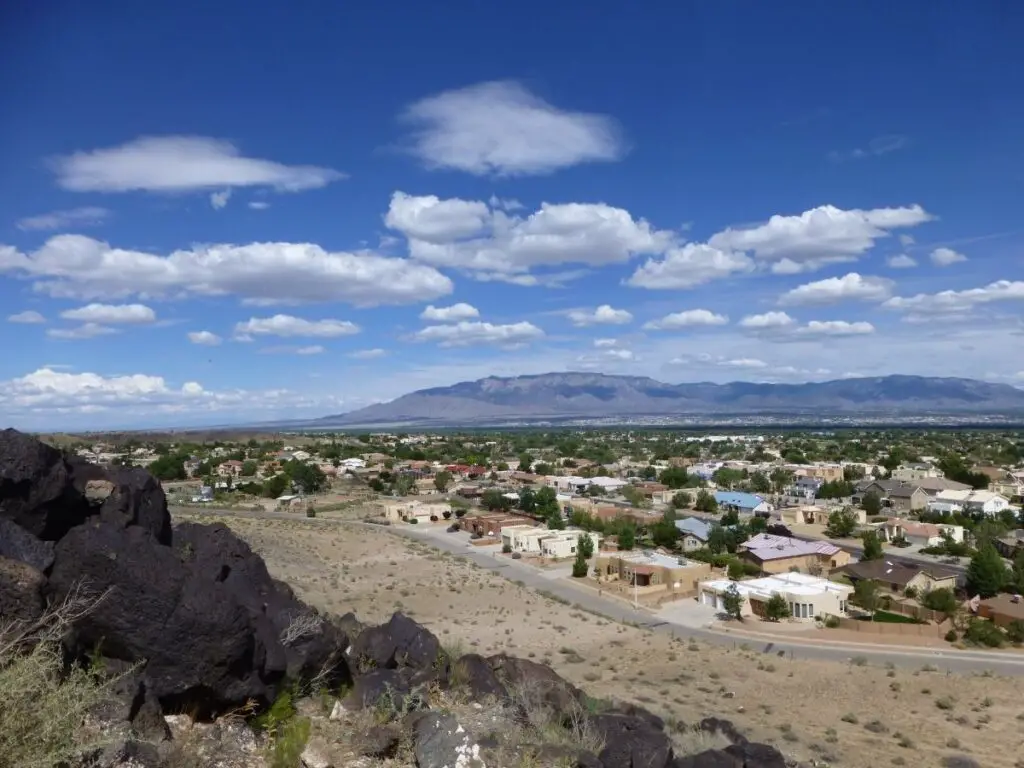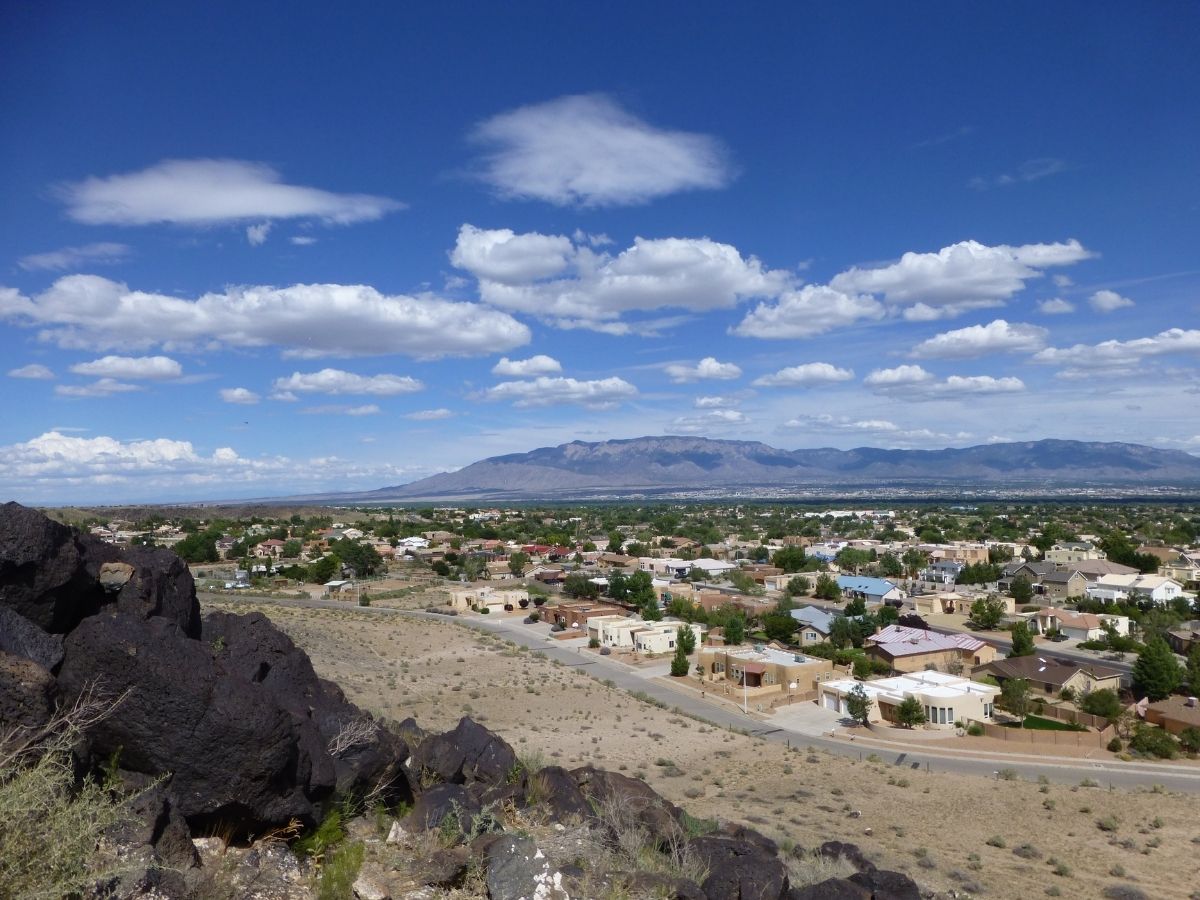 Day 13: Santa Fe, NM – Gallup, NM
Miles to drive – 200
After the city of Santa Fe and your little rest we have a relatively long drive today. There's the city of Albuquerque nearby too if you're not too fed up of the busyness. You can choose to spend today exploring that city, including its historic centre or you could choose to spend your time in the smaller towns checking out the abandoned businesses and cars in New Mexico.
The Petroglyph National Monument is a nice stop if you need to stretch your legs today and get a stunning view over Albuquerque while also seeing history in front of you.
If you have time, Grants has a great mining museum that covers a lot of the interesting industry in these parts including uranium mining!
Make sure to take some time in Gallup itself to check out the Cultural Centre and learn about how the amazing Navajo people contributed to the war effort by being able to send coded messages.
Accommodation option for day 13:
Your last night in New Mexico is in Gallup not far from the state border. This historic hotel hosted many a Hollywood star back in the day!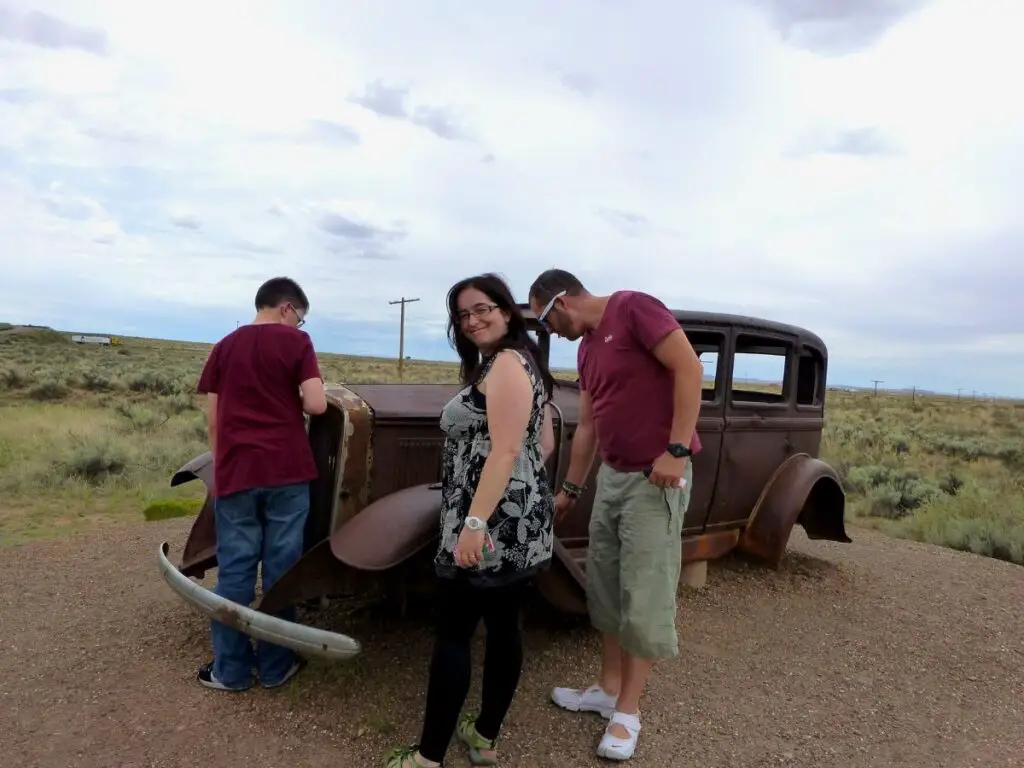 Day 14: Gallup, NM – Holbrook, AZ
Miles to drive – 96
Today is a fun one because we're going to be driving through a National Park and it's well worth exploring rather than just driving straight through.
Exploring the Petrified Forest is a great idea whether you're ultra fit and love to go on hikes or if you're not and don't want to stray far from your car. You can drive around the park, stopping at various points to take in the scenery and learn about the history of the area.
Holbrook is not far from the park and if you're still enthralled by rocks, fossils and gemstones there's lots of shops to explore. For food options try the Butterfield Stage Company Steakhouse or perhaps Mesa Italiana Restaurant which you'll find as you drive into Holbrook.
Accommodation option for day 14:
Holbrook is home to one of the most iconic motels on the road – the WigWam motel. It's a basic option but a must for many people. There are also a few other options in town if you don't want to stay there.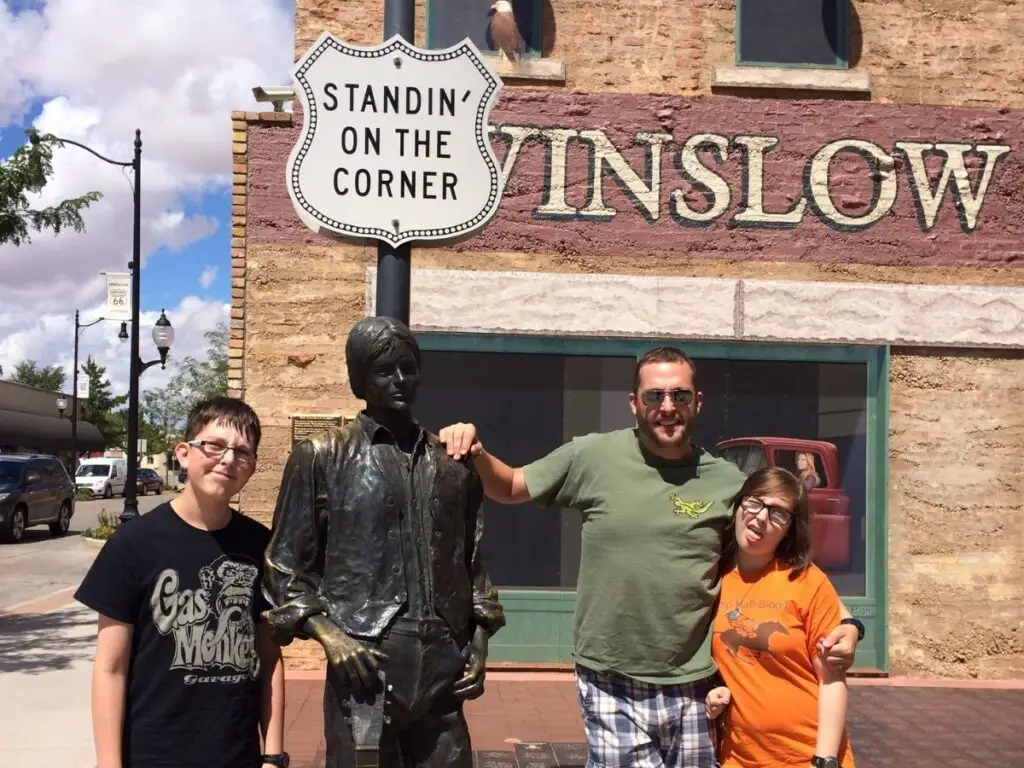 Day 15: Holbrook, AZ – Flagstaff, AZ
Miles to drive – 90
Again we don't have a huge drive today but still plenty to keep us occupied. Before leaving Holbrook check out Mr Maestas for some traditional breakfasts.
A slight detour from the road takes us to Meteor Crater which is one of those classic stops that I imagine plenty of families took on their way west many years ago.
Other points of note and places to see are:
Jack Rabbit Trading Post
WInslow – standing on a corner sign
Apache Death Cave
Two Arrows
Or see some more Arizona attractions on Route 66
The city of Flagstaff is our destination for today for the two nights.
Accommodation for day 15
Day 16: Flagstaff, AZ
Miles to drive – 0
You can choose to spend day 16 exploring around Flagstaff or use the day to have a trip to see the Grand Canyon. It's not far from Flagstaff, only around 80 miles to the South Rim Visitor center, but having the whole day to explore and not need to move on feels nice!
Accommodation for day 16:
As for day 15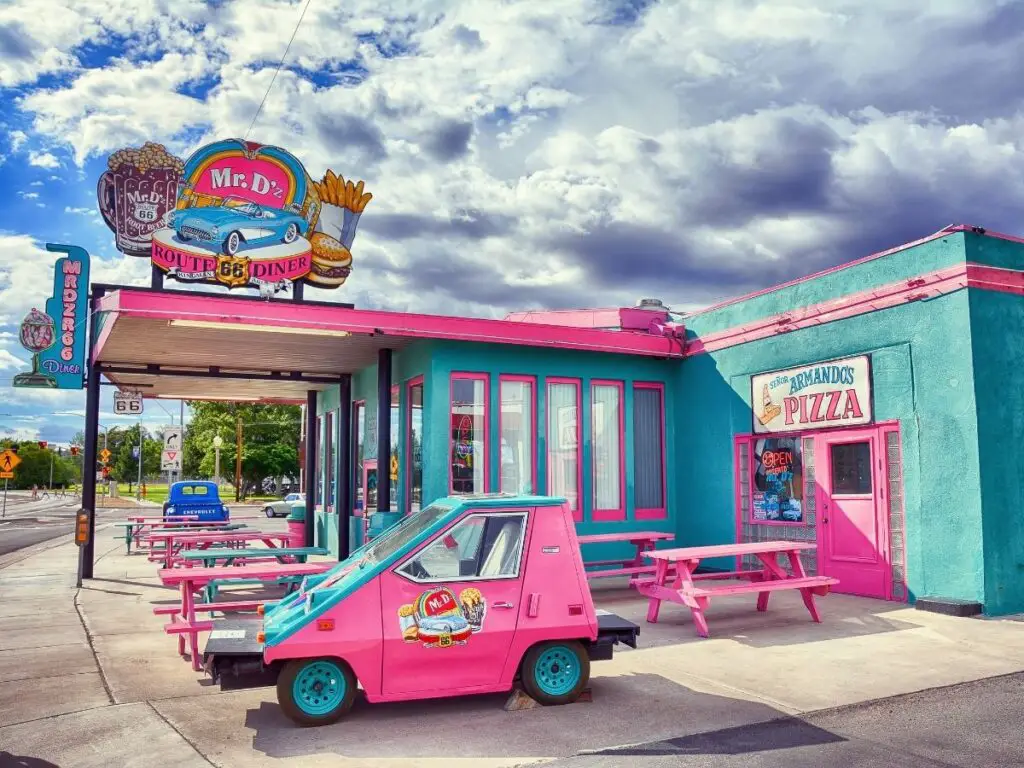 Day 17: Flagstaff, AZ – Kingman, AZ
Miles to drive – 147
There's a lot to see in this part of Arizona small towns with a retro vibe and of course, plenty of roadside quirky stops.
Some highlights to point out to you are:
Seligman
Peach Springs
Williams – a larger town but one we enjoyed exploring
I've chosen Kingman for our overnight stop. For an evening meal try Mr D'z or alternatively Rutherford's 66 Family Diner.
Accommodation option for day 17:
Kingman is home to the El Trovatore Motel which is a classic retro offering with an awesome sign lit up at night. The whole motel has a 'map' painted on it which is claimed to be the longest one in the world!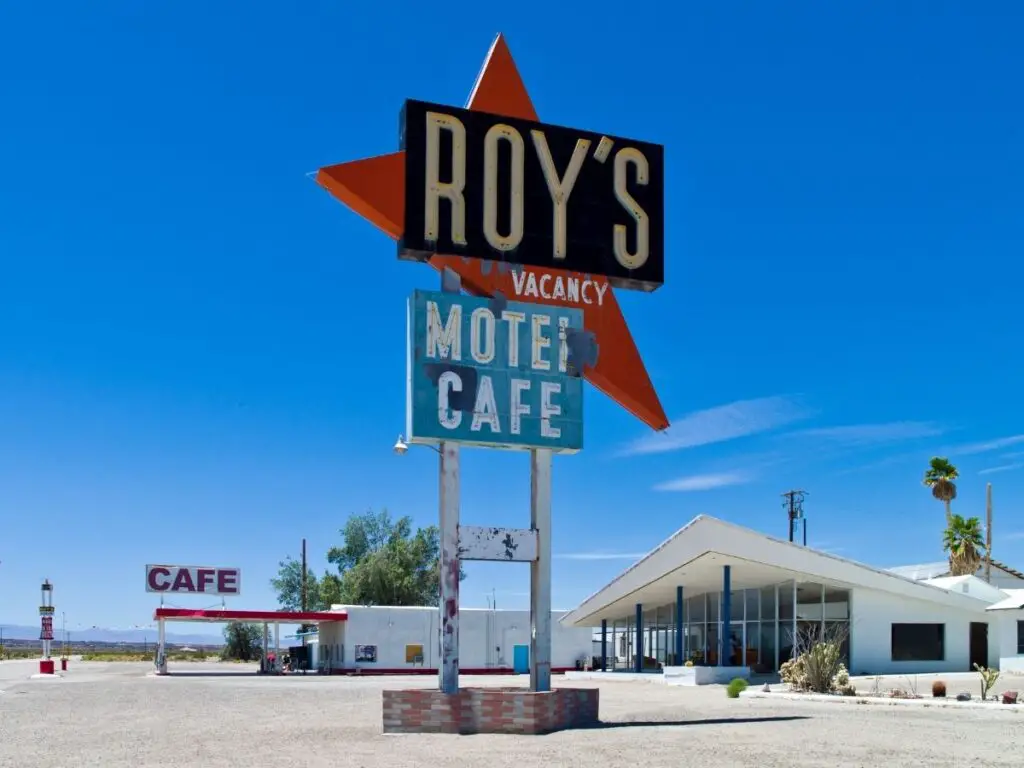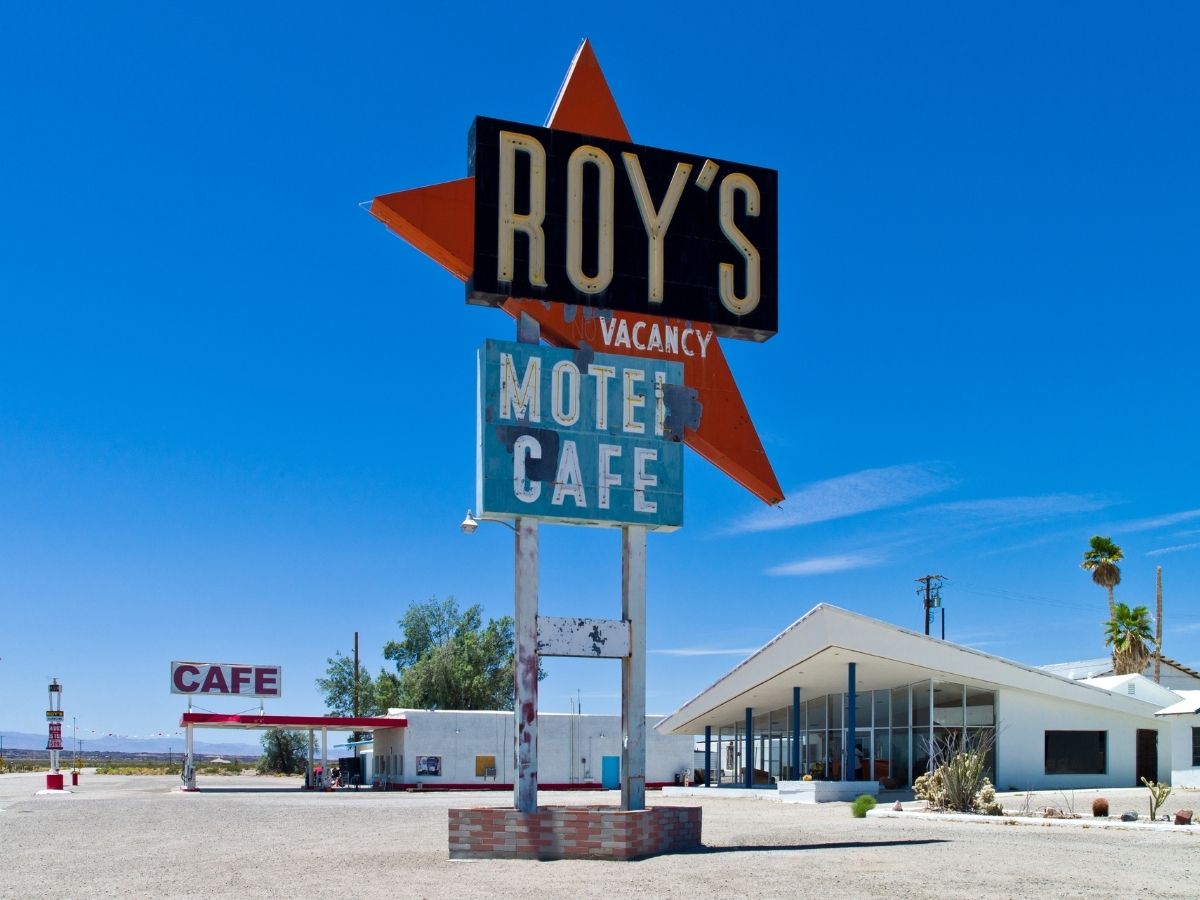 Day 18: Kingman, AZ – Barstow, CA
Miles to drive – 206
We head into our final state today and the last big drive before getting to the Los Angeles sprawl. Before before enjoying all the Route 66 attractions in California be sure to head up the winding road to Oatman, an old ghost town that's been revived as a kind of tourist area.
Our day today consists of ghost towns, desert and some interesting relics of the past. Be sure to fill up on gas as you don't want to get caught short before heading into the wide open desert with not many options to replenish you. That goes for food too I guess!
Some interesting sights are Roy's Motel & Cafe in Amboy (although it only serves a few refreshments and souvenirs currently), Bagdad Cafe and the Bottle Tree Ranch.
On the other side of the Mojave desert is Barstow, our stop for the day. Barstow is an old railroad town and you can check out a load of old trains and wagons near the Route 66 museum. There's a lot of food options nearby the Route 66 Motel including plenty of Mexican and Chinese offerings. Or if you fancy some pizza try the Route 66 Pizza Place.
Accommodation option for day 18: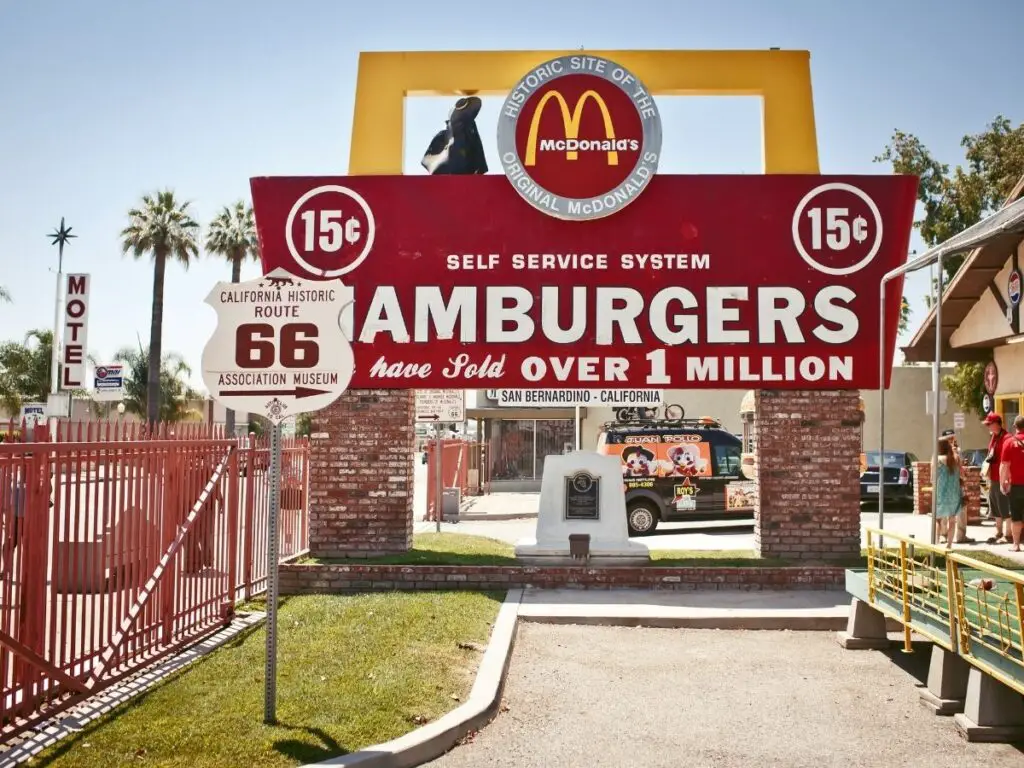 Day 19: Barstow, CA – Rialto, CA
Miles to drive – 72
It's getting close to the end of the trip now and the mileage has slowed right down, but since you're starting to get into Los Angeles you might find it can be more interesting and not exactly carefree driving you've been used to!
Before leaving check out Roy's Cafe which was inspired by the original in Amboy – this one at least is open and is a good breakfast spot!
Some spots to check out on your way into the city are:
Elmer's Tree Rance
Museum in Victorville
Original McDonald's (now a museum) in San Bernardino
Your last stop before reaching the end of the road is in Rialto, just past San Bernardino and it's the home of another Wigwam Motel. This one has a pool and reminds you that you are now in California!
Accommodation for day 19: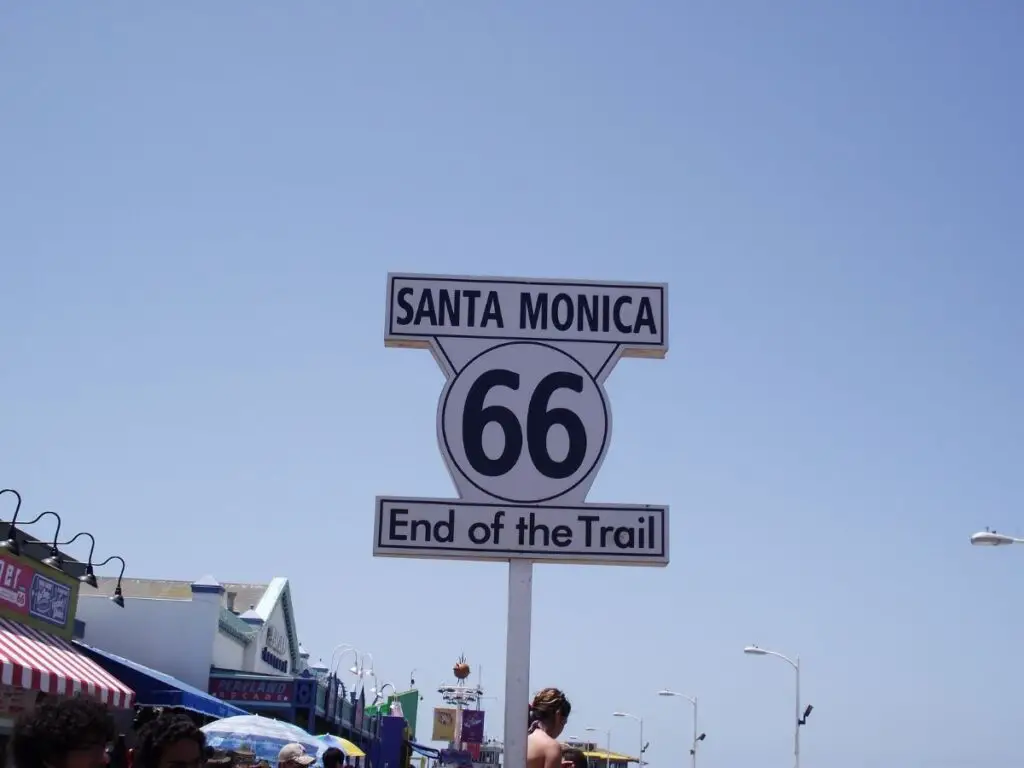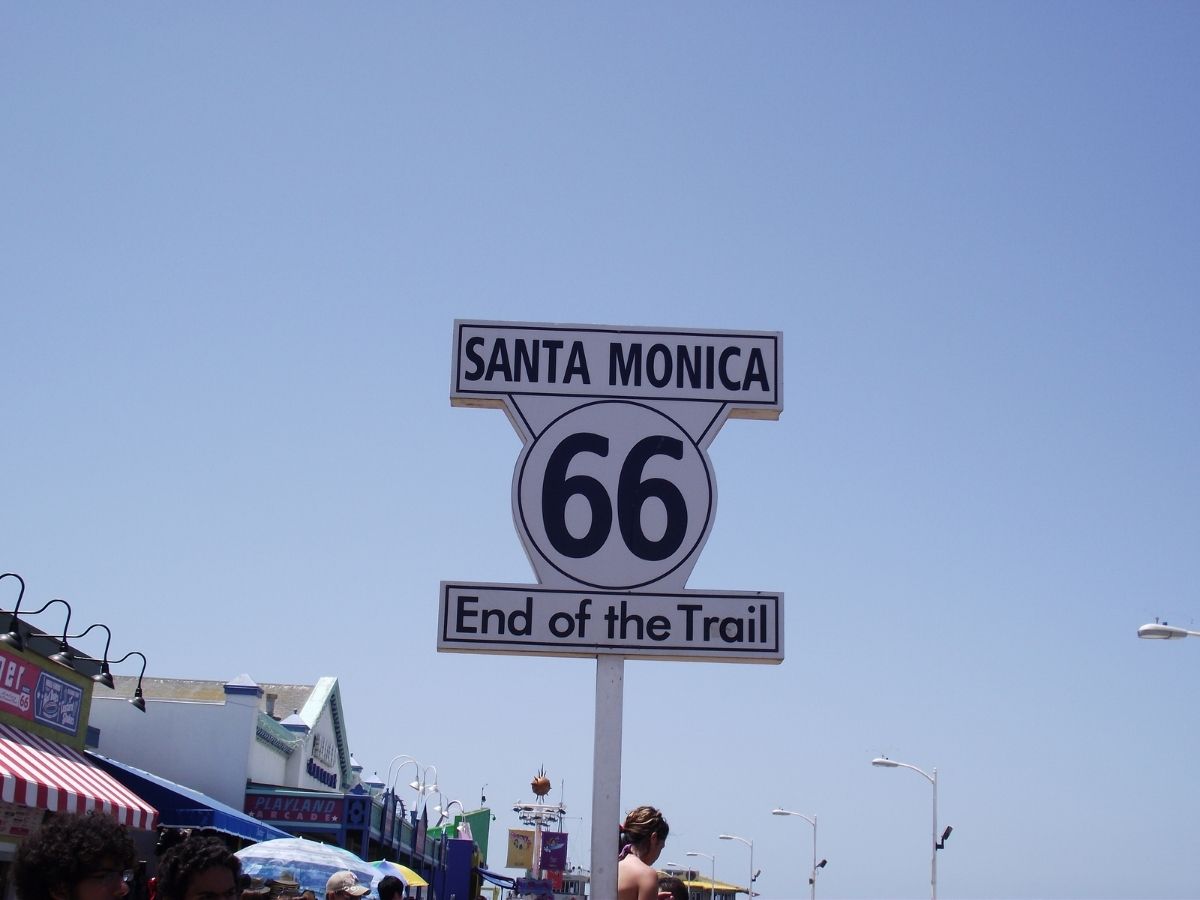 Day 20: Rialto, CA – Santa Monica, CA
Miles to drive – 70
The last day of driving Route 66 and while there's not too many mile today, our shortest day of driving, it is through Los Angeles so don't be blasé about how long it might take you.
Many will choose to hot foot it down the freeway to the end of the road in Santa Monica and others will diligently follow the road along, looking for some relics from the past. There's not a huge amount to be found but perhaps a good stop will be the Magic Lamp Inn in Rancho Cucamonga which has been around since the 50s.
When you get to Santa Monica don't just head straight to the classic end spot on the pier – Route 66 actually finished a few blocks away at Lincoln Boulevard. There's a handy retro style restaurant there too – Mel's Drive in.
Finally when you do get to the beach, dip your toes in the ocean and welcome the biggest body of water since Lake Michigan all those days before!
Accommodation option for day 20:
Day 21: Santa Monica, CA
Miles to drive – 0
The final day of your 3 week route 66 itinerary will be dictated by how and when you need to leave the Los Angeles sprawl. You can choose to enjoy the beach, do some sightseeing in Hollywood or explore more of the city. If time is tight then an organized tour or hop on hop off bus could help you to fit more in. Yes they are VERY touristy, but sometimes, especially if you don't want to drive, they can be very helpful!
Accommodation option for day 21:
None – you're done now, if you want to spend more time in LA or Santa Monica, perhaps to do some theme parks, you can add some nights to your existing booking.
If you have 19, 20 or 22 days on Route 66:
If you have some extra time for your vacation and road trip then I'd probably keep the basic itinerary the same. What I would do with your extra time is to either add on a day in any of the cities on the route which would give you a day off from driving and also give you time to explore these fun spots.
Another option for a extra time on the road could be adding in Monument Valley as a side trip.
If you have a day or two less then you might want to end your trip by not staying in Santa Monica and returning home straight away. Alternatively you could save a night by cutting out any of the 2 nights stops in Santa Fe or Flagstaff.
Other itineraries to check out: