I really love looking for Route 66 gift ideas. There's such a wealth of exciting, different and quirky things that you can buy with a Route 66 theme!
If you're planning a trip, or know someone that is, then you'll know how exciting it is. Gifts that relate to the road trip can really bring that excitement to life and also let the person know how much you know their once in a lifetime trip really means to them.
In this Route 66 gift guide I'm looking at highlighting just some of the interesting things I've come across from home decor to clothing and of course, my favorite, books!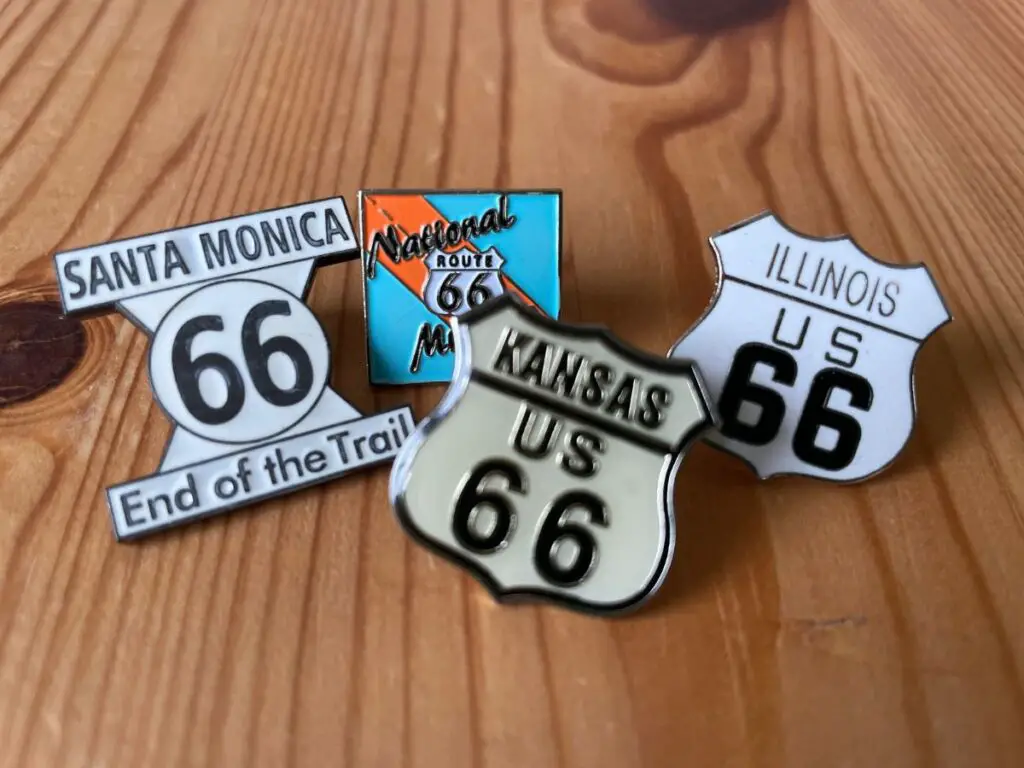 No matter whether you're after something small like a stocking stuffer or something a little larger, you'll find some excellent Route 66 merchandise ideas here. Let's take a look!
Route 66 gift ideas and merchandise
Route 66 Home Decor
There's a lot that can come under the home decor heading so I'll keep it short with just a few ideas of things I've seen and liked:
This Route 66 sign is a classic that would look good in any room. It's not too big, just 12″x12″ and has that rustic, old sign quality to it too, despite being a new item.
If you like wall signs and want something a bit more exciting I also love this Neon Wall sign too – it's still reasonably priced but would look fab on a wall while listening to some Route 66 music!
Now this is something I hadn't seen before – it's a kitchen trivet which can be used for putting hot pans and kettles on. I love that it's a bit different and a little bit understated. If you have a retro kitchen it would look great but even a regular kitchen would benefit from it with it's simple lines. This is on my list!
These Route 66 cushions will brighten up any sofa, bedroom or guest room with their fun prints. I have a bit of a soft spot for all the old style images so these are right up my street! With this item you get all 4 prints but you need to get the inserts separately so do bear that in mind.
Clothes
This shirt is one of a few similar ones available that I really like and think would be great for anyone traveling the road – it's made of 100% cotton so will keep you cool in the really hot weather, will look smart yet quirky enough to go out for a meal and can remind you of the trip long afterwards too!
This is the black one and there's another more brighter shirt that's quite neat too here.
A perfect stocking stuffer for anyone who loves road trips, Route 66 and bright socks! I love the orange color of these ones don't you?
Jigsaw Puzzles
Jigsaws are another wonderful gift that can help to relive a trip or to get you excited for one that's coming up. They can be completed by young and old and if you're looking to take kids on the trip it's a good way to get them excited about what they'll see.
This one by White Mountain Puzzles is a 1000 piece jigsaw that should keep you going for a little bit! It has some stunning, retro art about all the places that you can see on Route 66.
Pins and badges
Enamel pins and badges are another great stocking stuffer if you're looking for something a little extra for someone as a gift or just something small that doesn't take up too much space. I love our enamel pins (that you can see at the top of the post) and they are great to collect if you wanted to pick one up from each state.
Calendars
Calendars make a great gift and for the Route 66 enthusiast it can combine amazing photography or vintage scenes with a useful item for an office, kitchen or workplace. I love that once the year is through I can reuse the images as posters!
There's a lot to choose from so I'm going to just link to a few of my favorites that I've come across for 2023:
Books
Books are always great gift ideas. If you're planning a trip then you might be thinking a guide book would be a good idea – you'll probably like to take a look at my post all about the best Route 66 guide books.
But perhaps you're looking for something a little more like a coffee table book with plenty of pictures, snippets and trivia about the road? If so then I'd recommend the Illustrated Route 66 Historical Atlas which would make a gorgeous gift to someone looking to drive the road or someone who is a huge fan already!
If you've had your fill of books about the road or if you're not sure if the recipient might already have it, then a coloring book could be a good option, especially if it's for an arty person.
This one is an adult coloring book, so not for children at all. It would also be a great idea for anyone who is planning a road trip but who will have a long journey beforehand to get to the start point. A great idea to keep occupied on a plane!