Route 66 is filled with stories and ideals as the road that allowed Americans freedom. If you're looking for some Route 66 facts you've come to the right place. Whether you're just thirsty for knowledge about the Mother Road or you're cramming for a trivia or quiz night these facts and statistics about Route 66 should definitely satisfy some curiosity!
I've written a lot about Route 66 over the years and it always fascinates me and I find out new things each time I look into it. I seriously enjoyed researching this post to find out all these bits of trivia about Route 66 and why it's famous. I hope you learn something new too!
This article probably contains affiliate links.  
This means that if you buy or book after clicking, I may get a commission at no extra cost to you. Thanks!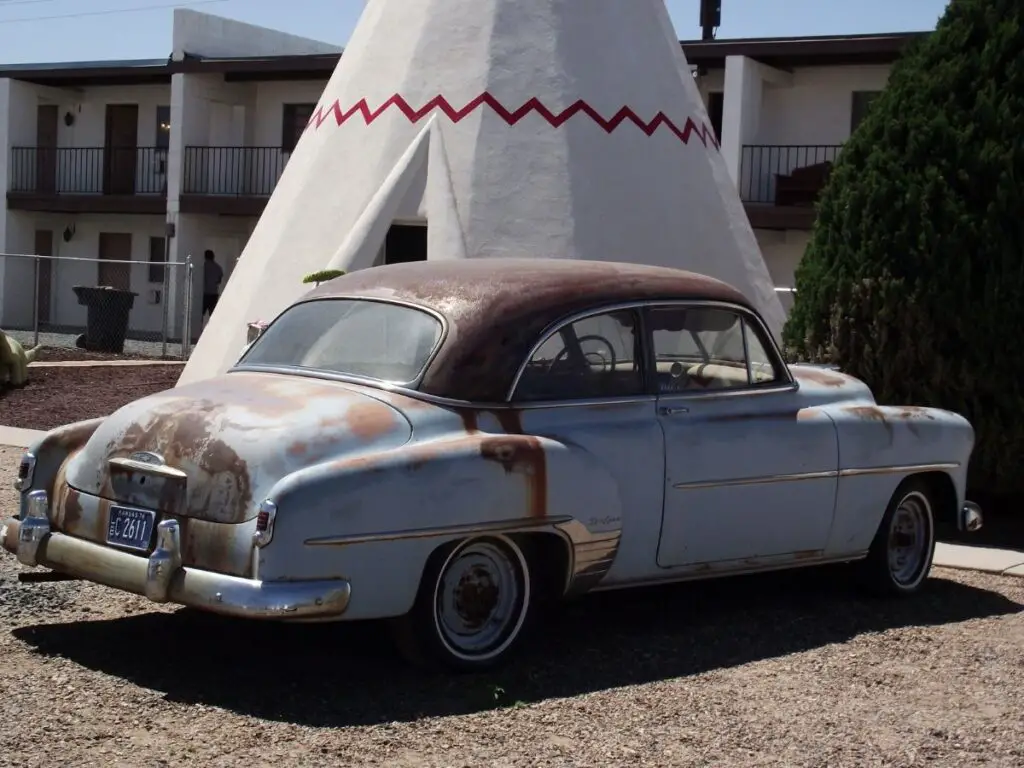 A note from the writer: Hey! I'm Kirsty and I'm a Route 66 enthusiast – I first became obsessed almost 20 years ago and then first visited in 2014. I've recently just come back from my last trip too! Comment below if you have any questions about your road trip and I'll get back to you ASAP – or join me in my free FB group here.
Facts about the Road
Route 66's official length is 2,448 miles (3940km)
The starting point for Route 66 used to be intersection of Jackson Boulevard and Michigan Avenue in Chicago, Illinois. This road was made one-way in 1955 so the begin sign is now at the corner of Adams and Michigan Avenue.
The midpoint lies in Adrian, Texas
The end point of the Route is the intersection of Ocean Avenue and Lincoln Boulevard in Santa Monica, California. Most people think the end is Santa Monica Pier but you can't drive to that point – you'll have to get out and walk!
If you drove non stop from Chicago to LA it would take 32 hours to drive Route 66 (but you might miss a LOT of the original road)
Route 66 passes through 8 states – Illinois, Missouri, Kansas, Oklahoma, Texas, New Mexico, Arizona and California
The road passes through 3 times zones – Central, Mountain and Pacific.
Only 13 miles of the road pass through the state of Kansas
You can drive about 85% of the original road
The road is now decommissioned but Route 66 still exists
The road changed a lot and there isn't one true route you can drive on. Some years saw large parts get rerouted to a different alignment
You'll need to keep an eye as you drive as the road is not always signposted. Specialist Route 66 guides and maps can help you find all the old alignments and keep you on the right path.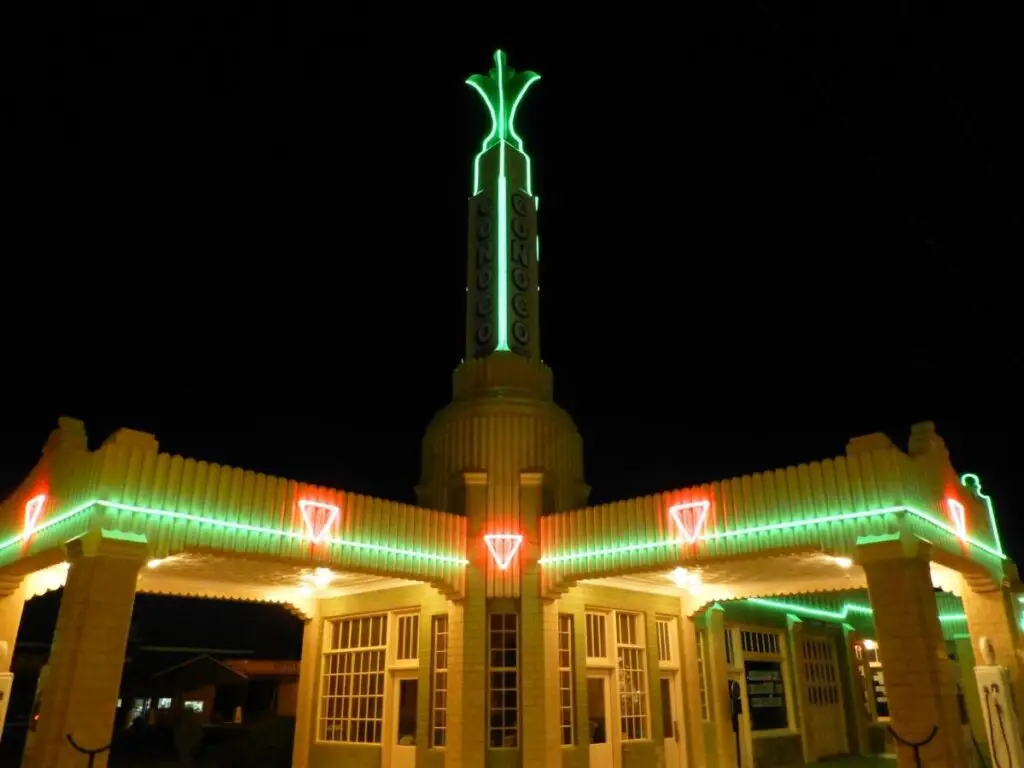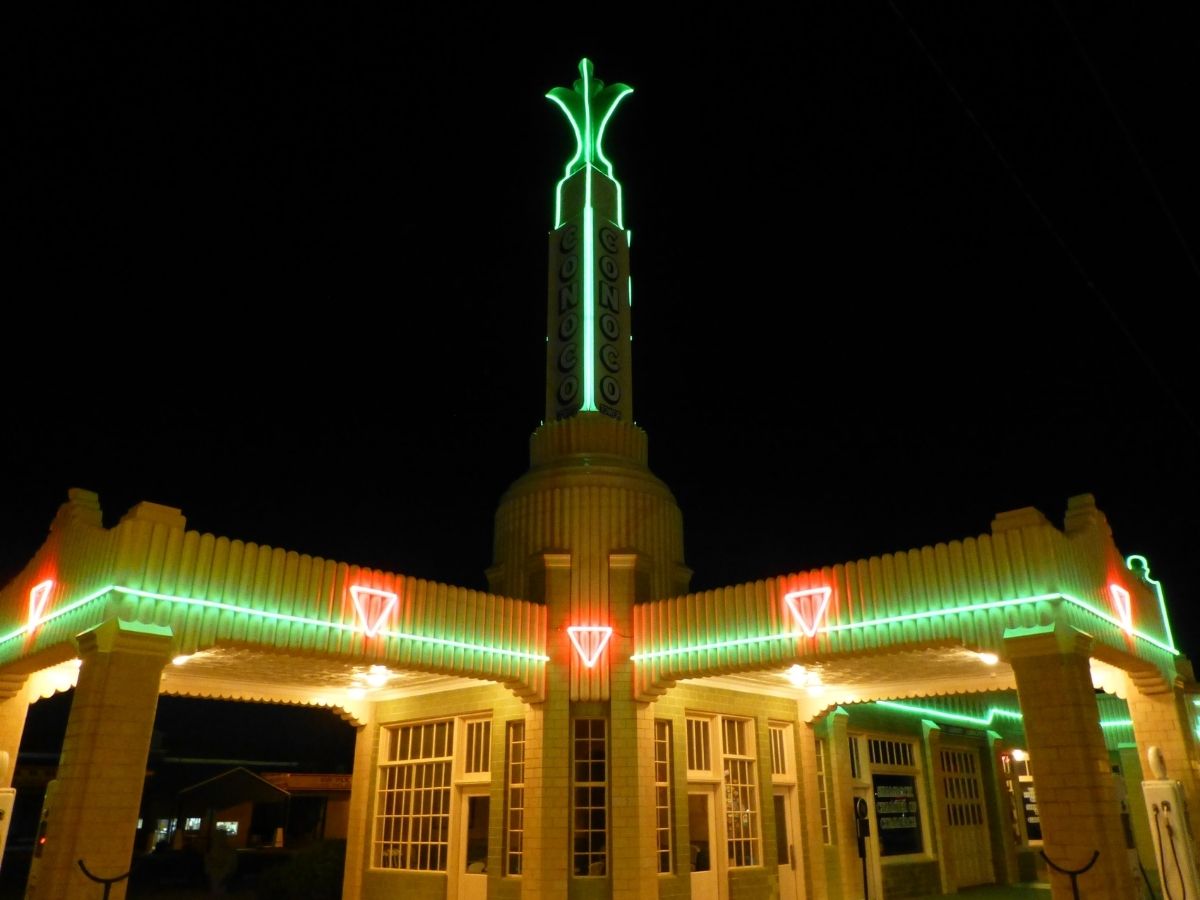 Historical Route 66 facts
It officially began in 1926
It took a number of years for it to be fully paved – not till the early 30s
Route 66 passes through at least 25 different Native American tribal lands.
Route 66 intersects with the Trail of Tears in Missouri – the forced removal of the Cherokee people from their land before the road was built.
Route 66 was used a lot during the Dust Bowl migration – when people migrated from the Great Plains due to drought.
Route 66 was not an idyllic road for black travellers. In 1930 almost half of the counties along the route were called Sundown towns and would not welcome black travellers when it got dark. [source]
The Green Book, a travel guide, would be used by Black people travelling the road to help them stay out of danger and be able to stay at businesses that welcomed black people. However it was a dangerous journey for them.
Route 66 originally crossed the Mississippi River on the Chain of Rocks bridge in St Louis. This is now just for pedestrians and cyclists.
In WW2 the road was used by the military to move troops and supplies.
The introduction of Interstate Highways in the 50s eventually led to the demise of Route 66
An early alignment saw Route 66 go via Santa Fe in New Mexico where it overlapped with part of the Santa Fe Trail
Route 66 was officially decommissioned in 1985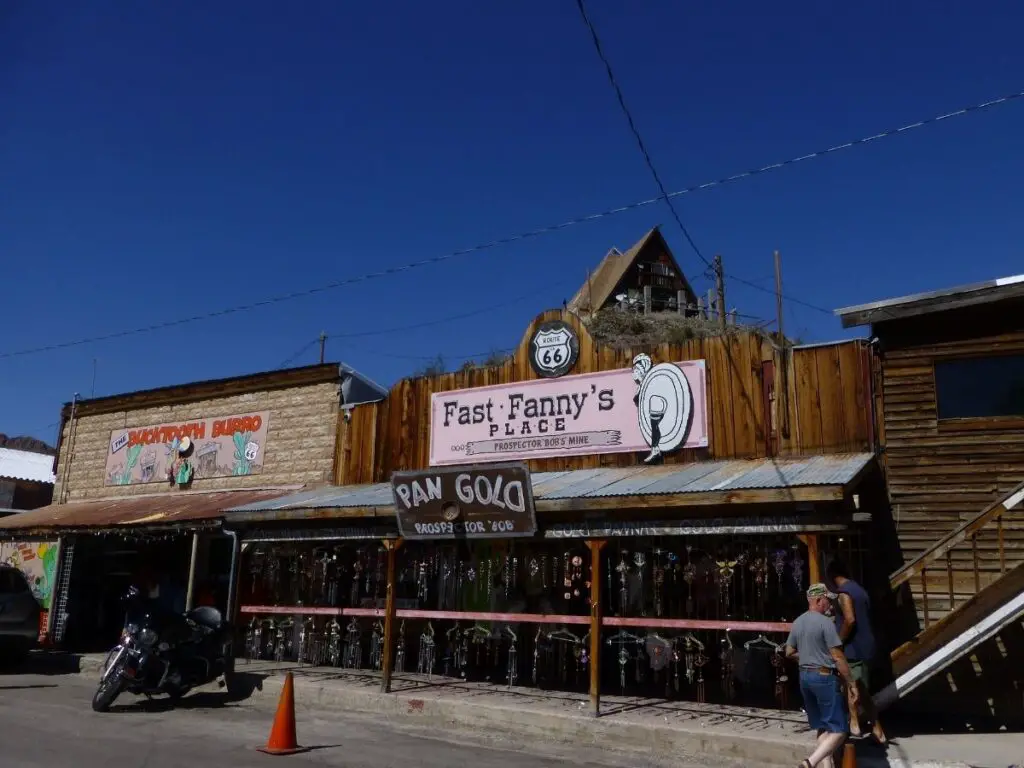 Route 66 Ghost Town facts
When the roads and towns on Route 66 got bypassed by the interstate highways it also led to many towns becoming ghost towns and there are over 15 along the road (depending on your definition of one)
One ghost town on Route 66, Oatman AZ, was named after a family who were massacred in 1851 by a local tribe. The daughter, Olive Oatman, was enslaved by the Native American tribe and released 4 years later. The town is now a tourist spot trying to come back to life!
Oatman AZ was also a Gold Rush town
Jericho in Texas was part of the road in 1926 when it opened but as it was unpaved many cars got stuck in crazy muddy conditions there. It was called the Jericho Gap. The town was bypassed in 1930 when Route 66 was moved slightly north and it turned into a ghost town.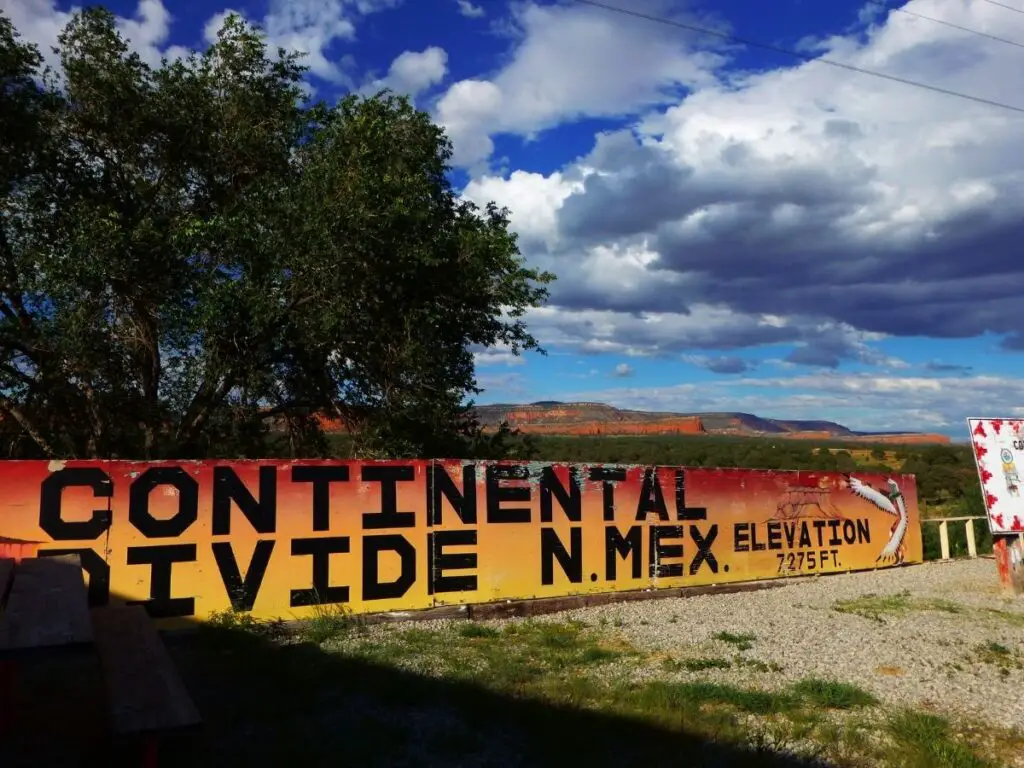 Geography facts
Route 66 passes by the Great Continental Divide in New Mexico- on one side water flows to the Pacific and on the other to the Atlantic
Route 66 passes through many types of geography – desert, plains, forests, caves and of course many built up cities
It also passes directly through the Petrified Forest National Park and you can see an old portion of the road complete with rusty car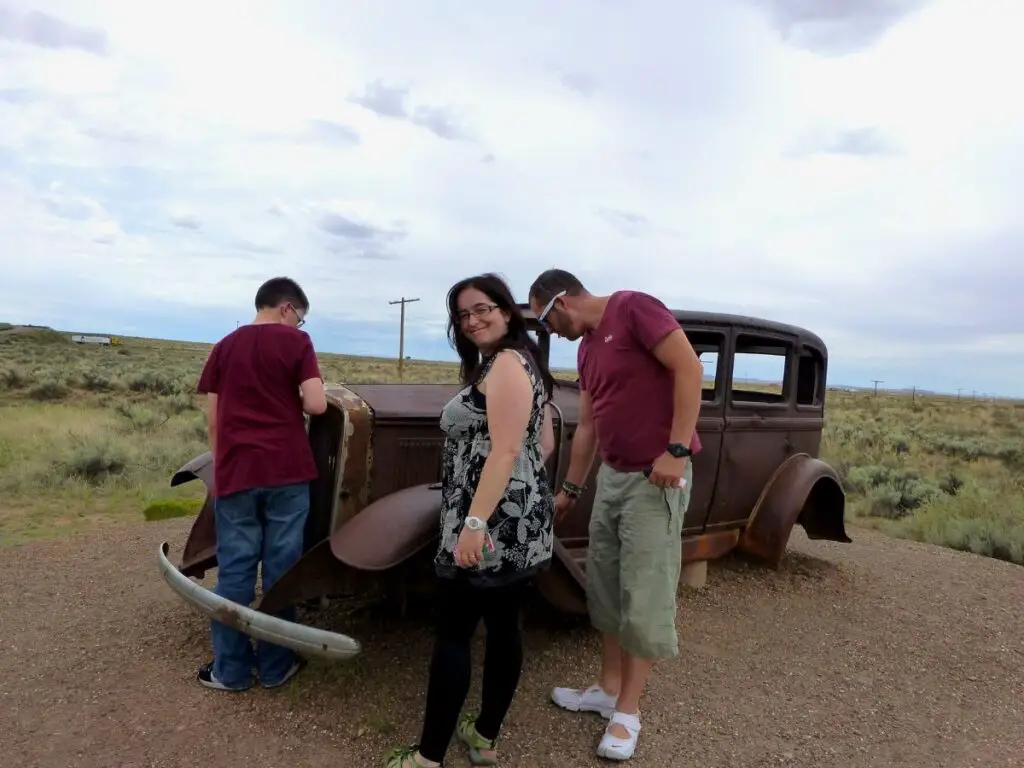 Quirky facts about Route 66
Larger than life roadside attractions popped up all along the route to entice drivers to stop in the area. There are giant whales, leaning water towers and oversized rocking chairs to name but a few.
You could even stay in some of these quirky attractions like the giant wigwam motels in Arizona and California
The road has a few nicknames such as 'The Mother Road' , 'Will Rogers Highway' and the 'Main Street of America'
One stretch of the road could actually sing – in 2014 a portion of the route after Tijeras, NM had a rumble strip that would resonate and allow America the Beautiful to be heard if you were going the right speed. It's since been repaved but some say you can still hear it.
The Meramec Caves in Missouri are a popular stop off while on the road. There is a story that a Wild West outlaw, Jesse James, used the caves to hideout. This may have been elaborated in order to entice people to visit the caves though as no evidence was ever found!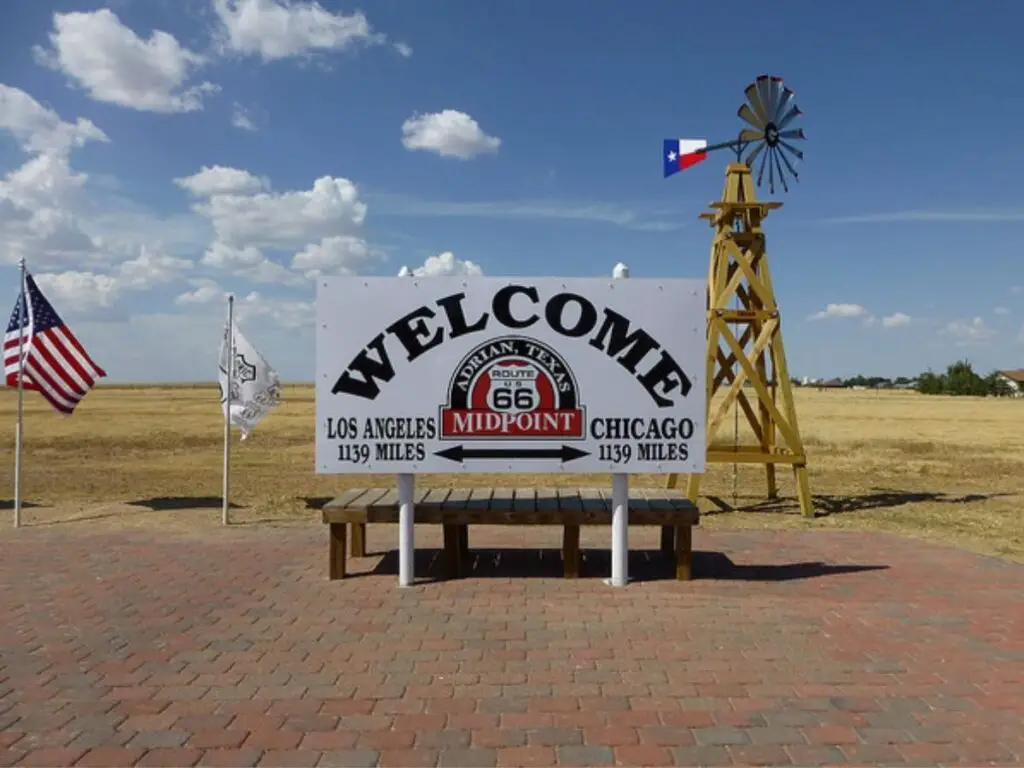 Pop Culture facts
Glenrio – one of the many ghost towns along Route 66 was actually one of the filming locations for the Grapes of Wrath in 1940
The road is part of many songs with the most famous being (Get your kicks on) Route 66 which was written by Bobby Troupe in 1946 and recorded by the King Cole Trio (sung by Nat King Cole) again in 1946.
The Disney film Cars depicts the history of the road in a child friendly way with many of the film locations being recognisable such as the U-drop in building in Shamrock which is Ramone's garage.
There is a 60s tv series called 'Route 66' which followed two men driving through and the adventures that they came across. Unfortunately very little was filmed anywhere near the road!
The song 'Take it Easy' by the Eagles references a town along Route 66 called Winslow, Arizona. The song has helped put the town back on the map and bring tourists in after it was bypassed by I-40.
Do you know any more Route 66 facts to add to my list? Let me know in the comments below.
Still got questions? Join our FREE Route 66 community!
Come and join our FREE Facebook group where you can get help with planning your Route 66 road trip of a lifetime!