Route 66 holidays, and specifically package holidays are quite popular for driving the road. If you're looking to drive Route 66 from the UK you're likely wondering if this is the best way to drive the Mother Road or whether there are cheaper or better ways.
We drove Route 66 from the UK so I know some of the questions you likely have in your mind when planning such a big trip. This is especially so if you've never been to the USA before like we had.
First let's look at your options for booking your holiday on Route 66 from the UK. Then I'll try and answer some specific questions you might have when driving the road from the UK.
This article probably contains affiliate links.  
This means that if you buy or book after clicking, I may get a commission at no extra cost to you. Thanks!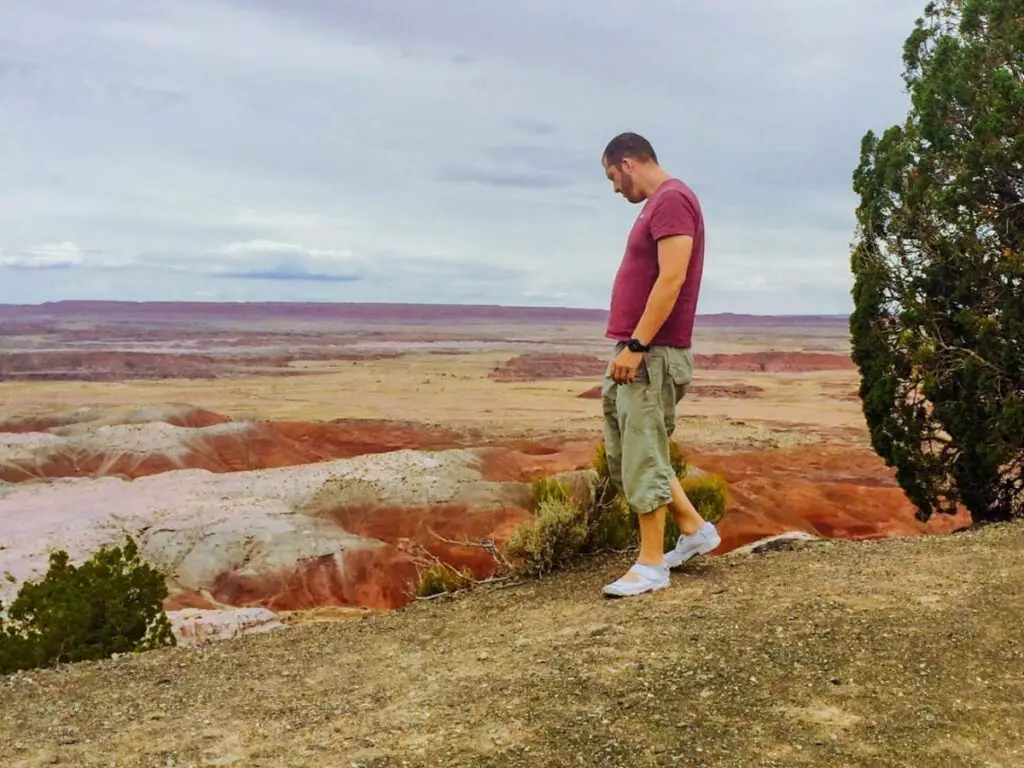 A note from the writer: Hey! I'm Kirsty and I'm a Route 66 enthusiast – I first became obsessed almost 20 years ago and then first visited in 2014. I've recently just come back from my last trip too! Comment below if you have any questions about your road trip and I'll get back to you ASAP – or join me in my free FB group here.
The best way to book your Route 66 Holidays
There are really 4 different options for you when booking a Route 66 holiday from the UK and each one will appeal to different people.
A completely independent self drive holiday, researched, designed and booked by yourself
A Fly Drive holiday booked through a travel agent
An itinerary planned for you by a more independent travel agent
An escorted tour
You also have another option of perhaps adding on a Route 66 side trip from somewhere like Las Vegas if you didn't want to drive the whole road.
So what's the pros and cons to each one? Which should you do?
Book your Route 66 holiday independently
I'm going to lead with this option because it's what we did when we travelled the road and it has a lot of pros to it.
The main benefit for this one is that your tourist dollars can go directly to the businesses that support the revival of the road. Once you set your mindset to explore all the small towns, eat and stay there, then you are really making a difference.
Booking independently means that you'll be completely free to tailor the trip how you want it to be, you can go as fast or as slow as you like and even start from wherever you like as well. If you have other parts of the US that you want to see you could fit those in as well. Your car rental choice is much more flexible too – you can go fancy with a Mustang or stick to a budget option.
When you book through travel agents often they have deals through certain hotel chains so you end up being funnelled through those. Not all are bad but you won't have a choice of those quirky mom and pop motels that makes Route 66 what it is.
You're more open to the trip unfolding this way. If you see somewhere that you like you can linger and explore more and if you don't enjoy one place you can move on.
You can prebook all your motels and hotels in advance if you really want to this way, it's easy with sites like Booking.com or Hotels.com. We mostly did this as we were travelling with kids and didn't want to find ourselves without a bed (an unfounded worry, but felt real enough for me). Some days we booked well in advance and others we chose where to go the day we set off but still booked online so we felt prepared.
Or you can choose to find a place you like the look of and pay when you arrive. You'll likely find spaces unless your travelling in really busy periods.
Basically, no matter how you like to travel you can make it work for you!
Pros:
Complete control over your trip length, dates and type of travel
You can support local businesses by choosing to stay in small, independent motels
Can be cheaper than paying for someone else to book it
Can be as budget or luxurious as you like
You can be flexible when you're on the road as well
Cons:
You need to be in charge of all the options yourself
Can be a little overwhelming for some
If this appeals to you then you might like to check out my 14 day itinerary to give you some ideas.
Links for creating your own, bespoke, independent Route 66 Holiday from the UK

Flights
SkyScanner
Travel Supermarket
British Airways
Flight Centre

Car Hire
Discover Cars

Hotels
Booking.com
Hotels.com

Insurance
Travel Supermarket
Fly drive holiday
A fly drive holiday is where you book a package that includes flights, your car hire and an itinerary to follow. Your hotels are often booked for you and all that's left is for you to pack, arrive and enjoy the drive.
It's worth noting that British Airways also offers a fly drive option too – there's doesn't include hotels and an itinerary, but does allow you to add car hire easily on to your flight booking. In fact, this is what we did when we booked our flights.
A fly drive holiday was the way that my Father In Law decided to do the trip a couple of years before us. It suited him really well because he wasn't the researching type and he appreciated the details being taken care of for him. We considered this way ourselves but in the end it didn't fit us and as a family it was an expensive way to do it.
You'll find a few companies that do this kind of Flydrive holiday, lots are household names so you shouldn't worry about your booking.
Pros:
You have a point of contact when on the road
It takes the guess work out of booking the trip
Normally they are well researched trips, many people do them each year
You're still independent and driving on your own
Cons:
You are tied to their itinerary
You are tied to their hotel choices
Can be an expensive way to do the trip
You can sometimes miss parts of the road if you haven't researched beforehand
Links for booking a fly drive holiday

Virgin (their Route 66 holiday package was removed in 2020 but hopefully will be back)
Trailfinders
Hayes

British Airways
Independent Travel Agent
There are lots of independent travel agents around nowadays, you're not restricted to the high street branches. Good travel agents will take a look at what you want to get out of your trip, design an itinerary just for you and plan your trip exactly how you want it.
They will hopefully be able to book you into mom and pop motels if you request it, can keep it to your exact timings whatever they are, and also provide you with some background to the trip too.
If you like to research, know what you want, but just want a helping hand to get the details booked this can work really well.
Pros:
Takes all the stress of booking out
You have a point of contact if you need it
You can do the trip exactly as you want it
Cons:
Can be one of the most expensive ways to do it.
Your travel agent may not have done the route and possibly won't be very familiar with it
Escorted Route 66 Holiday
An escorted Route 66 holiday is just that, a group of people escorted along the road.
Often it's on a tour bus or coach and the size and type of passengers you'll be travelling with will be dictated by the type of company offering the tour. Some offer more high end trips with less people and some are more basic.
This type of trip is for someone who dreams of seeing small town America and the mother road but doesn't want to, or can't, do the driving themselves. Perhaps the thought of driving over in the US terrifies you or it just doesn't sound like a holiday to you!
Some escorted tours are solely on Route 66 and some you can do that include it and other parts of the US as well.
Links for booking an escorted holiday

Cosmos
Titan Travel
Leger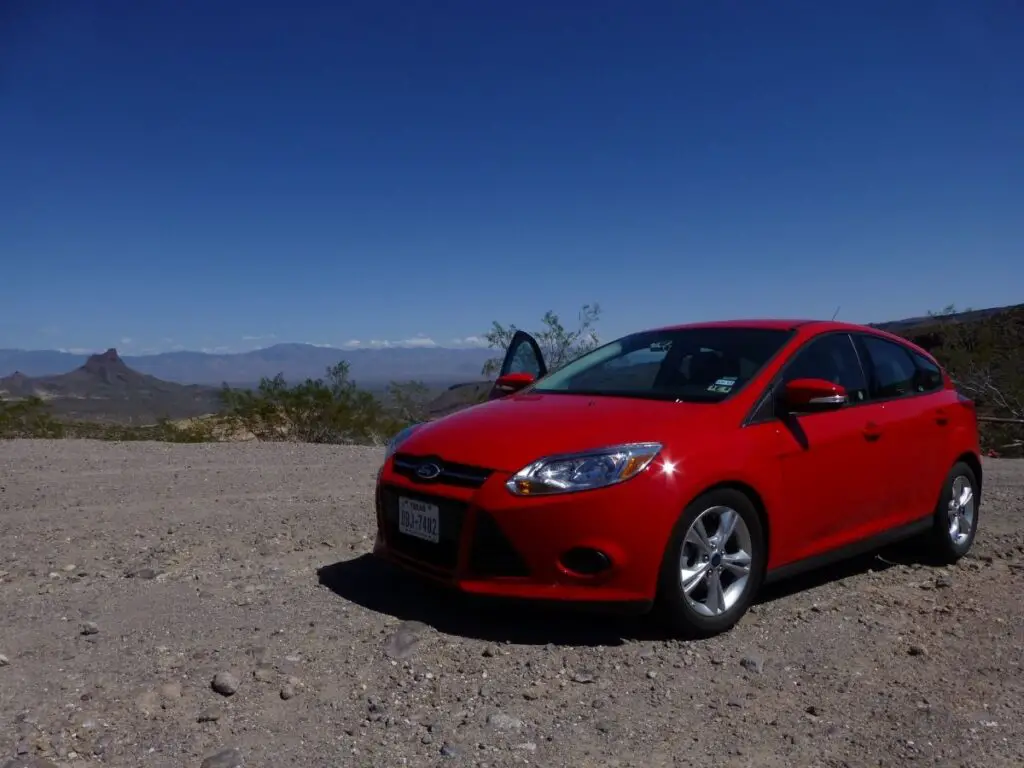 Driving Route 66 from the UK – FAQ
Do you need a visa?
There is a visa waiver scheme for UK citizens who are visiting the USA for less than 90 days, which should cover most tourists driving Route 66 from the UK. It's called an ESTA and can be applied for online (the official site is here – always check you're on an official site especially if you google for it).
Always check the latest UK government advice for travelling abroad because if anything changes this is where you'll see it.
How much does Route 66 cost from the UK?
This is a tricky one to figure out because it will always depend on how you decide to travel and how long your Route 66 road trip is. A short trip might have a higher daily cost than a longer one due to the fuel usage but a longer trip will have a higher overall cost.
A good rule of thumb is to budget around £1500 – £2500 per person for a self drive tour (more if you're travelling for longer) and £2000 – £2500 for a flydrive. Escorted tours can be a bit more still. Remember to budget more for eating and attractions as well as that's not included in Route 66 packages.
If you travel as a couple or a family then some costs can be shared when thinking about the per person cost such as hotels and motels and car hire. When you buy through a travel agent you normally just pay a set cost per person.
I actually worked out how much our Route 66 trip cost and wrote about it on my travel blog (which will eventually be transferred to this site, but if you want a read, head on over). We travelled on a tight budget which is also totally doable in the US.
How bad is the jetlag?
Jetlag is something that you need to factor in to your trip, especially if you will be getting in a car straight away to start your road trip.
Thankfully when you travel west toward the USA the jet lag isn't quite so bad as when you return home to the UK afterwards when it can really hit you.
If you can allow a day when you get back home to just do nothing!
Driving in US cities
I'm sure you're aware that in the US they drive on the right hand side (or the wrong side of the road to us!). While you can easily get used to this along small towns and villages on the road, while driving in the US cities along the route it can be a little trickier.
Allow yourself plenty of time to get used to the roads and if you have a partner who can navigate that will help. I like to always plan ahead my drive, sometimes by checking on Google's Streetview, before starting so I know what to expect, where to exit and what the roads are like.
Unfortunately there's no getting away from needing to drive in the cities since you'll be arriving at an International Airport.
It'll quieten down along the road eventually!
What do I need to drive in the USA
What you need to drive a car might change depending on the car rental provider but in general:
you need to be at least 21 years old
A full valid licence that you've held for at least one year
Those with a paper license will need additional photographic ID (a passport should do)
An International Driving Permit shouldn't be needed for UK drivers. Some states require them however not states that route 66 goes through.
Sometimes a credit card is required
Remember that if you're dropping off a car at a different location to where you picked it up there's often a one-way surcharge involved. While this can sting a bit it's better than doing the return journey! It should be included in any quote.
Is renting a car easy?
Renting cars at airports is very common in the USA and we found it incredibly easy to do. Normally the car rental business will have shuttle buses to their parking lots where you pick up the car. When you return the car you'll take the car to the address they give you and they'll shuttle you to the airport terminal.
Do you need insurance?
It's VITAL to have travel insurance when travelling to the USA. There's always the possibility of something happening and you needing medical help out there and as you probably know, there's no NHS there. Insurance should also cover for cancellations, delays, luggage loss and often they'll cover COVID to a certain extent too.
It's important to make sure that the policy covers you completely and that you declare any prior health issues. You really don't want to have a claim not paid out.
If you book a Route 66 holiday through a travel agent they should help with providing insurance. You don't have to take their choice though and you can always try to find another suitable provider if needed.
If you choose to arrange your own trip you'll need to sort out insurance too.
Check out Travel Supermarket to compare policies that are available.
Where should you fly from and to?
If you're flying to Chicago to the beginning of your trip there's not too many options that are direct from the UK but your best bet is from London Heathrow. For a classic Route 66 trip you'll then want to fly back from Los Angeles.
You can search on Skyscanner for flights that incorporate the different landing and departure point by searching for a multi-city flight. It's worth checking from other UK airports such as Manchester especially if that's more convenient for you.
For a trip from London to Chicago and returning 3 weeks later from LAX the cheapest flight I could find was around £550. You'll probably need to add in some baggage allowance as well.
Alternatively, if you didn't want to do the whole route, or if you wanted to take in some other sights you could check out different airports in the USA. You might not get a direct flight and need to change en route, but it might work out for you. We returned from Las Vegas on our trip.
Other cities you might want to look at include:
Las Vegas
St Louis
Oklahoma City
Dallas
Flagstaff
Denver
Phoenix
Internet access
If you're going to rely on your phones abroad for internet access then it's a good idea to check what the roaming charges are for the USA.
In the past we used Three who included roaming but lots of phone companies have changed their plans recently so it's best to check what's currently available.
If roaming charges aren't included check what the daily costs are and if there is a cap on usage fees – you don't want to come back from your trip to a hefty mobile phone bill.
Sat nav
When driving in the USA it's a good idea to have some form of Sat Nav, even if it's just using your mobile phone's map function.
While Route 66 still exists, it's not easy to drive it using sat nav since it's so broken up from place to place. Guide books are definitely your friend when it comes to each days exploring on the road.
However, sat nav devices or phones can help if you're looking for your hotel, a supermarket nearby or maybe a restaurant so it's worth making sure you have something. If you can, make sure you're familiar with how it works before you land in the US!
Some rental companies include a sat nav when you book your car, some charge extra.
Money Matters
The USA is very much a country that uses credit and debit cards a lot however there are some differences that we found.
They don't use the chip and pin method as much. We'd often had to sign after our card was swiped. I hardly ever have to sign in the UK, I almost forgot my name!
Cash machines often have a charge to withdraw money. If your bank also charges you for withdrawing money abroad that means you're getting charged twice. If you need cash remember that taking small amounts out each day will rack up the charges. However it's probably not a good idea to take too much out too for safety reasons.
Some UK cards don't charge when abroad. My Halifax credit card doesn't and for debit cards Nationwide, Monzo and Starling are some others that don't.
In small towns you might find that cash is needed much more so it's a good idea to take some before hand.
For tipping, which is expected in the US, it's a good idea to have cash on you, specifically low denomination bills.
I always like to have cash ready before I land and so will always change some before I go.
Still got questions? Join our FREE Route 66 community!
Come and join our FREE Facebook group where you can get help with planning your Route 66 road trip of a lifetime!