Planning a Route 66 road trip can get a bit overwhelming so it's always a good idea to check some sample itineraries before you get too deep in planning.
That's where this Route 66 7 day road trip itinerary comes in. I've written it as a sample week-long journey from the very beginning of Route 66 in Chicago all the way to Santa Monica in the west.
I hope that you'll find this road trip itinerary helpful no matter how long you have for your road trip and that it gives you some great ideas.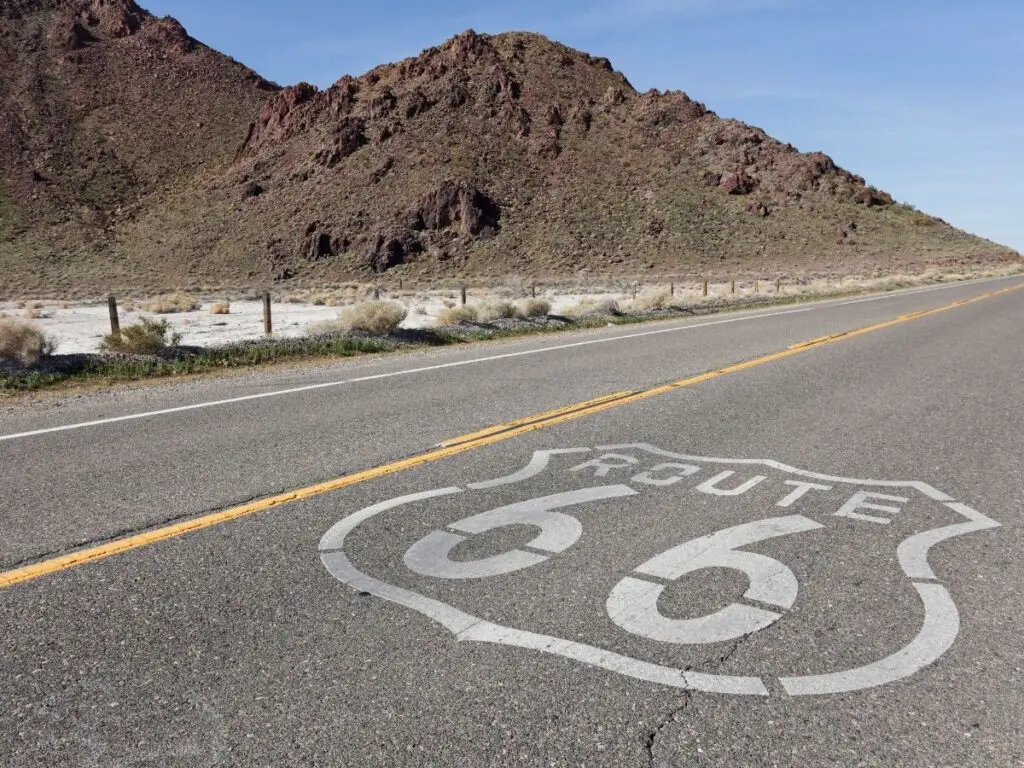 Planning your 1 week Route 66 road trip
Before we get started with the itinerary let's take a look at some questions you might need to consider when you're planning this 1 week road trip:
Is 7 days enough for a Route 66 road trip?
Let's get the main question out of the way first and that is whether 7 days is enough to do the road trip.
Yes, you can do Route 66 in 7 days. It will be a very intense road trip with plenty of driving involved each day, but if you're short on time and really want to do the trip you can definitely do it.
In saying that, I recommend to take a few more days at least for the trip, if you can stretch to it.
Your driving mileage will vary each day from 250 – 380 miles and you'll move on to a different destination each day.
You should definitely think about the long driving days before committing to this trip – people with bad backs or mobility issues might not appreciate it (I know my husband's bad back would complain!).
With only 7 days on the road you're going to be moving on every day and really won't have time to enjoy the cities at either end of the trip.
However, you will see the wonders of small town America, the best of local businesses and be part of an iconic road trip story.
Will 7 days be a good amount of time to do Route 66?
So we've seen that you can do Route 66 in just one week, but should you? Is it going to be ok?
Personally I like to have at least between 2 and 3 weeks for a Route 66 trip so we're outside of that perfect spot.
Many people don't have the luxury of more time so if you're good with the driving times I say go for it.
To make the most of your 7 days, in this itinerary I focus on your daily end stop being a classic Route 66 stop. Of course, you can choose where to stop throughout the day.
Alternatively you might wish to just do a portion of the trip a little more slowly. You might wish to check out my state specific posts and see which ones might entice you.
How much driving will you do each day?
A 7 day road trip on Route 66 means you'll be driving for an average of 350 miles each day. You will be looking at 5-6 hours of driving, perhaps more if you're exploring some smaller roads and towns.
I recommend splitting up your driving into sections. That way you do a couple of hours in the morning and then more later in the day. That will mean you can spend some time in a Route 66 town for lunch or exploration part way through and ensure you're getting a good experience. You could also fit in 2 different stops through the day to really break up the driving, especially on longer days.
You might find that with only 7 days and lots of miles to do each day that the Interstate is tempting – no harm in that if you know where you want to come off and explore. That's where having a guide book and planning in advance will help you – if you know your must see spots you can then take some easier driving if need be.
Should you book your accommodation in advance?
While this is a personal preference I'm going to suggest that for a short trip such as this one that you do.
The stops that I'm suggesting to you are classic Route 66 towns that you'll want to spend time in. As such you'll probably want to ensure you stay there and not be pushed to other places. This is especially true if you're traveling in high season or on weekends.
Lots of hotels and motels that have online booking offer a decent cancellation policy these days so if your plans change it shouldn't be an issue. Always check when booking, especially if you're booking direct with smaller mom and pop motels.
I use either Booking.com or Hotels.com to book ahead and can thoroughly recommend both.
Renting a car for route 66?
Renting a car is a good idea for such a short journey since you'll be able to do the trip one way and fly back home afterwards. It will save you a LOT of time rather than trying to do the round trip.
I've written a post about some tips you might find useful for booking your Route 66 rental car but checking out comparison sites like Discover Cars is my top tip to get a good deal.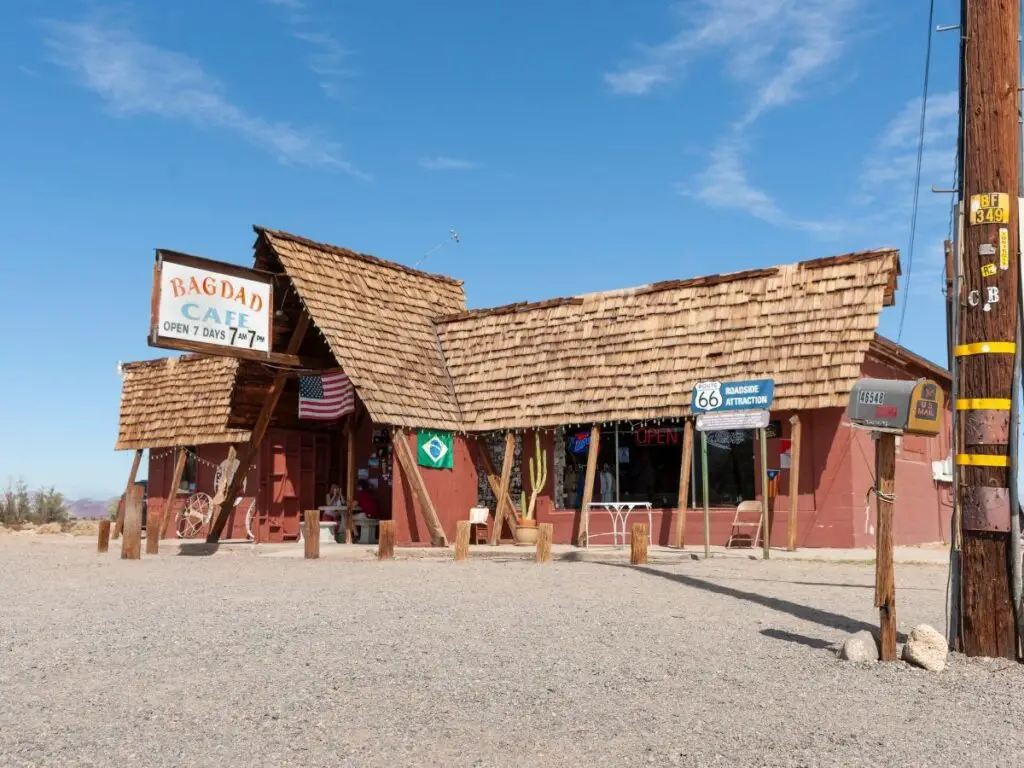 Route 66 7 day road trip itinerary: overview
All mileage is approximate and is gleaned from Google Maps which will often take the Interstate rather than the actual Route 66 alignments.
| Day | Plan | Miles |
| --- | --- | --- |
| 1 | Chicago – Cuba, MO | 380 |
| 2 | Cuba, MO – Tulsa, OK | 312 |
| 3 | Tulsa, OK – Shamrock, TX | 280 |
| 4 | Shamrock, TX – Tucumcari, NM | 205 |
| 5 | Tucumcari, NM – Gallup, NM | 311 |
| 6 | Gallup, NM – Kingman, AZ | 332 |
| 7 | Kingman, AZ – Santa Monica, CA | 335 |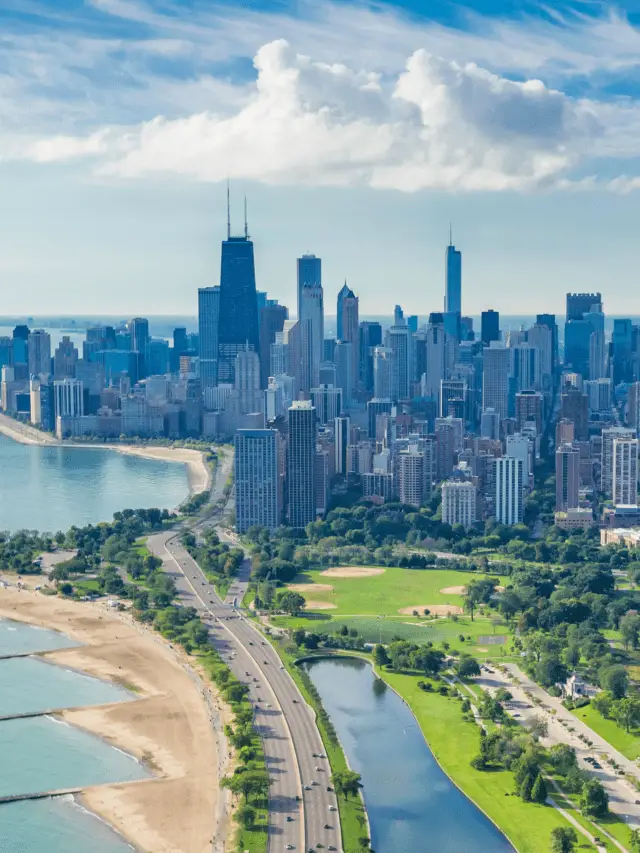 Day 0: Chicago
Miles to drive: 0
You may well have the chance to overnight in Chicago the night before you set off.
Accommodation options for day 0
I suggest a hotel in the Downtown/South Loop area. If you want to start your Route 66 trip from the very beginning point it's good to be in the vicinity so that you're not fighting with too much traffic.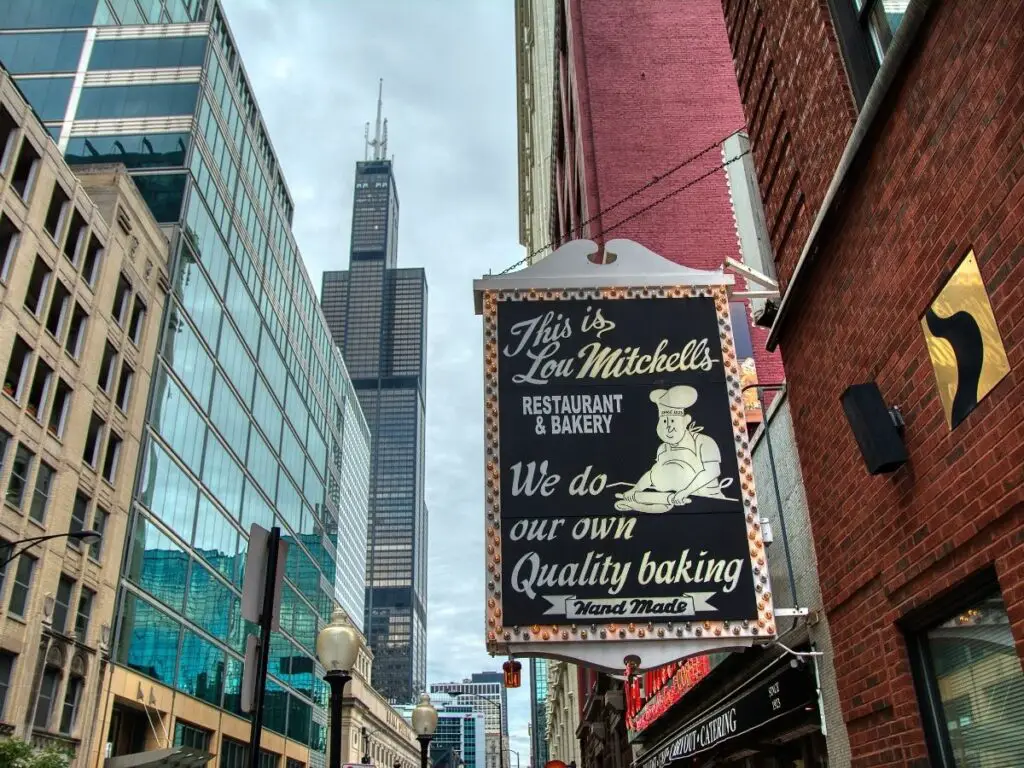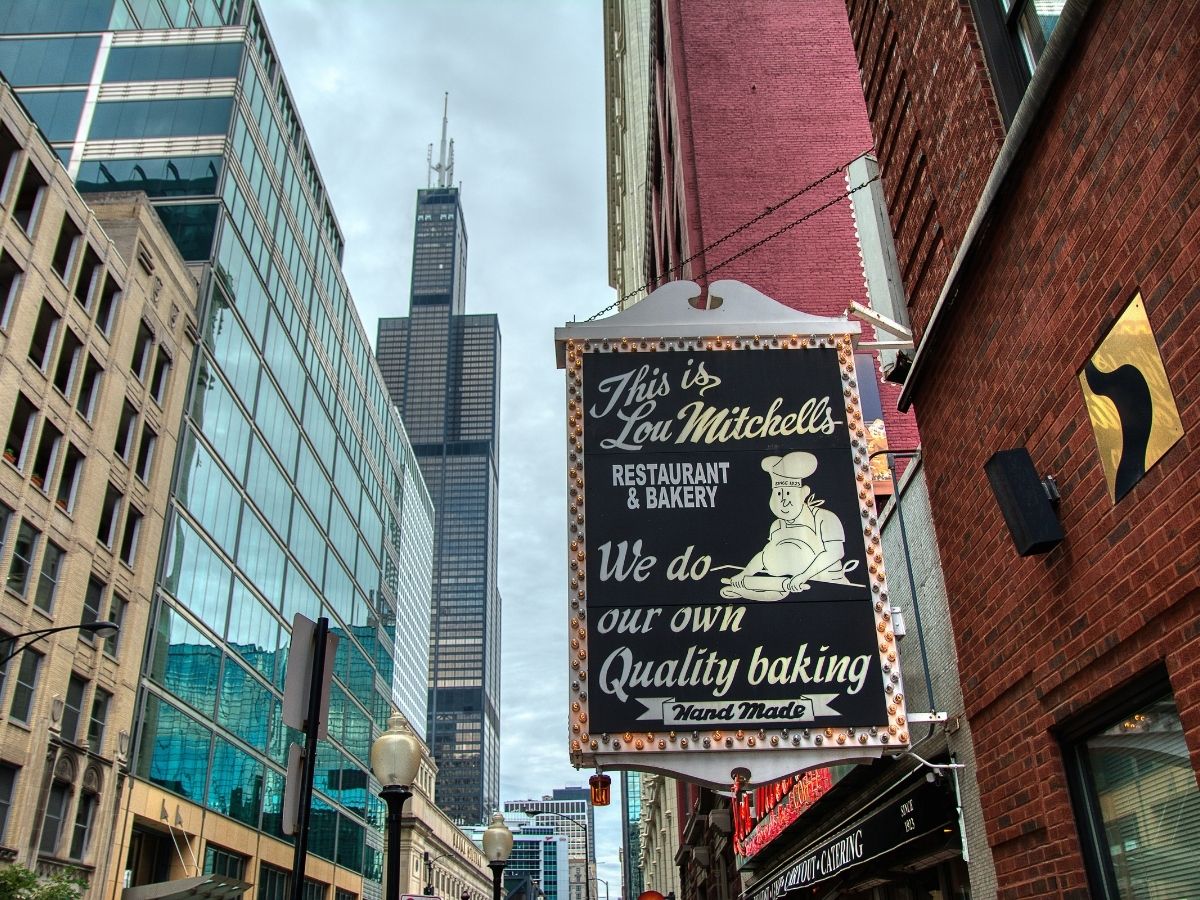 Day 1: Chicago, IL – Cuba, MO
Miles to drive: 380
It's a long driving day today – the longest but it sets us up well for the rest of the week and we have enthusiasm on our side! While Google Maps suggest that it's around 6 hours of driving it will likely be more than that due to traffic, especially around cities, and finding old 66 where you can.
I'm going to assume that you're up and out early from the beginning point near Lake Michigan. Of course that might not be the case and perhaps you're just heading straight out of Chicago from the airport or starting later on. Either way is ok.
Before leaving Chicago, if you have time, try Lou Mitchell's for breakfast. It's been a Route 66 classic since forever and will fuel you for the day ahead!
You'll travel all the way through Illinois today as well as past St Louis in Missouri. Be aware of traffic around any big cities.
Potential stops for day 1:
Wilmington – Gemini Giant (approx mile 60)
Pontiac – lots of museums (approx mile 100)
Atlanta -Paul Bunyan Statue, food options (approx mile 160)
St Louis – Gateway Arch, Ted Drewes Frozen Custard (approx mile 300)
Or check out our guide to attractions in Illinois and Missouri to see what takes your fancy
Your final destination for day 1 is Cuba which has a lot of murals around to explore. The Missouri Hick Barbeque which might make a good evening meal option.
Accommodation options for day 1
Your first night is in this historic motel that's been open since the 30s – it's a popular one so a good idea to book ahead of time. Cuba has a few other options if you don't fancy this one with some chains and other budget motels in town.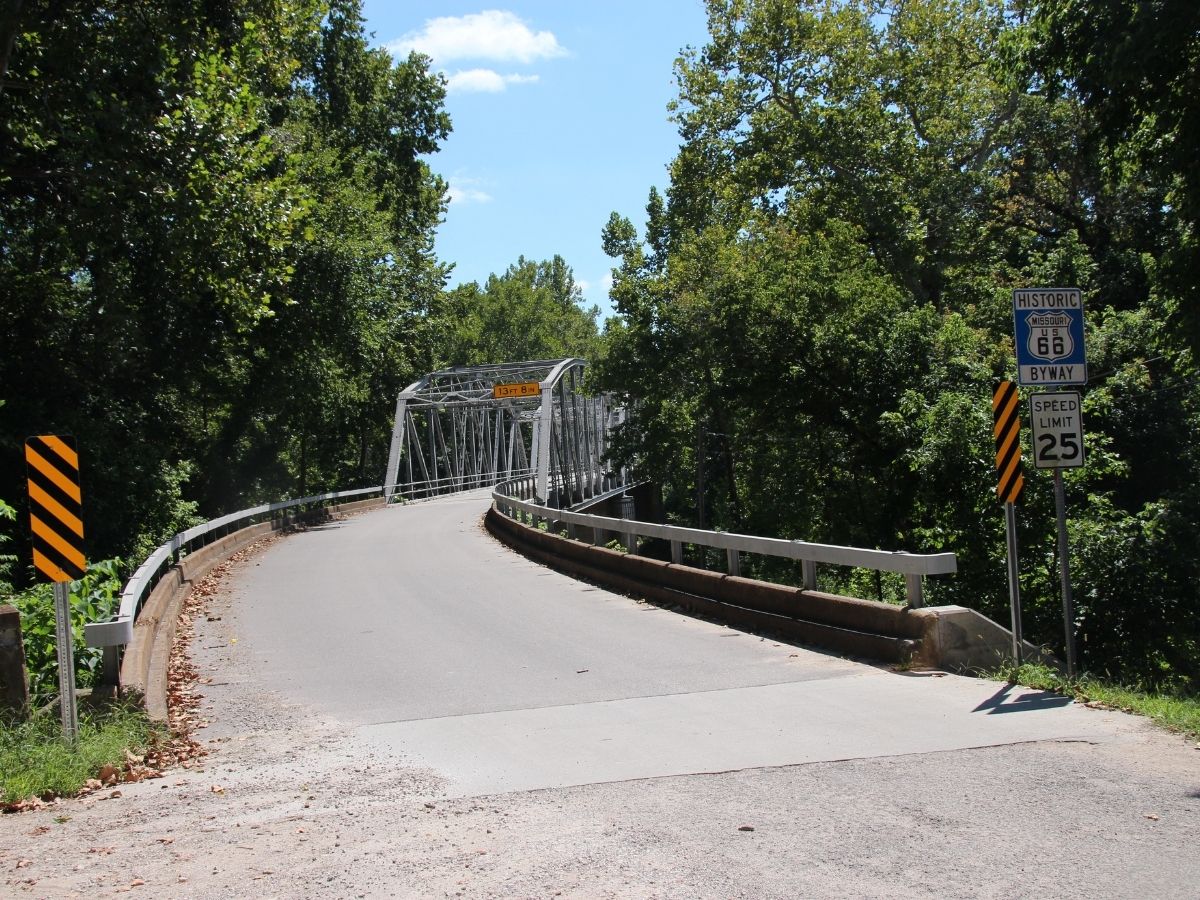 Day 2: Cuba, MO – Tulsa, OK
Miles to drive: 312
You'll travel through most of Missouri and through Kansas and into Oklahoma today. Not many big cities to navigate, just Springfield MO and you'll end up in the city of Tulsa too. While small towns are great on this road trip it's worth spending time in the cities too for a different vibe.
There's a lot to see in Missouri from museums to giant roadside attractions. There's only a small section of Route 66 in Kansas, 13 miles but worth a stop if you can.
Potential stops for day 2:
Lebanon
Baxter Springs
Catoosa – Blue Whale
You can check out Missouri, Kansas and Oklahoma attractions to help you decide you're stops.
Accommodation option for day 2:
Desert Hills Motel: A classic motel with vintage neon signage – book direct
Campbell Hotel: A boutique hotel, nice for a bit more luxury – book on Booking.com | Hotels.com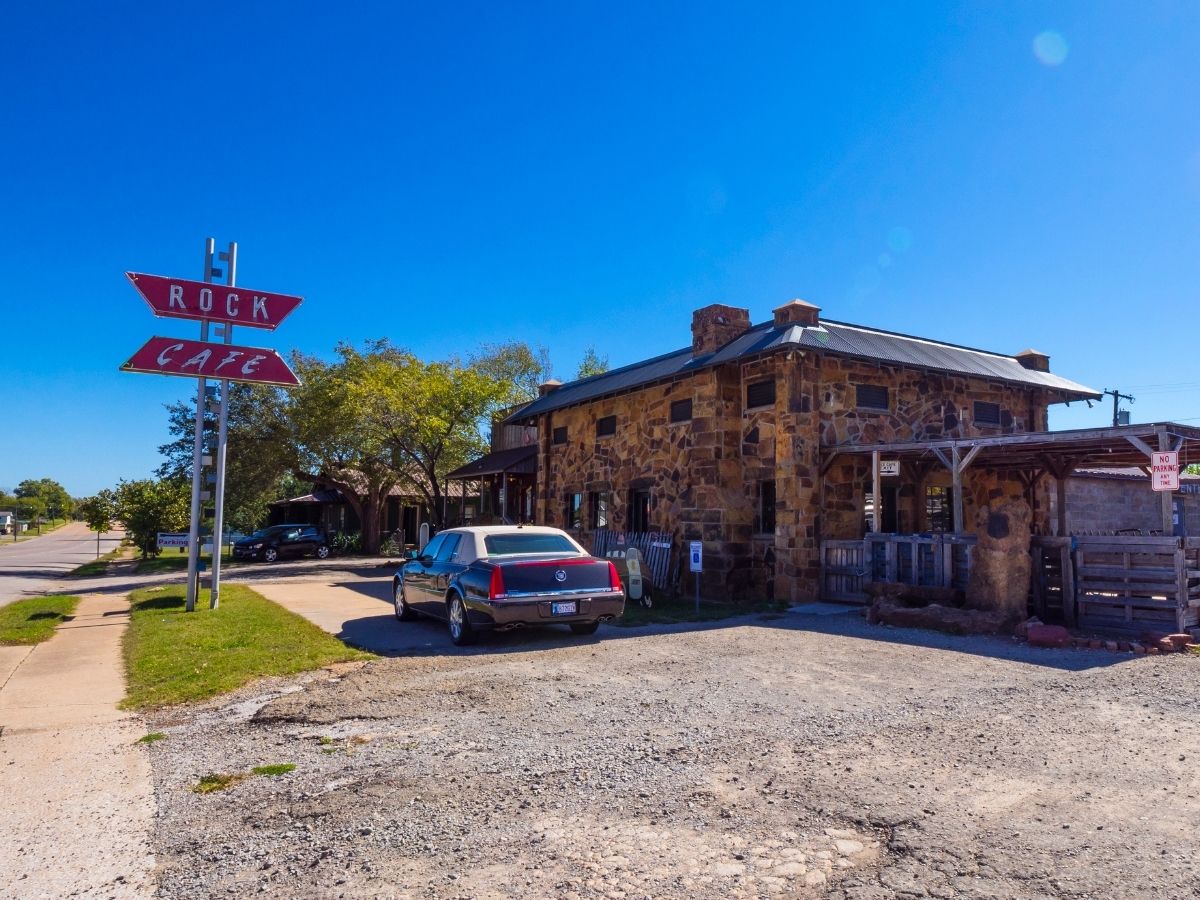 Day 3: Tulsa, OK – Shamrock, TX
Miles to drive: 280
Oklahoma has a wealth of wonderful museums dedicated to the road along it so if you have a lot of choice about where to spend your breaks today to learn about this dust bowl state and it's story along the road.
You'll also go through Oklahoma City today so bear that in mind for potential bad traffic in the day.
You'll finish your day just over the border into Texas. Shamrock is one of my favorite towns on the road and that's in part due to the wonderful U-Drop Inn that lights up in neon at night. It's a great, classic stop.
For evening food try Rusty's where you'll find classic road trip food like burgers and fries.
Potential Stops for day 3
Stroud – including the Rock Cafe, a good stop for something to eat
Chandler
Clinton
Elk City
Or explore our Oklahoma Attractions guide to see more options
Accommodation option for day 3:
There are a few options in Shamrock and all close by to the U drop Inn for that neon magic in the evening.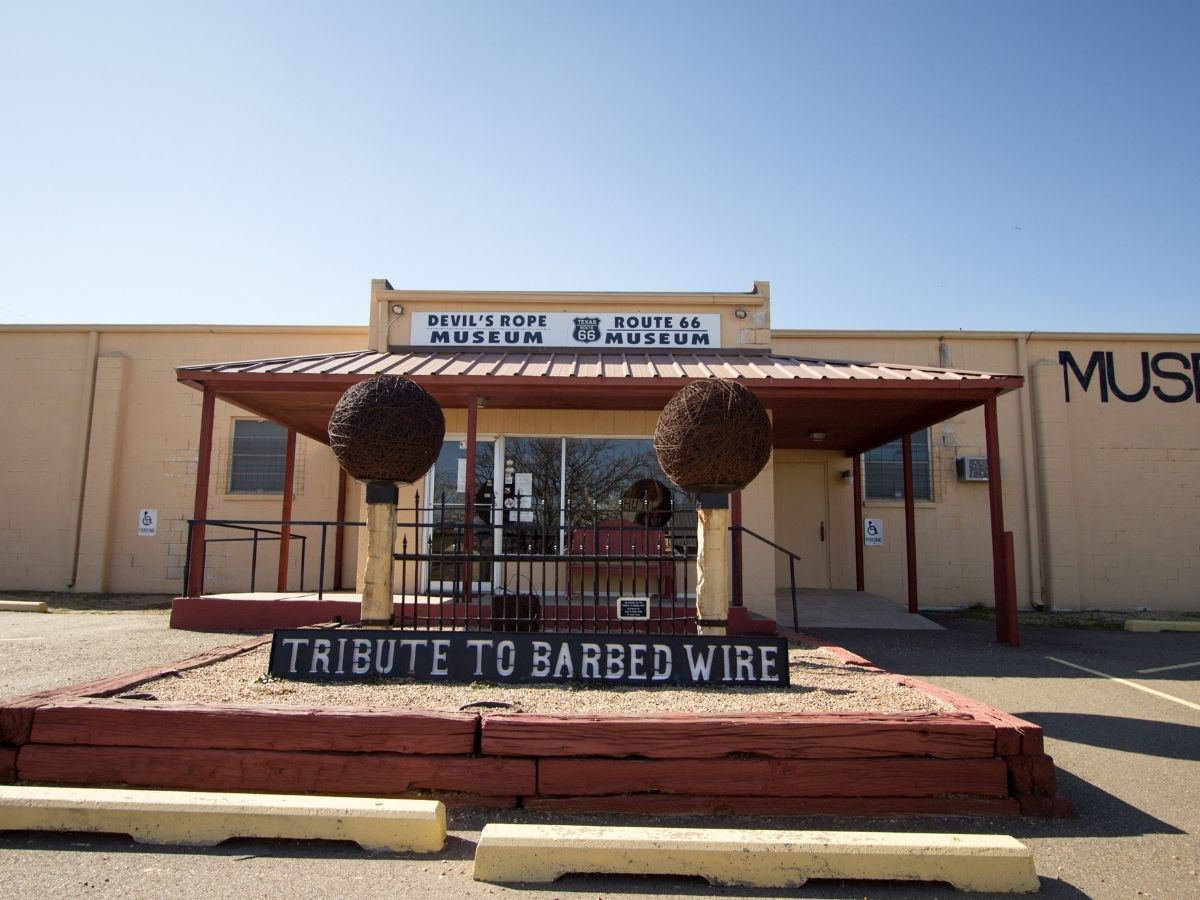 Day 4: Shamrock, TX – Tucumcari, NM
Miles to drive: 205
This is our shortest day of driving so you might want to enjoy a leisurely sleep in or at least explore Shamrock before shooting off. The U-Drop Inn is just as stunning in daylight. You might even catch it open and get a bite to eat here.
Texas has a lot of wide open spaces for that road trip vibe but also lots of quirky roadside stops too including The Big Texan, the Cadillac Ranch and also the Mid Point. Plenty of options to stretch your legs and explore.
Tucumcari is just over the border into New Mexico and is one of the most popular stops along Route 66 for its neon, retro motels and fabulous vibe. You might like Del's Restaurant or La Cita for an evening meal.
McLean – Devil's Rope Museum
Amarillo – Big Texan & Cadillac Ranch
Adrian – Mid Point & some cafe's for food possibilities
Check more of Texas's Route 66 attractions here
Accommodation option for day 4:
Tucumcari has a number of motels that are perfect for Route 66 travelers – and the joy is that you can enjoy them all from the outside as their neon lights up.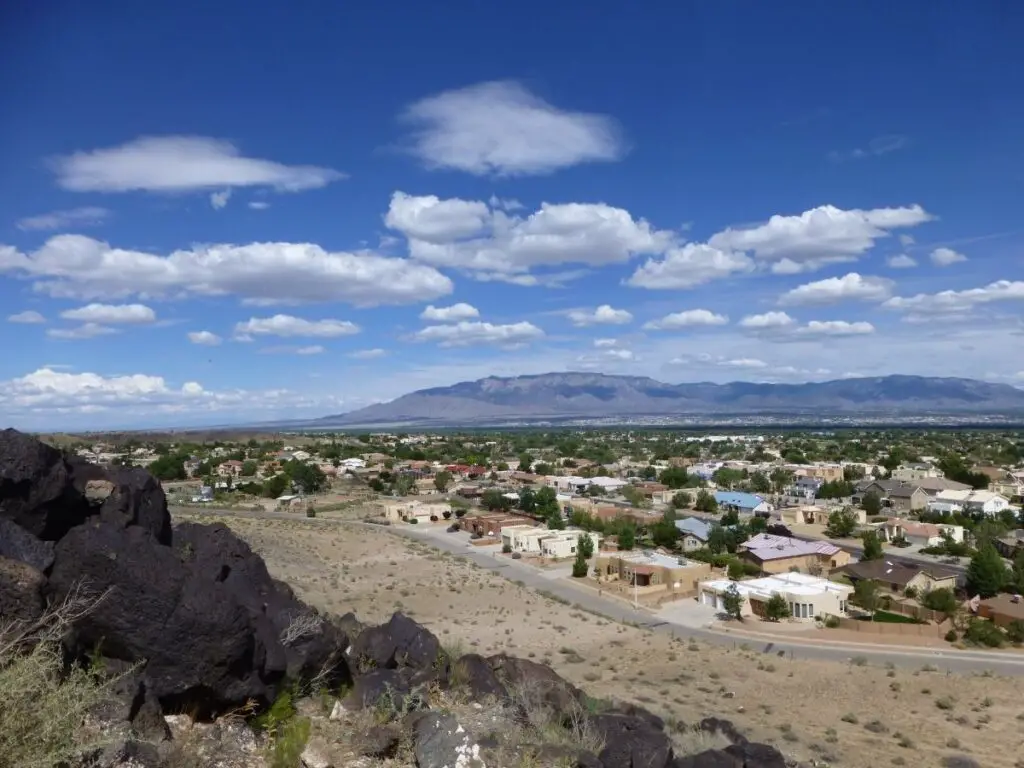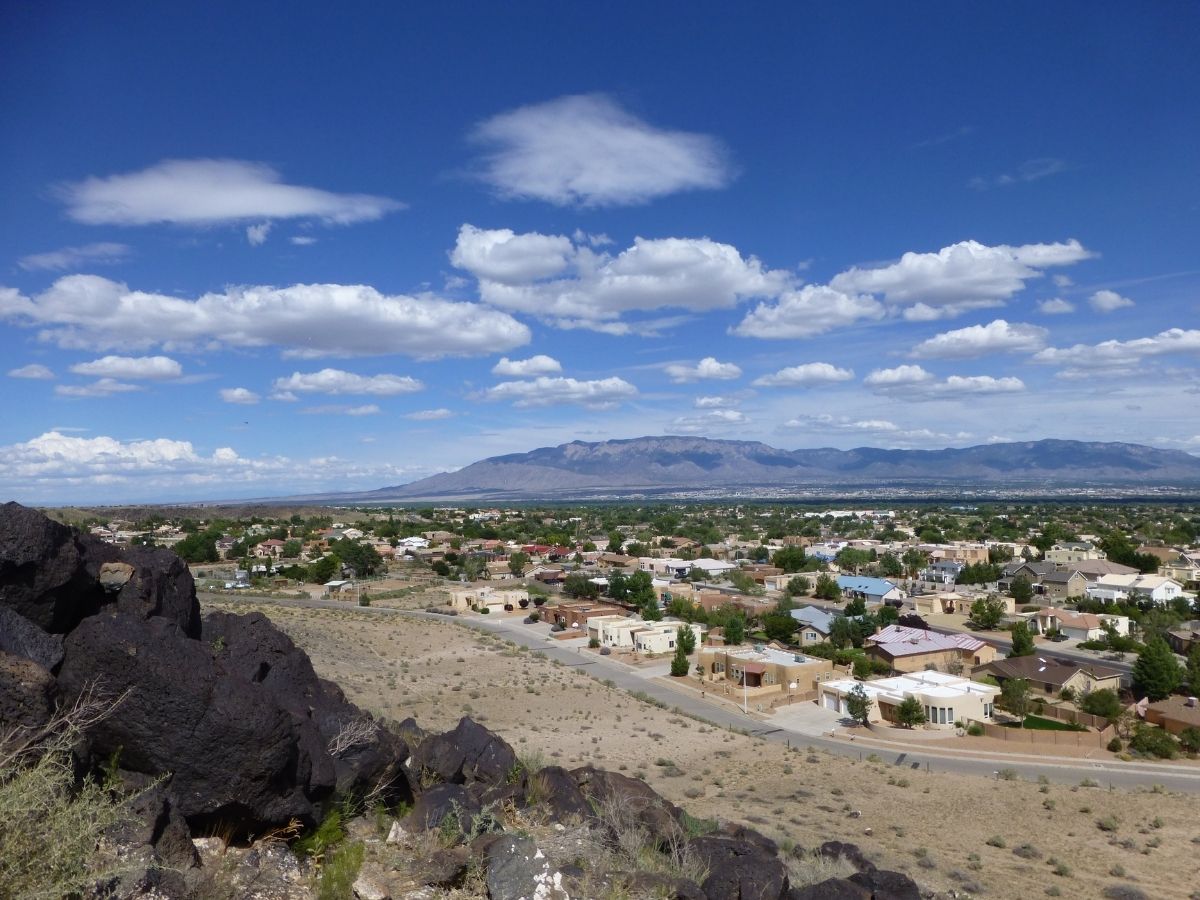 Day 5: Tucumcari, NM – Gallup, NM
Miles to drive: 311
You'll spend today completely in New Mexico. While the Route 66 alignment changed a lot over the years, with the first heading up to Santa Fe, I recommend sticking to the later alignment which traveled directly across the state to Albuquerque.
You have the option of stopping in the city of Albuquerque if you'd like – the old town is completely different to many of others around here and well worth visiting. Alternatively check out lots of outdoor spots to get your legs moving.
Potential Stops on Day 5:
Santa Rosa
National Petroglyph Monument – great place to stretch your legs
Grants – for lots of old vintage motel signs
Or see more New Mexico attractions here
Accommodation option for day 5:
Your accommodation tonight is in Gallup not far from the border with Arizona. This historic hotel has lots of stories to tell!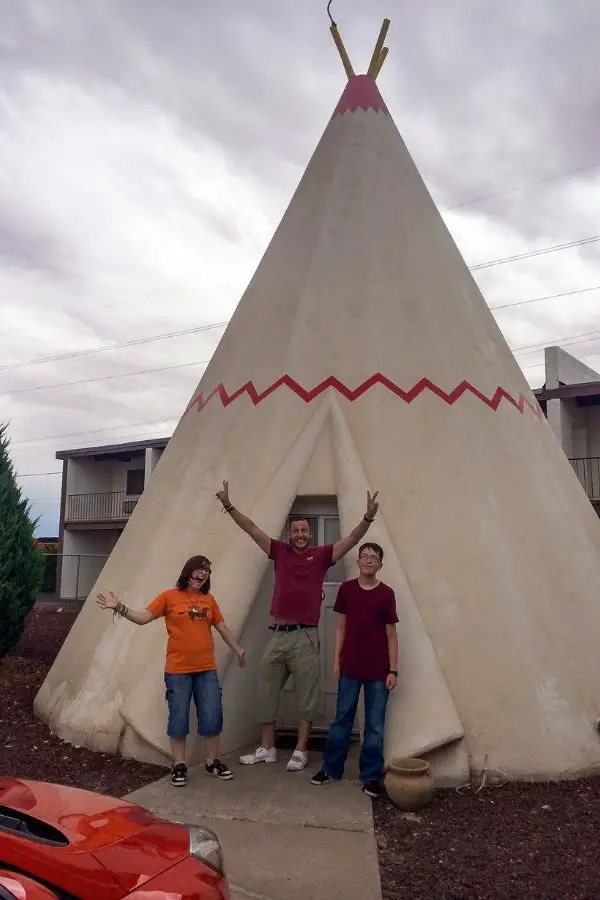 Day 6: Gallup, NM – Kingman, AZ
Miles to drive: 332
From Gallup we cross over the border in to Arizona, one of my favorite states and one with a LOT to see! With only today to explore and still a good amount to drive you'll need to choose wisely.
The Petrified Forest is well recommended if you want to get out of the car and enjoy nature. It's not such a huge place that you won't enjoy it on a limited time.
Potential stops for Day 6:
Holbrook – wigwam motel and quirky rock shops along the road
Winslow – go and stand on a corner!
Seligman
See more Arizona attractions here
Accommodation options for day 6:
Kingman is home to the El Trovatore Motel which is a classic vintage motel with a neon sign lit up at night.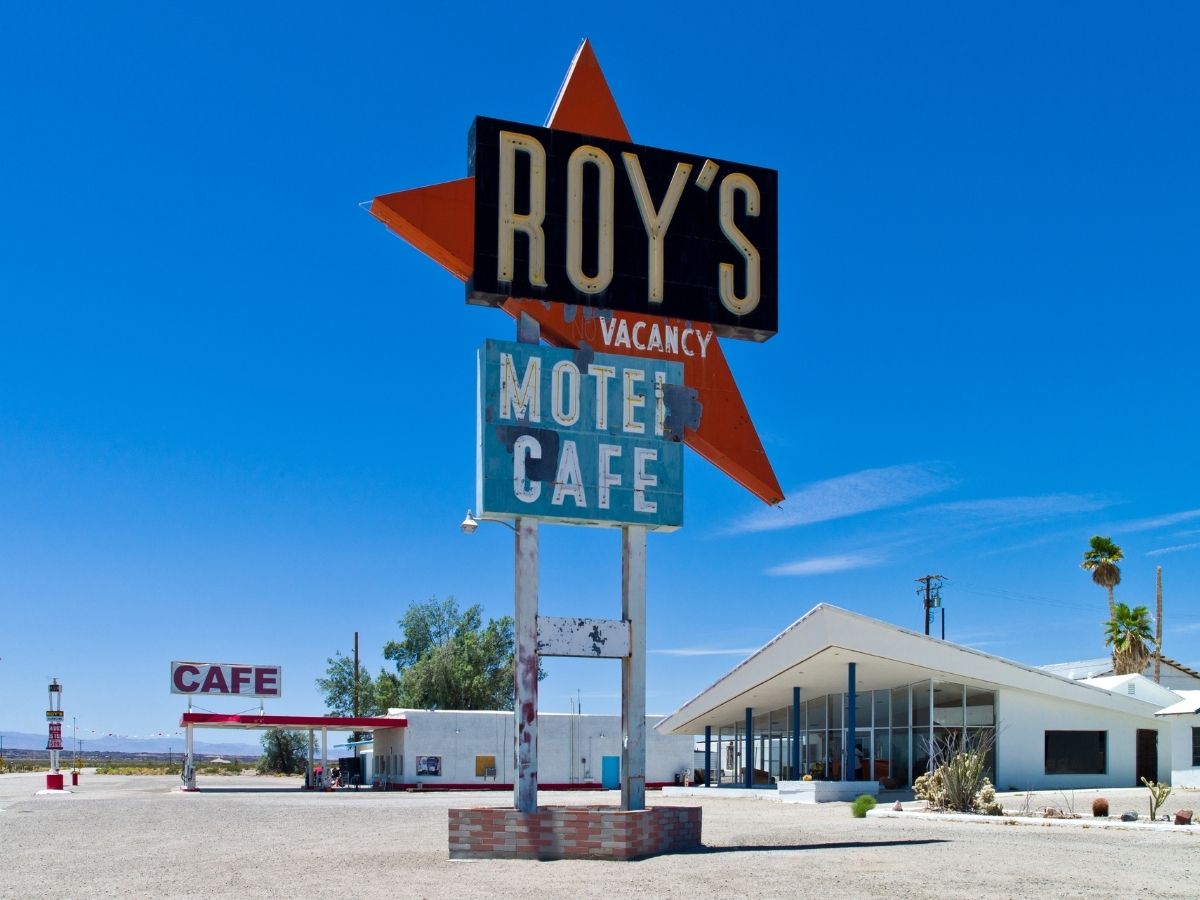 Day 7: Kingman, AZ – Santa Monica, CA
Miles to drive: 335
Our last day on Route 66 is that last grab for the Pacific Ocean at Santa Monica. Before you get there you have the Californian Mojave desert to get through and with that comes ghost towns and old relics of the past.
Los Angeles brings a lot of traffic so if you have a flight to catch today just be aware of that and allow yourself plenty of time to get to the end of the trail.
Potential stops on day 7:
Needles
Amboy – Roy's Motel and Cafe
Barstow
San Bernadino
You can see what California attractions are on offer here
Accommodation option for day 7:
None! You're finished your 1 week Route 66 trip.
If you do need to stay overnight before heading home here are a few options:
If you have 6, 8 or 9 days on Route 66:
If you have some extra time for your vacation and road trip then I'd probably advise to have a night in each of Chicago and LA at the beginning or end of your trip. That will allow you to fully enjoy your first and last days on the road.
If you have a day or two less then you're going to be pushing it to make the days enjoyable. You do have a couple of shorter driving days in the middle that could be combined.
Other itineraries to check out: