If you're not close enough to any of Route 66 to just drive then it's likely you'll be looking into flights for your trip. But where do you fly into for Route 66? We'll be having a look at the options in this post.
When flying to start a Route 66 road trip most people choose to fly into Chicago and out from Los Angeles (or vice versa). This assumes the full road trip is being driven one way.
Of course this isn't always the only option and many people choose to drive just a portion of the road rather than the whole way or even drive back to where they begun. If this is being explored as an option then there's plenty of different airports along the way in many of the large cities on the road.
This article probably contains affiliate links.  
This means that if you buy or book after clicking, I may get a commission at no extra cost to you. Thanks!
A note from the writer: Hey! I'm Kirsty and I'm a Route 66 enthusiast – I first became obsessed almost 20 years ago and then first visited in 2014. I've recently just come back from my last trip too! Comment below if you have any questions about your road trip and I'll get back to you ASAP – or join me in my free FB group here.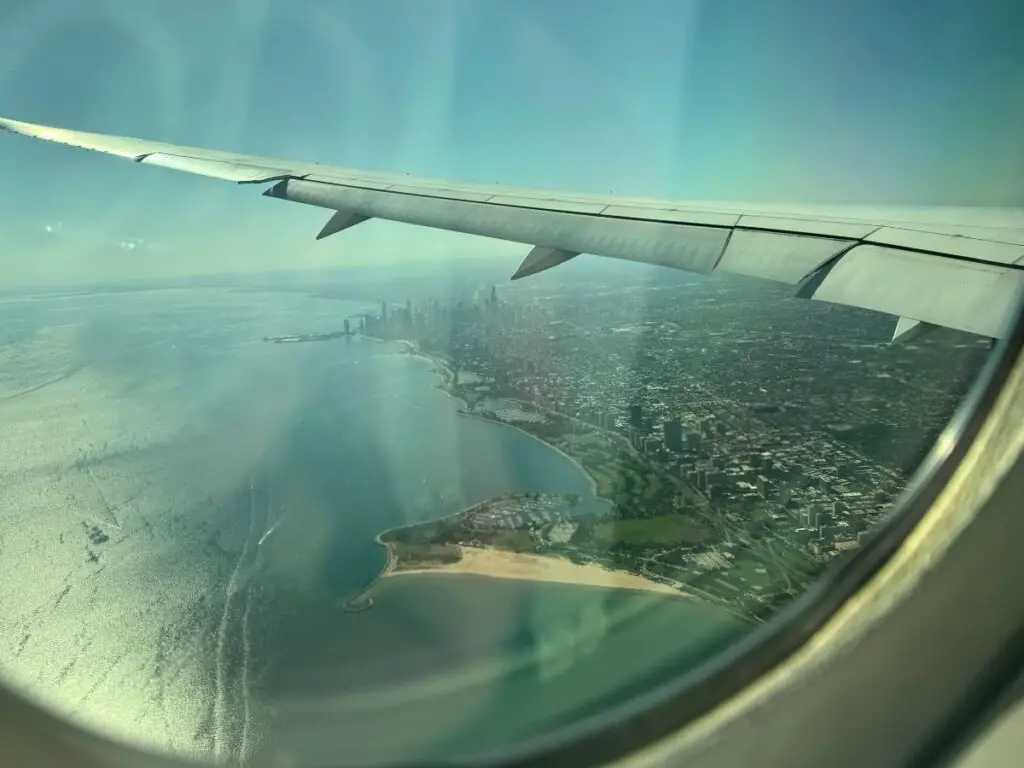 Useful links for booking your flight for Route 66:
Skyscanner – I always check here first and often look at the month view to see what the cheapest flights are. Perfect if you have a little wiggle room in your dates
Google Flights – worth checking to see if they have any other options that SkyScanner missed
DiscoverCars – if you're flying in then you'll likely be renting a car for Route 66. This site will compare lots of rental companies to get you the best deal.
Main airports to fly into for Route 66
With Chicago being the traditional start point of the road and Santa Monica the end these are the airports that most people will fly into and out of for their Route 66 road trip.
The road can be done in either direction so don't feel that you must begin in Chicago! Sometimes, especially due to the seasons, a reverse journey can make a lot of sense.
Chicago
Chicago has two main airports that will probably be of interest to most travelers: O'Hare and Midway.
O'Hare (ORD) is one that you'll likely be needing if you're traveling internationally for your road trip and landing direct from overseas. If you're traveling internally from the US or from Canada then you might need either O'Hare or Midway (MDW).
The closes airport to the Begin sign in Downtown Chicago is Midway which is around 12 miles away. It's a little further away to O'Hare but not too different – it's 17 miles from there.
Los Angeles
The main airport that will be used for Route 66 road trippers is going to be Los Angeles International Airport (LAX)
If you're ending your trip (or beginning) at Santa Monica pier then it's actually fairly close by to the airport – only 12 miles away. This is good if your driving Route 66 on a budget and can't stretch to a night in the more expensive Santa Monica!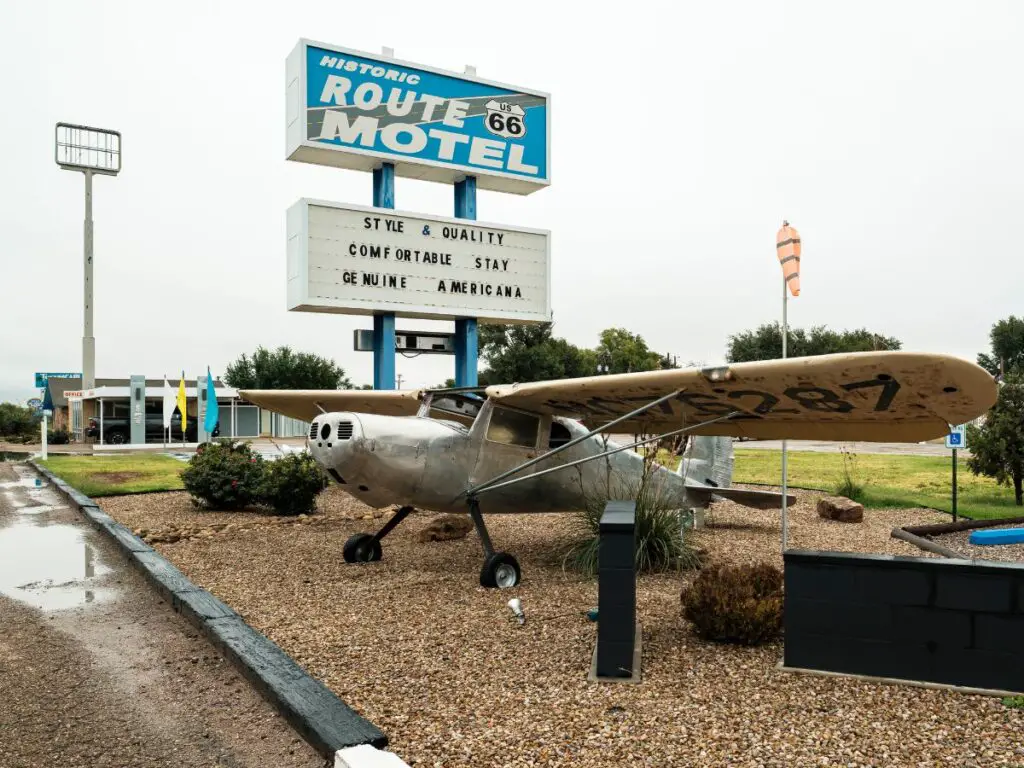 Other large airport hubs for flying into Route 66
If you're thinking about just picking up Route 66 from one of the many places along the road and you're happy to just explore a small part of it then you might want to consider flying into different hubs along the road.
There are a lot of cities along the road that will make a great destination in themselves and a good jumping off point to see some of the old Mother Road. Here are just some options that you might want to consider:
St Louis
St Louis in Missouri is a large city and is served by by St Louis International Airport (STL).
From St Louis you could drive back towards Chicago to see some of Illinois' Route 66 attractions or explore Missouri's roadside stops. There's a lot to see an do in both states!
Oklahoma City
Landing you fairly central along the road you could begin your trip in Oklahoma City. Their international airport, Will Rogers World Airport (OKC), is just south of the city.
You could drive west towards the actual half way point in Texas or you could head east towards the small portion of Kansas. Either way, Oklahoma is a good state to enjoy Route 66 sights!
Albuquerque
If New Mexico, the Balloon Fiesta or the old Santa Fe trails are calling then flying into Albuquerque International Sunport (ABQ) is worth considering.
Situated just south of the city it's well located for exploring the old alignments of Route 66 towards Santa Fe, west towards the Petrified Forest or to any of New Mexico's Route 66 sights.
Flagstaff
Being on the doorstep of the Grand Canyon and with a thriving winter sports scene, Flagstaff in Arizona is a well served airport. It's only small but Flagstaff Pulliam Airport (FLG) could be an option if you wanted to explore some of Arizona's Route 66 stops as well as some of the amazing open spaces around.
Las Vegas
While Las Vegas isn't on Route 66 at all, if you're looking to fly in and just do a portion of the road this could be a good option for you since it's actually fairly close by.
It's just over 100 miles from the Harry Reid International Airport (LAS) (formerly McCarran Airport) in Las Vegas to Kingman, a town in Arizona that could be a good first stop on a portion of the trip exploring the Grand Canyon, Arizona and then into California before returning back.
Alternatively you could base yourself in the city and just do a day trip to Route 66 from Las Vegas. Or do our 1 day itinerary to Santa Monica along Route 66 (you'll need to reverse our route).
Finally, if you just want a taster of Route 66 without driving it yourself then a tour to Route 66 from Las Vegas is a good idea.
Still got questions? Join our FREE Route 66 community!
Come and join our FREE Facebook group where you can get help with planning your Route 66 road trip of a lifetime!