The idea to get in a car at Chicago and motor west until you get to LA is a simple one and many people do it each year. For those who are planning a once in a lifetime trip you might want these Route 66 tips to help guide you.
When we drove the road I really wish I'd spoken to someone who knew the road better. We got some tips from my father in law who had done it a couple of years previously but he didn't do a lot of research himself before going. I'm a researcher – I like to know what I can expect!
I've split this into tips for planning and also Route 66 travel tips for when you're actually on the road and driving!
This article probably contains affiliate links.  
This means that if you buy or book after clicking, I may get a commission at no extra cost to you. Thanks!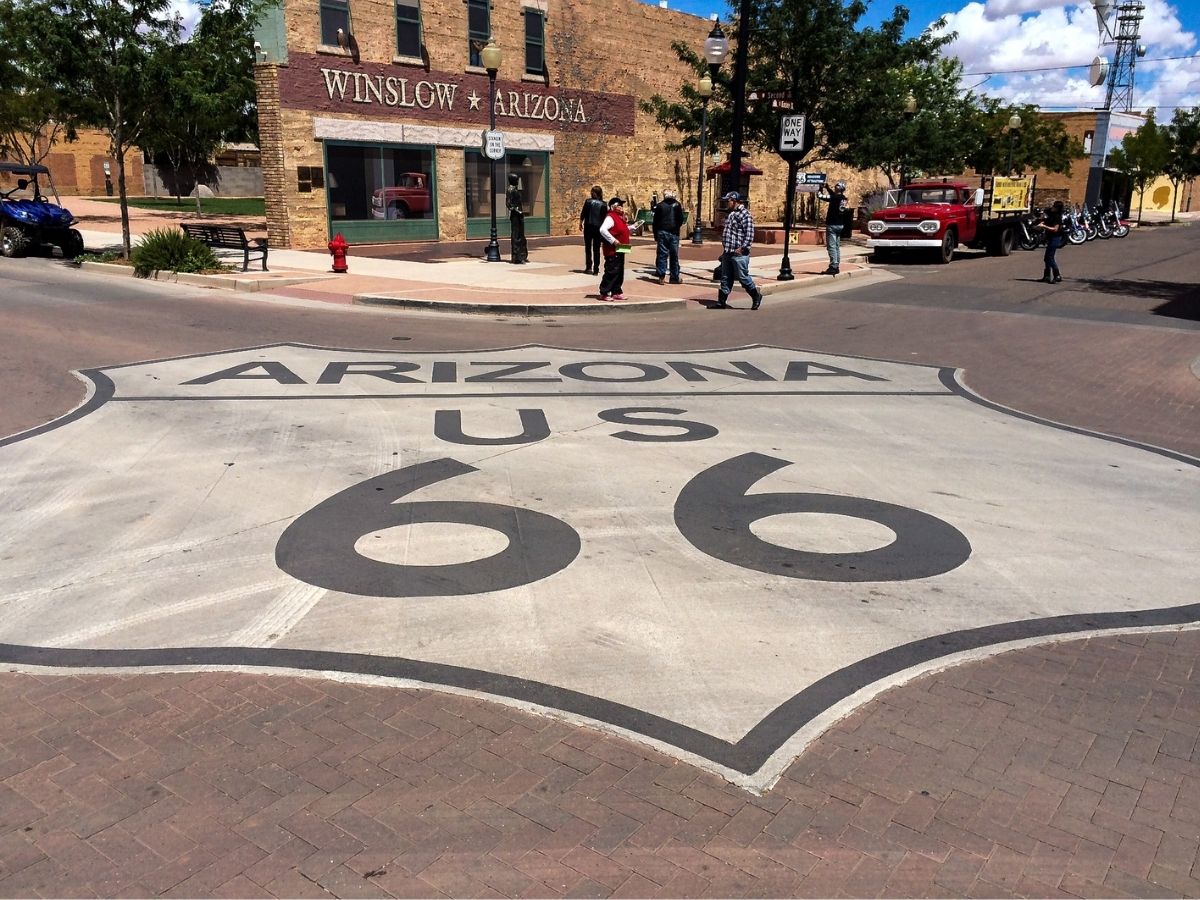 A note from the writer: Hey! I'm Kirsty and I'm a Route 66 enthusiast – I first became obsessed almost 20 years ago and then first visited in 2014. I've recently just come back from my last trip too! Comment below if you have any questions about your road trip and I'll get back to you ASAP – or join me in my free FB group here.
Route 66 tips for planning
The planning of a route 66 trip can be the most fun part, but it can quickly become overwhelming. For many they just don't quite know where to start so here are my top tips to plan your trip with ease.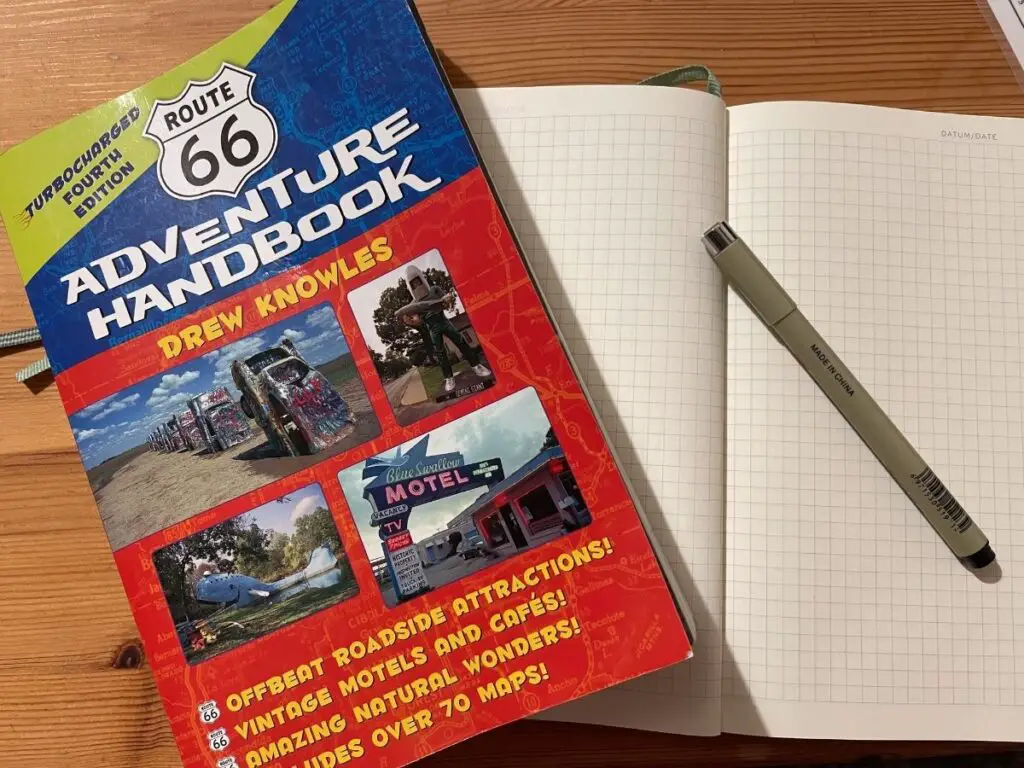 Get a guide book
A good guide book should be your first port of call and at this stage in your planning you're going to want something that's easy to read, has some interesting pictures and some helpful tips too.
An up to date guide book is a good idea for when you're actually driving but if you can get your hands on an old version that might be ok for beginning your planning and getting inspiration on what to do.
I've reviewed some of the Route 66 guide books on the market right now – not all are suitable for all stages of planning!
Bookmark this website
As well as a guide book there are many websites on the internet about Route 66 and now is a good time to gather some bookmarks of your favourites.
This one you're reading right now has some amazing articles that were written just for people who are in the planning phase of their route 66 trip like you and looking for places to stay and things to do on Route 66.
Bookmark this site and check out the 'Start Here' page if you haven't already – my goal for this site is to have an easy to use resource for all travelers of Route 66 that isn't overwhelming. If there's a section you need that isn't here yet do let me know!
Don't get bogged down by guide books
Once you get your guidebooks and you have your list of websites to hand, my next tip is to not get too bogged down by them!
It's tempting to try and read everything, go on Google Streetview and see where you'll be going and absorb all the facts and figures of little known towns in the middle of America. This is the way to planning burnout!
There's time for that later on – while you're just beginning to figure out your trip, try to take an overview of it all.
Get inspired by watching documentaries and films
Films and documentaries can really get you excited to get on the road and they have the added advantage of showing you some of the sites that are popular so you can decide if you want to see them too (see the next tip).
Although it's a kids film I really love Disney Pixar's Cars – it was the one film that brought the history of the road to life for me and helped cement a love of the road. It helps that there's lots of real life Radiator Springs locations too that we could add to our wish list of places to see.
I'm based in the UK so what's available to me is different to others – if you have any recommendations then I'd love to hear them. Please comment below so others can see too!
Make a list of your must sees
If you only had one chance to do Route 66 what would you really not want to miss?
Write those places down – those are your non-negotiables.
Next, what kind of sites are you most interested in seeing. Do you like to chat with shop owners, go for hikes in the wilderness or spend your days trying all of the different foods? Now is the time to figure out what things will be important to you on your trip.
Make a list of any historic motels you want to stay in
Next it's worth taking some time to see if there are any historic motels that you would love to stay in. The Blue Swallow Motel in Tucumcari, El Rancho in Gallup and the Wigwam Motels in Holbrook and San Bernadino are examples of really fun, unique places to stay on the road.
They are also very popular places to stay and if you are dead set on staying, have a fixed date to be in the area it might be worthwhile thinking about booking ahead for some of these motels.
You won't have to book ahead for all of your motels, although you can, but if any are must sees then it's worth getting them reserved.
Decide how long you can travel for and when you can go
Now that you've had a good browse of travel guides, watched some films and made some lists of what are must sees you'll start to have a feel for how you want to do your trip.
You'll be able to know whether you have to do the whole trip or whether you will be happy doing just a portion of it. The driving time of Route 66 can vary from as little as 3 days or as long as 3 weeks so it's not a one size fits all.
There's not real best time to drive Route 66 but there are some thoughts to consider when you're in planning mode, especially if you're flexible in when you can go.
You should consider whether you'll ever be able to do the route again or if it will be your once in a lifetime trip. This will depend on where you live in the world. It's easier for those in the US to pick up the road than those who need to fly internationally.
Decide on your route
Will you be driving from elsewhere in the US? Can you feasibly drive the road and then drive back home again?
If you're flying to your starting point, wherever that may be, will you be renting a car and then driving back again afterwards or doing a one way rental? Remember you'll have a fee to pay to do this but it might be better than the fuel and time cost of driving back.
Don't try to plan too many long driving days
When figuring out an itinerary for your road trip I suggest not making your driving days too long that it becomes a chore for you. I liked to mix it up and some days have a longer day of driving in order to have a shorter day the next day.
Remember it's supposed to be a vacation!
Book the essentials
Once you have your bare bones idea of what you're doing it's time to book any essentials. This might be the historic motels you must stay at on the way, your first and last night hotels in the city or flights and car rental.
Once that's figured out and booked you can get excited – the trip is happening! You can now start to do more investigation into the smaller details and your day to day routines.
Figure out what you'll need to bring
Road trips are quite simple affairs and there's not a tonne of things you'll need that you can't get as you go along. You might find our Route 66 packing list post helpful though to make sure you don't forget anything.
Get familiar with your navigation before you go
Before you set off on your road trip it's worth figuring out your navigation and getting familiar with it. Sat nav and smartphone navigation isn't too helpful to keep you on the old road but the guidebooks you bought at the beginning of the trip will have useful tips and maps.
Now is the time to look over them and familiarize yourself with what they look like so you don't spend a frantic time in the car being frustrated with them.
Driving Route 66: travel tips
You've made it! You're on the road at last. Hopefully the planning tips above will mean you are well prepared to have an amazing trip.
Always room for some more tips though:
Take cash as well as card
Many establishments still only take cash as a main form of payment so it's a really good idea to have enough on you for meals and gift shop purchases.
If in doubt, stop
When you're driving it's good to get in the habit of stopping whenever you think you see something that's interesting, even if it's not on your radar beforehand. It's a one way road trip so you'll not likely be passing that way again so if you're in doubt – stop!
Take pictures, chat to the locals, you'll unlikely be disappointed that you stopped somewhere.
Check your maps before you set off.
Before you set off each day have a look over the maps and familiarize yourself again with the days driving. Are there any special alignments you want to drive? Is it signposted? Taking 5 minutes before you set off can help with any stress.
Having a partner who can navigate is also a good idea if possible. It means you're not looking at maps all the time and two sets of eyes are definitely better than one!
It can take some time to get in a good routine. Be kind to yourself!
A road trip is a different kind of vacation to a resort holiday so it can take some time to get yourself into the rhythm. Be kind and patient with yourself and any of your other travel companions as you ease yourself into the road!
Chat with the locals
Always take time to chat with the locals who have businesses along the road. They love to chat with travelers who have dropped in to see them. It really helps to get a different perspective of the road and to learn about the history and more recent stories. There are so many people with a love of Route 66 – there's always someone to chat with!
Still got questions? Join our FREE Route 66 community!
Come and join our FREE Facebook group where you can get help with planning your Route 66 road trip of a lifetime!